Top Shampoo Brands. If you have been sifting through multiple shampoos and conditioners and cannot find satisfaction with any particular one, then maybe it's time you get down to business and have the most suitable shampoo at your disposal.
We assure you that you will find some great results with shinier and healthier hair that won't leave a hint of disappointment. And to look even better, don't miss out on these Top Makeup Brands – List of 15 Most Popular Cosmetics Brands 2018.
Whether you have recently undergone hair damage or harmed your hair in some way, these shampoos and conditioners will nourish them back to perfection. Even if you have an uncontrollable frizz or split ends that make it harder for your hair ever to look good, or even a minor and straightforward hair volume problem, you will find different solutions in each shampoo/conditioner.
 Shampoo and Conditioner Brands to Buy this Year
Let us have a look at these best-rated 15 shampoos and conditioners for the year 2019 that impressed so many women across the world. These are quality brands for all types of hair, tested and recommended by professionals. Some of these are made entirely from organic and natural products as well!
How Did We Decide:
We've selected the best-selling shampoo+conditioner brands from Amazon. All of these products have positive reviews and high ratings.
15- Drybar
14- Malin+Goetz
13- Bumble & Bumble
12- Herbal Essences
11- Joico
10- Love Beauty & Planet
9- Botanic Hearth
8- Alterna Haircare
7- Shea Moisture
6- WOW Skin Science
5- Nexxus
4- Redken
3- TIGI BedHead
2- Pantene
1- ArtNaturals
↓ 15 – Drybar Happy Hour Shampoo
Named one of the top "100 Brilliant Ideas of 2010" by Entrepreneur Magazine and New York Magazine's Boom Brands of 2013, Drybar is based on the simple concept of focusing on one thing and being the best at it: Blowouts. The idea was a natural one for curly-haired founder Alli Webb, a longtime professional stylist, who constantly found herself overpaying for blowouts at traditional salons.
Product Details: It's a clarifying, sulfate-free shampoo that deep cleans and conditions hair. The key ingredients are disodium laureth sulfosuccinate, sodium lauroyl sarcosinate, and sodium lauryl sulfoacetate (cleansers), suma root extract, glycerin, and sunflower seed extract (conditioners). The clear shampoo lathers surprisingly well for a sulfate-free formula and has a light floral scent. It's gentle on strands and won't strip color or natural oils, so it's ideal for chemically treated hair. It gently removes product buildup—the perfect first step for a full, bouncy blowout. It might not be moisturizing enough for very dry or coarse hair, though.
The product has a 3.5-star rating on Amazon and costs $68.99.
↓ 14 – Malin + Goetz Peppermint Shampoo for scent-lovers (Shampoo for moisturization)
Matthew Malin and Andrew Goetz first opened their doors in New York's Chelsea neighborhood in March 2004. Their stores, while modern in every way, are reminiscent of traditional neighborhood apothecaries: brimming with activity, amazing treatments, and excellent customer service. Matthew and Andrew personally waited on every customer who walked through their door, and they still live around the corner from their first Chelsea shop. Over the years, their award-winning formulations and iconic packaging have expanded from face, body, and hair, to fragrance and candles.
Product Details: The best-selling hydrating shampoo synthesizes natural peppermint extract with amino acid-based cleansing agents. Effectively purifies and balances all hair and scalp types, unlike traditionally harsh detergents. It is blended to be gentle for frequent use without drying, stripping, irritation, or buildup. Mildly foaming, residue-free formula leaves hair soft and scalp conditioned. It has a natural fragrance and color.
The peppermint shampoo costs $22 only.
↓ 13 – Bumble & Bumble Thickening Shampoo and Conditioner
Bumble and bumble Products, LLC is one of 27 brands owned by Estée Lauder Companies, Inc. It was founded as a New York City hair salon in 1977 by hairdresser and entrepreneur Michael Gordon. The company operates two flagship salons in Manhattan: a midtown location on East 56th Street and the 6th floor of The House of Bumble in the Meatpacking District.
Product Details: The best feature of the bumble & bumble thickening conditioner is how nicely it manages to volumize nearly all hair types. One of the best work of dermatologists that volumizes without creating fuzz, without adding hair weight and consists of a resourceful silk powder that links itself to each hair strand and create fullness.
The shampoo and conditioner are around $30 each.
↓ 12 – Herbal Essences BioRenew Honey and Vitamin B Shampoo and Conditioner

Herbal Essences is a brand of hair coloring and hair care products line by Clairol. The brand was founded in 1971 as the single shampoo Clairol Herbal Essence Shampoo (officially typeset as Clairol herbal essence shampoo). There are twelve collections of products, each designed to have a different effect on the user's hair.
Product Details: This shampoo is crafted without sulfates to cleanse gently, protect color and moisturize hair. The Royal Botanic Gardens, Kew have verified the real botanicals in these formulas. It has multilayered scents of honey, jasmine, and creamy vanilla. The Honey & Vitamin B Shampoo and Conditioner are sulfate-free, paraben-free, mineral oil-free, and dye-free. 
The product is costs $13.99 on Amazon and features as 'Amazon's Choice.'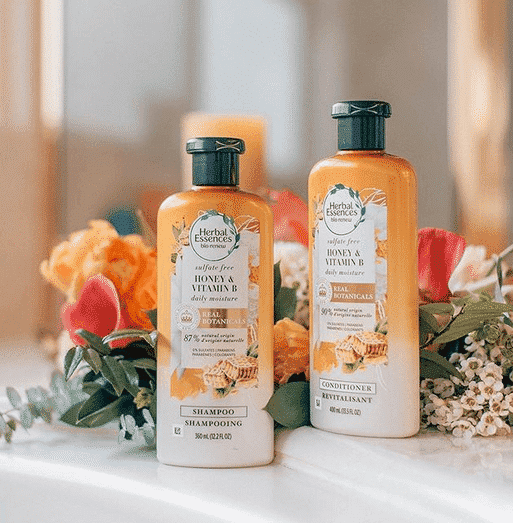 ↓ 11 –
Joico K-Pak Color Therapy Shampoo & Conditioner
Joico Laboratories, Inc. provides hair products. It offers hair styling products; conditioner; and body care products, such as body cleansers and body crèmes. The company sells its products through salons and international distributors. The company was founded in 1975 and is headquartered in Darien, Connecticut. Joico Laboratories, Inc. operates as a subsidiary of Zotos International, Inc.
Product Details: It turns to cleanse into the first step of a reconstruction process specifically designed for hair that's been put through the wringer. Whether the culprit is overzealous thermal styling or harsh chemical services, the shampoo restores hair's original condition, measurably increasing strength, and giving it a cloak of protection to fend off future damage. It doubles the life of hair color vibrancy, reduces breakage by 65% after just one use, and instantly increases shine by nearly 50%.
It costs $34.49 on Amazon and has a 3.9-star rating.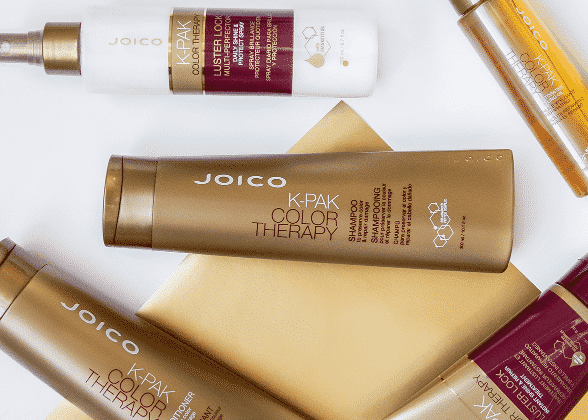 ↓ 10 – Love Beauty and Planet – Volume and Bounty Shampoo and Conditioner
The brand was started by a group of like-minded people who believe in giving a little love to the planet. That's why it uses fast-rinse technology in rich conditioners, so you get superior conditioning while being able to help save some water every shower. All of the bottles are filled with formulas made with ingredients that can deliver brilliant care to the hair and body. Plus, 100% recycled materials are used to make the bottles, so there's reduced waste when you finish a bottle. Each of the brand's collections is infused with organic and sustainable ingredients sourced from places all over the world. Plus, the sourcing partners help promote fair wage jobs and ethical sourcing for essential oils and absolutes.
Product Details: The product is infused with Organic Coconut Oil for hair. This sulfate-free shampoo and conditioner provide volume for fine hair. They're infused with Organic Coconut Water, this volume shampoo and conditioner duo energizes with a burst of delicate Mimosa Flowers. This paraben-free shampoo and conditioner provides volume, cleanses, and lightly moisturizes fine hair. 
This best selling Amazon product costs $13.77.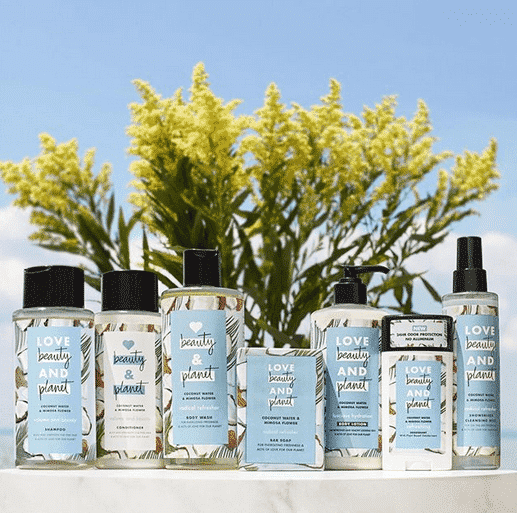 RECOMMENDED: 15 New Hair Color Trends for Teen Girls to Try in 2018.
↓ 9 –
Botanic Hearth – Tea Tree Shampoo and Conditioner
Botanic Hearth was born with a simple idea: Healing with natural resources the Mother Earth provides us. They are a small privately own business with a vision to offer all-natural skincare products, botanical oils, and other products which promote holistic living. The brand believes in natural products with no fillers, artificial ingredients, or harmful chemicals. At present, Botanic Hearth offers a collection of nature-inspired beauty and personal care products for natural health and wellness. Their Products are 100% Cruelty-Free: they do not harm any animals in the process of creating their products.
Product Details: Botanic Hearth Tea Tree Oil Shampoo and Conditioner Set are formulated with hair and scalp loving ingredients such as 100% pure tea tree oil, aloe vera, peppermint, and lavender oils. These ingredients promote healthy and strong hair and scalp. It is sulfate-free and paraben-free. Gentle enough for daily use and all hair types.
SAFETY WARNING: Rub a minimal amount on the inside of your elbow area to test for any allergic reaction before use. Avoid contact with eyes, keep out of the reach of children. If pregnant, consult with your health care provider before use.
It costs $24.5 and is a popular choice on Amazon.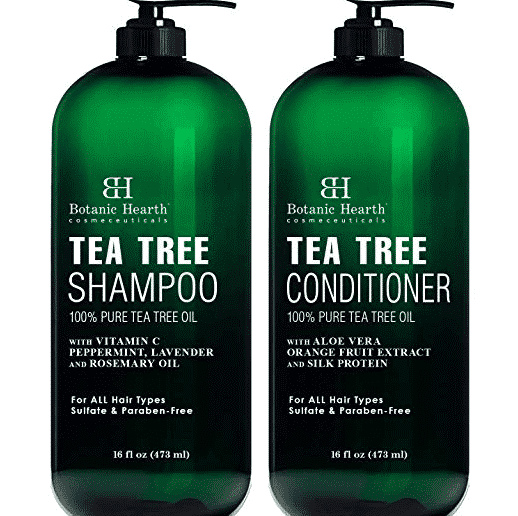 ↓ 8 – Alterna Hair Care – Caviar Anti-aging Shampoo and Conditioner
Since its inception, Alterna has provided high-performance products inspired by the science of skincare. With proprietary technology such as Age Control Complex and Plumping Marine Complex, the brand is dedicated to bringing its discerning stylists and consumers the best technology in hair care.
Product Details: 
 Replenishes and seals in moisture 

 Adds softness and shine 

 Improves overall look and feel of hair 

The shampoo and conditioner set costs $35.59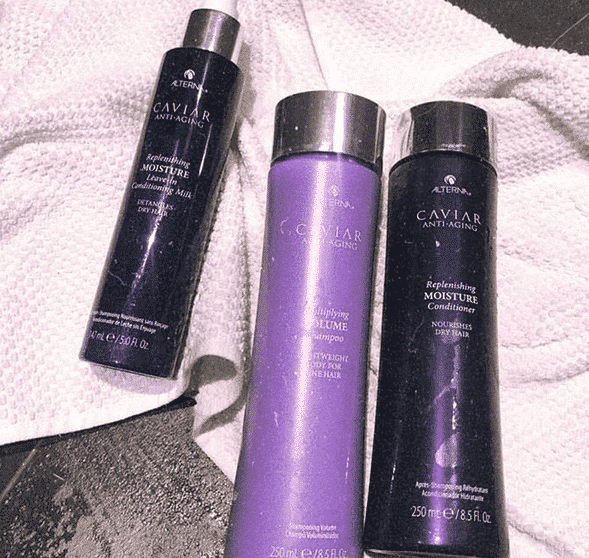 ↓ 7 – Shea Moisture – Curl and Shine Shampoo and Conditioner
Shea Moisture is a personal care company that focuses on shampoo, conditioner, and body wash. The company was founded in Harlem in 1991 by Liberians Nyema Tubman and Richelieu Dennis (and his mother, Mary Dennis), both of whom were part of the Liberian Diaspora to the United States. The company was inspired by Dennis' Sierra Leonean grandmother, Sofi Tucker, who sold shea butter at a village market in Bonthe, Sierra Leone in 1912.
In 2015 and 2016, Shea Moisture was voted Overall Favorite Brand in Naturally Curly's annual Best of the Best survey.
Product Details:
Tames frizzy, curly hair.

Adds shine and silky feel.

Detangles and smoothes hair.

Safe for all hair types.

It costs $20.99.
Also, have a look at our guide on How to do Blowout-20 Ideas for Messy and Blowout Hairstyles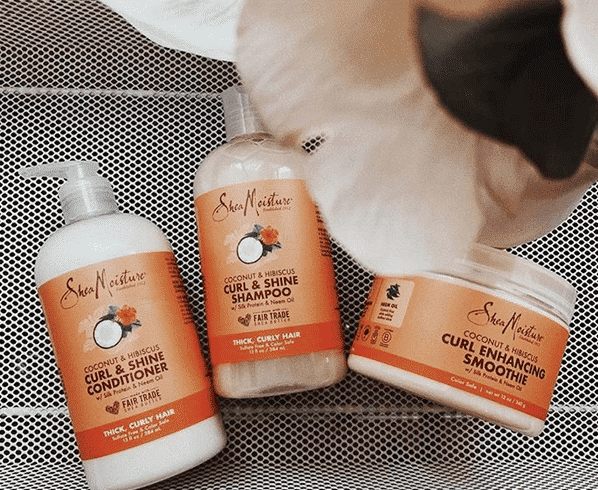 ↓ 6 – WOW Skin Science – Apple Cider and Vinegar Shampoo and Conditioner
The brand was founded initially as Fit & Glow, Inc. by brothers Ashwin, Manish, Karan, and Arvind Sokke.
Product Details:
WOW shampoo and conditioner set uses virgin coconut and avocado oil to rejuvenate weak, thin, or damaged hair or dry scalp. The formulation of both oils replenishes lost nutrition that's vital in keeping healthy, smooth hair.
It costs $51.40.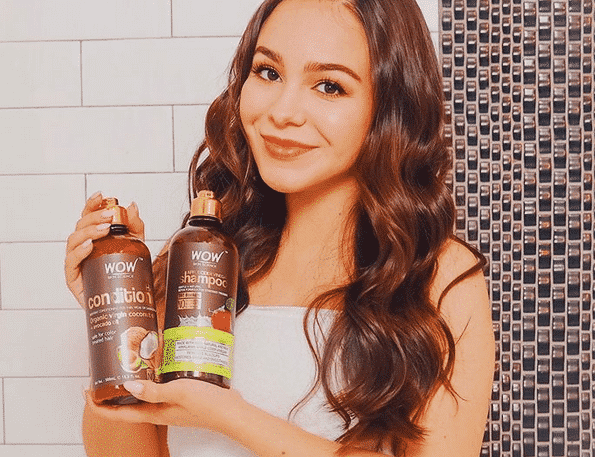 ↓ 5 – Nexxus – Keraphix Shampoo and Conditioner for Damaged Hair
Jeri Redding founded Nexxus in 1979. A cosmetologist and a scientist, he theorized that protein was good for hair care, and thus the brand came into being. Jheri Redding is credited with many firsts in the hair care world: pH balanced shampoos, the use of vitamins and minerals, the invention of the modern-day conditioner, and most importantly, the revolutionary idea of treating the hair with protein. Fraser Bell, the brand's Science Insights Leader, is at the forefront of global proteomic studies, mapping the protein need of each hair type to identify which ingredients deliver the best results. Taking its inspiration from nature, Nexxus uses advanced scientific methods to source proteins to enrich its products. Once developed, these products work to restore and replenish every hair type.
Product Details:
Gently cleanses and penetrates the hair fiber, starting the Keraphix damage healing process

Infused with an exclusive PROTEIN FUSION blend with Keratin Protein and Black Rice

Salon quality shampoo is the first step to help heal visible signs of severe hair damage

After one use, hair is stronger and visibly healthier when used with the full Keraphix system

Silicone-free shampoo prepares hair for deep conditioning

Continued use with the Keraphix system enables restorative agents to increase the resilience of the hair's cortex.

The shampoo and conditioner set is for $34.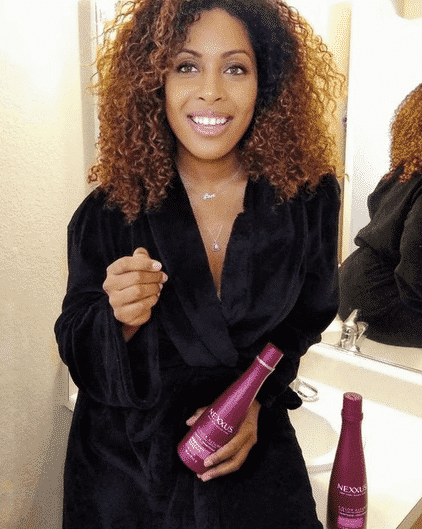 ↓ 4 – Redken – Nature + Science All Soft Shampoo and Conditioner
Redken is an American hair care brand owned by L'Oréal Group under the Professional Products division. The company was founded in 1960 by Jheri Redding and Paula Kent, thus the name, "Red-ken." Redken pioneered the "Scientific Approach to Beauty," and revolutionized the professional salon business by introducing the concept of protein reconditioning and developing new protein-based products, which they patented.
Product Details:
 Advanced silkening formulas transform the texture of dry, brittle hair 

 Provides intense softness, replenishment, and strength 

 Delivers increased manageability, movement, and luminous shine 

Costs $43.14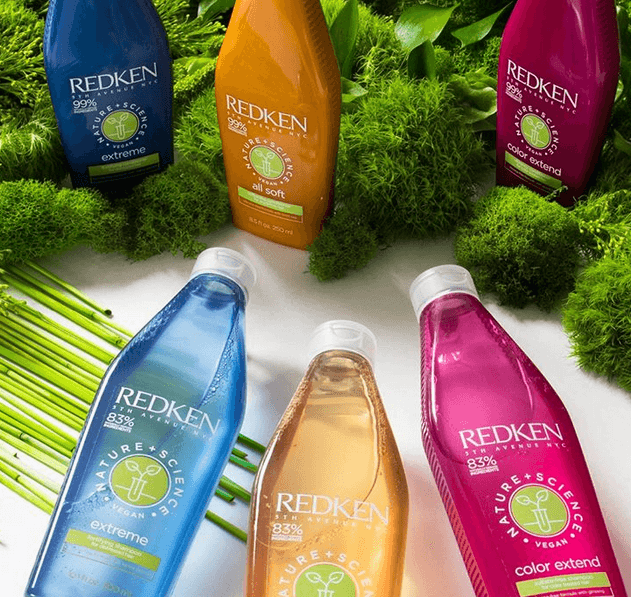 ↓ 3 – TIGI BedHead – Resurrection Shampoo and Conditioner
Bed Head is a line of hair care and nail products distributed by TIGI Linea, a division of Unilever, to distributors and salons worldwide. The United Kingdom-based company, TIGI Linea, has been producing the line since the inception of the company. The creators of the line are British stylists Toni & Guy.
Product Details:
 For super damaged hair 

 Smooth, shiny results 

 Heat protective 

 Color safe 

The set costs $20.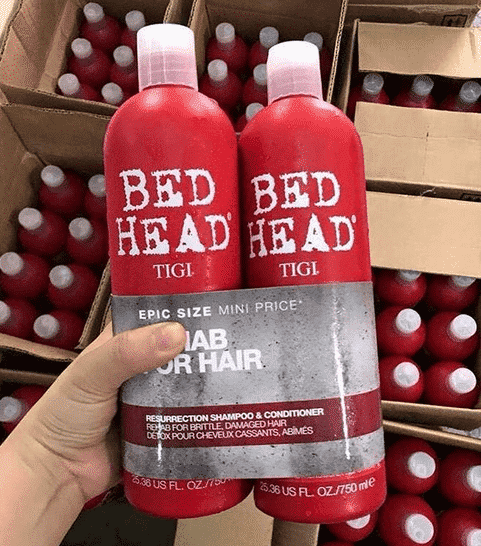 ↓ 2 – Pantene – Sheer Volume Shampoo and Conditioner
Pantene is a Swiss-created American brand of hair care products owned by Procter & Gamble. The product line was first introduced in Europe in 1945 by Hoffmann-La Roche of Switzerland, which branded the name based on panthenol as a shampoo ingredient. The brand's best-known product became the 2-in-1 shampoo and conditioning formula, Pantene Pro-V (Pantene Pro-Vitamin). The product became most noted due to an advertising campaign in the late 1980s in which fashion models said, "Don't hate me because I'm beautiful."
Product Details:
The 'sheer volume shampoo and conditioner' give hair the voluminous look you want and the hydration it needs. Delivering moisture in every wash, Sheer Volume combines gentle cleansing with added volume for 24 hours. Finally, hair is healthy, lifted, and controlled for serious style.
The set costs $12.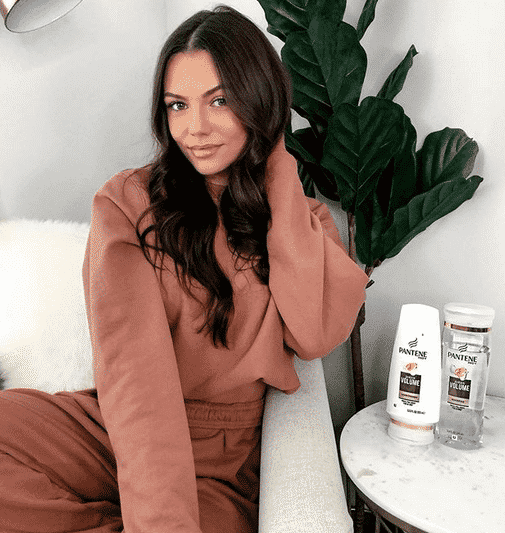 ↓ 1 – ArtNaturals – Argan Oil Shampoo and Conditioner
The brand gathers the finest ingredients and extracts from around the world to handcraft health-conscious essentials for your skin, hair, and body, mind, and spirit. All of their products are BPA-free, cruelty-free, and eco-friendly. They aim to offer high-quality items at an affordable price to enhance the well-being of their customers – beauty and nature lovers alike.
Product Details:
Argan Oil Hair Shampoo contains DHT blockers, proteins, botanical oils, and extracts to stimulate the scalp. Infused with regenerative Argan Oil, Aloe Vera, White Willow Bark, Burdock Root, Rosemary, and Thyme, this shampoo moisturizes and soothes hair for increased volume, texture and shine. Full of amino acids, vitamins, and minerals, this powerful conditioner repairs and maintains a healthy scalp, soothes inflammation, and thickens existing hair shafts, leaving you with full, voluminous locks.
The shampoo and conditioner set costs $23.