Top Shampoo Brands. If you have been shifting through multiple shampoos and conditioners and could not find satisfaction with any particular one, then maybe it's time you get down to business and have the most suitable shampoo at your disposal.
We assure you that you will find some great results with shinier and healthier hair, and disappointment won't leave a hint. And to look even better, don't miss out these Top Makeup Brands – List of 15 Most Popular Cosmetics Brands 2018.
Whether you have recently undergone a color damage or harmed hair health, these shampoos and conditioners will restore them back to nourishment. Even if you have a frizz that's uncontrollable or split ends that make it harder for your hair to ever look good, or even a simple and minor hair volume problem, you will find different solutions in each shampoo/conditioner.
 Shampoo and Conditioner Brands to Buy this Year
So, have a look at these best-rated and top 15 shampoos and conditioners for the year 2018 that impressed so many women across the world and they have thoroughly satisfied with it. Some of these include many top beauty brands such as Loreal and Herbal essences which we already know are worth all the expense. So get an everyday good luck charm with your hair and never have a bad hair day in your life.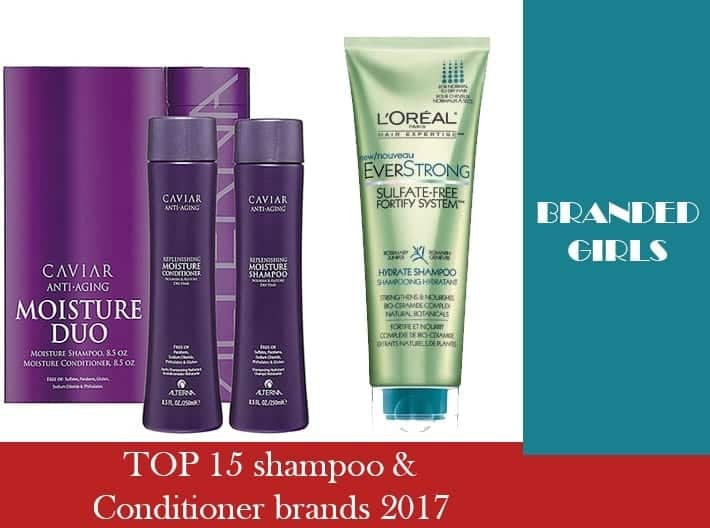 #15 – Oribe Gold Lust Repair (best shampoo for dry hair)
The phenomenal and reliable Oribe gold lust repair does exactly what its name sounds like. Using it would be like giving your hair a new identity, a new life because it has got the properties of reawakening your hair to its healthiest, glossiest and strongest form. With the most hair-friendly ingredients, it is capable of livening the strength of each single strand and regrow it with the best properties.
Main benefits of Oribe Gold Lust Repair: the cleansing of hair, restores and maintain moisture, provides full-time protection to hair from any kind of damage and energizes the scalp that makes the user feel fresh.
#14 – Alterna Haircare Caviar (best shampoo for curly hair)
The another very rated and known shampoo brand — Alterna Haircare Caviar, has got all customers hyped with what could possibly be another advanced feature of the shampoo that will open greater chances for hair nourishment.
So let's have a look at some money-worthy features of Alterna: it brings out the moisture even in dried and damaged strands, hair becomes instantly younger and nourished, 100% women find improvement in their hair gloss and strength.
#13 – CHI Tea Tree Oil Shampoo 2018 (best shampoo for oily hair)
As healthy and nourished as its name sounds, the CHI tea tree oil shampoo is better than your expectations of it. Its main components include the beneficial tea tree oil, which is a natural anti-oxidant, as well as peppermint oil that effortlessly provides a lifting sensation in the head. Other ingredients include silk and chamomile.
Main benefits: a good cleaner, rid the hair and scalp of dust and impurities, balances the oil amount in hair (enough to maintain shine in hair), strengthens the hair cuticle. RECOMMENDED: 15 New Hair Color Trends for Teen Girls to Try in 2018.
via
#12 – Loreal Ever Strong Sulphate-free Fortify Shampoo (Spa-inspired Shampoo)
For a shampoo that has been masterfully created with so many ingredients could be so gentle on hair is surprising. With a gentle and softening formula, free of harmful sulfates which make it hard to rely fully on a hair product. The phenomenal job on the formula of the sulfate-free fortifying system instantly strengthens the hair fiber making it utterly resistible towards breakage and weakness.
Main pros of this product: it gives a very cooling sensation, the lovely floral scent of the shampoo stays in for about 2 days, the hair gets healthy, soft and silky, it's a great spa treatment for your hair.
#11 – Drybar Happy Hour Shampoo (For Dry & Frizzy Hair)
#10 – Malin + Goetz Peppermint Shampoo for scent-lovers (Shampoo for moisturization)
#9 – Ouai Hair Repair Shampoo
#8 – John Frieda Smooth Immunity Shampoo
via
#7 – John Frieda Beyond Smooth Immunity Shampoo
#6 – Herbal Essences Smooth Collection Conditioner
The utterly fascinating herbal essences shampoos and conditioners are no less than man-made miracles which our absolute heaven for our hair. So one of the top and most popular haircare brands' conditioner has got the following main benefits with it: above all, it's like a botanical feast to your hair, it will unleash the class and beauty lost of your hair naturally, it contains the jojoba oil that has been historically used as a flawless hair remedy. Also, have a look at out guide on How to do Blowout-20 Ideas for Messy and Blowout Hairstyles
#5 – Loreal Paris Advanced Haircare
The main components about the matchless Loreal Paris haircare are that it is just a miraculous solution for damaged, dried hair, also expertly mend all the broken and detached hair fiber. The complex formula has the ability to penetrate deep into the hair fiber and transform it into its best form. Its formula has been molded with ceramide which is one of the best substances to retain hair quality and growth consistently.
#4 – Bumble & Bumble Thickening Conditioner (Best for Hair Fuzz)
The best feature of the bumble & bumble thickening conditioner is how nicely it manages to volumize nearly all hair types. One of the best work of dermatologists that volumizes without creating fuzz, without adding hair weight and consists of a resourceful silk powder that links itself to each hair strand and create fullness.
#3 – Pantene Truly Relaxed Moisturizing Conditioner
#2 – Joico Color Endure Violet Conditioner
The fantastic Joico Color endure violet conditioner is just so many cool features in one package! Even though it's a semi-dye applicant, it is absolutely suitable for a daily normal usage. If you wish to end your brassy hair tones and get them a new shade, then this is for you. Also, a good option for compensating a hair color damage which happens due to oxidation.
#1 – Pureology Pure Volume Conditioner (Best Shampoo for Volumizing Hair)
The Pureology pure volume conditioner is one good source of relying permanently on a hair product. Because the makers knew they did it right with Pureology's new and advanced formulation of volumizing the hair. The major benefits of the conditioner include the following:
It perfectly cleanses the excess hair weight and removes oil building up in the roots, it manages to save the damaged hair fiber, also thickens hair to tips.