Best Bandeau Bras – Are you tired of wearing the same old conventional hook bras that can be difficult and uncomfortable to wear? Well, you aren't alone, ladies. Many women find such bras not only hard to wear but extremely unconformable to wear.
However, if you wanna find an alternative bra solution to the old back-hook-bras, then Bandeau bras are some really great alternatives to them, and they are much easier to wear. They are also less likely to fall off, and they provide more support than hook bras. 
There are a wide variety of bandeau bras available, and they come in a variety of colors and styles. You can find bandeau bras that are plain, or you can find ones that are decorated with lace or other designs. If you're comfortable wearing bras with straps, then many bandeau bras also have straps that can be detached. This is a great feature if you want to be able to wear your bra without the straps.
If you are looking for a comfortable, easy-to-wear bra, then a bandeau bra is the perfect choice for you. Keep reading to learn more about the best bandeau bras!
How to Choose the Best Bandeau Bras?
Finding a good bra is hard enough and no matter what type of bra you choose, it's important to opt for one of the best bra brands out there. But finding a good strapless bandeau bra? That's a whole other level of difficulty.
If you're looking for a strapless bra that will actually stay in place and provide adequate support, you'll want to go with a bandeau bra. Bandeau bras are designed to stay put and they come in a variety of styles to suit any need.
Not sure how to choose the best bandeau bra for you? Here are a few tips to get you started.
First, consider what type of bandeau bra you need. If you're looking for a bra to wear under a strapless dress or top, you'll want a seamless bandeau bra that will lay flat against your skin. There are pushup bandeau bras to give your breast a perfect lift, this depends on your preference for the type of bra you want.
The level of support a bra can provide you strongly depends on the fabric bra is made of. If you have a larger bust, you'll need a stronger fabric that can provide more support. Another factor to consider is the level of comfort you need. Some fabrics are more breathable than others, so if you tend to get sweaty or you live in a warm climate, you'll want to choose a fabric that will keep you cool and dry.
Many Bandeau bras don't have straps, so you might fear that these bras can fall off – however, this is uncommon, but might happen. So look for bandeau bras with good fitting and good thick material that will stay up without falling.
Where to Shop for Bandeau Bras?
After going through hundreds of customer reviews, our team shortlisted 25 different bandeau bras and we decided to try them out ourselves – after a few weeks of this research, this is the list of ten bandeau bras that we loved the most:
Best Lace Bandeau Bra: DOBREVA Strapless Multiway Lace Bra
Best Supportive Bandeau Bra: Kiapeise Plus Size Bandeau Bra
Best Swimming Bandeau bra: Victoria's Secret Essential Bandeau Bikini Top
Best Bandeau Bra for Every Size: Skims Fits Everybody Bandeau Bra
Best Luxury Bra: Laperia Bandeau Bra in black silk georgette
Best Bra for Large Busts: BFree Australia Seamless Padded bra
Best Sports Bandeau Bra: Women's Pique Bandeau Top
Best Underwire Support Bra: Ahh By Rhonda Shear Seamless Underwire
Best Longline Bandeau Bra: Aerie Crinkle Longline Bandeau Bikini Top
Best Daily Wear Bandeau Bra: Top Legging Women's Seamless Bra
Now moving on to their detailed reviews:
Price: $21.99-$25.99
Ratings: 4.2 out of 5
This lace Bandeau Bra by Dobreva is a beautiful and delicate undergarment that every woman should have in her wardrobe. It is not only comfortable but also easy to wear. The best thing about this bra is that it can be worn under any type of clothing. Whether you are wearing a formal dress or a casual top, this bra will always make you feel confident and beautiful.
Pros:
Affordable.
Stays in place.
The lace is soft and doesn't irritate the skin.
Cons:
Customer Reviews
Kristen says that due to her large bust, she has never been able to find a strapless bandeau bra that fits. But this lace bandeau bra from Dobreva fits her 34F bust size and this beautiful bandeau bra stays up!
Price:
Ratings: 4.7 out of 5
This plus-size bandeau bra by Kiapeise is one the best bandeau bra for large busts as it provides support and coverage without the need for straps. This bra is made from a thicker material than regular bras. It's made from a fabric that's composed of Spandex and high-quality silicone which means that this bra has excellent elastic recovery.
Pros
Comfortable to wear.
Padding provides a good shape.
Stays in place.
Provides good coverage.
Cons
Customer Reviews
This bra provides a good fit and is comfortable to wear. The padding doesn't provide an unnatural look and the bra stays in its place. It provides good coverage and the pads are easy to remove and reinsert. Moreover, this is a great bandeau bra for plus size.
Price: $13.98
Ratings: 4.2 out of 5
Victoria's Secret is one of the leading fashion retailers in the world and is especially well-known for its popular line of lingerie and swimwear. The brand's 'Essential Bandeau Bikini Top' is one of their most popular items, and it's easy to see why. Moreover, it's the one of best strapless bras for small chest in bandeau form.
This top is sexy and playful, yet still provides good coverage and support. If you're looking for a new bikini top that will make you feel confident and sexy on the beach or by the pool, then the Victoria's Secret Bandeau Bikini Top is a great option.
Pros
It's made from high-quality fabric.
It's wireless and comfortable to wear.
Optional straps are provided.
Cons
Customer Reviews
Talbs finds this VS bikini top faultless as she writes that she's absolutely satisfied with the non-fading color, high-quality fabric, and material. Not only this but according to her, the bra gives a perfect fit and she's loving it!
Price: $28.00
Rating: 4 out of 5 stars
Are you looking for a bandeau bra that fits every bust size? If so, then you need to check out the Skims Bandeau Bra! This bra is the perfect solution for anyone who wants the support of a strapless bra.
The Skims Bandeau Bra is made from a breathable, stretchy material that conforms to your body. It also provides extra support and lifts. The best part about this bra is that it comes in a variety of sizes, so you can find the perfect one for you. If you are looking for the best strapless bra that dd fits, then you need to check out the Skims Bandeau Bra!
Pros
Comfortable
Great for every bust size
Cons
Runs small in size, order 1 to 2 sizes up.
Customer Reviews
Customers have been really impressed that how well the bra fits, even though they run small in size but you can order 1 to 2 sizes up and get a perfect fit for your bust. The material is extremely buttery soft and comfortable. Moreover, the bra isn't see-through so you don't have to worry about anything!
Price: $7.00 – $26.99
Rating: 4.2
If you've been on the hunt for the perfect seamless bandeau bra that actually stays up, then this plain and non-padded lace bandeau by Kurve is a treat! It's a kind of bra that you can wear under a cute broad neckline and shoulder dress without having to worry about it slipping down all night long.
Pros
Super stretchy and comfortable.
Not see-through.
Can be worn as a top
Cons
Doesn't provide enough support for women with larger busts.
Customer Reviews
This bra is true to size; if you're not a fan of wearing bras all day as it might irritate your skin, then this super comfy bra by Kurve is the key answer to your problem. As Jerima says, "This bandeau fits like a dream and it is super stretchy and well-shaped".
Price: $29
Rating: 4.9 out of 5
This is one of the best strapless bras for large breasts. It's designed with light padding and a smooth, seamless silhouette, this Seamless Bandeau Bra with padding from Bfree Australia is perfect for large breasts. The bandeau style offers great support and stays in place all day, while the light padding gives you a natural shape without adding bulk.
Pros
Best bandeau bra for plus size.
Fits well and is extremely comfortable.
Cons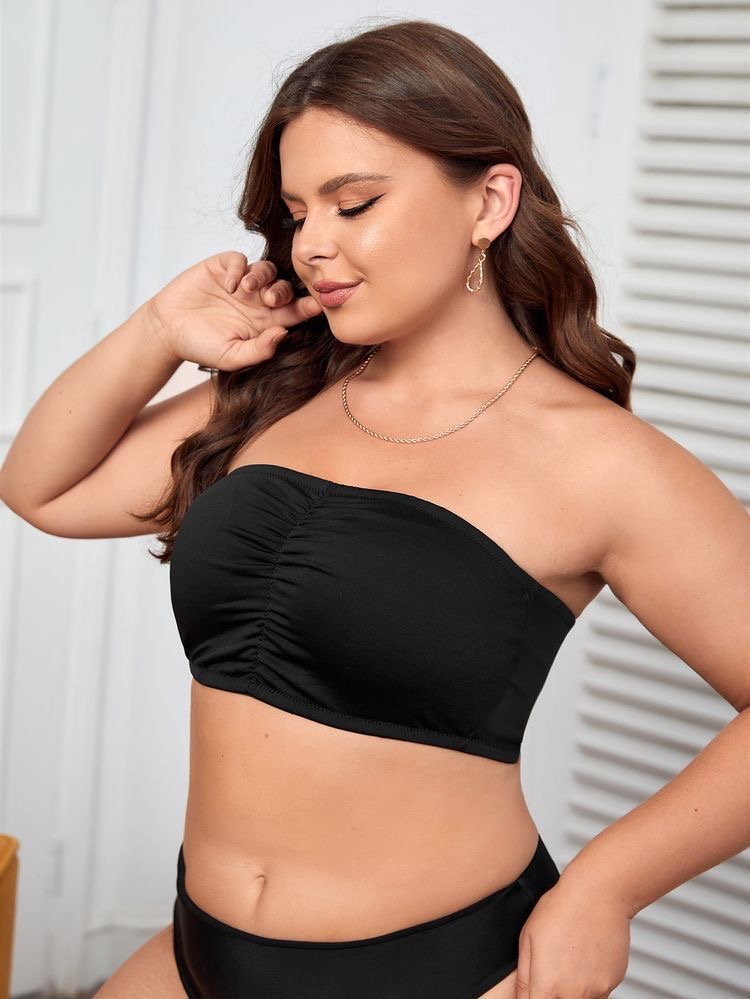 Customer Reviews
According to Sandra, this bra is a comfortable bra with no wires. You might want to order a size up, as the sizes run small and might be a little tight. However, otherwise, the product is great without any doubts.
Price: $30
Nike's bandeau bra is a high-quality, stylish piece of activewear that is perfect for any woman who wants to feel comfortable and supported during her workout. The bra is designed to move with your body and provide support and coverage while you're working up a sweat.
Moreover, the bandeau style is both comfortable and flattering. Whether you're hitting the gym or the yoga studio, it's great for anyone who wants a lift and support.
Pros
Comfortable
Provides good support
Good coverage
Cons
Wearing for too long might cause irritation if you have sensitive skin.
If you prefer wearing sports bras, you should go through this list of Best Sports Bra Brands.
Reviews
Customers say that the Nike bandeau bra offers support and comfort during your workouts. It is made of breathable fabric and has a comfortable fit that helps you stay focused on your workout.
Price: $19.95 – $24.00$24.00
Rating: 3.6
The Rhonda Bandeau Bra is a great choice for those with saggy breasts who are looking for a comfortable and supportive option. This bandeau style provides good coverage and support, while the seamless design ensures a smooth and comfortable fit.
If you're looking for a bandeau bra that can provide good support and a comfortable fit, the Rhonda Shear Bandeau Bra is a great choice.
Pros
Stays in place.
Provides good support.
Cons
The underwires are a little uncomfortable.
Customer Reviews
Bandeau by Rhonda is a great underwire bra, which is supportive and doesn't roll down as most bras do. According to Lisa, this bra provides her bust great support and it feels like she's not wearing anything at all!
Price: $13.39 – $16.81
Rating: 4.1 out of 5
The Calvin Klein Bandeau Bra is a fashion-forward take on the classic bandeau bra. This bra features a sleek, minimalist design with a wide bandeau band and a Calvin Klein logo at the center. Also, this Bandeau Bra is made from a soft, stretchy fabric that is comfortable to wear and provides support for a variety of body types. Plus, the Calvin Klein name is synonymous with quality, so you know you're getting a good product.
Pros
It doesn't slip.
High-quality bra.
Fabric is breathable.
Cons
The size might run small.
Customer Reviews
The Calvin Klein Bandeau Bra is a great choice for a variety of occasions. Whether you're looking for a comfortable everyday bra or a sexy option for a night out, this bra has you covered. The bandeau style is both trendy and flattering, and the cotton material is soft and breathable.
Price: $18.50 – $26.30
Rating: 4.2 out of 5
If you're looking for a daily wearing non-padded then Top Legging has come up with the most comfortable bandeau bra. You can wear this bra daily, the material is breathable and as there's no padding, you aren't likely to sweat.
Pros
Soft fabric.
Lightweight and comfortable
Pocket-friendly bras.
Cons
Customer Reviews
The comfort this bra provides to the customers has been the reason for its popularity. It provides support without having an underwire. According to Jeannie, this bra has great vivid colors which make them appear attractive and the soft material of the bra cannot be ignored. She'd love to buy these bras again!
Frequently Asked Questions
Q. What is the point of a bandeau bra?
A bandeau bra is a slip-on easy-to-wear bra that can be worn with strapless dresses and you don't have to worry about your bra straps showing. They're unlike the old hook bras which can be difficult to wear. Moreover, they're versatile as they can be worn in multiple ways, with or without pads, and with or without straps.
Q. Do bandeau bras give support?
Many people complain that bandeau bras are unable to give you the right support. However, this opinion varies from bra to bra, some bandeau bras are made from fine material which can actually provide you with the desired support. Some bandeau bras also have underwires that give you the lift you want.
Q. Do bandeau bras stay up?
Yes, bandeau bras stay up. But in some cases, they might roll down. Therefore, choose a bra made from thick fabric or double-layered fabric so that it stays on. Moreover, look for a bandeau bra that has elastic on the top as well as in the bottom band.