Latest Manish Malhotra Wedding Dresses. These designs are not coming from just any designer whose designs you find everywhere, and they blend in with all kinds of tastes. But instead, from a designer who has years of experience and expertise in classic eastern wear for women.
Even the least expensive bridal dresses by the designer cost about 5+ lakhs. So, we've compiled a list of dresses you can take inspiration from and design according to your budget. If you have not already seen the crazy bridal collections by Manish Malhotra, then this post will help you get on track. His magnificent couture dresses and lehenga cholis are absolute eye candies and will give you incredibly stylish inspiration for your wedding dress.
Best Bridal Dresses by Manish Malhotra
So, do not miss out on getting your hands on the bridal dress that will just seem right and all meant to be for you. And we don't want you to miss out on something that you can perfectly nail and carry in the best way on your special big day. So have a look at our top picks for this year.
↓ 15 – Bridal Dress with Mirror Work Coat
A classy and unusual bridal dress was introduced by the experimentative Manish Malhotra. The soft yet metallic tones of the dress are simply unremarkable. It is also delicately and subtly embellished and is less flashy compared with most of Malhotra's creations. It's dramatic and minimalist, and for those of you who have a no-nonsense fashion approach, this will appeal to you. You can use this design to create a dress in any color you want though we would recommend keeping the heavy work to a minimum as in this dress. The minimalism is where the beauty of this outfit stems from. We also recommend that you check out these Latest Manish Malhotra Sarees Collection.
↓ 14 – Dark and Seductive Bridal Dress
A mesmerizing and subtle combination of simplicity and class in this cool palely dark bridal dress for all women who wish to stand out a bit more than usual. This dress is confident enough to need no extra accessories. However, jewelry is mandatory at weddings, so you can pitch in a few simple ones, with the nude makeup look. The work on this piece is exceptional! Brides tend to favor the upper portion of their dresses to be fuller and more attention-seeking, but this proves that you can go with a simple top as well. The lehenga displays extraordinary artistry that is a trademark of Manish Malhotra.
↓ 13 – Manish Malhotra Lehenga for a Queenly Look
The shimmer and sparkle on this dress is simply breath-taking. It's a lehenga fit for a rani. The matte gold and bright red combo are especially bride-worthy. The way the lehenga is styled on Anushka Sharma in Karan Johar's Ae Dil Hai Mushkil is nothing short of perfection. Everything in this picture can serve as an inspiration for your wedding look. Not just the dress but the styling of the dupatta, the hairstyle, the makeup and especially the jewelry.
The shimmer factor is the critical point here. The lehenga is minimally embellished compared with many other Manish Malhotra lehengas out there which feature heavy embroidery and beadwork. So choose something that sparkles, and you will reap the rewards. For ideas on styling your lehnga dupatta, check out How to Wear Bridal Lehenga Dupatta in 10 Different Styles
↓ 12 – Persian Inspired Bridal Dress with Coat Style
A phenomenal and fabulous looking bridal dress with a beautiful bridal print all over the pale golden silk material. To add to the perfection, a classic maroon velvet coat with simple, gold embroidery. As we know that matching gold with maroon is perfection, especially if it's a wedding dress we are talking about. You pair it with the best dark makeup look you know and a cherry red lip color or probably a darker shade. The small coat stands out in this piece, and it is what we want you to take note of here. Not many brides go with this. You can start and make it a trend!
↓ 11 – Pastel Bridal Dress
Jacqueline Fernandez is putting on a wondrous fawn bridal dress that's no less than a dream. For women who want a reality-turned-dream kind of wedding, then this dress will be a perfect pitch for your big day! Want to add a further class? We can tell you how to do it. Firstly, to showcase just how gorgeous your dress is, tie your hair either in an updo or any fancy bun, then wear nude or any matching makeup. Make sure your clothing is the focus of people's attention.
More and more brides have started to go with lighter, more prominently, pastel shades. While darker colors, explicitly red, is considered a color fit for a bride, you can go with the changing trends and choose a pastel color. Check out these beautiful Jacqueline Fernandez Hairstyles.
↓ 10 – Kangna Ranaut's Bridal Look for Manish Malhotra
Kangna Ranaut in a classic and cultural Manish Malhotra bridal dress, all ready to win hearts and attention with her dominantly attractive looks. You can also wear this just as best if you wear it like her, with some culturally carved jewelry and a prominent looking updo. A smoky-eyed makeup look matching the unique shade of the dress would be suitable, and you will nail this outfit in your way.
The trend of subtle and dark looks is the new trend of wedding dresses, and Manish Malhotra has successfully achieved that! Yes, dark shades of red are what brides usually prefer, but this takes it a step further as the color is so dark, it's almost black. It's a sultry and seductive shade and is sure to woo anyone who looks at the dress.
↓ 9 – Manish Malhotra Mirror Work Dress
This stunning dress is for the daring bride who always aspires to do something eccentric and unique. It's almost casual in the way the designer has created it, and perhaps you can wear it on a casual event as well. But, it can also work as a wedding dress if it's a small, private event and you want things to be simple. The short frock coat is made with metallic fabric and has embellishments on both arms. It also has a slit in the middle that would be more visible while sitting. Nonetheless, the cut, the sleeves, and the selected portion of the lehenga heavily featuring mirror work are all super stylish and fashion-forward choices. You can perhaps give this outfit more life if you play with colors a bit and choose brighter ones.
↓ 8 – Summer/Spring/Daytime Wedding Dress
It's such a happy, funky, and colorful lehenga, perfect for summer or spring or even for a day time event. It gives off such cheery vibes. If it's true what they say and a good outfit reflects the mood of the wearer, then you'll feel vibrant and full of life just by wearing this dress! You can pair this up with colorful jewelry, bangles, heels and a braid crown for the perfect look!
↓ 7 – Sensational Red and Gold Gown
We know this is getting a bit out of hand what with all the coats, but you need to see this! Red and gold combo aside, look at how unusual this piece is. It completely disregards the lehenga part by keeping it simple and focuses all of its attention on the upper part: the coat. So here is another idea you can think about and see if you like! For your wedding dress, create a jacket that is full and ostentatious and ridiculously laden with embellishments and with that, choose a gown with a contrasting or matching color that is completely simple. Pay attention to the material you pick, though. Silk and velvet, for example, will look sublime with this design.
↓ 6 – Manish Malhotra Floral Lehenga
Yes, that is one rising trend that needs more traction and fame in regular brides. Floral prints and net fabric with floral embroidery is all over the market these days. Normally, brides don't go with that kind of thing because they don't consider it something fit for a bridal look, we presume. Well, celebrities and designers both favor floral printed/embroidered dresses, and Manish Malhotra is no exception. This lehenga is just one example out of so many others where the designer has created a stunning floral lehenga. The royal blue base looks especially delicious because of the flowers.
For a more modest approach, you can lengthen the blouse into a shirt and also make the sleeves longer.
↓ 5 – A Desi Plus Western Bridal Dress
Everything about this screams Western, but still, it has a desi flavor and pomp that the western wedding gowns can't match. And can we say ooh la la, what a gorgeous dress? You'll face the most significant challenge in your life if you attempt to recreate this look for your wedding, but we dare you to do it anyway!
A specialty of all these Malhotra gowns and lehengas and something you need to bear in mind is that the lehengas have an incredible girth. That can only happen if you have multiple yards of the fabric. So, if you're going for a custom-made gown inspired by any of the designer's creations, make sure to buy loads and loads of fabric. Only then will your dress come close to achieving the perfection that is the trademark of the Malhotra label.
↓ 4 – Lehenga with Crop Top and Cape
A wondrous blue and beige combo of a gorgeous bridal lehenga with the cutest crop top style giving a look to this never seen before in bridal dresses. What further added to the class and beauty was the stylish and elegant cape that will make you feel all attractive, together and poised. To get the most out of this outfit, pick a light and pretty makeup look and minimal jewelry.
The ice blue embroidery adds such a magical element to this outfit! Another look you can go for if your wedding is in summer or spring or during day time.
↓ 3 – Royal Bridal Gown Style
Manish Malhotra at his best! You should always try to do something different with your dresses, especially something as important as your bridal dress? Our advice is to break the norm! We know these runway fashion shows display dresses only celebrities and upper-class people get to wear but let us help you. You don't have to copy this dress exactly. Just take some inspiration and do it your way.
Here we have a simple lehenga choli but with one additional piece and that is the royalty inspired gown! Add your colors, beadwork/embroidery and even your spin on this top gown, and you will still end up with something no one has dared to try before. Here are some more inspiring Ghagra Choli Designs.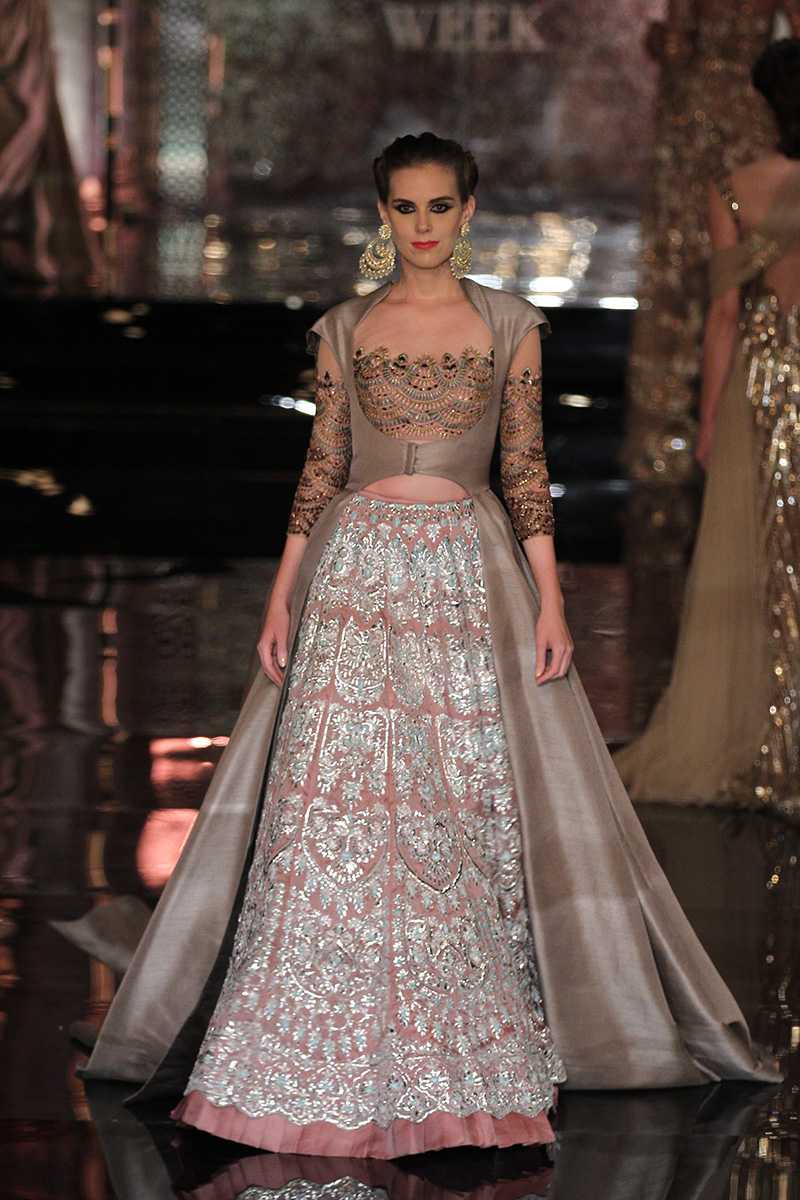 ↓ 2 – Manish Malhotra Spring Bridal Dress
Although the white bridal dress is a Western trend, it doesn't mean we can't add a desi touch to it and make it our own! All of Manish's dresses are progressive, inspired by the West, but what makes them unique is the way he transforms them to fit Indian culture. This dress is one such example.
The silver leaf embroidery is unusual and breath-taking, but the winner is the top, this super elegant mini cape coat. If you want a more modest approach, you can either lengthen the top beneath the sheer cape or make the cape from a thicker non-see through material.
↓ 1 – Isha Ambani's Pink and Silver Lehenga
The most recent of the designer's creations is this pink and silver masterpiece for Isha Ambani's sangeet ceremony, the daughter of the richest man in India and according to Forbes, the richest man in Asia and the 13th richest man in the world.
Isha Ambani's timeless lehenga features a geometric floral pattern. The lehenga is drowning in sparkling Swaroski crystals. It has a voluminous A-line silhouette, and the designer paired it with a hand-crafted floral motif Swarovski blouse. The finishing touch was a matching pink dupatta tastefully layered with Swarovskis and an opulent diamond necklace set with delicate earrings. Isha's highlighted hair was tossed over to one side in very soft, dreamy wave waves. The makeup was also a standout with Isha rocking all warm shades like peach, pink and bronze to complement her pink lehenga.