Latest Manish Malhotra Wedding Dresses. This is not coming from just any designer whose designs you find everywhere and they blend in with all kinds of tastes. But rather, from a designer who has years of experience and expertise in classic eastern wear for women.
If you have not already seen the crazy bridal collection by Manish Malhotra for this year, then this post will help you get on track with you have been looking up to since last year. For as hit and good selling as his last year's bridal collection was, with so many famous celebrities wearing none other than a stunning Manish Malhotra bridal dress, this year's collection is expected to be so much better and more gorgeous.
Best Bridal Dresses by Manish Malhotra
So, do not miss out on getting your hands on the bridal dress that will just seem right and all meant to be for you. And we don't want you to miss out on something that you can perfectly nail and carry in the best way on your special big day. So have a look at these 20 amazing bridal dresses by Manish Malhotra for the year 2019.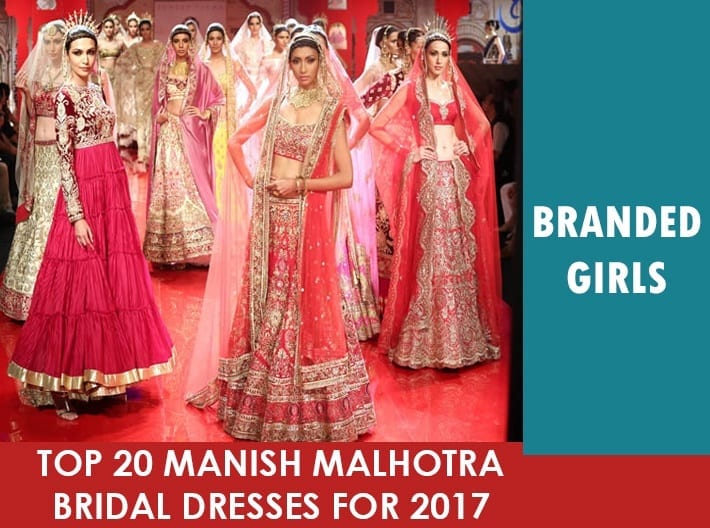 Manish Malhotra Fashion Show
Let's start with some glimpses at bridal outfits that we saw in Manish Malhotra's first fashion show of the year.
How unique and creative is this gota work!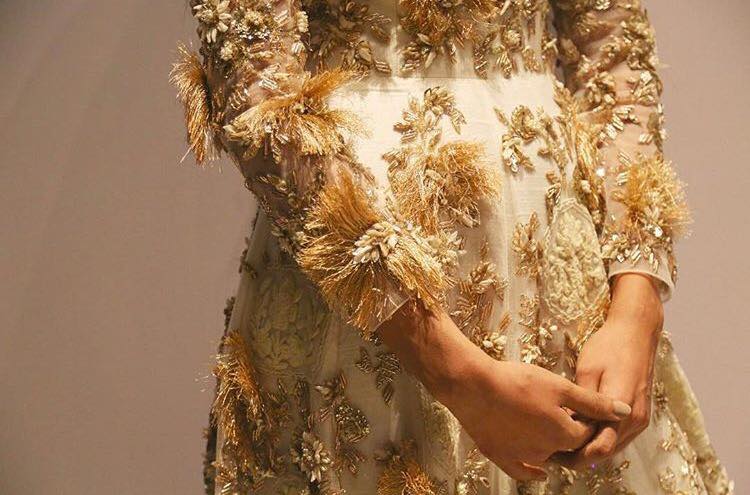 It seems that this year he chose to go with a blend of eastern and western cultures in his outfits: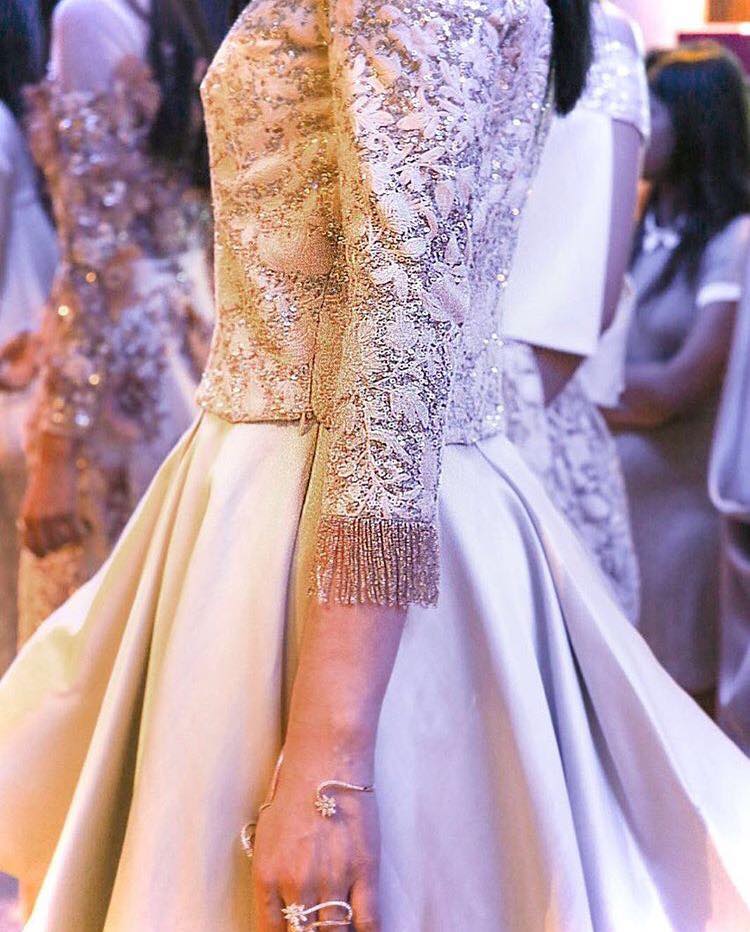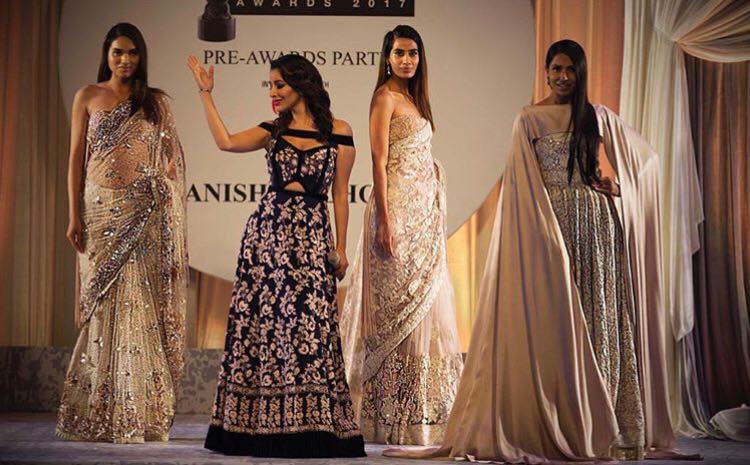 This would surely be the dream dress for millions of girls! And it also looks like off-shoulder sleeves will continue to look splendid in his designs for this year.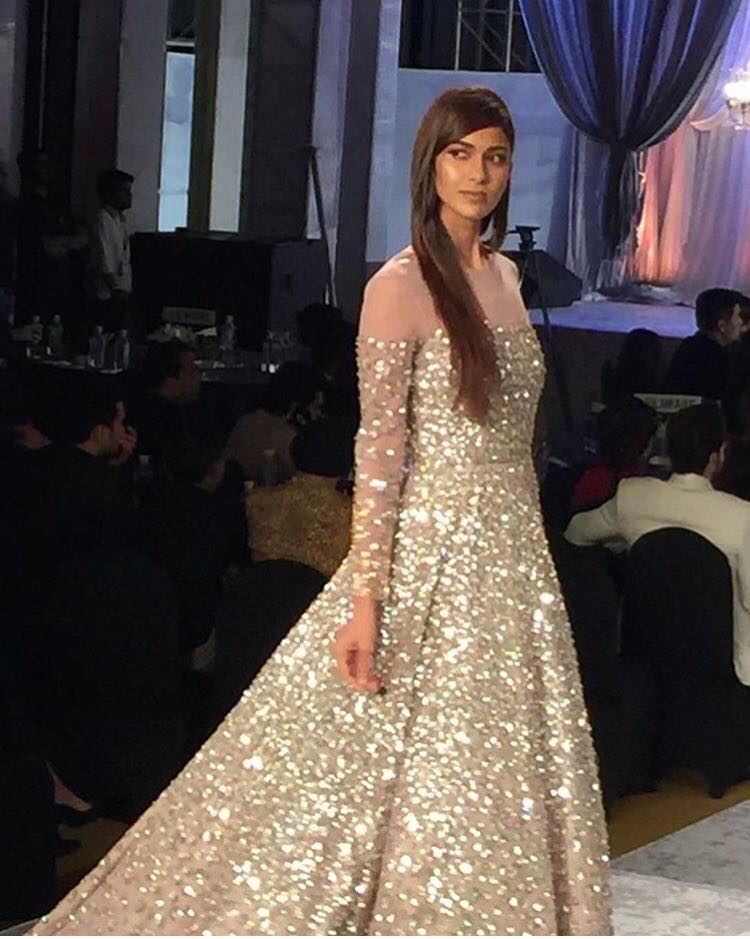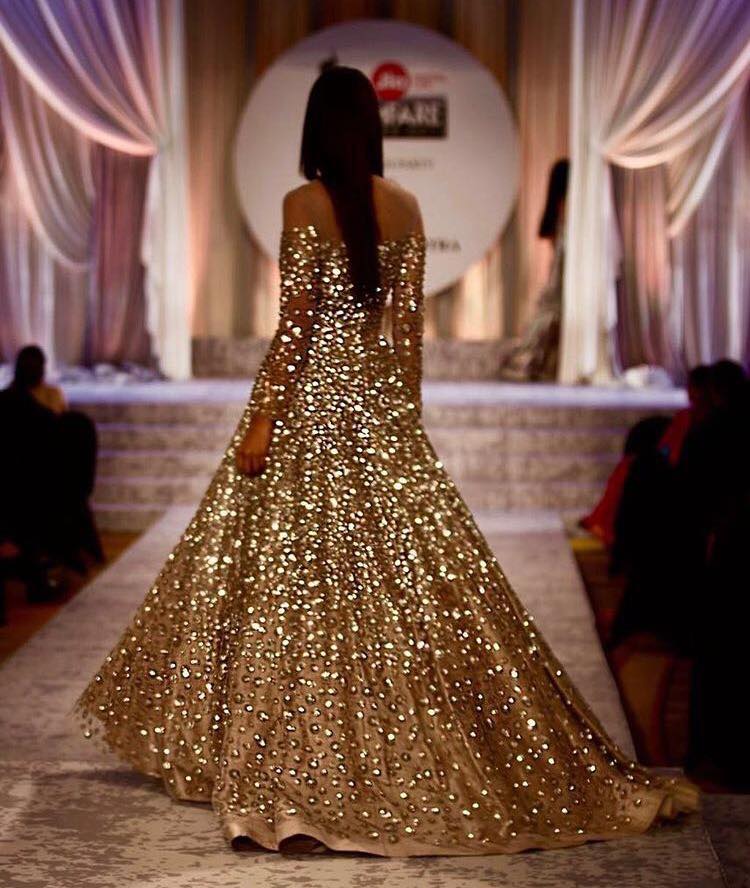 Simple and yet majestic, looks like this year lace is going to be trending again.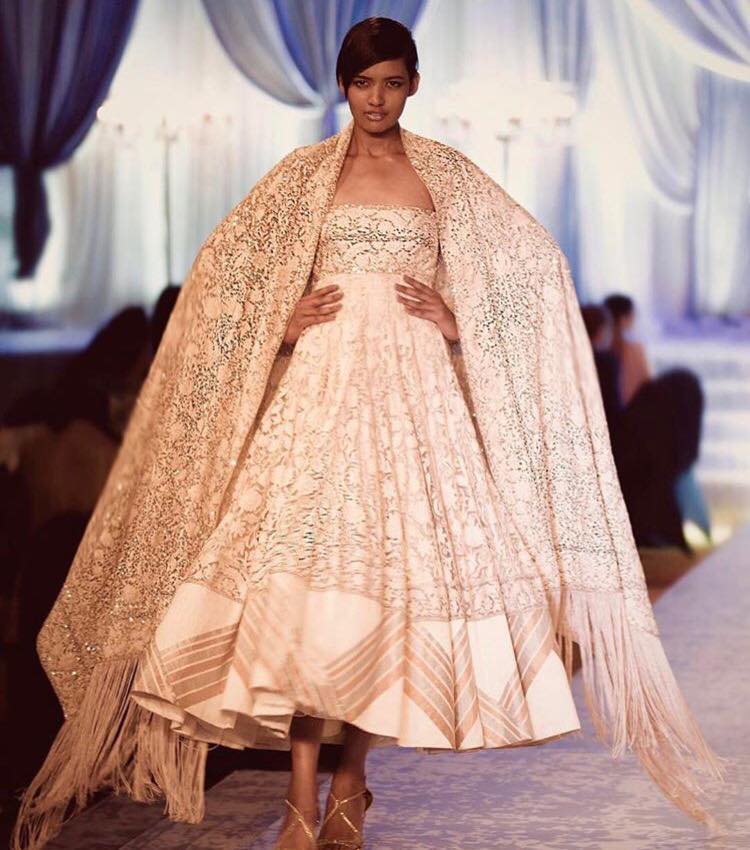 Isn't this dress simply one of the best outfits that Manish has created so far?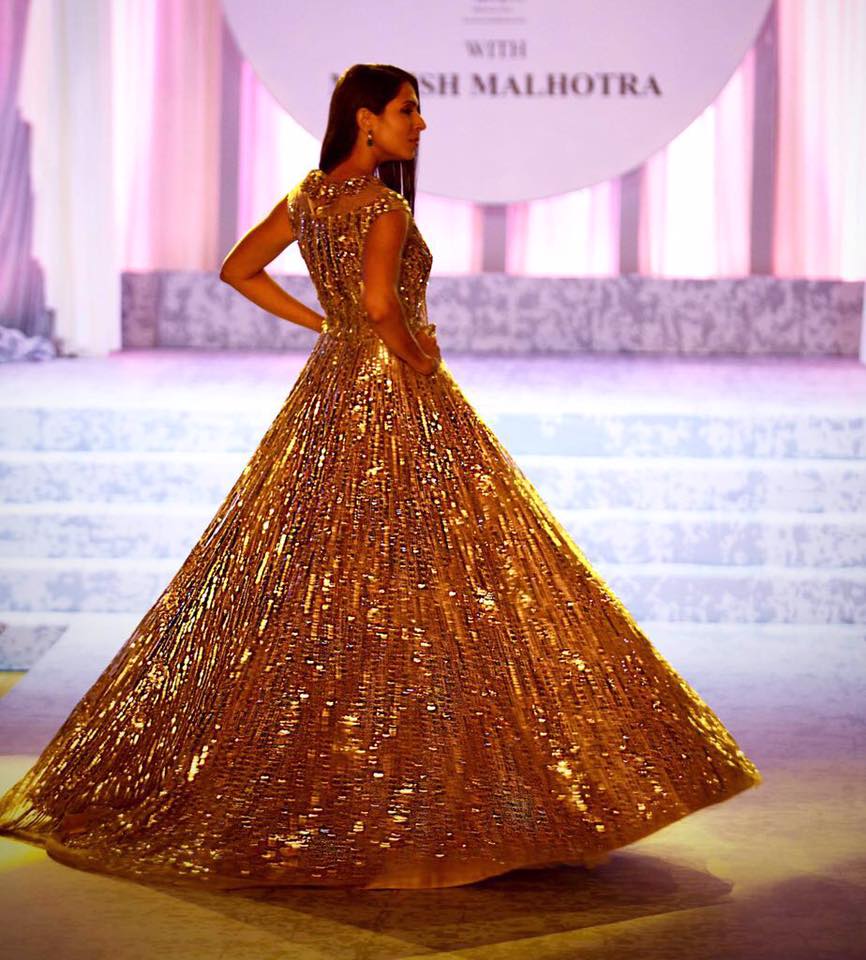 #20 – Bridal Dress with Mirror Work Coat
A classy, prestigious and unusual bridal dress introduced by the experimentative Manish Malhotra in 2019. The less common approach to the classy dress is what you will see in most of his designs this year which will manage to stand out every single bride out there. This dress is meant for classy simplicity so wear it with minimal makeup and jewelry, and the dress itself will speak for you. RECOMMENDED: Latest Manish Malhotra Sarees 2019 Collection-Top 28 Sarees by Manish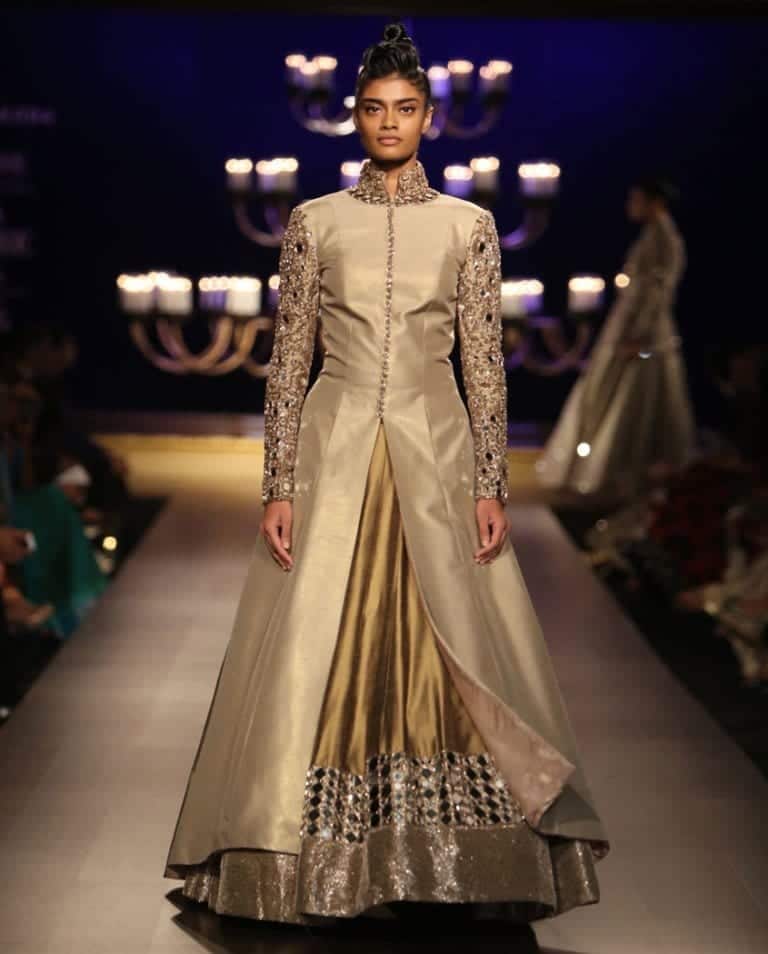 #19 – Traditionally Modern Lehenga
A traditional yet modern-looking design for weddings by Manish Malhotra has got the customers all hyped. And we can understand why. The uniqueness and attraction with which this phenomenal piece has been designed has awed all women with how cultural yet modern it looks at the same instant. We suggest you go with dark gold jewelry and darker makeup with this.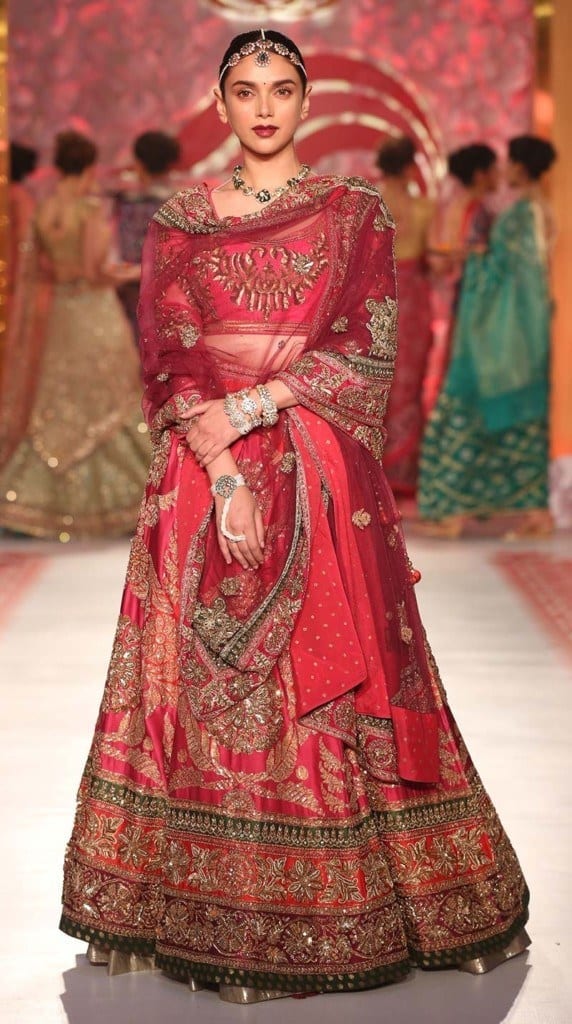 #18 – Classic Indian Bridal Dress
A mesmerizing and subtle combination of simplicity and class in this cool palely dark blue bridal dress for all women who wish to stand out a bit more than usual. This dress is confident enough to need no extra accessories, although, jewelry is mandatory at weddings, so you can pitch in a few simple ones, with nude makeup look.
Check out the gorgeous Deepika Padukone wearing a similar lehnga like the one shown above but with slight variations, designed of course by the great Manish Malhotra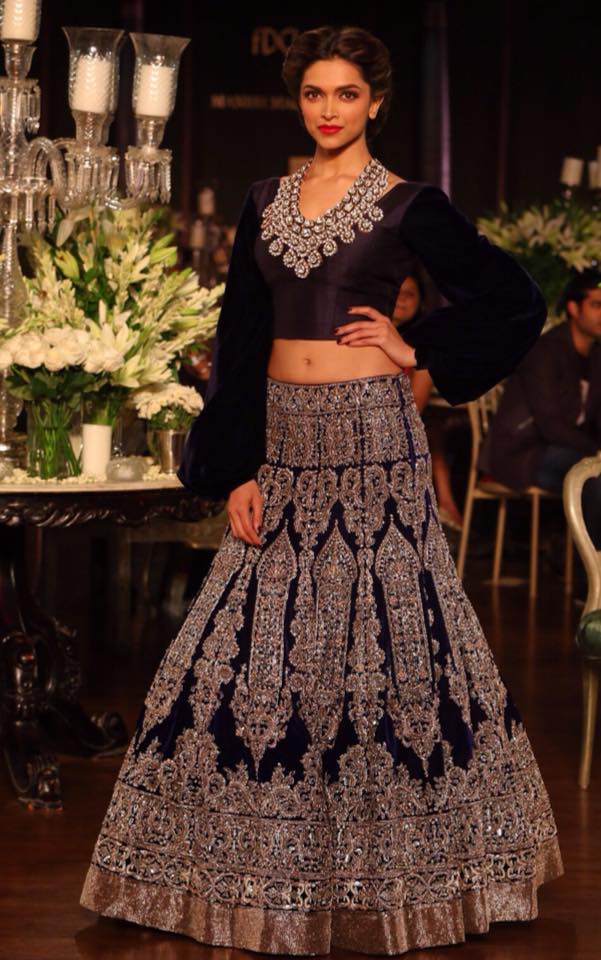 #17 – Manish Malhotra Bridal Lehenga'17
Another very similar addition to the unique 2019 collections of Manish Malhotra bridal dresses – with a sensual embroidered lehenga and a mildly fancy blouse to go with. Jewelry like that of the model will be suitable with this and you may want to tie your hair in a fancy-looking updo to match the mildness of the dress. For ideas on styling your lehnga dupatta, check out How to Wear Bridal Lehenga Dupatta in 10 Different Styles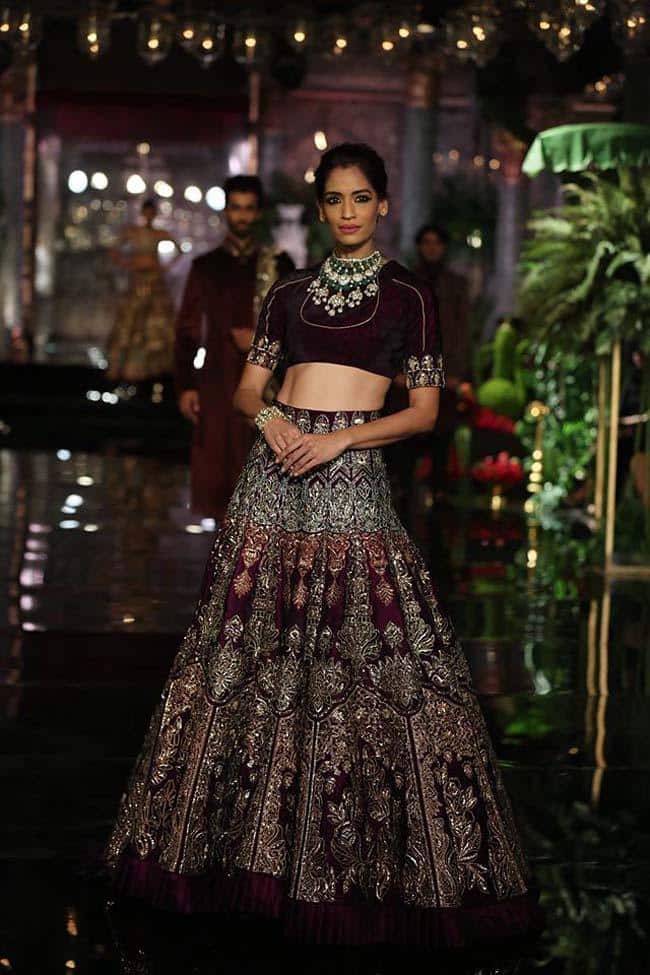 #16 – Persian Inspired Bridal Dress with Coat Style
A phenomenal and fabulous looking bridal dress with a dainty bridal print all over a pale golden silk material, and to add to the perfection, a classic maroon coat with minor gold embroidery. As we know that matching gold with maroon is perfection, especially if it's a wedding dress we are talking about. You match it with the best dark makeup look you know and a cherry red lip color or probably a darker shade.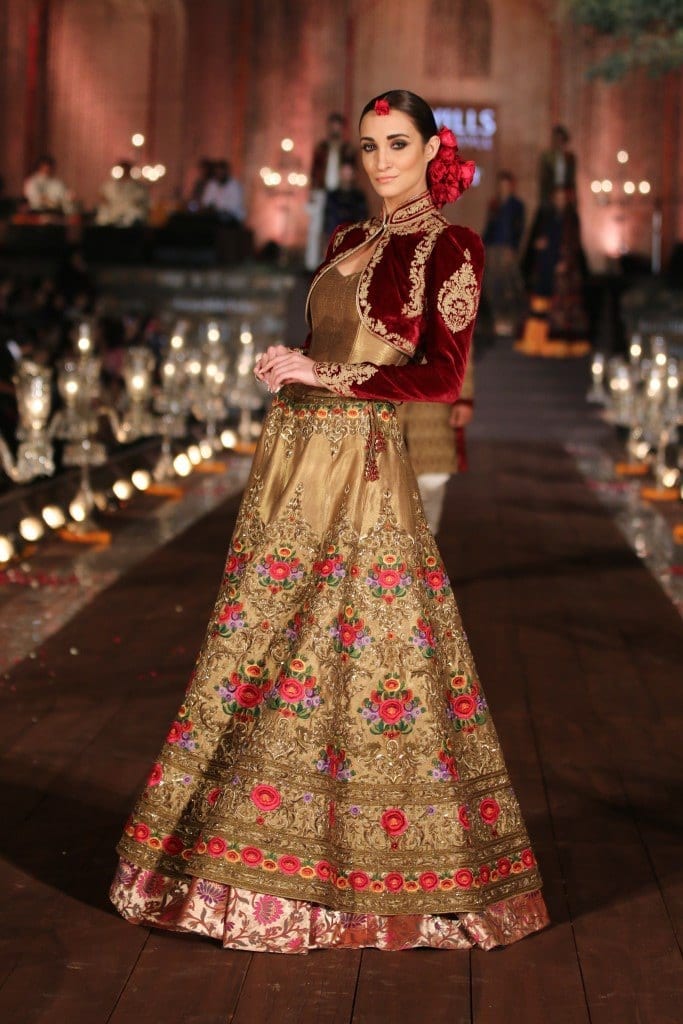 #15 – Jacqueline Fernandez in Manish Malhotra Dress'17
Jacqueline putting on a wondrous fawn bridal dress that's no less than a dream. For women, who want a reality-turned-dream kind of wedding, then this dress will be a perfect pitch for your big day! Want to add a further class? We can tell you how; above all to showcase just how exactly gorgeous your dress is, tie your hair either in an updo or any tied hair look that's fancy enough, and wear nude or any matching makeup, but make sure your dress is the first focus of people. Check out these beautiful Jacqueline Fernandez Hairstyle-25 New Hairstyles of Jacqueline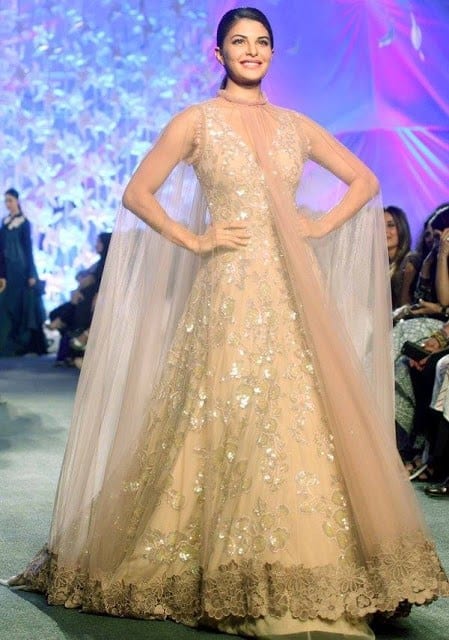 #14 – Kangna Ranaut Bridal Look for 2019
Kangna Ranaut in a classic and cultural Manish Malhotra 2019 bridal dress, all ready to win hearts and attention with the dominantly attractive look. You can also wear this just as best if you wear it similarly like her, with some cultural carved jewelry and a prominent looking updo. To match the unique shade of the dress, a smoky-eyed makeup look would be suitable and you will nail this outfit in your own way.
The trend of subtle and dark looks is the new trend of wedding dresses and Manish Malhotra has successfully achieved that!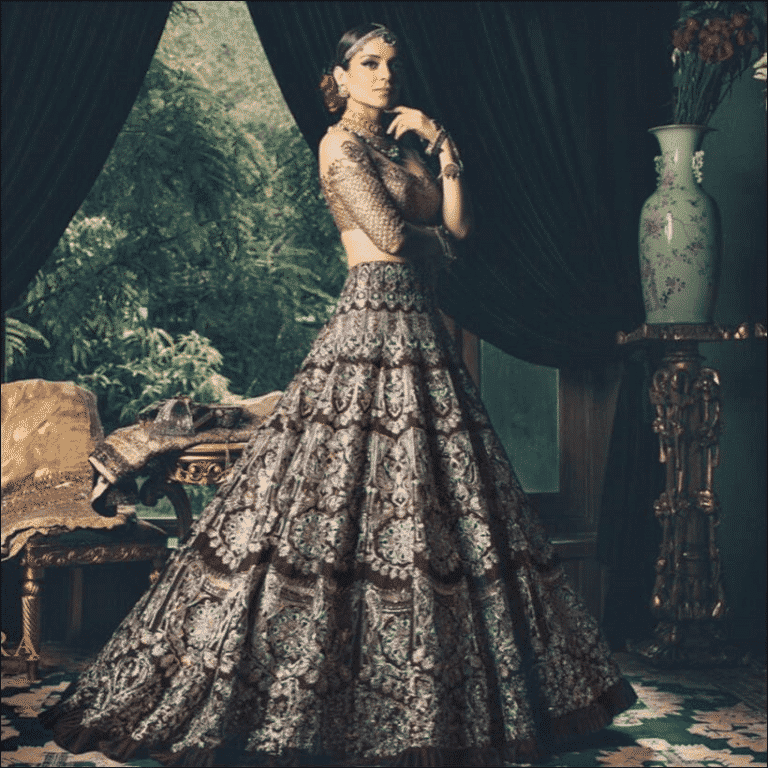 #13 – Manish Malhotra Barat Dress

#12 – Gorgeous and Elegant Bridal Dresses

#11 – Manish Malhotra Wedding Gown with Coat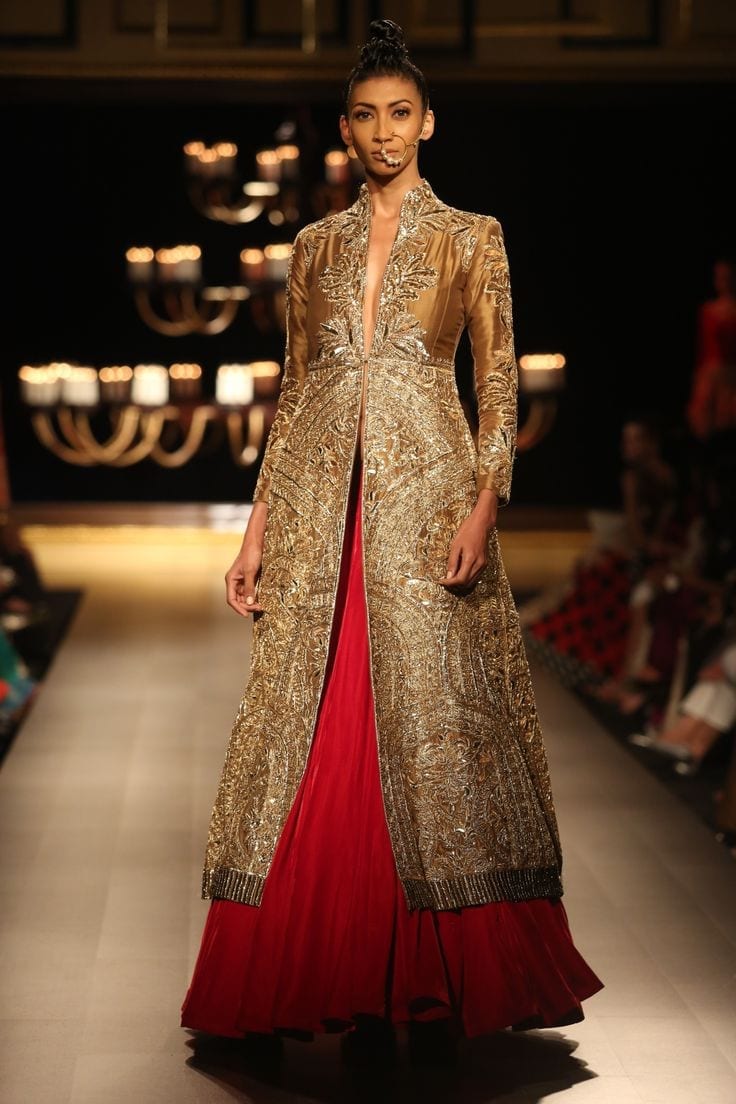 #10 – Celebs in Manish Malhotra Dress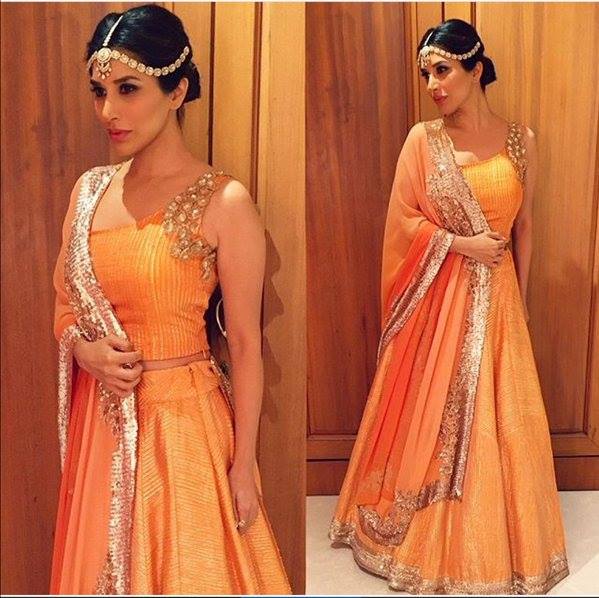 #9 – Deepika in Persian Story by Manish Malhotra
The flawless Deepika, continuing to impress us with something other than her unforgettable work on screens; her dressing and outfits, which took greater notice when she put on this admirable Manish Malhotra wedding lehenga with a sensual off shoulder blouse. While her smoky-eyed makeup look and the dainty necklace stole the show. To further add the glamor, she made an elegant yet simplistic updo that blended with the fanciness of the heavy lehenga. Here are some amazing Deepika Dresses–20 Best Looks of Deepika Padukone this Season
#8 – Stunning Lehenga for Bridal-wear
#7 – Prettiest Mehndi Dress by Manish Malhotra
We can assure you that you could not have laid eyes on a prettier bridal dress for Mehndi style than this eminent yellow lehenga by Manish designers for Mehndi looks.
#6 – Lehenga with Crop Top and Cape
A wondrous blue and beige combo of a gorgeous bridal lehenga with the cutest crop top style giving a look to this never seen before in bridal dresses. What further added to the class and beauty was the stylish and elegant cape that will make the buyer feel all attractive, together and poised. To get the most out of this outfit, pick a light and pretty makeup look and minimal jewelry.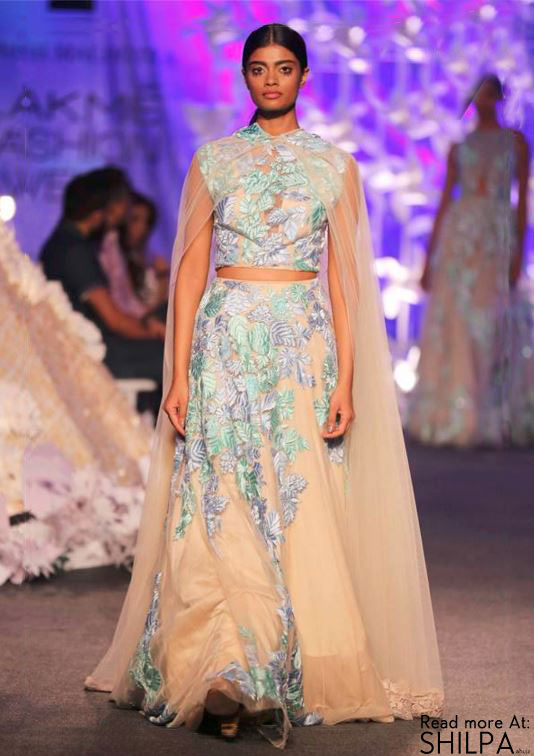 #5 – Manish Malhotra Bridal Dress in Shades of Red
#4 – Bridal Gown
RECOMMENDED: Latest Bridal Gowns; 20 Most Perfect Bridal Gowns this Year
#3 – Royal Bridal Gown Style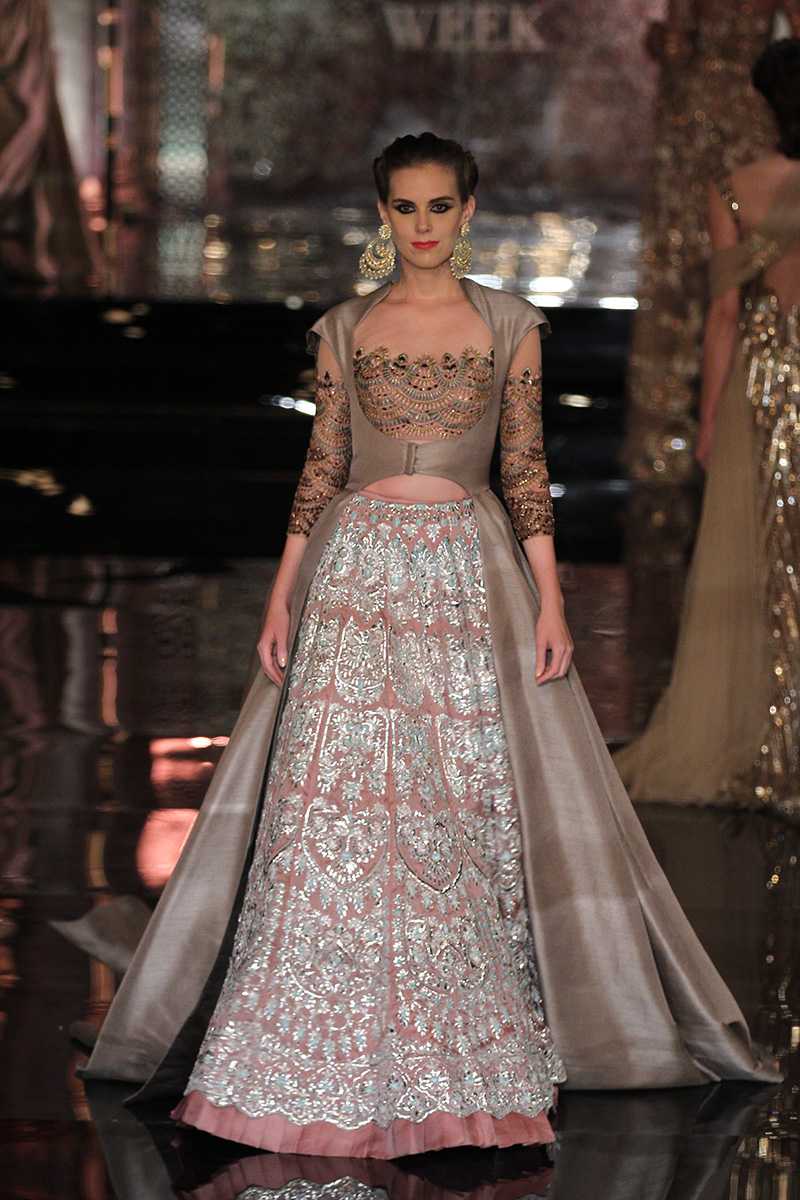 #2 – Unique Lehenga with Off-shoulder Blouse
#1 – Manish Malhotra Spring Bridal Dress
Real Manish Malhotra Brides
Since we've already seen all the models and actresses rocking bridal outfits by Manish, let's have a look now at some of the prettiest real world brides who made their big day very special this year by wearing his outfits.