Skater Skirts Outfits – One of the most needed garments which should be in every girl's wardrobe is the skater skirt. With these skirts obtainable in all colors and patterns and with such a versatile element to them it is beyond easy to gain different stylish looks. But how to wear skater skirts?for what all occasions you should wear it? What footwear can be worn with skater skirts? This post covers 20 different ways to style skater skirts for different seasons. And if you love a sporty girl look then check out these 15 stylish ways to dress up for fashionable sports girl look,
Cute Outfit Ideas for Skater Skirts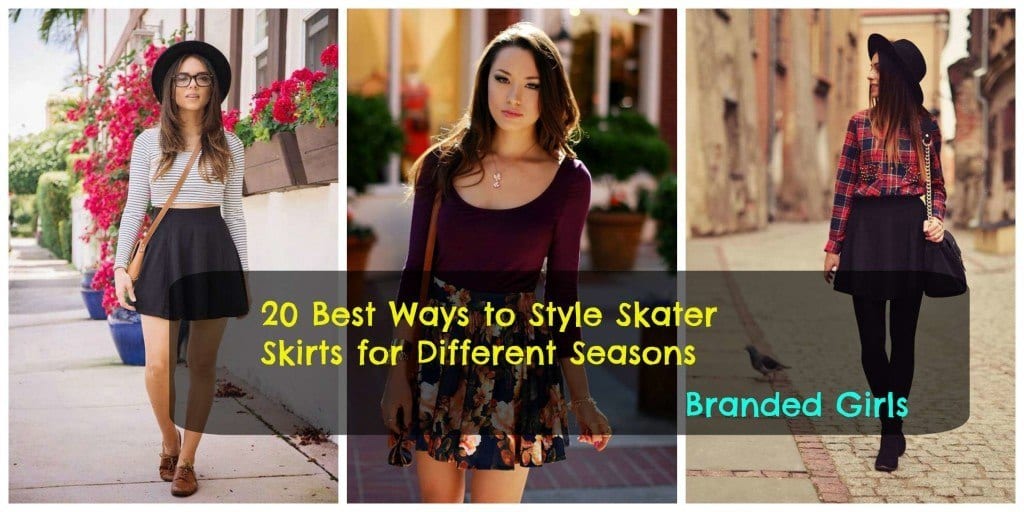 Spring Outfits with Skater Skirts
#5 – Cute Spring Look for School
The cutest spring look, with a plain black skater skirt and cropped, striped top. Accessorize this outfit with a black trilby, brown oxfords, and brown leather handbag.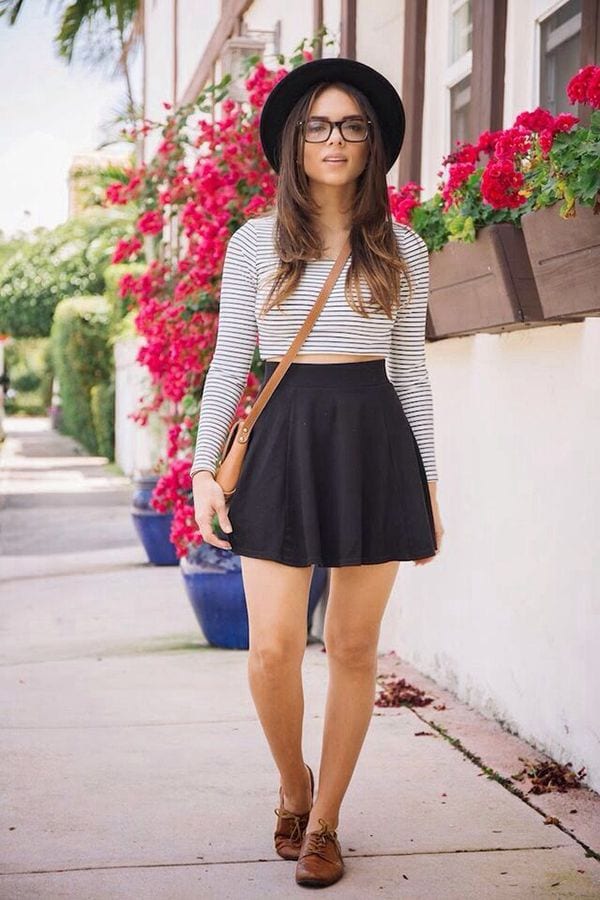 via
 #4- Warm spring look for Work
Black skater skirt with a gray jumper and contrasting beanie. Match with black tights and oxfords and accessorize with a contrasting brown suede handbag. Black colored knee length socks make a great combo when worn along with skater skirt. As far as color combo is concerned you can make them in any color with any kind of material. But mostly shades of gray with black goes flawlessly. You can also add a cream colored beanie cap on top if it is cold out there.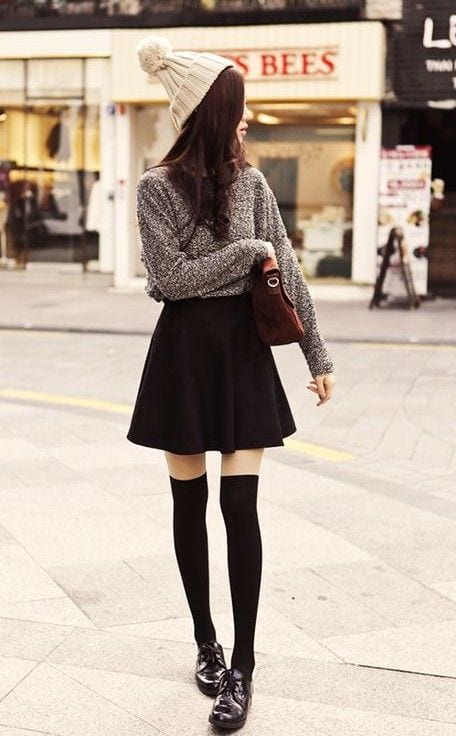 via
 #3- Chic City Style for Party Time
Black skater skirts with a cute white top with keyhole designs around neck and sleeves. Simple pink tint lipstick and eyeshadow and a chunky bracelet.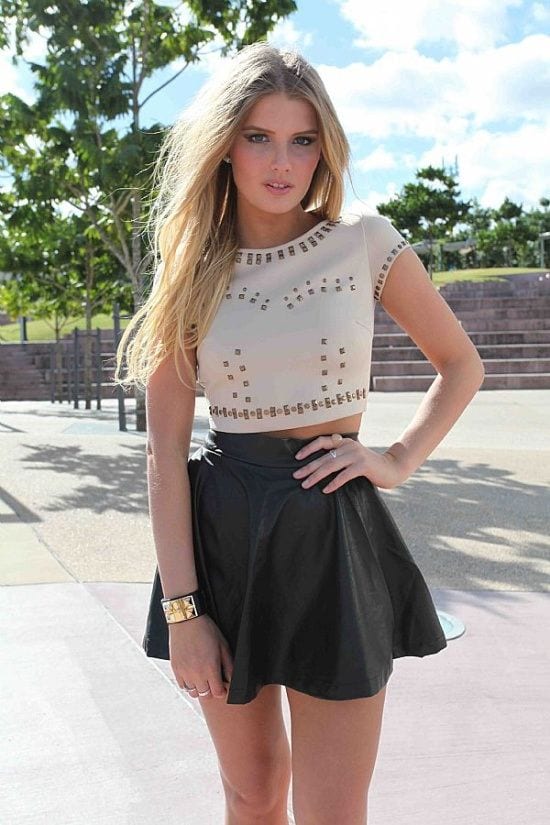 via
 #2- Street Style
Two tiered floral patterned skater skirt matched with a chambray shirt and cute black heels. Finish this look with a black leather handbag. Denim shirt along with floral patterned net skirt looks great on any kind of girl. For this combo, you should tuck your shirt inside your skirt all the way in. For jewelry, bag and high heels you can wear them in black color. Oh, and for the perfect combo, you can do a high bun.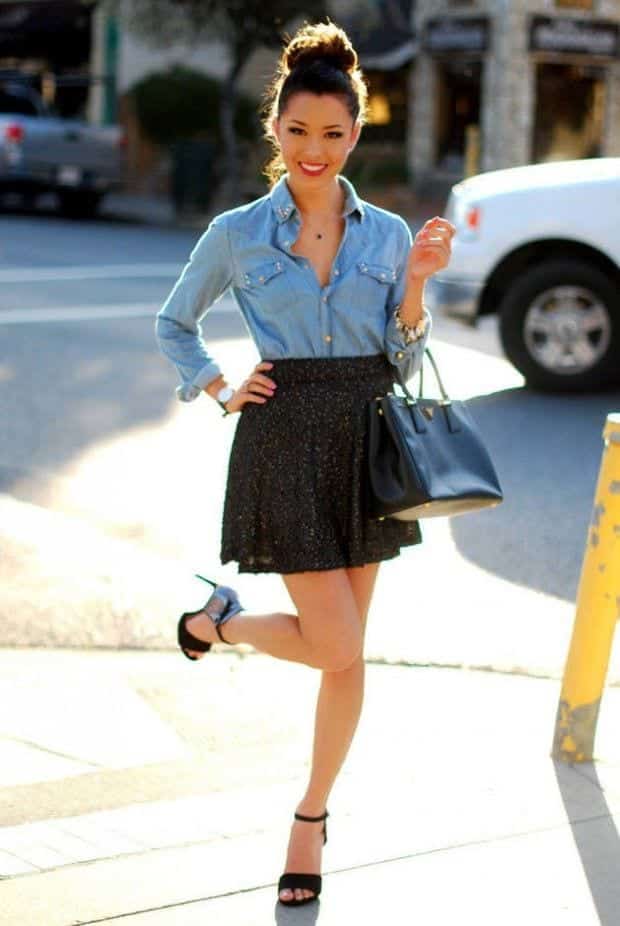 via
 #1- Top Spring Look
Floral skater skirt with a low cut, long sleeve aubergine top. Match this outfit with gold jewelry and a brown handbag. Complete this spring look with smokey eye makeup.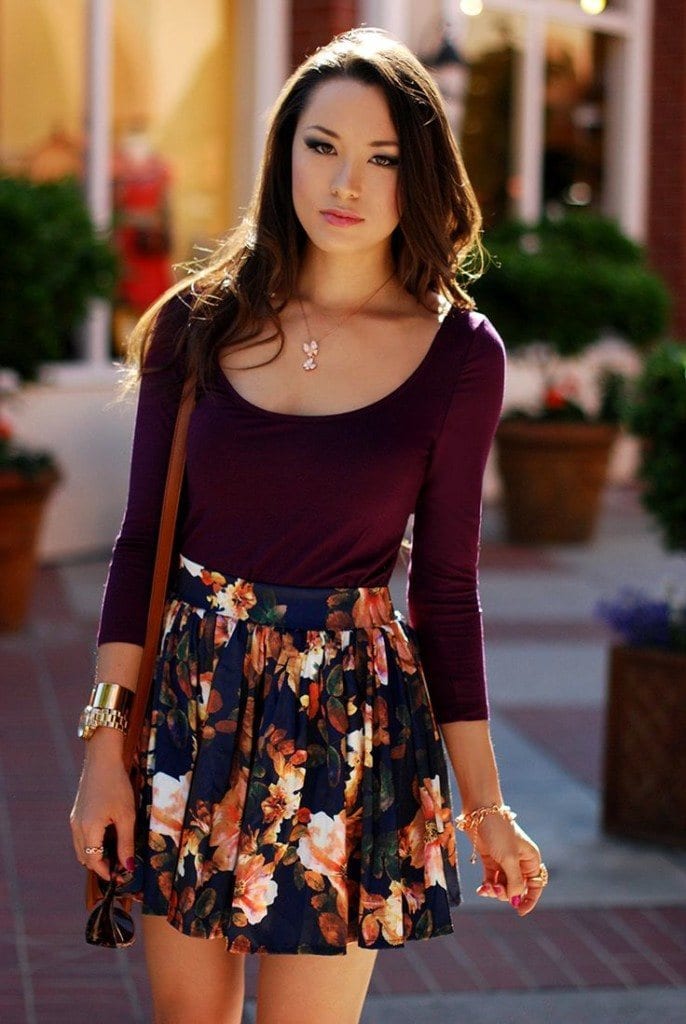 via
Skater Skirts Styling In Summer Season
#5- Formal Summer Look
Blue skater skirt with a blouse having pearl buttons. Matched with a pearl necklace and snakeskin print, chain handbag. This dress idea is the best idea for girls who want to look cute and classy whenever they go out. For this outfit all you need to do is to get your hands on a  beautiful pair of lacy knee length skirt and then wear white colored formal blouse. For the jewelry, you can wear any kind of jewelry from fancy to casual but pearly jewelry looks best with it. For the perfect match, you can wear a cute pearly necklace along with a golden colored watch and a contrasting colored side clutch. You might also find some great ideas from these Latest Summer Fashion Trends To Follow- Top Trends of 2019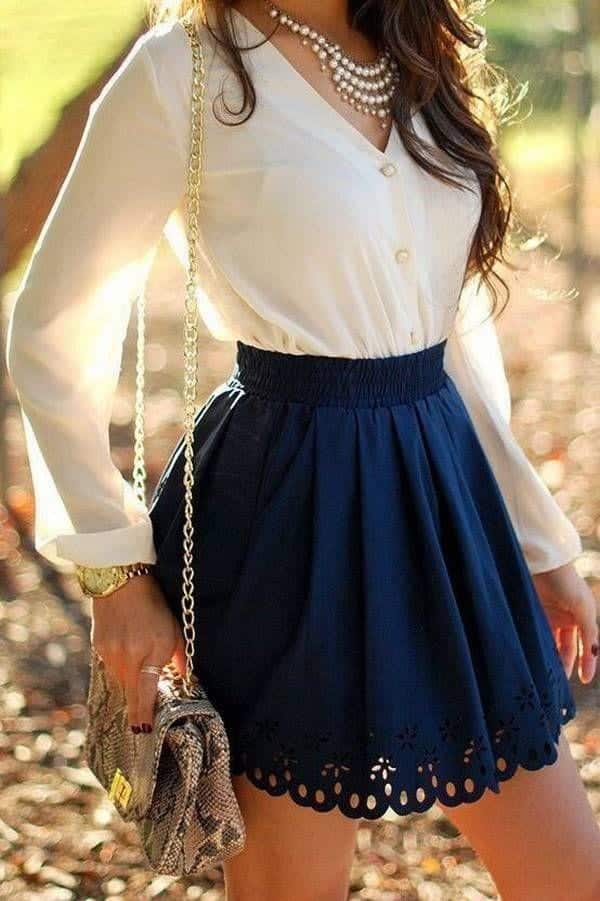 via
 #4- Skirts for Summers
Skirts are simply made for the Summer season. Purple sheer, two tier skater skirt with white lace effect top and sun hat. Instead of going for blue colored knee length skirt you can go for sheer pink or magenta colored knee length skirt in flowy fabric. For the jewelry, we suggest that you go for gold coloured one as it adds a real touch of sophistication to the outfit. For shoes, you can wear ballerina pumps or sneakers to give a full casual look.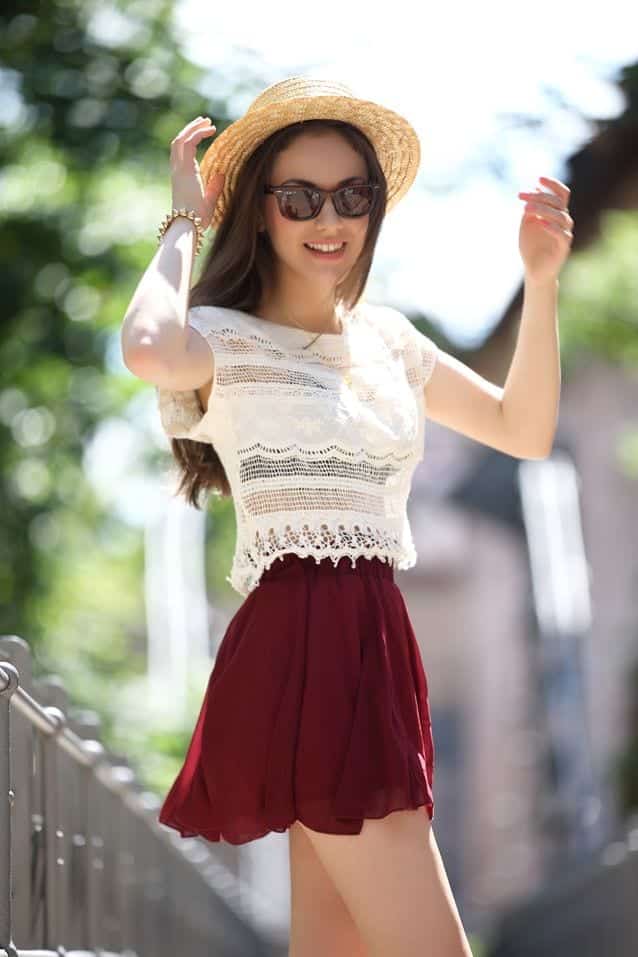 via
 #3- Nautical Boat Style
White skater skirt with blue and white striped t-shirt. Accessorize this look with simple sunglasses and a thin brown belt.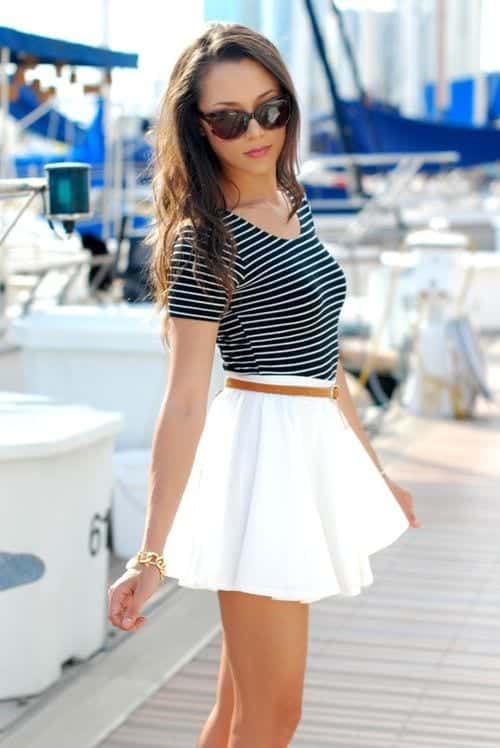 via
 #2- Work Wear outfit
Achieve this look with simple black skater skirt and khaki shirt. Accessorize with a purple handbag, chunky beaded bracelet and sunglasses.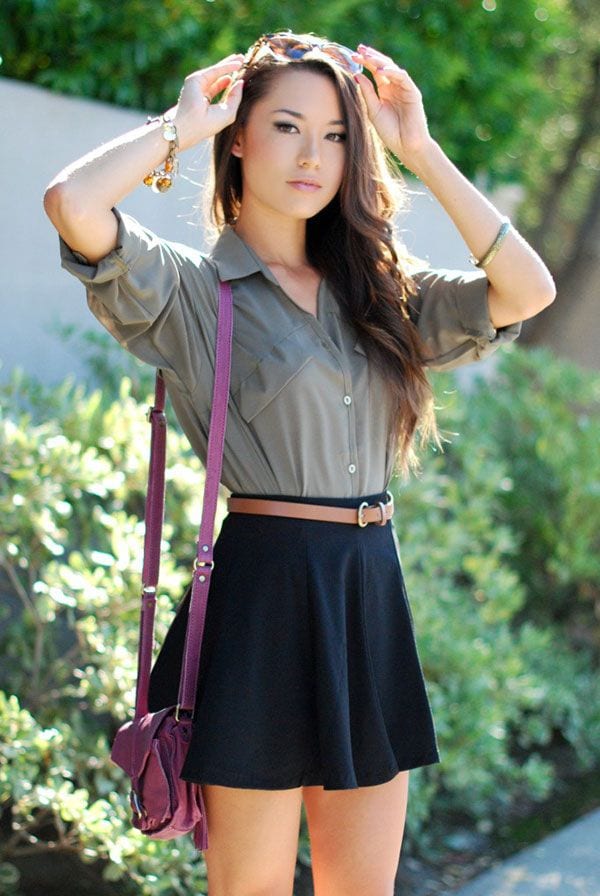 via
 #1- Swaggy Style
Black pleated skater skirt with cute mickey mouse vest top and black heel. Finish this summer look with sunglasses, a watch and a pink satchel bag.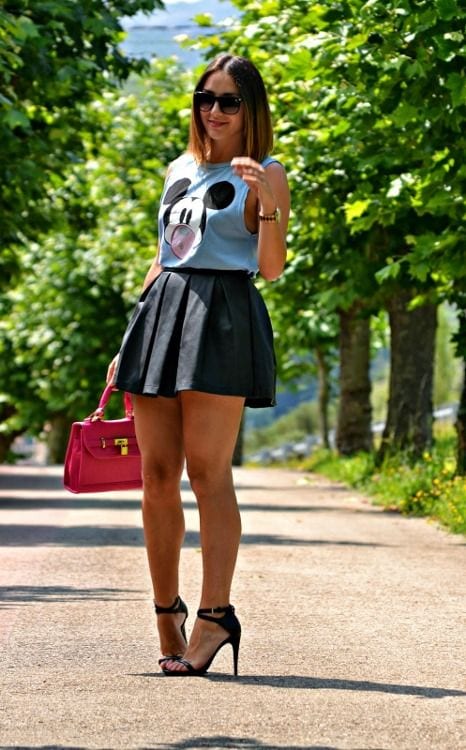 via
Skater Skirts for Autumn Season
#5- Ariana Grande Inspired Look
Black and white tartan skater skirt. Matching purple blouse and ankle boots with dark denim jacket and black tights. You can also see 20 of cutest Ariana Grande's Looks .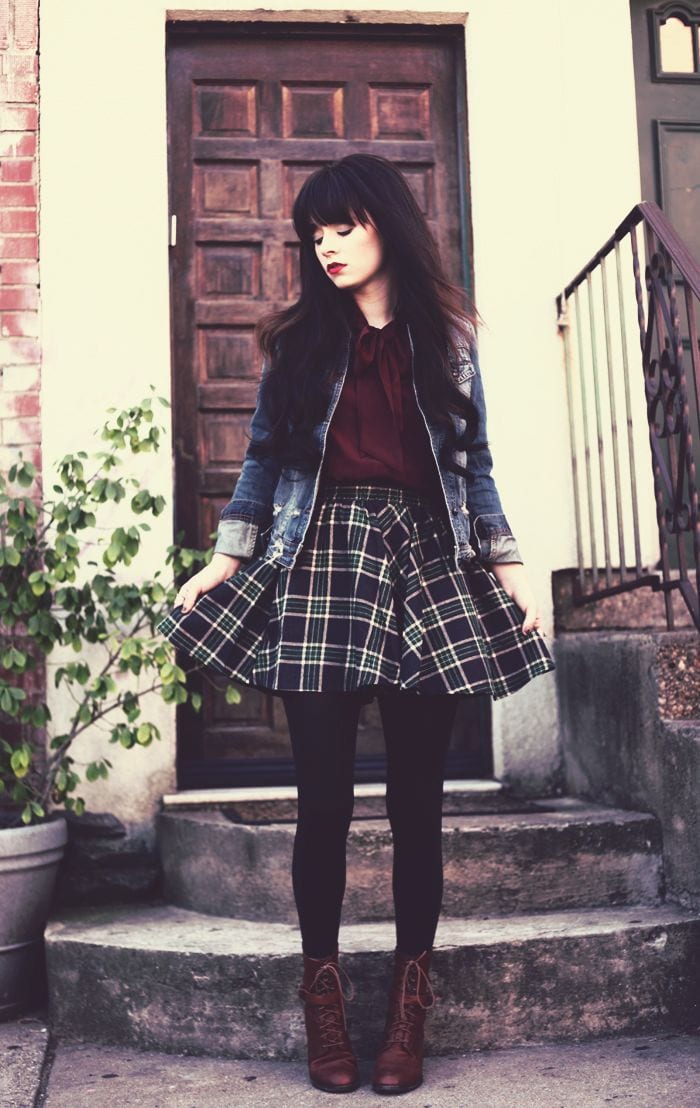 via
 #4- High School Style
Purple jumper with plain black skater skirt. Matched with brown ankle wedge boots and black tights for perfect autumn colours. For more Autumn vibes, you can wear purple colored sweater along with the black colored pleated skirt. This outfit idea can be worn to work or to any other casual settings. If you want to take one step ahead you can wear a cropped top in purple color and you can add brown colored belt and shoes. Also add the brown colored leather bag to complete the whole look.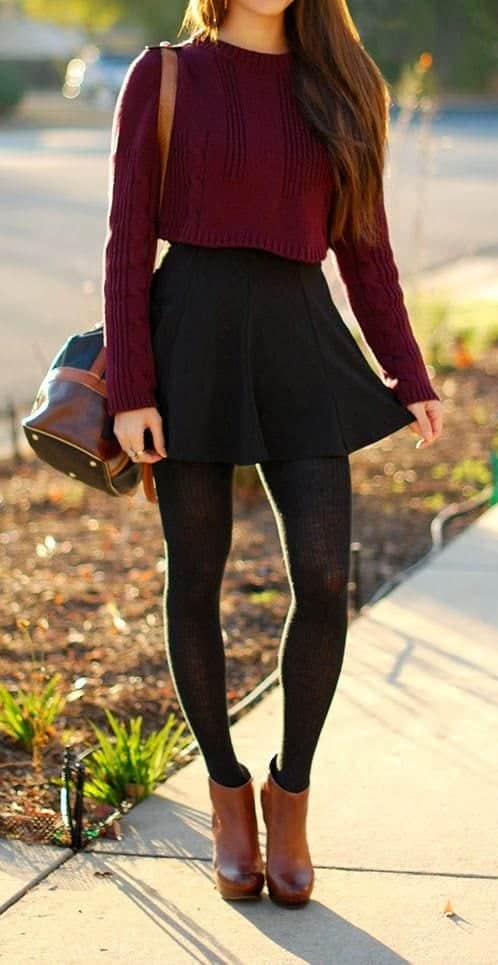 via
#3- Great city style
Incorporating black skater skirt, handbag, trilby, tights and ankle boots. Featured in this outfit is the tartan shirt with stud design on pockets.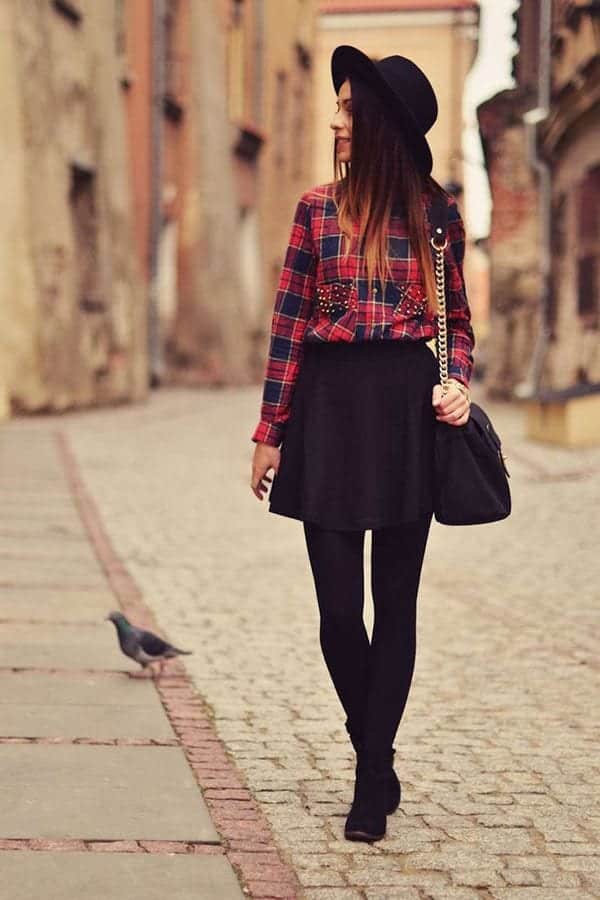 via
 #2- Perfect Picnic
Gorgeous outfit with black buttoned skater skirt and teal 3/4 sleeve top. Brown belt, zigzag tights and suede heels complete this outfit.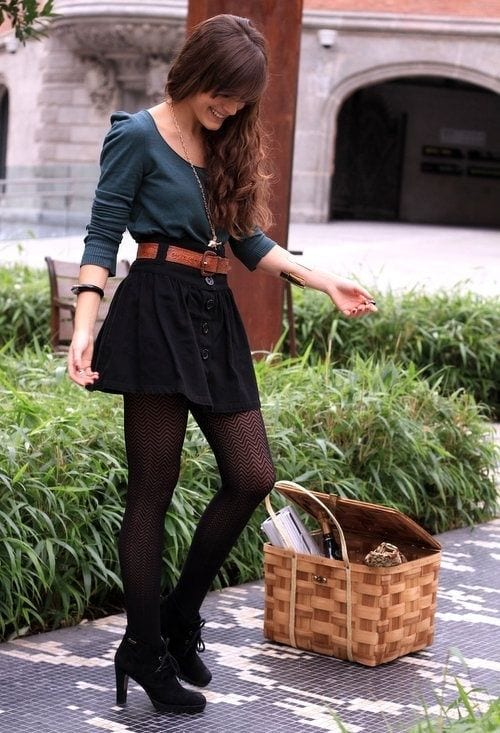 via
 #1- Top Autumn Outfit
Thin pleated skater skirt with tights and suede ankle boots. Match this outfit with thick knit, white jumper and beanie hat. Finish with white leather handbag and sunglasses. Add a splash of colour with pink or red lipstick.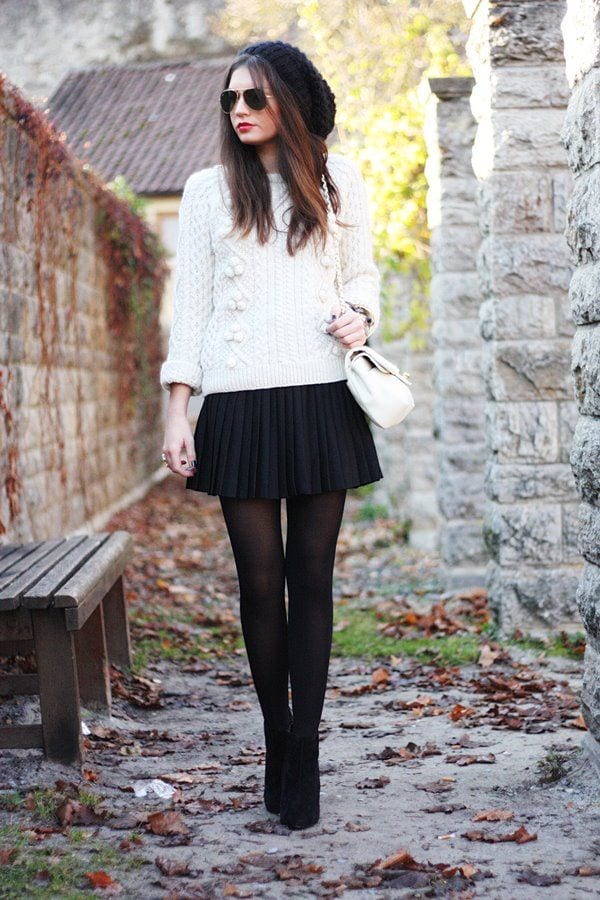 via
Winter Styling Ideas
#5- University Girl Style 
Black leather jacket with top and a black scarf with contrasting red tartan skater skirt. Black tight, boots, sunglasses and bag complete this style. This is a dream outfit for the girls who love black. The ponytail hairstyle too has been very appropriately selected for this outfit. You might also be interested in these Skinny Girl Hair Looks; 25 Best Hairstyles for Skinny Girls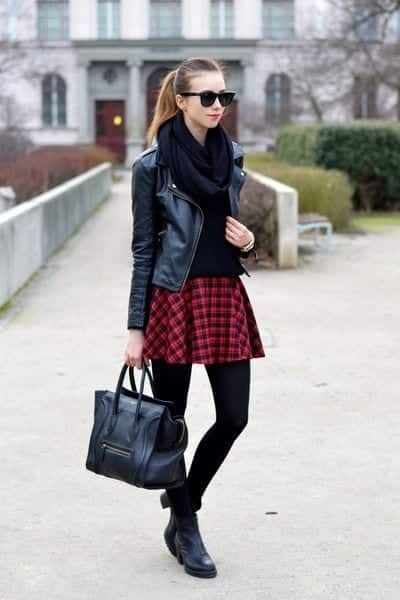 via
 #4- Casual Wear
Short skater skirt with knitted, slate grey jumper. Finish off the outfit with black trilby and leather handbag.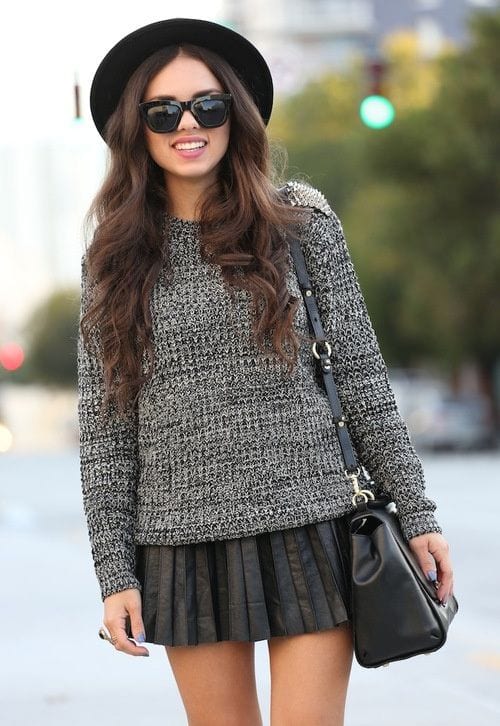 via
 #3- Cute Winter Look
Patterned knitted jumper with leather skater skirt. Matched with black tights and leather handbag. Cute and lose grandma sweater in the shades of black works perfectly when worn with black leather skater skirt. For the tights, you can try something out of the box and wear net leggings with high heels. For the bag and jewelry, you should opt for black colour.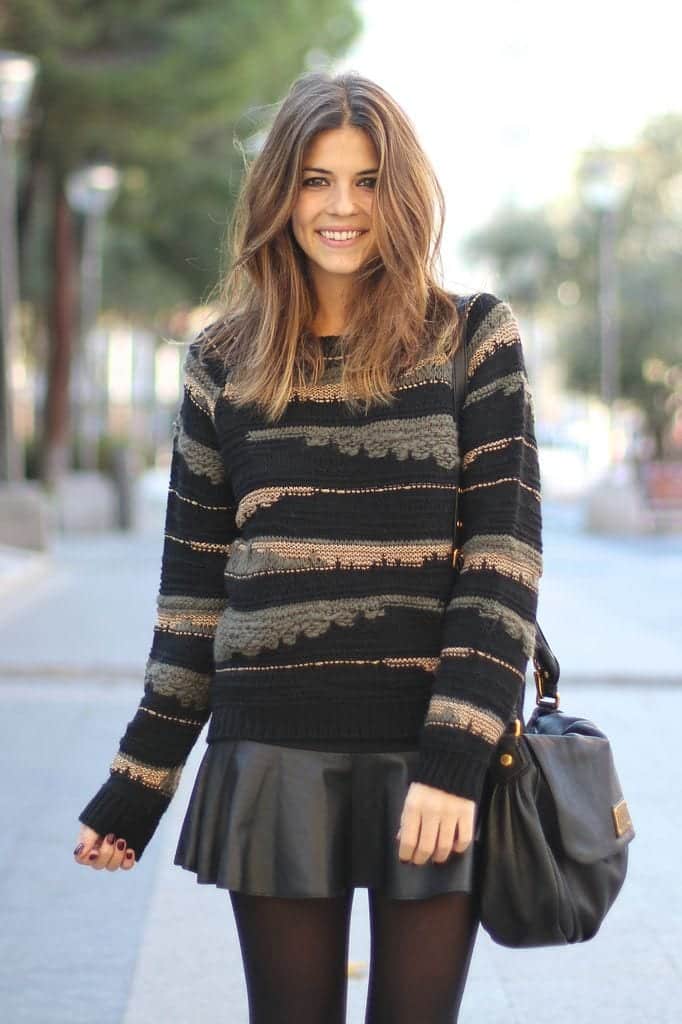 via
 #2- Black Swag Outfit
Black skater skirt with blue jumper and ribbed leather look jacket. Black boots, bag and chunky scarf make for great accessories and little love heart tights add a touch of cuteness.

via
 #1- Snowy Day Outfit
Classy white skater skirt with fluffy knit grey jumper. Black platform boots match this outfit perfectly along with a contrasting gold belt. Make up for this style is bright, but in keeping with the color palette.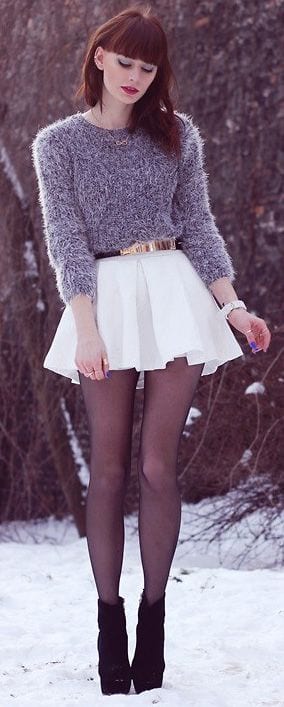 via