Latest Kurti Designs 2022. One is always wondering about the latest fashion collections by her favorite designers if she is a fashion geek. Every season, the top designers bring releasing their latest designs is akin to winning a lottery for someone who loves fashion. These designs not only bring change but are also the trendsetters of the season.
Kurtis, being one of the most required and adored outfits, come in really awesome styles. Team Branded Girls have collected the latest trendsetter Kurti designs from various brands and fashion houses. Designer styles always create a new persona which is followed by almost everyone in every season. You can also check out Kurti Neck Designs to go with your new kurtis.
Trending Kurtis From The Best Brands
Kurti is popular in South-Asia and among the rest of the countries, India and Pakistan offer the best designs out there. So today we'll be sharing our favorite designers and brands from these countries who're designing the most trendy and stylish kurtis.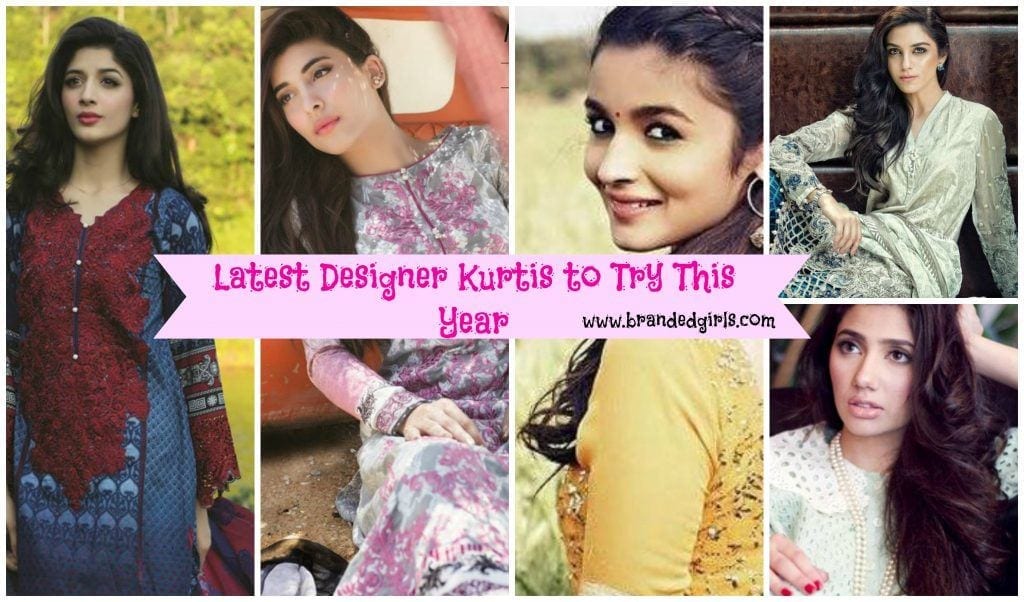 Kurtis by Indian Designers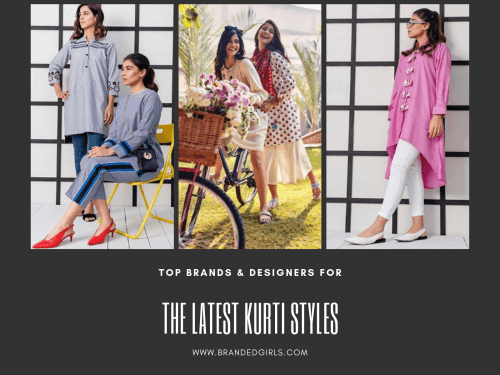 ↓ 1 – Global Desi
One of the best brands for western or fusion style kurtas in India.
Price range: $8 to $73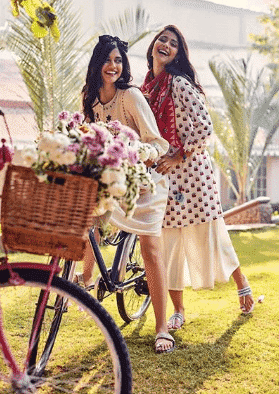 ↓ 2 – Manish Malhotra
When it comes to designer kurtis, how could Manish Malhotra be forgotten? He is one of the best and trendiest Kurti designers in India and it wouldn't be a stretch to say, of the world too.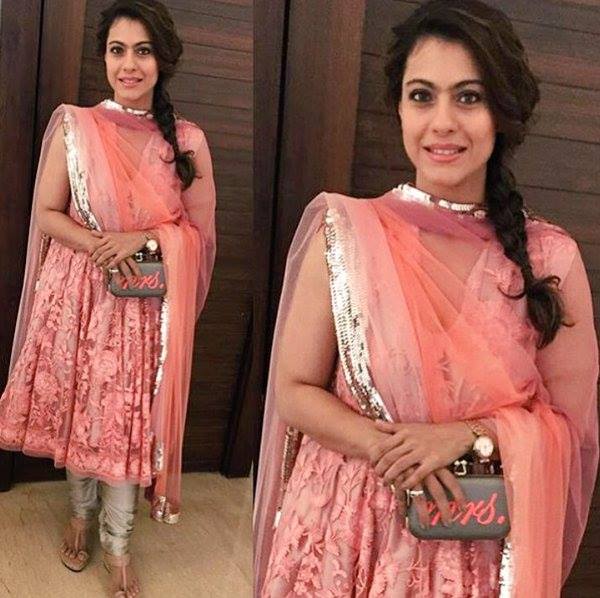 ↓ 3 – Biba
Biba offers contemporary Kurtis. It is among the finest Kurti designers in India. It offers great designs for all aged women and young girls.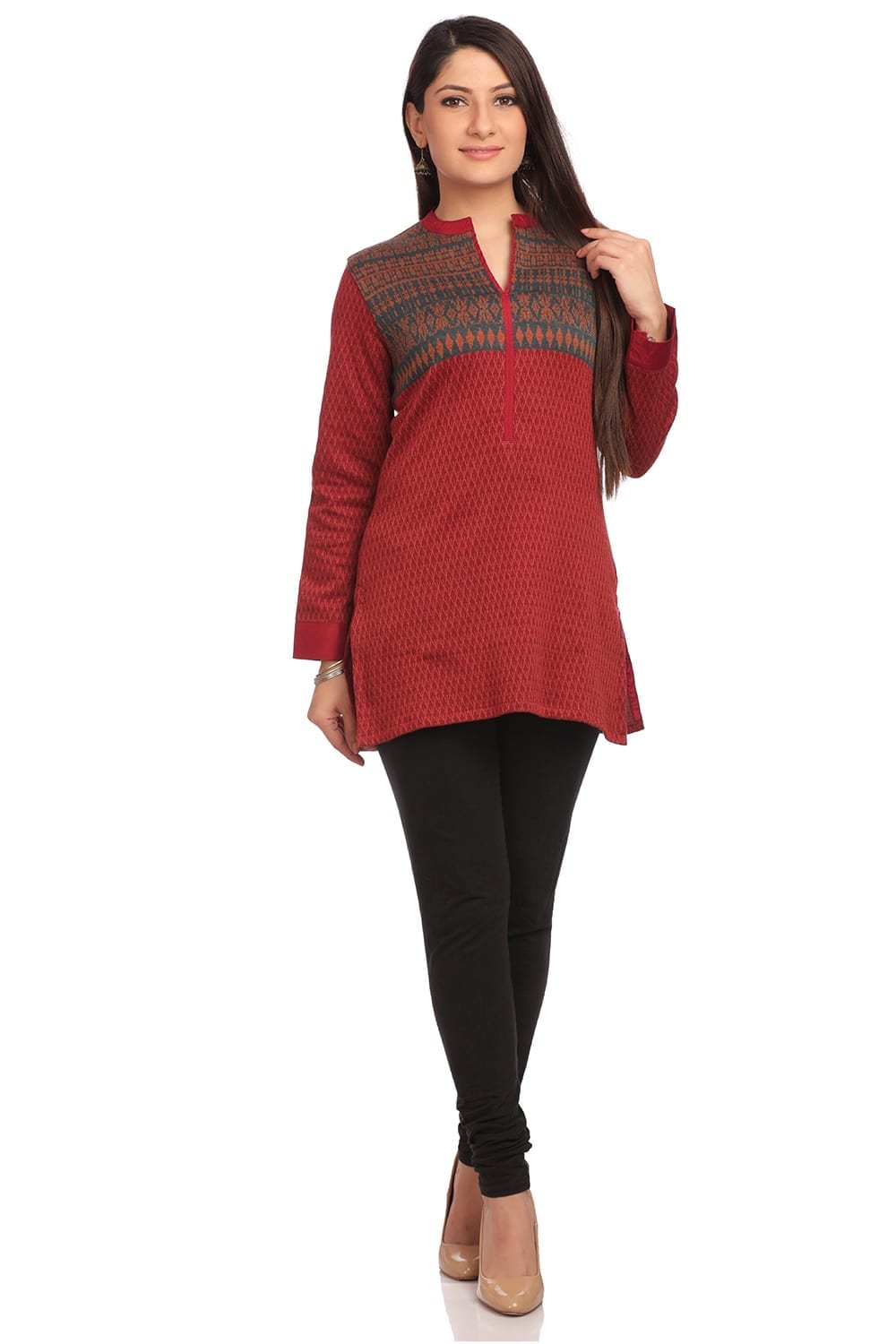 ↓ 4 – Sangira
The latest frock style Kurti is perfect for any casual party.  One always feels great and looks classy with this outfit.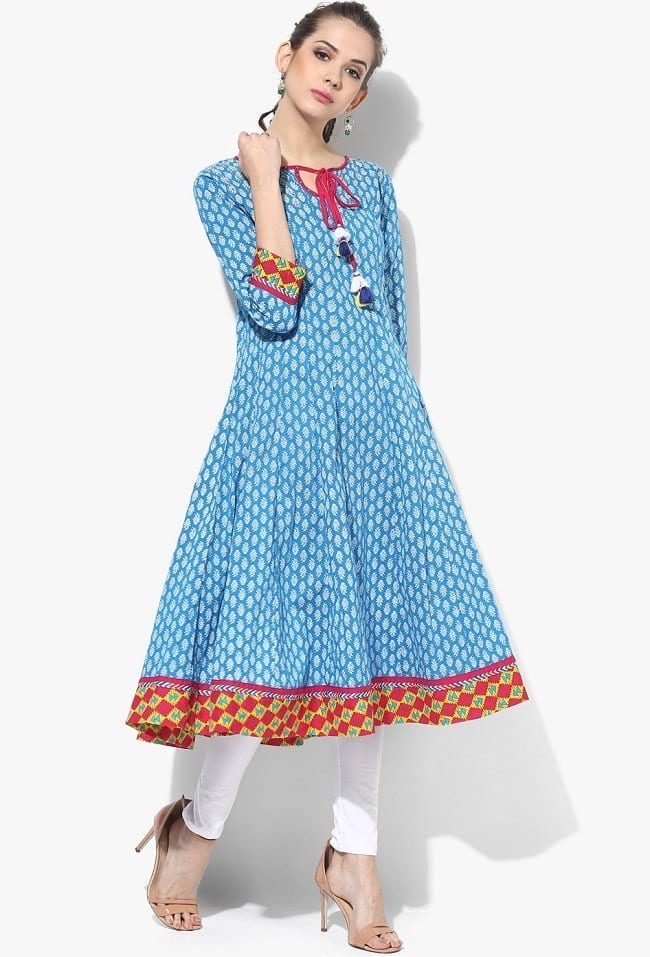 ↓ 5 – RainDrops
The navy blue color long kurti is a nice attire from RainDrops for your party wear.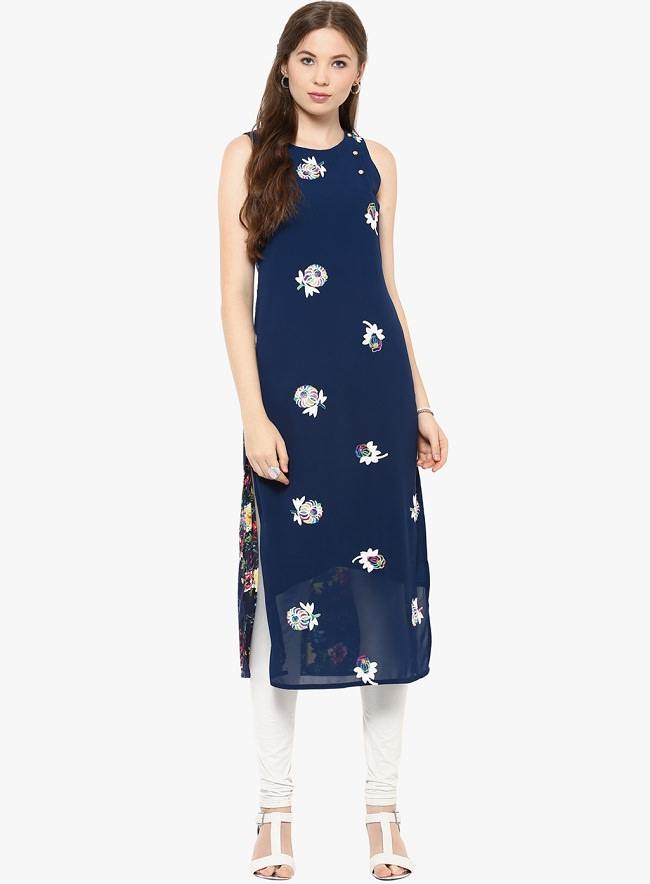 Kurti Designs from Prominent Pakistani Designers
↓ 6 – Zarah Shahjehan
Inspired by history and charmed by nature, Zara Shahjehan's portfolio, ranging between stunning handcrafted Bridals, Luxury Pret and Pret to Lawn and even some of their fusion statements- is a glorified celebration of vintage Pakistani Fashion, representing the pinnacle of craftsmanship, unsurpassed quality of fabrics and attention to detail.
At the core of their brand lies a strong focus on fashion that is chic, feminine, and more importantly, very wearable, making it the only Premium clothing/lifestyle brand in Pakistan with the widest product range and the largest, structured and rapidly growing retail presence in Pakistan- with over 7 stores and others opening soon.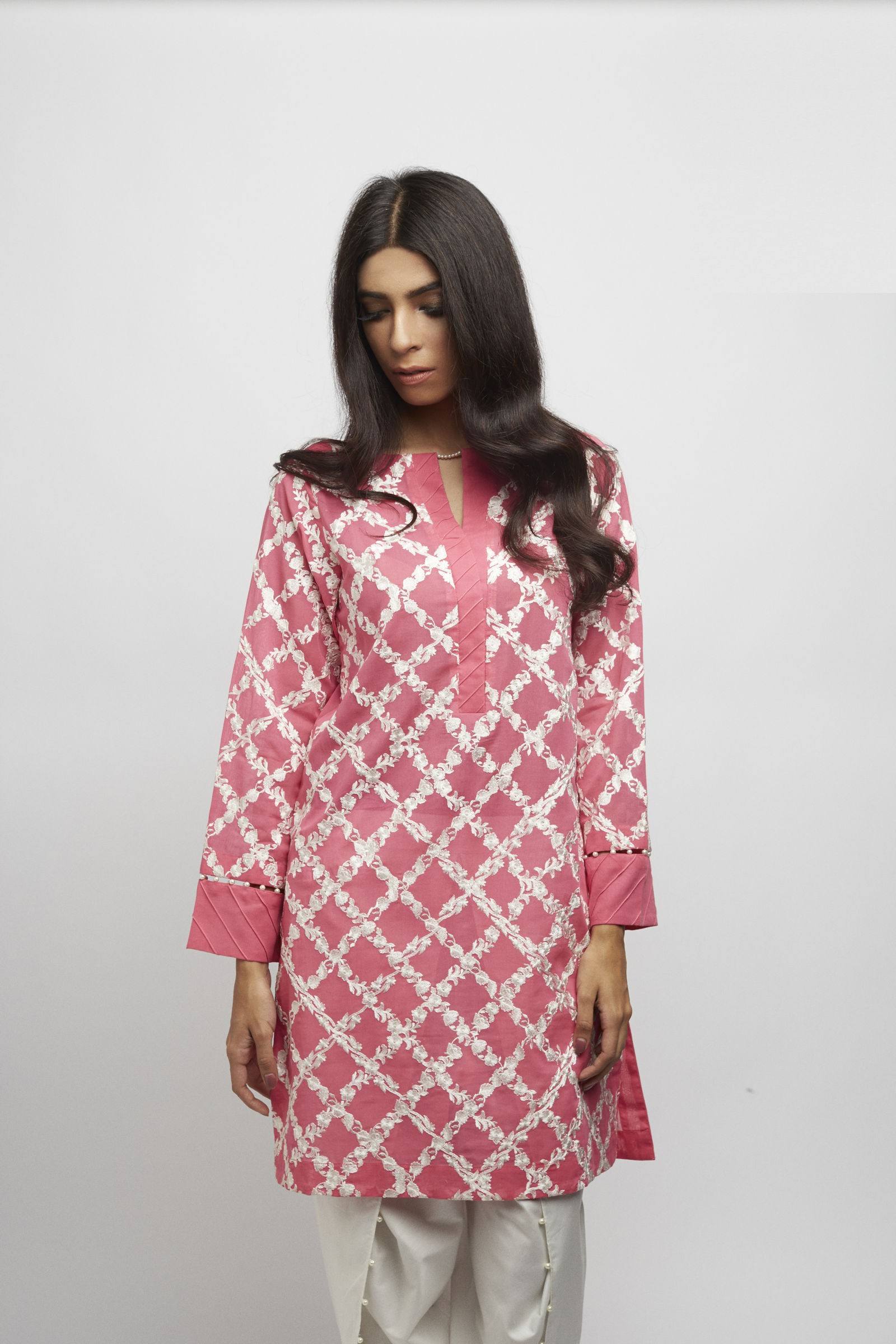 ↓ 7 – Firdous Lawn
Firdous is known for its 4-decade history and deserves a reputation for producing high-quality fashion fabric. The brand started off not so long ago by introducing a chain of exclusive retail stores to compliment its fabric, as their customers developed, their capacity and product range also developed.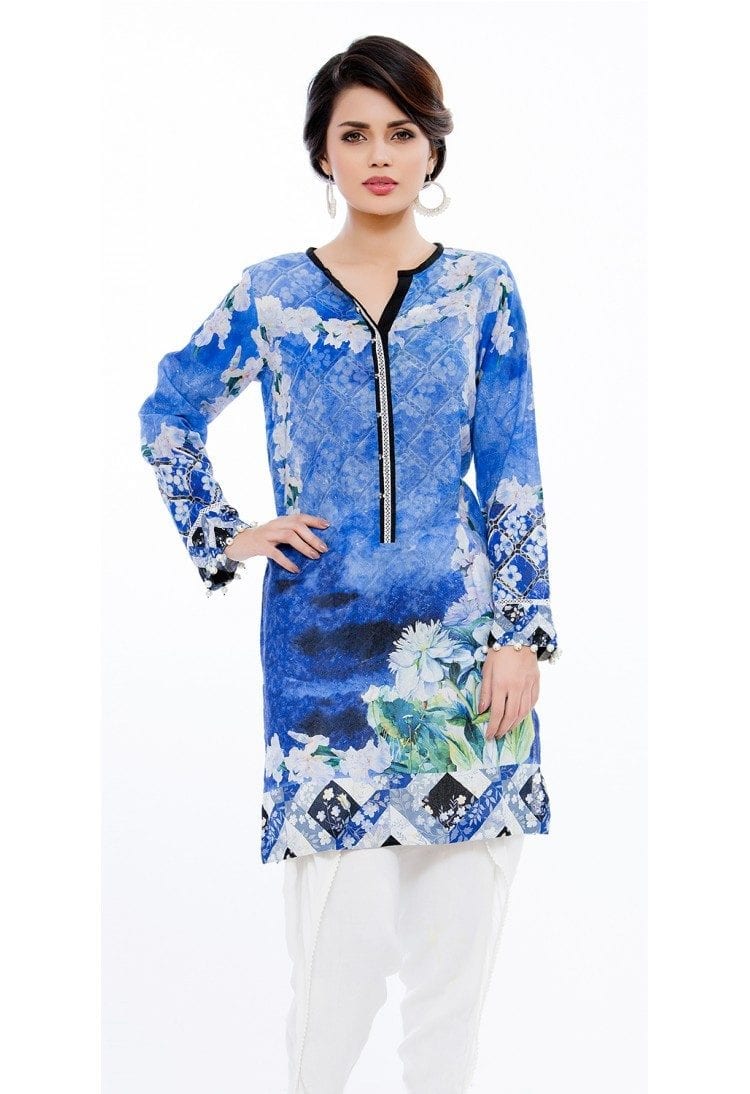 ↓ 8 – Agha Noor
The brand Agha Noor was first introduced in Pakistan by two young, dynamic and determined Pakistanis who wanted to make a difference. Agha Hira and Agha Noor aged 22 & 17 respectively at the time of inception of the brand. They started off with a total of 6 employees and now employ almost over 3,000 employees. Agha Noor has come a long way in making their name a very important part of this ever so fluctuating industry. Agha Noor is committed to providing high-end fashion clothing at affordable prices for everyone to be a part of the modern-day world with top of the line clothing.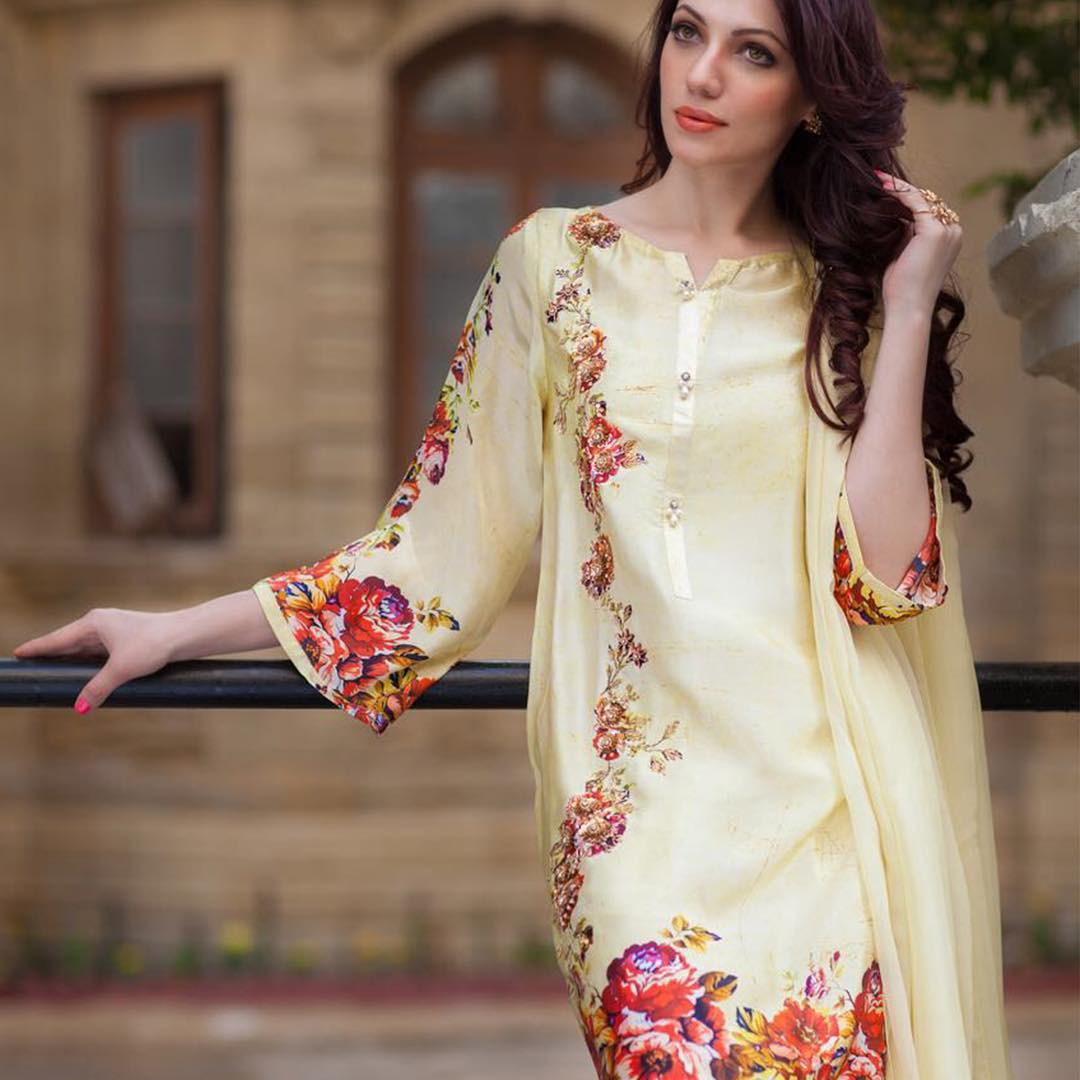 ↓ 9 – Alkaram
From fashion fabrics and apparel for Men, Women, and Kids, to Home Textiles and home-ware needs, the alkaram studio offers a complete creative concept where customers can realize their dreams and aspirations. Alkaram studio is a perfect haven for aesthetically-inclined women, who can bring their style language to life with fashion fabrics, ready-to-wear lines, and stunning accessories from their stores.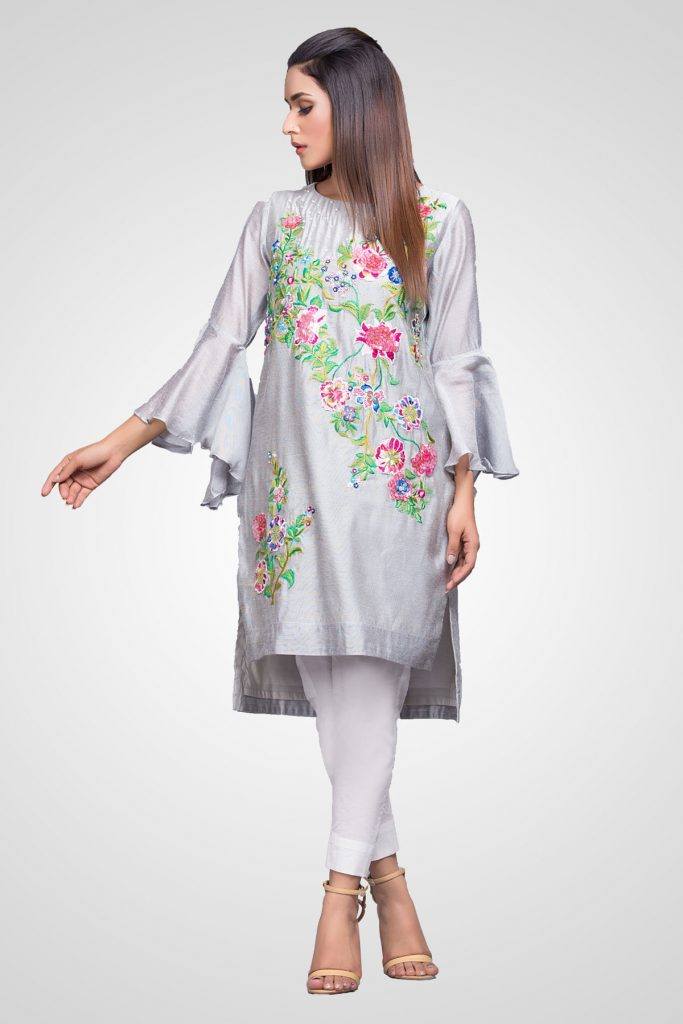 ↓ 10 – Kayseria
Kayseria is a tradition and modernity inextricably linked. Every single one of their designs is individually crafted with an intricacy of detail that is unmatched. They literally use our fabrics as canvasses upon which they paint works of art. All this is possible only because the brand sees no distinction between Art and Design. The designs are contemporary and timeless because of their strong roots.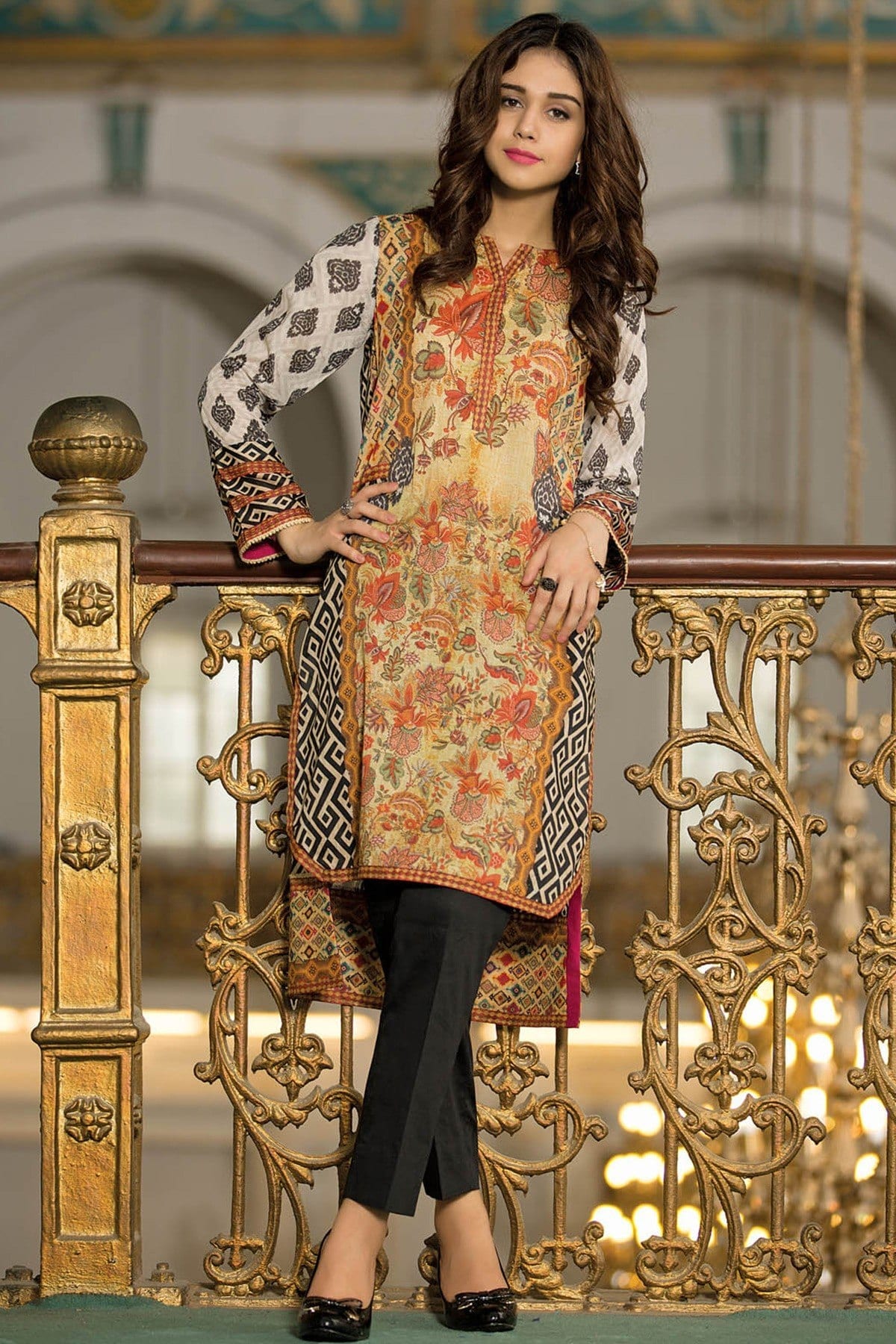 ↓ 11 – Gul Ahmed
Gul Ahmed constantly strives to challenge the limitations of all the possibilities when it comes to weaving, printing, embroidery & embellishments. At Ideas by Gul Ahmed, you will find a variety of fashion lines including prêt wear, unstitched fabric (for males and females), polo shirts, formal and semi-formal wear (for men) and the diverse range of casual and formal wear (for women). Over the years, Gul Ahmed has introduced a number of new trends including high-class G.prêt wear, Chantilly Chiffon, Chairman Latha (for men), Digital-print Kurtis, Accessories (shoes and handbags), Home Items (bedding, cushions and bath items) and so much more. The chain has expanded up to over 100 outlets across Pakistan since its inception in 2003.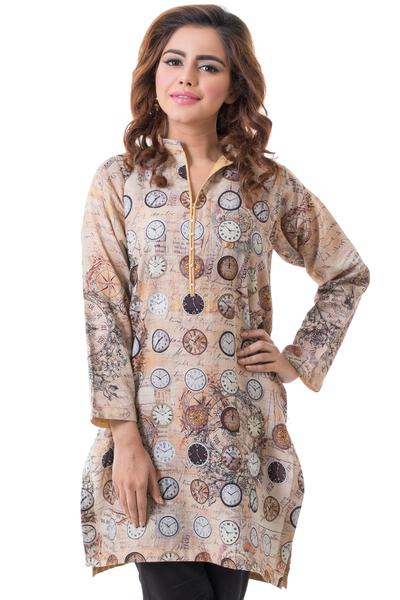 ↓ 12 – Charizma
"House of Charizma" was conceived as an embroidery-powered brand that could blend glamour and comfort in the eastern wear along with artful quality embroideries. It has come to be known as a high-end fashion brand, recognized for its supreme quality with a presence not only at the multiple locations in Pakistan but worldwide as well. The brand wanted to make the raging trends and fashion accessible to the women who liked to flaunt and were comfortable wearing the eastern clothing.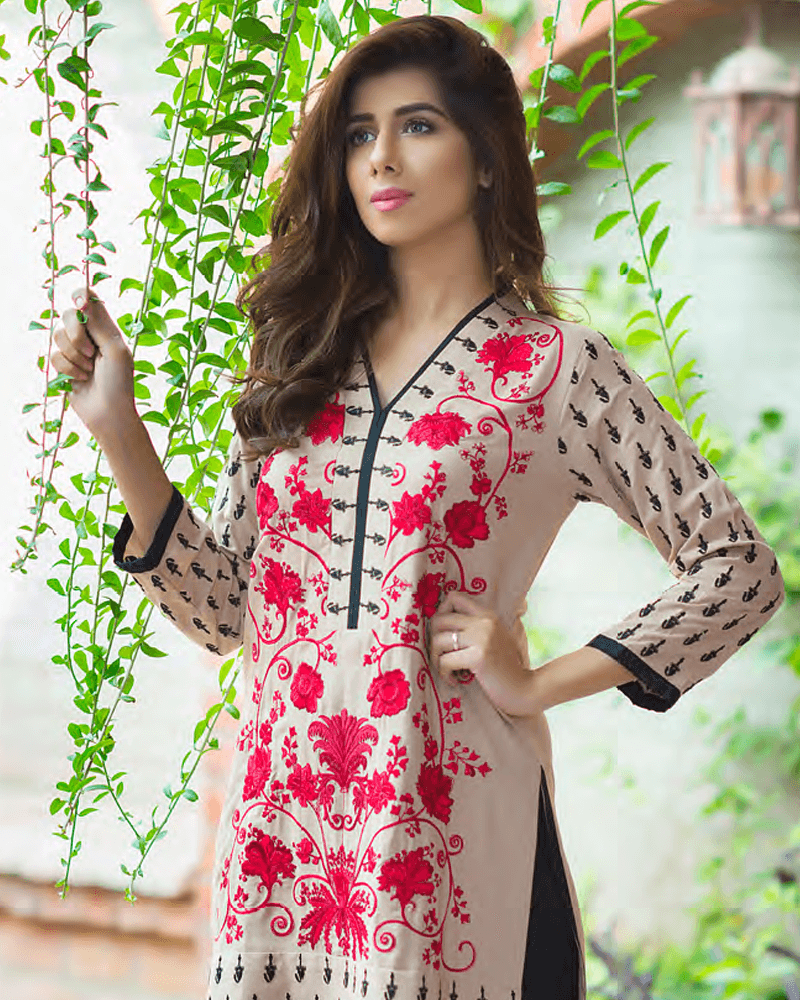 ↓ 13 – Nishat Linen
Nishat Linen is a Pakistani clothing brand which sells ready-to-wear, unstitched, Kids, Men Fashion, Home Linen and Freedom to buy. It is based in Lahore, Pakistan, and it is one of the largest retailers in the country. Nishat Mills Limited stands as one of the most well equipped, modern and the largest vertically integrated textiles companies in Pakistan. NL brings you colors of east spiced up with style and elegance; transforming fashion and incorporating cultural values into the designs and ideas. The beauty is in the colors and the cuts that are modern yet simple and supremely eye-catching.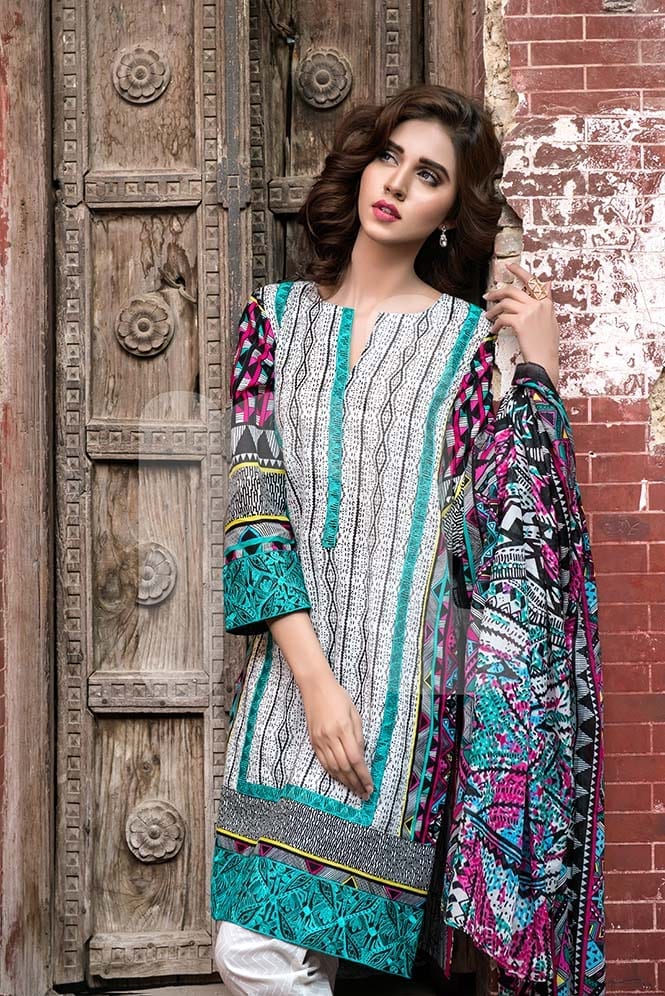 ↓ 14 – Chinyere
Chinyere represents the nomadic fashion spirit of now. The brand specializes in bringing to you a collection of exclusive casual, semi-formal and formal wear for your wardrobe. The garments are designed in step with global fashions as well as tradition. With Chinyere, you can pack your caravan of dreams with wrap dresses, pleasant tops, maxi dresses and palazzo pants. Layer the cultural richness of artisan-led chic, adorned with exotic embellishments, appliqué, beading & embroideries.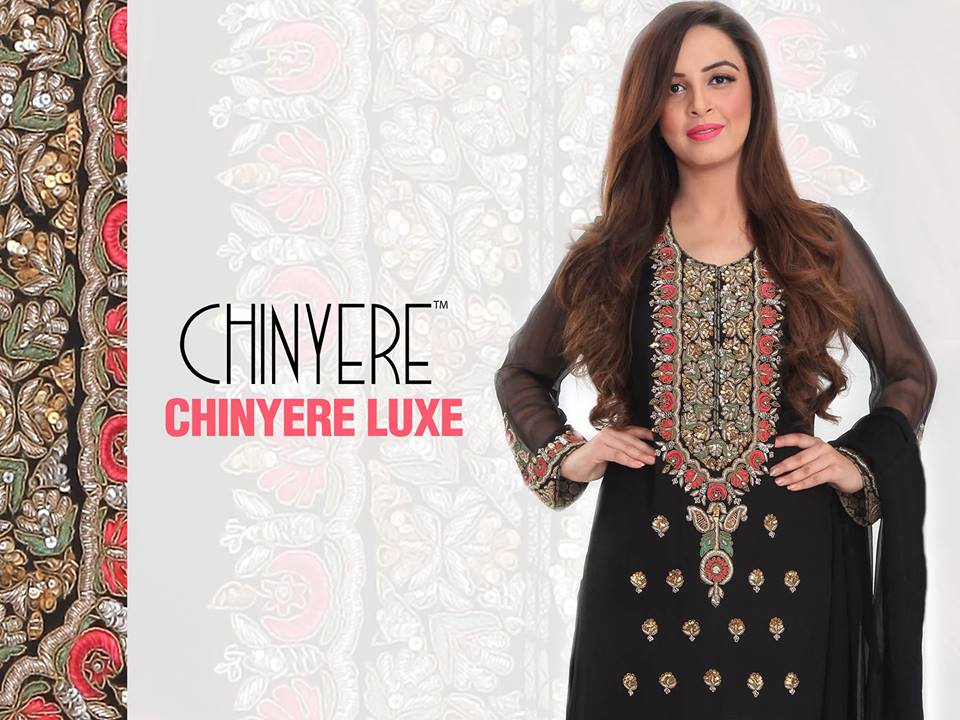 ↓ 15 – Generations
In 1983, Nosheen Khan and Saad Rahman, a visionary husband and wife duo, teamed together to launch GENERATION. They started off by wholesaling to various boutiques in Lahore and Islamabad and later opened their own outlet in three years time and since then have enjoyed invaluable success. When it made its entrance into the fashion scene, it introduced patterns which were abstract, colors which were primary and a look which oozed confidence. The summer of 1984 saw the artist's canvas as the main inspiration. Over the years, the brand has kept up with the changing trends, instigating quite a few of them by introducing new patterns and styles.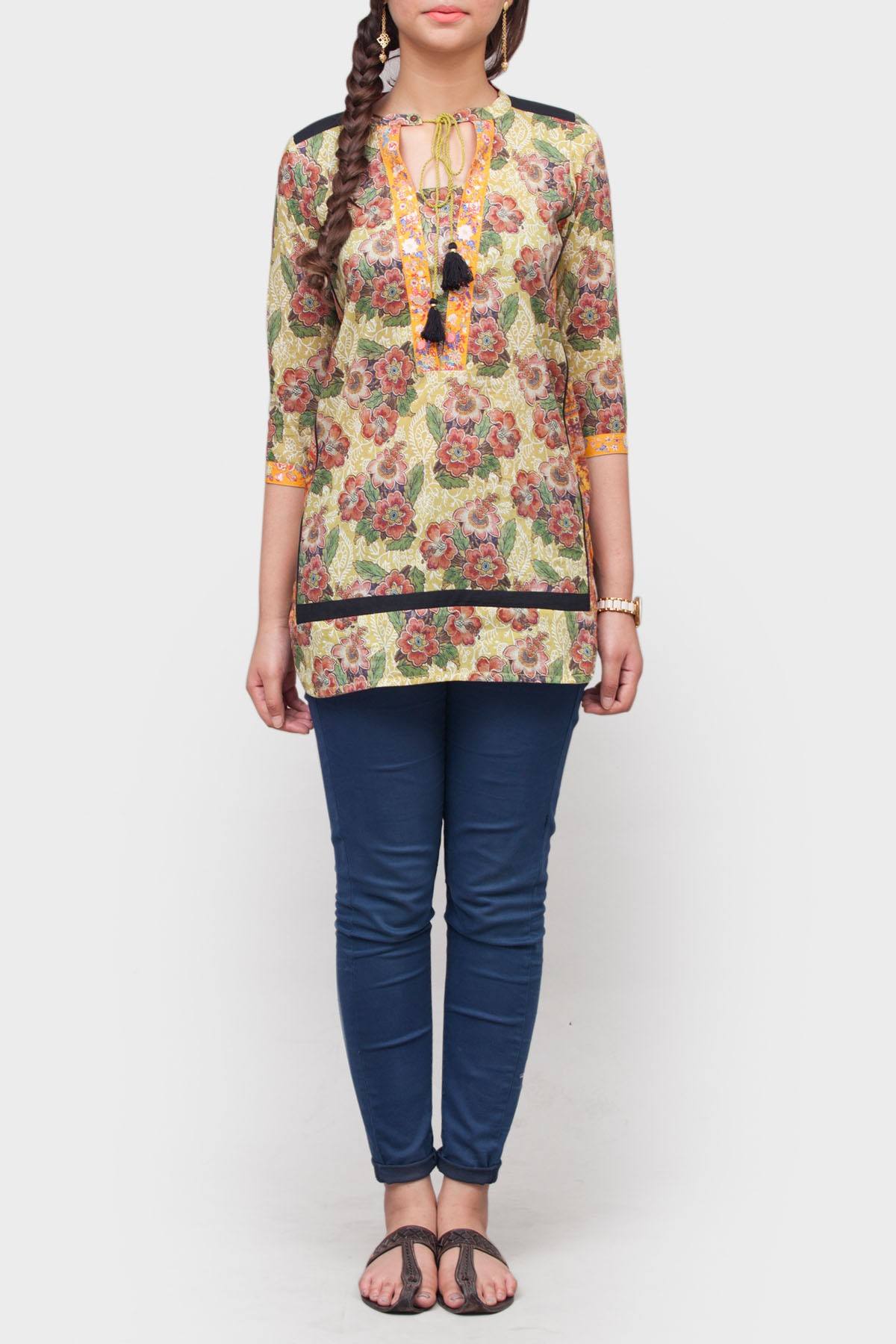 ↓ 16 – Thredz
Founded in 2004, with a strong emphasis on high quality, ready to wear clothes, as well as providing its customers with the latest trends in fashion. The brand strives to inspire and excite your senses with vibrant color palettes, trendy designs, and handpicked accessories.
THREDZ offers a wide selection of handwoven unstitched fabrics, ready to wear kurtas for both men and women, and formal wear. THREDZ provides simple, but timeless cult pieces that have set the bar high as a prestigious fashion label. Whether you need a brand new outfit or an entire wardrobe – the in house stylists are more than happy to provide you with assistance to make you feel your very best.
In a short span of time, THREDZ has expanded in many locations across Pakistan and internationally in Houston, Texas as well.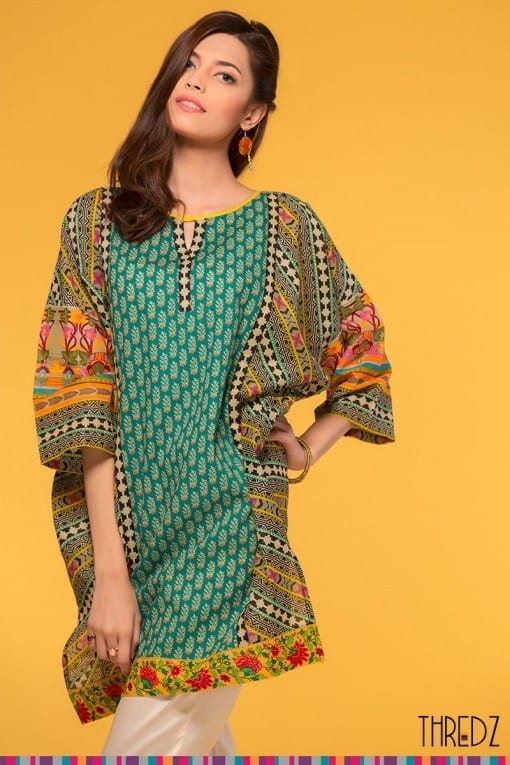 ↓ 17 – Junaid Jamshed
It all started with an outlet at Tariq Road in 2002. At that time, Tariq Road was, and still is, a shopping hub for those who seek to buy the latest in fashion. Initially, only men's wear was available at the store, but later on, clothing for women, children, teens, as well as formal wear including groom's wear was also added to the product list as expansion continued.
The main idea behind launching J. (J dot) was to reintroduce traditional clothes in Pakistan with a blend of modernism. For this purpose, the brand initiated with reworking on their Eastern dresses, especially Qameez Shalwar and made them contemporary with the latest elaborations available. The experimentation with this rare combination resulted in an increased interest of people toward modified Eastern ensembles, which will always be in vogue.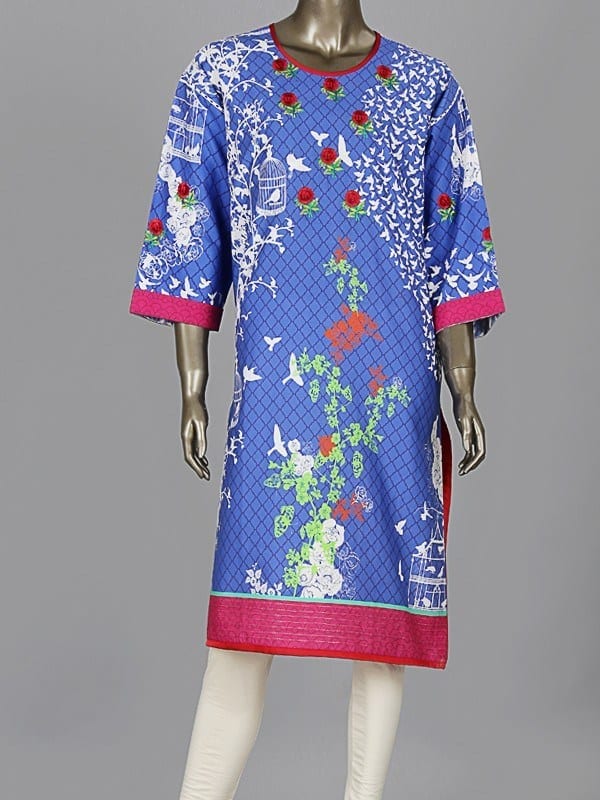 ↓ 18 – Khaadi
 is a leading Pakistani fashion and lifestyle brand founded in December 1998. In the short time since its inception, Khaadi has quickly transformed into a robust brand with an international presence and is now Pakistan's most iconic fast fashion retail force. Today it operates 46 stores, in 17 cities across Pakistan and 17 stores across the UK. It offers a wide range of products from apparel for women, men, and kids to home-textiles, in both printed and hand-woven fabrics.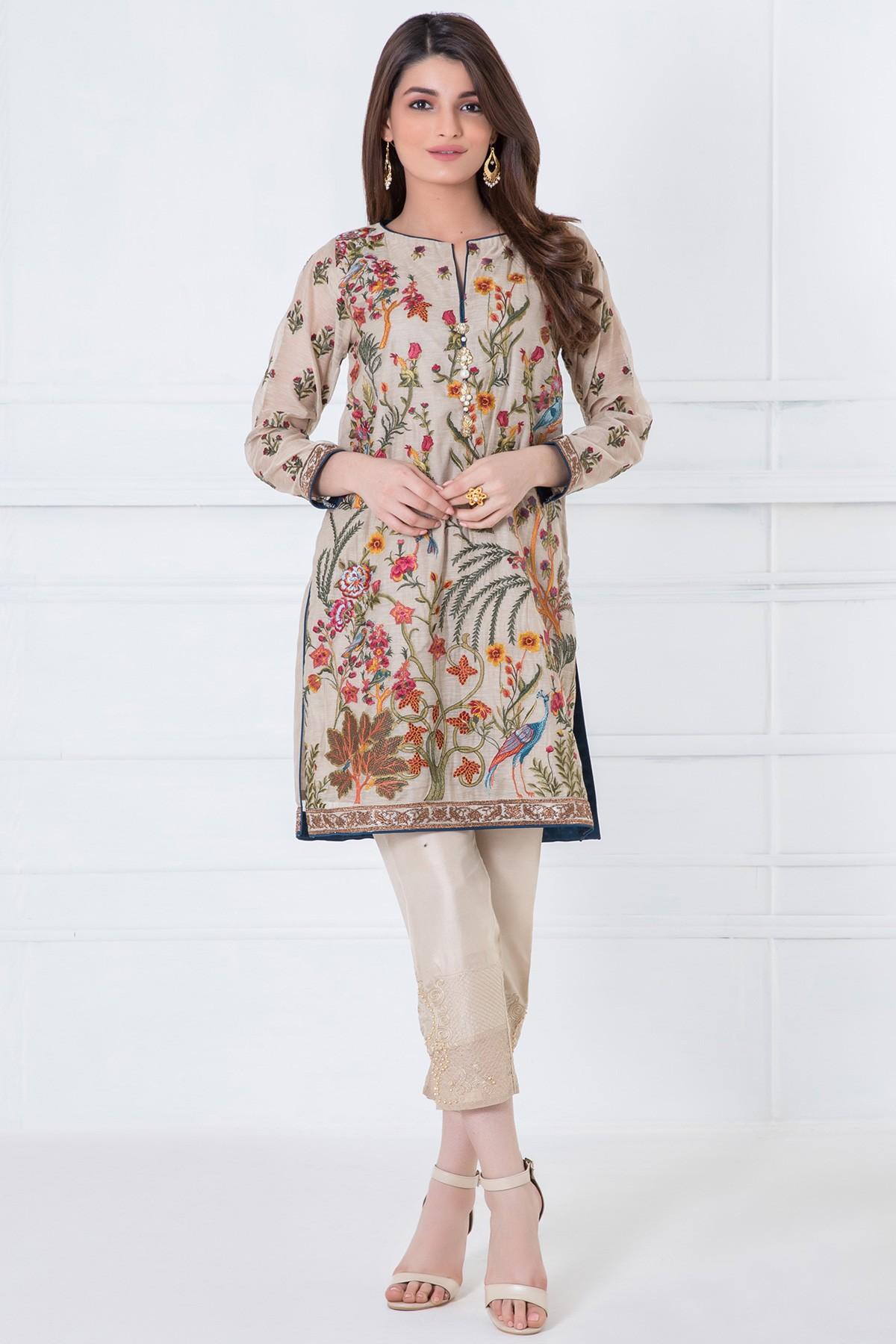 ↓ 19 – Asim Jofa
Asim Jofa burst on to the Fashion scene as a breath of fresh air. Carrying on the legacy of his forefathers he started with a jewelry line 12 years ago, establishing the highly exclusive, one of a kind diamond boutique 'The Diamond Gallery'. Having been certified in Design from the prestigious Central Saint Martins, Asim went on to create ripples in the fashion industry. He has achieved great acclaim for his various collections displayed on the runways in the fashion capitals of the world. He has been honored with IAFA International Asian Fashion Awards as the Best Designer Brand in 2012. In the same year, Asim bagged the Collection of the Year award held by the Pakistan Fashion Awards. He continues to improve on perfection and in the future, Asim plans to create more buzz and dress Pakistani women fabulously, breaking fashion stereotypes along the way.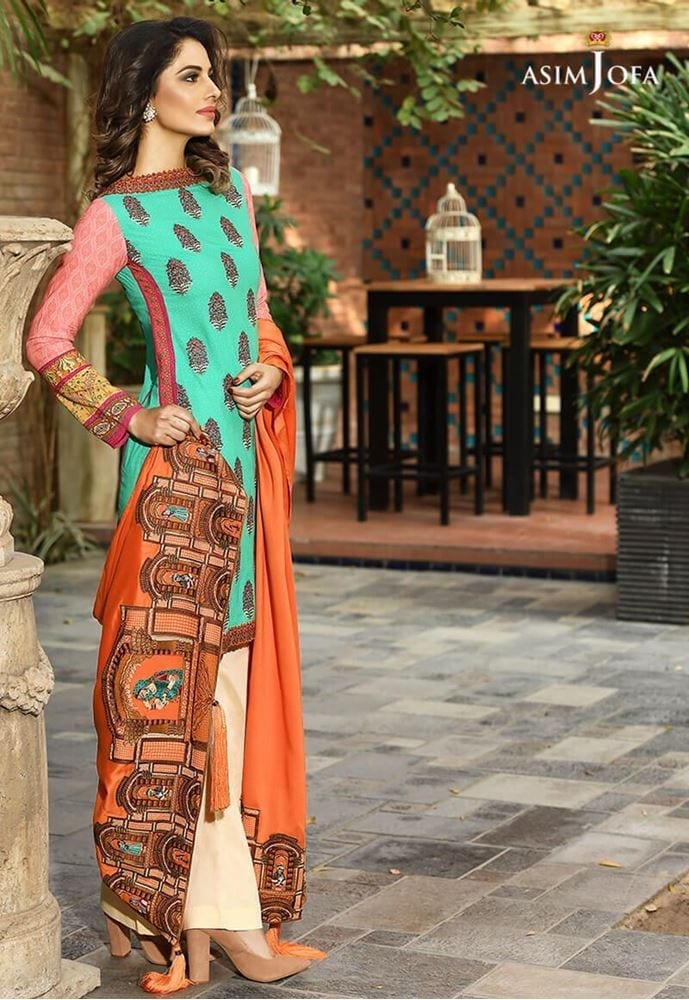 ↓ 20 – Maria B.
A fashion magazine labeled Maria.B as the 'Coco Chanel' of Pakistan – indeed the innovation and transformation triggered by MARIA.B's entry into the fashion industry justify the comparison. With a design philosophy rooted in constant change, improvement and originality, the designer has already become a force to be reckoned with. One of the brightest fashion stars of the industry, she remains committed to bringing the very best to her customers without fail.
MARIA.B started in 1999 with one retail outlet and a small stitching unit where Maria's sole focus was to provide ready to wear fashion that reflected an elegant fusion of east and west. Today MARIA.B. is Pakistan's most diverse designer fashion brand with prêt a porter, couture, formal wear, lawn, embroidered fabrics, linen and cottons all within one affordable label while boasting an extensive retail network with 25 outlets comprising of both standalone outlets and mall outlets in 12 different cities across the country, while also exporting to international destinations including India, UK, USA, Bangladesh, UAE and Qatar.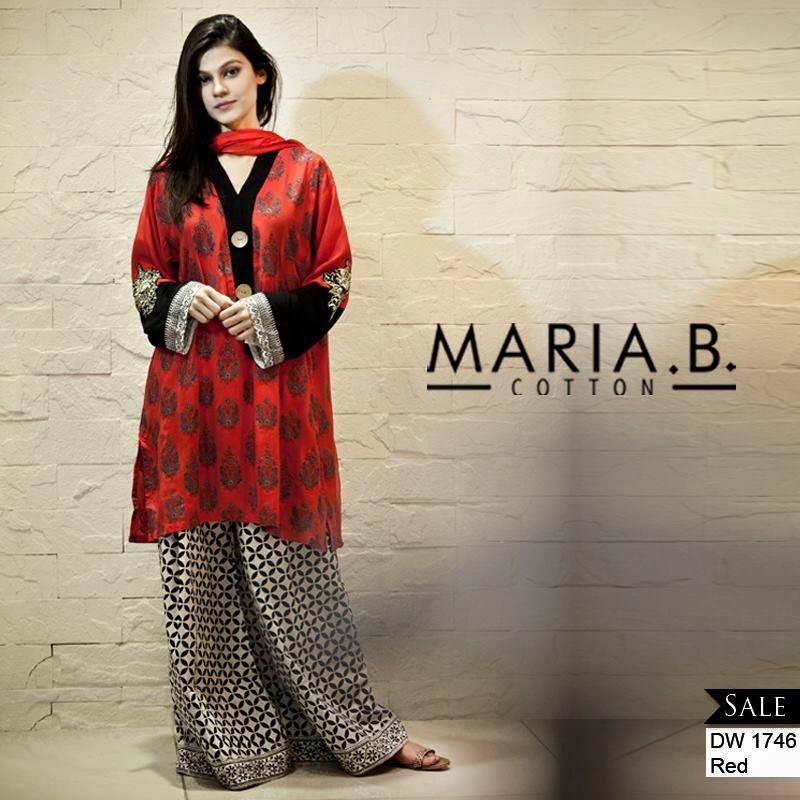 Best Bottoms To Wear With Kurtis For Gorgeous Look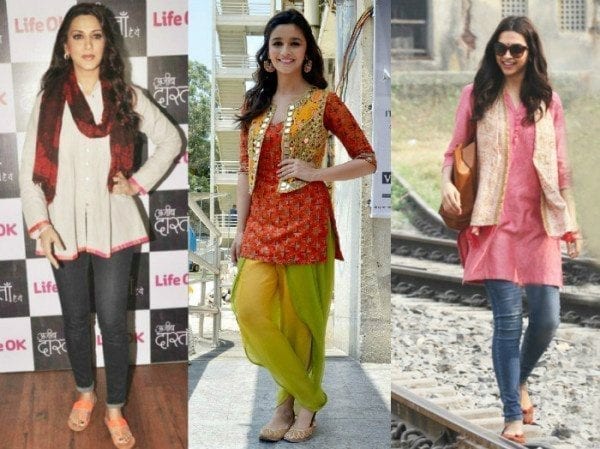 #5 – Kurti with Leggings
The simplest yet trendy way to wear a kurti is to wear it with leggings. It gives you a modern trendy look.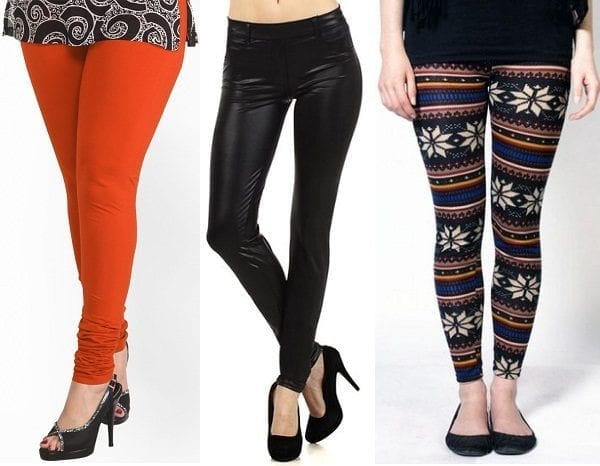 #4 – Kurtis with Plazzo Pants
Plazzo Pants is another contemporary way to top up with a stylish kurti. It gives you an ethnic yet urban look at the same time. Here are some cool ways to style your Hijab with Palazzo Pants.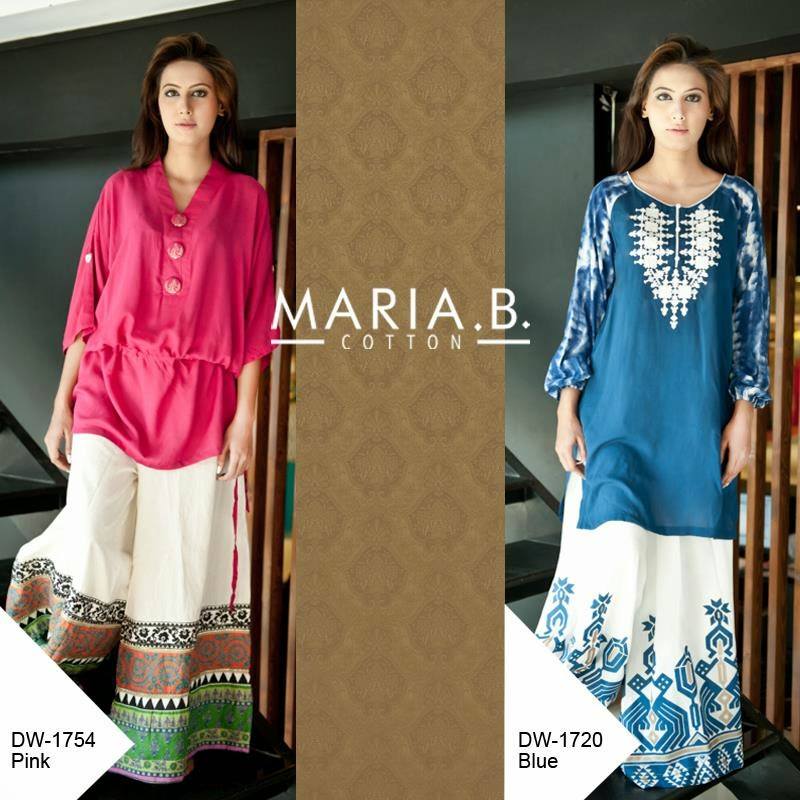 #3 – Kurti with Jeans
Jeans – despite being western wear, it could be amalgamated with eastern Kurtis in a nice fashion to give you an exquisite look. Kurits are commonly paired up with jeans.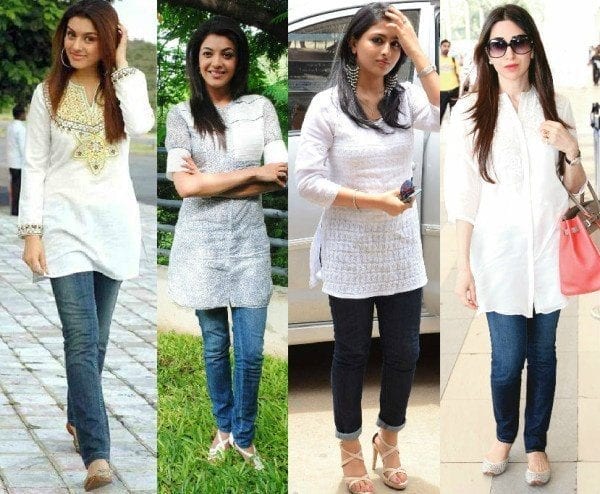 #2 – Kurti with Chooridars
Make your outfit more attractive and eastern with chooridar. A must try for traditional occasions.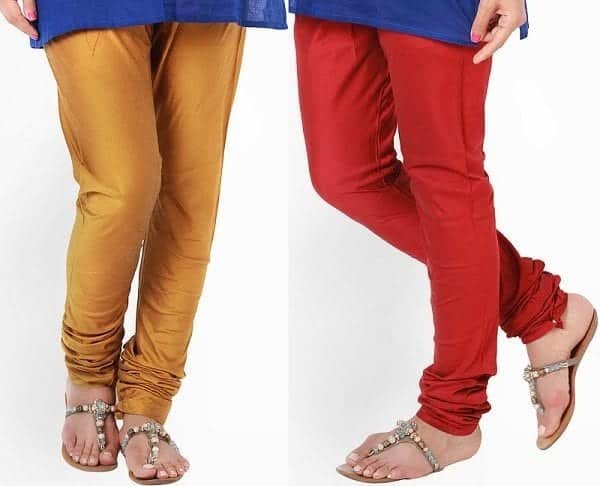 #1 – Cigarette Pants
For slim bodies, cigarette pants are always the best choice to look gorgeous in an outfit accompanied with Kurtis.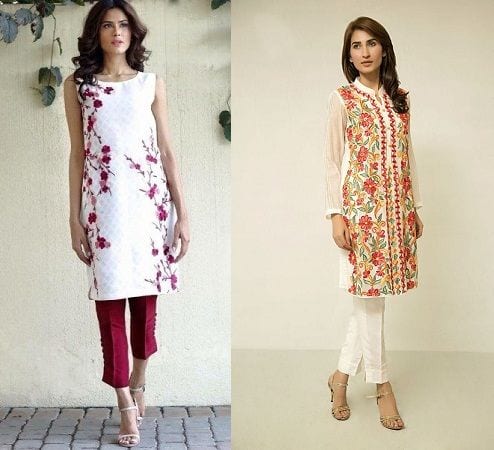 Best Shoes to try with Kurtis
How could a dashing outfit go well without shoes? To wear kurtis in style, we have gathered some shoes variation best for the Kurtis.
#5 – Khussas with Kurtis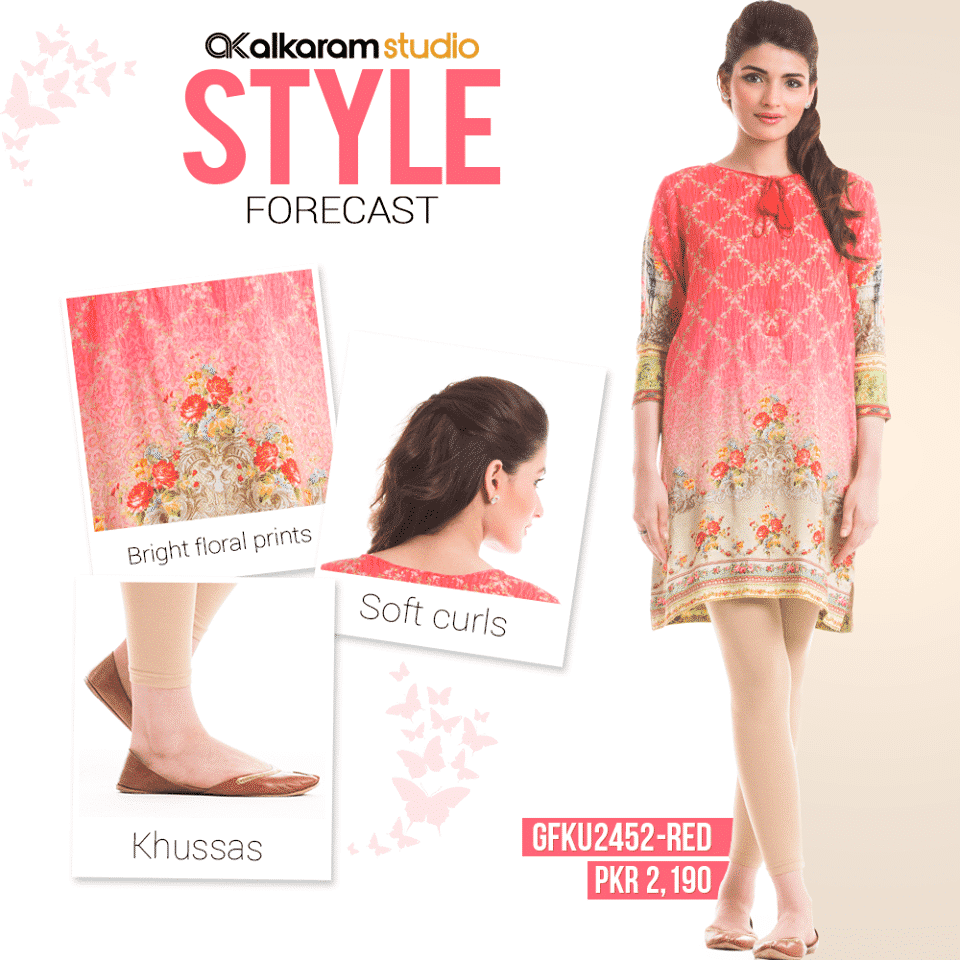 #4 – Boots with Kurtis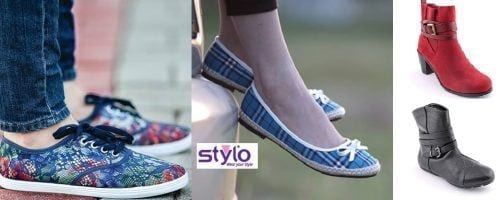 #3 – Sandals with Kurtis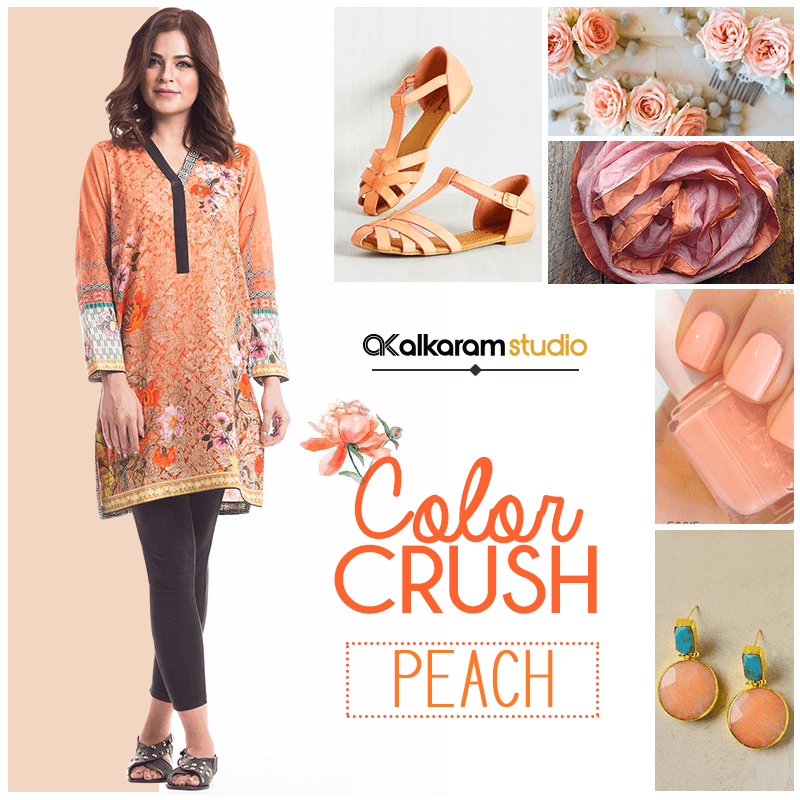 #2 – Wedges with Kurtis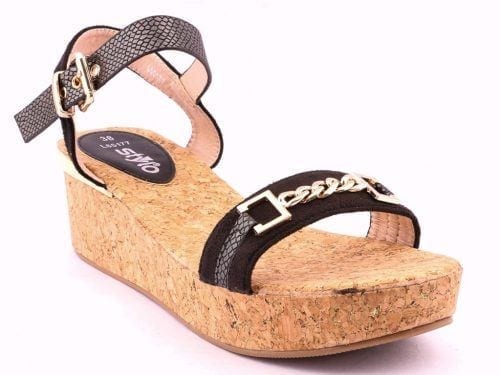 #1 – Heels with Kurtis
Also, have a look at these Winter Kurtis Designs & 18 Latest Kurti Styles for Women.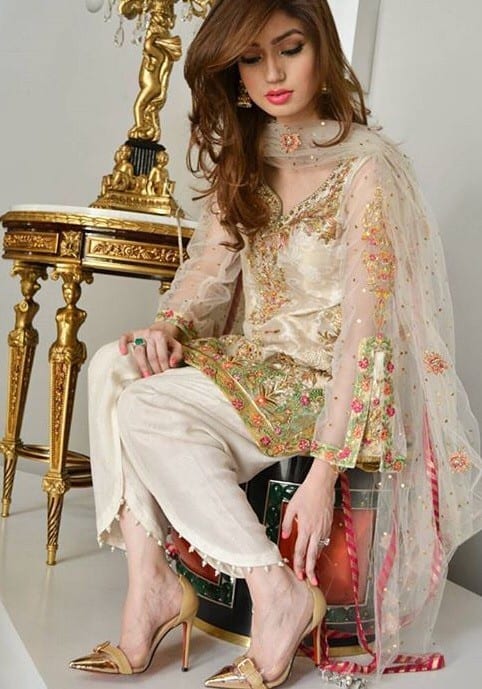 Best Hairstyles to Try with Kurtis
For a better and trendy look with Kurtis, a good hairstyle is a must. Some latest casual and formal hairstyle that will enhance your personality with style are:
#6 – Side Sectioned Hair with Half Down Curls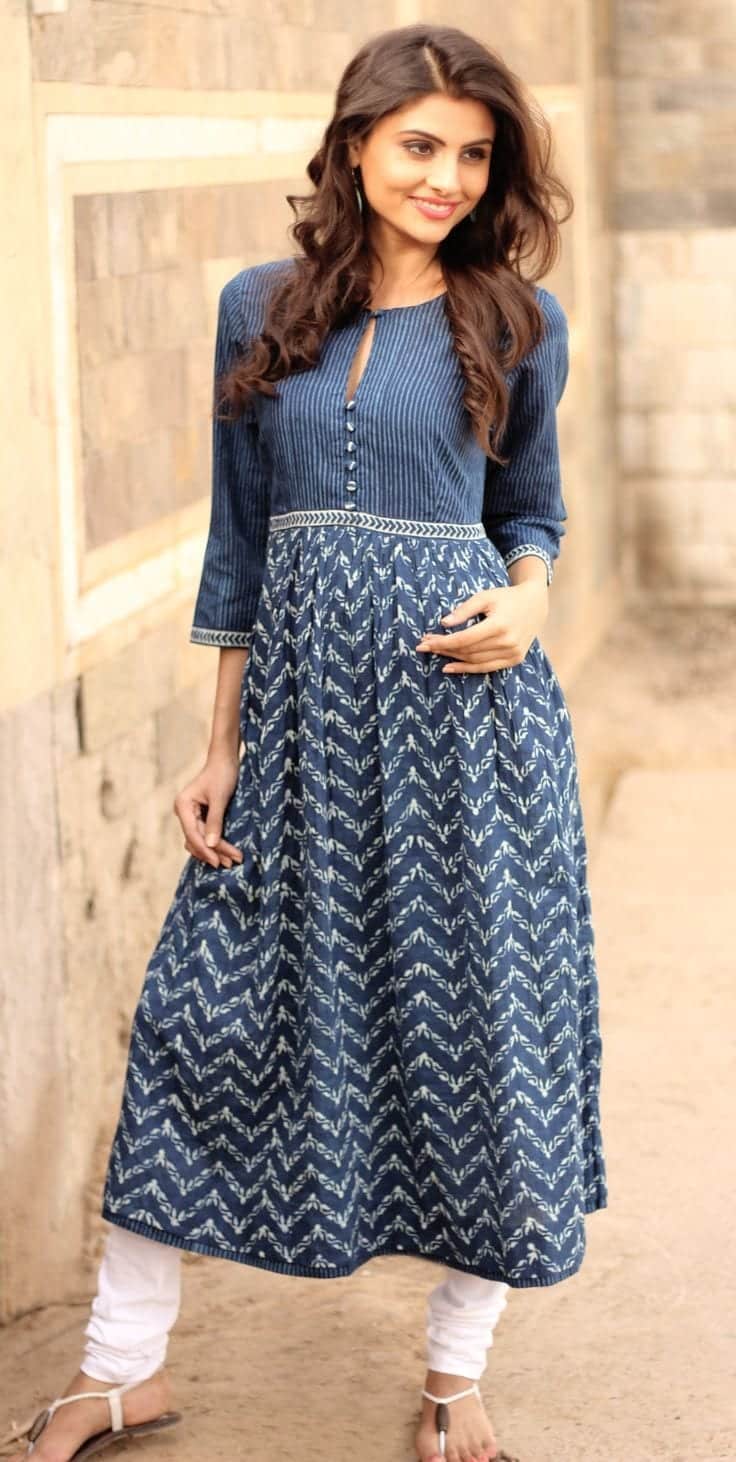 #5 – Side-parted straight hair with a twist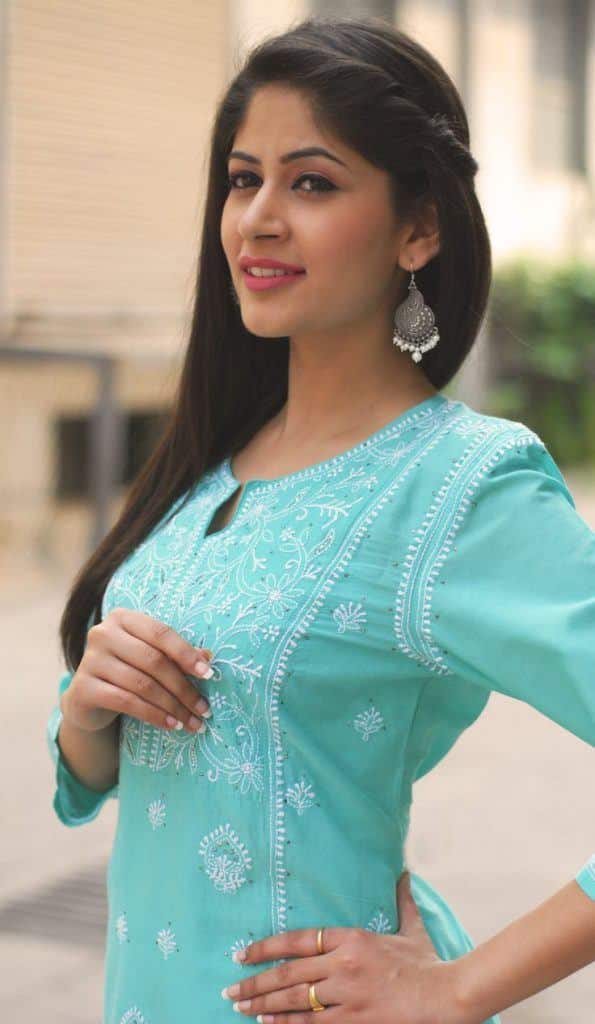 #4 – Messy and curly hairstyle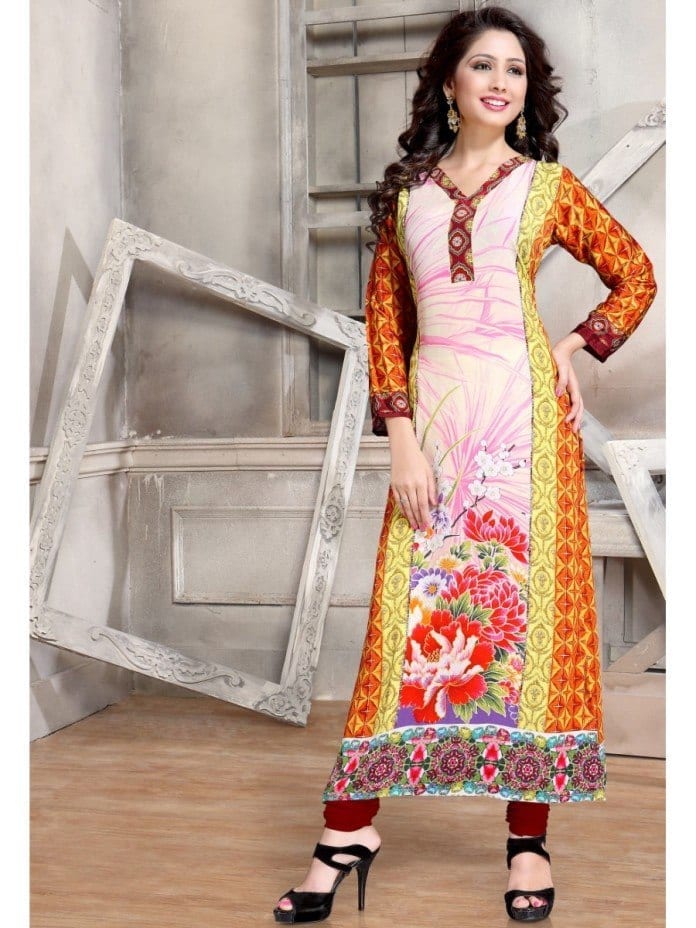 #3 – Wavy Style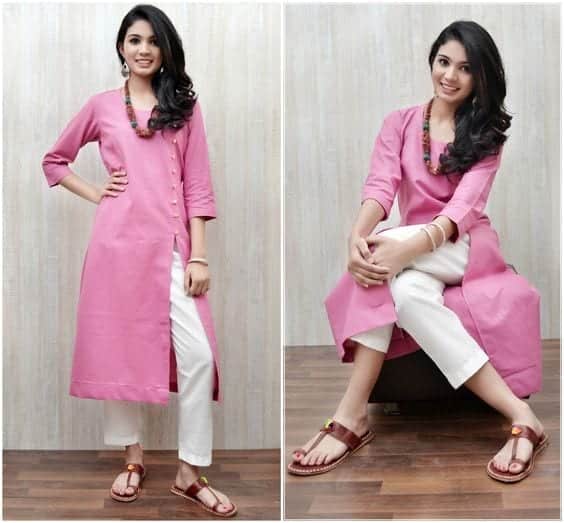 #2 – Braided Style with a Kurta
Ali Bhatt has always been a style icon when it comes to carrying out the latest fashion trends which is why we highly recommend that you check out these latest Alia Bhatt Outfits & 32 Best Dressing Styles of Alia Bhatt.
#1 – Straight Hairstyle with Kurtis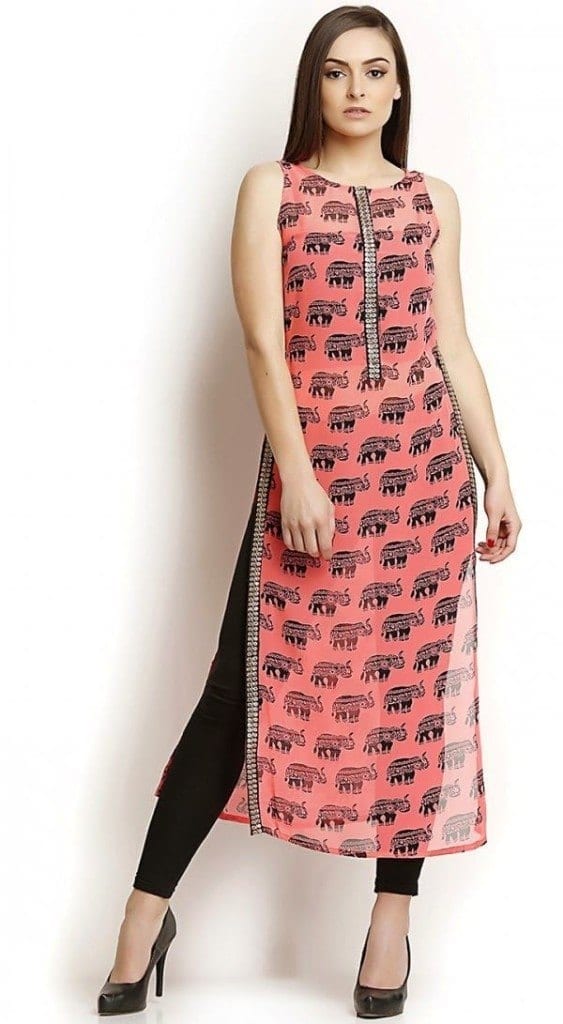 How to Wear Makeup with Kurtis
Makeup is an essential thing that not only enhances your beauty but also brings you in limelight. Some makeup tips for your formal and casual parties that go great with Kurtis are:
Nude Eye Shades

A complete Natural look perfect for Kurtis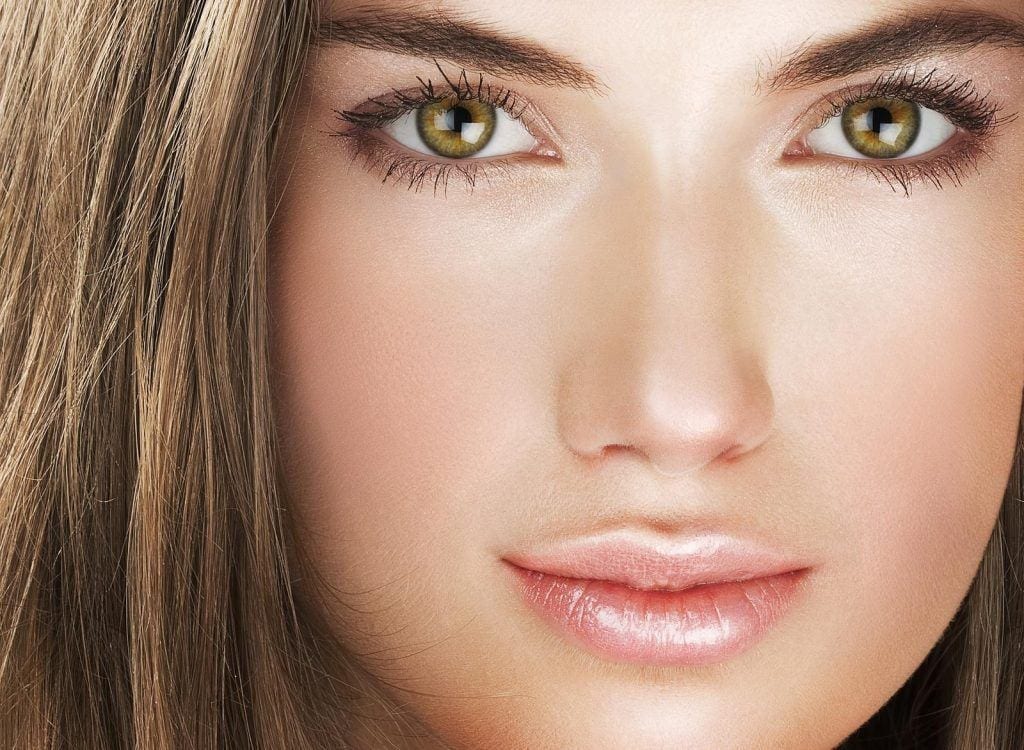 We do hope you enjoyed this article and found it informative, for more articles like it please visit our website.