Winter Kurtis Designs. Kurtis, an eastern reflection nicely enfolded in modern design to give a trendy attire. There is a large variety of dresses with catchy candy colors and attractive designs that grab your attention. Well, we've gathered some great and modern Kurti styles that are must-haves for your wardrobe.
Kurtis is the persona that can be picked for any place and at any time. It could go well with churi pajama to give a complete eastern look. For an amalgamated look, wearing short Kurtis with jeans can give an eastern look with the shade of western outlook. Kurtis can go well with Patiala shalwar or leggings as well.
2017 Kurtis Styles for Winters
Below are the latest winter Kurti designs released by various brands and local manufacturers as well. They are all from really nice and aesthetic winter collections and prominent collectibles for this winter season.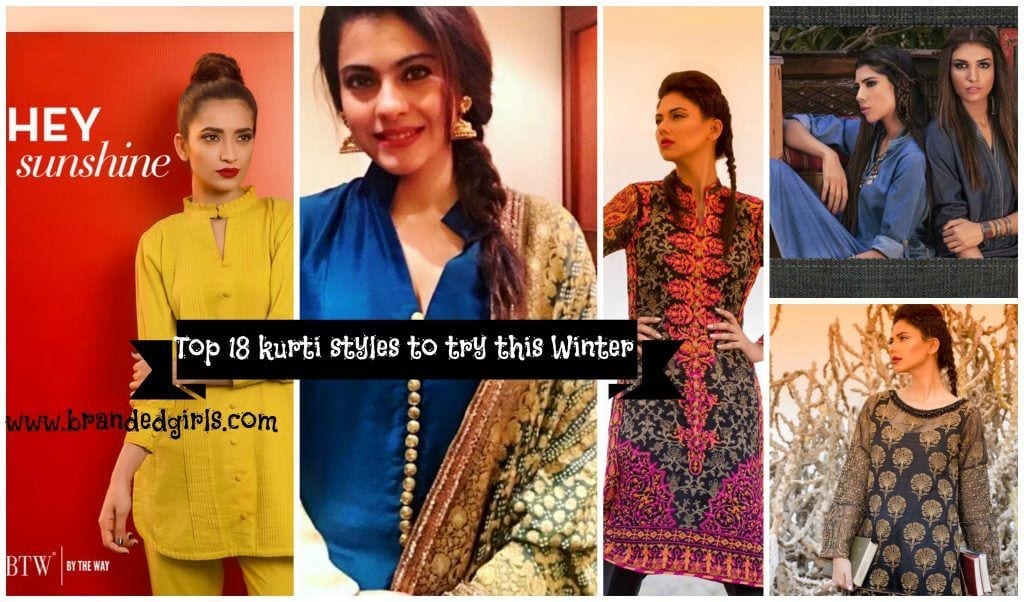 RECOMMENDED: Latest Shalwar Kameez Designs for Girls-15 New Styles to try
Designer Kurtis
Let's start with some awesome designer kurtis that we saw this year. Amongst our favorite designers was, of course Manish Malhotra, the best designer from India. Here's a glimpse of Kajol wearing a blue kurti with a fancy dupatta, designed by Manish Malhotra for the Kolkata Film Festival 2016: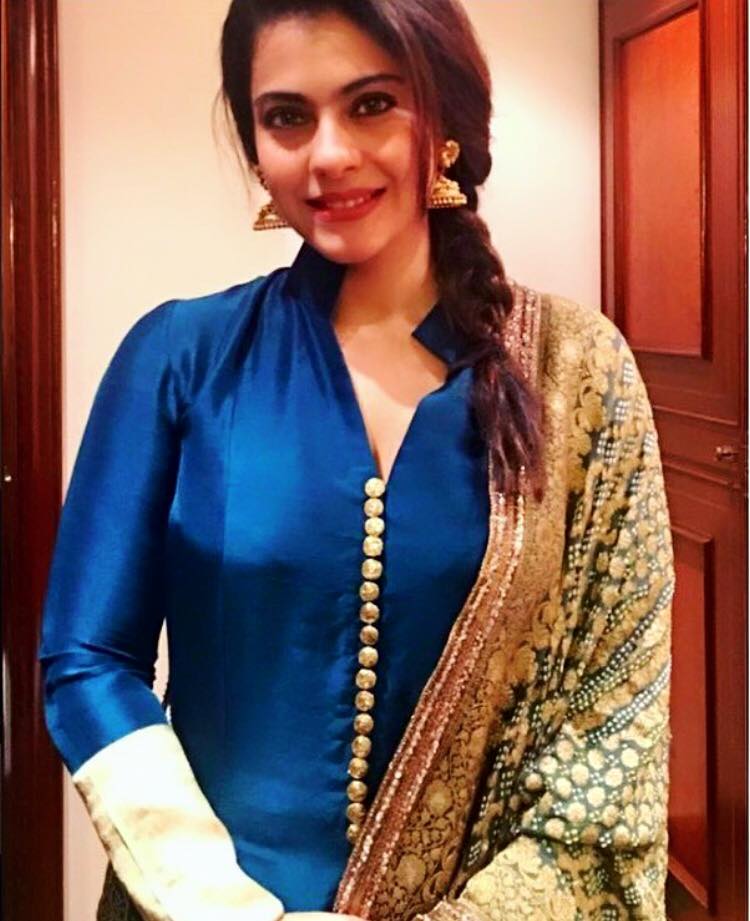 And here's Sridevi looking ravishing in a casual kurti by Manish: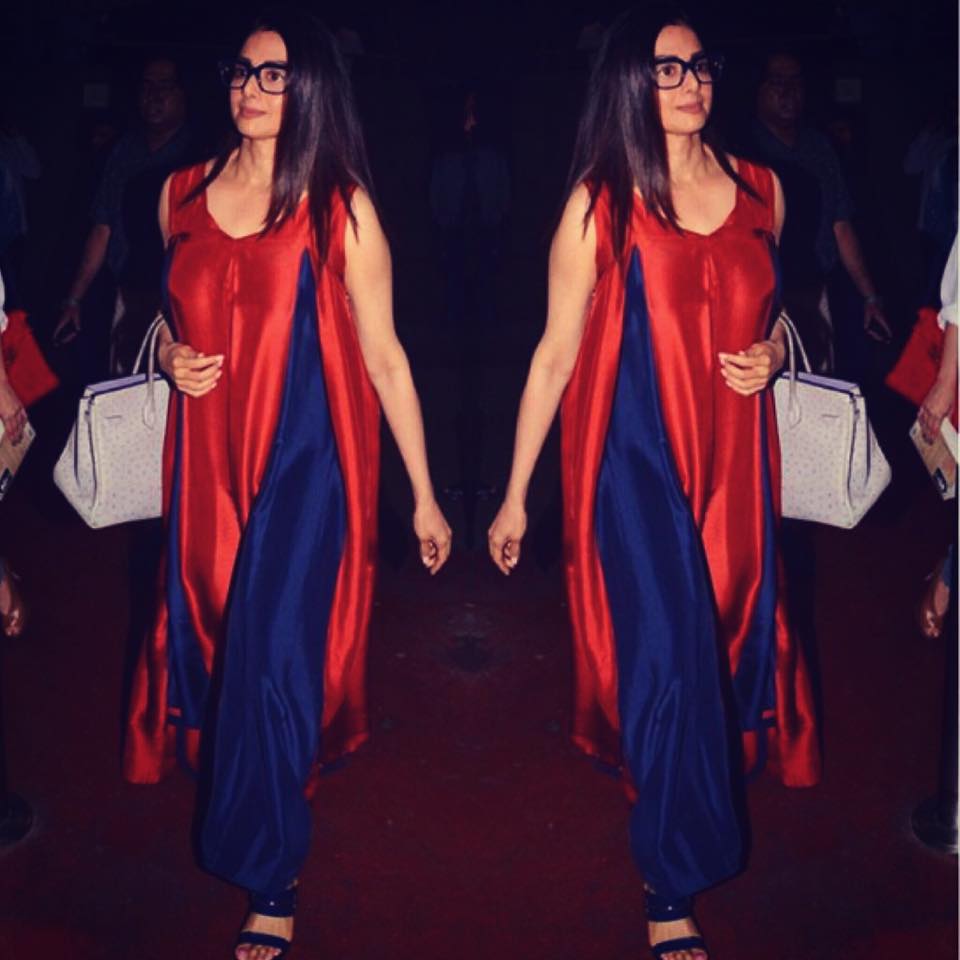 Pakistani designers too, have been producing some amazing Kurtis this year at affordable prices in their pret collection. Here's a look at some cool kurtis by HSY that are ideal for both casual and formal wear.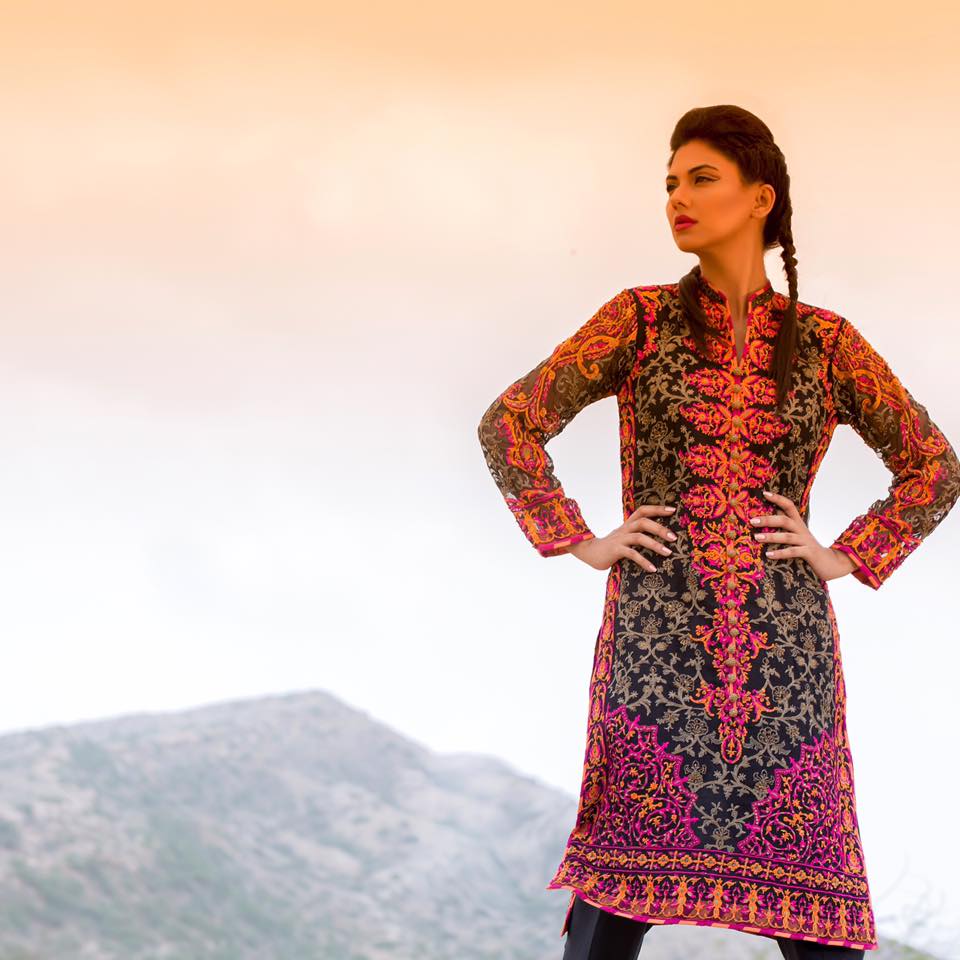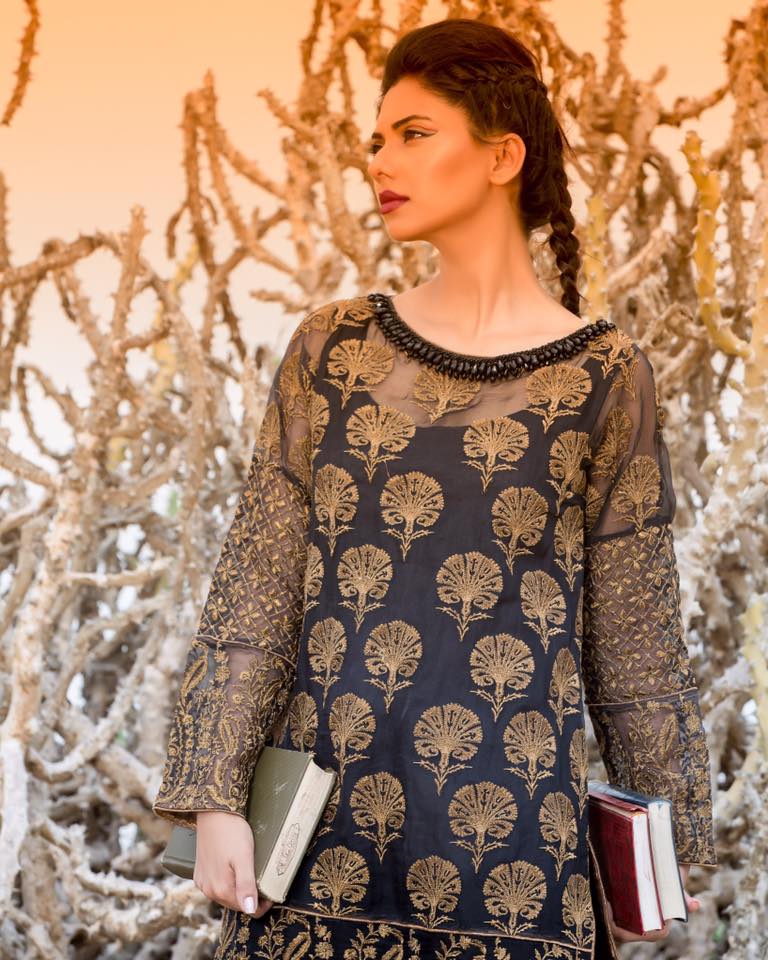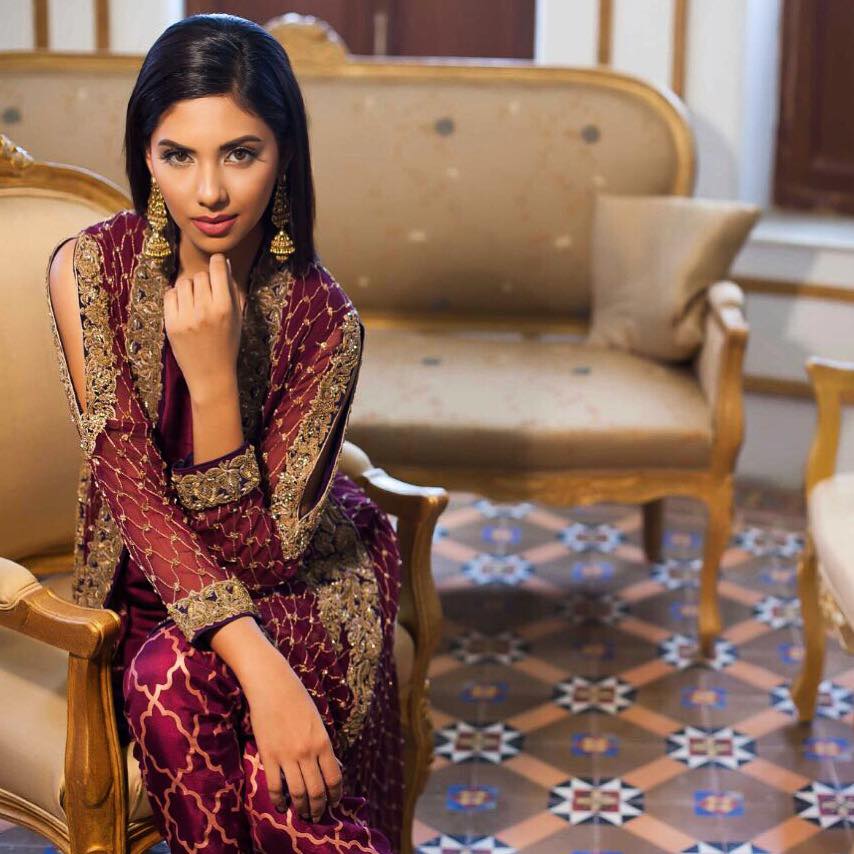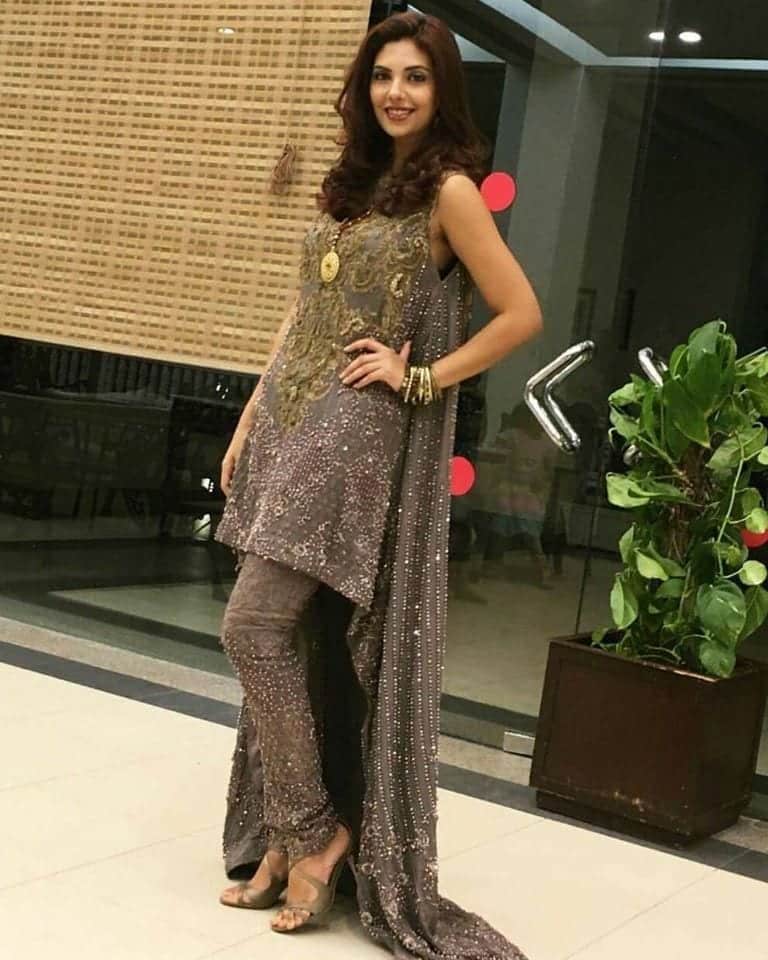 #18 – Digital Printed Acrylic Wool Style
The woolen Kurti help you to get cozy with style. Some printed woolen Kurtis in style are:
Printed long kurta with tight gives a nice look and is a warm addition to your wardrobe. It is also a nice combination with straight trousers or jeans. Also have a look at Kareena Kapoor outfits-25 Best Dressing Styles of Kareena Kapoor to Copy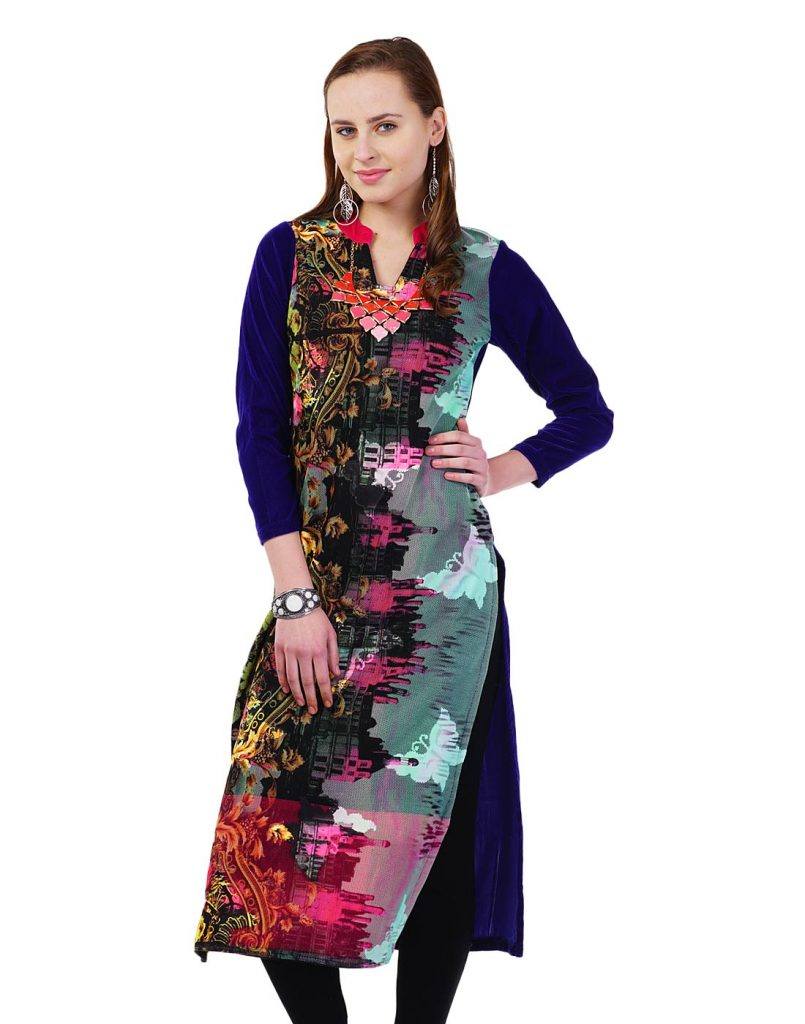 Via
#17 – Kurti Neck Design
The easiest and comfortable stuff with a wide variety is linen. Linen has vast prints, digital prints, and embroideries. Some latest and trendy kurtis are:
Trendy Kurti with digital print border and nice green tone is a perfect casual winter attire. Can go well with any type of bottoms you feel comfortable.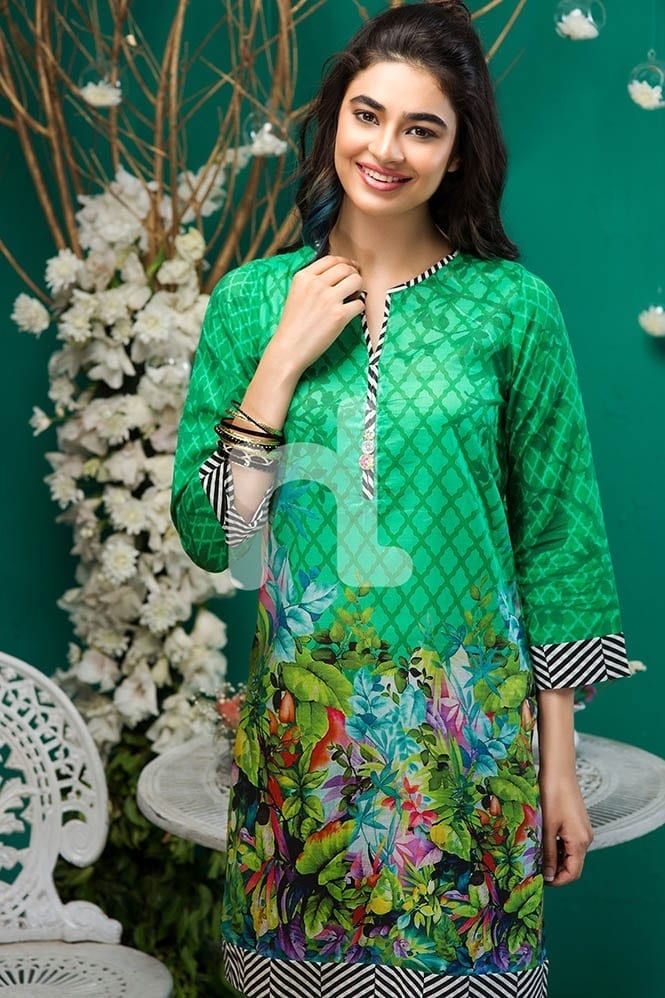 #16 – Cosmopolitan Digital Print Kurti
The cosmopolitan digital print in a nice layout and dark winter tones is a nice outfit to try this winter. The linen stuff will not only provide you a chic look but also a comfy wear. Do check out some amazing kurti ideas from these Alia Bhatt Outfits-32 Best Dressing Styles of Alia Bhatt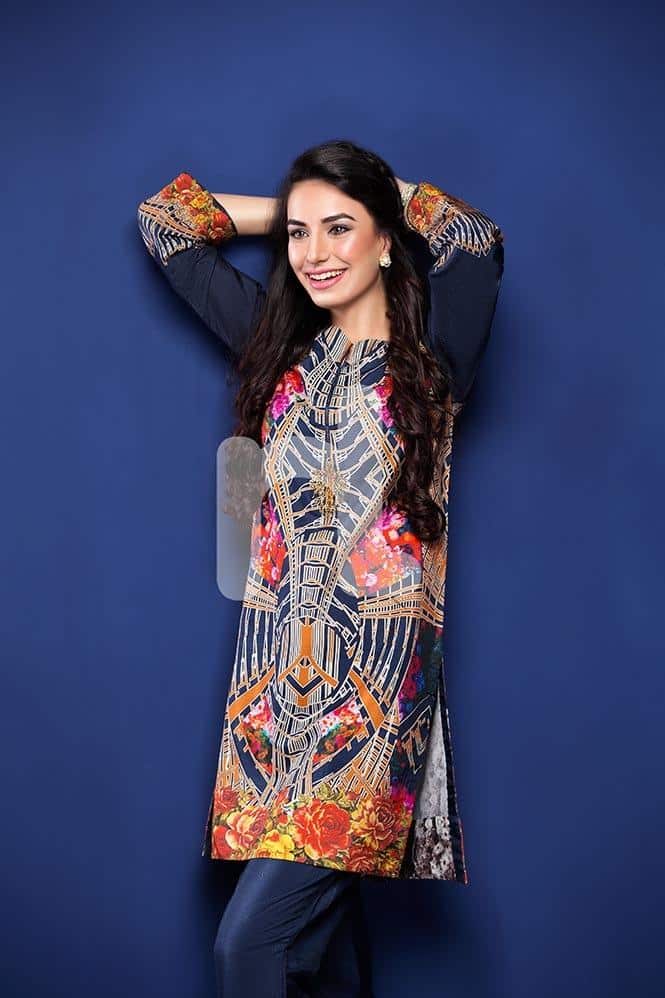 #15 – Minimalistic Kurti Style
The neutral tones winter stuff with plain Kurti and printed dupatta is a nice combination giving a seamless layout. It will keep your winters cozy with style.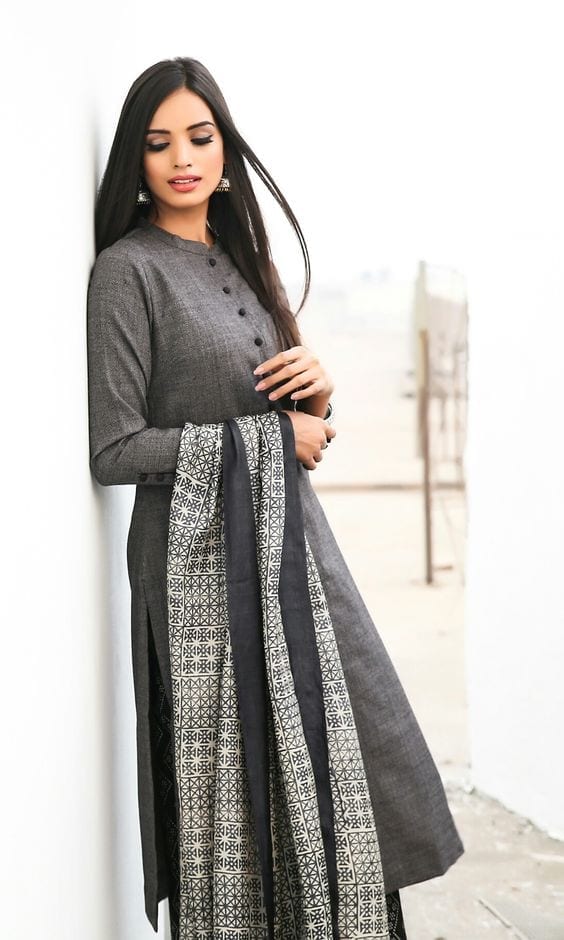 #14 – LSM Vogue Style
LSM has release vogue collection this winter to add more colors and latest designs to your wardrobe.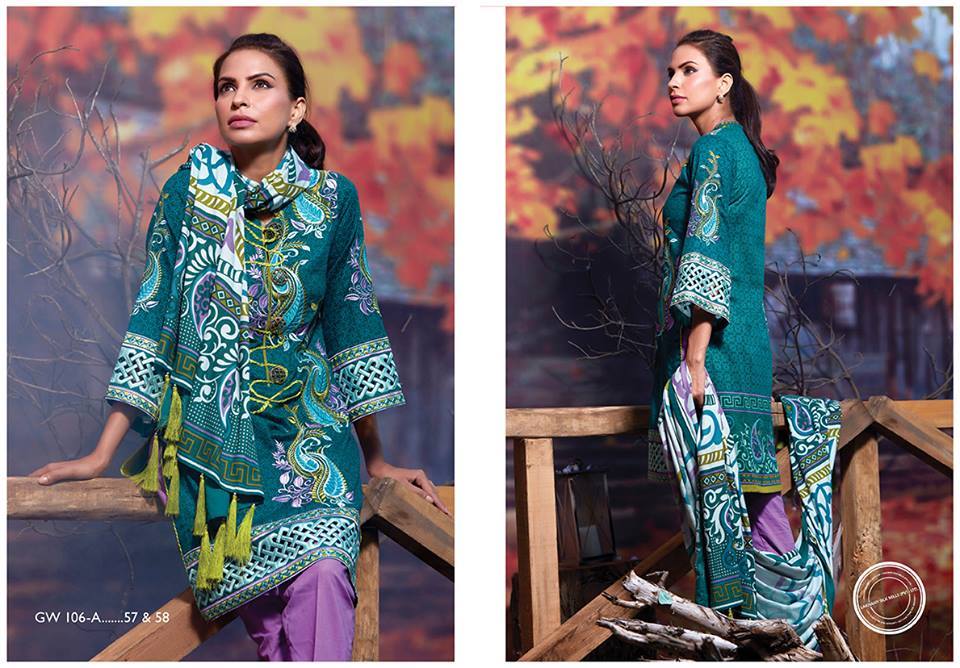 The viscous stuff digital printed kurti is the trendy chic design for your wardrobe.
#13 – Casual Velvet Kurtis
And yes, velvet is back in style with a trendy modern look. Below are some à la mode design kurtis for your wardrobe
Nice embroidery on boat shape neck with lining around sleeves makes the dress simple yet elegant at the same time. It goes well with yellow tights or cigarette pants. Here are Top 10 Pakistani Clothing Brands for Women 2017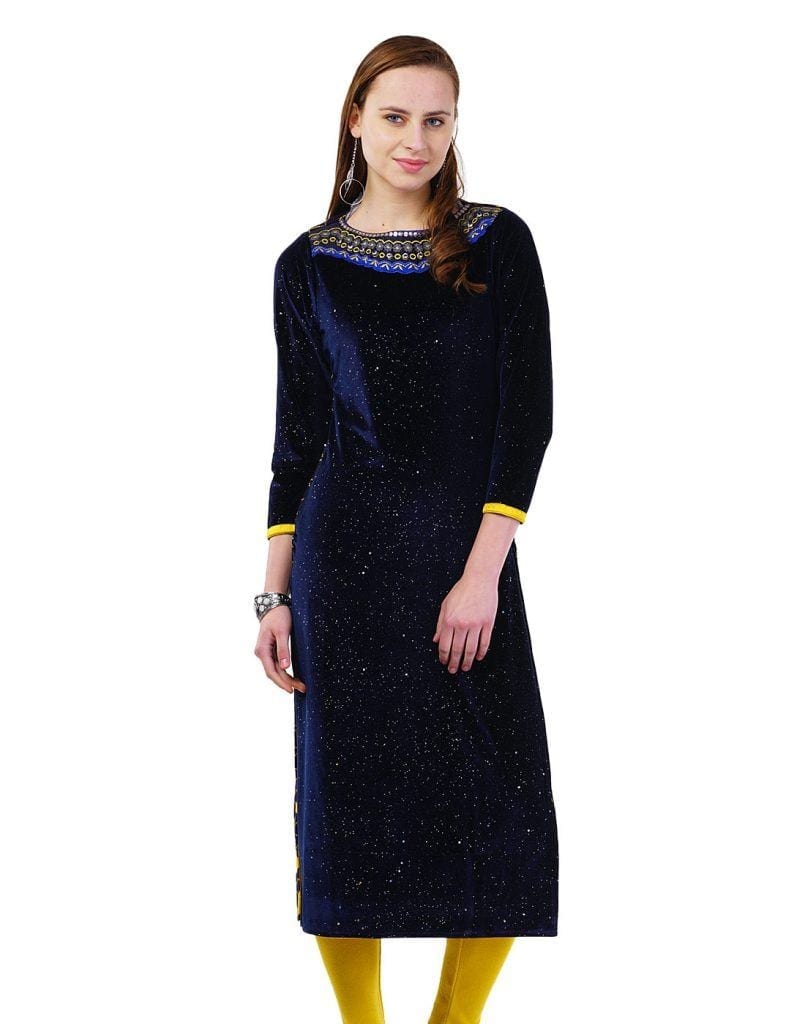 Via
#12 – Formal Velvet Kurti
Fancy embroidery on the neck makes the velvet an exquisite ethnic wear for your formal parties of winters. Embroidered velvet with bright color is a perfect persona for winters. Wear elegantly to your party or friends gathering. It is a perfect blend if worn with jeans, palazzos or cigarette pants.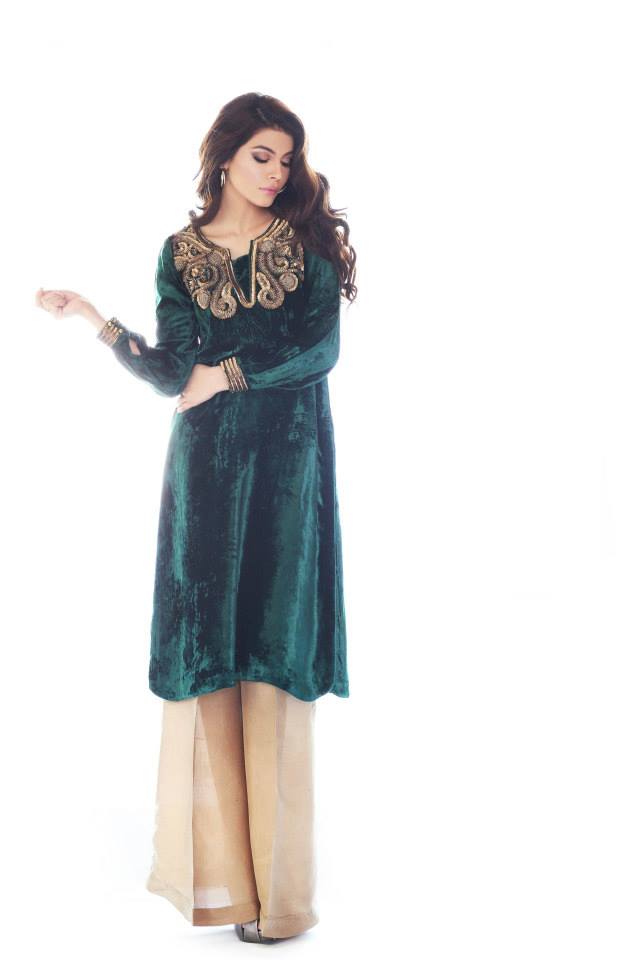 Via
#11 – Khaddar Kurtis for Winters
Latest designs for misty winters in Khaddar are also a variety that cannot be ignored. Various brands like SNM attire, J., Kyseria and others have released beautifully design and visually attractive Kurti range.
Make your wardrobe rich in colors with purple pastures. Be an inspiration this winter with a variety of Khaddar kurtis. Its class look will be enhanced if worn with lavender color jewelry and white and purple tone wedges. Have a look at Best Branded Clutches – Top 20 Clutches for Women In 2017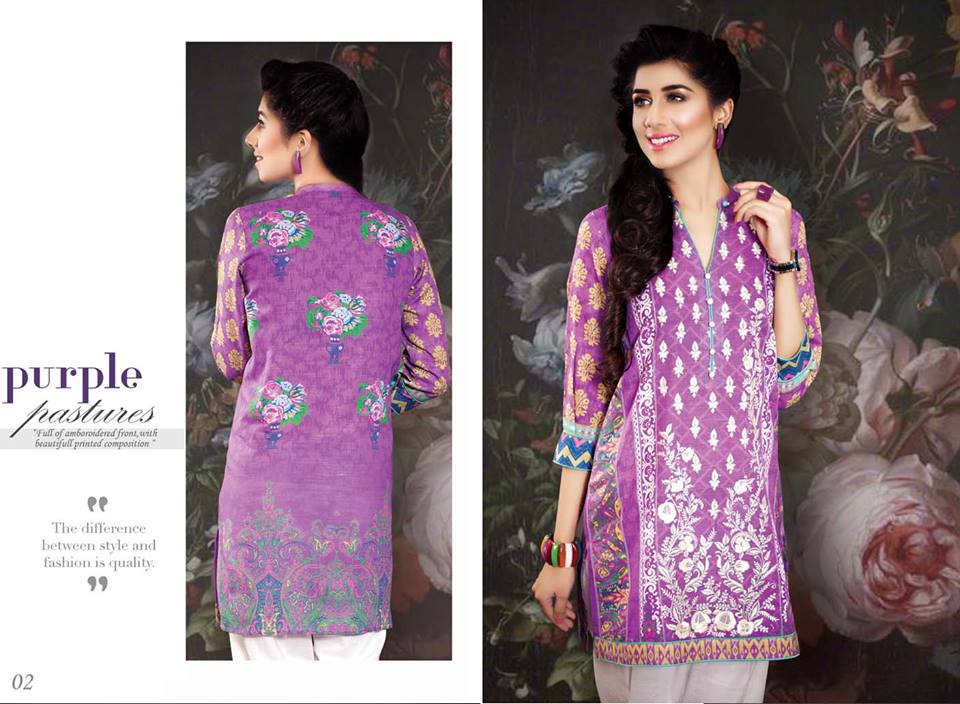 #10 – Winds of Winter Kurtis
Kayseria has also released some great winter designs in Winds of Winter collection for 2017. Glimpses of the variety show floral design on the natural shade of yellow makes the dress really appealing. Wearing it with elegant cigarette pants of cream or beige color and matching pump heels will enhance its beauty and blossom your personality. Cigarette pants with vertically striped kurtis are also a great combination for girls who want to look taller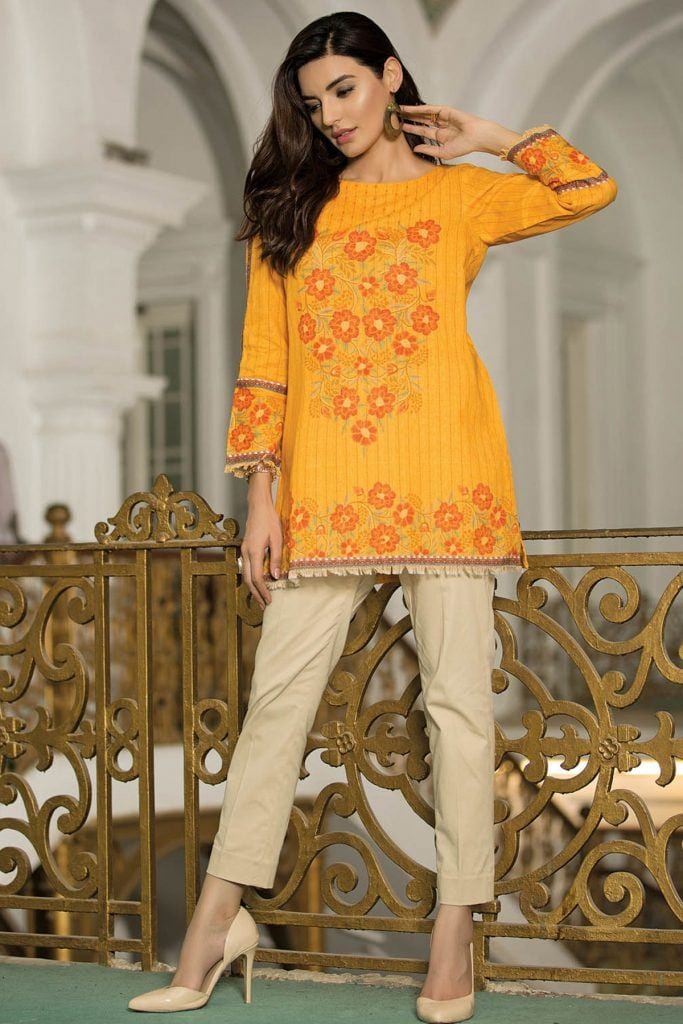 Via
#9 – Embroidered Kurtis
The darker tone also works well in winter. Wearing it with snow white trousers will make it more alluring. The Nice and traditional look has been added to the kurti by embroidery.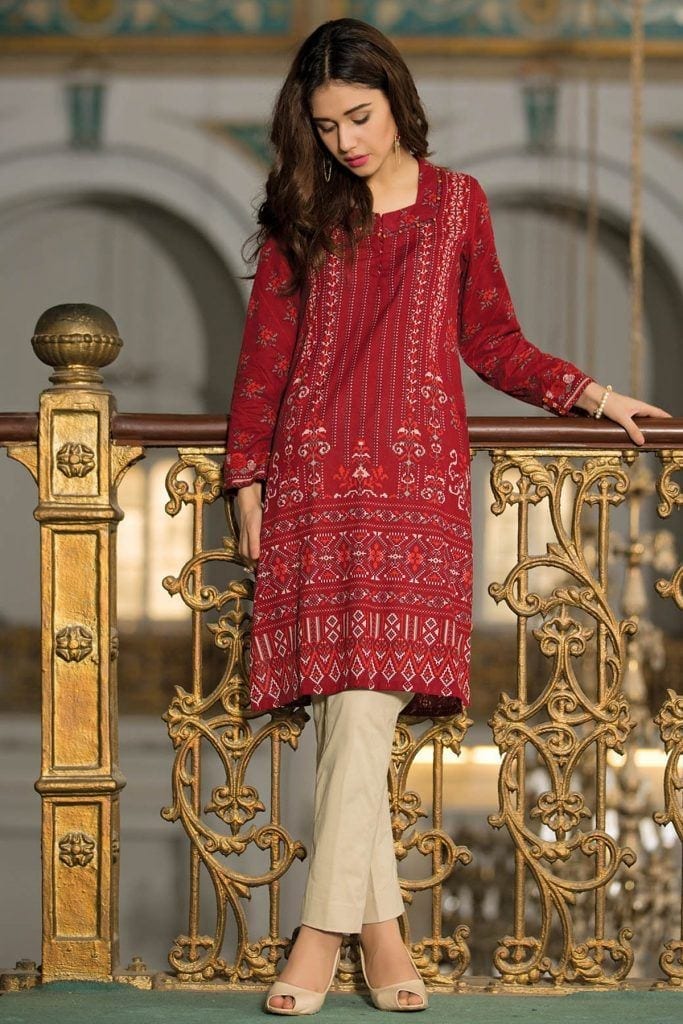 Via
#8 – Neck Side Loop Kurti
The shirt has printed design with high neck side loop. The kurta is in wider width khaddar.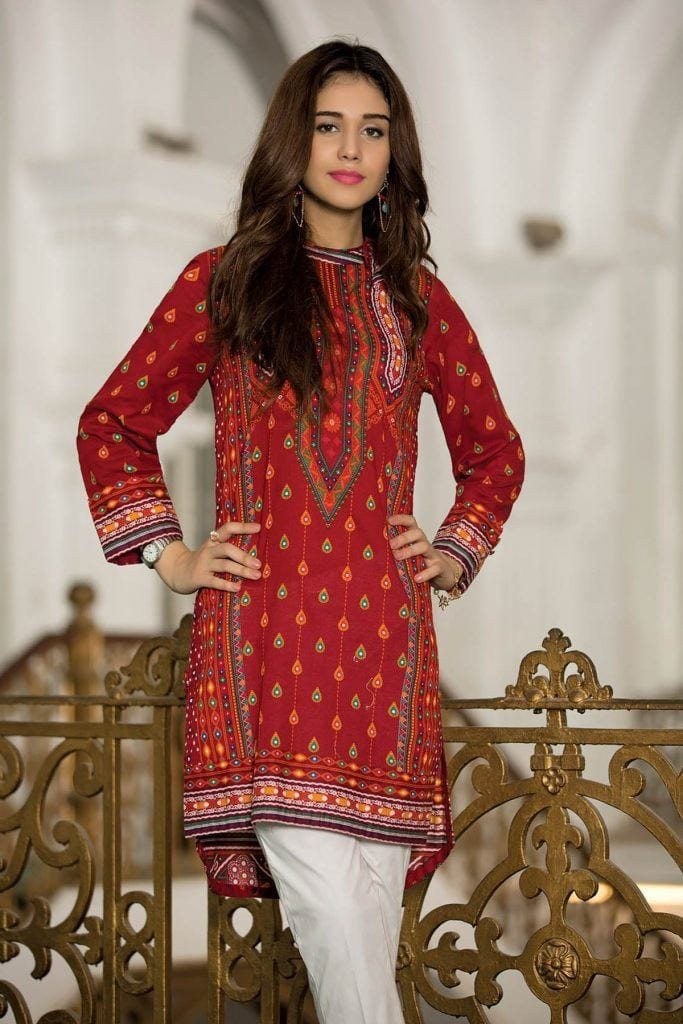 Wide width khaddar with tribal embellished print is an attractive and beautiful attire for winters.
#7 – Style in Blue Kurti
These stylish and elegant winter Khaddar kurti collections will not only keep you warm but also makes you comfortable in the hazy winters with attractive persona. Don't miss out Top Makeup Brands – List of 15 Most Popular Cosmetics Brands 2017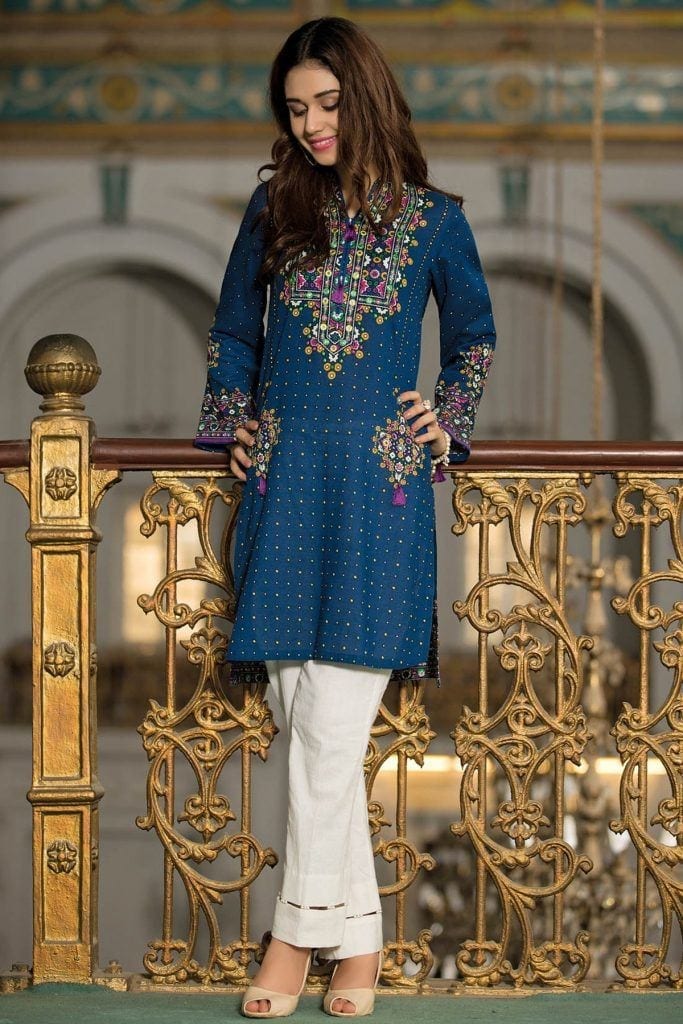 Via
#6 – Formal Kurti Design
Planning to wear kurti on a formal winter evening? Well, here is a list of some trendiest collections from various brands for your formal winter catalog
The elegant light blue with the blend of cream color gives a nicer chic look. This formal kurta will stand you out in any party giving à la mode look. Wear it with skin color trousers and wedges for a classy look.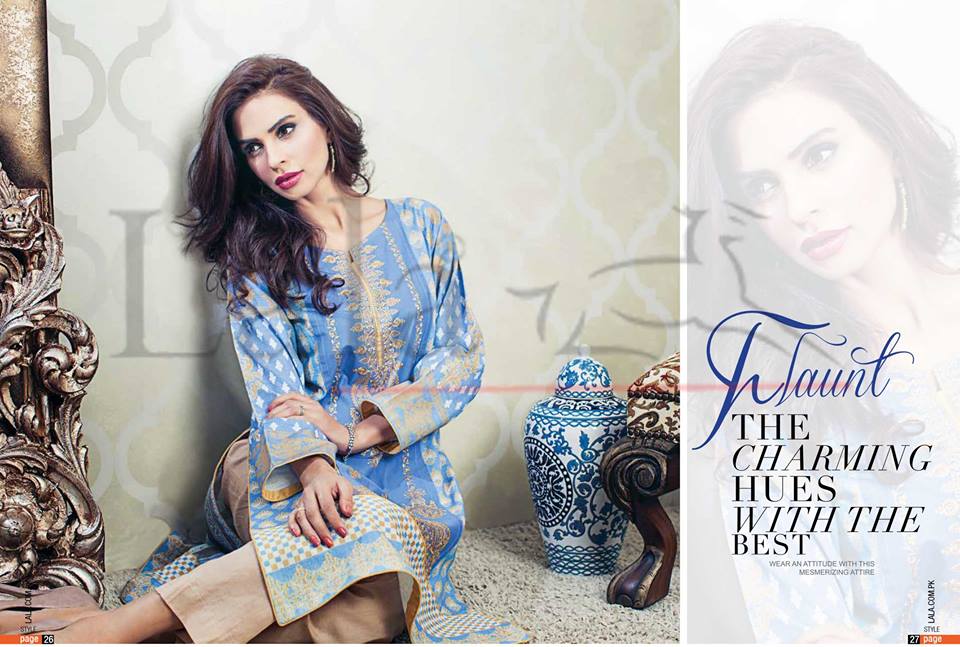 #5 – Formal and Bold Kurti with Gown
It is said that "bold is never cold" and it is surely very true when it comes to women's fashion. The silk formal dress with nice black tights and bold digital print gown gives you a sophisticated look. No doubt, it won't let you unnoticeable in any party. For awesome hairstyles to go with your Kurtis, get some celebrity style inspiration from these Jacqueline Fernandez Hairstyle-25 New Hairstyles of Jacqueline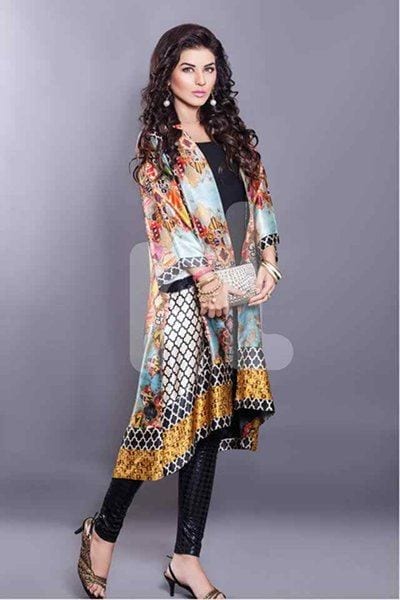 #4 – Chic Design Kurti
As the name suggests, it indeed is a traditional chick design. With lively colors, the dress is an exquisite and a must have for your catalog.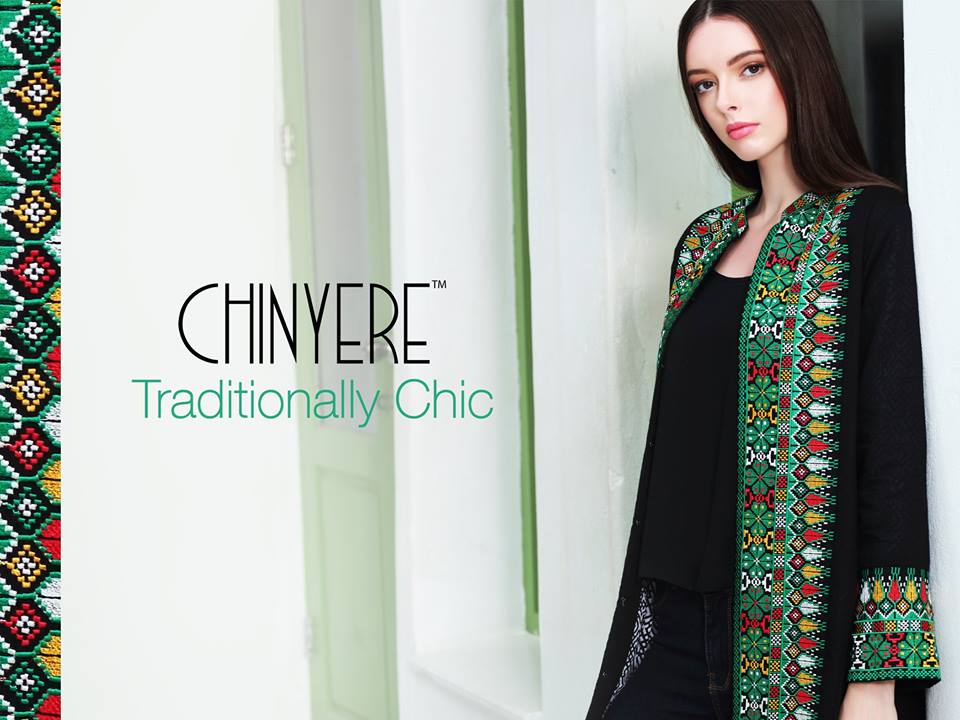 Via
#3 – Celebrity Style Kurtis with Tulip Pants
The formal wedding or party wear include a combination of kurtis with tulip pants. Nice golden waistcoat with bright color kurti works well to rock any wedding party. Make a combination of contemporary Khussa with it.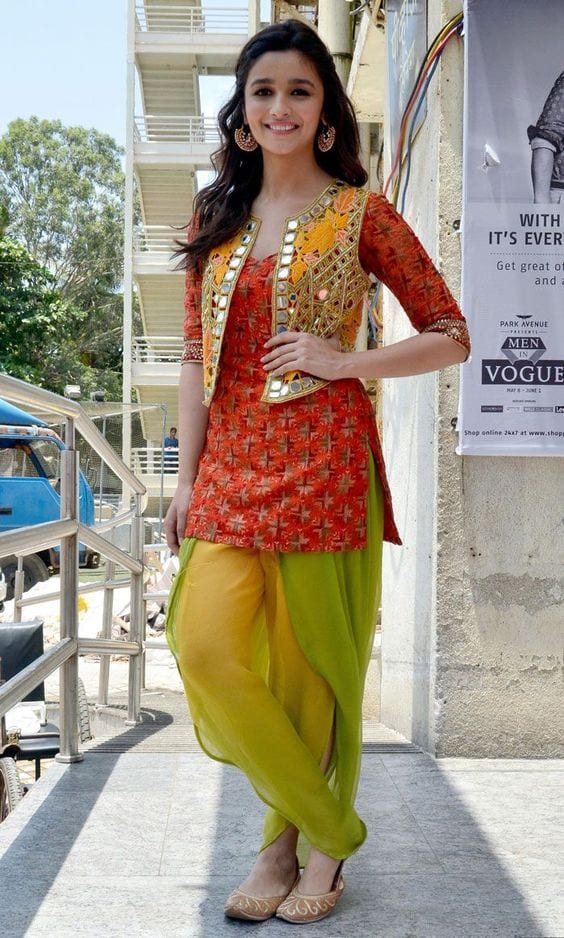 #2 – High-Low A-Line Denim Kurti
A high-low A-Line Kurti with casual design and Viscose fabric is a nice winter top that can go well with any blazer. Also, it can go well in all seasons. Wear it with a trendy coat, jeans, and pumps to have a nice look.
Many brands have launched denim kurtis for Winter this year, have a look at these awesome ones by Khadi that can even be worn with jeans. They are definitely a must have for young girls:

#1 – Choker Neck Design Kurtis
With Mandarin neck style, front open slit kurti, seamless and exquisite design, this kurta is a must have collection for all seasons. We all know how much choker necklaces have been trending this year and wearing this choker neckline kurti will help take the style game even further. It will not only give you a trendy outlook but also help to give you a sleek and smart look.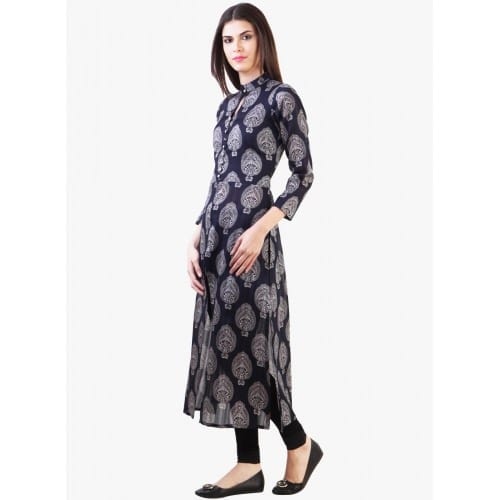 Best Kurti Color to Wear in Winters
Here's another cute choker neck style by the brand "By The Way." It is also our most highly recommended kurti color to wear in Winters because everyone needs some sunshine in the cold and dull days so why not be it!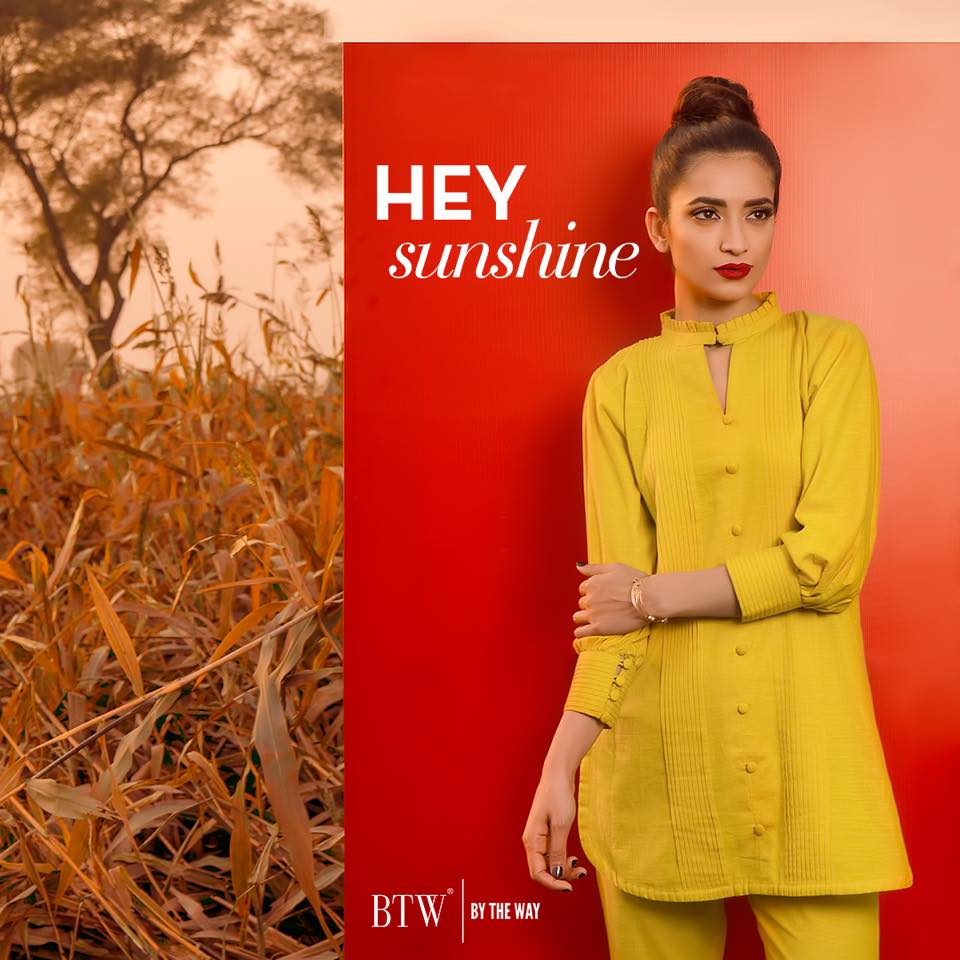 These are some of the latest collections of winter kurti designs that can enhance your wardrobe. All of them can be worn with the combination of your choice i.e. with tulip pants, jeans, cigarette pants, tights or churidars. Whether you make it your formal party wear, dress casually for any outdoor activity, they will always add colors to your persona whether you wear them as a girl or an elegant lady.