Best Outfits of Naimal Khawar Abbasi. Naimal Khawar is a gorgeous woman and a celebrity. She gained fame when she appeared in her first drama due to her beauty, and people continued to love her for her personality and work ethic.
She is also a huge style icon and has made some great fashion choices in the past. Her outfits have always been amazing, and some to follow if you love looking stylish while also staying modest. She rocks eastern and western outfits equally perfectly and does it with ease and grace!
25 Breathtaking Outfits of Naimal Khawar Abbasi
This article is for all the Naimal Khawar Abbasi fans. Naimal is a gorgeous fashionista and one every Pakistani girl should definitely follow. So please read on to take a look at 25 of her best outfits to date!
About Naimal Khawar Abbasi
Naimal Khawar has an ex-actress from the Pakistani industry. She has appeared in the drama serial Anaa and the film Verna. She was appreciated as an actress and for her beauty. After her two projects, she married a long-term friend and fellow actor Hamza Ali Abbasi and decided to give up on acting. The couple has an adorable son together.
Basic Facts about Naimal Khawar Abbasi:
Age: 28 years
Date of Birth: November 17, 1993
Height: 5 feet 6 inches
Zodiac Sign: Scorpio
Instagram: naimalkhawarkhan
↓ 25 – Mehndi Special by Naimal Khawar
Naimal Khawar has the best fashion sense when it comes to the wedding season. Her clothes at the weddings of her sisters and friends are something we stay on the lookout for. You should definitely consider her looks when planning for the next wedding coming up in your family. Here is one of the best Best Outfits of Naimal Khawar Abbasi.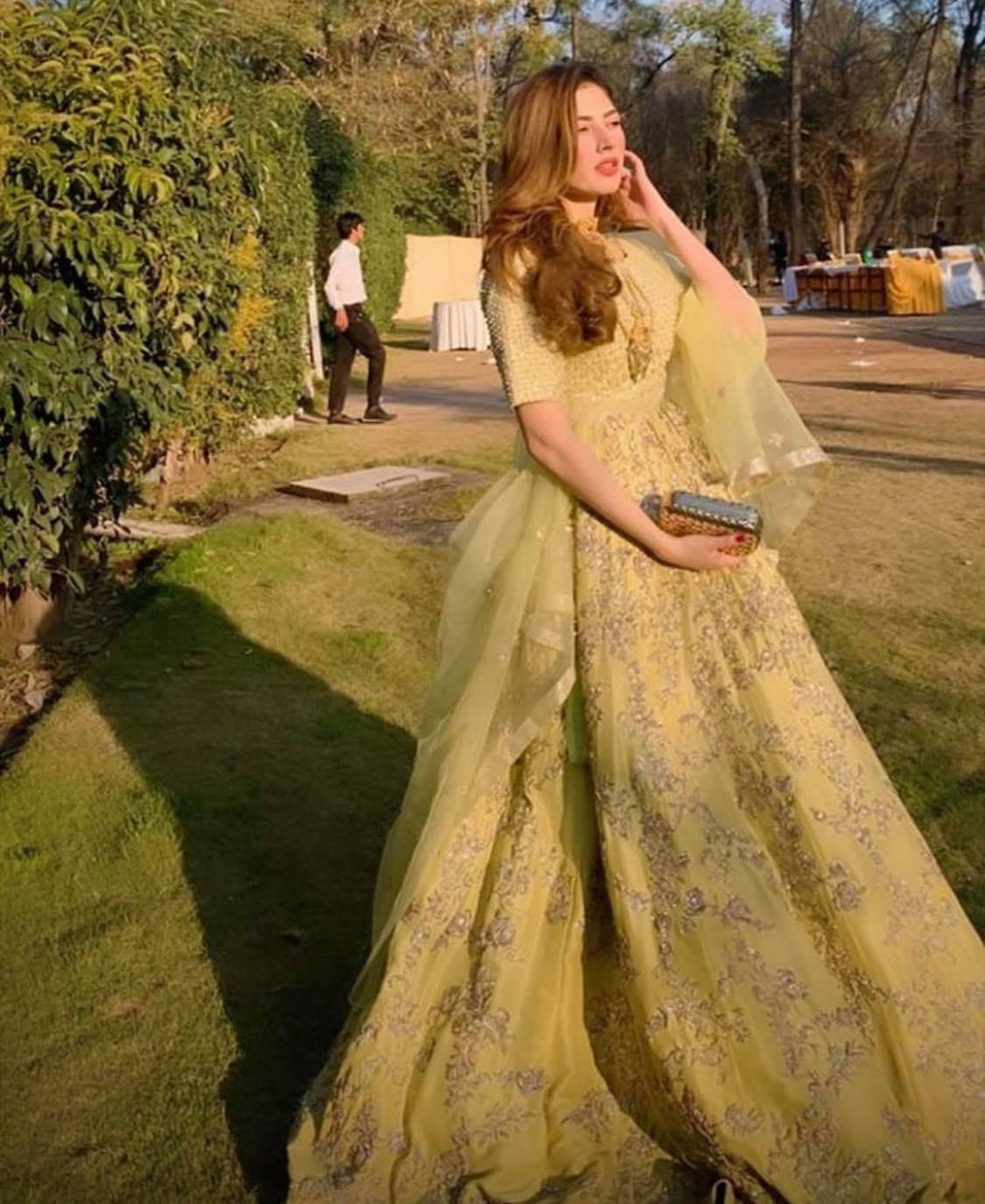 ↓ 24 – Ideal Winter Look
This adorable picture of Naimal Khawar and her husband Hamza Ali Abbasi shows them standing under what appear to be Christmas decorations. This is a great look for the wintertime as the big brown coat will keep you super warm and make you look gorgeous and modest.
↓ 23 – Perfect for the Wedding Season
Another wedding look coming your way. This is the ultimate look for a Walima ceremony of your closest friends. Ice blue is a great color choice, especially for winter weddings. You will look like queen Elsa as you strut around in the hall. Put on an aqua or ice blue choker to match and leave your hair down in loose curls. A little bit of red nail polish might be just what you need to bring it home.
↓ 22 – Simple and Sweet look by Naimal Khawar
This is a still of Naimal Khawar from her tv show Anaa. In the show, she played a gorgeous and hardworking young woman who was also very sophisticated and polite. We think her real-life personality inspired her character in the show as she is truly an amazing person. And this pick is simple yet cute for all our easy-going ladies.
↓ 21 – All-White is an All-Time Favorite
A formal option for all the white lovers out there. This look is really gorgeous and easily adaptable as it is made of simple lace that you can find in any market. The cut is a frock style with wide palazzos. This style of making fancy clothes is a good option as it adds layers to the outfit and makes it look really flowy and fun.
↓ 20 – Fall Is The Time to Show Your Fashion Sense
When it is fall time, it is time to pull out your beige-colored pieces of clothing and start layering up. This simple combination of different cream shades gives a very pleasant look as they merge to create a calming effect. The white fur scarf is definitely a statement piece, and you should definitely add something like this to your wardrobe whenever you get the chance, as it can be used diversely.
↓ 19 – Graceful Formal Look
This formal piece is on the simpler side and will be more suited for parties rather than weddings. The pairing of the silk embroidered shirt with silk trousers is a great one. All of us have something like this in our closets, so you can easily copy it for the next big event that you might have to attend.
↓ 18 – Ready for a Shopping Spree
Red blouses are a wonderful choice for all young girls. Red is the color you can wear mostly only in your younger years, so make use of this time to put on your favorite red blouse and pair it with a white or black pair of jeans and some comfy sneakers to aid you your long shopping spree.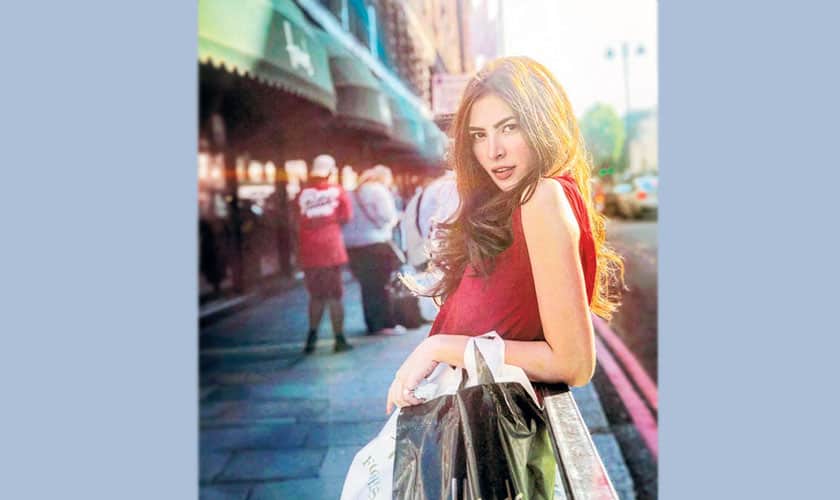 ↓ 17 – Weddings Bells are Jingling in the Distance
This wedding look of Naimal Khawar is ideal for Baraat ceremonies. The combination of red and gold is the definition of Baraat, and that's exactly why we think this look will work so well. Just pair up with some big jhumkas, red nail polish, and lose curls, and you will be all set to make a mark! Also, have a look at Fall Wedding Fashion-20 Outfits To Wear For a Wedding In Fall.
↓ 16 – Green is a True Astounding Pick
Another look to add to your fall look book. This one uses a spectacular moss green along with simple beige pants and a basic black coat. Simple makeup and a dark lip color are all you need to look out of this world. Loose curls are in during colder seasons as open hair is perfect for fighting the harsh winds.
↓ 15 – Traditional Pakistani Suit
This is one of the rare times that Naimal is seen in something that falls between completely simple and full-on glam. She is either pictured at weddings or just enjoying her time in plain clothing. This gorgeous suite is made up of a cloth called tissue or organza. The little palm trees at the edges of the dupatta look super cute. And the color combination of purple and pink is also one that you must consider the next time you are thinking of getting new clothes.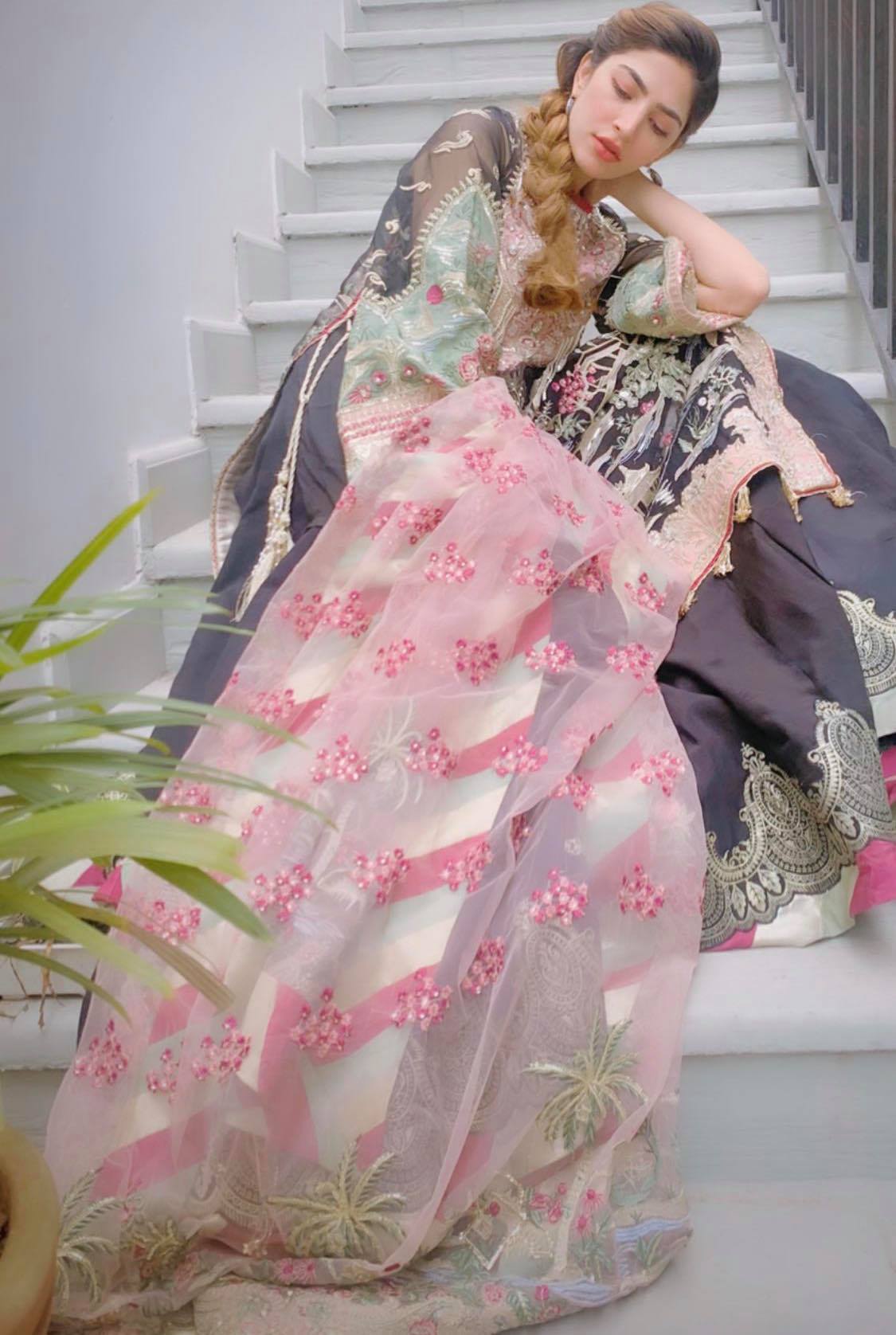 ↓ 14 – Traditional Pieces Make the Best Outfits
This traditional embroidered shirt is giving us all the fantasy vibes. The blurred background in the picture is also making it all look extra wonderful. You can easily find shirts like these at stores like Outfitters and Sapphire West. Juts pair it with a simple pair of jeans, and you are good to go. This is particularly perfect for college-going girls.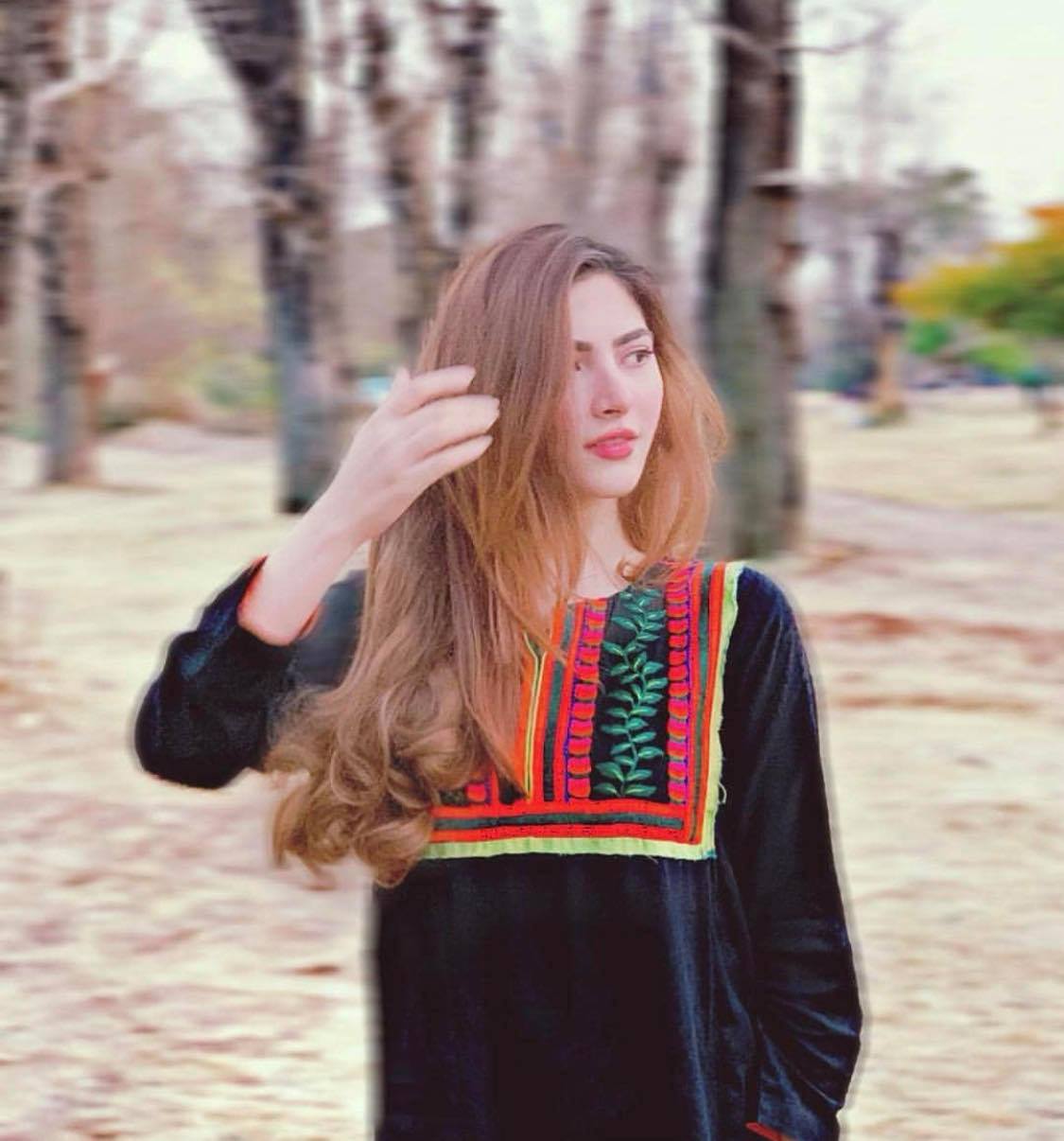 ↓ 13 – Mustard is the New Black
This mustard blouse is the most beautiful piece on this whole list. It brings out Naimal Khawar's skin tone, and it is truly the color of the up-and-coming spring season. Stripped wide-legged high-waisted pants are a great choice to pair up with this blouse instead of going for a plain pair of jeans. This will add an extra layer of glamour to your look and make it look a lot more stylish.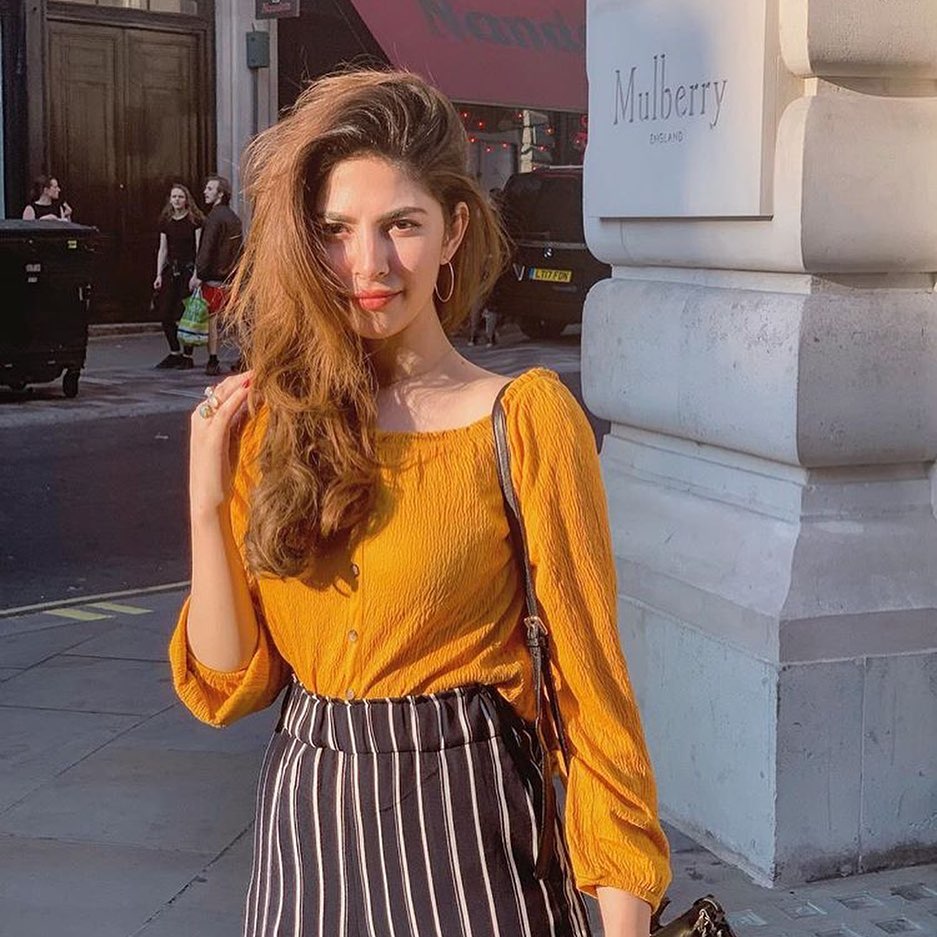 ↓ 12 – Graceful Black Saree
Sarees are the ultimate desi outfit for all South Asian women. It makes all women look out of this world. This saree is extra special because of how simple yet gorgeous it is. You can easily replicate this look by making a plain chiffon saree with a light velvet embroidered blouse. A classic bun, red lip, and winged eyeliner will add the ultimate final touches to a memorable look! Also, have a look at Best Winter Saree Styles ; 10 Ways To Wear Sarees In Winters.
↓ 11 – A Visit to Old Lahore
This outfit and pictures remind us of our visit to Old Lahore with our friends. You might have normally seen a red shirt with white trousers, but Naimal Khawar has decided to turn this upside down and go for a red shalwar with a white kameez. The ruffled messy hair is a look that many girls run away from, but we think it looks super hot!
↓ 10 – Red is The It Color
Red is the color that can make any person look gorgeous. It brings out a sense of fire and love in the onlooker and is sure to turn some heads when you pass by. An all-red dress is very bold and fierce and one that we think all girls should own. This chiffon Anarkali style frock is a great option for all the red-loving ladies out there.
↓ 9 – Simplicity is the Secret of Beauty
Naimal Khawar is known to be a fairly simple and easy-going girl. Her combo of magenta jersey top and blue, dark wash jeans is surely evidence of this. She is seen sitting in an open space of a coffee shop and just casually looking super hot. We wish we could look this effortlessly beautiful at all times!
↓ 8 – Natural Beauty is the Best Kind of Beauty
We bring you another style that you can easily make for yourself. All you will need is some pink chiffon, and then you can get it tailored juts like Naimal's shirt shown in the picture below. Another option for college and school-going girls who want to show off their natural beauty and stay humble.
↓ 7 – Mustard Saree for Mayoon
Here is one of the best Best Outfits of Naimal Khawar Abbasi that you can wear at weddings. This mustard jacquard saree will be perfect for Mayoon and Haldi ceremonies. Naimal's classic red lip is coming through, and we can see that it looks juts as perfect as always. It would help if you also opted for such bold lip colors when going for subtler-colored clothing to accentuate your natural beauty. Also, have a look at Top 25 Saree Styles of Pakistani Celebrities and Influencers.
↓ 6 – Someone Never Looked Better While Drinking Coffee
We believe that we can all agree at this point that Naimal is the true definition of beauty. And we all must admit that even in the plainest of clothes, she manages to look out of this world and breathtaking. You can see her in a light blue jersey top with a simple side braid and minimal makeup. And we can swear no one has ever looked better while drinking coffee than she does right here!
↓ 5 – Classic Shalwar Kameez
This classic shalwar kameez look must remind you of all of the countless pieces in your closet that you can wear daily. This is a simple and straightforward look. The simple hairdo with braids is adorable, especially for younger girls such as college and school-going ladies.
↓ 4 – Western can Still be Modest
Several people have the misconception that everyone who dresses western does so in an immodest and indecent manner. Naimal Khawar's this look completely negates that stereotype. You can see here that she has opted for a skin-colored top underneath her sleeveless dress to make it more modest. This is a great trick, especially when you are traveling abroad.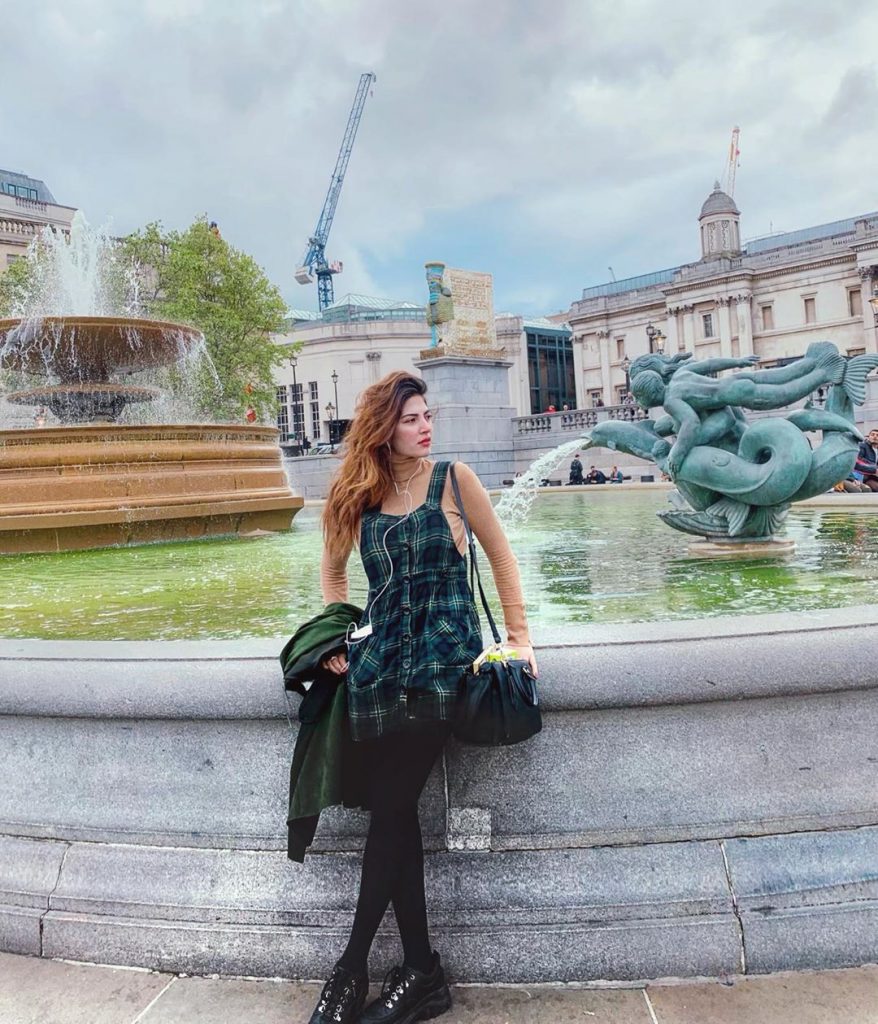 ↓ 3 – Black is The Ultimate Pick
This is another wedding season ensemble by Niamal that consists of a black floor-length own with gold embellishments. You can style such clothes easily with the help of heavy jhumkas and some good makeup skills. After all, makeup is every woman's best friend!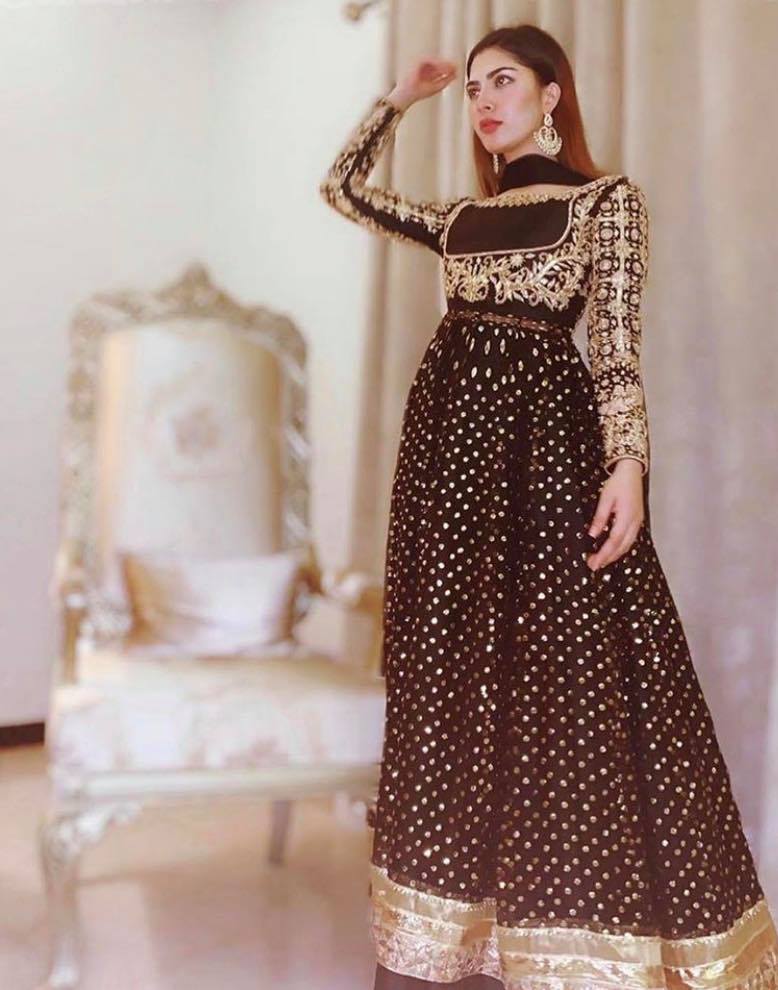 ↓ 2 – Casual Everyday Pick
This is the most casual pick on this list, and it is here to show you that our stars also go for casual looks. They aren't dolled up 24/7. However, Naimal has made this look a little dressy by putting on the red lipstick, which is another great tip for giving your casual looks a little extra razzle-dazzle.
↓ 1 – Best Outfits of Naimal Khawar Abbasi From the Sets of Anaa
Naimal Khawar showed off some of her best styles on the sets of tv show Anaa, as mentioned earlier as well. This is one such ensemble that truly brings out the innocence and simplicity of her character and even of her real-life persona. Chori Dar Pajamas might be an old form of trousers, but they are definitely making a comeback, and we think they look super graceful. So you should definitely add one to your wardrobe!
Frequently Asked Questions
Q. How did Naimal and Hamza meet?
A. There is no specific story known of how the two met. Hamza Ali Abbasi said that they were platonic friends for 2 years before deciding to approach her with a marriage proposal. And she agreed. That's how their love story began.
Q. Why did Naimal quit acting?
A. There was a lot of speculation about why Naimal quit acting. Many people assumed that her husband, Hamza Ali Abbasi, forced her to quit showbiz. But she put these rumors to bed by letting everyone know it was her own choice. The reason behind this decision is that Naimal wants to focus more on her art and painting as she says that's her first passion and priority.
Q. Where did Naimal Khawar study from?
A. Naimal Khawar went to school at the National College of Arts (NCA) in Pakistan.