Fashionable Ankle Bracelets: Your feet are precious and deserve to look more beautiful so why not add some charm using stylish and trendy ankle bracelets and ankle chains! Plain and elegant ankle chains can add glam to your feet.
One can wear any kind of shoes with ankle bracelets and chains; they always look great! Figuring out how to wear jewelry on your feet is a big problem for many girls, but as it turns out, this is the easiest thing to wear. However, we will suggest you not overdo it with feet jewelry. Keep track of what looks good with your overall outfit and the place you are attending to make the final decision. Elegant or bedazzled anklets are in fashion these days. Ensure a pedicure for adding more beauty in your feet along with these beautiful anklets.
How to Wear Ankle Bracelets in Style
The trend of wearing anklets is slowly appearing again, and if you are worried about finding the right pick for you, you do not need to worry anymore! We have done our research and looked at all kinds of anklets that are available in the market at the moment to pick 24 designs that are at the top of the trend list. So read on to find out just which ones are perfect for you!
↓ 24 – Anklets with Boots
Who says you can't wear anklets with boots? For this look, you can go for something that is in light colors to keep the whole theme of your outfit light refreshing and straightforward. For the top, you can wear a buttondown shirt and pair it with nude shorts. Try to go for black boots to make your silver-colored anklets stand out and look prominent and beautiful. We also love the use of the sporty black watch, which looks sexy with those boots and anklets. You should also have a look at these Chic Back to School Accessories That Every Girl Must Own.
↓ 23 – Ankle Chains are Back in Style!
For a boho beach look, these are the perfect kind of anklets and accessories. If you are into Bollywood and hip hop style of fashion, even then, this anklet idea will be the best one for you. For this idea, all you need to do is to wear silver-colored rings, try to chunk them over one another to make then look cool, and totally chic. For the anklets, you can go for Indian style ones that extend up to your toes. This idea is perfect for beach days as you will be barefoot. This will make sure that your anklets are visible and looking good all the time.
↓ 22 – Silver Coin Chains
When you wear anklets with cropped denim jeans, for some reason, they tend to look cute together. These Arabic themed coin chains are perfect for young girls. You can wear these to parties, and you'll surely be the coolest one there. And do you know what will make these accessories look even better?
Are you one of those funky fashion junkies? Head over to Funky Outfits for Ladies.
↓ 21 – Bohemian Styled Jewelry
Anklets come in different styles, and such coins and crocheted bohemian anklets look very cool on the beach with naked feet. And they also look great in photos. These will give you a free-spirited and eccentric outlook. Wear these to bonfires at the beach during summer breaks.
↓ 20 – Layered Chains for Sexy Feet
Add gipsy looks to your feet with layered chains. You don't have to go for only one layered ankle bracelets, you can try to add them in chains as well, and it looks super amazing. For this kind of style, you can either make your DIY layered chain using bracelets or necklaces or simply purchase one from Forever 21 or H & M.
Here's a cool video tutorial on how you can make your own anklets:
↓ 19 –  Nothing can Beat the Elegance of Lace
Laces are sexy, but such a lace and jewel combination is even sexier. Who says anklets only have to be made out of sturdy material like metals. They can be made out of any kind of material; for example, these lace anklets are perfect for date nights or when going out with your friends for a cup of coffee.
↓ 18 – Barefoot Sandal with Toe Chain
This anklet is great to wear for a day out at the beach where you can let go of your sandals in the sand. Instead of having bare feet, put on this toe chain, and rock your beach outfit. Since most people wear bikinis or swimsuits, there isn't much jewelry you can wear to glamorize your outfit, so this fancy big toe chain is your best bet.

↓ 17 – Nude Heels with Diamond Chain
Diamonds look very sexy and glamorous, nude heels are very much in, and such a diamond chain adds charm to your feet. This idea is exquisite, and it almost looks like a part of your shoe and your whole dress because of its flawlessness. You can wear this ankle bracelet to college parties like prom and even to work.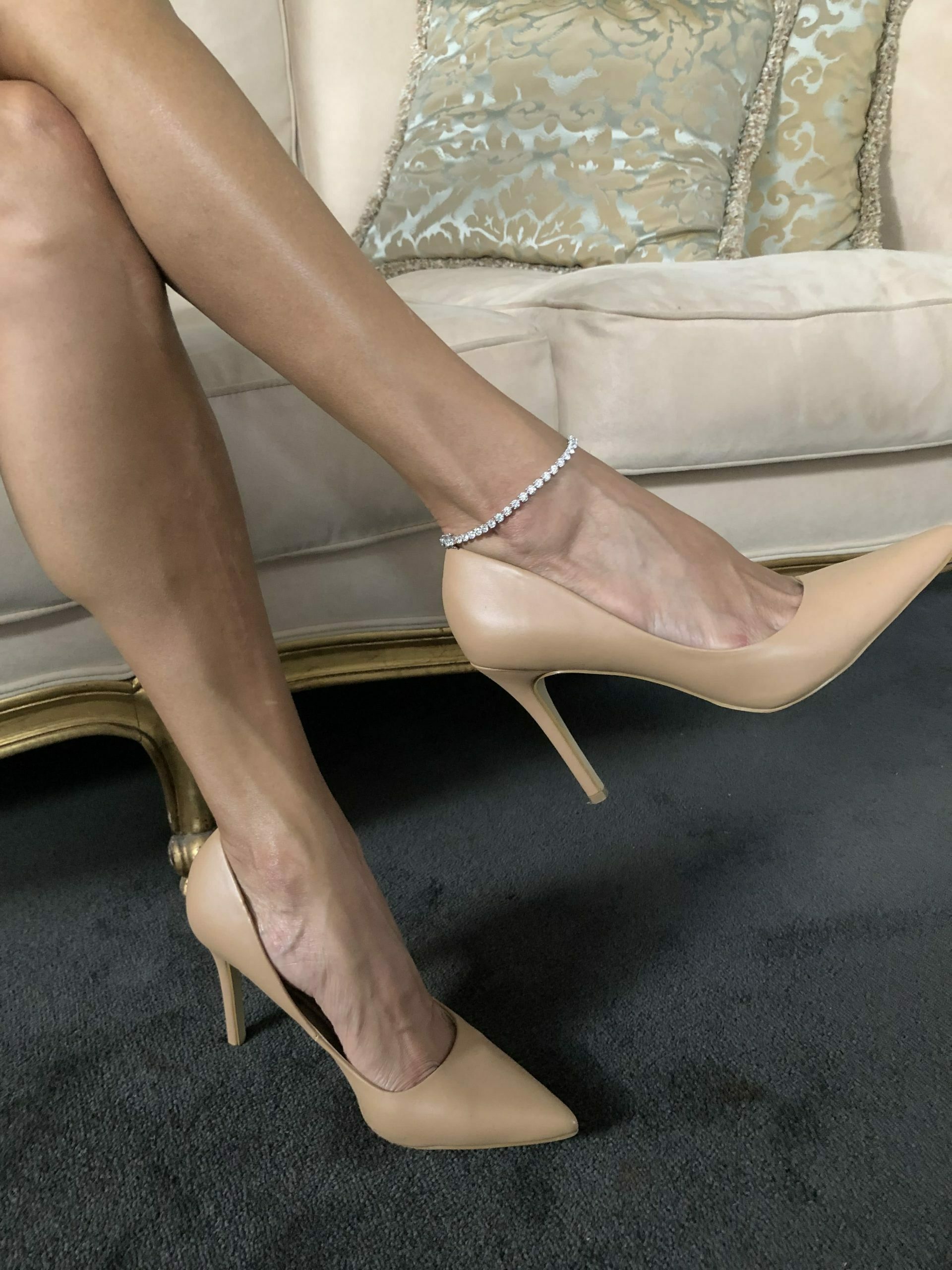 ↓ 16 – Be a Minimalist like Selena Gomez
Simple jewelry is something that continues to give no matter how much time passes by. We are personally huge fans of thin and light jewelry pieces like necklaces, bracelets, and even anklets.  They look elegant yet gorgeous, and you can never go wrong with them. Keep your ankles almost bare yet looking great with these light and cute pieces. Instead of opting for a plain chain, go for one with small charms. Some flowers or butterflies look very amazing on feet and give you a feminine and sweet look.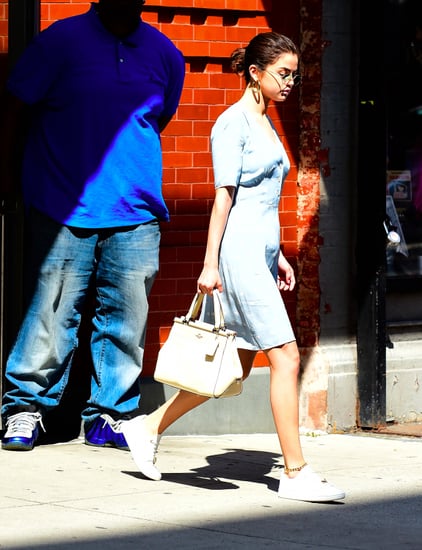 ↓ 15 – Black & Gold Touch
If you want to look for anklets that you can wear casually at home or even out with your family, then this is the pick for you. Such beaded pieces are perfectly casual and look amazing with any outfits or shoes. Beads can really add character to your outfit no matter how they are used, and in this form, they make your feet look great too! Wearing them with skirts is highly recommended, and of course, the chains look even better when you choose the right shoes, so do have a look at 20 recommended shoes to wear with skirts of different types.

↓ 14 – Twisted Thread Funkiness
We love DIYs, and we believe why to waste money on things that you can make yourself! This following example is one you can easily make yourself and probably have often been given by young nieces. All you need is a few funky colored threads, or maybe some muted shades., depending on your preference. You can then weave these threads together to create a thin and adorable chain that will go around your ankle seamlessly. Making these is as easy any task can get, and yet they look so lovely, especially during the summers. You will not struggle at all, and maybe you can use it as a fun bonding activity with your nieces or daughter.

↓ 13 – Plain Gold and Royal
Plain and simple takes the cake once again! Going for a simple gold or silver anklet is the easiest way to glam up any outfit, and it is one of those that always works. One thing we will suggest, however, is never to wear your anklets with pantyhose. So make sure you are only using this piece of jewelry is you are not wearing any stockings that day. Other than this one instance, you can always rock this simple accessory that is sure to help you look elegant and glamorous.

↓ 12 – Heels with Gold Layered Chains
Layering does wonders when it comes to fashion. Be it tops and jackets or necklaces and anklets. This simple trick never fails to amaze us. Add layers of simple anklets for a different and stylish look. Use at least one that has some sort of ornament or charm attached to it, so you do not look too simple. But if a profoundly simple and elegant look is what you are going for, then only use plain chains to create one big anklet. Pair it with some heels, and you are all set to rock!

↓ 11 – Threaded and Beaded Sexy Piece
Whether you're going barefoot or are planning on wearing flats and pumps, threaded and beaded anklets look very pretty. These will especially look great at the beach or on a lunch with your friends or family. They give a carefree and young vibe. Pair them with bright colored clothes and accessories during the summers, and you're sure to look ravishing!

↓ 10 – Infinity Style Chains
Infinity style anklets look amazing and can be worn with every dress. This is especially a great gift for a loved one, signifying the never-ending love you have for them. You can get it for yourself as a gift as well, to symbolize acceptance and self-love. It is a simple yet meaningful piece of jewelry.

↓ 9 – Cuff Style Beautiful Anklet with Heels
One can always try ankle cuffs to look different. They are an excellent choice for formal events and parties, especially when you're getting dressed as a wedding guest and wearing a slit-gown. These cuffs are easy to slide on and make your whole look more glamorous than any other piece of jewelry ever could!
↓ 8 – Cute Ankle Chains
These are cute and simple anklets that can be worn with everyday outfits. The adorable bow design is the ultimate pick by many young girls in high school. You can also get one with a flower or butterfly in its place. Such charms symbolize hope and acceptance of one's own identity.
↓ 7 – Wedding Ankle Jewelry
This is undoubtedly a very elegant anklet that has a hint of pizzazz attached to it. Many women ignore their feet when dressing up and forget that you have to make them look good just as much as other parts of you. This simple and elegant creation does that job perfectly! Tan skin is the most beautiful thing, make it more pretty with Gold feet jewelry.
↓ 6 – Gypsy Style on Beach
Partying on the beach? Go for such anklets that genuinely represent your inner free spirit. These come with little bells in the hanging part that will sound as you sway to the music and emphasize your every step. This piece is for the bold and fearless, those who know how to enjoy life and live every moment to the fullest. Also, have a look at 20 Gorgeous Beachwear Outfits for Plus Size Ladies.
↓ 5 – We Love White Henna Tattoos!
Thick and chunky anklets can look amazing if worn right. Pair these with rolled up jeans or skirts and dresses, so they show.  You can layer as well, using a plain big chain and another chain with ornaments attached to it, as shown in the picture. Go for a boho look add henna tattoos and funky nail colors.
↓ 4 – Raw Rope Look with Wedges
Anklets with some jewelry attached with wedge shoes look very fashionable. The hook that goes around your toe disappears under the shoe, making it seem like it is part of your shoe. Such a look surely makes you look bold and sexy and is perfect for a date with significant other!
↓ 3 –  Crystal Rhinestone Barefoot Sandal Jewelry
Such anklets are very heavy, but they do not need any shoes! You can wear these if you're attending a beach wedding and ditch the sandals to let your feet sink into the warm sand. You will look dazzling and enjoy the best part of being on the beach at the same time!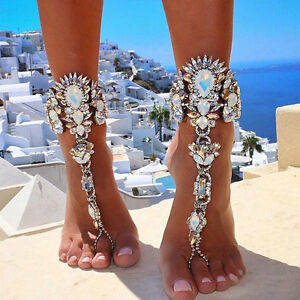 ↓ 2 – Hippie Leg Jewelry
How about instead of going for a piece of jewelry that only covers your ankle, opt for one that extends to your knees! This anklet is only for those not faint of heart. We think its the ultimate piece of jewelry made for parties at the beach during the summers. This will help you stand out and show your bold personality!
↓ 1 – Bejeweled Egyptian Ankle Bracelet
Sometimes wearing tiny and simple jewelry may look nice, but other times, going for big pieces of statement jewelry can also work out in your favor. This one is also easy to make yourself. Use your old necklaces to create this masterpiece that is sure to amp up any outfit you may wear.