Father and Son Matching Outfits. Some cool and interesting combos of father and son matching outfits are here to give you some dainty vibes regarding some serious parent-child goals about fashion.
How even the most interesting and entertaining ideas about parent-kid bonding involves capturing fashion endeavors, which could be both informal or could be for commercial purposes like for a fashion brand and its marketing. Some of these nicest ideas are some nailing street styles of father and son who are simply walking down the street with some classic outfits and throwing some phenomenal and uncommon swag. While some shows and gives the idea of simplistic bonding generated with only dressing similarly. And you too will experience a different set of ideas once you go through the rest of the post.
Top Father and Son Matching Outfit Styles
So, have a look at these 20 classiest and absolutely swag-inspired father and son matching outfits that took the internet culture by storm with its unique and family-friendly approach to fashion. Along with fulfilling some serious fashion goals, these styles also are up to date with today's unusual fashion demands and trends, especially for this year. So, don't miss out on some unique bit of fashion and stay updated and also have a look at 14 Cute Matching Outfits For Siblings That The Family Will Love.
Creative Ways to Style Father and Son Matching Outfits
↓ 20 – Vintage Outfit with Side-belts
This vintage outfit with side-belts and bow gives it so much of a costume-inspired look and the fact that it has been used to wear two matching outfits makes it so much more interesting. Furthermore, the background scene also gives it the image a much cinematic appearance so to nail a combo vintage outfit like this, you should come up with a cool idea of taking a good shot as well.
 ↓19 – Casual Outfit with Denim Jacket
Nothing but a simplistic and catchy casual outfit with a combination of a serene-looking denim jacket that just syncs with the lovely spring weather and the chilly wind.
 ↓18 – Matching Outfits with Sweaters
Not just father and son, nailing outfits together but the entire family seems to be enthusiastic about celebrating the similar wear day! The outfits' most striking element is apparently the scenery inspired printed sweater that matches the cool spring weather and the contrasting combinations with white/black plus the exciting pair of sneakers to match with. Here are 20 Cute Matching Outfits for Couples-Boyfriend Girlfriends
 ↓17 – How to Wear a Sporty Outfit to Match Your Son's
Matching and perhaps the coolest pair of outfits in sync together — all of which happens to have a sportive outlook to them and what's catchiest is the addition of caps to each matching style! Apparently, no pair could be seen this enthusiastic to be wearing matching outfits on a happy sunny day.
 ↓16 – Simple Jeans Outfits
 ↓15 – Father and Son Matching Button down shirts
Catchy and contrasting father and son matching button down shirts are surely the most demanding. With the nicest and soothing checker prints of the button down shirts, you could not ask for more. Plus, it gives the required amount of friendliness wanted with all matching outfits out there.
 ↓14 – Father and Son Matching Polo Shirts
Matching polo shirts are always a great way to express similar sports interest and favorites and there is no better way of bonding than wearing matching outfits to show and express resembling tastes. For more ideas, always match sporty looks with trainers or sneakers and white bottoms mostly.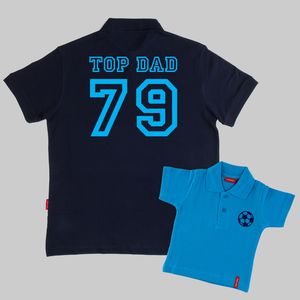 ↓13 – Father Son Matching Dress Shirt
Matching and syncing dress shirt combo of a father and son is a lovely idea for a friendly social gathering or a simplistic themed wedding day. Plus, the addition of bows and side belts is always a great idea to create friendly outfits especially if you want to wear it at social gatherings, etc.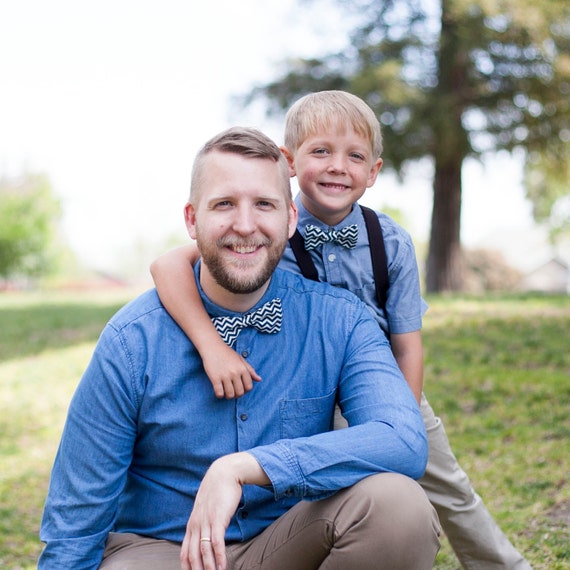 ↓12 – Nice Beach Outfits for Baby and Daddy
Beaches are one of the loveliest places to dress light and comfiest. If you wish to rock matching styles with your kid, then the one below is a good idea to help you achieve that. With a simplistic-looking white plaid shirt and its cool match with a plain shorts is a classy idea to feel synced and matched. Don't miss out these 10 Most Fashionable Kids on Instagram You Should Follow
 ↓11 – Coolest Vintage Swag Outfits
Costume-inspired vintage outfits that are not only catchy and demanding but also have a certain element of swag to themselves that makes them wanted right away. Also, a great idea for a costume-themed party where you can just dress in the coolest way and also experience a sense of bonding with your matching outfits.
 ↓10 – Mechanic-inspired Outfits
 ↓9 – Formal Outfits with Coat
Never would you have laid eyes on a cuter pair of father and kin matching outfits together in the loveliest way. With a formal looking full suit worn by the dad and wearing an equally stylish and formally cute outfit with a coat, this is surely the best in the list with matching outfits example.
 ↓8 – Jeans Outfit with Striped Top
A cool pair of father and kid wearing tops with striking stripes and nailing their matching personalities with a similar looking outfit. Outfits like this are best worn with a pair of sportive shoes and nice denim jeans.
 ↓7 – Printed/Graphic T-shirts
 ↓6 – Father and Son Matching Plaid Shirts
Father and son in the coolest and the most interesting looking plaid shirts combo is a nice idea too, to match outfits when you just simply feel like it.
 ↓5 – Abstract Art-inspired Outfits
Another one of an all family matching outfits day and not just any regular style but a rather catchiest style of abstract art printed outfits that are practically ruling the fashion of 2017. There is surely no other better and less questionable way to wear matching outfits if it has a sample of abstract art over it. RECOMMENDED: 20 Cute Holiday outfits for Kids for Different Occasions
 ↓4 – Outfits with Denim Shirt and Embezzled Coat
Dad and kid, up on the ramp wearing classy and stylish matching outfits with denim shirts and embezzled coat combination and the audience could not help but feel amazed with the outlook of the outfit and the sense of syncing that they both are sharing.
 ↓3 – Street Style Outfits
 ↓2 – Matching Outfits with Leather Jacket
 ↓1 – Statement Shirts Style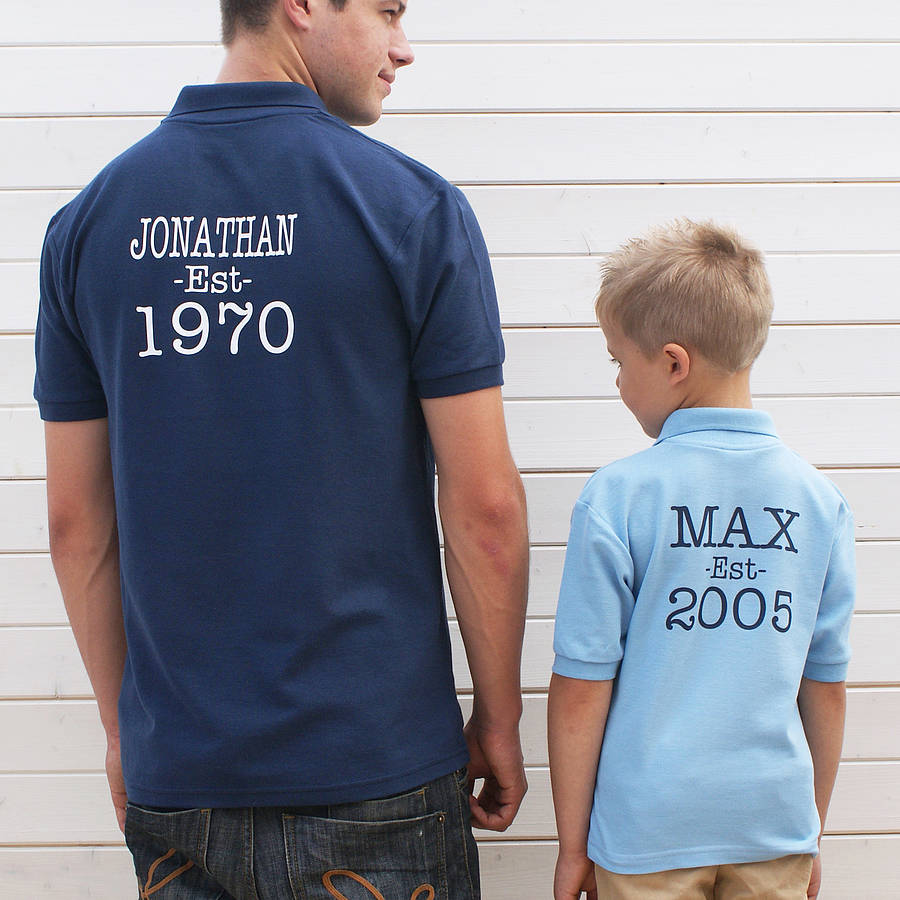 A Chemical Engineer by profession and content designer by choice! Meet Manahil Qureshi who has an infinite love for food and cats. Be it the latest fashion ideas about women or kids outfits or trendy men fashion styles, she loves to keep her pen moving on such niches. Other than writing, she has a love for designing jewelry which is why she has also started her own designer jewelry label, called Glare jewels. Want to know what is coming up next on her publication blogs? Subscribe to the newsletter and keep yourself updated anytime. Cheers!