Father and Son Matching Outfits. Some cool and interesting combos of father and son matching outfits are here to give you some dainty vibes regarding some serious parent-child goals about fashion.
How even the most interesting and entertaining ideas about parent-kid bonding involves capturing fashion endeavors, which could be both informal or could be for commercial purposes like for a fashion brand and its marketing. Some of these nicest ideas are some nailing street styles of father and son who are simply walking down the street with some classic outfits and throwing some phenomenal and uncommon swag. While some shows and gives the idea of simplistic bonding generated with only dressing similarly. And you too will experience a different set of ideas once you go through the rest of the post.
Matching Dresses for Son and Father
There is no greater bond than the one between a father and a son- strong, unyielding and everlasting. You can express this bond in several distinctive ways, one of them being; matching the same outfits as your loved one – a very open way to show love and affection towards them.
The trend of synchronizing your attire with your son has flourished quite briskly over the past few years. Multiple outfit stores are now offering an array of father-son duo outfit collections which are certainly commendable.
Every father should remember that one day his son will follow his example, instead of his advice. Focusing on the intangibles and encouraging your son to be like you isn't easy, because a child will always emphasize on what you do rather than what you say. Sometimes, though, a child might have different ideas but deep inside a son always prefers to be like his dad.
You might have spotted that little kids usually dress up wearing their dad's big baggy shirts, oversized shoes and colossal suits, right? Well, this clearly indicates that a kid is always fond of dressing up like their dads. If you're having trouble choosing the right similar outfits, you've landed in the right place. We have compiled numerous contemporary outfits that you can easily pull off.
Tips on how to match your outfits: 
Compliment the outfits, rather than completely matching.
Mix and match the colors and patterns instead of exactly duplicating.
Instead of crossing the line and revealing a stark color combination, make sure your fallback is to match your outfits based on a single color.
For more formal attire, opt for a darker shade of colors combined with blazers and coats.
So, have a look at these classiest and absolutely swag-inspired father and son matching outfits that took the internet culture by storm with its unique and family-friendly approach to fashion. Along with fulfilling some serious fashion goals, these styles also are up to date with today's unusual fashion demands and trends, especially for this year. So, don't miss out on some unique bit of fashion and stay updated and also have a look at 14 Cute Matching Outfits For Siblings That The Family Will Love.
↓ 24 – Funky Island style clothing
We've all heard of the famous expression "like father, like son". Seeing this expression in literal terms, by spotting a mini version of the dad is, in my opinion, gives one of the most overwhelming feelings ever.
To match, you don't always have to dress formally or very casually. A unique, out of ordinary and yet eye-catching outfit looks unquestionably enchanting. Take this picture of the cutest son and dad as an example, don't they just melt your heart at the first gaze?
↓ 23 – Tracksuits
No love is greater than that of a father and a son. This endearment is seen in unique ways; be it different mischievous activities together, or working together.
Dressing alike is one most prominent and obvious way to show the bond and fondness between the two. From hat to shoes, this father and son are dressed completely parallel. I am loving the cute and positive vibes this picture is radiating, aren't you?
↓ 22 – For Costume/Theme Parties
If you're dressing up for a costume party or perhaps Halloween with your son(s), then there's nothing better than a Pirate theme – it's fun and cute, and little kids love having the pirate hats and those fake swords so it's a win-win.
↓ 21 – For The Boys Day Out
If you're planning a special father-son day, then we recommend dressing accordingly.
↓ 20 – Vintage Outfit with Side-belts
This vintage outfit with side-belts and bow has much of a costume-inspired look and the fact that it has been used to create two matching outfits makes it so much more interesting. Furthermore, the background scene also gives the image a very cinematic appearance so to nail a combo vintage outfit like this, you should come up with a cool idea of taking a good shot as well.
↓ 19 – Casual Outfit with Denim Jacket
Nothing but a simplistic and catchy casual outfit with a combination of a serene-looking denim jacket that just syncs with the lovely spring weather and the chilly wind.
↓ 18 – Printed shirts
There is no greater bond than the one between a father and a son- strong, unyielding and everlasting. This bond is created with love and affection. Little kids are usually fond of dressing exactly like their dads, and well, why shouldn't they be. It makes them look like a little version of their father which is utterly heart-warming.
The joy and happiness witnessed on the kid's face by blending outfits with their dad is not only captivating and appealing to the eyes, but also a reflection of their love, relationship, and perseverance.
↓ 17 – How to Wear a Sporty Outfit to Match Your Son's
Matching and perhaps the coolest pair of outfits in sync together — all of which happens to have a sportive outlook to them and what's catchiest is the addition of caps to each matching style! Apparently, no pair could be seen this enthusiastic to be wearing matching outfits on a happy sunny day.
↓ 16 – Simple Jeans Outfits
↓ 15 – Matching Button-down shirts
Catchy and contrasting father and son matching button-down shirts are surely the most demanding. With the nicest and soothing checker prints of the button-down shirts, you could not ask for more. Plus, it gives the required amount of friendliness wanted with all matching outfits out there.
↓ 14 – Matching Polo Shirts
Matching polo shirts are always a great way to express similar sports interest and favorites and there is no better way of bonding than wearing matching outfits to show and express resembling tastes. For more ideas, always match sporty looks with trainers or sneakers and white bottoms mostly.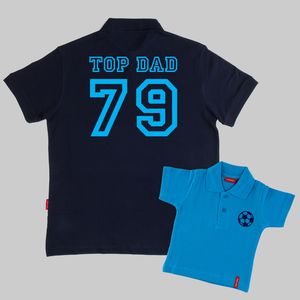 ↓ 13 – Matching Dress Shirt
Matching and syncing dress shirt combo of a father and son is a lovely idea for a friendly social gathering or a simplistic themed wedding day. Plus, the addition of bows and side belts is always a great idea to create friendly outfits especially if you want to wear it at social gatherings, etc.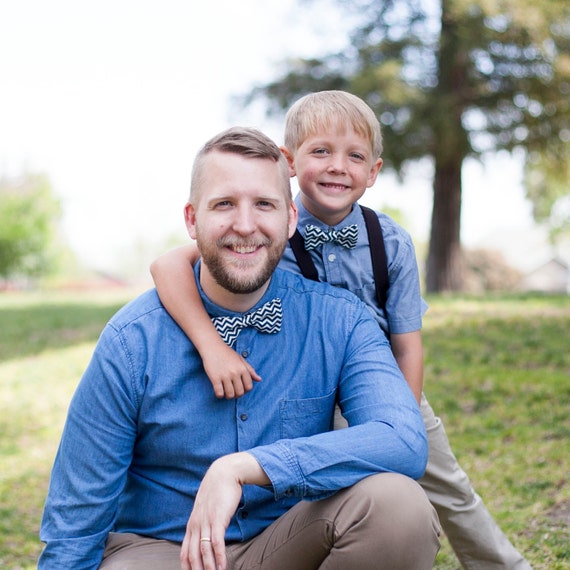 ↓ 12 – Beach Outfits for Baby and Daddy
Beaches are one of the loveliest places to dress light and comfy. If you wish to rock matching styles with your kid, then the one below is a good idea to help you achieve that. With a simplistic-looking white shirt and plain shorts, it is a classy idea to feel synced and matched. Don't miss out these 10 Most Fashionable Kids on Instagram You Should Follow
Take your son out to for a splendid quality time together and coordinate the way you dress, this will surely put the kid in the most delightful and cheery mood ever! If you like this look, you can buy such matching shorts in any size from Chubbies Shorts.
↓ 11 – Coolest Vintage Swag Outfits
Costume-inspired vintage outfits that are not only catchy and demanding but also have a certain element of swag to themselves that makes them wanted right away. Also, a great idea for a costume-themed party where you can just dress in the coolest way and also experience a sense of bonding with your matching outfits.
↓ 10 – Mechanic-inspired Outfits
↓ 9 – Matching Blazer & Hat For Special Occasions
Never would you have laid eyes on a cuter pair of father and kid matching outfits together in the loveliest way. With a formal looking full suit worn by the dad and wearing an equally stylish and formally cute outfit with a blazer, this is surely the best in the list with matching outfits example.
You obviously can't wear outfits like these every day but for special celebrations like Christmas or a birthday party, they're simply perfect and of course adorable. These custom-designed outfits are by Freeborn designs so get in touch with them if you would like to shop for similar products.
↓ 8 – Jeans Outfit with Striped Top
A cool pair of father and kid wearing tops with striking stripes and nailing their matching personalities with a similar-looking outfit. Outfits like this are best worn with a pair of sporty shoes and nice denim jeans.
↓ 7 – Funny Graphic T-shirts
Graphic tees are the perfect outfits for expressing your love for a certain genre, movie, tv-show, singer and whatnot. They also give you so much room for creativity and of course for some clever one-liners. These customized t-shirts by Tribin Tribe Studio will be a favorite for any "The Office" fans out there.
Here are some more cute and funny ideas that you could go for: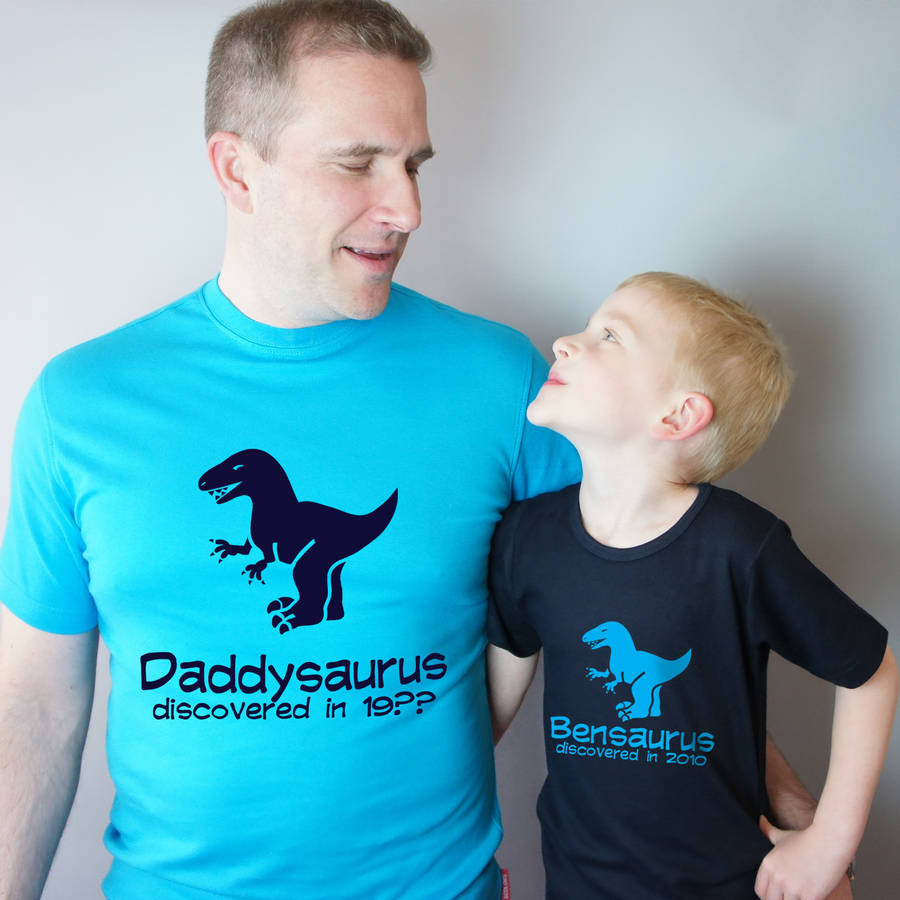 ↓ 6 – Father and Son Matching Plaid Shirts
If you're doing an outdoor family photoshoot in the Fall season, there's nothing better than wearing matching plaid or flannel shirts. They don't just look great in the pictures but you can find great quality and super comfortable ones that both you and the little one will be comfortable in.
 ↓ 5 – Abstract Art-inspired Outfits
Matching outfits for the whole family! And not just any regular style but rather the catchiest style of abstract art printed outfits that are practically ruling the fashion of 2020. There is surely no other better way to wear matching outfits.
 ↓ 4 – Outfits with Denim Shirt and Embezzled Coat
Dad and kid, on the ramp wearing classy and stylish matching outfits with denim shirts and embezzled coat – the audience could not help but feel amazed by these outfits and the sense of syncing that they both are sharing.
 ↓ 3 – Matching Tees
This is perhaps the most old-school and yet still the cutest way to dress up in matching outfits. If you're looking for inspiration or just your daily dose of cuteness then do check out James Henen-Webber's account who're proud parents to three little boys.
 ↓ 2 – Matching Outfits with Leather Jacket
 ↓ 1 – Statement Shirts Style