Muslim Girls' Display Pictures. Many Muslim girls prefer not to have their photos on Facebook or other social media websites. Some use arts, flowers, or quotes which depict their thoughts and sweetness. Every girl wants a unique and cute display picture as well.
Muslim girls want cute DPs in which their ideas are also shown. If you wear hijab, no issue, we can give some ideas about how to click awesome and yet modest photos in a Hijab. One can have a better and stylish display picture with some tricks, and making a cute Display Picture is not difficult at all. You can find your best frame and click a photograph. Edit it with any famous photo editor to make it look better.
Profile Picture Ideas For Muslim Girls
Muslim girls prefer pictures that are modest, decent, and where there is no nudity. You can find one from the given collection or make your own. One can turn their face or use the veil to look more stylish along with modest. We are going to provide you with a whole bunch of cutest and adorable display pictures that any Muslim girl can use as her profile picture. Here we are giving you 30 high quality cutest, stylish and different DP ideas that can enhance your profile. Either you can use these dress ideas to click your own DP or pick any one of these.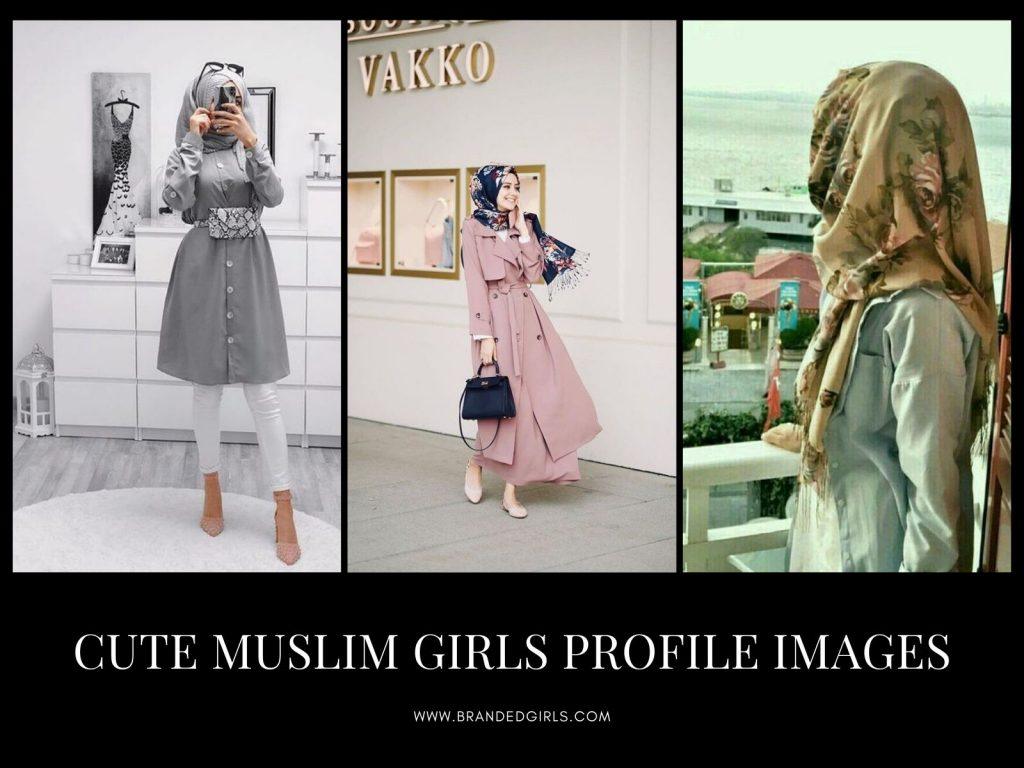 ↓ 30 – Dare to Stand Out
Coat Abaya looks elegant when worn in neutral colors. This look is modest as well as stylish, and we all know a classic mirror selfie is an easy go-to when you're in doubt about your next do. The editing to make the background black and white compliments the central part of the picture, which is the girl and her grey clothes don't get overshadowed by brighter colors in the back. That what we call Insta worthy click! You should also have a look at these Top 10 Most Beautiful Muslim Women In The World.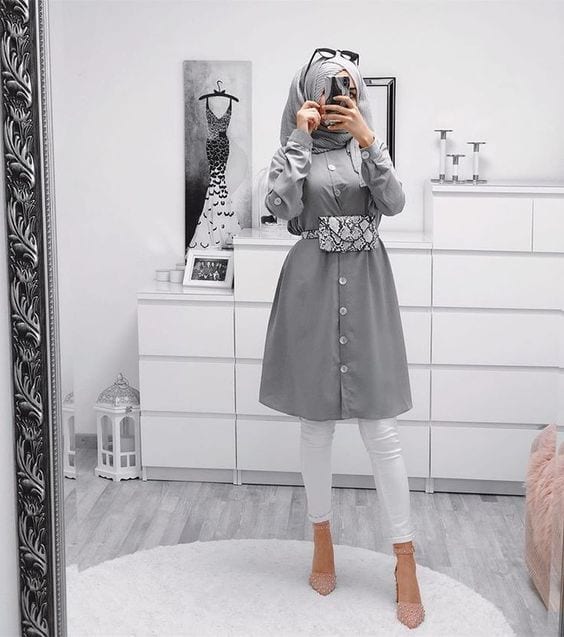 via
↓ 29 – Stylish and Lovely Hijabi Girls
Hijab does not stop you from looking cute, and many girls use their hijab in a very stylish way, which makes them look more attractive. If you're out and about, find a good background to snap a picture quickly. Such a display picture won't just look beautiful but also give your family and friends a look at your vacation or outing pictures! For some fantastic ideas to wear your hijab for a different look, do check the
Latest turban hijab styles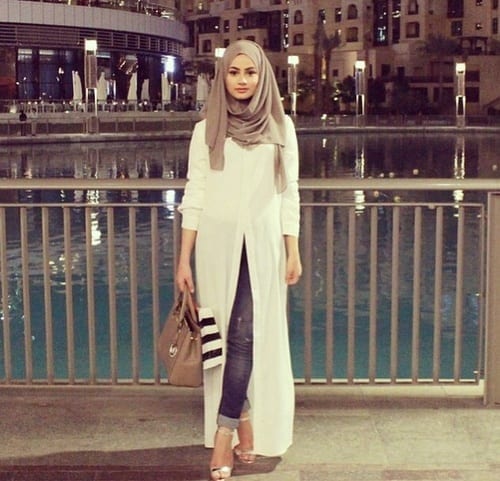 ↓ 28 – Putting some Shades on!
If you are looking for classy and modest new DP, then this next display picture inspiration is the best for you. Plus, you can try the below look like your next year's winter look. Even here, the girl has made use of the gorgeous building behind her to take the ultimate picture. This picture will let her wow all her friends on social media.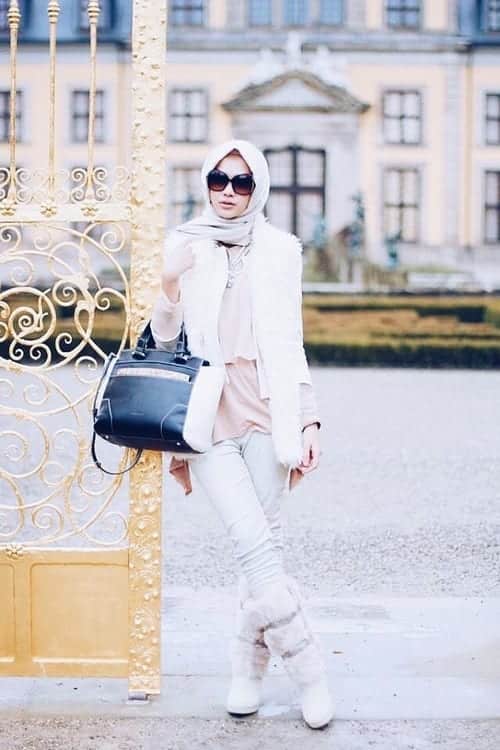 ↓ 27 – Magical Eyes in a Veil
Here's a picture that you can use as your DP, and you can also take inspiration from it and take your picture in the pose. One can use a picture of their eyes only, side pose or frame, which does not show the face but looks cute. If you cover your full face, but you still want a cool and classy DP for your profile, then this next DP idea is perfect for you because it will not show your face, but only your veil will be visible. You can hold the Quran in your hands if you want to make things even more modest. Or you can replace the Quran with any other book of your choice.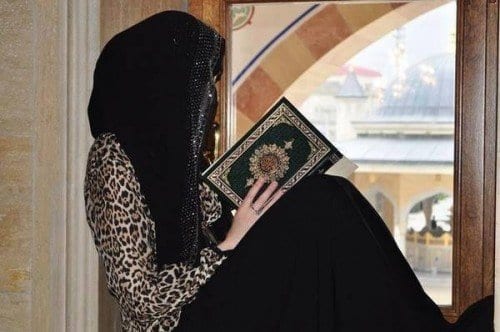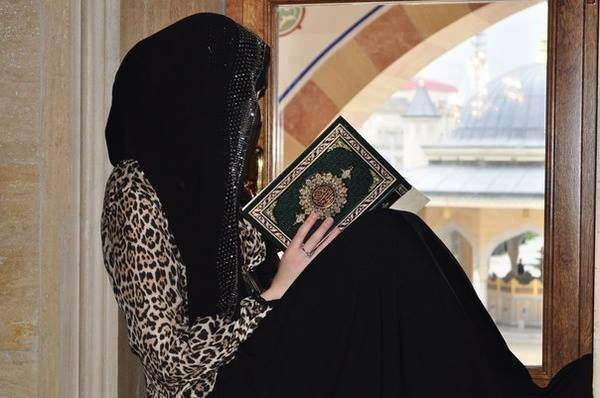 ↓ 26 – Love for my Creator
This beautiful display picture perfectly the true relationship between the Creator and His creation, which is dua. The sunset in the back allows the girl's face not to be visible, which is a great technique to use if you don't want to show your face in display pictures. It also shows the Creator's greatness in a way by showing nature's beautiful colors.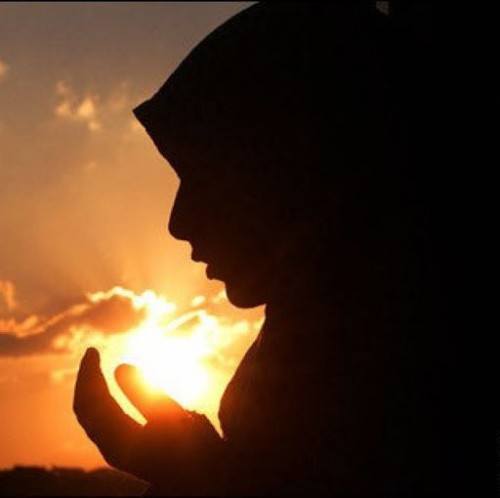 ↓ 25 – Restoring Myself
For more close, up pic, you can go ahead and take your veil around your head and then take a little part of the veil right on your lips to cover it up as well. Do apply a little bit of kajal to make your pop on your eyes to make them look super good in the picture. This picture is modest, as well as gives off a mysterious vibe. The black and white filter makes it more classy and appealing.

↓ 24 – Arabian Beauty Charmers
A classic look is the wind look. Although girls usually let their hair flow in the wind, that shouldn't stop you just because you're a hijabi. Take inspiration from the girl in the picture below and let your hijab flow in the wind instead! A beaded hijab along with a desert background gives the finishes touches to this display picture. You can just use this one or recreate it yourself for a personalized touch!

↓ 23 – The One Eye Look
This display picture is an interesting one. You can use your hijab to cover up most of your face, except one eye to recreate this picture. Add the black and white filter to help add a layer of mystery and make your creation perfect!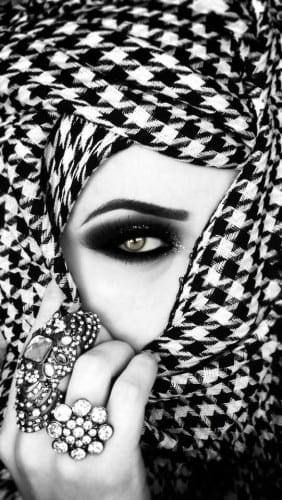 ↓ 22 – Muslim Girl with Blue Eyes
If you have colored eyes, then you should embrace your eye color to make them look prominent and beautiful under your veil or hijab. For more emphasis on our eyes, you can go and apply winged eyeliner in jet black color to make your eyes pop better. A picture like this would make an amazing DP for sure. Even if you don't have colored eyes, you can still take inspiration from this picture and create a gorgeous DP for yourself.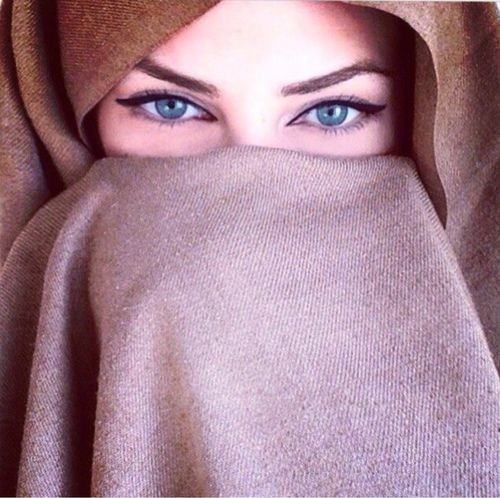 ↓ 21 – Half Face Covered Image
You can closely wrap your hijab around your head and hold one hem of it in front of your face to cover half of it. The color correction in this image using any photo editor gives it a vintage look that makes it even more beautiful.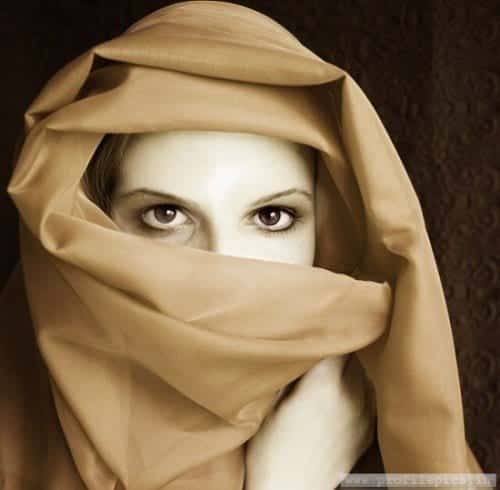 ↓ 20 – Emphasis on the Eyes
In this example, the girl has edited the picture in such a way that everything other than her eyes is blurred out, with the edges of the photo almost completely black. This technique is great for editing if you want the emphasis to be placed and the viewers' gaze to be drawn to one particular aspect of your face.  You can take inspiration from this editing to edit any kind of display picture that you want to put up. For more DP inspirational ideas, check out these 20 Amazing Pictures of Black People with Blue Eyes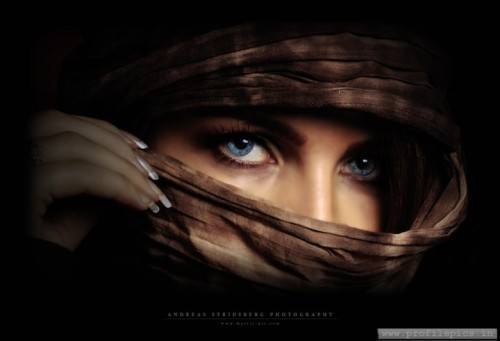 ↓ 19 – Arab Girl in Desert
If you have access to dessert or you are planning your next visit to a Dessert (Dubai safari, for example), then don't forget to take this shot to get the perfect DP for your profile. For this kind of display picture all you need to do is wear a black abaya and then sit on your knee in the middle of the dessert.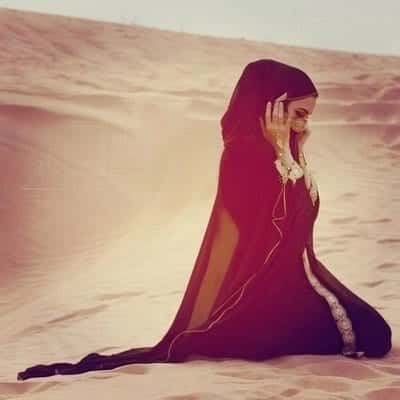 ↓ 18 – Smile is My New Lipstick
If you're a makeup enthusiast and want to show off your skills to your friends and family, then you can take a close up selfie like the one below to do just that. Use a matching hijab with your lipstick to give the picture a more professional and put-together feel, and you're good to upload it!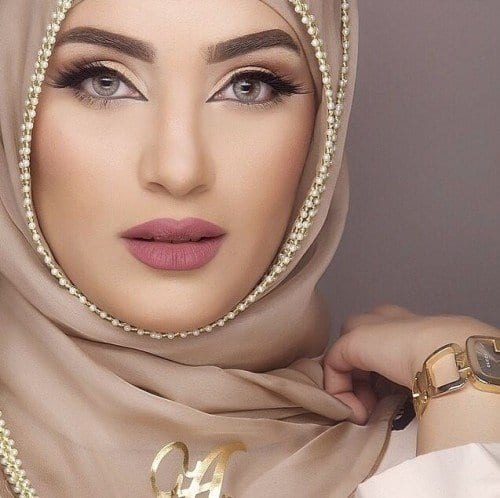 ↓ 17 – Hijabi Swag Look
We're sure you've had a couple of such photoshoots with your best friend, so what are you waiting for, use those pictures ASAP! Such a display picture will make your account more personalized and help you show your best friend just how much you love her and enjoy her company.
↓ 16 – At the Dock
Using pictures from a recent trip or vacation is always a good idea when it comes to uploading a new profile image. So use those pictures and let your family and friend have a look at your fun life!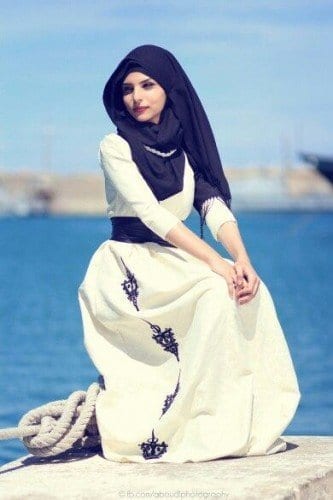 ↓ 15 – Be Yourself no Matter What
Taking a close up picture of a great look can always help boost your confidence, and they make great display pictures too! So never miss a chance of doing just that. Take inspiration from the picture of this beautiful woman below.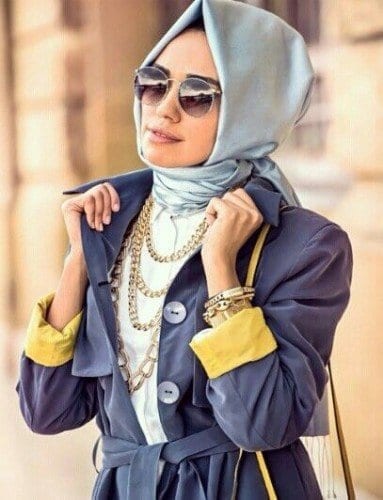 ↓ 14 – Confidence is the Best Accessory
If you don't want your face to be visible in your profile picture, but you want your dress to be prominent, then make sure to tell your photographer to take pic below from your neck, or you can also crop the picture according to your preference. This way, you can show off your fashion sense without worrying about your face being on the internet!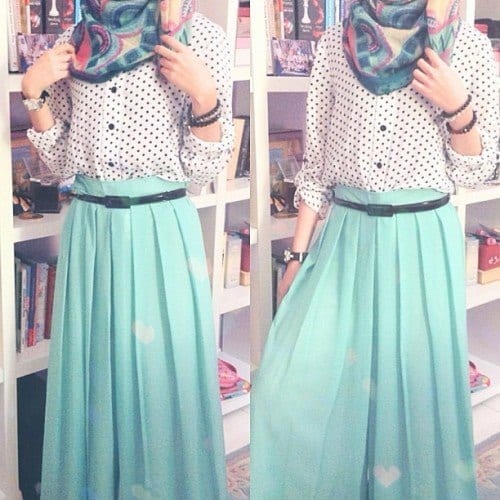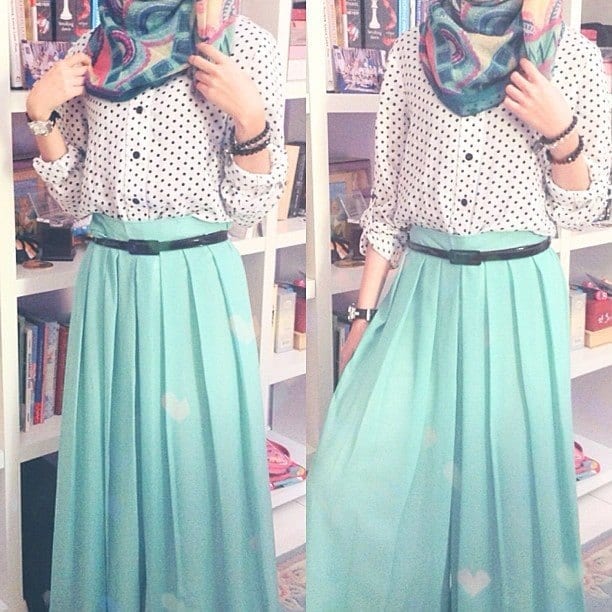 ↓ 13 – Hustle for Pretty Stuff
A simple, candid picture is everyone's go-to when it comes to online uploads. A candid-on-purpose of walking like the one below is a superb option as the background, outfit, and pose are all on point!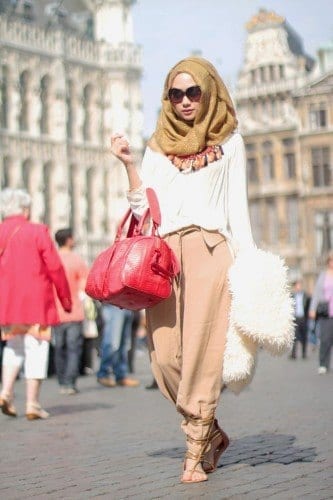 ↓ 12 – Find Me Where the Wild Things Are!
Here is another cool idea, if you recently got married, then you can use one of your wedding day photos as your profile picture. This picture will also let your husband know how much you love him and how much you are proud of him. And every time you open your social media account, you'll be reminded of one of the best days of your life!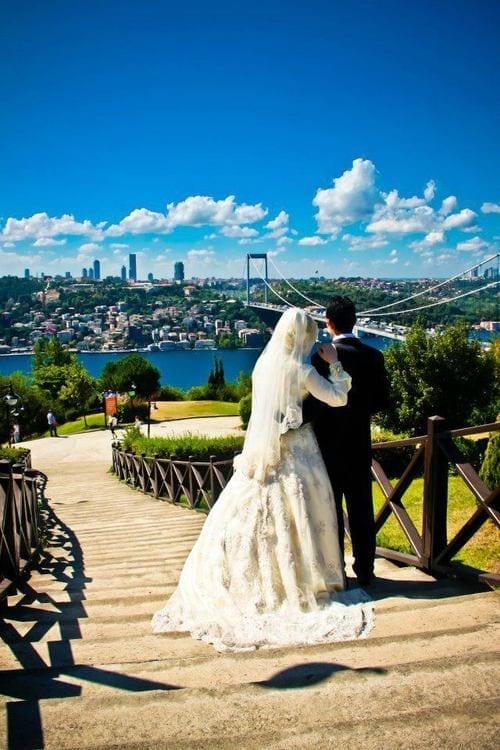 ↓ 11 – The Ultimate Mirror Selfie
Mirror selfies are the best option for Muslim girls who do not want to show their faces in pictures. Just place your phone in such a place that it covers your face and snap away! You can even show off your adorable phone cover this way and get a perfect click without bringing your face into the frame.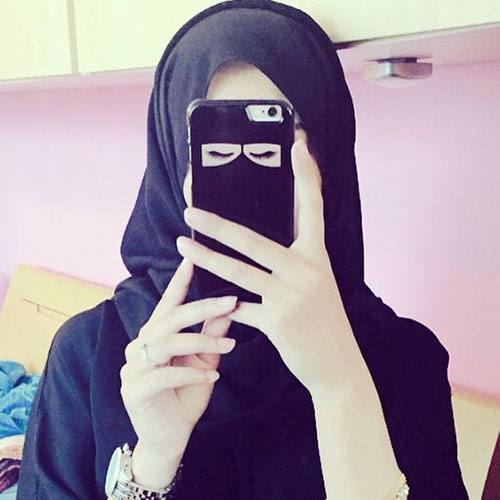 ↓ 10 – The Hijabi Queen
Your hand can sometimes prove to be the best prop when it comes to pictures, as weird as that may sound. You can use your hand to cover up your face, so you get a modest yet cool picture. And this way, you don't have to worry about hand placement either! Here are the Prettiest Muslim Female Models in World.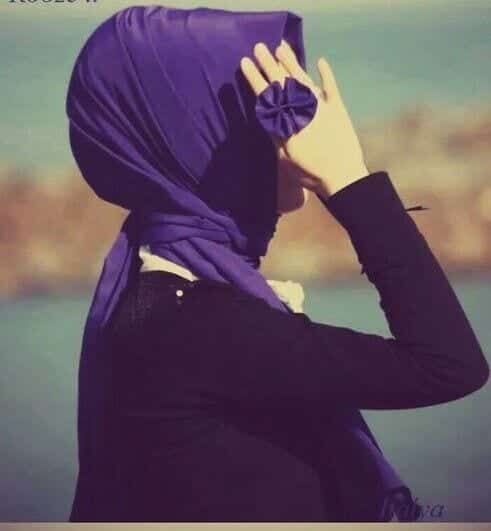 ↓ 9 – Out in the Wilderness on an Adventure
This following example gives an adorable idea for your next display picture. So whenever you go somewhere woodsy next, snap a picture like the one below of just use this one if you want a quick display picture option!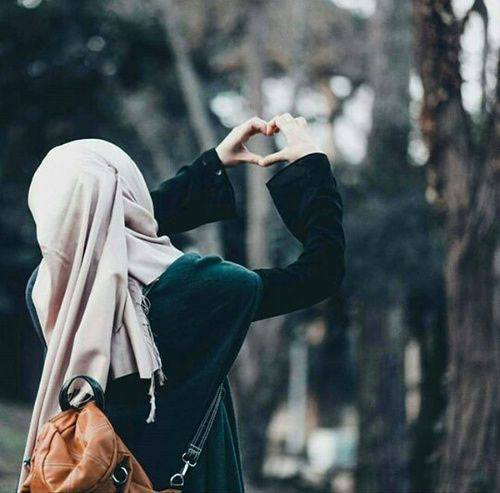 ↓ 8 – Born to Stand Out
If you're a mother, then we know that you don't love anyone more than your children. And whats a better way to show the world just how much you love them by using a picture of yourself with them as your DP!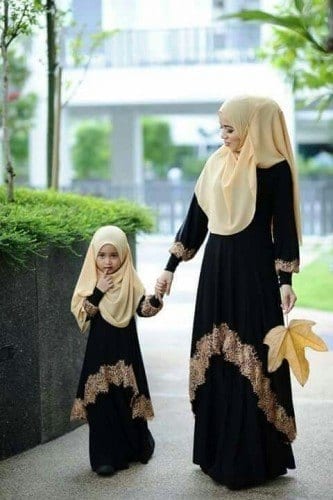 Source
↓ 7 – Drive People Crazy with your Smile
It is said that a smile is worth a thousand words, and boy is that a true statement. So bring out your beautiful smile and dazzle everyone with it!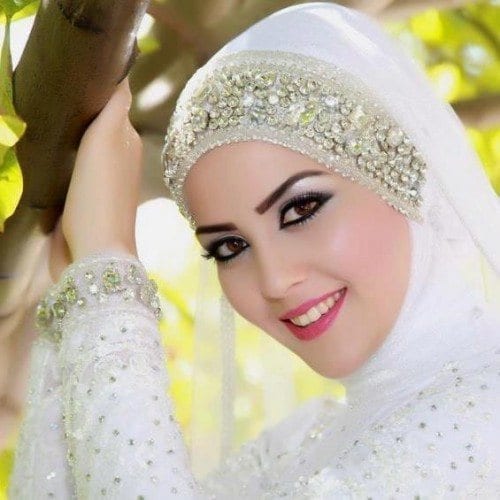 ↓ 6 – Sparkle Everyday
A random candid picture is always a cool idea for a DP for your profile. If you want to keep your game casual, then going for candid will be perfect for you. You can take a pretty candid when you are going out with your friends or when you are at your relative's wedding ceremony.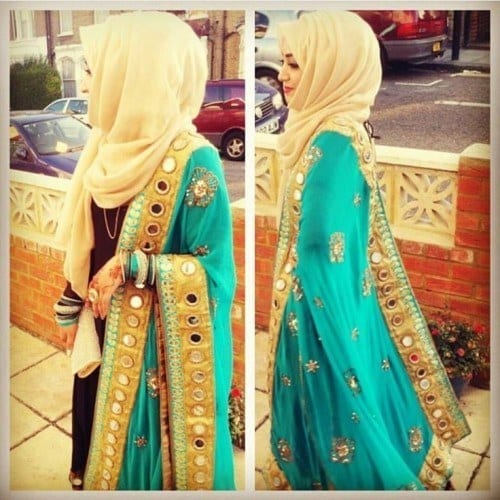 ↓ 5 – Enjoying Soft Melodies
You can look cool by having your style. Just like the girl playing the guitar is also a message that Muslim girls are breaking stereotypes every day. One can make many creative pictures by using such an idea.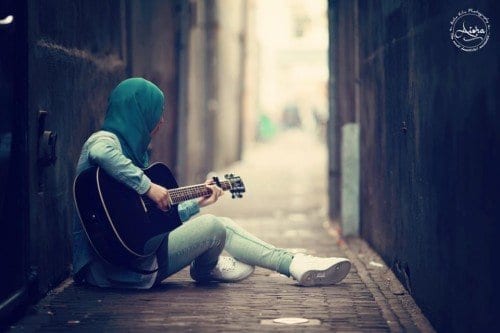 ↓ 4 – Fabulous and Classy
Again, the idea of using your hand to cover your face comes in handy! This style allows you to show just the right amount of your face and leave the rest to the imagination. It is a modest yet creative idea!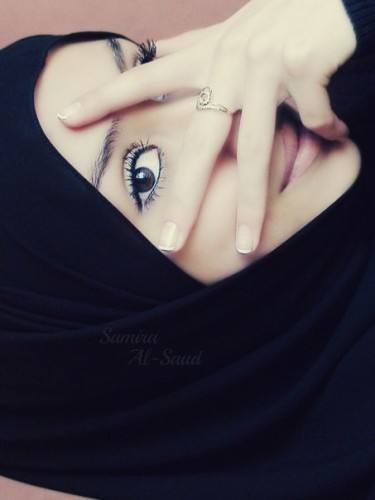 ↓ 3 – Normal is Boring
No profile picture is better than going for the close-up picture to emphasize your features. The use of flowers can add just that extra layer of perfect that you need, and using a natural background like trees or a garden will allow for a beautiful click.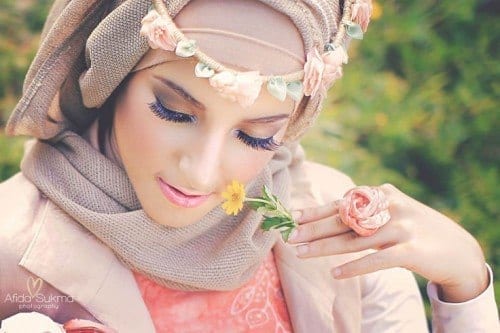 ↓ 2 – Creating Own Magic
It is said that pictures speak louder than words, and that is a very true statement. This girl holding a cup which gives the message that being a Hijabi is her choice, not compulsion is the ultimate example.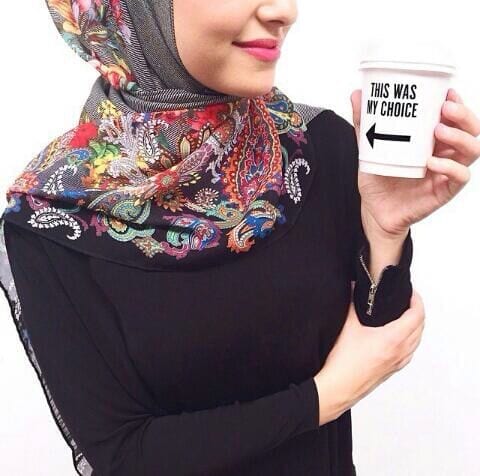 ↓ 1 – Need Vitamin U
This example is the cutest one out of all. Use an adorable stuffed toy to recreate this picture effortlessly and make sure to let your smile come through as a smile is the most beautiful thing about any human being!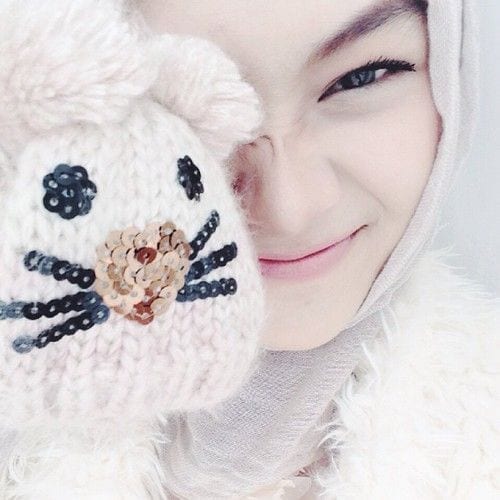 We hope you liked these pictures and will use one of them as your display picture, or get inspired by them and take your pictures!