Beautiful Black People with Blue Eyes. Regardless of an ongoing discussion about whether or not dark skin with blue eyes is a genetic anomaly, a completely natural occurrence, contact lenses or people playing on photoshop, it is completely clear that the people who possess this combination of eye and skin color are amazingly beautiful people.
This striking look is considered rare however it can be put down to recessive genes where the blue lays dormant or a condition called Waardenburg Syndrome. This is where there are alterations in genes including color pigments. As brown is a dominant color for eyes its pigment can be inactive thus gaining blue eyes. Waardenburg Syndrome Type 1 Heterochromia Iridis is what causes the unusual and absolutely stunning combination of one blue eye and one brown eye. Celebrities such as Kiefer Sutherland, Dan Aykroyd, and Kate Bosworth have this amazing look.
RECOMMENDED: 90 Most Amazing Paintings of the World-Beautiful and Famous Art
Images of People with Dark Skin and Blue Eyes
Celebrities including Vanessa Williams and Michael Ealy have the combination of dark skin and blue eyes. Here are 20 beautiful images of people with dark skin and blue eyes.
African Boy with Blue Eyes
Africa is full of beauty and treasures that someone else in the world can find from anywhere else. The people there are full of blue eyes and kind heart.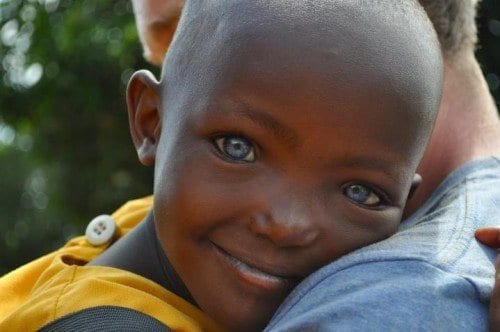 via
Stunning Ice Blue Eyes
Blue eyes are extremely rare in black people and many scientists believe that these are a result of a genetic mutation. But many historians believe that these eyes are inherited by these people from their ancient ancestors. No matter what the reason is, they surely look magical.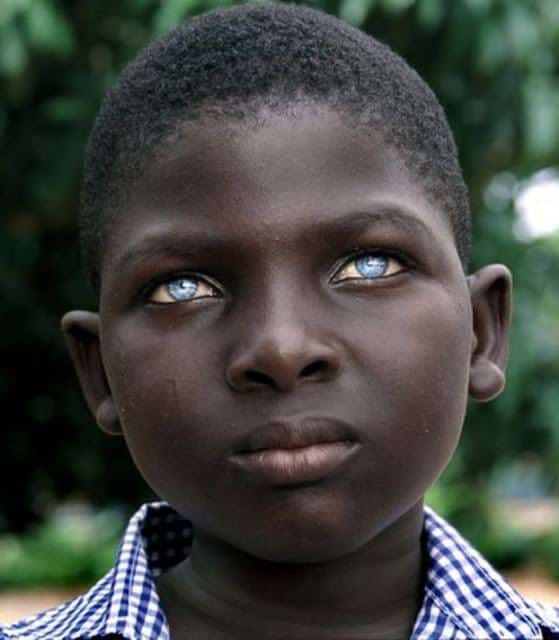 via
Haitian Girl with Blue Eyes
Many interesting characteristics are attributed to people with blue eyes. It is said that they are very strong, emotionally as well as physically. It is also said that these people are strategically intelligent  but have poor reflexes. Do have a look at 50 Cutest Pictures of African Girls of All Ages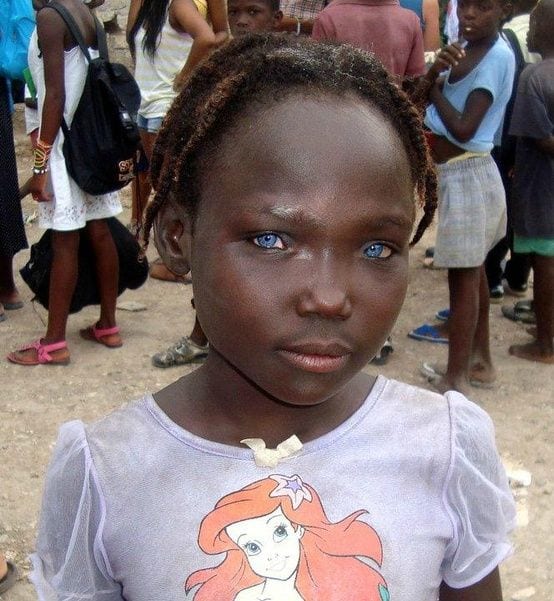 via
Older Gentleman with Bright Blue Eyes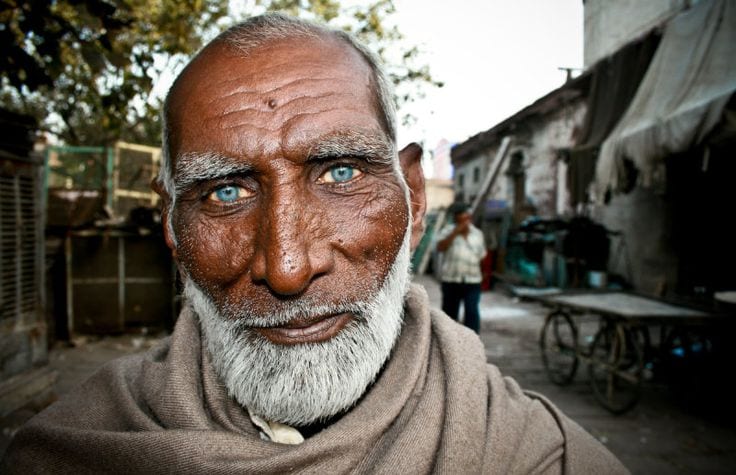 via
Boy with Blue Eyes in Sierra Leone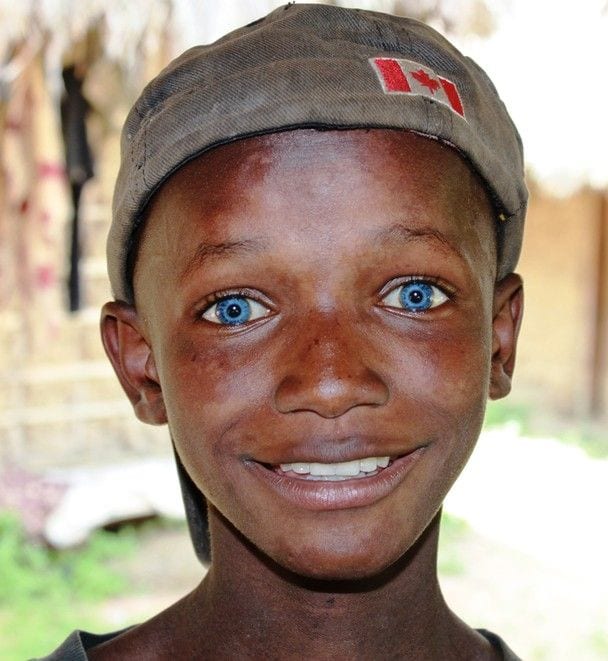 via
Very Pale Blue Eyes
Blue eyes are very easy to combine in your makeup and be able to rock. For a perfect and dashing eye makeup look you can combine all the nude colors in your eye makeup palette, mixed with a little bit of sparkle. For example, you can go for light brown taupe colored transition shade with a little bit of light sparkly brown for the entire eyelid color. For this kind of eye makeup, you can use the eyeshadows from the Naked 2 palette by urban decay. For lipstick you have two choices, you can go for either nude color or in the darker shade of red for more emphasis on the eye makeup. But if you are going for smokey eye makeup then switch your red lipstick with a nude one. For more beauty inspiration, have a look at these 10 Most Beautiful African Women in World; Cute African Lady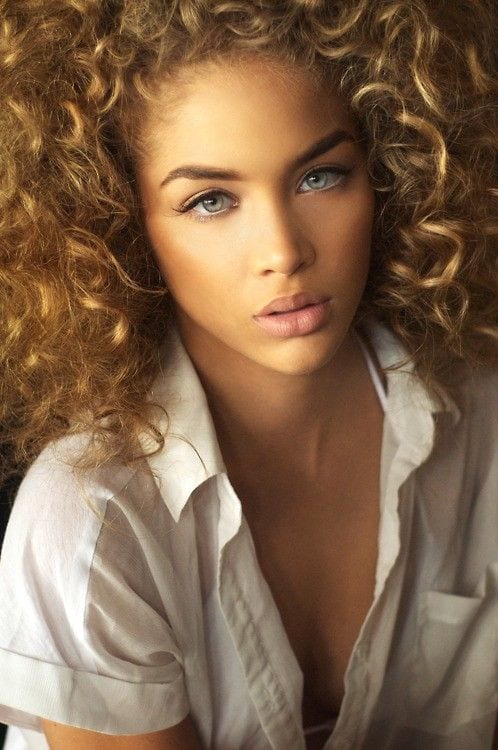 via
Beautiful Lady with Blue Eyes
Colours Match Eyes and Skin Tone
For more emphasis on your eyes, you can match eye makeup with your eye color. For example, if you have blue eyes you can go for total blue eye makeup. For this kind of makeup go for light blue transition shade and then add a darker shade of blue as the eye lid color. For the lower eyelid go for sky blue color and don't forget to waterline your upper and lower lashlines using black kajal pencil. For more spice, you can go for black colored turban or scarf around your neck of on your head if you want to. Keep the color of the lips light and close to nude shades for the perfect and sexy combo. For more fashion tips designed exclusively for African girls, check out African Fashion Bloggers-Top 15 African Fashion Blogs to Follow
Men usually find women with blue eyes to be very attractive and we can see here why it is so.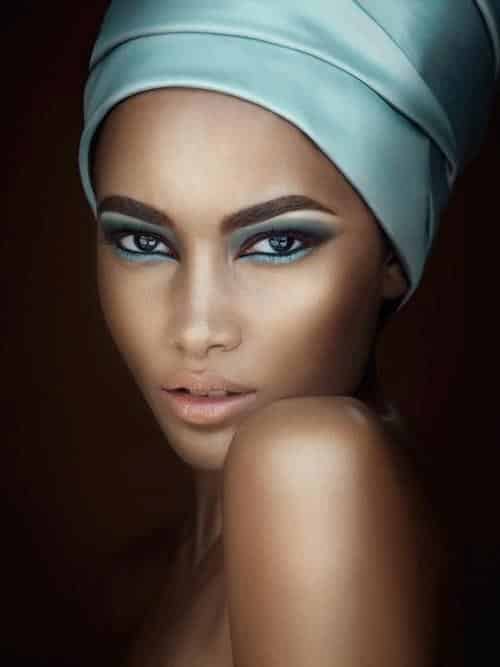 via
Michael Ealy
Micheal Ealy is an American actor who is known for his dreamy eyes.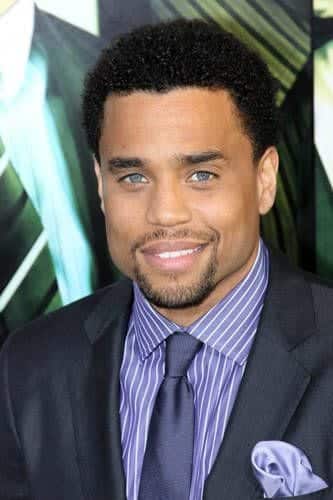 via
Stunning Skin Tone, Eye Colour, and Ringlet Hair
Ringlet hair is considered to be the best kind of hair when it comes to dark skin tone and blue eyes, this hairstyle matches flawlessly with dark skin tone and blue colored eyes. For achieving this hairstyle you can go either add ringlets to your hair using a thin curling iron or using no heat method that uses pencil to get these ringlet waves. If you want to add a little jazz to the whole look then wear clear lipgloss to draw the attention to your lips.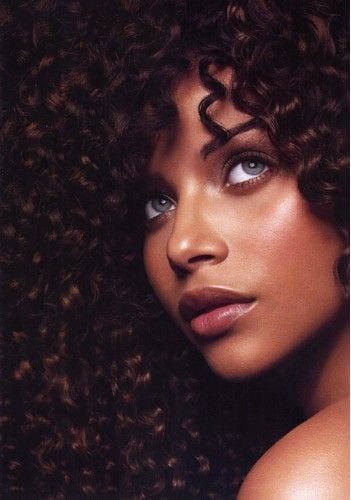 via
Gorgeous Blue Eyed Girl
Striking Blue Eyes
Beautiful Skin and Eyes
It is also said that women with blue eyes can be deceiving and should not be easily trusted. Let us know if you agree with this strange assumption or not.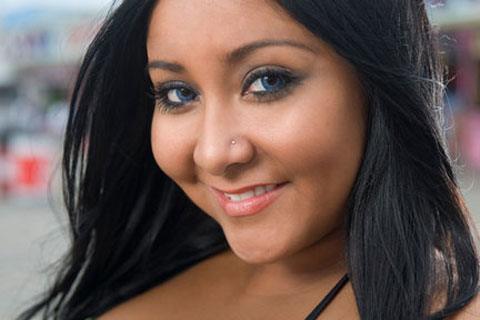 via
Stunning Look
Long lashes look perfect with blue colored eyes. They enhance the beauty of the blue eyes even more. For the eye makeup, you can wear shimmery shade on the entire eyelid and then add a light brown or taupe color for the transition color. Try to tight line your lashline using brown color or even white will do the thing. For hairstyle, you can wear bouncy medium length waves.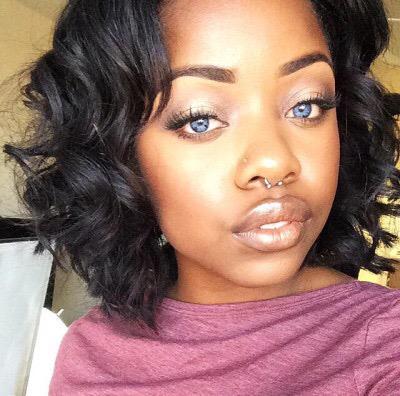 Beautiful Girl with Striking Blue Eyes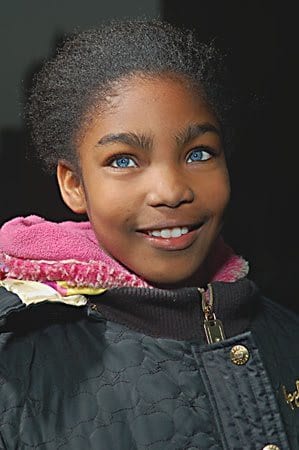 via
'The Boy with the Sapphire Eyes', Vanessa Bristow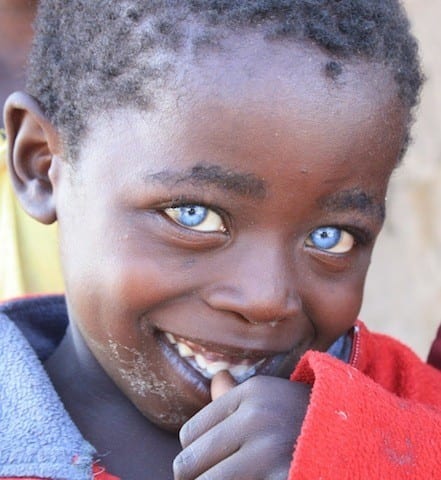 via
Beautiful Little Girl with Ice Blue Eyes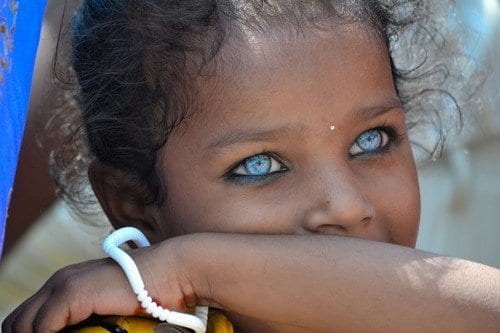 Little Girl with Gorgeous Blue Eyes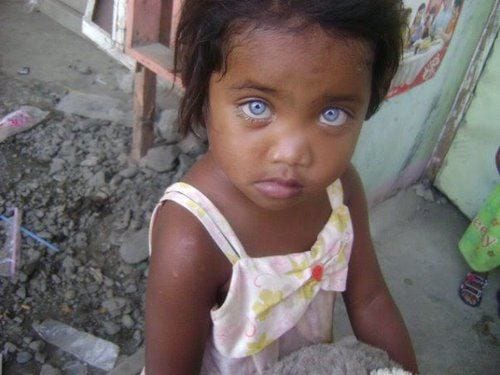 Stunning Baby Boy with Amazing Blue Eyes
Babies with blue eyes always tend to be the center of attention anywhere they go.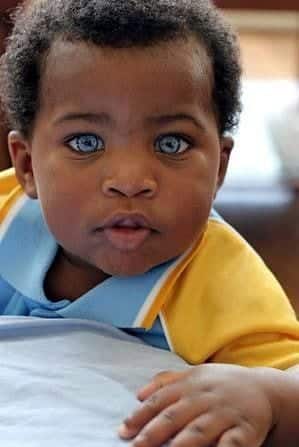 via
Beautiful Lady with Pale Blue Eyes
Rather than going for long and time-consuming makeup to match your eye color. Instead, you can just go for thin eyeliner and along with that add black kajal pencil to your lower and upper waterlines. This makeup look is perfect when going out with friends for girls night out or when going to a date night dinner for the first time. For the hairstyle, you can let your hair hang loose into cute messy waves or you can wear messy side french braid