Bollywood Celebrities Workout Outfits. Bollywood actresses are known for their perfect and well-maintained bodies. But how do they manage it? Obviously, with a healthy diet and by regularly working out. Almost all actresses from Bollywood have been spotted working for these bodies, either with personal trainers at the gym or by themselves at home. Many also do yoga to achieve flexibility and peace of mind.
Girls usually turn to their favorite celebrities when they need outfit inspiration of any kind. And when it comes to workout outfits, that is even more true. When a person starts exercising for the first time, it is often hard to figure out what to wear. Especially if you join a gym. Everyone is afraid of embarrassing themselves.
What do Bollywood Celebs Wear to the Gym?
Hence we have compiled for you the gym pictures of the sexiest Bollywood actresses so you can make sure you look gorgeous while you get fit before its time to show off that summer body at the beach. So take a look at the cutest outfits worn by Indian celebrities to the gym!
If you're planning on working out at home. Also, check out our article on Top 12 Youtube Fitness Channels For Women To Workout At Home.
↓ 20 – Alia Bhatt
Alia is undoubtedly one of the cutest actresses in B-town right now. While many think that she doesn't need to work out, the truth is that she once was a very chubby girl and required to work out to burn off any extra calories. The spaghetti strap tank top is an excellent choice as sweat is a pronounced issue during exercise. Capri leggings also allow your body to stay cool! You should also have a look at these Best Dressing Styles of Alia Bhatt.
↓ 19 – Kareena Kapoor
Now, if you're wondering how she managed to get that hot body, it's because of a very, very strict diet and fitness program. Such material is excellent for working out or doing yoga as it is absorbent and stretchable. You won't have to worry about dripping sweat. Her loose sweatpants are a great option if you're just starting and are not comfortable enough to wear leggings yet. You can also check out our favorite Best Dressing Styles of Kareena Kapoor to Copy.
↓ 18 – Deepika Padukone
This tall, dark beauty always manages to look ravishing, no matter what she's wearing. The secret? Those well-toned abs, of course. While she is unable to go to the gym every day because of her hectic routine, she keeps doing light weights to stay in shape. However, she never starts her day without yoga and a morning walk. Opt for a sports bra and regular leggings like Deepika to look glamourous yet straightforward as you tackle a hard workout. The girl surely has a fantastic sense of dressing as well as makeup or hairstyles. You'll surely love these Best Hairstyles of Deepika Padukone.
↓ 17 – Jacqueline Fernandez
The gorgeous Sri Lankan beauty! For her, working out is simply a natural part of her routine. Every morning, she wakes up at seven and works out for one hour; some days, she even works out twice a day as she loves it so much. She is wearing a plain grey sports bra and leggings set. We love the strappy leggings! This year we have seen Jacqueline in some amazing outfits, have a look at them here: Jacqueline Fernandez Outfits.
↓ 16 – Shilpa Shetty
Shilpa Shetty truly sets the aging goals for us. Despite being over 40 now, and having a kid, the girl has the body of a teenager. She is like the Bollywood queen of workouts as she has mastered all types, be it cardio or yoga. She also cooks her healthy meals for herself using the most natural and organic ingredients. Here we see her looking gorgeous as ever in a black crop top at the gym.
↓ 15 – Katrina Kaif
This Indo-British model cum actress just recently surprised everyone with her sexiest abs ever. Yes, we're talking about the abs she flaunted in the song Kala Chashma, which simply took over the social media. Check them out!
And, to achieve such abs, she relentlessly works out. Her workout routine consists of some pretty interesting stuff such as cycling, yoga, jogging, swimming, and of course, the gym. Apart from that, she drinks as much water and eats as many fresh fruits every day as she can. Here we see her in a simple but sexy black gym outfit. Black seems to be a favorite amongst Bollywood actresses. You also wouldn't want to miss these Dressing Styles of Katrina Kaif to Copy
↓ 14 – Kangna Ranaut
This B-town beauty says she has always wanted the perfect curvy figure and worked pretty hard for it. She works out five days a week and goes through some pretty tough exercise routines. Those shorts she's wearing at the gym make her look dreamy! She has opted for a simple t-shirt and shorts as this is the most comfortable outfit you can wear while exercising. The small motivational quote on her t-shirt must have been a treat whenever she caught herself in the many mirrors in the gym. Going for shirts with such small messages of encouragement might go a long way in driving you to keep going when you are about to give up.
↓ 13 – Parineeti Chopra
Parineeti, too surprised everyone with her recent weight loss transformation. Her weight loss secrets? First of all, she had to give up the one thing she truly loved, eating pizzas. She started doing martial art every day and also went to the gym regularly, even though she never enjoyed it and found it boring. But her fitness aims kept her going. Oh, and how cute is this white and blue Nike workout outfit she's wearing. The sports bra and shorts not only look great but are also a great choice to wear during summer workouts!
↓ 12 – Sonam Kapoor
Here's Anil Kapoor's daughter, Sonam Kapoor, who managed to lose 35 KGs by regularly doing cardio exercises at the gym. The Bollywood actress began her weight loss journey by cutting junk food and fried food from her diet. She credits her mother for helping her stick to a strict diet plan and avoided chocolates, ice creams, and fried food items. To get back in shape, Sonam included yoga in her daily workout regime. Her long-sleeved crop top and matching leggings show off her hard work tremendously!
↓ 11 – Bipasha Basu
The truly bold and beautiful actress of Bollywood. She stays in that gorgeous shape of hers by doing some of the toughest workout routines in town. She was one of the first actresses to bring the trend of going to the gym and training in Bollywood. Everyone knows her as someone who is health and fitness conscious. Soon other actresses also followed her and set their examples. She mostly works out in sports bras and shorts, but she has also opted for tank tops on occasion. Bright colors are known to boost moods and increase happiness. So follow her lead and go for bright colors like red as they will increase your energy levels and help you put in more time at the gym!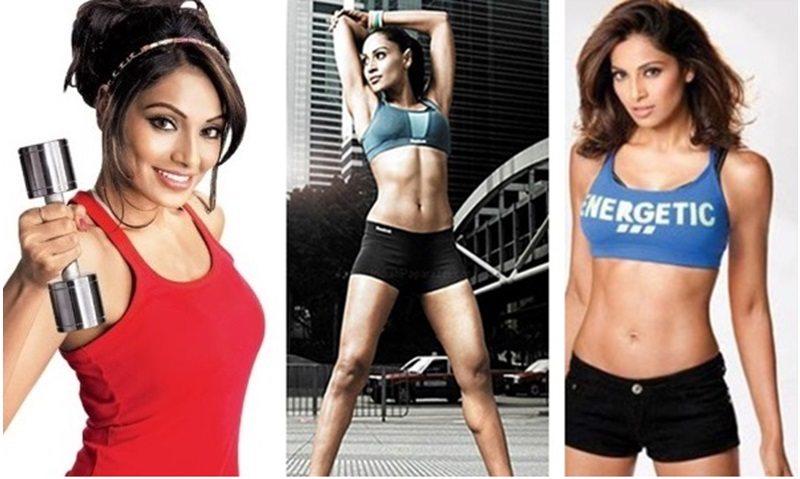 ↓ 11 – Madhuri Dixit
Madhuri, as we all know, loves dancing, and that is usually how she likes to work out. But here we see her training for Taekwondo for her movie 'Gulaab Gang.' She's wearing a Puma outfit, and tying that jacket around her waist has added the x-factor. She also spends her time dancing, which is a great kind of cardio that helps loose weight faster and keeps you fit and healthy. It is a form of exercise you should try out! She has opted for a t-shirt and sweatpants with a matching jacket. This look is ideal for women of older ages.
↓ 10 – Disha Patani
Disha Patani gained fame after she appeared in the movie Baaghi 2 and has been a favorite ever since. Her new movie Malang also features her amazing strength, and she is not afraid of showing off her body, which she has worked extremely hard for. Disha loves working out, and it is one of her favorite hobbies. She is primarily known for her amazing training and diet that she puts a lot of work in. You can copy her style and go for a strappy sports bra with some shorts and a cropped hoodie. But make sure you follow her drive as well if you want to see results!
↓ 9 – Nargis Fakhri
While we all know of her beautiful looks, especially those perfect cupid shaped lips, what many people don't know is that this girl is a master of Zumba. She does it regularly to stay in shape while having fun. Here we see her giving yoga a try, wearing a pretty cool outfit. We love her cropped tank top with black and white strips; it is a refreshing change from most plain black or grey outfits we usually see on stars. We also have a great collection of Best Looks of Nargis Fakhri to Copy
↓ 8 – Karishma Kapoor
Here we see Karishma Kapoor, who was a heartthrob during her young acting days. You can tell she has rolled up a regular tank top to achieve this cropped look,  which can be helpful when you are doing abs and sweating a lot in the stomach area. And of course, you can never go wrong with black! Her tank top is perfect for the occasion as it says "Get Fit" in bold letters.
↓ 7 – Soha Ali Khan
Soha Ali Khan is a gym freak and an inspiration to everyone, especially pregnant women. She did not let go of her health even during her pregnancy and continued to light exercises and yoga. This helped not only her health but also the baby's. These pictures can prove as some inspiration for maternity work out clothes.
↓ 6 – Aditi Rao Hydari
Aditi is one of our favorite actresses of all time, especially after her performance in Bhoomi. Here she is seen wearing a simple t-shirt and leggings and just casually doing some yoga at home next to her heels! We think this look is very relatable, as many women have to make space and time at home to stay fit as going to the gym isn't that convenient.

↓ 5 – Ileana D Cruz
Ileana D Cruz is one of the sexiest women in B-town, and a lot of work goes into it. She is a major yoga enthusiast, which has given her her abs and lean built. We think this shot of her doing yoga in the open air is gorgeous. And we love her pastel blue tank top. It's a color you should try out!
↓ 4 – Anushka Sharma
Anushka Sharma is an A list actress, and it has taken her also of work to get here. Along with excellent acting capabilities, she has trained hard to achieve her status. Despite her hectic routine, she still manages to work out at least two hours every single day! Her simple two-layered tank top is an excellent idea for the gym as it absorbs sweat while also keeping you covered.
↓ 3 – Kriti Sanon
Kriti Sanon is the cutest actress in Bollywood, and we simply adore her style of acting. She looks cute as always in her gym outfits. She has opted for a simple white t-shirt and black leggings for ding yoga. This is an easy outfit that you can put together from existing clothes in your closet. You'll also be inspired by these Cutest Looks of Kriti Sanon this Year.
↓ 2 – Athiya Shetty
Athiya Shetty is Sunil's Shetty's daughter, but she has made a name for herself in Bollywood due to her drive for fitness and not due to her dad. To stay in shape, she has quit eating all fast food and junk food and follows a strict diet plan which is low in carbs and high in protein. She also boxes and hits the gym. The grey and black combination she's wearing looks so sexy on her, doesn't it?
↓ 1 – Zarine Khan
Why we have Zarine Khan at number one? Because she is a true inspiration. She has worked hard to achieve the figure she has right now. Such an amazing transformation is genuinely commendable. When she entered Bollywood, her first film Veer did not do well on the silver screen. Even her weight drew a lot of criticism. But she soon left all body shamers to be ashamed.
She has also opted for a plain Nike t-shirt and sweatpants like most actresses.
Q: How often do the Bollywood actresses workout?
A: On average every person needs to exercise at least 3 times a week and stay involved in some sort of light or heavy activity every day. All Bollywood stars follow similar routines by working out 5 to 6 days a week, with one rest day. But these actresses follow routines put together by professional trainers which is harder to achieve at home.
Q. Is it necessary to wear specific clothes for working out?
A. Although wearing sportswear makes exercising more comfortable, it isn't necessary that you go out of your way to purchase expensive clothes, especially for this purpose. We all have at least one or two pairs of sweatpants at home, just use those with a t-shirt in the beginning and only invest money in clothes once you're sure you are ready to invest your time as well.