Knee High Socks Outfits: It was first thought that only Catholic Girls wear this leg accessory but the with passage of time it became one of the favourite winter/Fall and Spring accessories  for women. It is one of the most flattering, fashionable, and most definitely practical fall/winter trends, i.e. the knee-high sock. Wear them with heels, flats, ankle or long boats or with oxford shoes, they look fabulous. Winter is perfect timing for longer socks to keep your legs and feet much warmer. Be brave and get some knee high socks so that you stand out this winter. Never ignore the power of right fit. It is very important as the correct size can really enhance your legs otherwise, it will not be comfortable to wear them.You can get lot of ideas from this collection as how to pull off these socks , what clothes to wear with high socks , how celebrities wear them and much more.See these pictures of beauty girls/models/fashion bloggers coming up with really exquisite looks this winter.
Ideas How to Wear Knee High Socks with Style
If you also want to look as hot and sexy as models on the catwalk, check out this trend alert and make sure you keep in mind some tips how to wear them.
#23- School Girl Style with Knee High Socks
Some of our fave female stars have taken the school-girl classic and turned it into a funky, chic way to finish off any look. This leg accessory is a brilliant leg enhancer for all.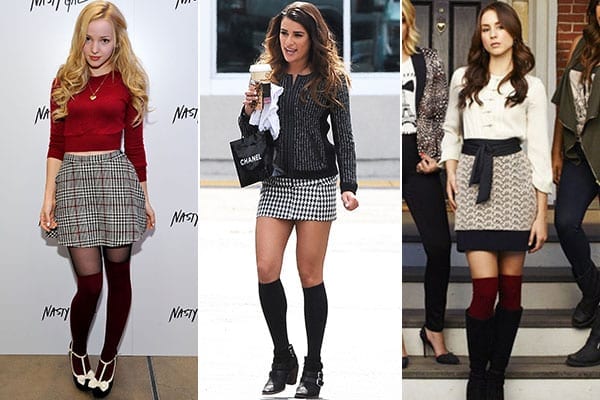 #22- Casual Trendy Outfit for Fall
Knee high socks look very fashionable and worn with skirts or shorts make them look more trendy. Try out sneakers while going to college.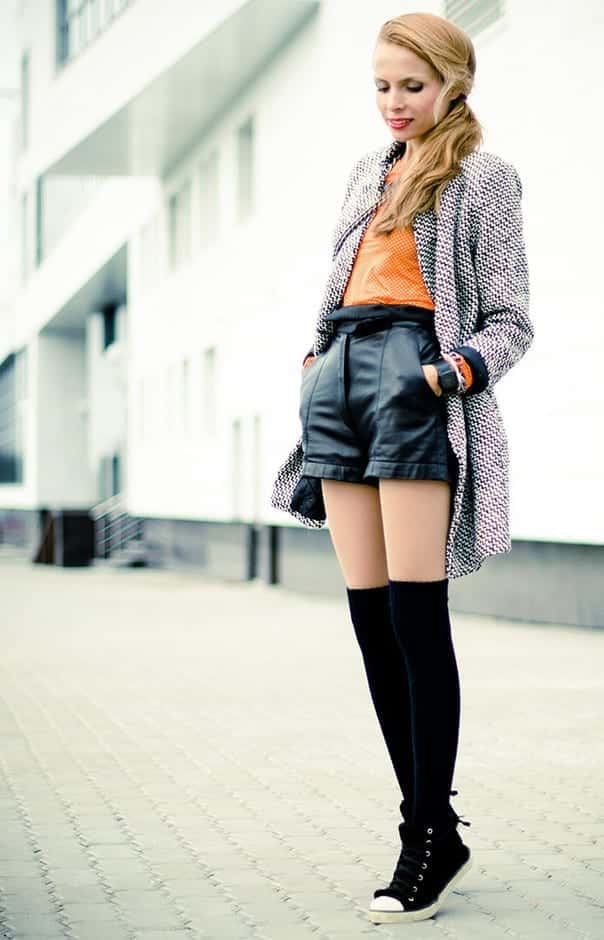 #21- Funky Floral Dress with Oxford Shoes
This combo is perfect for college going girls who want to look extra attractive and well dressed at their work. For this outfit look all you need to  get is floral knee length dress. Pair this pretty floral knee length dress with dark brown or any other colored knee length socks. For accessories go for brown beanie cap and brown oxford shoes to complete the whole look.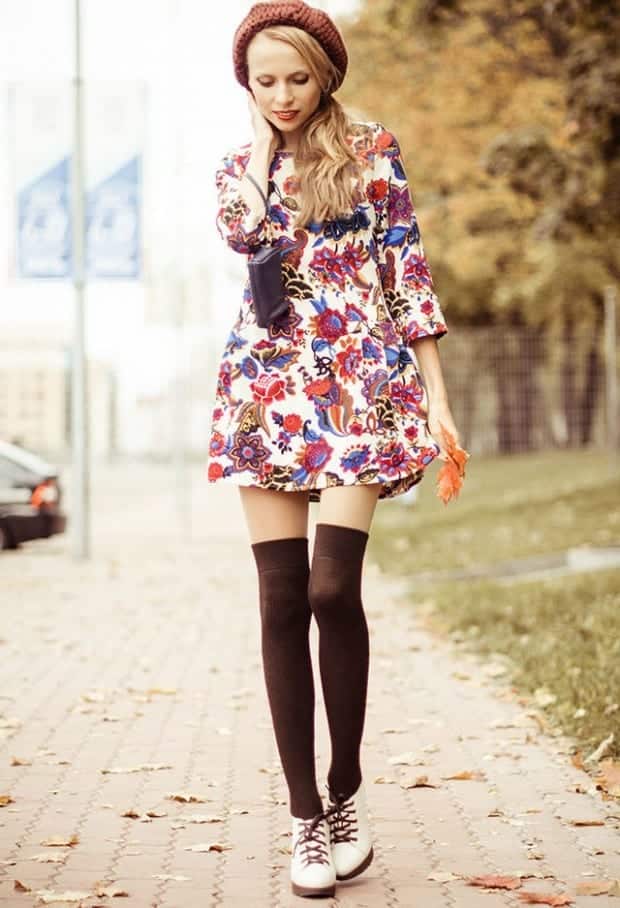 #20- Bold Skater Skirt with Pink Cardigan
This outfit inspiration id perfects for those who are bold and love to wear bold and striking colors. For this outfit idea go for a black colored mini skirt and wear grey colored sweatshirt tucked all the way inside. For an upper you can go for striking pink colored cardigan or bold red colored cardigan. Don't forget to wear knee length socks with black colored pumps and matching black messenger bag.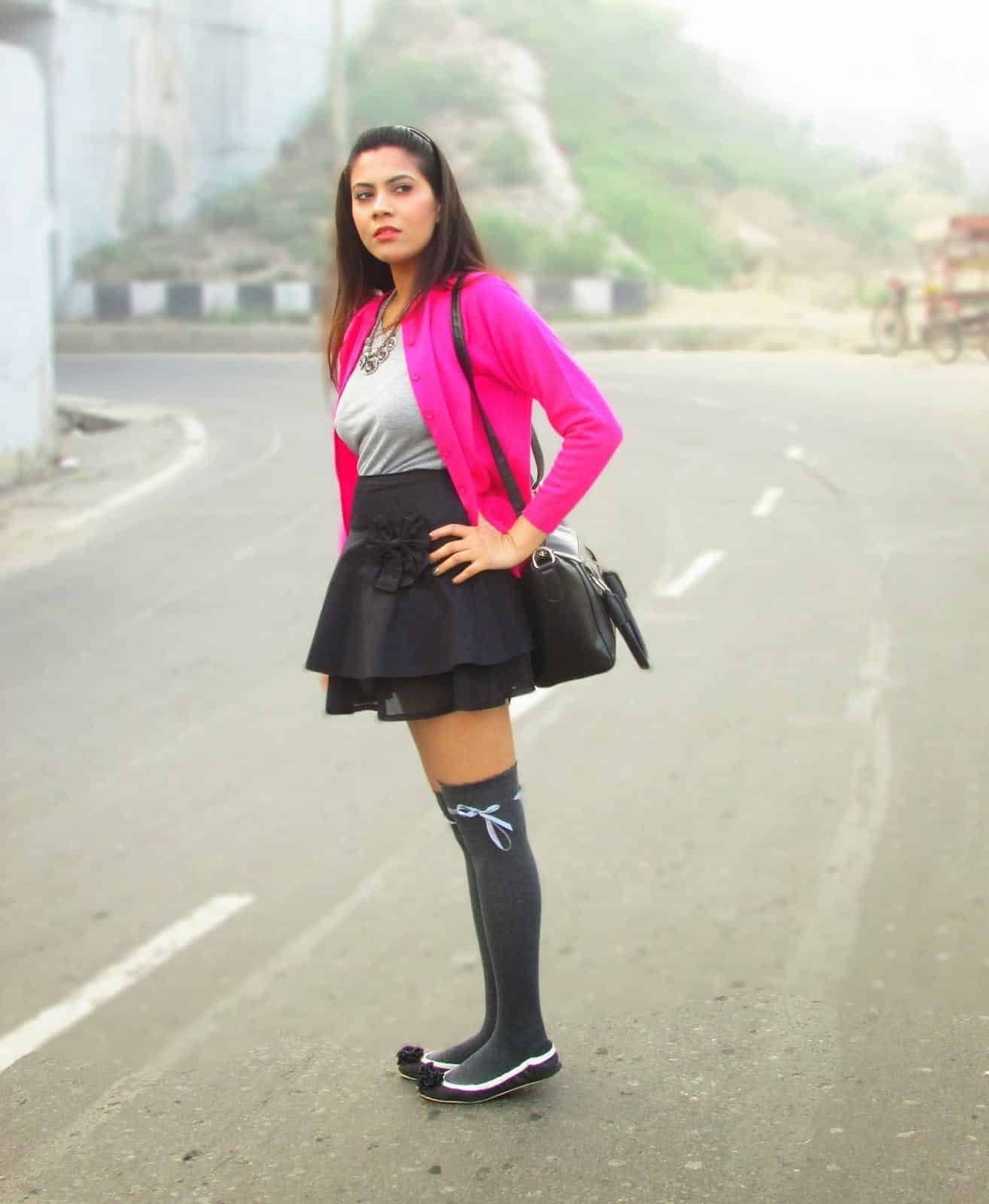 #19- Chic Office Outfit with

For this perfect outfit idea for work or for formal ocassions you can totally rock your knee length socks. For this go for plaid pattern mini skirt and wear it with contrasting colored sweater hten add a coat with front open matching the color of your mini skirt. For the knee length socks you can go for black colored socks paired up with black colored pupms. Dont forget to go for black clored messwngwer bag.
#18- Cute Winter Dress with Knee High Socks
#17- Fashionable Outfit at Work
It is an amazing idea to wear cozy and comfortable clothes to wirk in winters because you gotta keep yourself warm right? If this super comfy outfit idea go for denim mini skirt and then wear loose sweter in white. For knee length socks go for black color and hen wear nude colored socks and nude colored high heels.
#16- Trendy Semi Formal Dress for Fall
Lace pattern knee length shirts are a perfect dupe for forks. IF you can't find your fav frock you can totally wear any kind f knee length shirt as a frock. The best idea is to go for lace patterned knee length shirt paired p with black colored socks, bag, and high heels.
#15- Teen Girl Outfit with Knee High Socks
This teenage outfit idea is perfect for those who want to look super cute and sexy when going out with their friends. They can wear it when hitting the bar downtown or when going out to get some burgers. For this, you need to go for black colored jumpsuit with short along with front open cardigan. Make sure to pair everything in black for this outfit.
Source
#14- Street Style
This is probably the all-time favorite knee sock look. You can add an extra layer of fabric which gives your legs extra warmth, but it still looks cute with anything you plan on wearing, dressy or casual.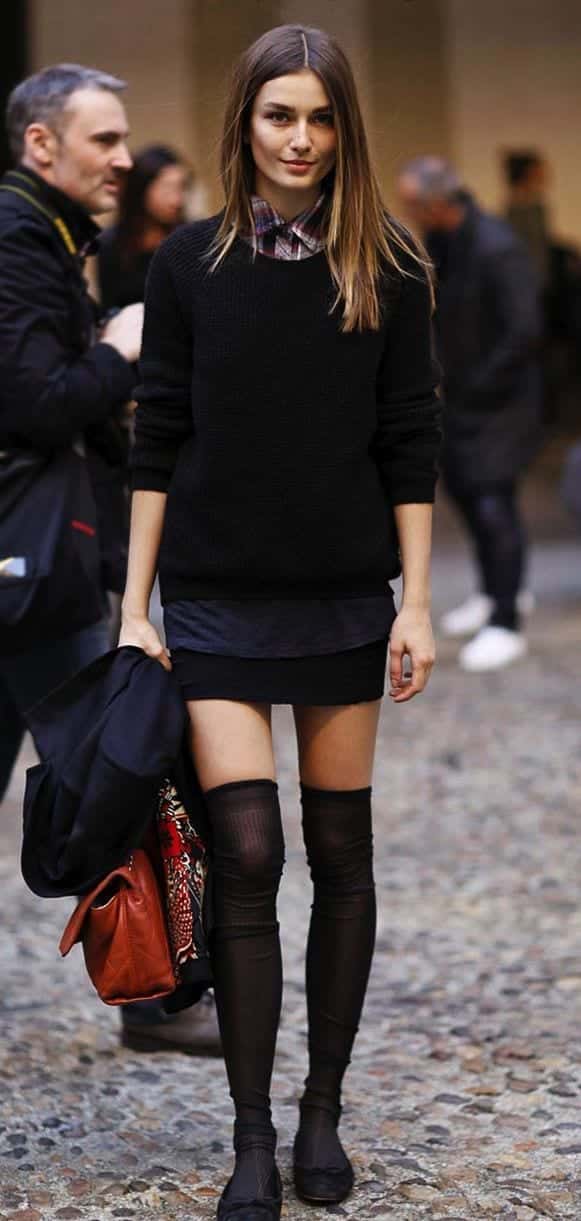 #13- Celebrity Style for Winters
Pink Long coat worn over polka dot shirt matched perfectly with White long socks and Uggs.

#12- Trendy Floral Skirt with Black Combination
Just like floral dresses floral skirts are also mainly in trend these days and they look super awesome and trendy too. But the main thing is the you must know how to pair them up with different things and to make the combo work right for you. For this outfit idea all you need to do kids to go for floral pattern mini skirt and pair it up with black top tucked all the way in and also with black knee length socks. 
#11- Sassy in Socks
You can also play around with the colros and textures to see what suits you the best and to make new outfit combos as well.
#10- Sweater Dress with Socks and Platforms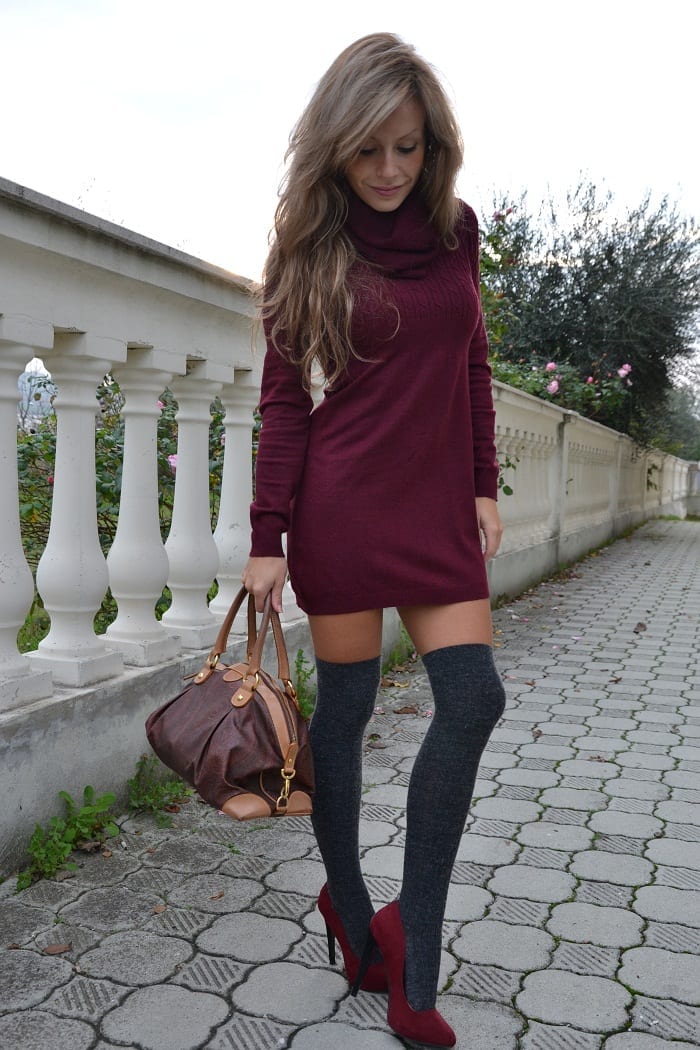 #9- Red Hot Valentine Dress
Whether flat or high-heeled, ankle booties and knee-high socks are a match made in accessory heaven. This combo goes with just about everything, adding a garter to the top of the socks is great if they're slipping down.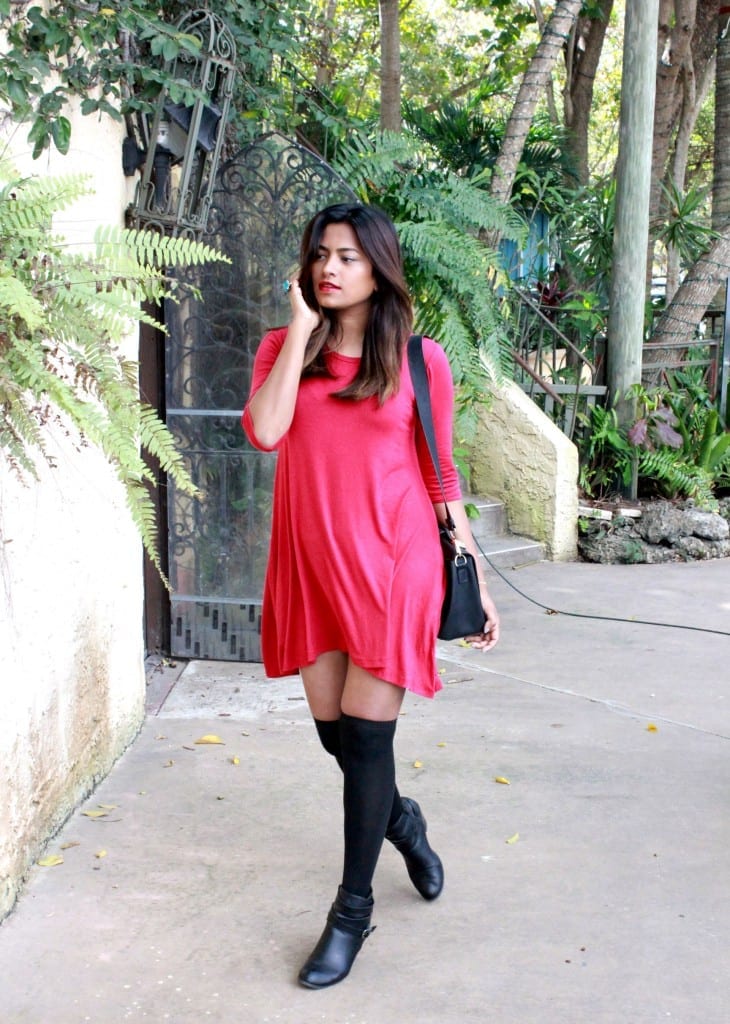 #8- Elegant Woman in Black
#7- Fashionable Skater Dress in Black
#6- Knee Long Socks for Plus Size Women
#5- Holiday Outfit for Fall

#4- Sexy Shorts with Thigh Highs
In the spring, pair your knee socks with shorts and boots or even little sneakers. Floral shorts or skirts add more glam to your look.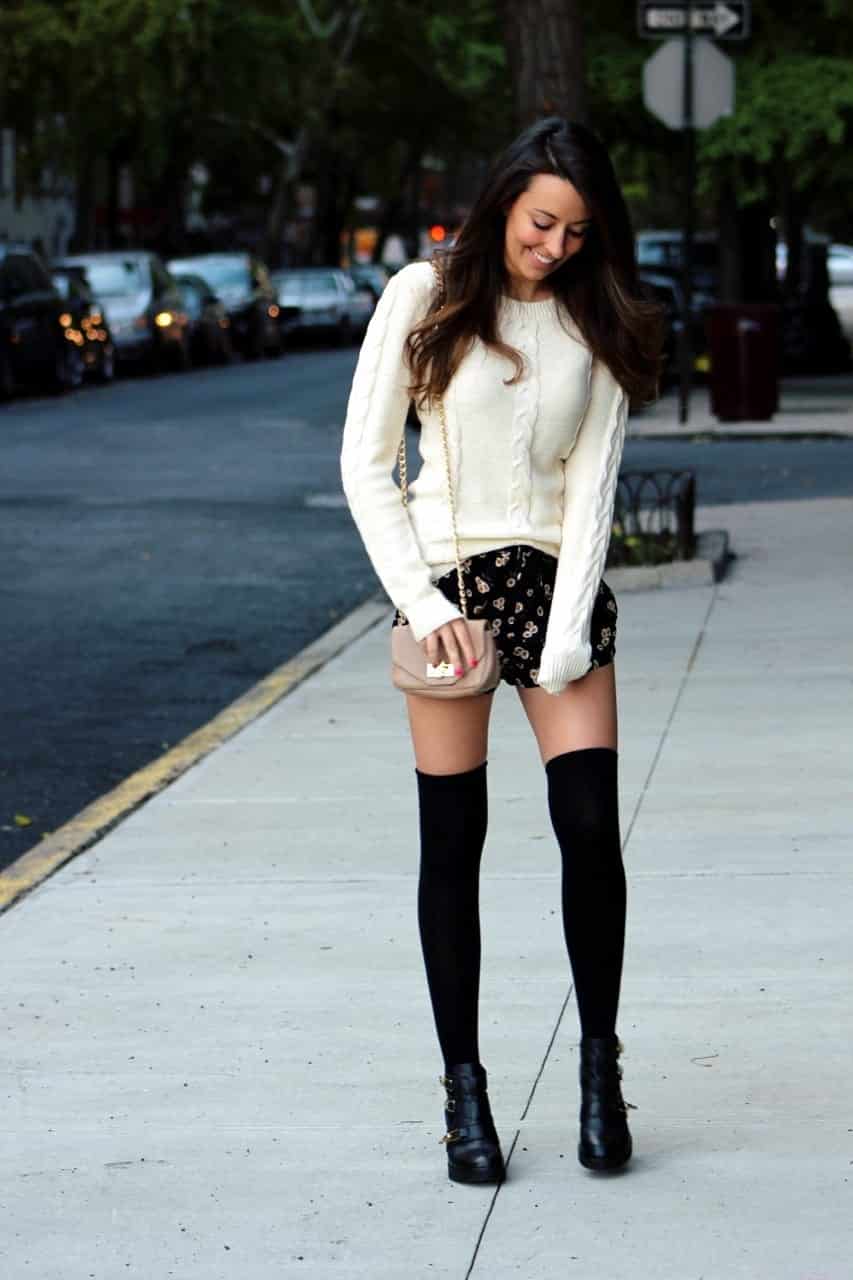 #3- Cheeky College Girl Dress Idea
Knee high socks look fabulous with tighter skirts in spring or fall season. Wear this duo with a tighter skirt, loose flowy top and ankle boots.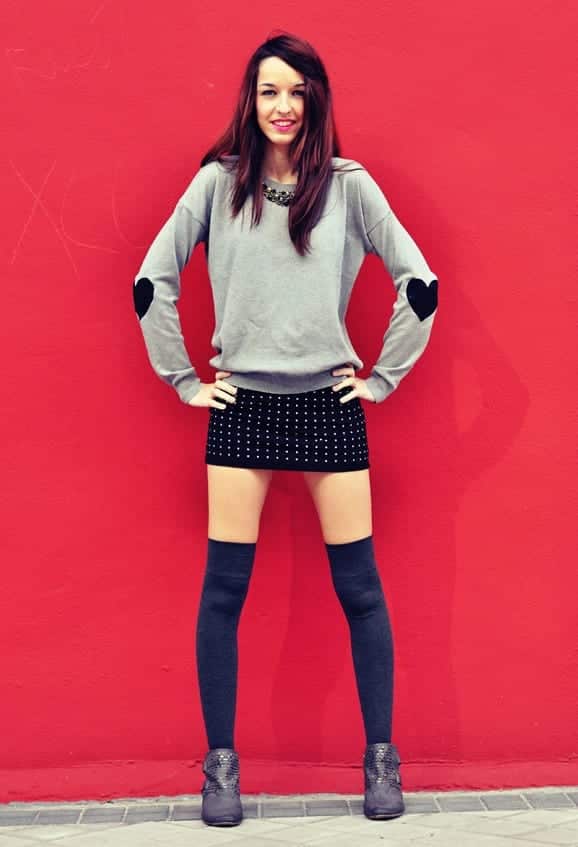 #2- Trendy Winter Outfit With Long Boats
The high boots with a hint of sock peeking out the top look lovely. Opt for a sock that matches your boots for something more neutral, or make a statement with bright or patterned socks.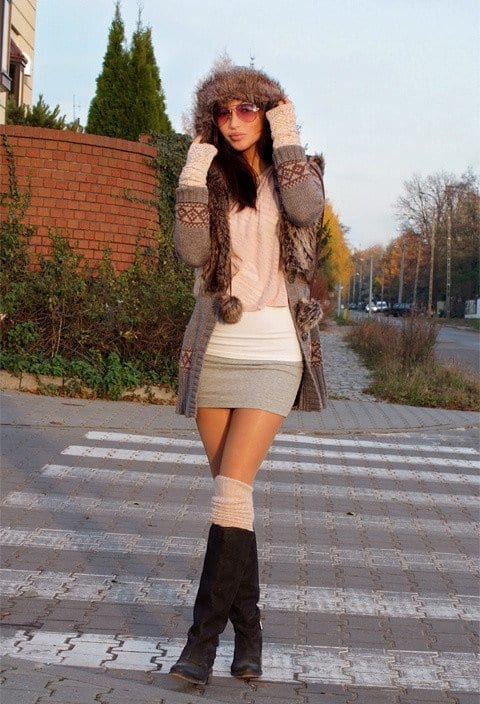 #1- Cozy and Comfy Outfit with Knee High Socks