Women's Summer Street Style to follow right now. Summer fashion time is surely the most awaited time of the year because summers are where you bring out your coolest self, the awesome swag, and simply wear what you find light and comfortable.
Summers bring along millions of cool outfit choices and trends every year that best suits our interests. This year too, has arrived for all of us with some unusually fantastic ideas to wear summer outfits and styles that will make this summer super awesome.
What are The Trending Summer Street Styles
Designing great outfits during summer can be really hard due to the scorching heat. You can't really know if something suits you till you try it on for yourself. But an outfit only has the potential to look good on you if it is trendy, to begin with. This is why we have compiled this list of 30 outfits that are up to the mark in all style and trend areas. Now it is your job to try them and see if they work for you. What are you waiting for? Read on!
Also, have a look at 15 Cute Summer Outfits Combinations for Women This Year
↓ 30 – A Glamorous Look
This slim and slender skirt and amazing silk top will make your summer unbelievably awesome and full of swag moments. The slit in the skirt makes it look oh so lovely as it allows you to show some skin in a very graceful and sexy way. You can wear this for a night at the club or some other fun event!
↓ 29 – Rust is the New Black!
The unusually colored rust sheer blouse for summers is surely the lightest and the comfiest dress for such an exhaustive time of the year. This is an interesting way of designing a sheer blouse. The model has worn a printed skirt with a bralette, and she has opted not to tuck in the blouse. This allows the top to act as an overall cover over the whole outfit. And makes it look out of this world!
↓ 28 – Bohemian Style
A stunning and mesmerizing summer dress with an over-flowing back and high flip flops is surely your definition of what summer fashion should look like. The train of the dress gives a very flowy and fun look that is ideal for the summertime. The dress is made out of printed chiffon, which is THE fabric for this time of the year. So it would be best if you got your hands on something in chiffon.
↓ 27 – Simple yet Classy
It is said that simplicity is the second name of this warm season, and we couldn't agree more. This is exactly what can be seen in this option as well. Surely something nicely printed with peaceful designs makes the best summer outfits.
↓ 26 – Wonderful Take on the Traditional Pencil Skirt
Although pencil skirts are often only seen as a form of clothing for the office, this take on it says something different. If you have a day where you need to be at a party right after work, wear this. A fancy outfit like this makes you look chic and equally very sophisticated. This is why it serves both street fashion and any regular office day.
↓ 25 – Sexy Lace Frock Style
Lace outfits work all the time, but summer is something where they seem the most comforting and most suitable. The white will help you keep the heat at bay as white absorbs minimal amounts of heat and light. Just style with some simple boots, and you will be all set for the day!
↓ 24 – Chic Summer Street Style
This simple cotton dress paired with a light leather jacket will be ideal for windy days. Having your arms exposed during harsh winds can be dangerous, so keep your leather jacket with you to keep yourself safe! Don't miss out on these Cool Summer Sports /Workout Outfits For Women.
↓ 23 – Fun Take on Dungarees
You might have seen dungarees, but you probably haven't seen anyone wearing a dungaree inspired denim dress. The model has worn a simple blouse underneath to cover up properly. We think this idea is super cute and a lot more comfortable than dungarees or a denim romper. What do you think?
↓ 22 – Formal Street Fashion
This is a very glamorous and fancy dress that can be worn for any business events you might have to attend on behalf of your firm. You can go for any color. However, we think this pastel pink screams summer!
↓ 21 – Simple Canvas Dress
This dress is both simple and gorgeous. The material is a light cotton and canvas mix, a material that is perfect for summery dresses. Each accessory is perfect for the season, and you must note the shoes, jewelry, and messy beach waves in her hair. These small details make the whole outfit look as perfect as it does for the model below!
↓ 20 – Cute Cartoon Printed Pencil Skirt Style
This is one of a kind skirt. A cute pencil skirt style with cartoon prints makes it friendly. Wear this to show your funky and fun side and make an impression on everyone you pass by. You might be afraid to try it out, but we are sure you will love it when you do! Plus, the shades are surely the coolest.
↓ 19 – Carefree Look
This one is for the free-spirited souls who are carefree and cannot be bound by society's rules. A simple blouse with fun frilly sleeves and jean shorts is all it takes to put together a quick and gorgeous look for any doings you have planned for the day.
↓ 18 – A Casual Tank Top Outfit
If you have no time to spend on coming up with new outfits every day for school, then pair up your favorite tank top with a pair of jeans or denim shorts. Play with colors to personalize it for yourself, or go for a simple grey if you want to keep it simple!
↓ 17 – A Fancy Leather Skirt Outfit
The fabulous leather skirt with high boot heels cannot define how swaggy the fashion is becoming. This look will be great if you are a classy woman but young at heart. Add in a few jewelry pieces and a simple watch to give it a glamourous look you represent, and get ready to look absolutely ravishing!
↓ 16 – Printed Flowy Pick for the Bold
Everyone wears basic jumpsuits during summertime, but what you might not have seen anyone wearing is this option that we have included here. The model is wearing a matching pair of wide-legged pants with a blouse that has a train. The outfit is super flowy, and the print screams summer, which is exactly what you want!
↓ 15 – Cool Bohemian Summer Style
This white flowy dress will work great for a first date or while you are on vacation with your significant other in the Bahamas. It is an effortless outfit but can make you look like a complete angel, and that's why you should adopt it!
↓ 14 – Blissful Bright Skirt Outfit
This splash of colors is oh so gorgeous and completely embodies the spirit of this wonderful season. This one can be worn during the day while chilling with your friends and carrying it on to an evening dancing away at the club. It's just that diverse of an option!
↓ 13 – Unique and Classic Skirt Fashion
The classic black and white combination is back with a bang. A simple mid-length black skirt with a printed black and white top might seem simple, but it is a look that is perfect for the ones who like staying simple!
↓ 12 – Basic Black on Black Look
This is a very average idea but will work so wonderfully for a day where you have no time to spend on coming up with an extra trendy outfit. For such days, go for this pick, and you are sure to look simply gorgeous!
↓ 11 – Simple and Comforting Fashion
A simple matching two-piece could be your savior this season. A flowy blue blouse and skirt, paired with a brown handbag and simple white heels, can bring you the most joy easily!
↓ 10 – Catchy Plus Size Style
A simple t-shirt and khaki pants can end up looking extra trendy if styles using peep-toe heels and slightly curled hair. Oversized shirts are a great idea if you are someone on the heavier side.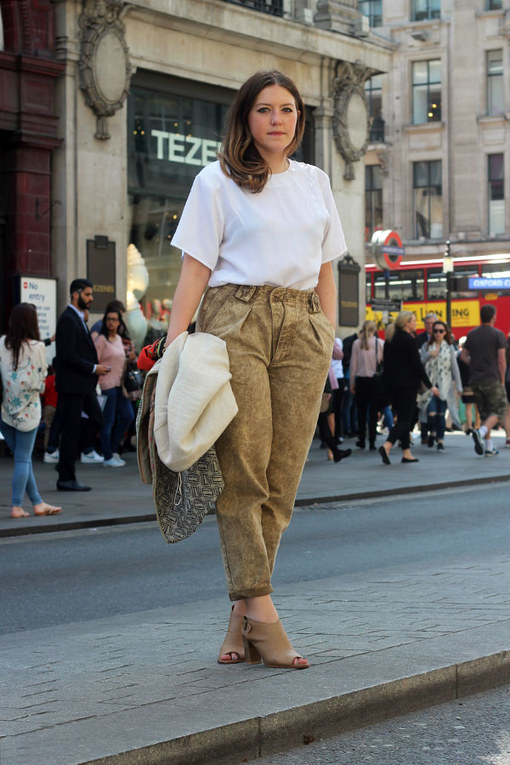 ↓ 9 – Vacation Mode On!
The use of joggers with a dress might seem odd to you, but when you have a long day of walking in the harsh heat, these shoes will be your best bet. This outfit is a great choice for exploring while you are on vacation and will surely make you look super cool!
↓ 8 – The First Ever Formal Jeans Outfit
This blouse is highly formal but also gorgeous at the same time. We know that jeans are considered casual pants, but sometimes, when you are going for a semi-formal look, pairing jeans with a fancy blouse can come in handy. This can work great for dates where you want to look your best but not boring!
↓ 7 – A Catchy and Colorful Pick
The colorful doves on the model's top are simply stealing our hearts, and the interestingly designed bright skirt is a piece we only wish we owned. Never be afraid to try out such looks as you can see. They always turn out wonderful!

↓ 6 – Beautiful Floral Assemble
A floral chiffon skirt and a simple white tank top? What better combination could we ask for! A wonderful way to tone down any overly colorful or highly printed pieces is to pair them with solid colored pieces, and that's exactly what has been done here.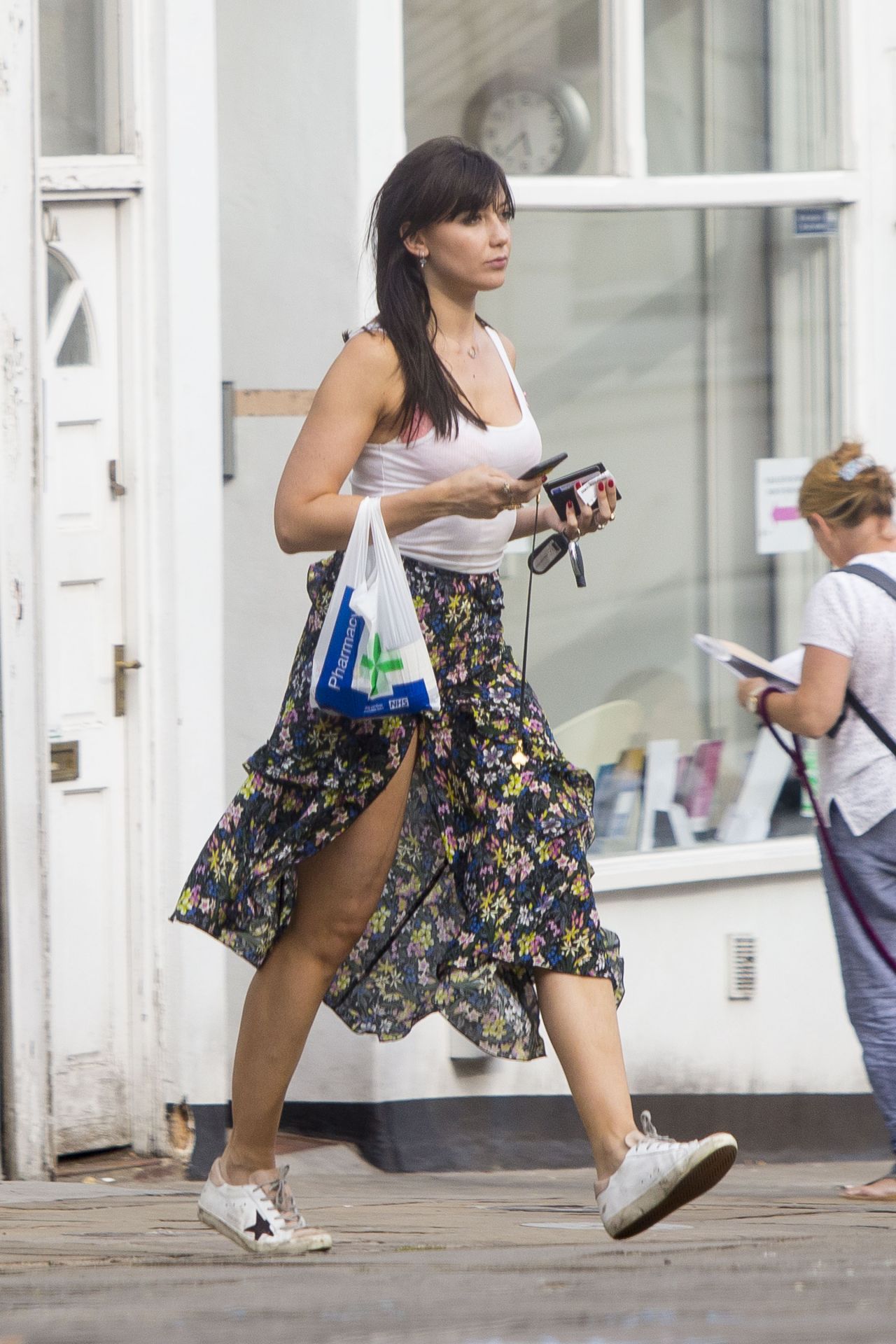 ↓ 5 – A Messy Jean Outfit Style
We have all seen multiple jeans and button-up shirt outfits, but the reason this one is on our list is because of how it has been styled. From the scarf to the jewelry, everything is perfect!
↓ 4 – A Sophisticated Summer Street Style
This suede two-piece takes us back to the old days when fashion was just exceptional. Put on this retro assemble to look out of this world!
↓ 3 – An Appealing Bossy and Formal Style
A sophisticated look like the ones below will surely help you make your mark in the office. Everyone will know you mean business, and your respect will increase tenfold. This look is not only glamorous but also trendy. So adopt it now!
↓ 2 – A Pretty Printed Short Dress
This red and white dress takes on the summer spirit in full swing with its short and frilly hem taking our breath away. Instead of going for simple sundresses, opt for a flowy and frilly look like this next time you are shopping!
↓ 1 – A Phenomenal Pick for College Girls
This cotton khaki dress is every teenager's dream. It is simple yet elegant and super cool. The button design is one that makes it perfect for younger ladies. So get your hands on it right now and wear it to your college classes to look absolutely ravishing!
Frequently Asked Questions
Q. How can I look stylish in summer?
A. Summer is an enjoyable time. It is the one part of the year when looking sexy and showing off some skin is completely acceptable and even encouraged! However, to look stylish in summer, you do not need to wear short clothes. All you need to do is pick out some gorgeous patterns.
As you cant hide behind the art of layering due to the heat. Your best bet will be to invest in some fun blouses and a few wide-legged cotton pants or shorts. These will keep you comfortable and help you look stylish. Sundresses are also a great option!
Q. What is the best color to wear in summer?
A. Summer calls for lighter and cooler colors. This is when you should pull out your pastel colors. Any light shades of all colors would work great during the summer. However, this does not mean you should shy away from wearing darker shades. As long as you style it right, any color can look amazing. Refer to our article once more to see how you can make different colors work during the heat-filled season!
Q. Are neon-colored fabrics still in style?
A. Neon fabrics were a major hit in the 2010s, and they went out of fashion in the middle. But recently, they have seen a new spike in popularity. 2020 was the year of surprises, and so is 2021, as it seems. So it is no shock that neon pieces are making a comeback. You should definitely get your hands on one!