Cute Bermuda Shorts Outfits for Women. The Bermuda shorts have a fascinating history. The British military originally wore them in hotter regions like tropical places and deserts.
These short trousers were then adopted by the people of Bermuda when they experienced a shortage of clothing after World War II. Since then, these shorts are considered business attire in the region! And another fun fact is that Bermuda's delegation wears red Bermuda shorts during the Olympics' opening ceremonies. Bermuda shorts come in handy in warmer months as they allow for a breezy, light, and cooling effect. Perfect for both formal and casual looks, there are many ways to accessorize and wear these mini pants. We have formulated a list of the hottest Bermuda shorts fashion this season, sure to suit all your needs and desires.
How to Wear Bermuda Shorts
Bermuda shorts make great outfits for summers, as well as Fall and Spring. Many people tend to avoid them, and many consider them 'old-fashioned' or inappropriate, but the truth is that if worn the right way, they can look chic and stylish.

What are the Bermuda Shorts?
Bermuda shorts are a semi-casual type of short trousers. Both men and women wear them. They are also called 'walk shorts' or 'dress shorts.' They are suitable for tropical and subtropical climates and are considered an appropriate business attire in hotter countries and seasons. They're called 'Bermuda' shorts is that they gained popularity in the British Overseas Territory of Bermuda.
Where to Buy Bermuda Shorts From
There are a couple of places you can try:
Most Affordable Bermuda Shorts from Old Navy
Here are the top five Bermuda shorts from Gap's Old Navy line.
Plus Point: They're all really cheap and the quality is assuredly top-notch!
* Mid-Rise Distressed Jean Bermudas for Women
Price: $34.99
Details: It has a three-button fly. The openings have rolled leg-cuffs. It has a coin pocket and riveted scoop pockets at the front and patch pockets at the back. It's made with soft and stretchy denim. The rips and frayed edges create a distressed aesthetic look.
* Mid-Rise Distressed Jean Bermudas for Women
Price: $26.99
Details: It has rolled leg-cuffs and distressed detailing at the back of the shorts.
* Mid-Rise Cuffed Bermuda Slim Jean Shorts for Women
Price: $26.99
Details: Has all the features of regular denim pants like button closure, belt loops, zipper fly, scoop pockets, patch pockets, and a contoured waistband. The denim is soft and medium-wash.
* Mid-Rise Twill Everyday Bermuda Shorts for Women
Price: $26.99
Details: Suitable for all kinds of occasions, from the beach to brunch. It has a high-rise waistband that is lined with poplin for comfort. It has a button closure and a zipper fly. It has decorative welt pockets at the back and standard pockets at the front. The shorts are constructed from soft twill cotton that is flexible and heavy-weight.
* Mid-Rise Dark Wash Bermuda Jean Shorts for Women
Price: $26.99
Details: These shorts have a button and zip closure. The denim is stretchy and can fit all sizes. There are multiple pockets at the front and back. The shorts hold their shape and are body-hugging.
↓ 20 – Relaxed and Chic Khaki Shorts
If you want to look casually put together, opt for pastel or khaki mini shorts with a white linen shirt and long necklaces. To make the outfit a bit more preppy, add in matching heels. This is the perfect semi-formal dress idea that can be worn to college or even to work when you are feeling quite lazy to change into something special. This outfit can be a lifesaver. Simply go for nude colored Bermuda shorts and wear them with a shirt and tuck it inside. Then on top, wear a loose oversized sweater to wrap everything up. For the accessories and jewelry, you can go for necklaces and bracelets in gold or silver.
Not sure how to style in Summers? Drop your search right now and review Women Summer Street Style.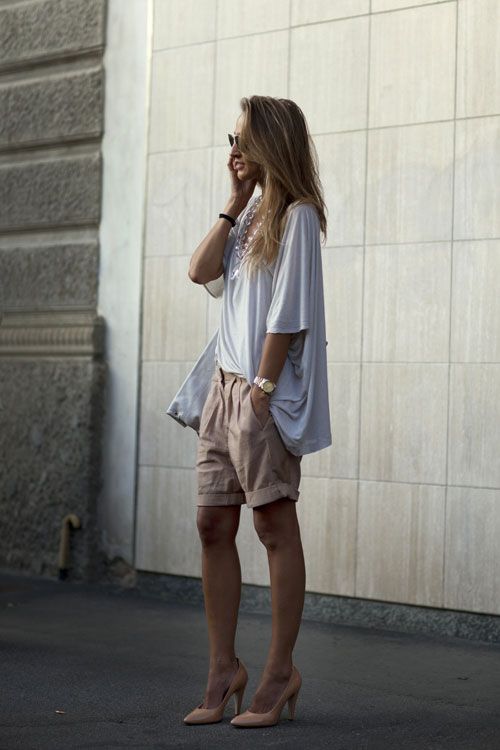 ↓ 19 – Can You Wear Bermuda Shorts To Work?
Bermuda shorts can be worn to work if done right. Go black and white with this look by pairing a checked blazer with loose, straight-cut Bermuda shorts. This is a classic formal dress, and it is incredibly comfortable for the days when you have to spend extra shifts at work. For the best combo of this outfit idea, go for black colored shorts and wear a plain formal white dress shirt on top and tuck it inside your shorts. As an overcoat, go for black and white plaid pattern knee-length coat and rock it. Don't forget to wear black colored sunglasses for some extra swag.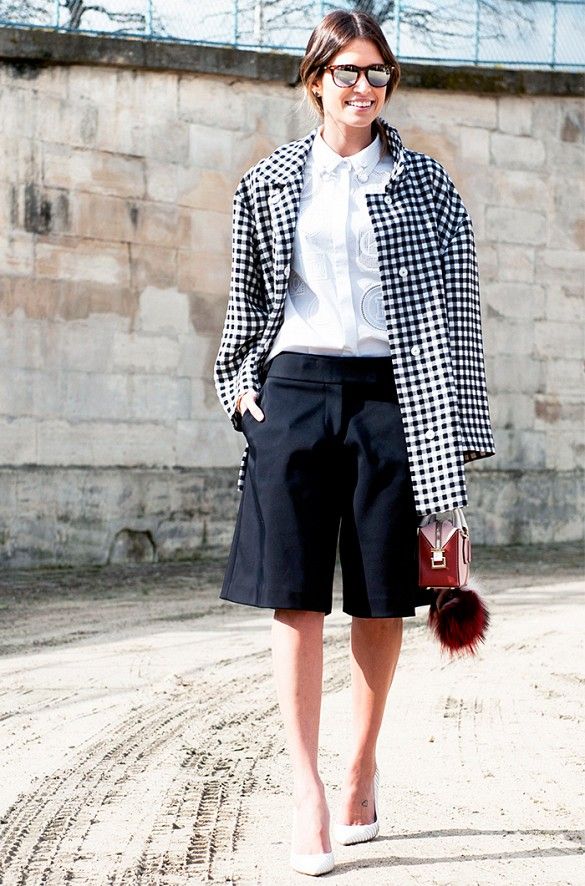 ↓ 18 – Dainty Knee-length Floral Shorts
For a delicately feminine look, opt for light pastel colors with a floral net-work, as the picture shows, in these cute mini shorts. For this outfit idea, go for baby pink color delicate Bermuda shorts and wear a white-colored shirt on top of it. You can either tuck the shirt in or let it hang loose; it depends on your preferences. For the shoes, you can wear white and pink colored sneakers, or you can also go for white colored lacy high heels.
We bet, you can't take your eyes off from Skater Skirts Outfits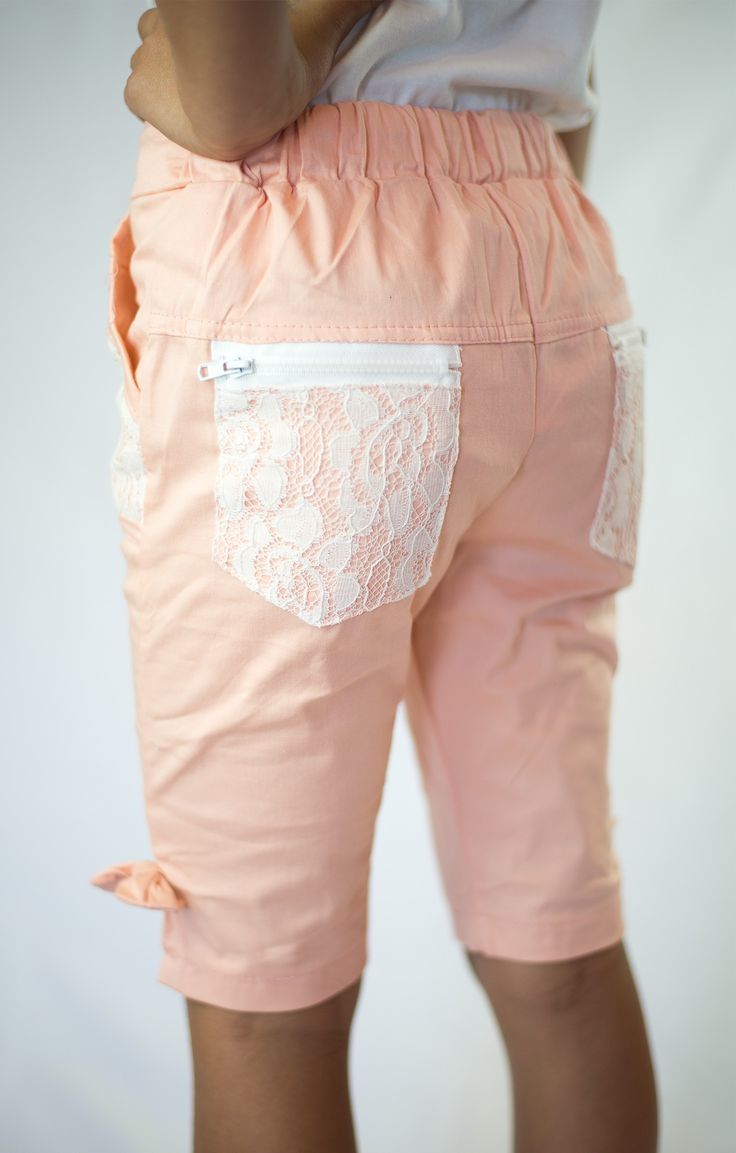 ↓ 17 – Casual Cargo Shorts
The Bermudas are great for relaxing all day. Pair them with a large hat, a cool t-shirt, and you are good to go! If you are too bored and lazy to change your comfy dress and wear something uncomfortable just because you have to go out, then this outfit idea will save your life. For this outfit idea, you can go for your cargo Bermuda shorts and then wear a cool patterned tee over it. The matching doesn't have to be perfect, so just mix and match randomly, and you'll be coming up with some adorable outfits for sure.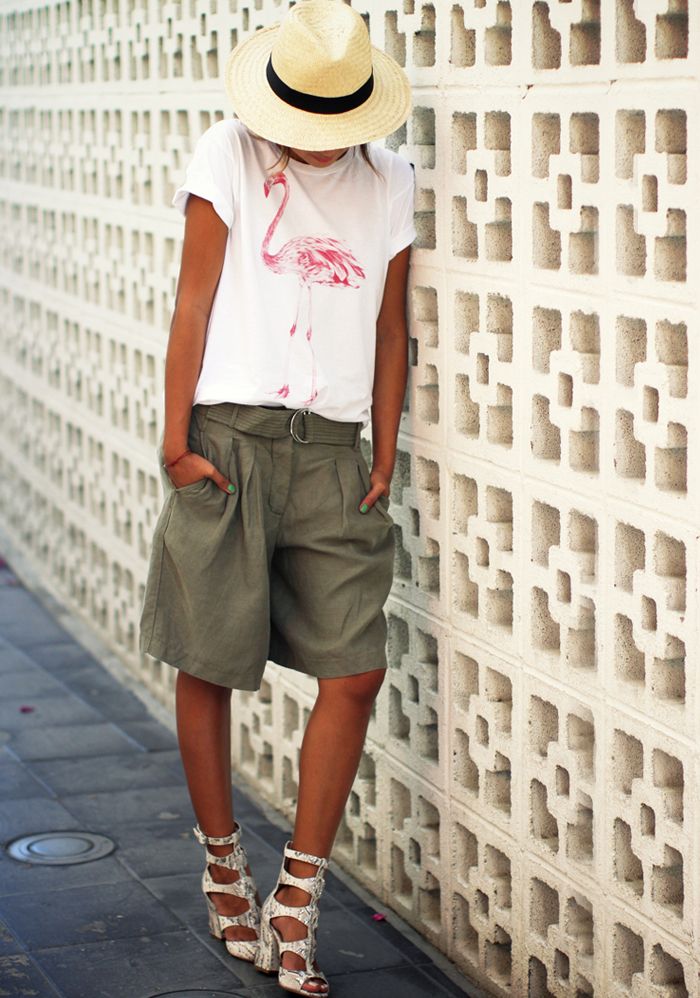 ↓ 16 – Preppy Mom Look
Busy moms can pair a floral top with brightly colored blazers and navy blue shorts for a perfect daytime outfit. Those moms who sleep very late but still have to wake up early in the morning to go to work or drop their kids to school can use this outfit idea and rock their mornings. You need to go for dark blue colored Bermuda shorts and then wear a formal tee over it. To make your dress even more perfect and elegant, you can add a floral pattern coat. Accessorize with multi-colored bangles and high heels.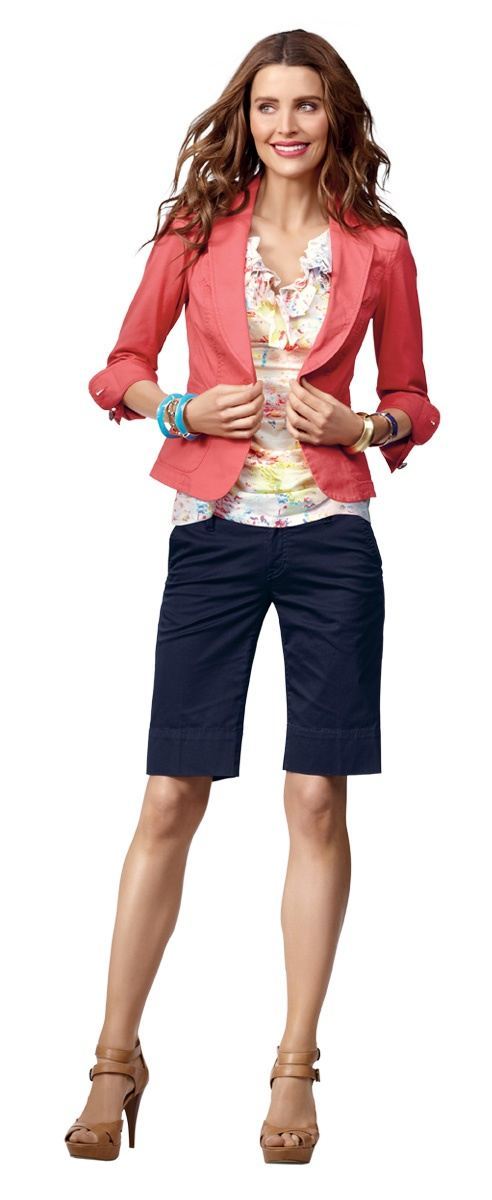 ↓ 15 – Fresh Off The Runway
Want to look hot and vivacious? Show some cleavage, put on a blazer, and pop on your printed Bermudas. This is our favorite style, and it is also beloved of many celebrities as they are often seen wearing this same style on runways and even on photo shoots. For this outfit idea, you can go for a cool pattern Bermuda shorts and then wear a denim shirt over it, but don't forget to tuck it inside. For the overcoat, you can wear a white-colored one for perfect balance.
↓ 14 – Knitted Midi Shorts
Heading out on a date or an event with friends? Stay classy with grey and black colors, and pair a statement necklace to make your outfit formal. Knitted shorts are charming to look at and soft to feel. You can wear knitted shorts in winters by wearing leggings or socks underneath. Midi shorts like these are high for ventilation and sweat-proofing your legs. Some people consider them controversial because they go all the way up than regular Bermuda shorts, but it's ultimately up to their preferences.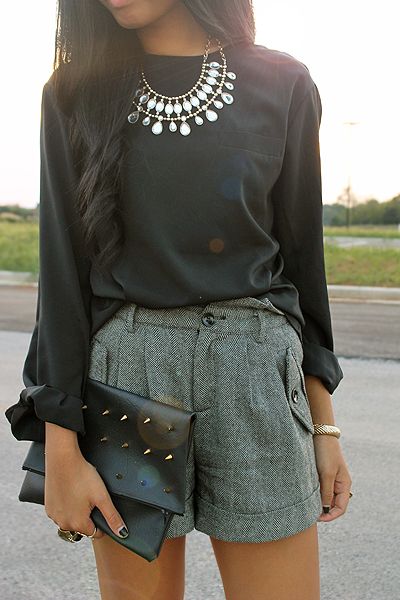 ↓ 13 – Sophisticated Black Denim Shorts
Hi-necks are perfect for the winters, and they look great when matched with black shorts. Pair with aviators and open-toed sandals for a retro-glam look. The thing about black is that it's impossible to look bad in it. It brings out the best in everything it's added to, inserts seriousness and oomph at the same time. Going monochrome is even better.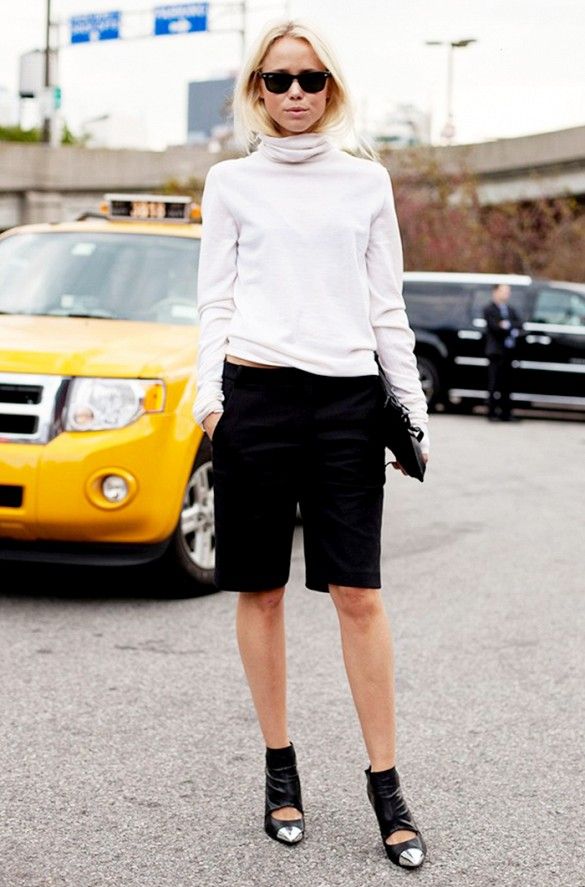 ↓ 12 – Summer Holiday Shorts
Keep it ultra-feminine and chic with a printed, floral Bermuda and a blue, or pastel-colored halter top. The perfect outfit for the laid back girl. These shorts scream summer. The lightly colored top has gentle ruffles and shows the waist a little bit. Each aspect of the outfit is incredibly summer-friendly. Let air caress your skin and say goodbye to sweaty afternoons. Going out with friends will seem more appealing in this outfit.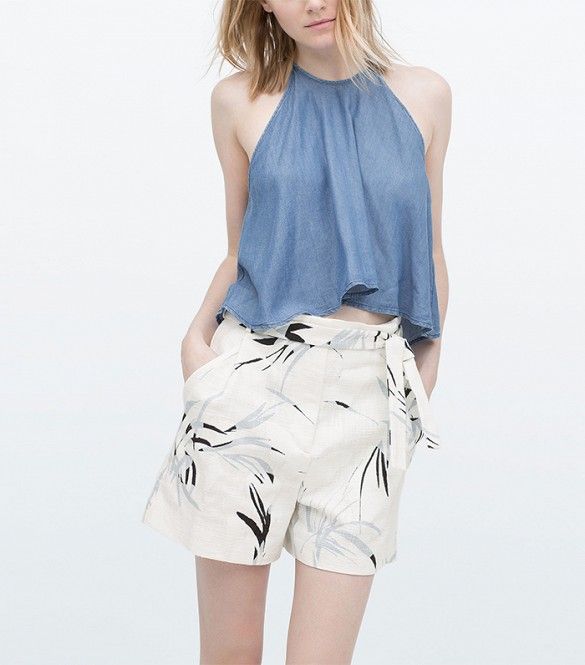 ↓ 11 – Street Style Shorts
Match a crop top with these extra-loose, flared shorts for a fun weekend look that can be used for daytime or nighttime events. It's such an elegant, upper-class look; it's almost unfathomable that all it takes is the right combination of top and shorts to achieve it. It's that easy! We love the symmetrical pattern of the head, the way it shows the midriff. The shorts are gorgeously made and almost look like a skirt. Accessorize with high-heels, and you're ready to hit the streets!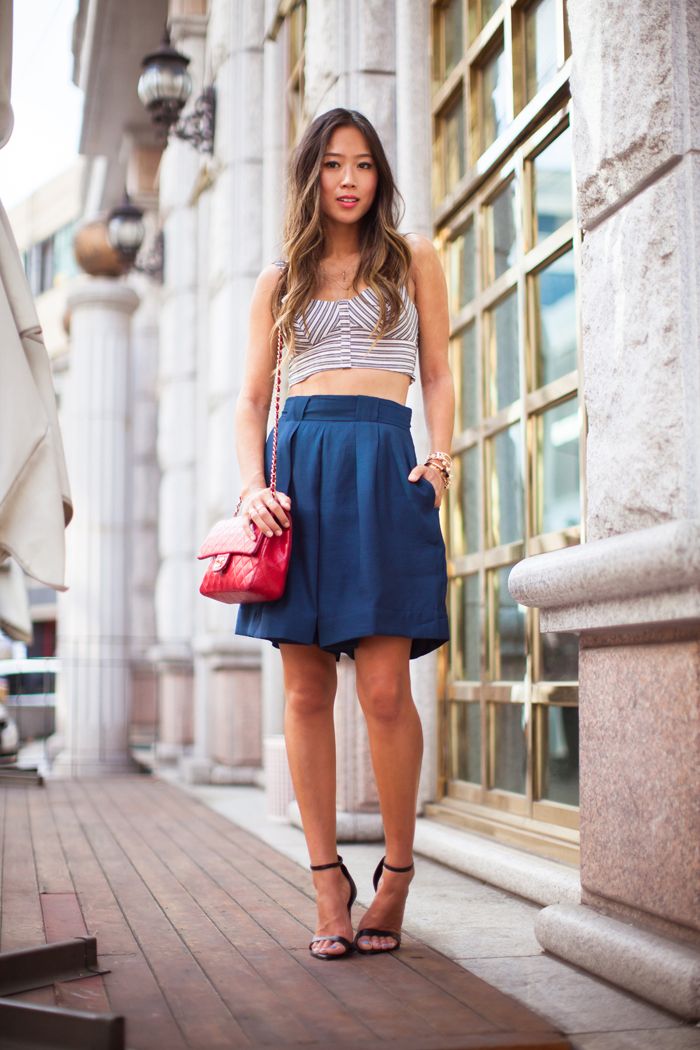 ↓ 10 – Biker Chic Shorts
Rock out the inner biker girl in you with this winter tomboy look. Go all the way black and remember to wear your black oxford shoes. This is an excellent idea for people who want Bermuda short inspo for colder months. A sweater and a jacket up top will protect your upper body. For your lower body, you can go with knitted or denim shorts. Knee-length ones are recommended for winters. You can wear leggings or socks that go all the way up to the hem of your shorts. Make everything black and slay everyone in the vicinity.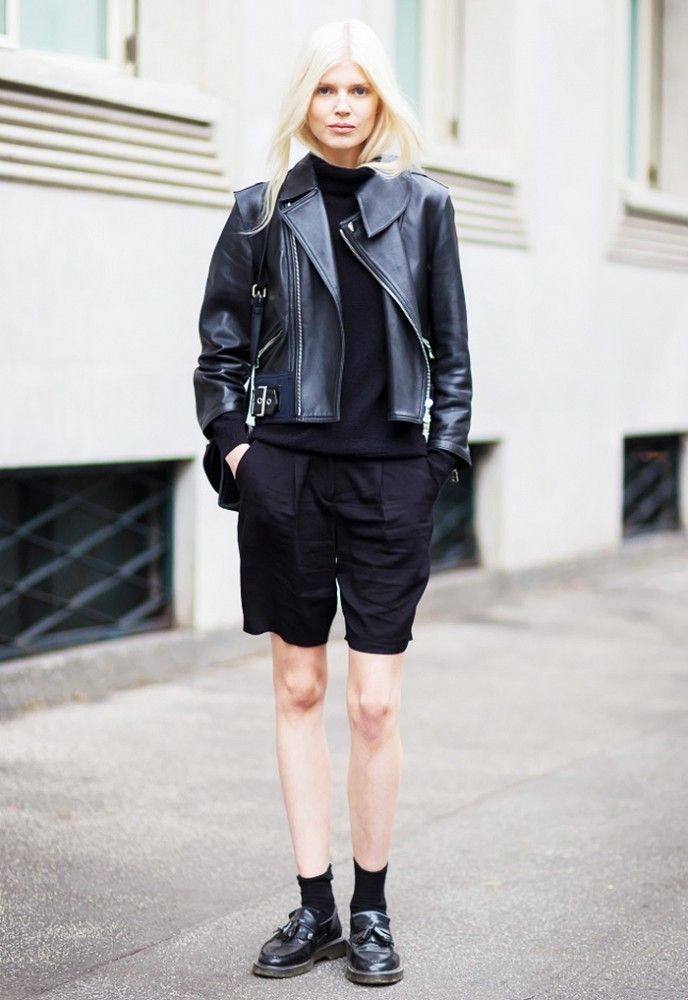 ↓ 9 – Plus-Size Girls Bermuda Short Style
Plus-size girls can also wear Bermuda shorts, as this helps to enhance their curves and makes them look sexy. Loose-fitting or tightly-fitted, both kinds of shorts will complement their physique. Wear a peplum top with the shorts and get that hourglass look.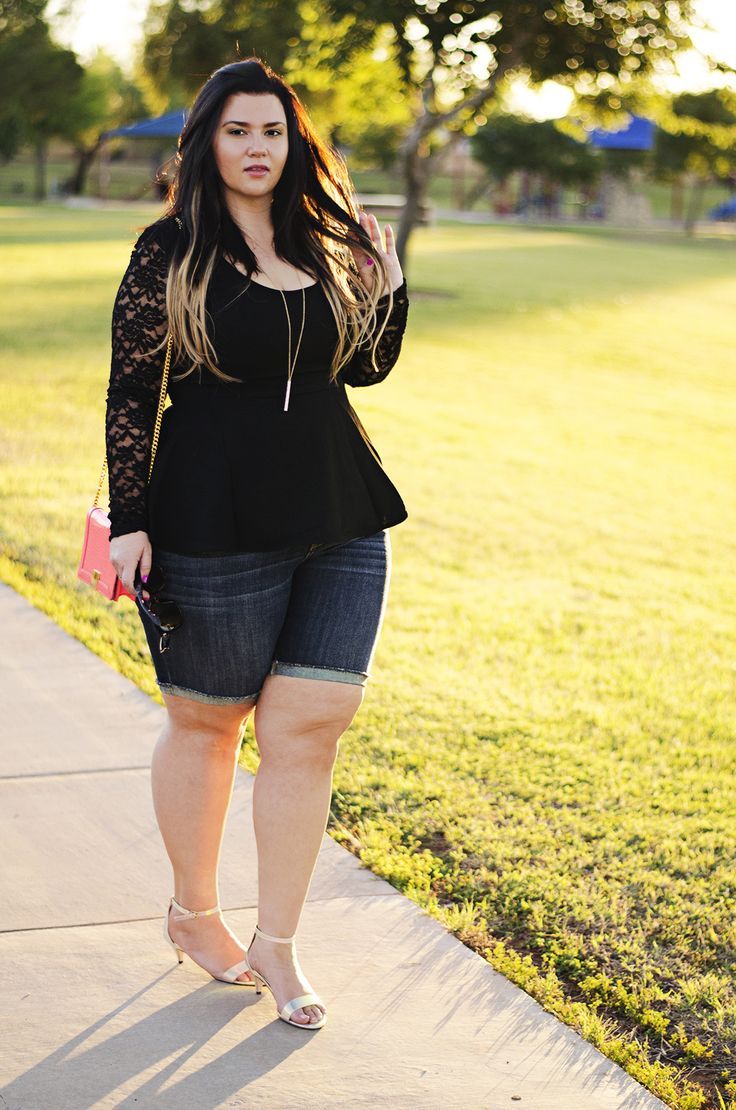 ↓ 8 – Daytime Party Shorts
Heading out for a birthday party or a daytime casual affair? Pair a chiffon top with the white Bermudas and a retro belt. Some classy shades, high heels, and a stylish handbag will go a long way in completing your relaxed look. With white Bermuda shorts, go with a pastel-colored shirt. Make sure the shirt is of a light, summer-friendly texture. A high ponytail or bun will look amazing with this look.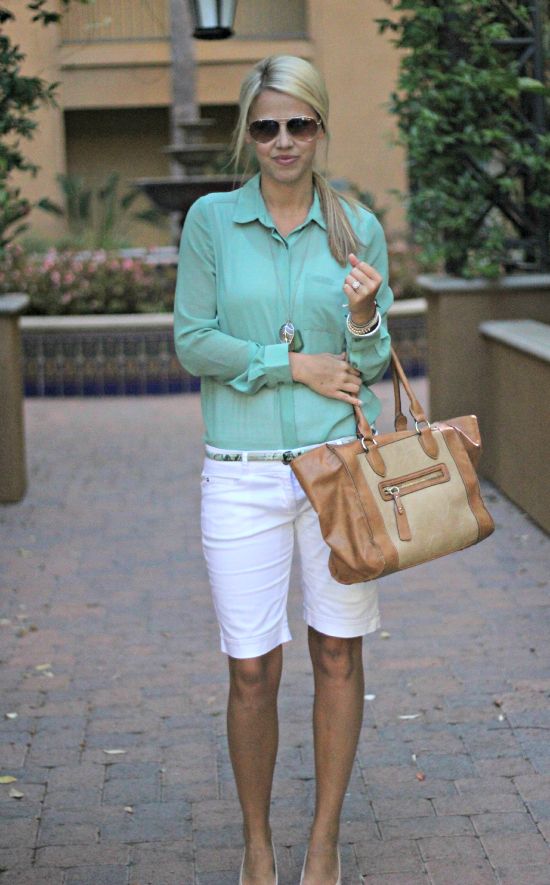 ↓ 7 – School-girl Uniform Shorts
This is 'almost' like a school uniform. Almost because school uniforms are rarely so fashionable. But the different shades of blue and gray, and the shorts and blazer combo instantly makes the mind think of a uniform. The ripped hems look tres chic!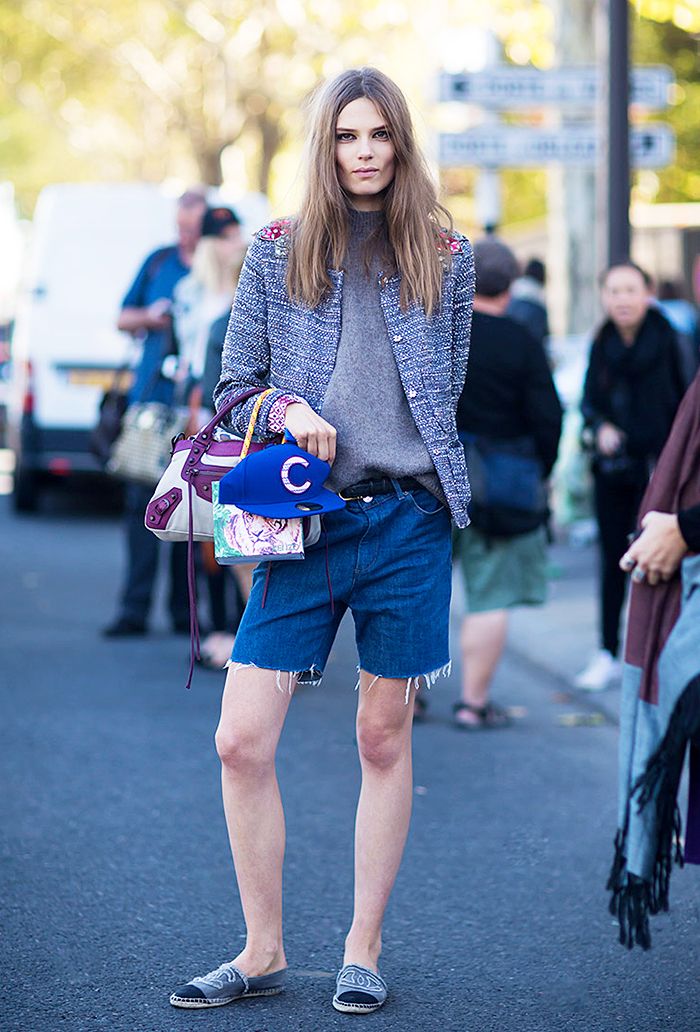 ↓ 6 – Glamorous Striped Shorts
Stripes have a strange magical effect on clothing. It immediately becomes professional and smart. White and navy blue are two colors that are harmonious together. A white crop top and a crisp navy coat add the right balance of color and texture to the look. You can ditch the coat if it's too hot, but in places where the climate is moderate, you'll be on the right track with this look.

via
↓ 5 – Fun and Colorful Look
Such a trendy business attire! This matching pair of blazer and shorts look sublime! We love how the woman has accessorized her outfit. From the hat and watch to the shoes and tie, everything is immaculate.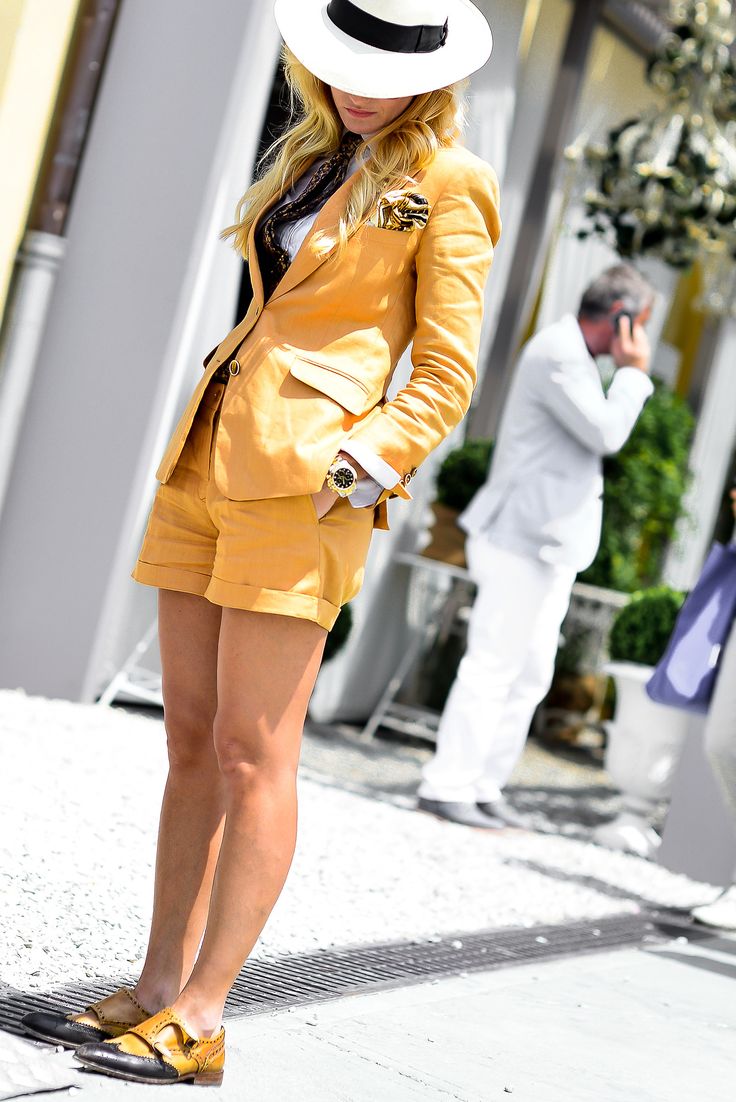 via
↓ 4 – Relaxed Weekend Look
You've seen pastel-colored tops with white shorts, now here's an example of a dark top with white Bermuda shorts. It just goes to show that you can't go wrong as long as you're creative with your choices.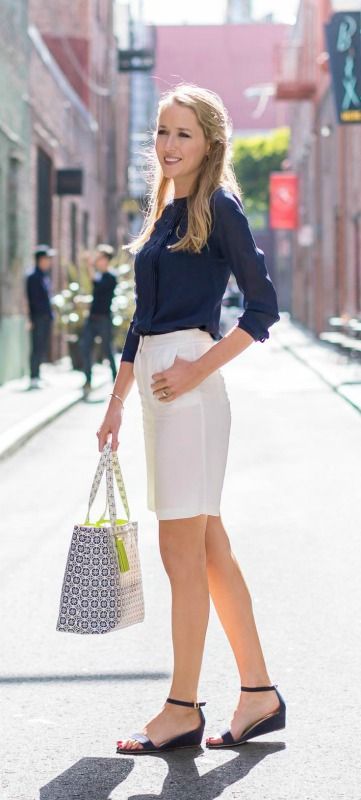 ↓ 3 – Gypsy Shorts
Bleached and ripped denim shorts paired with funky jewelry, a spunky cross-body bag, and a bikini top with a vest, your Coachella look is ready.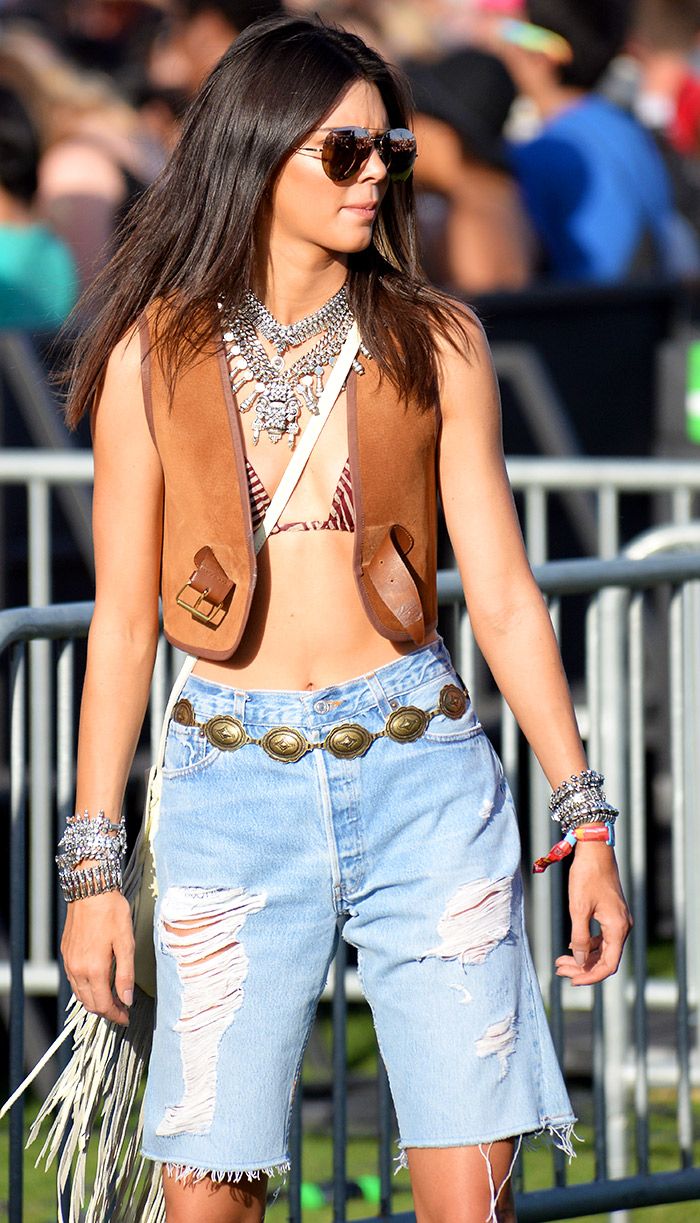 via
↓ 2 – High-Fashion Evening Look
Every single piece of this ensemble is sharp and dapper. It's the ultimate businesswoman attire!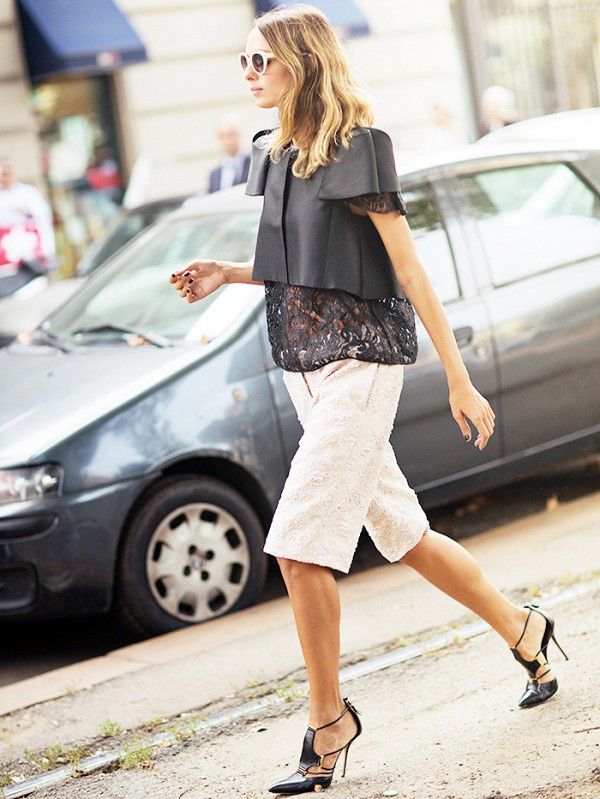 via
↓ 1 – Elegant Striped Junior Shorts
Try as much as you can you can't escape the white and navy blue shorts! It just goes to show how popular and in-demand they really are.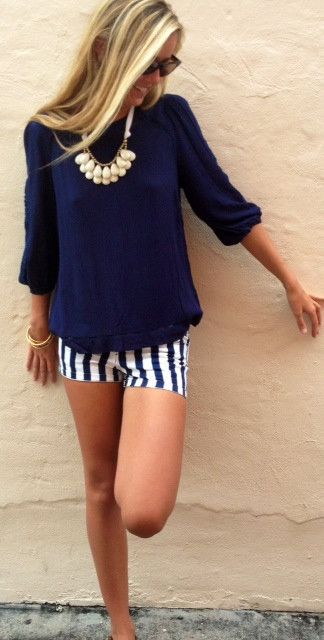 via