Most Popular Disabled Female Models. Disability is portrayed as a physical or mental handicap that prevents someone from dwelling a full, healthy life or from retaining a gainful activity. But, many courageous human beings across the globe live on and thrive regardless of any disability they might have.
In truth, quite some of them have been remarkable contributors in the course of history and quite well-known due to their successes regardless of their limitations. The genuine meaning of a lifestyle is to discover the abilities one is born with. As soon as he ascertains his proper potential, any incapacity can hardly ever be a hurdle in the way to achievement. A woman can make herself the strongest icon if she overcomes her disability.
Most Popular Models with Disabilities
Many motivational and inspirational examples of disabled women are available who have proven that they are equally talented as others. So if you have any disability and ever felt down, take a look at these inspiring models from around the world. Few out of these often make an appearance in a wheelchair for "disable model fashion week" and thus break the stereotypes. The following list includes those bold ladies who are handicapped. Still, their ambitions and their determination bring them fame and make them role models for others who have ever doubted their capabilities.
How did we decide? 
We used their popularity based on their social media followers and engagement to put together this list of the Top 10 Disabled Female Models from Around the World.
10 – Muniba Mazari
9 – Sophie Morgan
8 – Danielle Sheypuk
7 – Shannon Murray
6 – Vicky Balch
5 – Leslie Irby
4 – Wendy Crawford
3 – Alexandra Kutas
2 – Jamie Brewer
1 – Ellie Goldstein
↓ 10 – Muniba Mazari
Mazari is Pakistan's first model and anchor who uses a wheelchair. She is a motivational speaker, writer, the artist as well as brand ambassador of famous brands like Ponds, Body Shop and, Tony and Guy. She is not only gorgeous but also multi-talented and has a magical personality. Muniba Mazari was married when she was only 18 years old, and after about two years of the marriage, she met with an accident that left her paraplegic. But she did not lose hope and set a perfect example not only for disabled women but also for the whole nation. In 2011, four years after the accident, Muniba adopted her son, Nael.
Most of her career has been built on painting and motivational speaking. While painting, she found a job working for Areeb Azhar to run his Facebook page for monthly wages. She also started work at her son's school for a startup project called Dheeray Bolo (Speak Slowly), which involved teaching Urdu at various schools. She became the National Ambassador for UN Women Pakistan after being shortlisted in the 100 Inspirational Women of 2015 by BBC. She also made it to the Forbes 30 under 30 lists for 2016.
Yes, she cant stand on her feet, but she flies in the sky with her incredible talent and fantastic willpower.
We also recommend that you have a look at these Top Indian Female Models.
Instagram: muniba.mazari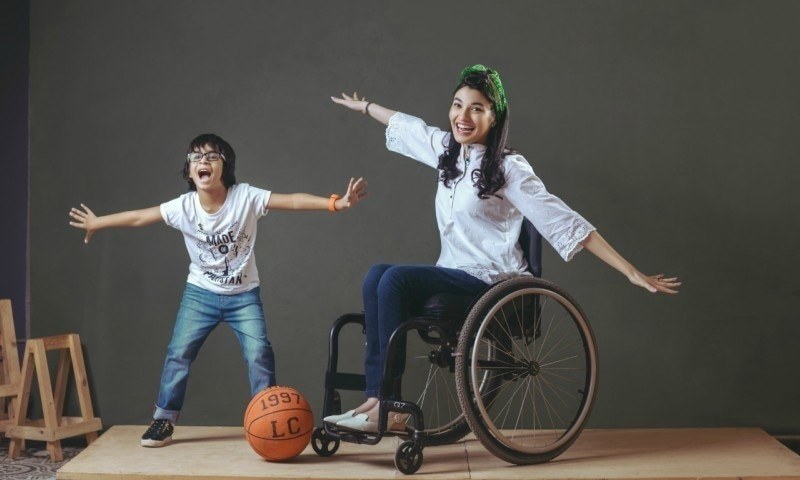 Head over to our earlier post about the Short &Petite Super Models Ruling Fashion Industry.
↓ 9 – Sophie Morgan
Sophie Morgan is a British television presenter and former reality television contestant. Morgan suffered a T6 spinal cord injury in a road traffic accident in 2003, resulting in paralysis from the chest down. In 2004, 9 months after her accident, Morgan took part in the first series of BBC Two's Beyond Boundaries, which followed 11 disabled people on an expedition to traverse 220 miles across Nicaragua from its Atlantic coast to its Pacific coast. She contracted amoebic dysentery in the jungle, requiring five days' hospitalization, and was unable to complete the expedition.
A follow-up program, Beyond Boundaries: Where Are They Now? was broadcasted in 2009. Now she is set to give her the first BBC documentary. She is a happy and determined lady. In 2016, she was a lead presenter for Channel 4's TV coverage of the Summer Paralympics in Rio de Janeiro. Sophie Morgan has said, "I felt more fulfilled since the accident." She models for Stella McCartney and runs her personal, commercial enterprise despite paralysis.
Before the accident, Morgan had planned to study Law at the University of Manchester. Having returned to live with her parents in Brighton, she instead opted to study art at the City College Brighton & Hove. After completing her art foundation course, she started a bachelor of arts degree in fine arts at Goldsmiths, University of London.
Instagram: sophlmorg
↓ 8 – Danielle Sheypuk
Danielle Ann Sheypuk is an American psychologist and advocates for people with disabilities. Sheypuk is a self-described "sexpert" and leading commentator on the psychology of dating, relationships, and sexuality for the disabled population. She promotes the message that people with disabilities are sexy, datable, educated, and glamorous – and that they are integrating more successfully than ever into the urban social and professional scene.
Sheypuk grew up in Jermyn, Pennsylvania, near Scranton. She was born with spinal muscular atrophy and got her first motorized wheelchair in kindergarten. After graduating from Marywood University (Scranton, Pa.) with a Bachelor of Science in Clinical Psychology (2000), Sheypuk moved to New York City to pursue her Ph.D. She received her Ph.D. in Clinical Psychology from The New School for Social Research in 2009.
Danielle Sheypuk has walked the ramp in New York fashion week. Her attention-grabbing pleasant presence was appreciated by the audience. She has a noticeable beautiful face with a charming smile. She proved that no barrier could stop a woman from achieving her goal if she wants it.
Instagram: daniellesheypuk
↓ 7 – Shannon Murray
Shannon Murray is an Irish actress, model, writer, broadcaster, disability activist, and lawyer. She is the daughter of Frank Murray, who was the manager of The Pogues and Thin Lizzy. Murray has appeared in several dramas for the BBC and Channel 4, such as Holby City and Casualty, and in 2017 appeared in the BBC Doctor Who spinoff series Class. In 2018, Murray appeared in three episodes of the BBC soap opera EastEnders as Sarah-Jane Spilsbury. In 2019, she appeared in an episode of Silent Witness, and in 2020, she appeared in Get Even as Mrs. Baggott.
Shannon is paraplegic due to a severe diving accident when she was only 14 years old. Before her accident, she had always wanted to be an actress. She attended the Anna Scher drama school from the age of eight up until her accident. Then in 1994, her friends entered her into a modeling competition, model in a Million,  advertised in The Sun, which she won and was given a contract with the VisABLE People Agency. This was the starting point of her modeling career. She was the first disabled model to feature in a high-profile advertising campaign for the British store Debenhams in 2010. And now her efforts and persistence have made her a well-known model as well as actress and presenter.
Instagram: shannonjo
You'll love reading more about Top Middle Eastern Male Models.
↓ 6 – Vicky Balch
Vicky Balch was 19 years old when the accident at Alton Towers theme park resulted in her having to have a knee leg amputation. When the accident happened, Vicky was a girl enjoying life. She was a student at Buxton University, where she was studying a Spa Management degree, was working hard, and liked socializing with friends. She had her entire life ahead of her and was looking forward to the future. The accident changed everything.
The accident happened when a full carriage was sent around the track, despite there being an empty carriage on the track at well. The carriages crashed, and the one carrying the passengers hit the rear end of the empty wagon on the track. Vicky received a multi-million-pound payout after losing her leg. But the process took its toll on Vicky, who described her compensation quest as 'stressful and depressing.'
This snapshot is from her modeling debut catwalk only four months after her accident. In 2017 she walked for label TeatumJones, along with several other amputee models. Vicky wore a figure-hugging, moss-green dress, designed by London-based duo Catherine Teatum and Rob Jones.
Instagram: balchvicky
↓ 5 – Leslie Irby
Leslie Irby was only 16 years old when she flew her first plane under a training program that helps African-American children gain exposure in aviation. Leslie was in a car accident in 2013 seven years after her flight, where multiple people died. Nevertheless, she was able to come back, and in 2020, she became the first African American female with special needs to receive a pilot's license known in history.
Leslie won Ms. Wheelchair Georgia 2015. From there, she became a featured Model alongside Top Runway Model Adriana Lima in NYFW. This marked the beginning of many now FIRST for Leslie. Modeling is her passion, and she refuses to let her paralysis preserve her and has done a number of achievements.
Instagram: idle_but_wild
↓ 4 – Wendy Crawford
In 1984, Wendy Crawford was going to the airport to catch a flight when a drunk driver's car collided with her car, leaving her a person with quadriplegia at age 19. She had been about to get on a flight to Tokyo for her first international modeling gig, and after the accident—and years of rehabilitation—she still dreamed of continuing her career. But no clients wanted to book her. In response, in 2006, she joined five other women to create Uncensored Life: Raw Beauty, an exhibition featuring stunning portraits of unconventional models.
As she grew up with a disability, she used it for a good cause. In doing so, she aims to change the meaning of beauty and be an advocate for women with impairments. She creates awareness by establishing communities for these women to take part in and learn from each other. She is also the managing editor and founder of an online magazine for women in wheelchairs, mobileWOMEN.org. Marvelous and fearless, Wendy's energetic attitude brought her back to the fashion industry. She is also an excellent motivational speaker.
Twitter: @mobilewendy
↓ 3 –
Alexandra Kutas
Alexandra Kutas is the world's first runway model in a wheelchair, first fashion model with special needs in Ukraine, an entrepreneur, a public speaker, and was an adviser to the mayor of Dnipro on the accessibility of urban infrastructure. Alexandra Kutas was born in Dnipro. Due to a medical mistake at birth, she suffered a spinal cord injury and has been using a wheelchair from a young age. While still in middle school, Kutas was a young journalist, and she entered a television and press studio.
In the summer of 2015, Kutas took part in Ukrainian Fashion Week for the first time. Here she met many fashion figures. On July 16, she presented in Kyiv a photo exhibition entitled "Break Your Chains." She was even featured in the American edition of The Huffington Post wrote. On December 5, 2017, Kutas was presented with the Kyiv Post Ukraine's Top 30 Under 30 award. She was the first model to get this honor.
Instagram: oleksandrakutas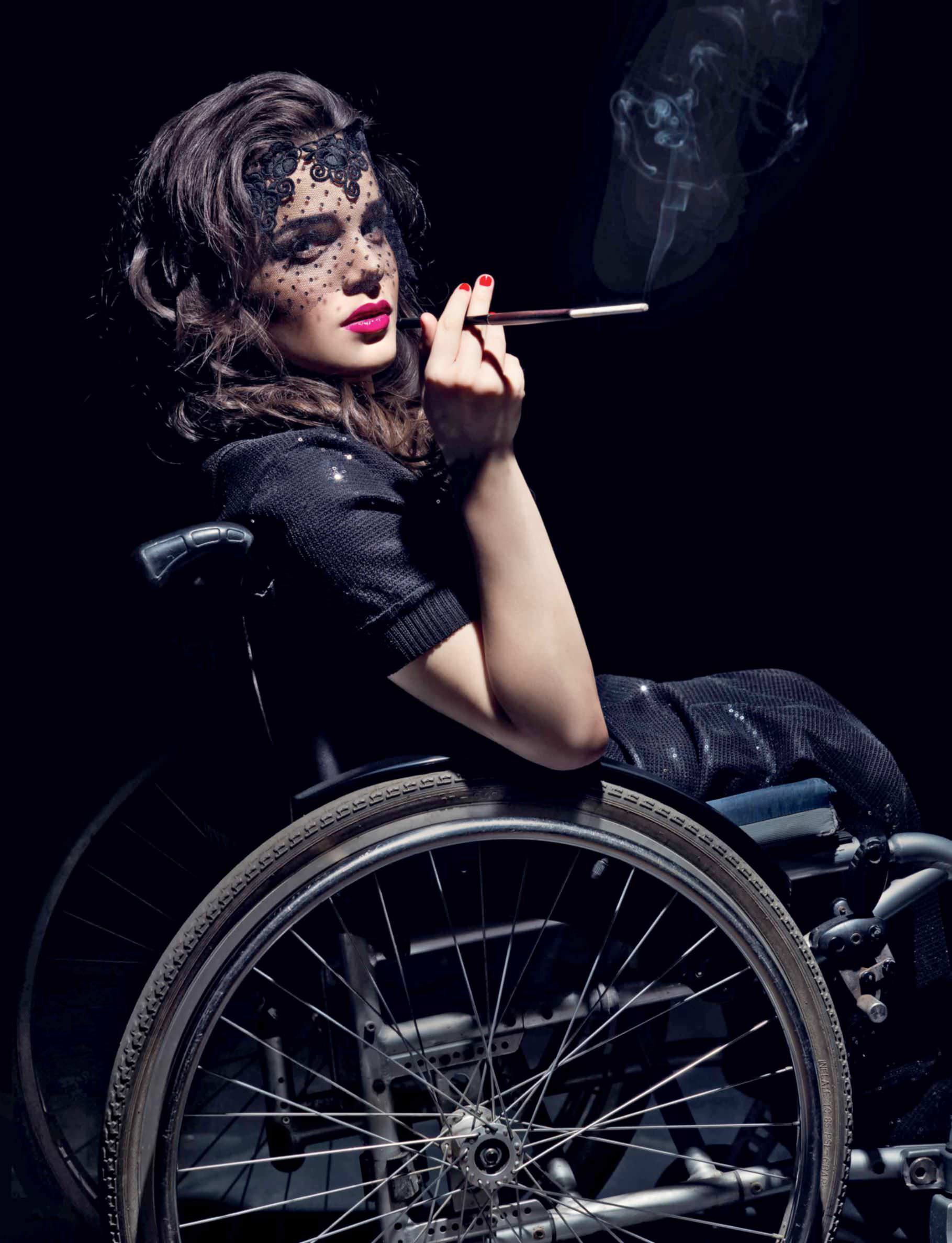 ↓ 2 – Jamie Brewer
Jamie Brewer is an American model and actress. Brewer grew up loving all types of the arts, especially movies and film productions. She started by taking acting classes in 1999 during her middle school years. In 2011, Brewer made her television launch as Adelaide "Addie" Langdon in American Horror Story: Murder House.
Brewer became the first female with Down syndrome, in February 2015, to walk the red carpet at New York Fashion Week. She walked for designer Carrie Hammer. Talking about the experience, Brewer said, that it was great how the fashion industry was including people with disabilities and termed it as a great opportunity for them. In February 2018, she became the first woman with Down syndrome to star in an Off-Broadway play.
Jamie has spoken time and time again for the empowerment of people with disabilities and is an excellent example of that empowerment.
Instagram: itsmemsjamiebrewer
↓ 1 – Ellie Goldstein
Ellie Goldstein is a British model with Down syndrome. Goldstein was born in Ilford, Essex. She is represented by Zebedee Management and has been modeling since she was 15. She is studying performing arts and has worked on campaigns for Nike, Vodafone, and Superdrug.
In November 2019, Gucci and Vogue Italia scouted Ellie, at just 18 years old, during the Photo Vogue Festival as part of their digital editorial on "Unconventional Beauty." Goldstein is the first model with a disability to represent the Gucci brand and model their beauty products. Goldstein told British Vogue that she felt amazing and fabulous because she got to be a part of the Gucci Beauty campaign. She said she feels proud of herself that she was chosen for this opportunity.
She is a young and an up and coming sensation. Her smile and positivity are truly inspiring.
Instagram: elliejg16_zebedeemodel
Q. Who is the most famous disabled person?
A. It is hard to name one person when faced with such a question but we think from people like Albert Einstein, who had a learning disability, to Cher, who has dyslexia, it is apparent that all walks of life have examples we can take inspiration from!
Q. Is it okay to say Special Needs?
A. There has been a debate for years over what words are appropriate and which ones aren't when addressing or talking about people with disabilities. One phrase, however, has been agreed upon by all to not be used. That is the phrase special needs. It is hence desirable to avoid using this phrase.
Q. How do I become a model if I am disabled?
A. First, you will have to build a portfolio and today the best way to do that is social media. Make your social accounts public and post pictures on them that you think will help make a good impression. Set up photoshoots to capture your beauty and resilience. Just like applying for any job, you will then have to look for a company to work with. Look for modeling agencies that hire disabled models. Contact them and let them know about your socials so they can look you up and access your capabilities. Then wait for them to contact you!