Best Swag Outfits for Teen Boys: In the post-summer period, as the weather hits the bearable comfort zone for all of us, our willingness to dress the best grows on and on. And finally, we too hit an aggressive urge to liven the swagger in all of us. So ease up your inner swagger and make it the best in the age, below are some exceptionally stylish and swag-like outfits for our classic male youth.
How to Wear Swag Outfits for Teens This Year?
Teenagers love swaggy outfits, and this isn't something new. We have seen teens follow swaggy outfit trends over the decades and nothing has changed to date. However the style is a lot more trendy now, and the teens of today are much more groomed. They are well aware of the latest trends and styles. Also, since it's the age boys are mostly in their school life, they prefer to dress well, be the cool boy amongst friends and try to impress girls as well.
Also, have a look at 20 Best Casual Outfits For Teenage Boys To Wear In 2021.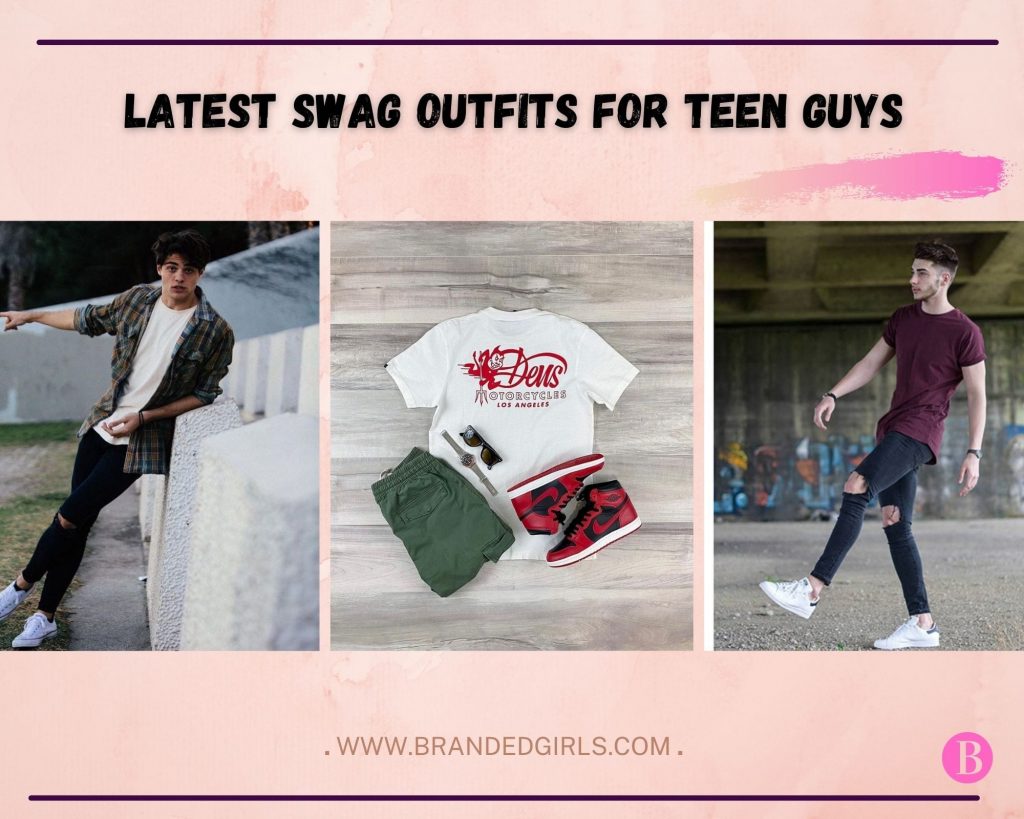 Do's And Don'ts Of Wearing Swag Outfits For Teen Boys
Sometimes, in an effort to create the perfect swaggy outfit, teenage boys make very typical mistakes. Therefore we are here to guide you to make sure you achieve your best look. 
The more colorful you are, the more swaggy you will look. You need to make sure you add a pop of multiple colors to your clothes or accessory otherwise your outfit will look dull and boring.
You must have accessories that should include a watch, neck chain, a cap, a pair of sunglasses, and some artistic phone covers.
Your footwear must include vibrant colors such as a pair of red sneakers or blue sneakers with a flame design on them. 
Scarves are also a recommended accessory for teenage boys. They can elevate your fashion sense in a way no other accessory can.
Don't wear every clothing item in one color. This will make your outfit look like it wasn't carefully thought through. Make sure there is a balance of colors.
Don't be afraid to try new hairstyles with your outfits. Get a lot of gel tubes and go crazy with your hair! This will definitely add an element of swag to your outfits.
Also, have a look at 20 Most Popular Teen Clothing Stores [Updated] In The World 2021 List.
↓ 17 – How To Wear A Floral Shirt?
Nothing shouts out about the boldest swag as this outfit below does. So glide on this unique preference of clothing and accessories and show up with the most stunning swagger.
For this look, you will need a cool floral printed shirt, which will make you stand out in the crowd. The floral print on your shirt will breathe the swag into your summer fashion. To make your outfit more awesome, you have to pair it with shorts.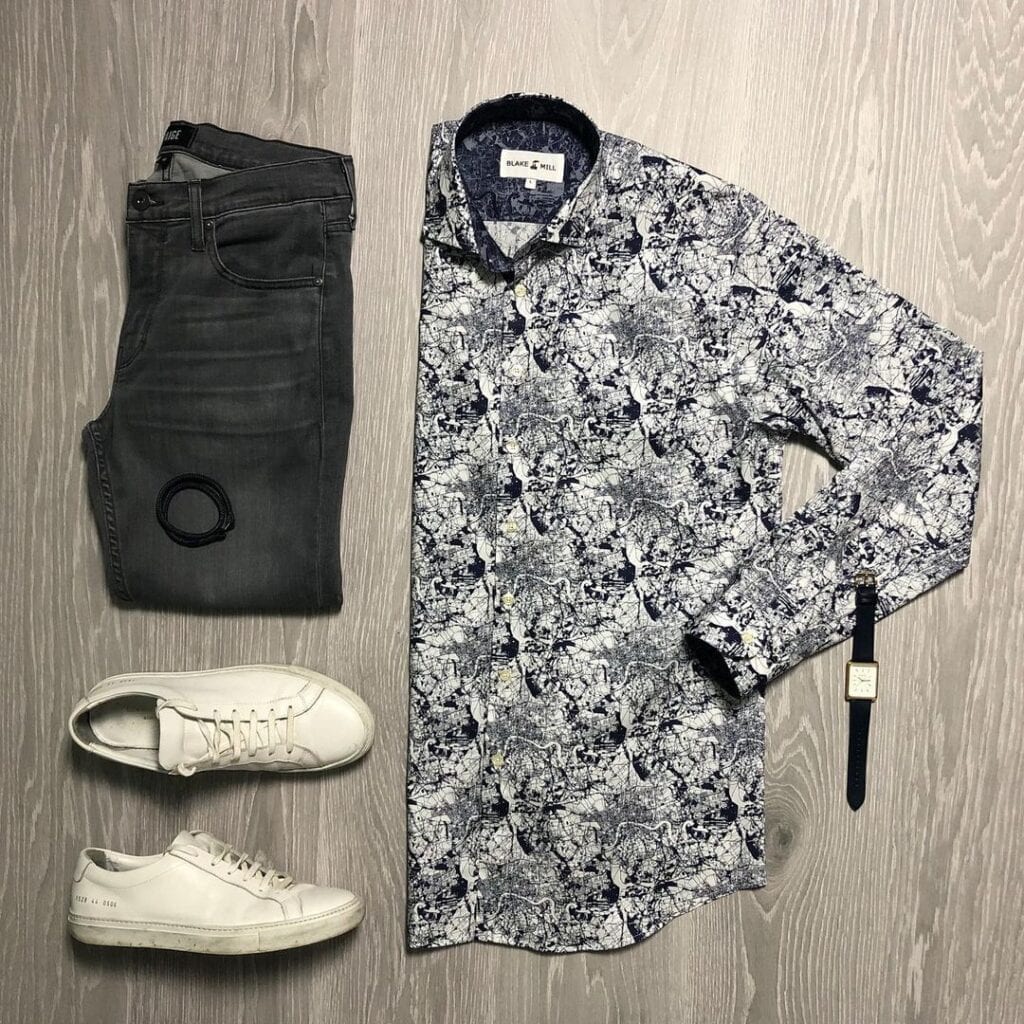 WATERCOLOUR SHORT SLEEVE SHIRT £95
↓ 16 – Catchy Boyish Swag Outfit
Bring out the ultimate hotness and glamour in the color red by indulging in these stunning and gorgeous red accessories items, clothing, high boot shoes, and skull goggles (which has to be the oddest yet coolest accessory).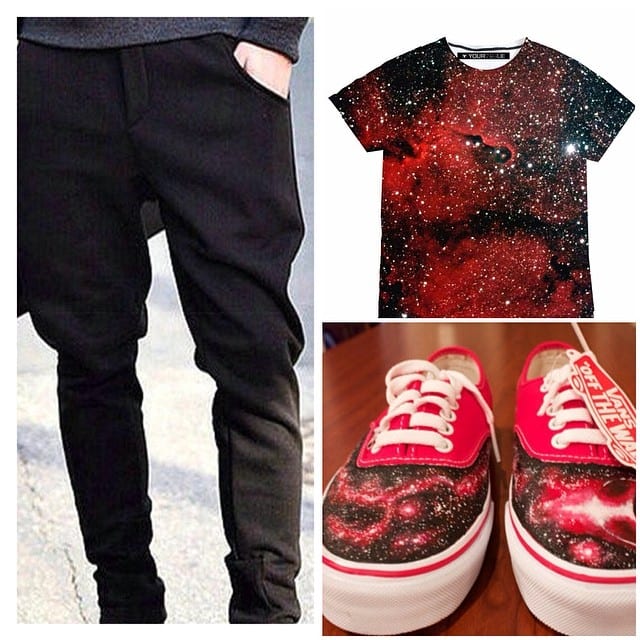 Galaxy Shoes $64
↓ 15 – What To Wear On A Hot Summer Day?
Who knew swag could be simple, summer swag outfit for guys do not always have to be in bold and loud accessories. You can be just as much as glamorous in something light as this.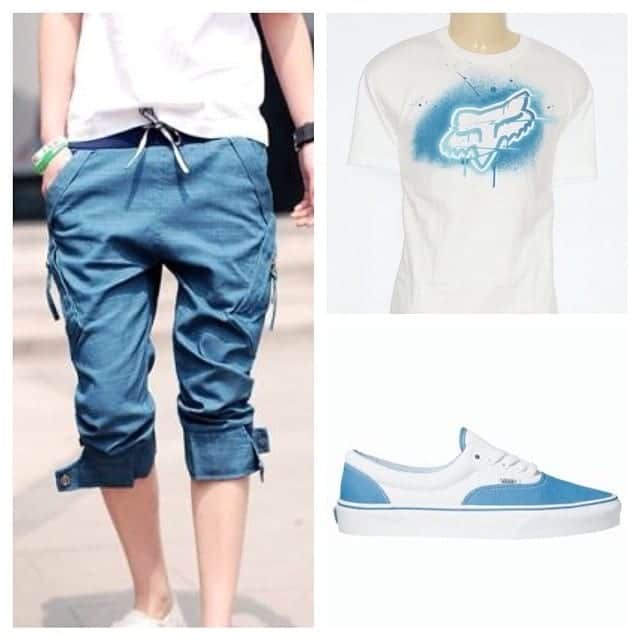 ↓ 14 – Winter Swag Outfit For Guys
It is probably not swag until it is hugely sassy and wildly chic. Do not miss out the chance to have a blissful day out by flipping this one aside. Simple clothing and accessories but nevertheless, very appealing and luxurious. The goggles and the fragrance are flawless all along.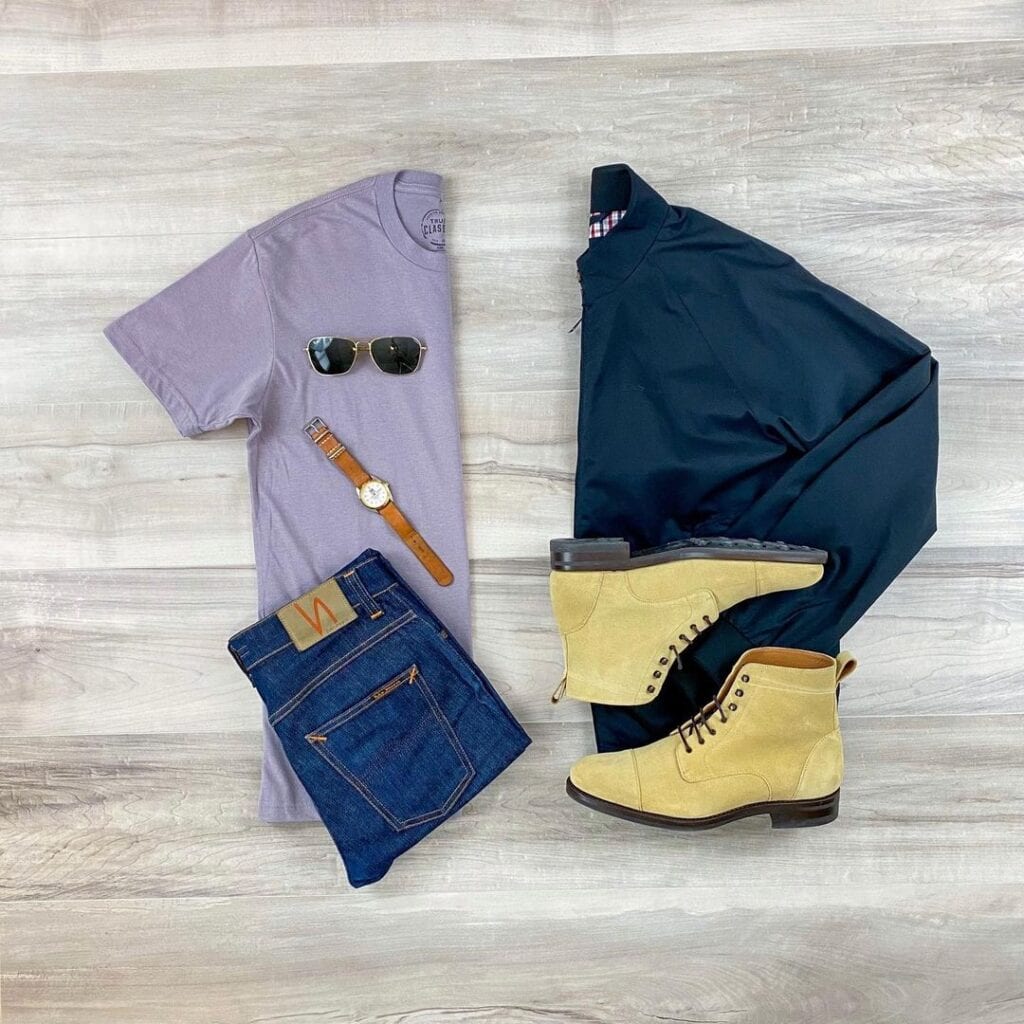 Lavender Mens Basic T-Shirt $19
Timberland Wheat – Yellow €119
↓ 13 – Swag Outfit For Guys With Jordans
So what if you are no longer 16 to show off your utmost swagger, what you should know is that swag is never age-restricted. There are always ways to give off the perfect swag vibes, which will make you look more dashing than before. This post-teen outfit has high levels of swag even with all the adult preference of outfit.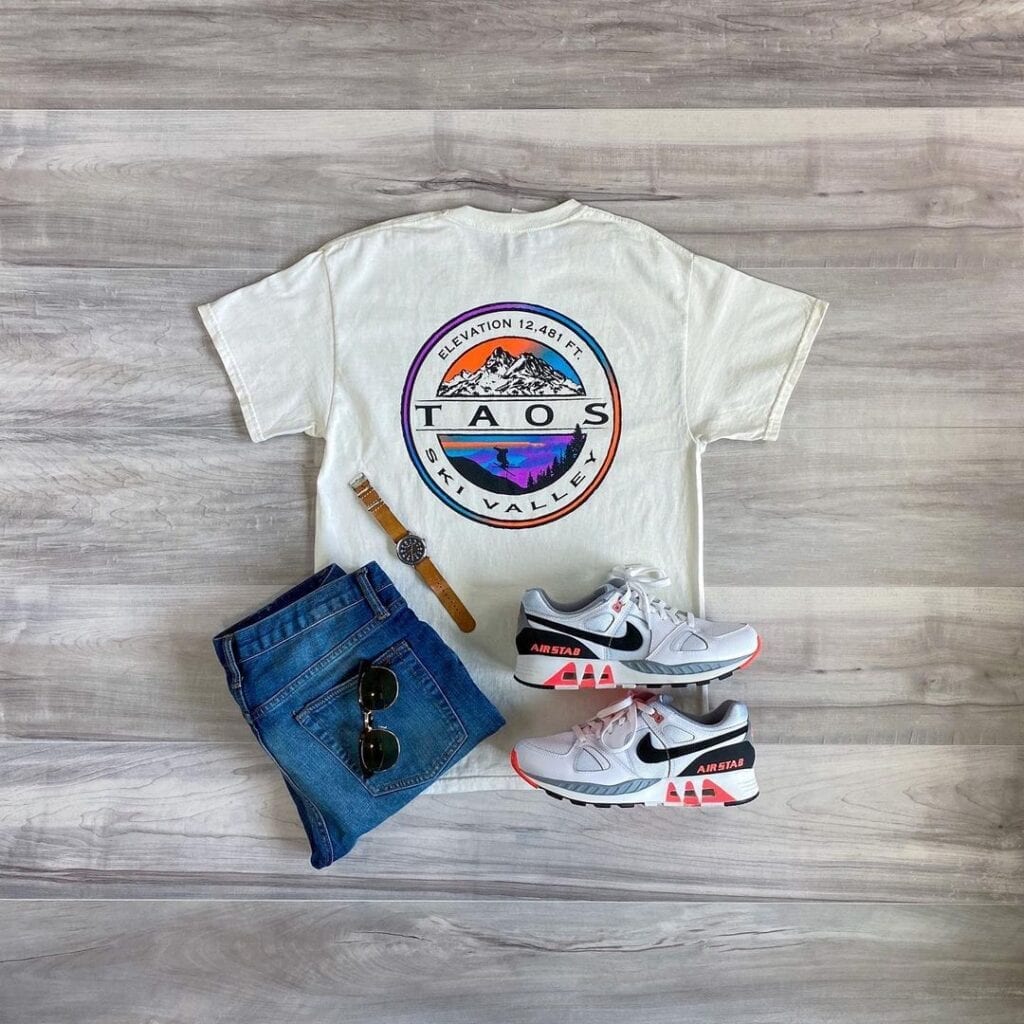 ↓ 12 – How To Get Casual Street Style Look?
Your teen years are the timeless period of your inner swagger and wherever you go, your swag will be there. Even in a casually simple but unique street outfit, your ultimate swag is never left behind, but is rather thrusting forward and reaching full awesomeness.
Sunglasses are an important part of acing the street look. They provide immense protection to your eyes from harmful sun rays, sand, dusty wind, and snow. But on top of that, they make you look not only chic but also completely transform your whole look and gives it an effect that no other accessory can.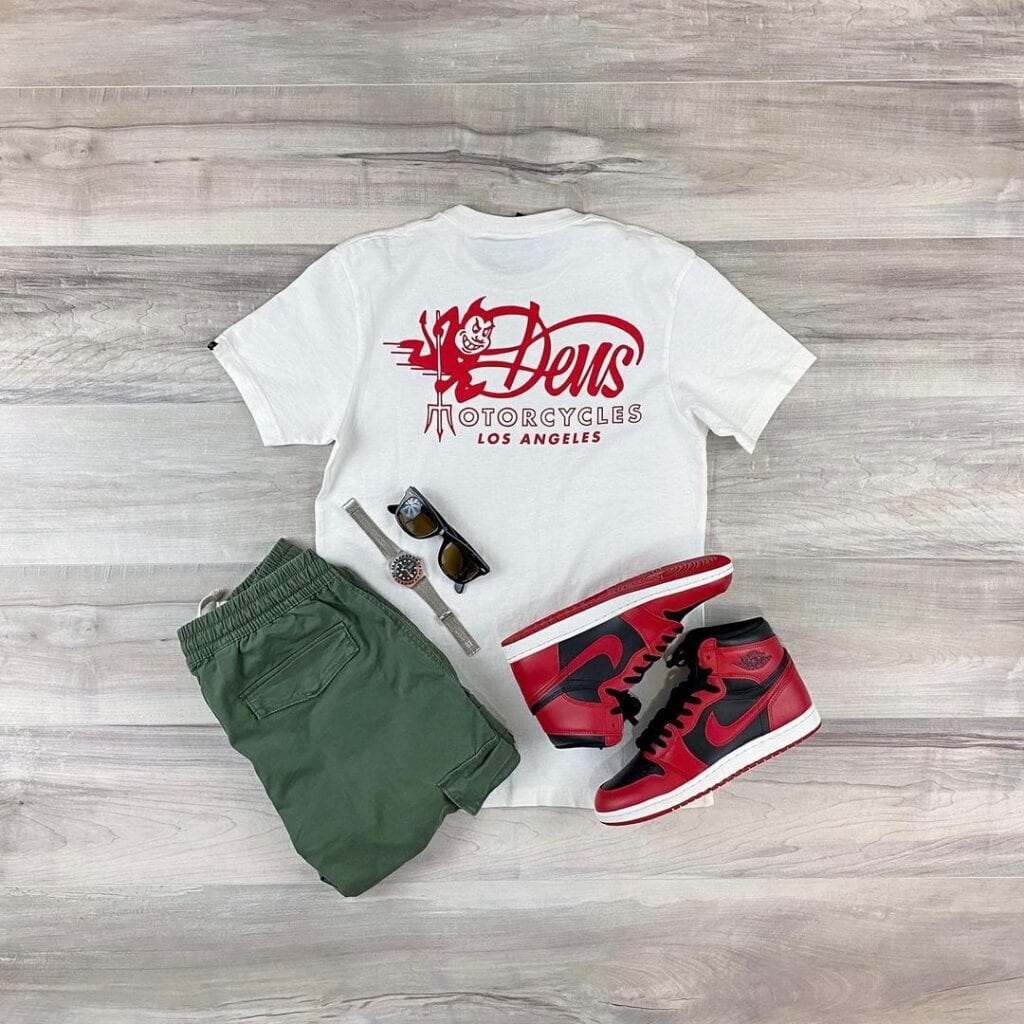 RAY-BAN MEN'S SUNGLASSES
 ↓ 11 – When to Wear A Leather Jacket as a Teenager
Yes there is a term, luxurious swagger and this is when you are glided in too much of awesomeness to be described in words. The leather jacket, the branded cool watch and the sassy leather converse shoes are overreaching the heights of classiness.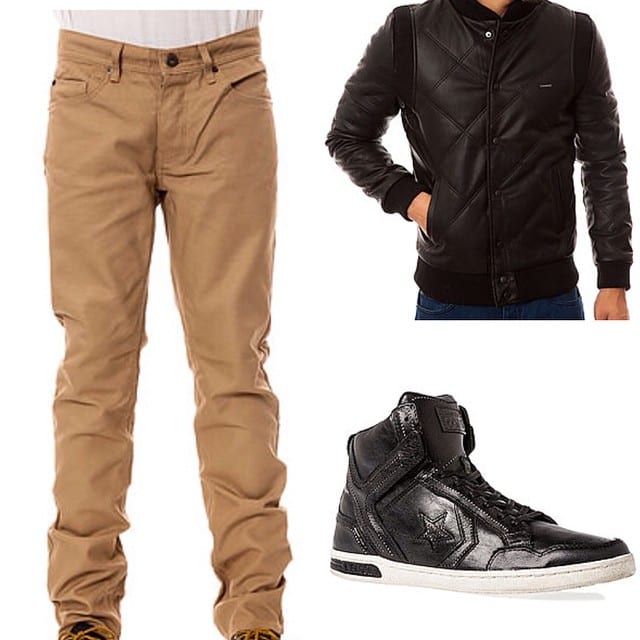 Black Johnson Leather Jacket $149
↓ 10 – How To Get A Simple Summer Look?
You know you are too awesome when you are able to bring out your swag even the in the simplest outfit you can imagine, which simlataneously carries the formality and the sophistication too.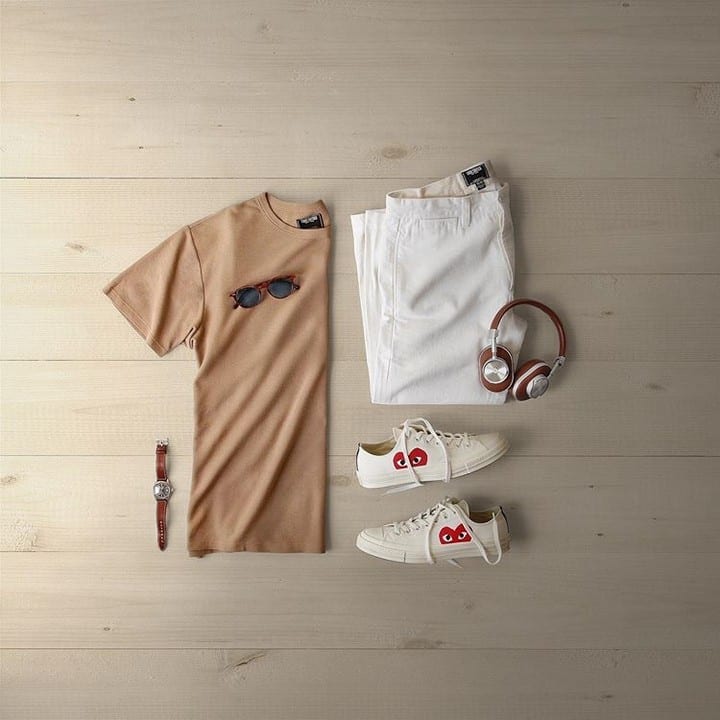 ↓ 9 – How To Dress For A Formal Event As a Teenager?
Getting formally dressed while looking swaggy at the same time can be very tricky. But do not worry, we are here to provide you with a range of options that you can use to create a formal look, bursting with swag. 
To achieve this formal look for teenage boys, you need to make sure you have all the elements you need. You will need a button up shirt, which can either be collared or round necked. Then you will need a coat of blazer, which will be the top thing giving your look a formal touch. Next, you will need squeaky clean leather boots in black or brown colour. Last but not the least, you will need the most important formal accessories such as a colorful tie, a shiny watch, a pretty pocket square and a good-looking belt.
On your way to a formal occasion, own the best chances to nail perfect swag style by picking these sensual wardrobe items and by putting on an erotic fragrance to stun everyone you pass by and leave an everlasting essence. Anyone who walks by you will surely remember you by your signature scent.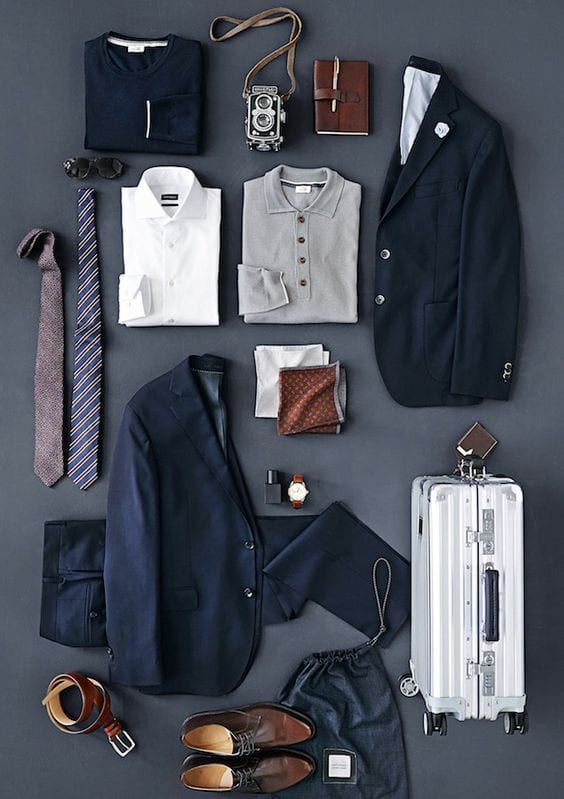 ↓ 8 – How To Dress For Fall?
This is one of the swaggiest outfits for fall. All the elements that put together this outfit are also casual and timeless. T shirts in the color Dark blue are known to steal hearts. Now when you pair them with an earth toned trousers, white sneakers, sunglasses and a swaggy cap, you'll have an outfit for days. You should also add other swaggy accessories such as a watch and headphones. They will certainly make you look more attractive than before.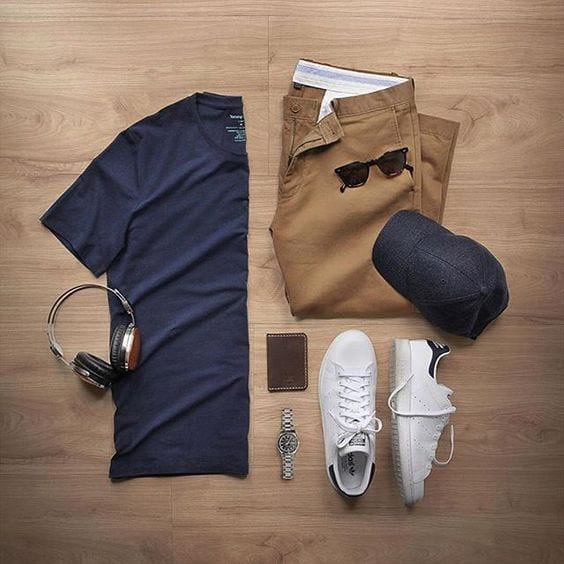 ↓ 7 – How To Style A Checkered Over Shirt for School?
Check print has been a classic print since the beginning of time. It has been widely known for its simple yet sophisticated appearance
This pattern has become an essential part of the fashion industry.
To style a Checkered over-shirt, you'll need a thin plain T shirt to wear underneath. It will be best if you choose different colors for the ultimate swag. Layering clothes thoughtfully always creates a splendid outfit. Different colors, matching or in contrast, gives the whole outfit a unique look.
You can wear denim jeans with this look and if you want to look cool, you can get a pair of Yeezys.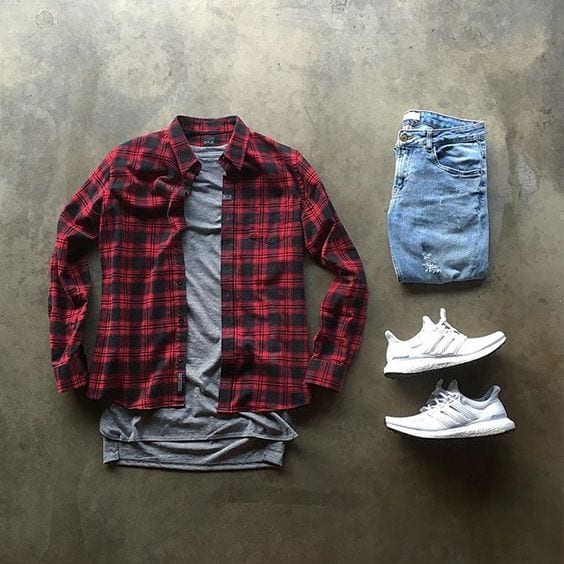 ↓ 6 – How To Style Shorts For A Perfect Summer Look?
Shorts are a versatile item of clothing in the boys wardrobe. They can be used to create a perfect summer look and hence, a swagging fit. For this outfit, you will need shorts of your favourite color and a white plain T-shirt. You can wear this with a cap, a pair of sunglasses and sneakers. This will create an outfit that will aid you in living the best years of your teenage life by spending it outside in the heat and going to the beach to take full advantage of the summers of our youth.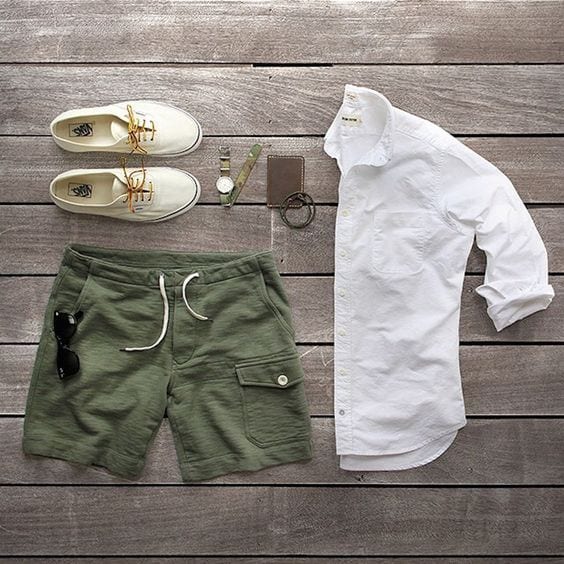 ↓ 5 – What To Wear To A Meet-up With Friends As a Teen?
Being a teenage guy, there are a lot of commitments you have to make, especially with your friends. Your friends will often ask you to meet up with them and this will put pressure on you because you will want to dress the swaggiest amongst the rest. Here is an outfit that will make you feel confident in your look. You can wear this white T-shirt with a graphic design on it. Pair these with olive green shorts in the summer and olive green-colored pants in the winter. You can wear your red Nike's to match the design on your shirt. Red Nike's will also make you look unique amongst every one of your friends. Don't forget to wear sunglasses and watch with this fit.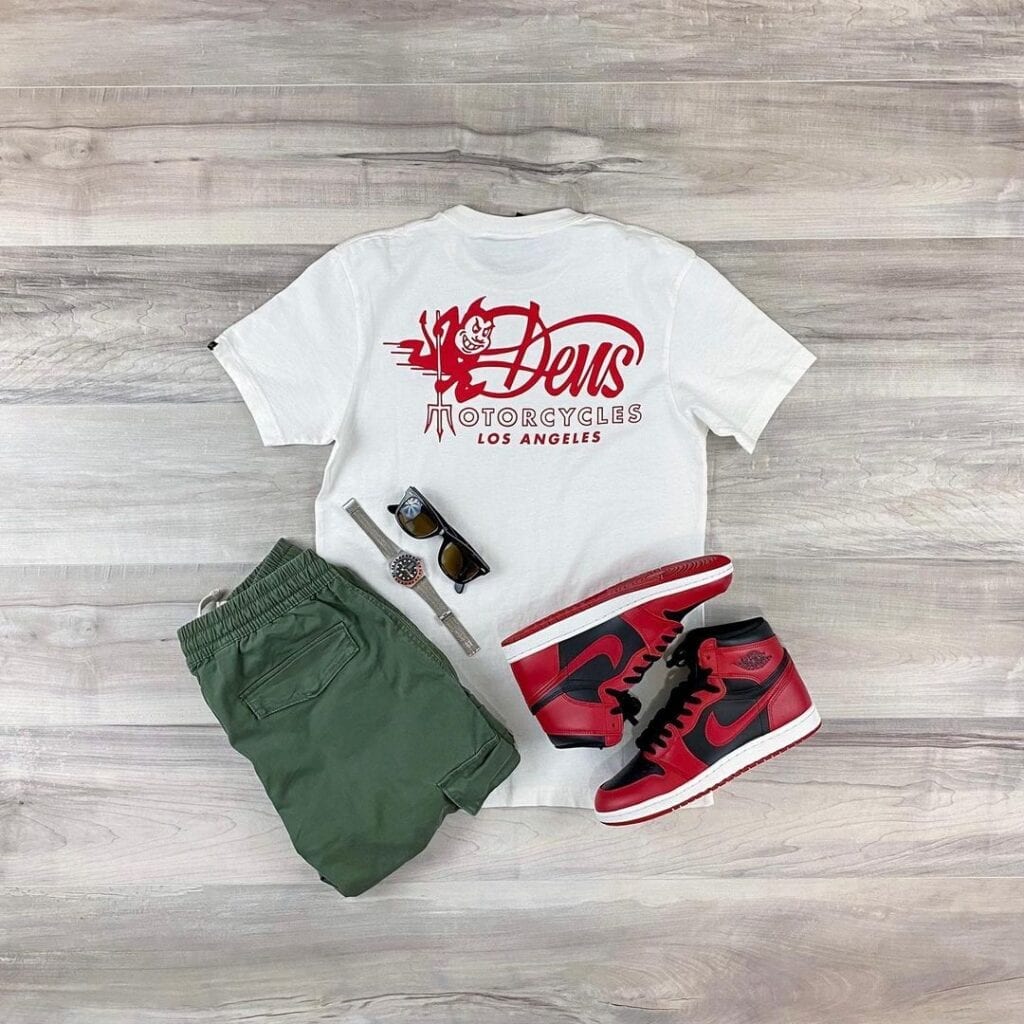 ↓ 4 – How To Style Khaki Pants In The Summer?
In the summers when you need to style Khaki pants, you need to make sure that you wear a sober top. This will ensure that it does not outshine your khaaki pants and lets it stay in the spotlight. We would recommend you to buy yourself a moss-green shirt. It will not only look the best with khaaki pants, it will also complement most of your jeans or shirts. There is just something incredible about this shade of green. To make your look stand out, we will obviously recommend you to wear white sneakers with this outfit. White sneakers can always elevate your outfit and make people praise your fashion sense. Don't forget your summer essentials such as a cap to provide you shade, sunglasses and a watch.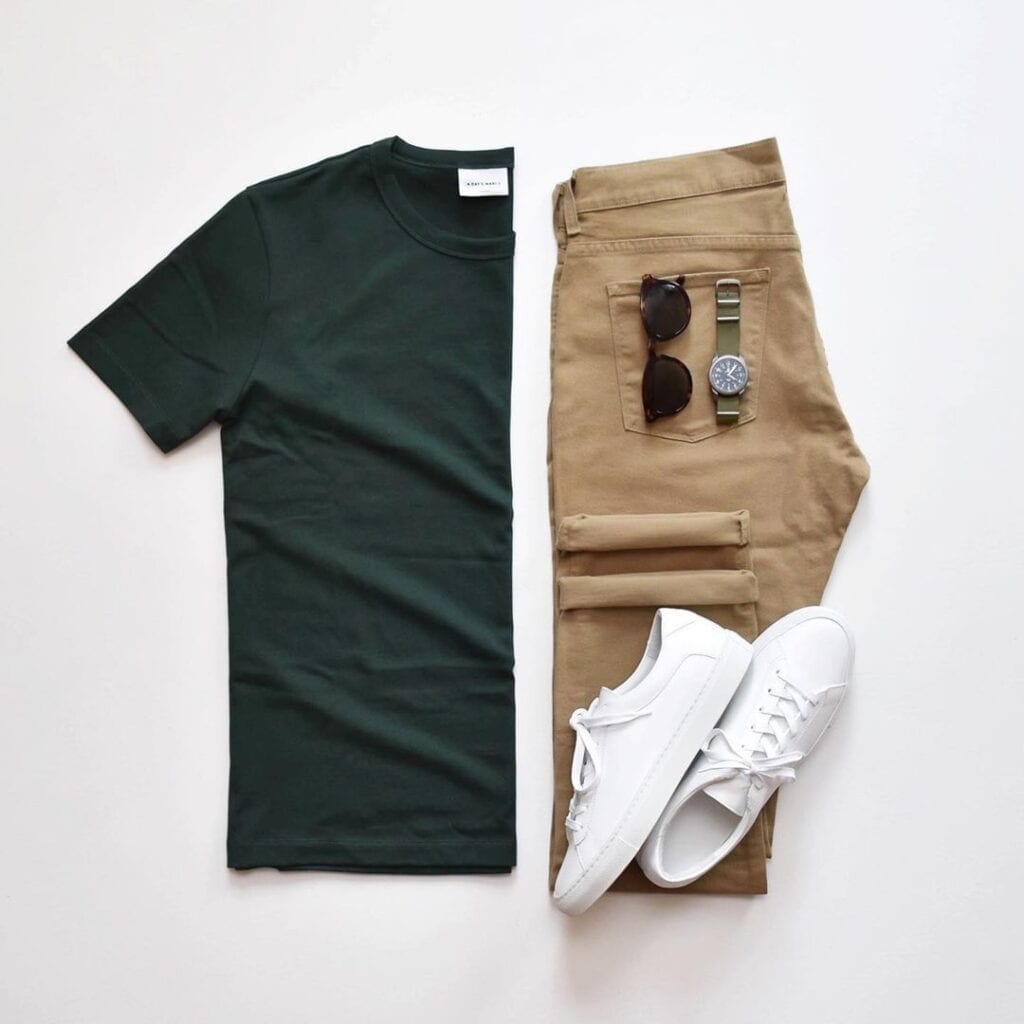 ↓ 3 – What Should Short Guys Wear To Achieve A Swaggy Look?
We are all created equal and we are all beautiful in our own unique way. Instead of feeling insecure, we should embrace and accept ourselves for the way we look. This is the first step in spreading body positivity. However, some people still need some advice to boost their self-esteem when it comes to their looks. Your confidence can definitely be boosted by the correct form of clothing.
Some short teenagers want to appear tall. They can achieve this in a very simple way. First, you would need to buy a shirt with has vertical stripes on it. This will allow you to look taller than you actually are. Secondly, you would need sneakers or joggers which have a high sole. This will also add a few inches to your height. Thirdly, you should make a hairstyle such as spikey hair, which will also make you look taller by its length. These tips are also recommended to achieve a very swaggy look.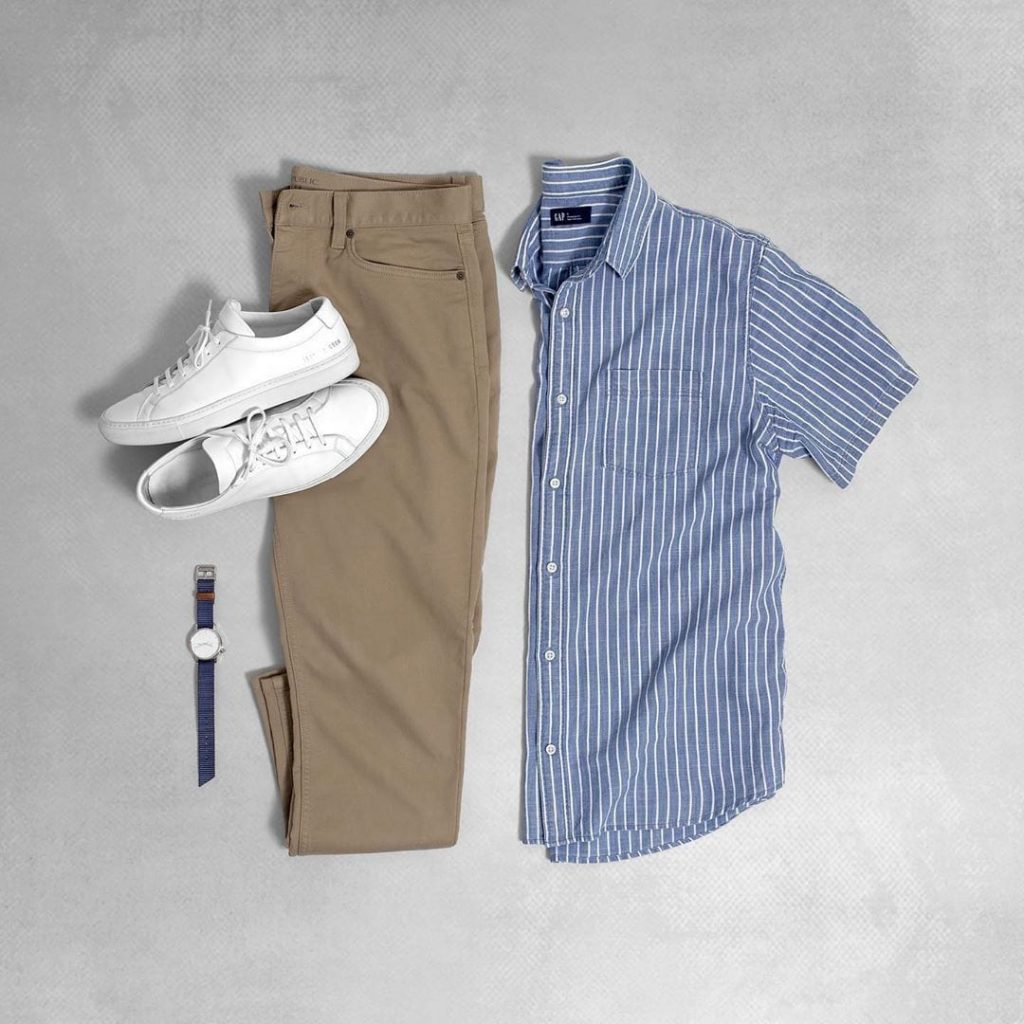 Vertical Lines Shirt $18
↓ 2 – What To Wear To Look Effortlessly Cool?
During our teenage years, we all want to look extremely cool and swaggy without having to put a lot of effort. Luckily, your clothes play a big role in making you look cool. Hence, our next recommendation. To look cooler than most of the guys your age, you should buy a couple of solid color T-shirts. But most importantly, you should have a pastel blue colored T-Shirt that you can wear with shorts. This 2 piece will be a sight for sore eyes for everyone around you. You can wear this set on a summer day, letting the light color reflect the hot sun rays. This ensemble will keep you feeling cool and looking fresh all day long.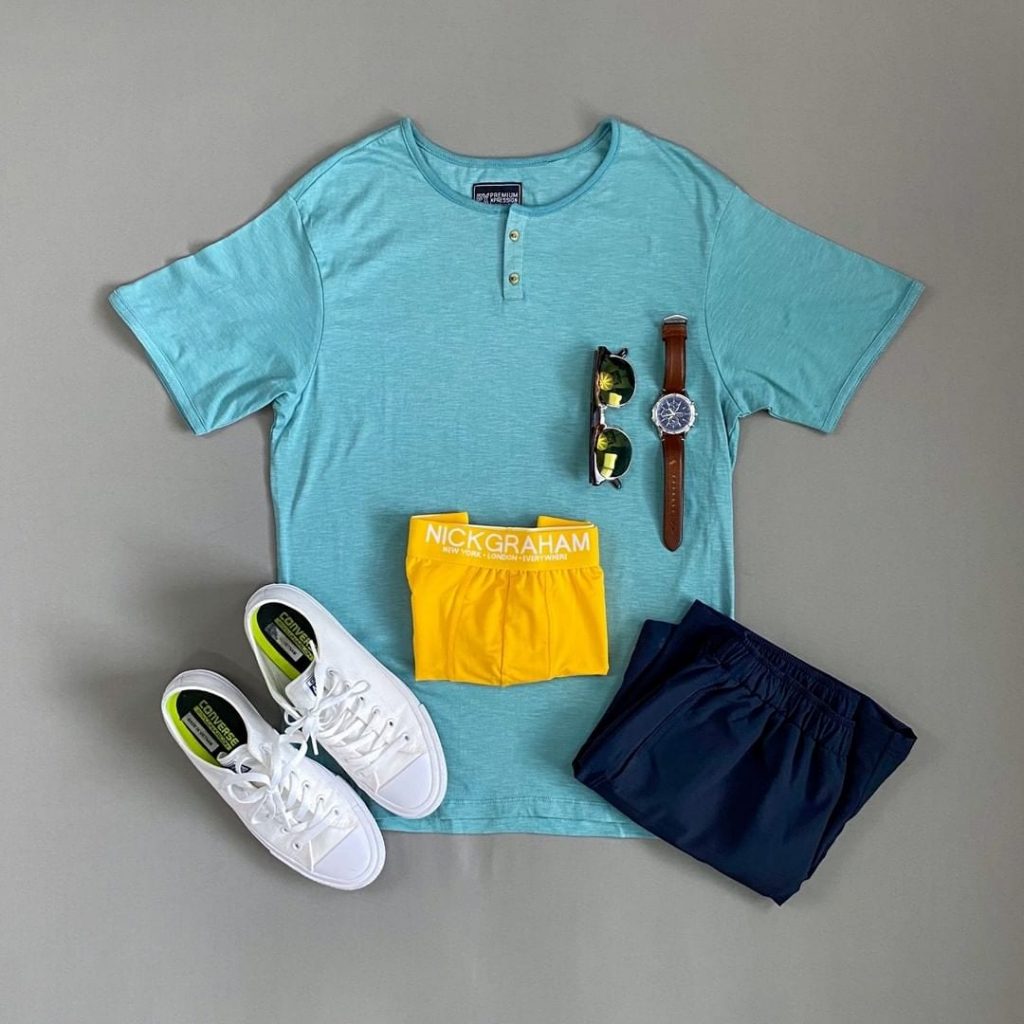 Infinity Colored Sunglasses $19
↓ 1 – What To Wear With Camo Pants?
Are you going with your friends on a trip to the mountains? Or have your friends invited you to go with them for duck hunting? Or are you simply confused about what to wear with that classic black t-shirt you have? Do not worry, we have the perfect solution to all of these problems: Camo pants!
Camo pants are inspired by the military uniform of USA. They have become a fashion statement in the past few decades. They are also increasingly popular when it comes to adventurous days. Therefore, we would advise you to wear your camo pants on days that you know will be adventure-filled. They also have a unique quality of camouflage, which is where they get their name from.
You can style your camo pants with a black or brown shirt and some chunky black boots. This will give you the ultimate military feel and make you appear swaggier than the rest.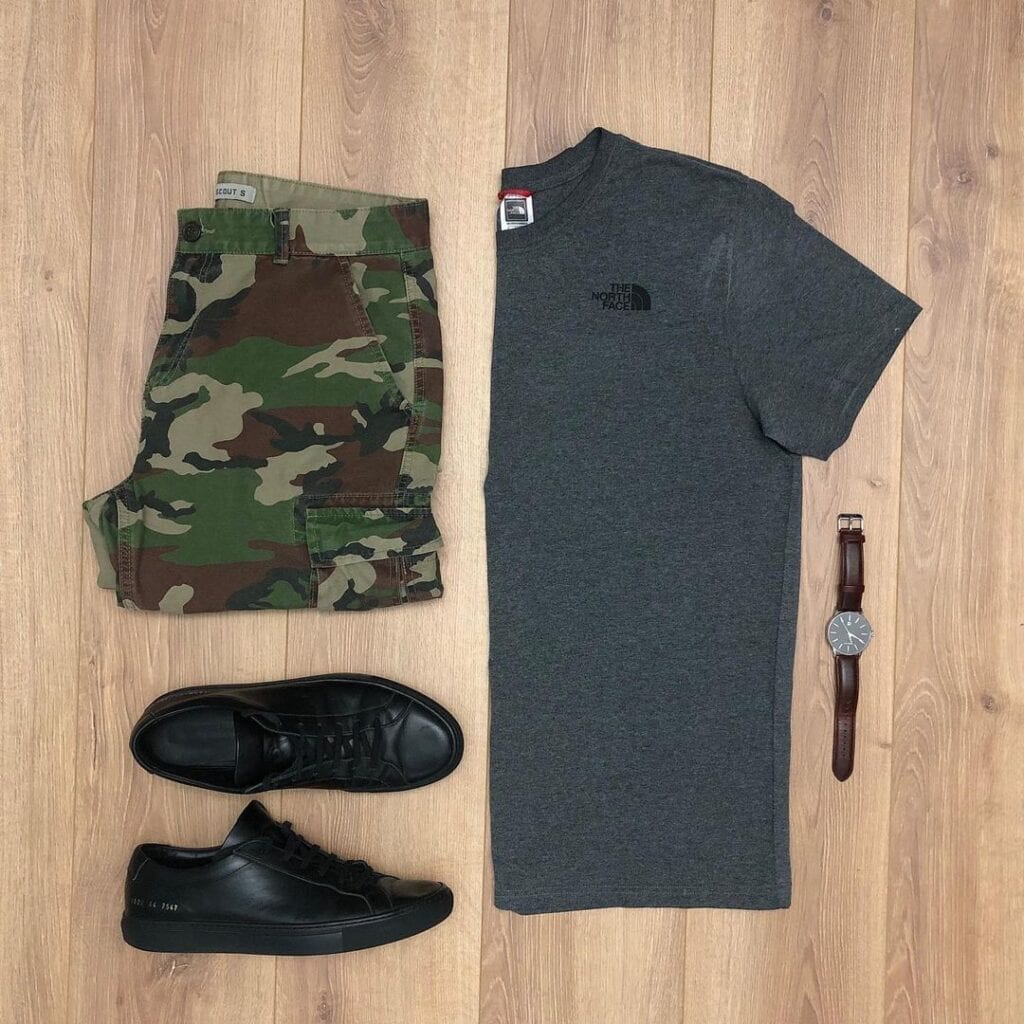 FAQs
Q: Can you wear swag outfits all year round?
A: Yes, you can. They are timeless.
Q: Can grownups dress swaggy too?
A: Yes! Anyone can dress with swag, there is no age limit.
Q: Where to buy teen clothing?
A: Have a look at Clothing Brands for Teenagers-Top 10 Teens Fashion Brands for finding the best teen clothing brands.