Strapless Dress Outfits. Thinking to wear Strapless outfits? Then don't confuse yourself by looking at multiple sites with differing ideas and tips. We are here to give you the ultimate guide on how you can dress beautifully with a tube top. You can wear it casually, formally, or at various combinations.
You can wear it in summers with skirts or jeans and in winter with jackets or coats. Just enjoy your dress and play with different styles of strapless tops. Be confident in your own skin, and you will good to go! These outfit ideas for tube tops will surely make your life easier and trendy at the same time!
Trendy Ways to go Strapless
You can wear strapless tops in many trendy ways. These include pairing them up with different kinds of bottoms and layering up using jackets. In this article, we take a look at below different ways that you can style your favorite strapless shirt and do a deep dive into each combination's worthiness. So read on!
↓ 23 – Black and White Printed Bandana Top with Skirt
Bandana tops are the new trend in strapless shirts these days. These are a little hippie and a little chic. A black long skirt with a printed stylish top is giving her an out of this world look. This dressing will look adorable for slim girls. The skirt is a gorgeous piece with layered flaps ideal for showing some leg without having a slit. The heels are an absolute dream, and we think the simple bangles bring the whole look together really well!
↓ 22 – Colorful Look for Spring
This colorful printed top is a sight for sore eyes. The bandeau top is frilly at the hem, which gives it a fun edge. If you are conscious about your stomach, then you can definitely invest in this ruffled shirt. The simple pair of jeans are easily adaptable. The red heels really give the look the ultimate fierce vibe, and the square hoop earrings look super stylish!
Have a look at our earlier post about Stunning Spring Outfits Ideas for Plus Size Ladies.
↓ 21 – Stylish Ripped Jeans with Mustard Top
Mustard strapless top with sleeves is looking very decent. Ripped girlfriend jeans are giving this outfit a stylish look. This look can be carried casually. You should wear a layered necklace with it as it is really trendy these days. You can tell how simple the girl's look is in the picture below. This is a great outfit for a casual day at the mall with your friends or when you are just going to get your nails done. This look can work for anything!
↓ 20 – Celebrity Inspired
Super Model Lily Aldridge paired black tights with her strapless top. Wearing pretty accessories is adding style to her outfit. Our favorite part of this outfit are the bangles on her upper arm. We haven't seen this look in a long while, and we think it's really cool. The print of the bandeau top is also stunning and works well with the gold accessories. The heels are the perfect final touch to this fabulous outfit!
↓ 19 – Summer Wear
This denim strapless romper is super cute and great for hot summer days when you simply do not have the energy to pull together matching pants and shirts. Just put on simple accessories like dangling earrings and a simple necklace. Just grab a purse that you like most, and you are all set for the day!
↓ 18 – An Idea for College Students
A simple printed strapless top with jeans is a perfect look to wear to your early morning classes when you do not have the energy to think of something glamorous. A necklace with your name is a dainty accessory that adds extra worth to all and every outfit you can wear. You can also carry a backpack for your belongings that will go well with this casual outfit.
source
↓ 17 – Outfit for College Girls
Maroon Strapless top with black jeans gives a classy look. This outfit looks very pretty and suitable for college girls. You can also spice it up by wearing a statement necklace. This will make it fancier, and you can wear it to college events and parties like your orientation week events during your first year. The strappy heels look amazing with the whole outfit!
↓ 16 – Girl's Night Out Outfit
This purple chiffon shirt is perfect for a night out at the club with your girlfriends. The smoky eye look and messy hairdo look really sexy, and the leather pants make them look fancier. The dainty necklace is a great choice if you want to stay lowkey, but in case you want to show your bold and fierce side, then put on some more accessories like a statement necklace or bangles.
Check out Black Girls Prom Outfits.
↓ 15 – Black and White Fancy Look
Black and white is a combination as old as time, and we think it looks amazing. A black strapless top with a bejeweled belt paired up with some white straight pants is a look that is incredibly divine. Put on big showy earrings and grab a sequined clutch to make it all the more glamorous. A simple eye look paired with red lipstick is a must-have for these occasions. So keep this look in mind the next time you have a formal event to attend!
↓ 14 – Yellow Top with a Bow at the Front for Summer Days
This look is a cool and laid back approach. The top is made out of yellow cotton material and has the cutest bow at the shirt's front hem. Palazzo jeans are also a great addition that most people would be too shy or scared to wear. But you can see here they look splendid! This shows that you should never be afraid of taking risks, as when it comes to fashion, risks are what make trends!
↓ 13 – Printed Top with Checkered Pants for Spring
This outfit is really classy and would be an ideal fit for more formal events. The bandeau top has a gorgeous print that goes really well with the checkered pants. The red lip color gives the look the final classy touches. This is another black and white option, as these two colors are made for each other. After all, opposites always attract.
↓ 12 – Animal Print is Trending Now!
This strapless jumpsuit look is another wow addition to this list. The leopard print is bringing out the model's eyes, and we think it will do the same for you. The jumpsuit is made out of a sheer material like chiffon, which is why we think it will be perfect for summer parties. The beachy wavy curls are perfect for summer as well, so make sure you adopt that style too.
↓ 11 – Kourtney Kardashian's Tube Top Look
The Kardashians are known to make trends go viral. And here we see Kourtney Kardashian doing exactly that. She is dropping her son off at his art class, but her outfit is making a statement. The color combination is perfect for fall, in our opinion, and the heeled boots really give it sexy vibes. Who said moms couldn't be hot?
↓ 10 – Golden Skirt with Black Strapless Top
The golden long skirt is looking outstanding with a black strapless top. This outfit can be perfect for a party where you are expected to be dressed fancy. The top is really simple, but all the fun begins with a long pencil skirt! This combination of black and gold is another fan favorite and works wonderfully for all women.
↓ 9 – Street Style Fashionista Moment
This gorgeous woman just walking down the street is giving us major inspiration for our next party outfits. The flowy skirt and delicate heels look stunning, while her the soft curls in her hair compliment the outfit wonderfully.
↓ 8 – Retro Checkered Two Piece
This retro checkered two-piece is giving us major Riverdale vibes, and we love it! It seems like the model stepped right out of the 1950s and came to our screens! We adore the beautiful shades of yellow and red as well.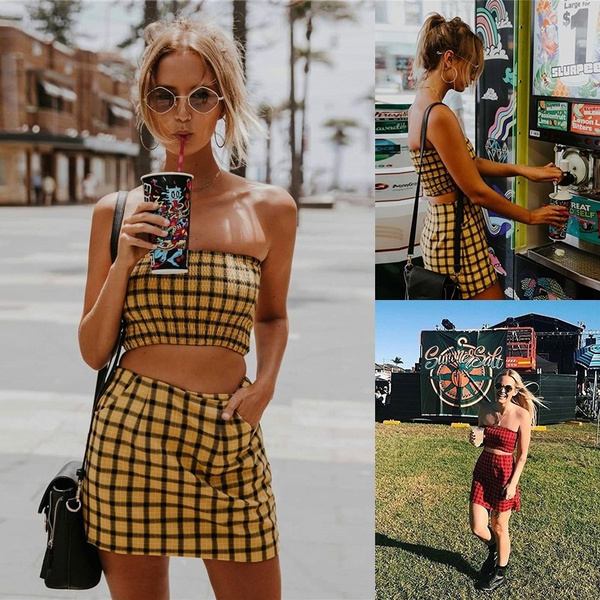 ↓ 7 – Trendy Floral Strapless Top
This bandeau top is really amazing due to its long chiffon tail. This would be a great outfit to wear during your vacation to Santorini. The model has paired it up with some simple white jeans and strappy sandals, and we think she looks divine!
↓ 6 – Basic Black and Denim Combo
This is the fundamental combination of a black top with simple denim pants. All the accessories match the tube top, which is making the outfit look really cool and swaggy. This is for younger girls, like college students, who need new outfit inspirations every day but do not have much time to think of elaborate matches.
↓ 5 – Simple Tube Top with Cardigan
This pretty combination will really look cool. Skinny jeans with a white cardigan and plain dark orange top will make a beautiful outfit together. The strappy sandals give it kind of a summery vibe, so maybe you should avoid those and go for a pair of sneakers or simple boots.
↓ 4 – A More Formal Take by Hailey Bieber
This one is a look that can be adopted for wearing to work. If your office is chill, then you can definitely incorporate tube tops into your work outfits. Go for an oversized blazer like Hailey Beiber but swap the pants and shoes out for more formal ones to make it appropriate.
An elegant and professional look, for some more great ideas like these, check out 15 casual work outfits for women.
↓ 3 – Go All Nude!
Nudes are always welcome, no matter what season or weather. Here we have a simple nude look that is both stylish and contemporary. You can wear it for running errands if you are someone who dresses up every time they leave the house, or you can pull it out for lunch with your girlies if you're lazy like us!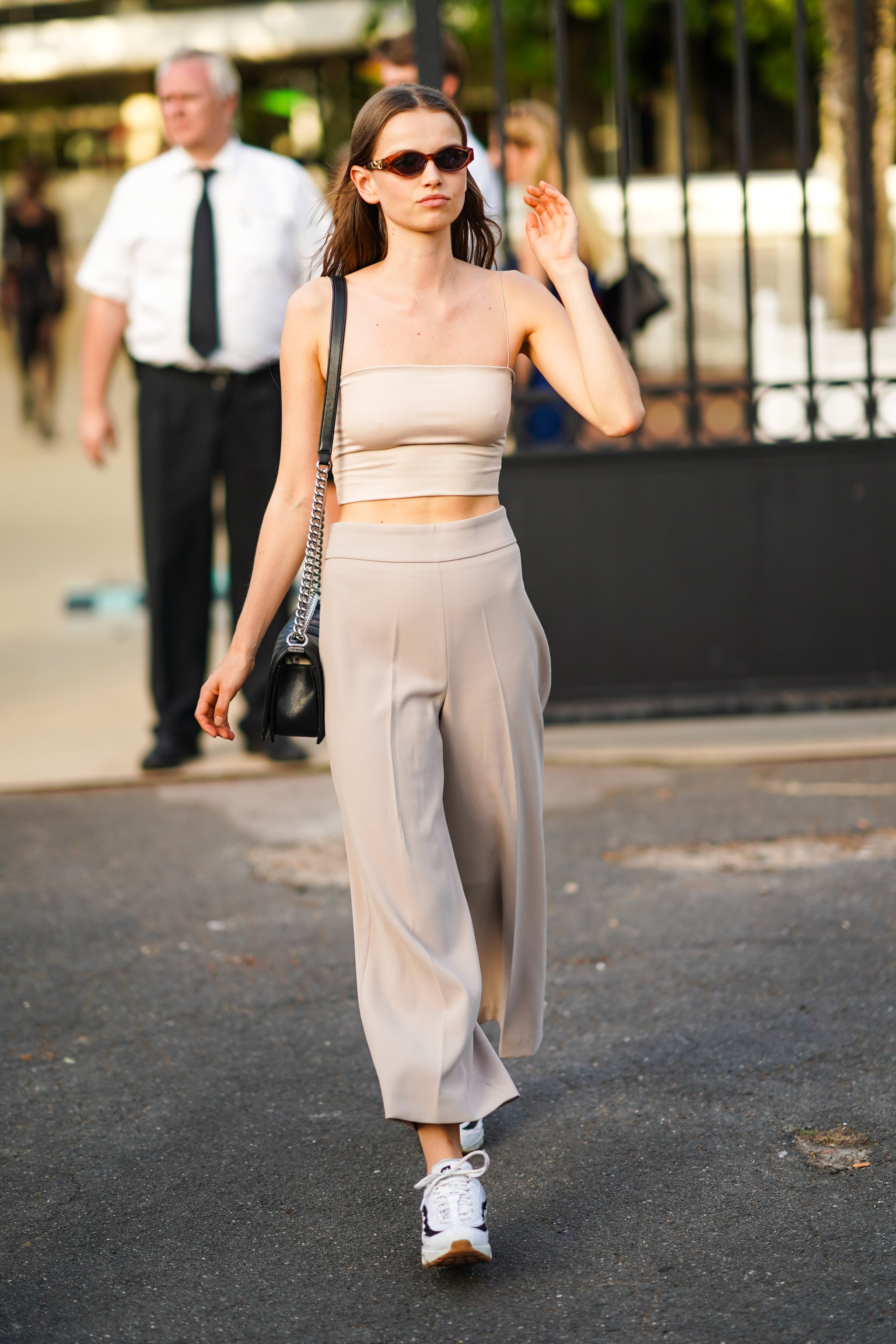 source
↓ 2 – Chic Black Jumpsuit
This jumpsuit is super casual and extremely chic. You can wear it to the mall, as seen below, as it is comfortable while also being stylish. It won't restrict your movements as you walk all day long shopping and will also give shop workers a good impression of your style sense.
↓ 1 – Sophisticated Look
This one is highly sophisticated and looks really professional. You can wear this to any formal events you might be attending this year, whether work-related or family-related. Keep it simple like the model below, and do not overdo it. Keep the accessories to some rings and delicate stud earrings while pulling on matching heels with your top to look effortlessly gorgeous!
Frequently Asked Questions
Q. What can you wear under a strapless top?
A. There are a few ways you can make sure your tube top looks good and feels comfortable. If you have a smaller chest, you can go braless or wear pasties. However, if you have a bigger chest, you can go for a strapless bra or a lacy bralette to add to your look. A stick-on bra is also a great idea if your bra's back clasp feels uncomfortable or looks weird through the shirt.
Q. What to wear with a strapless dress or shirt to cover shoulders?
A. Strapless shirts and dresses can sometimes become unflattering if meat under your armpits starts spilling over the bodice's neckline. In these situations, you can layer up and add in a jacket or a button-up shirt to look not only fashionable but also great.
Q. How can you stop your bandeau top from slipping?
A. The biggest concern women have while wearing tube tops is that they might slip and expose them. However, there are a few easy fixes for this. You can pin the dress or top to your bra, and that will make sure it stays in place. You could also get one with transparent plastic straps. These will make it seem like your shirt is completely strapless, but you will have the added protection.
The biggest and main thing you must take care of, though, is to make sure it's the right fit. If the top fits perfectly, then it won't slip. To achieve this, maybe go a size smaller than your usual shirt size when getting a strapless shirt. This will make sure it is tight and stays in place.