Stunning Spring Outfits. Say good-bye to your winter wardrobe and welcome all those glorious spring colors and garments every girl has come to love on an annual basis. But for plus size ladies what is best this season? What looks both stylish and smart? And what are the perfect accessories for plus size women? This article will cover these frequently asked questions and give you ideas for your own outfit. Also, check out some latest plus size fashion trends too.
Plus Size Outfits to wear In Spring
Most plus size women can be self-conscious about their size or exposing lumps and bumps that they would much rather hide. But instead of hiding away, embrace your shape and use your curves to their full advantage. Why not venture towards empire line maxi or wrap dresses? These shapes and styles are fantastic for avoiding any unwanted attention on your mid area and instead will create an hourglass figure by emphasizing the waist and ribs.
Spring season has finally sprung and you might be in a confused state of what to wear while making a transition to spring-summer season from cold freezing winters. As far as color combinations are concerned, you need to do the right mixing and matching of the outfits but being a plus size woman you need to make your choices rather more in smart ways. Be it casual or formal wear, plus size ladies should not hide behind in fashion race. Embrace your curves and do whatever you find best for you. You will be surprised to know that corset trend is back in town and it will magic if you are concerned about your increased waist size. If you are someone who loves to be comfy in every situation then go for a pair of jeans with a button down shirt to rock any occasion. If you want to show off your broad neckline, you can always go for an off-shoulder midi dress. If it's a bit cold in Spring season, go for layering up your dresses in a pretty cool way. The whole purpose is to embrace your curves confidently in whatever the dress you wear this Spring.
This article will cover the practical guide of perfect dressing for curvy women.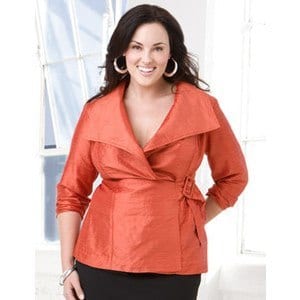 If you are more of a trouser type girl then why not try some three-quarter length linen bottoms or jeans with a wrap style top or vest? This combination is great for showing off your shoulders and taking the focus off any areas you worry about. The bottoms will put attention on your ankles instead of your legs which for some plus size ladies is a worry.
Ideal colors for plus size women in spring include purple, pink, sky blue, teal, turquoise, yellow and orange. Do not forget though that black garments can be worn in spring if matched with a color item of clothing.
Spring Outfit Ideas for Plus Size Ladies
↓ 27 – How to Flaunt Rim Hats with Spring Outfits?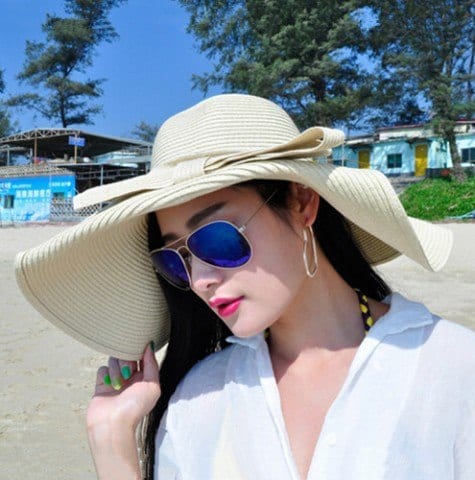 Wide rim hats are great for plus size women and in spring they add shape and extra color to any outfit. Sunglasses can be worn with an outfit as long as you choose a shape and style which suits your face shape beautifully and a color which either matches or contrasts accordingly with your outfit color. Great bags for plus size women are large handbags. This style of bag is lovely, especially if you are wearing an empire line dress as it will draw the eye line away from your mid area. Just to give a glare to any dress that you feel is too boring for the Spring Summer season, you can always go for heavy accessories to help you flaunt the style confidently.
Why not have a look at the images below and use them to create your own gorgeous spring look? Remember ladies, no matter what your shape, embrace it don't hide it!
↓ 26 – Daily Causal Spring Style
The plus size casual business outfits can be worn by mixing and matching contrast with various clothing pieces lying in your wardrobe. A common misconception exists specifically for plus size casual attires that they would be dull and boring. Moreover, casual plus size wear in not expensive either although they have really adorable prints (sometimes) and cuts to hide your curves. Being a businesswoman, you can sometimes add a long necklace and a pair of pearl studs to go with your business casual outfits if you want to sparkle in any business occasion.
 Daily Casual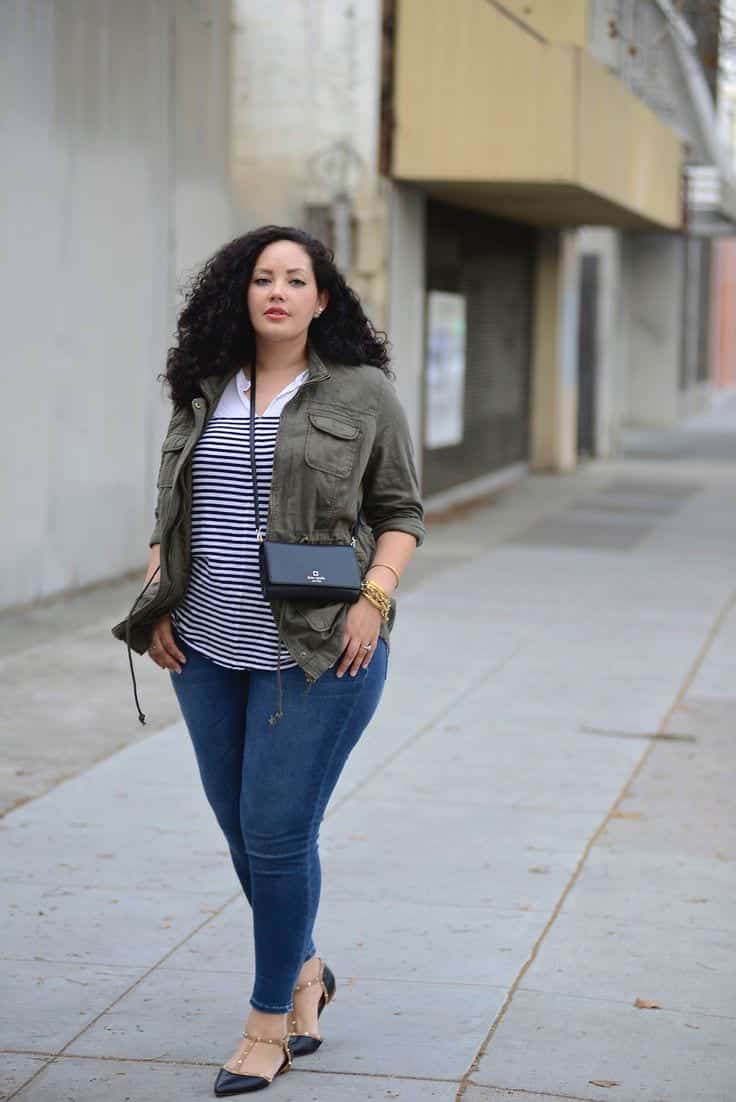 via
↓ 25 – Bohemian Style for Curvy Women
Want to slay a Chic Boho wardrobe? One of the street style essential for Spring season is Boho wear. Being a plus size, you can opt for Maxi Long Skirts, dark brown or neutral or nude colored long boots or may be ankle boots (depending on weather), distressed booties or whatever is comfortable wearing for you. Accessories like head wraps and hairbands or scarfs can go really well with Boho dresses. You can also wear Gladiator sandals instead of long boots paired up with a big sized floppy or brimmed hat (just in case, if it's a hot day of Spring season). Pair up with a nice nude colored crossbody bag to go with Boho styled dress so far.
Curvy Bohemian Style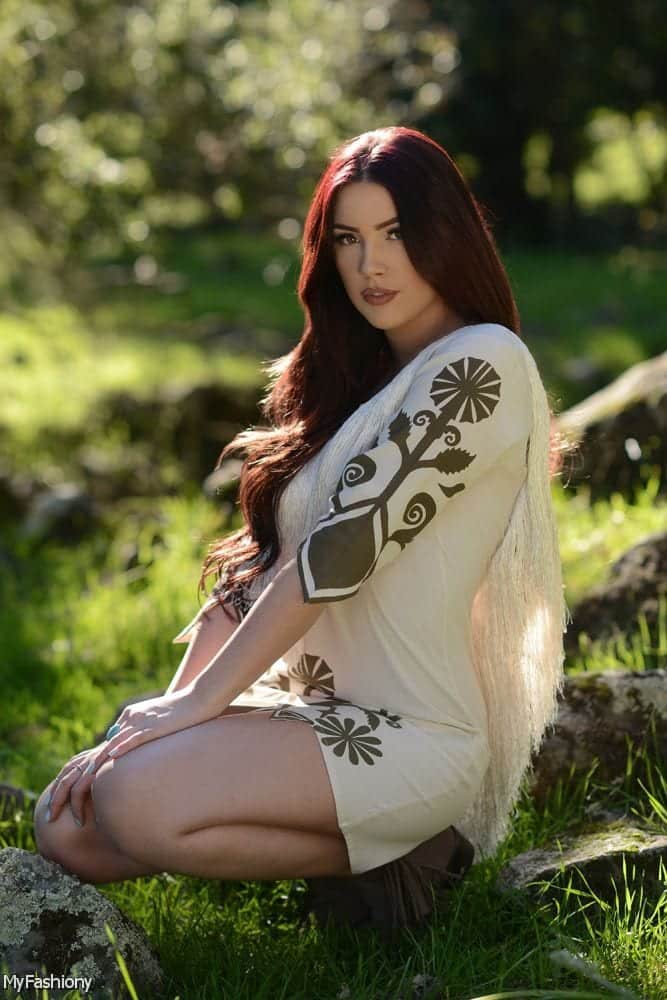 photo MyFashiony
↓ 24  – Hip Hop Street Style
Rap urban styled clothing is the next big thing to get added in your closet. Cool, trendy and expressive is what hip hop clothing is all about. Street style is another form of rebellious clothing which consists of leggings (maybe bright colored), funky T-shirts or may be digitally printed shirts, hoodies, caps, earrings in the form of big hoops, chokers or long chains, backpacks or handbags, sneakers, cardigans, Shades or sunglasses, denim jeans and whatever you think suits you.
Street Style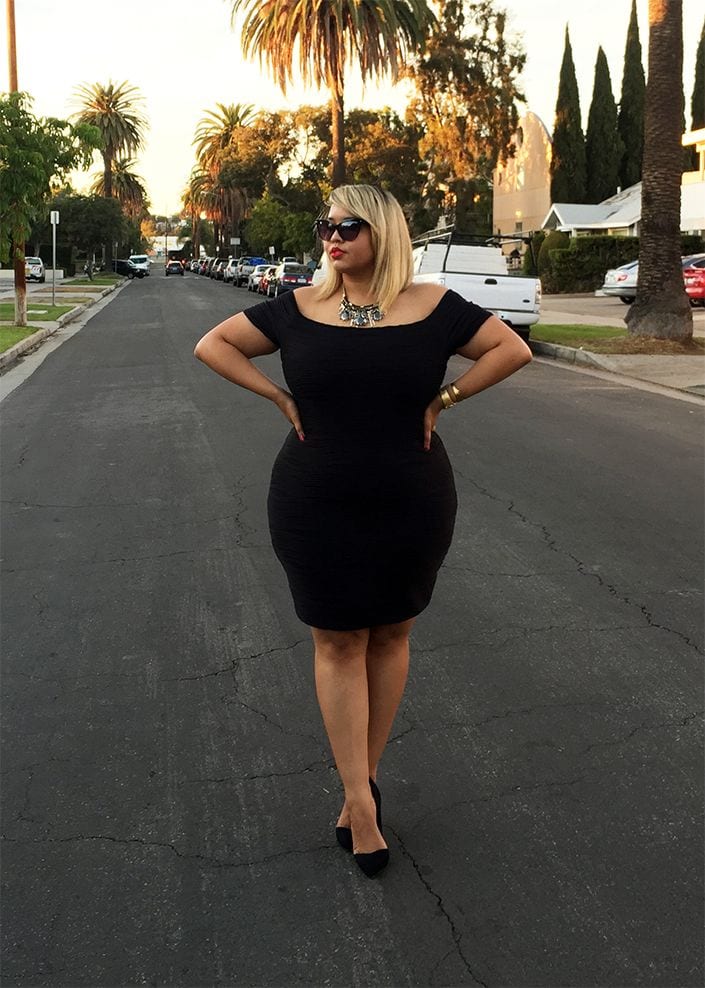 via
↓ 23  – Vintage Denim Attire
Being plus size, it is always difficult to carry skin-tight jeans but there are smart ways using which you can slay skin tight jeans as well. Always go for choosing dark-colored denim jeans and shop size perfect jeans that is stretchable in nature. Pair up skin tight jeans with an adorable but fashionable top or you can go for wearing a dark colored blazer too. Underneath dark colored jeans, prefer wearing pointed shoes with either high heels or a flat one.
Denim with Skirt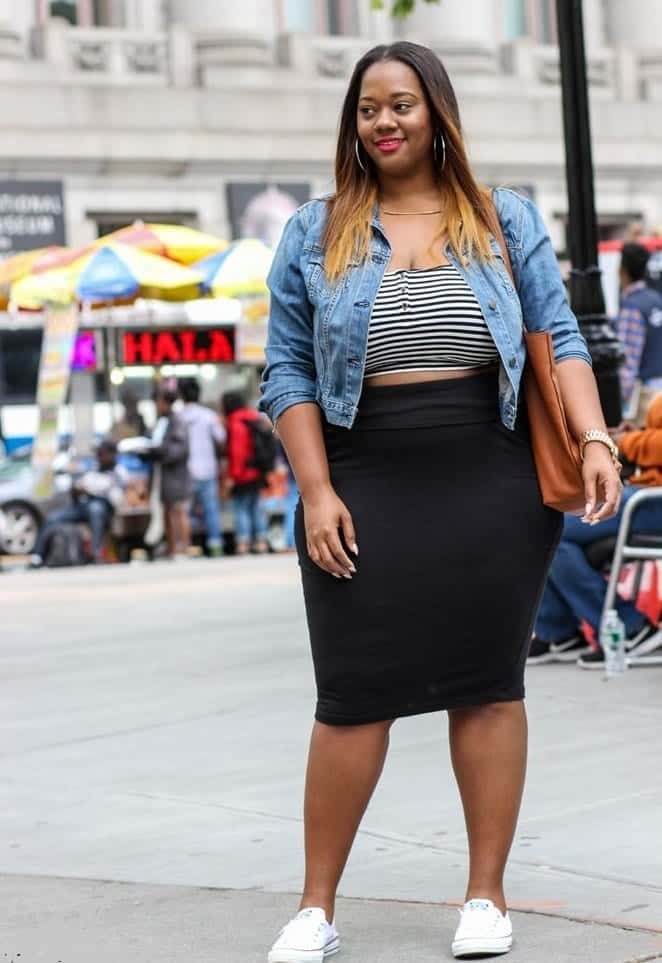 ↓ 22 – Girly Bright Floral Designs
Blazer with Floral Top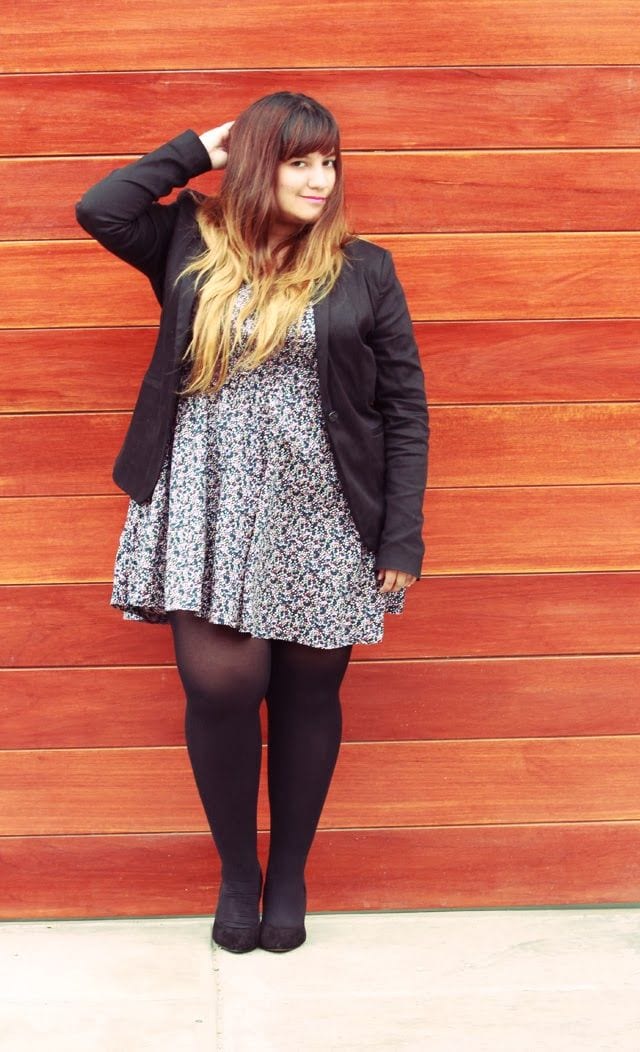 ↓ 21 – Street Style Baggy Jeans
Be your body type being an hourglass figure or a pear-shaped figure, all you have to do is to choose the right denim jeans that suits and is comfortable for you. Being a busty lady, prefer wearing straight size jeans paired up with the V-neck top. One of the most flattering dressing styles for plus size ladies is Baggy jeans that help them to embrace their natural curves more confidently.
Workwear with Baggy Jeans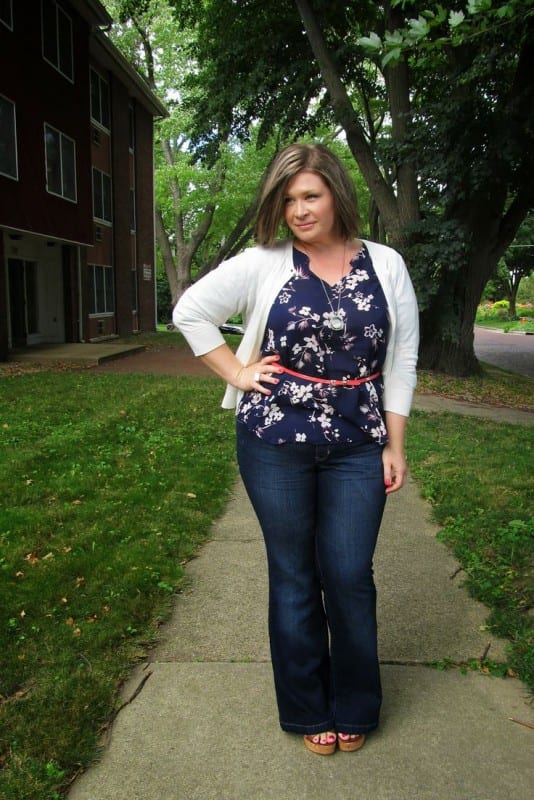 via
↓ 20  – Trendy Capri Pants
Well, we know how difficult is to wear capri pants when you are one of the plus size lady. Always wear high heels whenever you plan to wear a capri pant. Our suggestion is to go for wide trousers when choosing capri pants style for yourself. Another trick is to combine capri pants with a short length shirt or may be a monochromatic top.
Capri pants styling ideas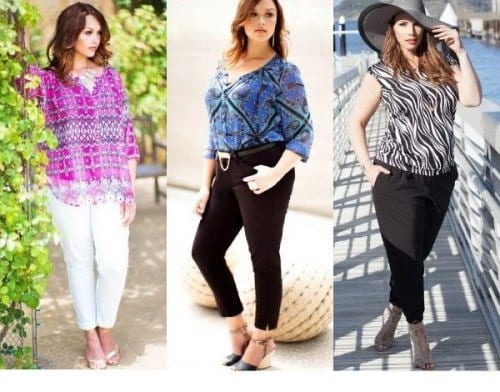 via
↓ 19 – Boyfriend Jeans: Not a Bad Idea At All!
When it comes to distressed boyfriend jeans, make sure that the jeans are not too loose or not too tight. Boyfriend jeans are often too loose to wear which can make you look more clumsy or bulky.
Distressed Boyfriend Jeans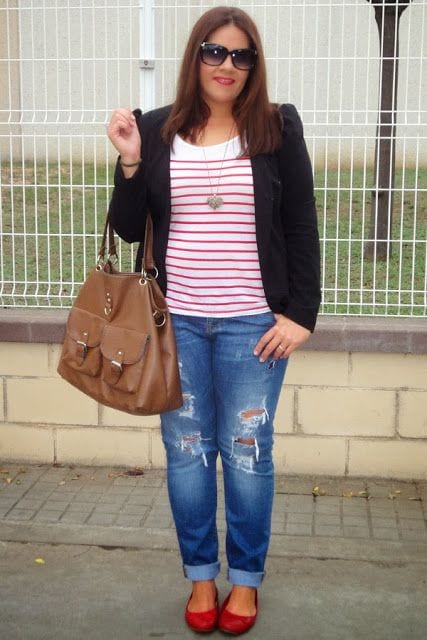 ↓ 18 – Hairstyle for a Chubby Face
Cute Hairstyle that suits Curvy Girls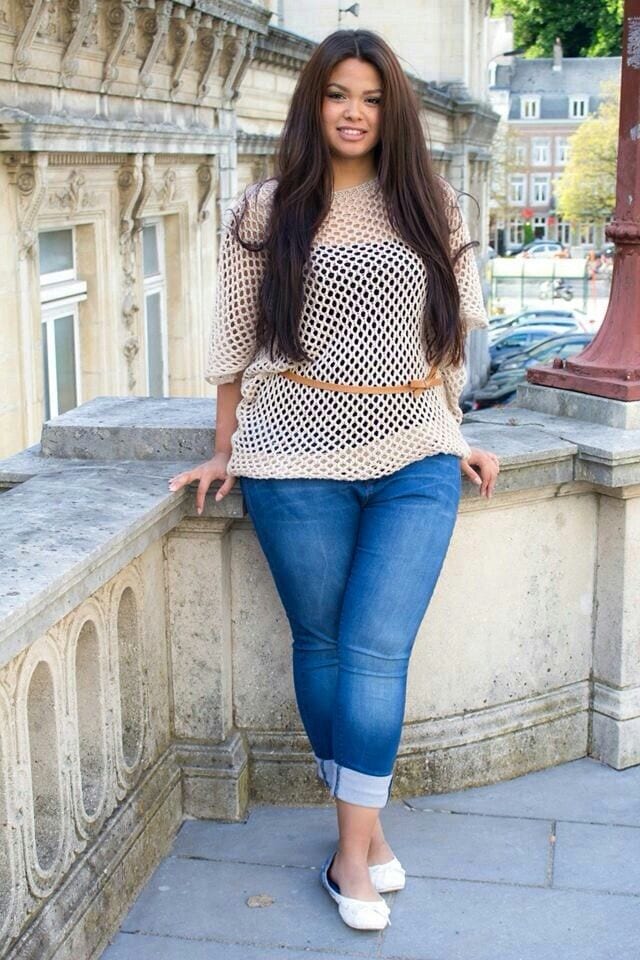 via
↓ 17  – Cool Sleeveless Dress
Be a curvy fashionista and join sleeveless dress tribe confidently! Don't be scared from floral bright colors or one solid color as they all are there to compliment your body type. Wear and embrace them happily. You can always go for Pencil skirt along with sleeveless dress type.
Sleeveless Party Dress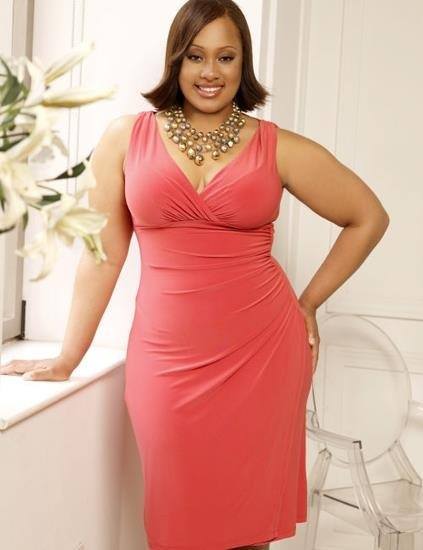 via
↓ 16 – Formal Spring Look
Spring Business Look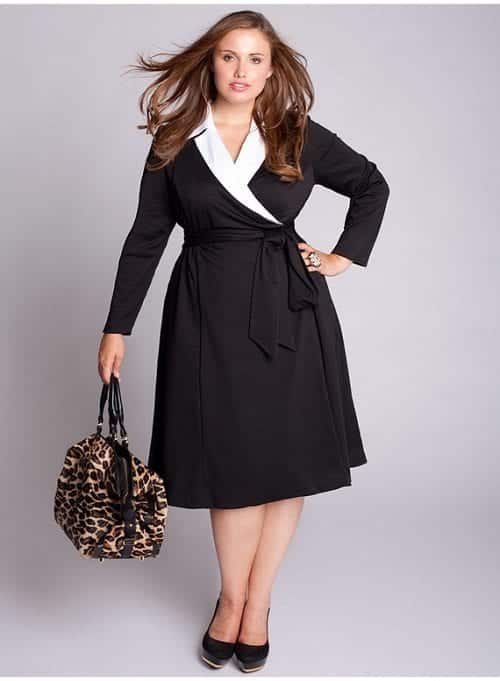 via
↓ 15 – Turquoise: A Color of Elegance and Grace
Turquoise Dress with Belt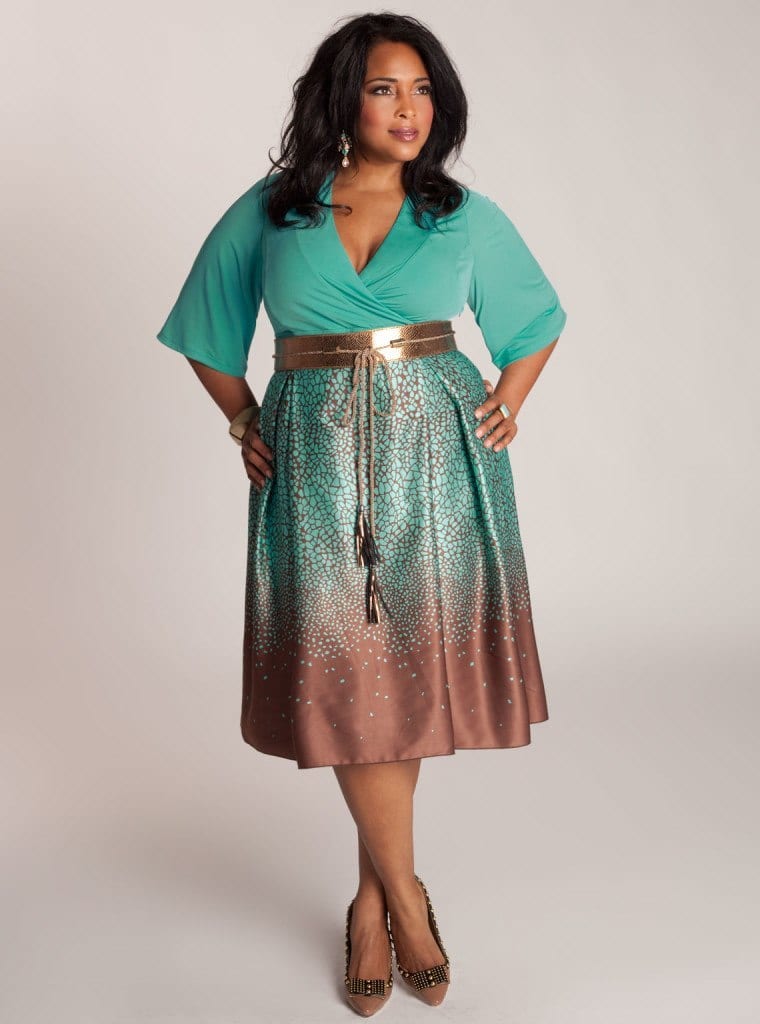 via
↓ 14 – Casual Spring Style for Everyday
Casual Spring Outfit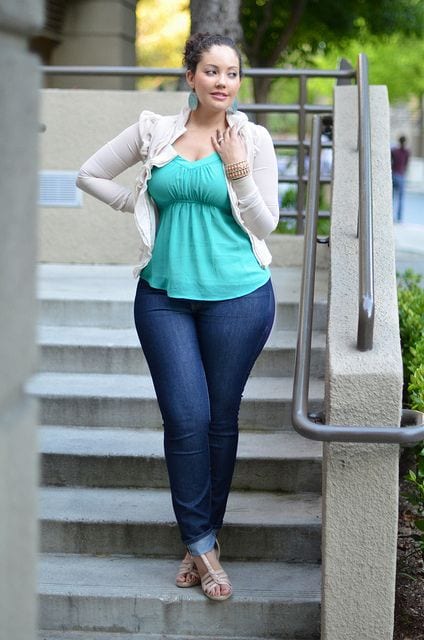 via
↓ 13 – Spring's Swaggy Swag
Plus size Swag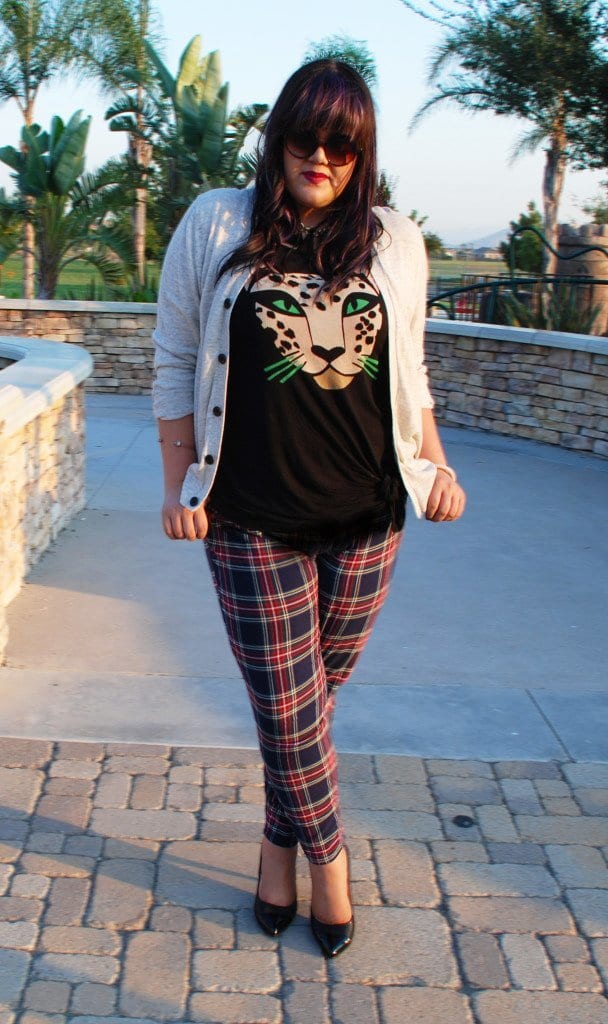 via
↓ 12 – Purple and Gold: A Royal Signature Style Statement
Casual purple dress with Gold Accessories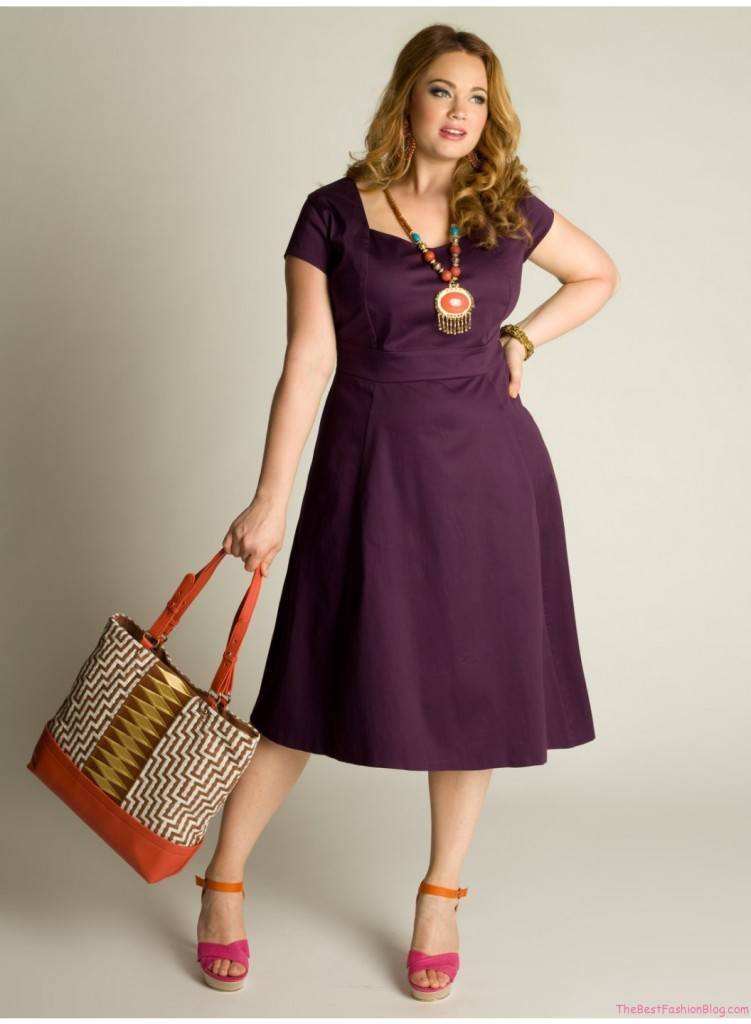 via
↓ 11 – Classy Geometric Designs
Patterned Dress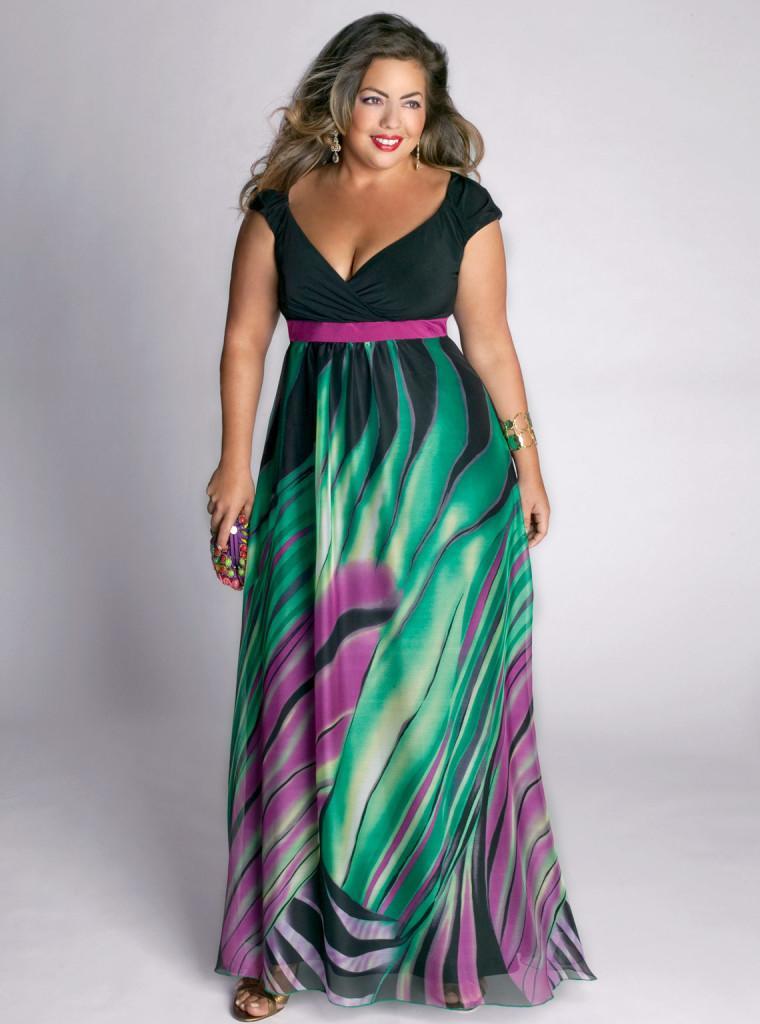 via
↓ 10 – Skirts are In when it comes to Spring Outfits
Denim jacket with Ethnic Skirt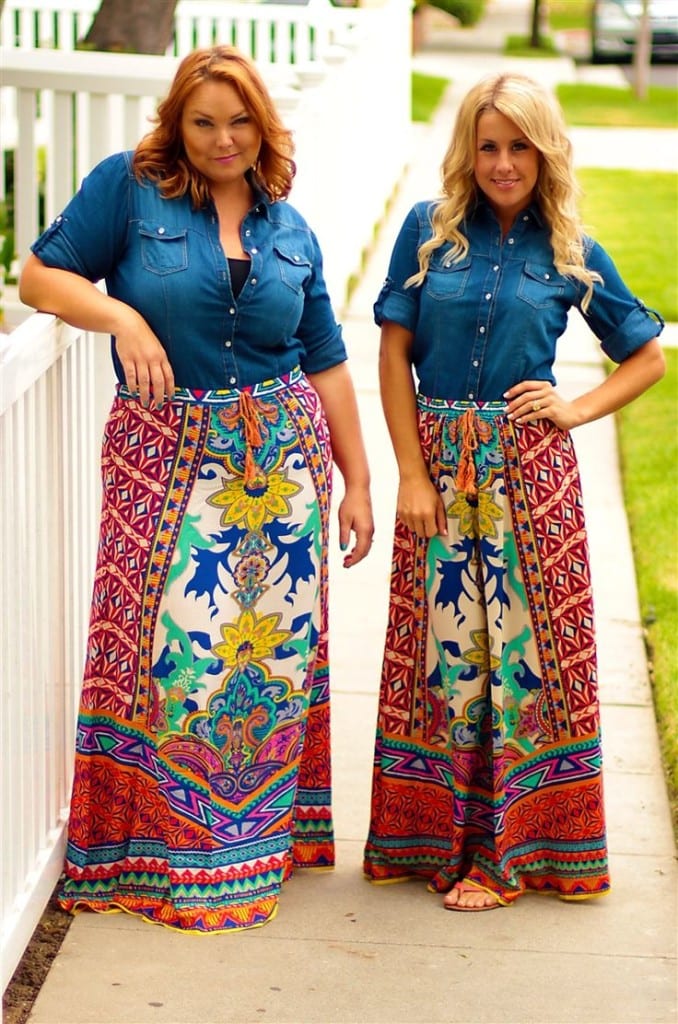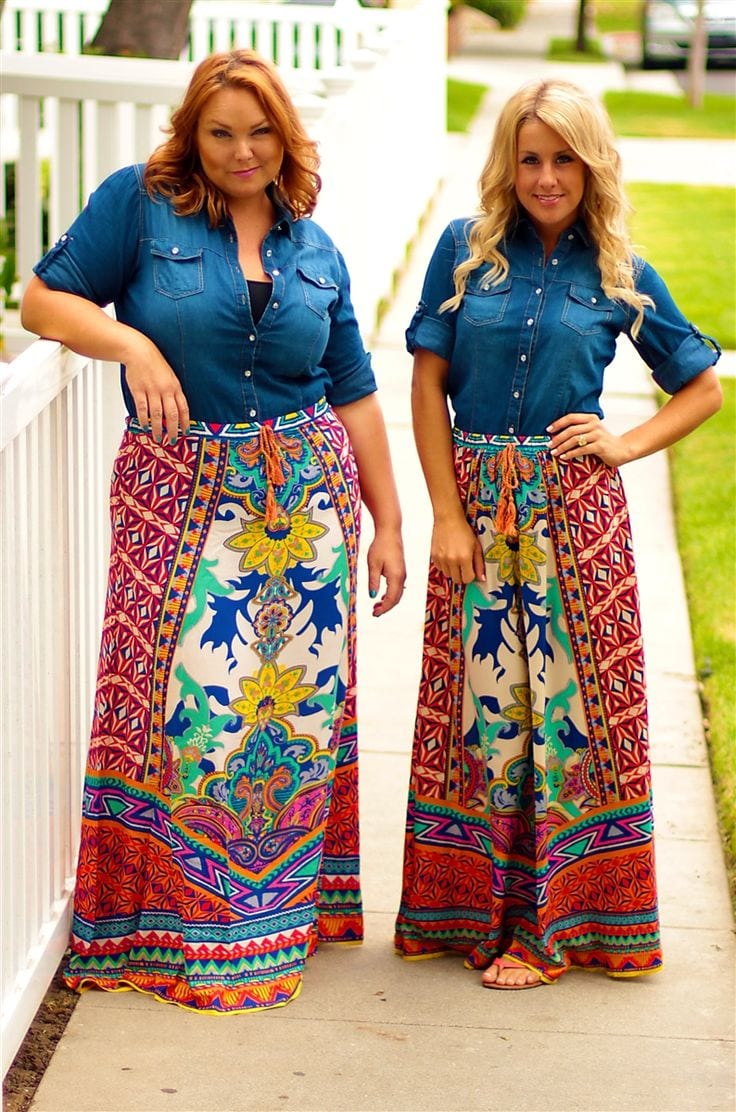 via
↓ 9 – Bright Floral Frock
Embrace true feminity by choosing either floral and bright colored printed frocks to help you become a city chic this Spring. You can successfully carry a girly look decently by adding pastel colors to your outfit. Prefer wearing long frocks with solid colored leggings. Get your style statement completed by picking up matching or contrasting shoes, jewelry, watch and scraf in just the way you like them.
Plus size Floral Dress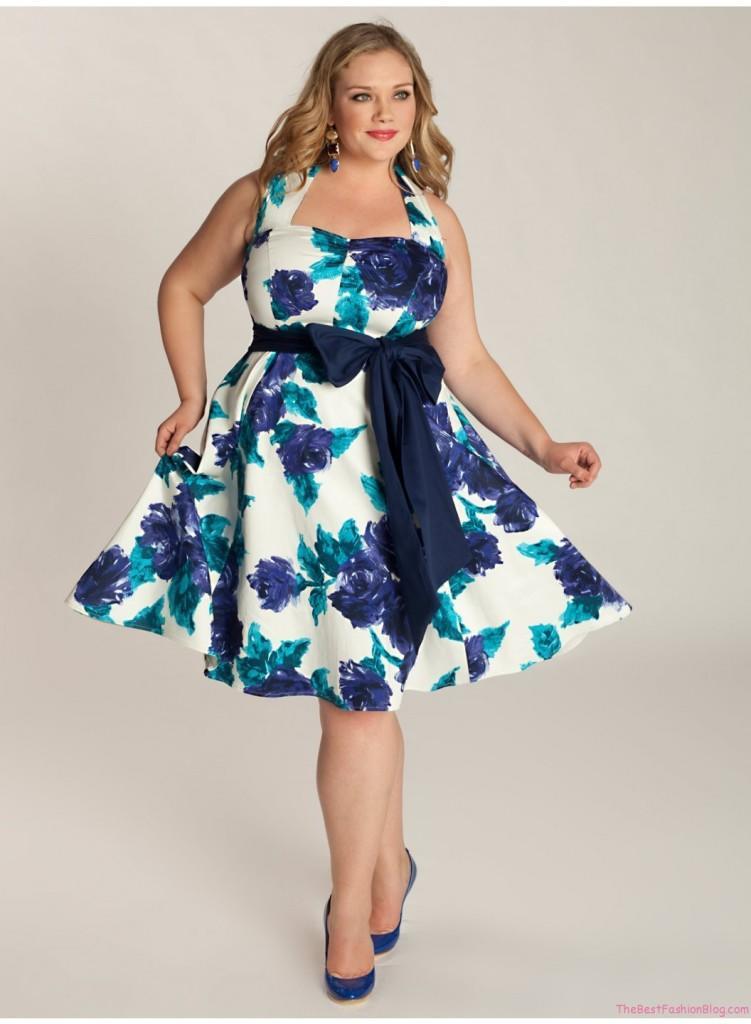 via
↓ 8 – For Cute Short Height Girls
Ideal outfit for Short curvy Ladies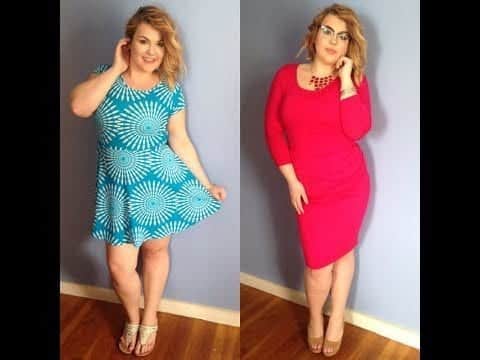 via
↓ 7 – Adorable Polka Dots Print
Polka dot prints are fun to wear! Yes, you heard it right. They are equally fun for curvy ladies as well. However, there are ways and techniques to wear polka dot prints for a plus size person.
Want to rock polka dots similarly as a runway model? Let us help you with that! The good news here is for polka dots, body size doesn't matter at all. One can easily pull off a polka dots dress anywhere anytime as it never goes out of fashion too. You can opt for a frilly polka dot printed frock or a polka dot printed top, whatever you like the best for you.
Polka Dot Top with Denim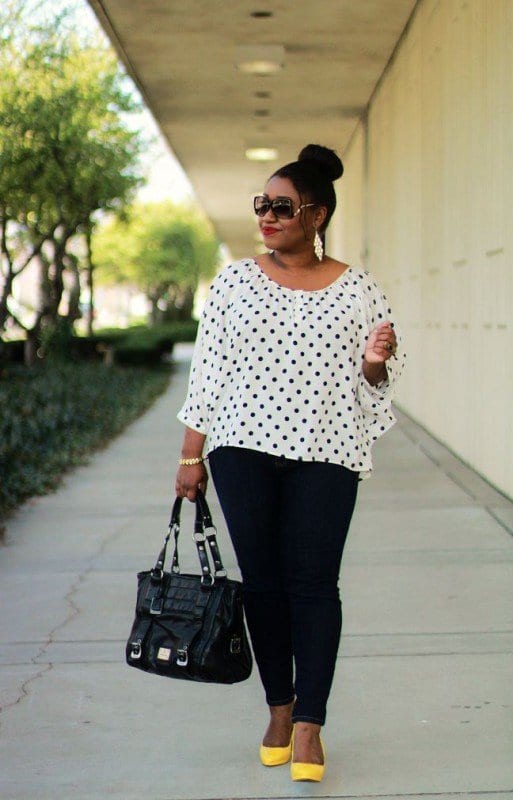 via
↓ 6 – Unique Dressing Formula for Curvy Women
Cute Dressing Combination for Big Busted Lady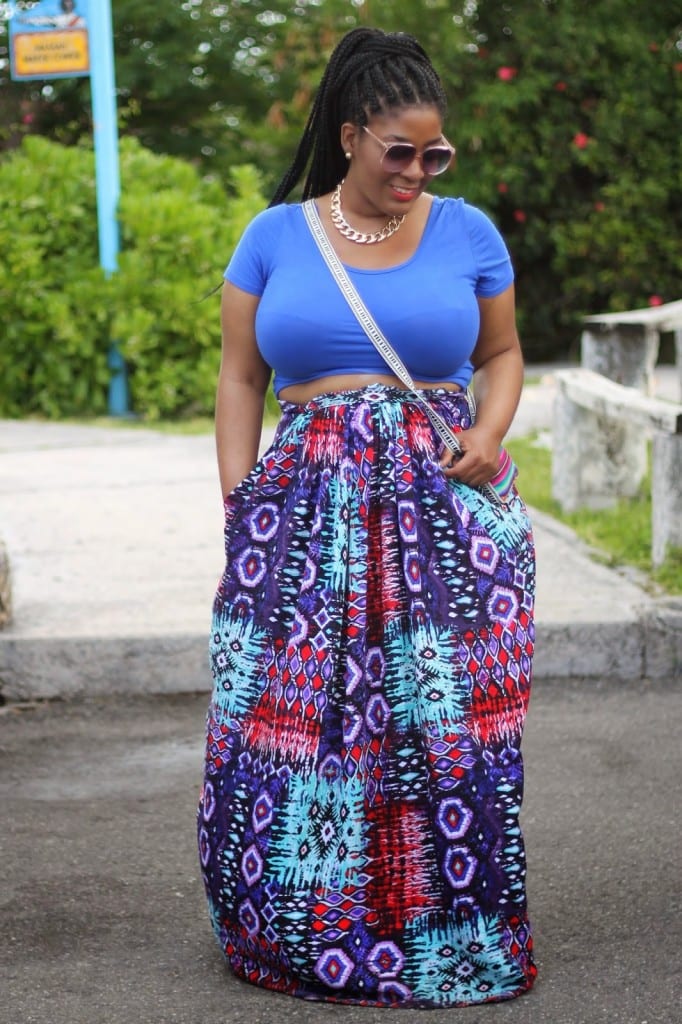 via
↓ 5 – Waist Belt Style for Plus Size Ladies
Casual Outfit with Waist Belt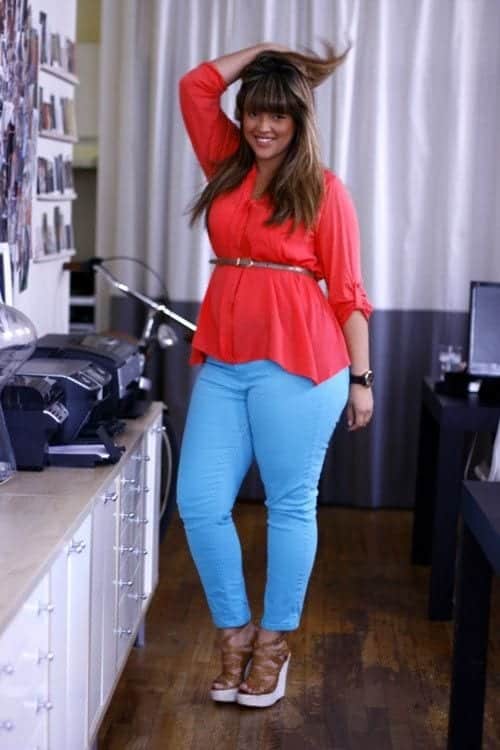 via
↓ 4 – Cowboy Long Boots
Long Boots

↓ 3 – Adorable Curls
The perfect combination with your curves will be your curls! Don't just straighten away your adorable curls. Instead, embrace and welcome them with open arms every morning or the moment you see them. If you have dead straight hair, then please give it a try to loosely curling your hair (Do thank us later for this tip!) Adopt curls with jumpsuit, frocks or even with tank tops.
Curly Hairstyle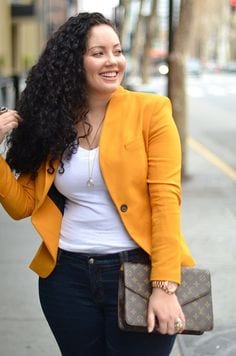 via
↓ 2 – Travel Wardrobe In Spring
Traveling style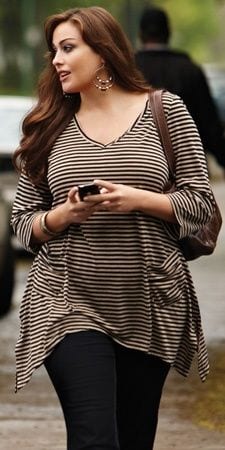 ↓ 1 – Managing Monochromes
So should a plus size woman wear solid colors? Absolutely yes! Let's not misunderstand monochromes as dull, dusty and boring!  However, there is a common misconception about monochromes that they include only white and black which is not the case or monochromes are not something which we called head turners that is another wrong notion and so plus size ladies avoid wearing monochromes. Remember, monochromes are something which are hot in fashion and trendy. Even they are proudly worn on runways' models also. The hues and shades are adventurous, stylish and what not! Being a plus size female, whenever you shop leather jacket for you, please do make sure that it is of your correct size specifically the shoulders and sleeves because oversized jackets will make you look clumsy and lazy. Even trench coats won't work much in this case. Don't wear long leather jackets. Prefer wearing the shorter ones but it should fit your size and figure. Underneath the leather jacket, prefer wearing A-line shirt or even a tank top would work perfectly fine.
Matching Leather Jacket with Long Boots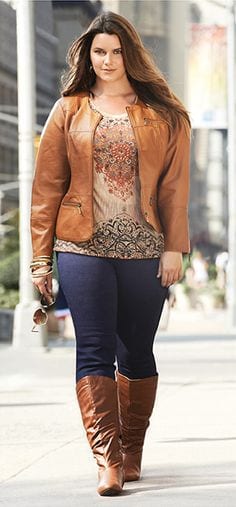 via
Spring Footwear for Plus Size Ladies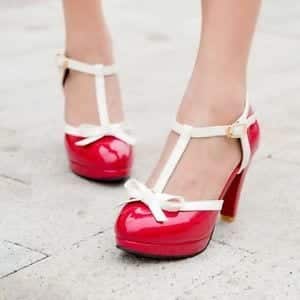 Peep-toe and T-bar pumps are a great choice of shoe for plus size ladies especially in the lovely season of spring. They add that warm weather feel by showing a bit of skin and will also match any maxi dress or trouser get up so finding the shoes that is ideal for your shape is size if easy. Try to avoid chunky flat shoes such as high tops as these can make your whole outfit appear chunky. Keep even your shoe color bright and in keeping with the spring theme. Baby pink, dusky pink, sky blue, green and purple are all acceptable colors for footwear this season.