Bridal Lehenga Designs. Bridal lehengas are making up the class and dream of so many ladies, and also booming the business of fashion industries. They are tremendously making huge sums off bridal clothing, and no doubt that they are doing a great job as well. So if your wedding is on the way then here are some great ideas to decide what you are looking for, and what will suit you best. Below are styles and designs from different designers, so have your go!
These amazing bridal dresses compose the work of excellent designers and also the charm that you will need to lighten up your wedding, so have a look and pick the color, the design, the style and all else that you need for your special big day.
Latest Lehenga Styles and Designs for Brides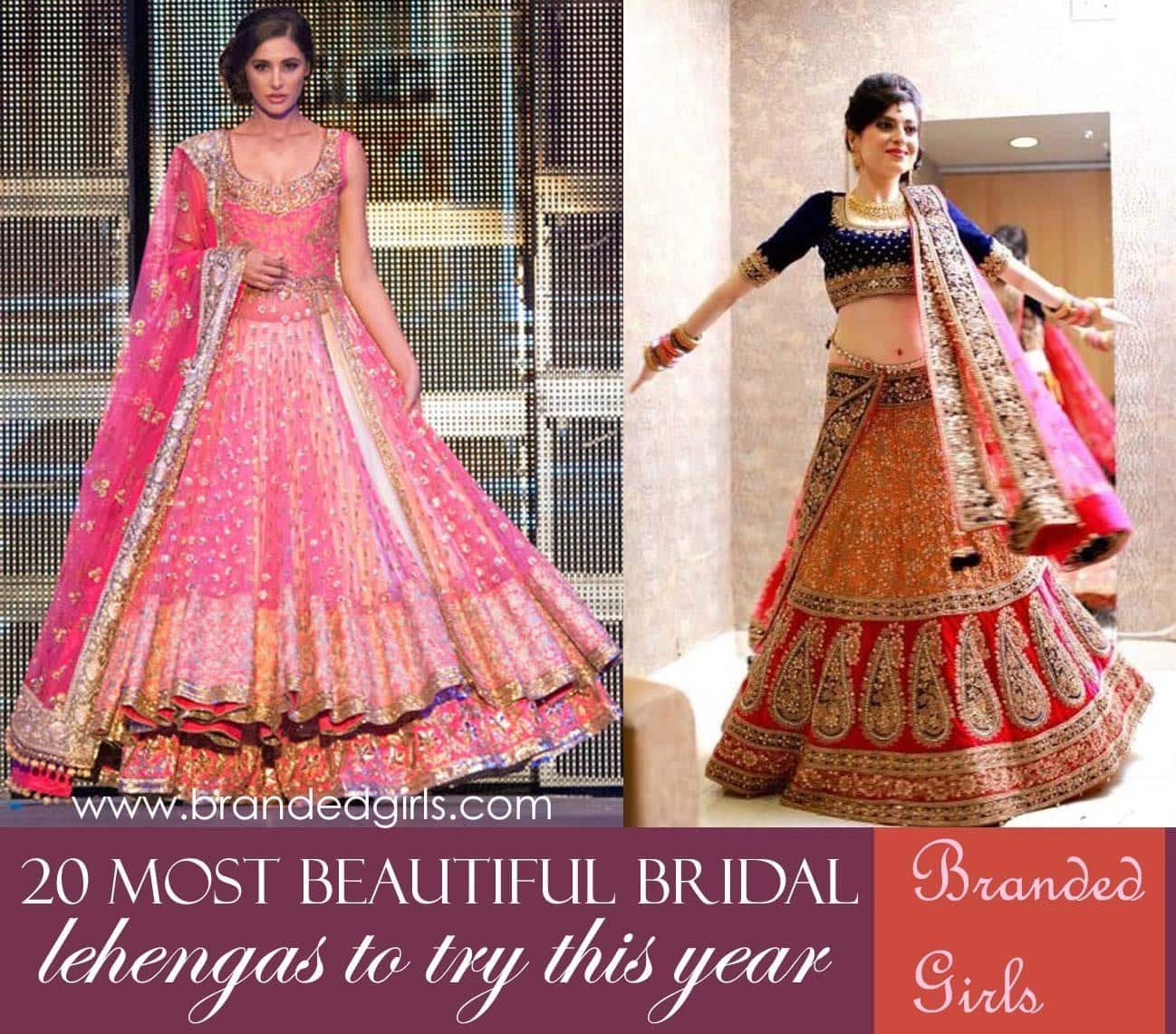 RECOMMENDED: Bridal Sharara Designs-20 News Designs and Styles to Try
#20 – Designer Manish Malhotra's Lehenga for Divas
Manish Malhotra is known for his amazing designs when it comes to Lehengas. I don't think any designer can do a better lehenga than him. But of course all of us can't afford to buy such expensive lehengas, so we always have the option of getting inspired by them and making our own replicas at affordable rates. Have a look at the amazing bridal lehenga he designed for Preity Zinta's wedding: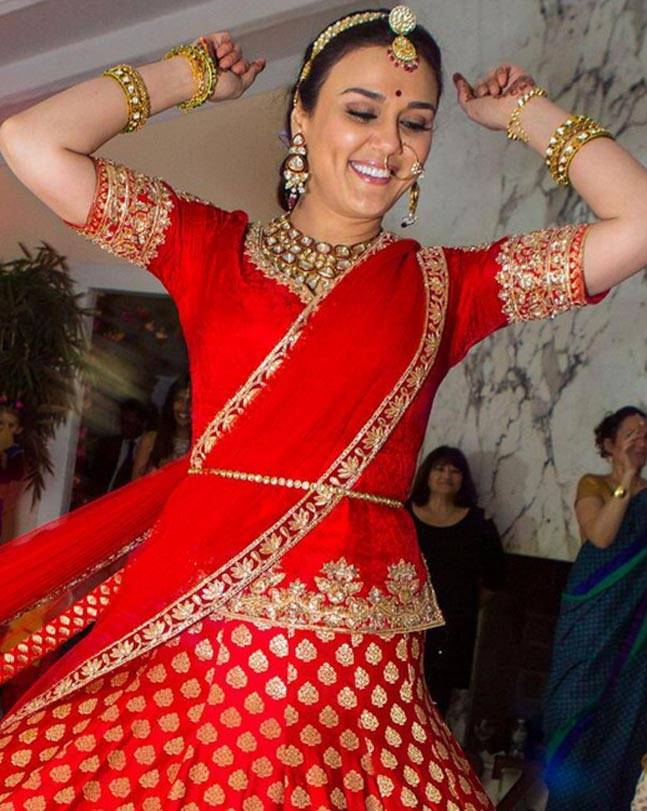 More recently, we saw Shraddha Kapoor in an amazing outfit by Manish at the Lakme Fashion Week 2016. Here's a sneak peak: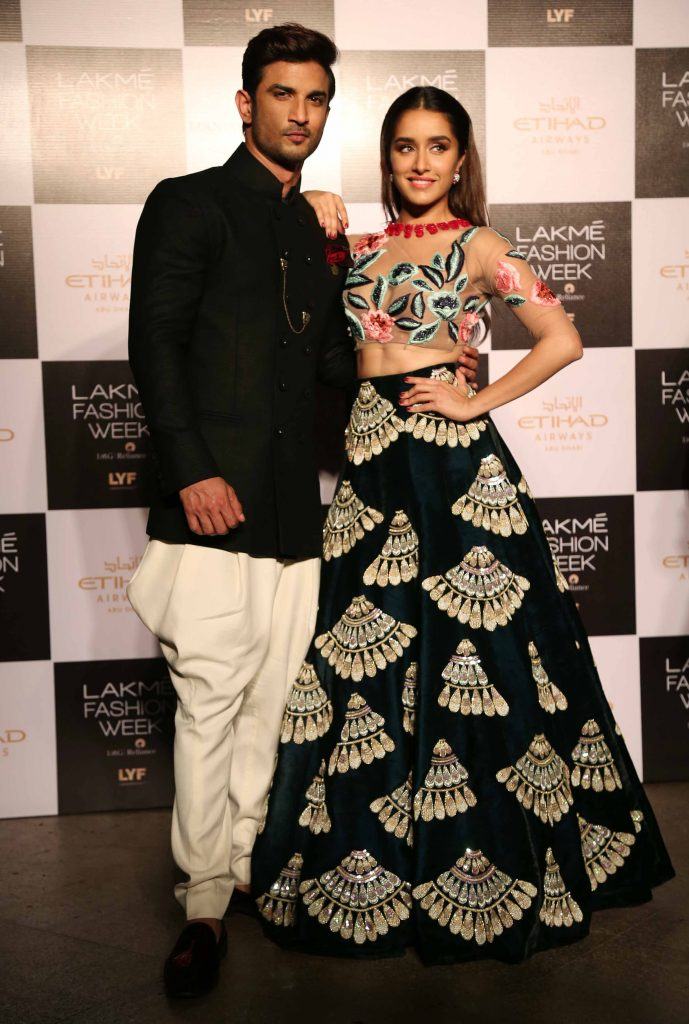 #19 – A Classic Theme Style
A classic theme with dim red and white – coated with simplistic embroidery that is not so mundane but not so fancy either; simultaneously creating a pretty look. While jewelry and hairdo go hand in hand.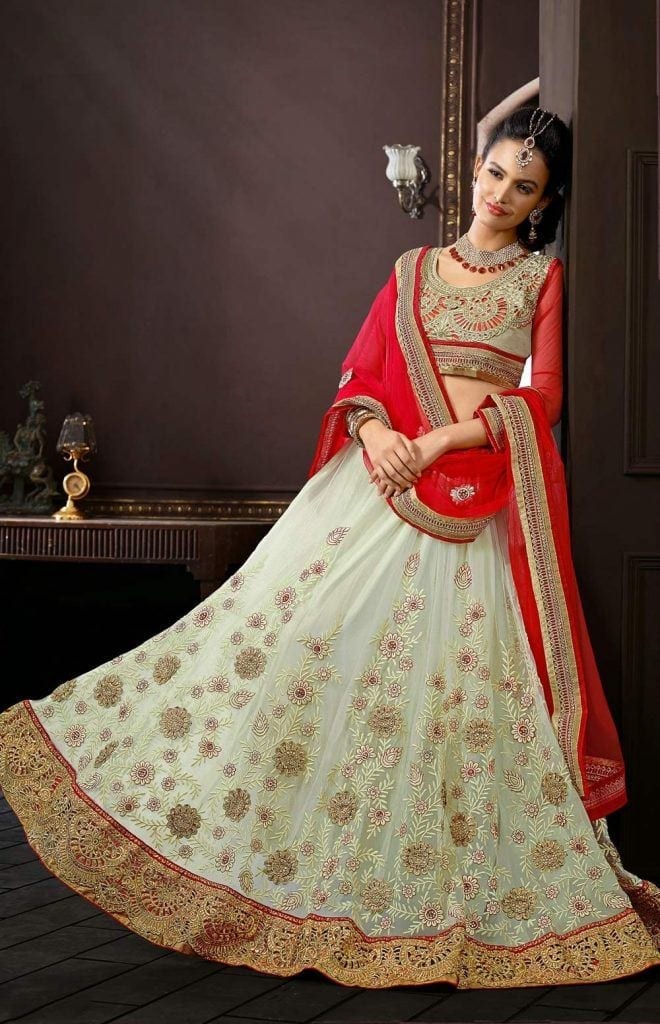 via
 #18 – Nargis Fakhri in A Manish Malhotra Dress
Nargis Fakhri draped in a stylish and incredibly beautiful Manish Malhotra designer bridal dress, which is probably the most phenomenal thing we have seen today. Here are the 32 Best Looks of Nargis Fakhri to Copy
Let's pick this outfit up and make it a reality, shall we? And above all, it looks so drastically adorable that it seems as if does not require any jewelry or extra elements, not even make-up. So try going lightly on that.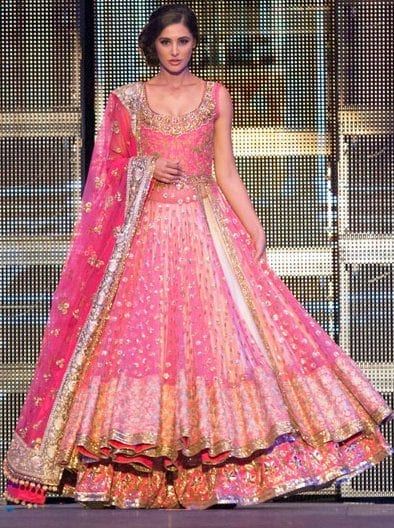 Try out these gorgeous heels to go with.
via
#17 – A Wondrous Crimson and Gold Merge
A wonderful and pleasing design of crimson and gold merged together, to create looks of delicacy and class.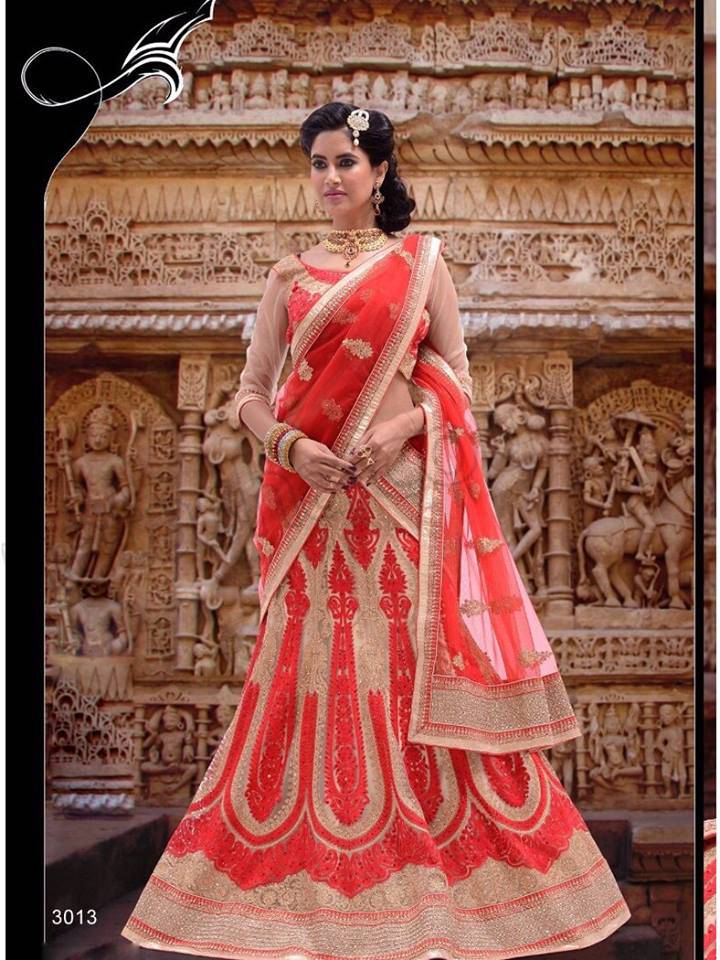 via
#16 – A Stunning Coat Styled Lehenga
A coat styled lehenga has everything we expect from modern lehengas. The decency, simplicity and uniqueness at its utmost. Here you will get the chance of looking the most phenomenal and rarest bride to date.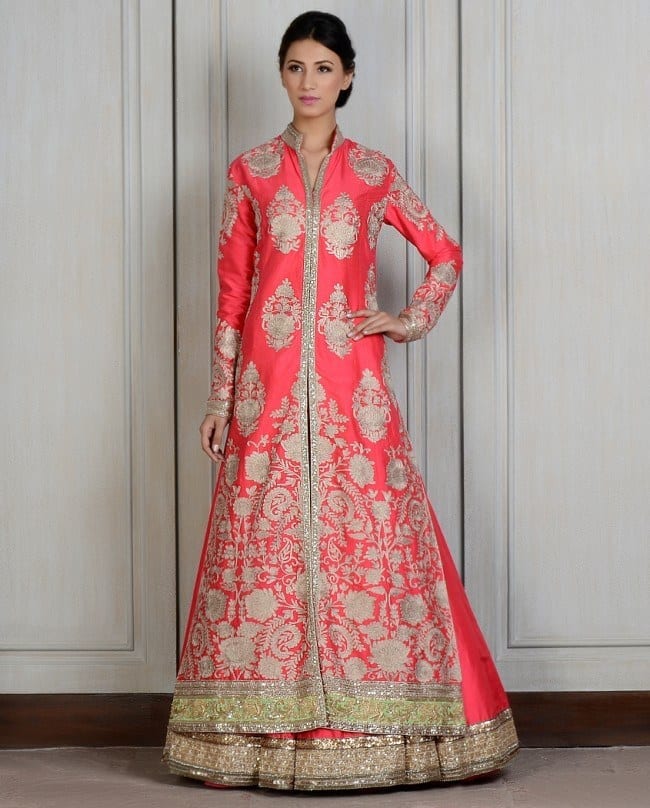 Try hot pink as your ideal lip color!
 #15 – Red-Gold Timeless Merging
Why red and gold combines sarees and dress are seriously the most attractive and win hearts of the most!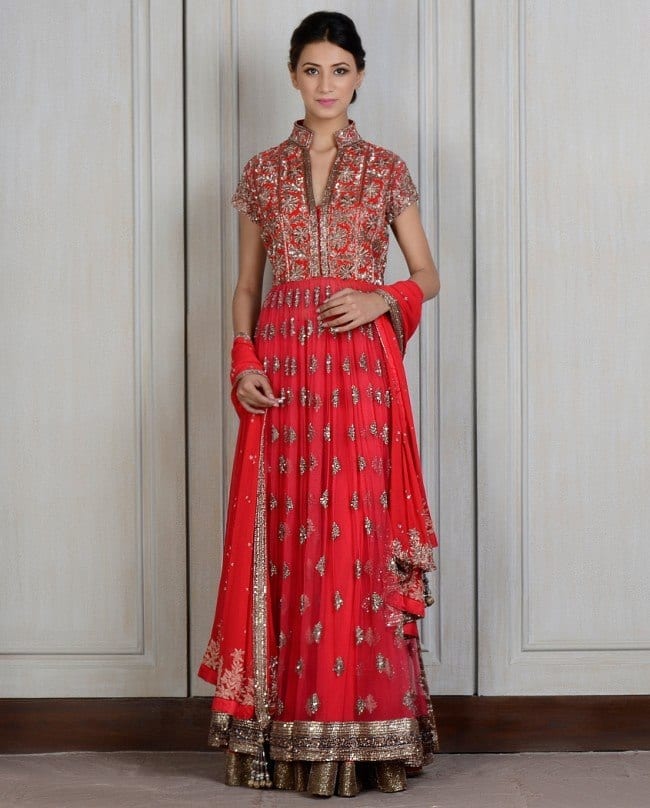 #14 – A Ramp-worthy Style
So this is apparently good enough to be walked on the ramp with! A designer's work with light crimson magic and deeply shining embroidery. It's really important to wear and carry your dupatta the right way, no matter what lehenga you choose, so here are some amazing tips on How to Wear Bridal Lehenga Dupatta in 10 Different Styles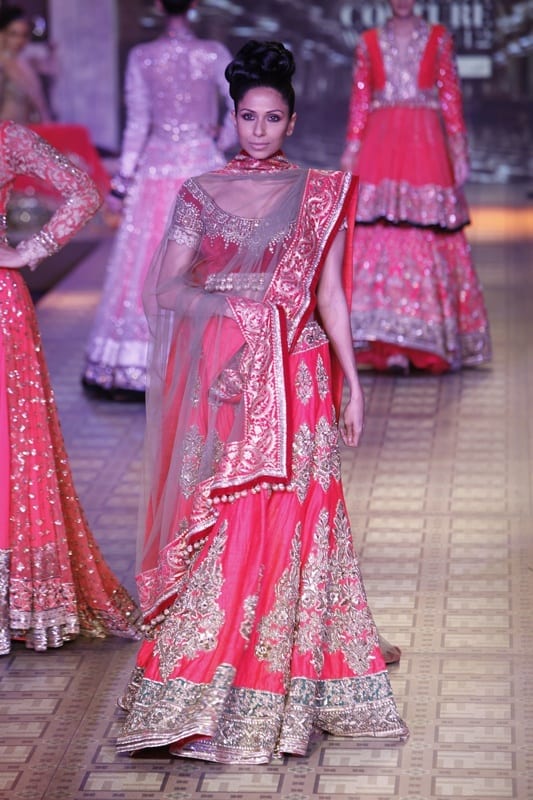 #13 – Deepika's Evergreen Glamor
Our favorite leading lady in a mysterious blue lehenga with mind blowing pale gold design and everything in between! And since we already mentioned how much we love Deepika, here are the 20 Best Looks of Deepika Padukone this Season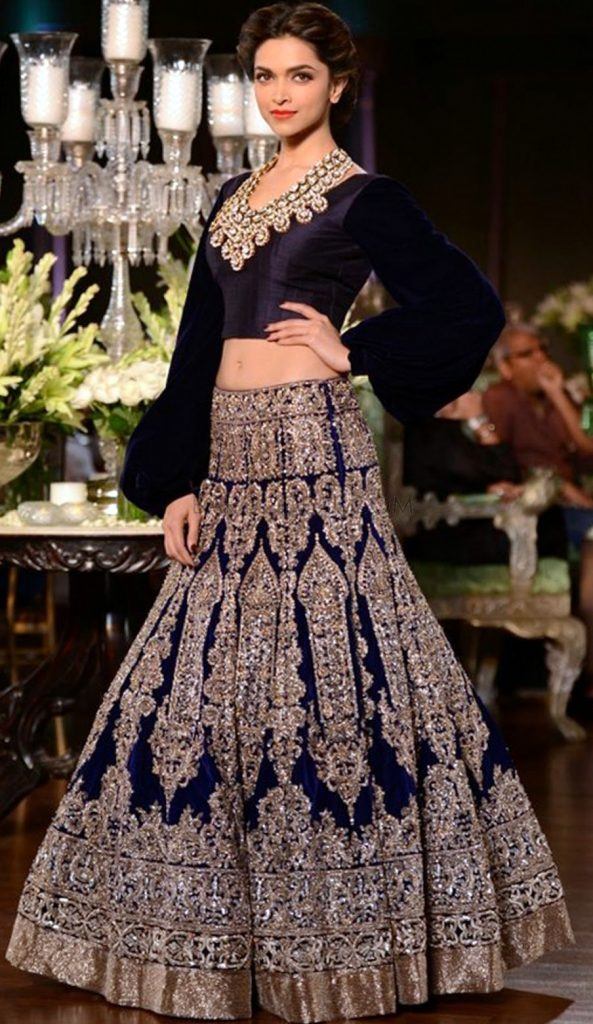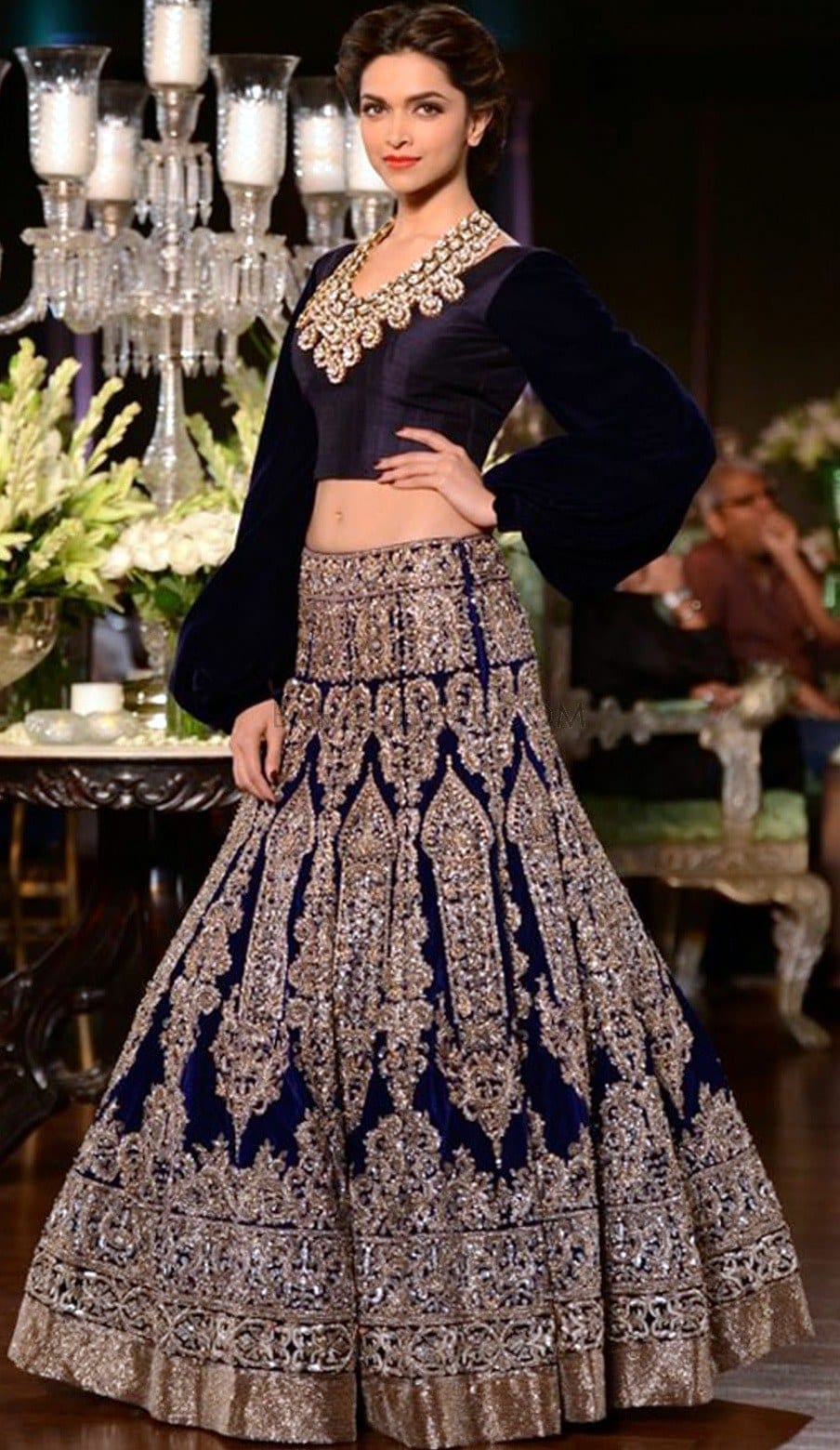 #12 – A Mermaid Style for the Tall and Slim
And surely it has a bit of a simple element, but it's for all those elegant brides, as the below one features a catchy style of red and silver combo that makes it the best choice for those who wish on staying down-to-earth even on their celebrations.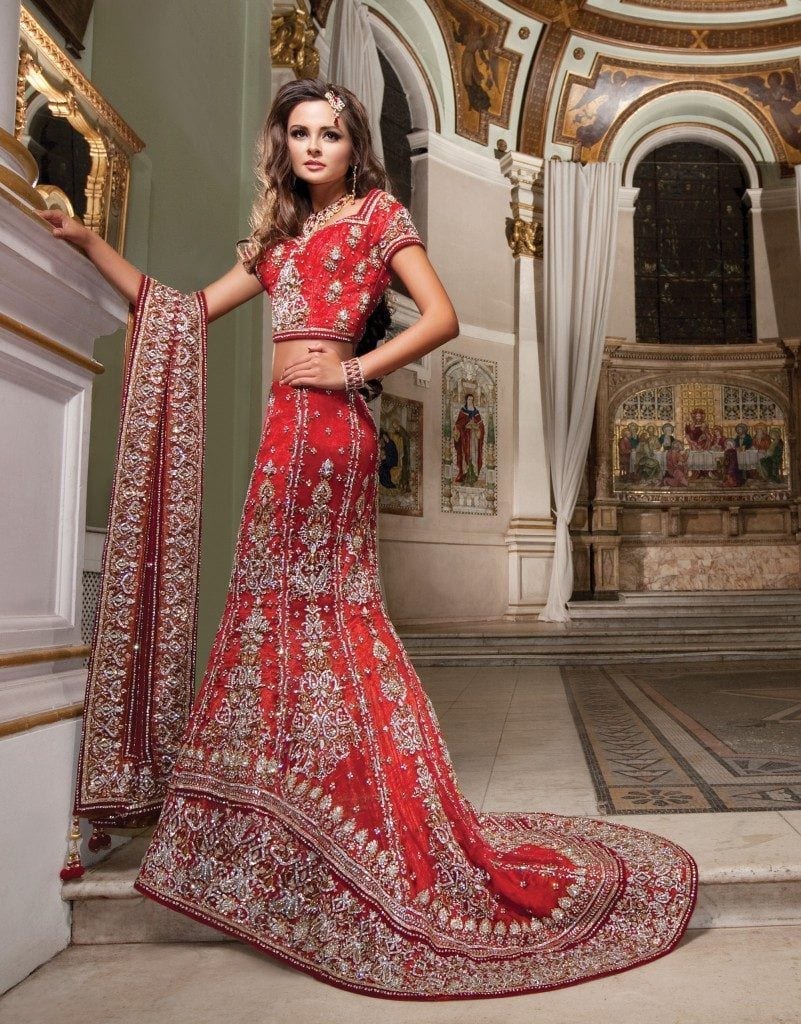 #11 – Royalty of Royal Blue
Royalty comes with our ever favorite royal blue and we agree. Royal blue with the darkness of red and it's the best pick for you, and nearly every other bride.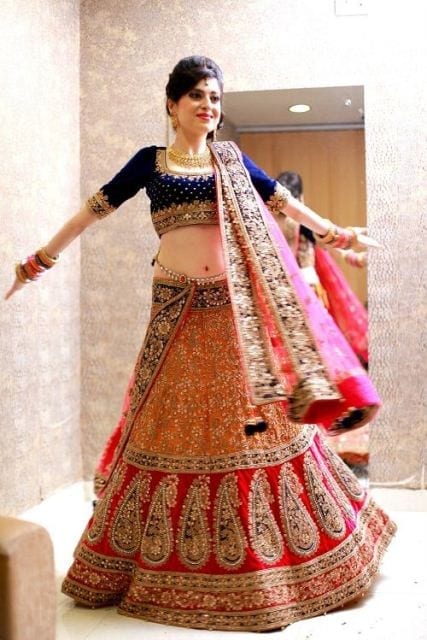 #10 – A Little Funkiness to go for
Who would know that sometimes funky style would be the prettiest and also comes within wedding-types?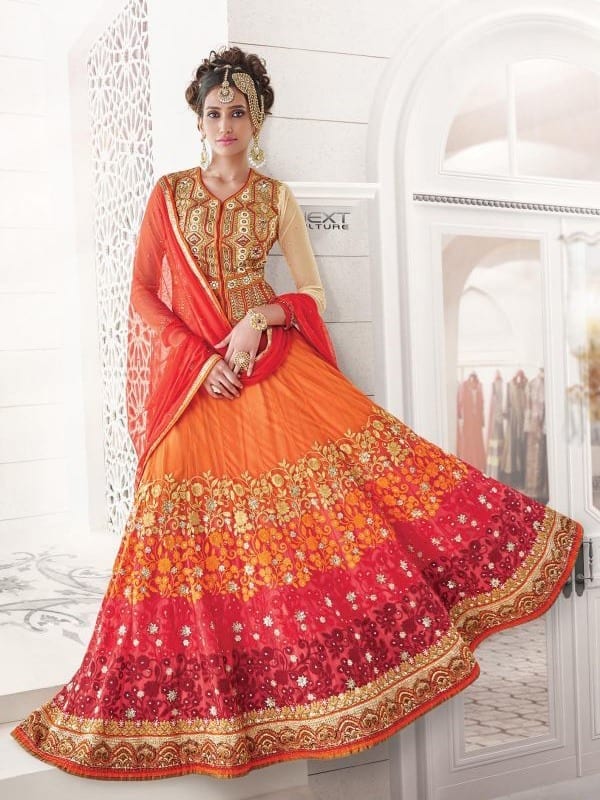 #9 – Subtle Colors for Subtle People
The subtlety in black and why it is such a great choice to opt for to stun and charm others, almost effortlessly.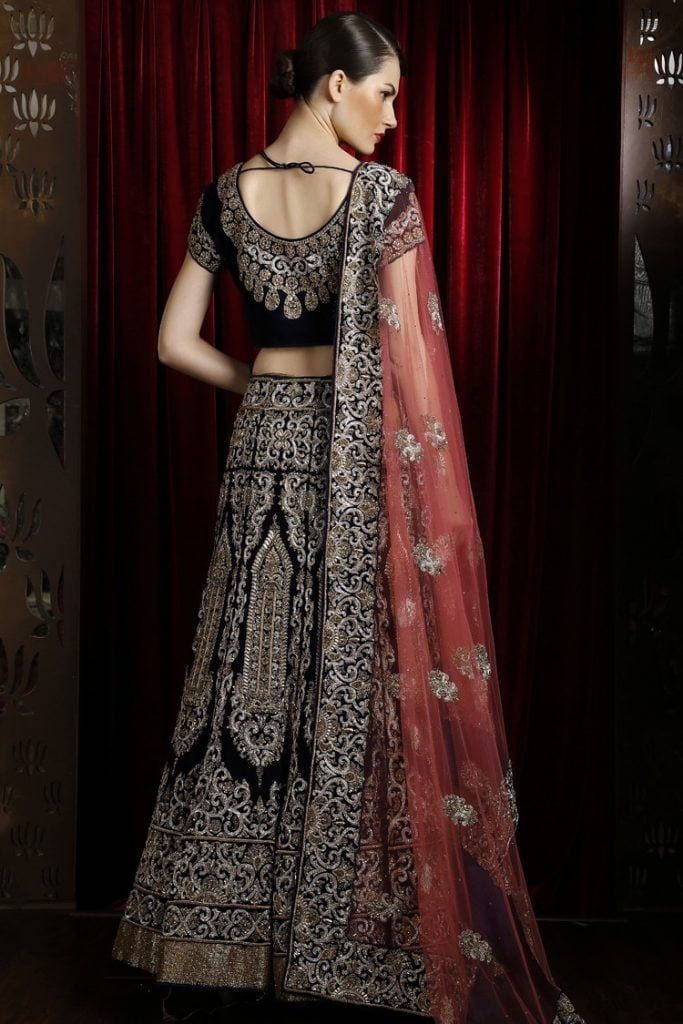 #8 – A Charming White Lehenga
A gorgeous white brilliance in this lehenga makes it a phenomenal and unique style. A light jewelry is all that extra effort, while rest is intact as you drape yourself in it.
 #7 – Lakme's Super Hot Fashion Endeavors
Here comes Lakme's catchiest work on bridal dresses, with blue and gold embroidery, which is so rare for weddings and will truly set you apart.
Every year Lakme exposes its followers and fans with catchy and idyllic work and win customers all over.
#6 – A Unique Over-flowing Style
A unique over-flowing style lehenga with a cozy and idyllic color is definitely the prettiest and chicest bridal style to date. We hope you find something that sets you apart with decency, beauty, and class.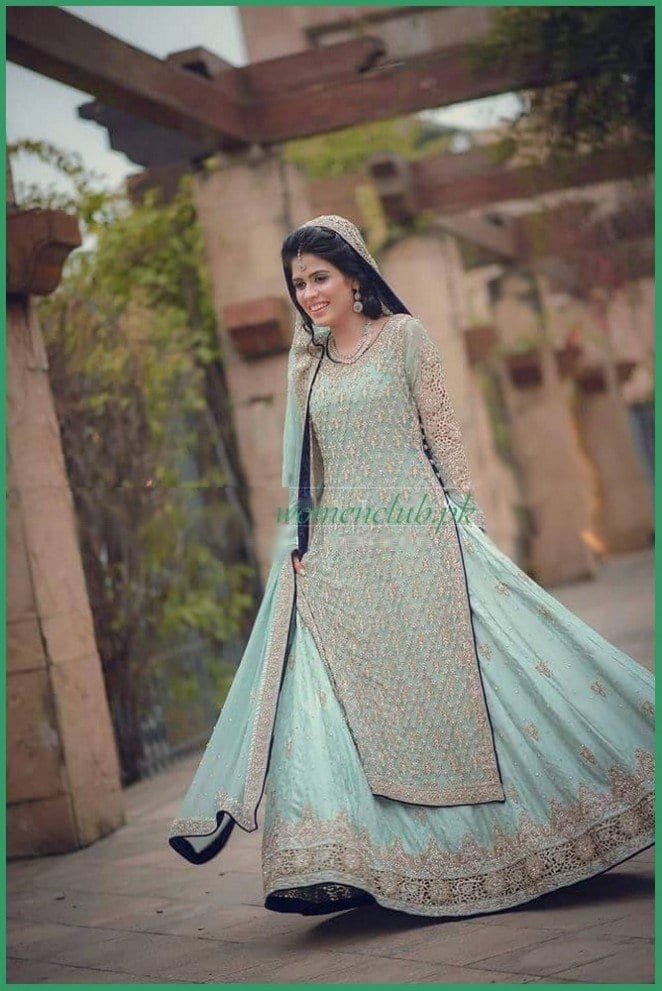 Catch a luxurious white clutch to go with!
#5 – A Glamorous Pink Lehenga
A glamorous and moderately fancy lehenga with a classic combination of pink and dark blue makes it the most wedding-inspired in the whole list!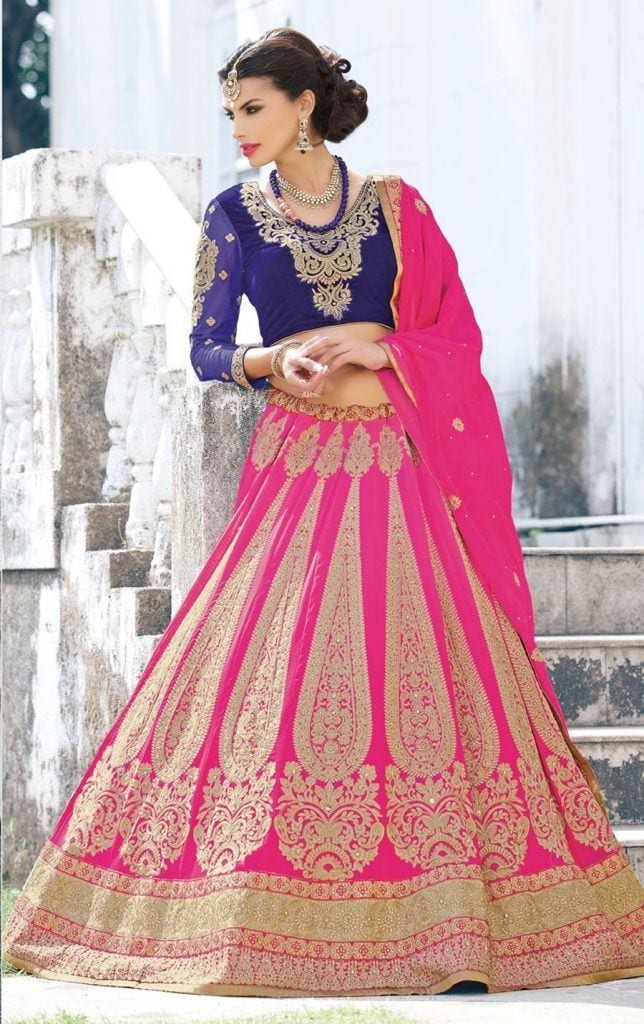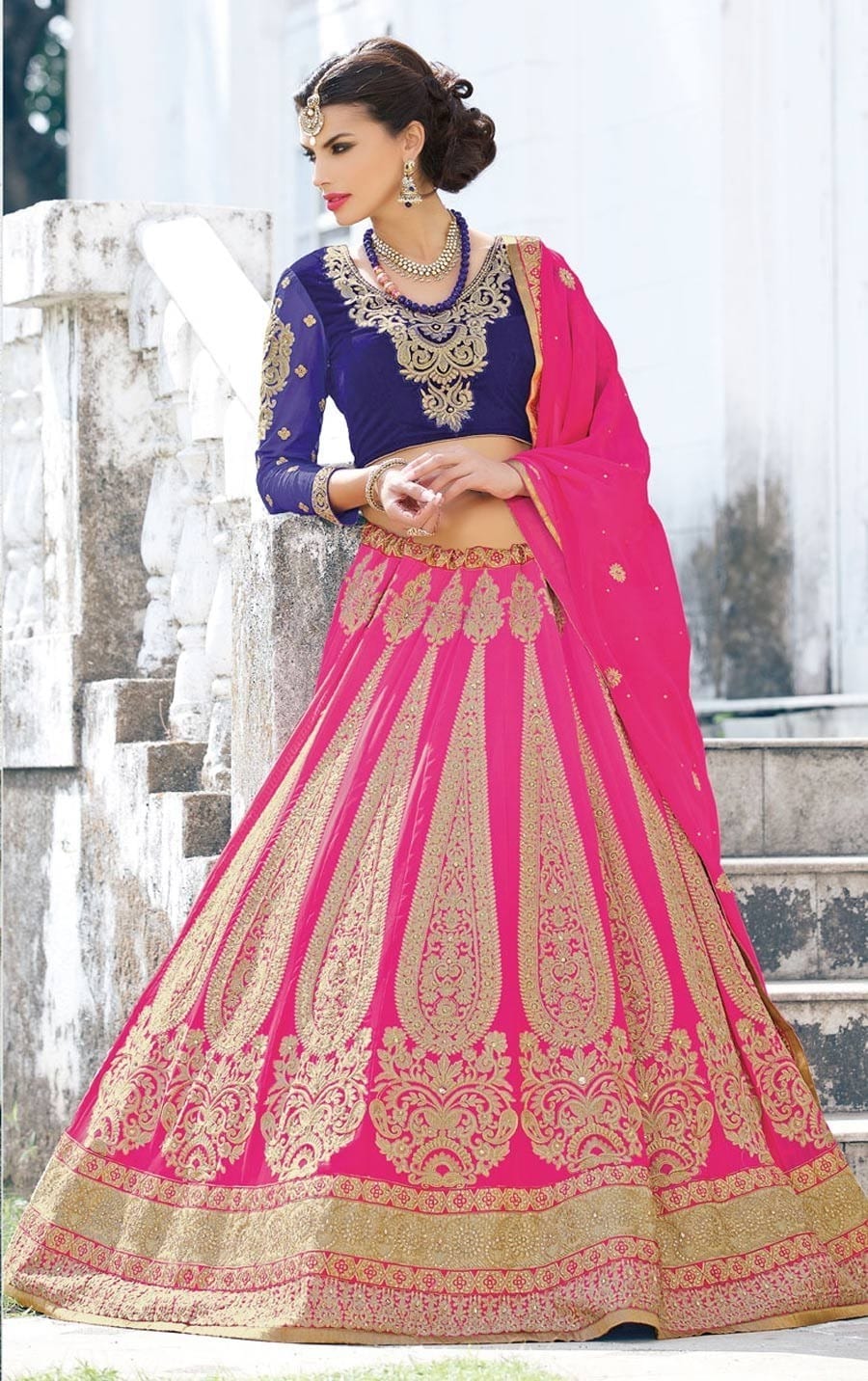 Get your hot makeup look on with this killer lehenga!
#4 – Urwa Hocane Bridal Dress
The brilliant actor from Udaari draped in a vibrant lehenga, merging two beautiful shades of red and pale silver and this will look absolutely gob-smacking on you as well. Plus here is a nice option to choose jewelry with a red and silvery tinge to it.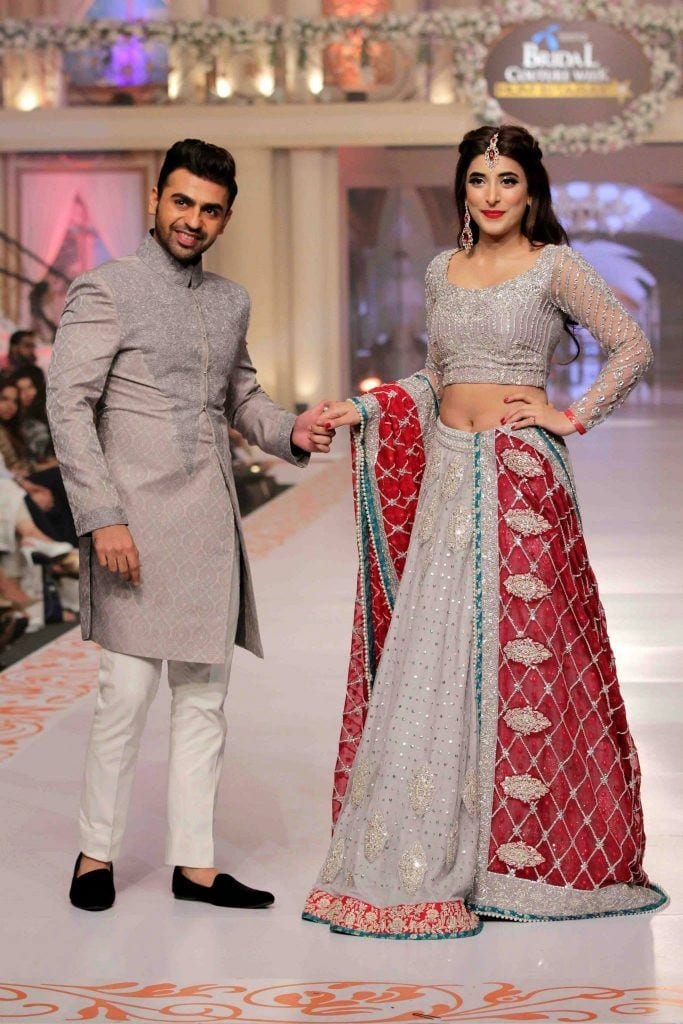 Get this glossy and mesmerizing makeup look with this lehenga.
#3 – Parineeti Chopra in Manish Malhotra's Lehenga
Another one of Manish Malhotra's amazing work on bridal dresses and winning the hearts of so many customers all over again. His dresses happen to be best sellers, even among so many celebrities and you will surely find what you are looking for, at Malhotra. Go try out and explore!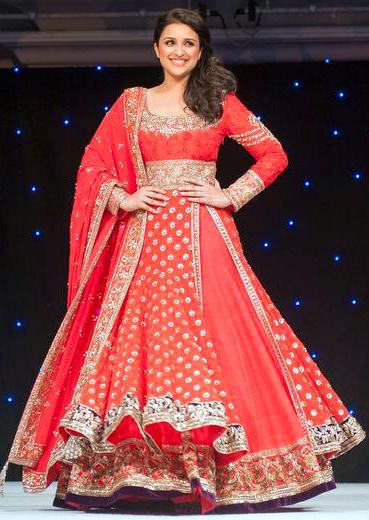 #2 – Sabyasachi's Classic Orange Bridal Dress
This one is from the timeless and fantastic collection of Sabyasachi's classic bridal dresses, which presents a fabulous and unique orange bridal lehenga this year!
We hope that you are following how today's bridal clothing comes with so many transformations than before, where dresses are moderately heavy and the jewelry happens to be much lighter and more decent.
And it manages to look even classier than previous trends.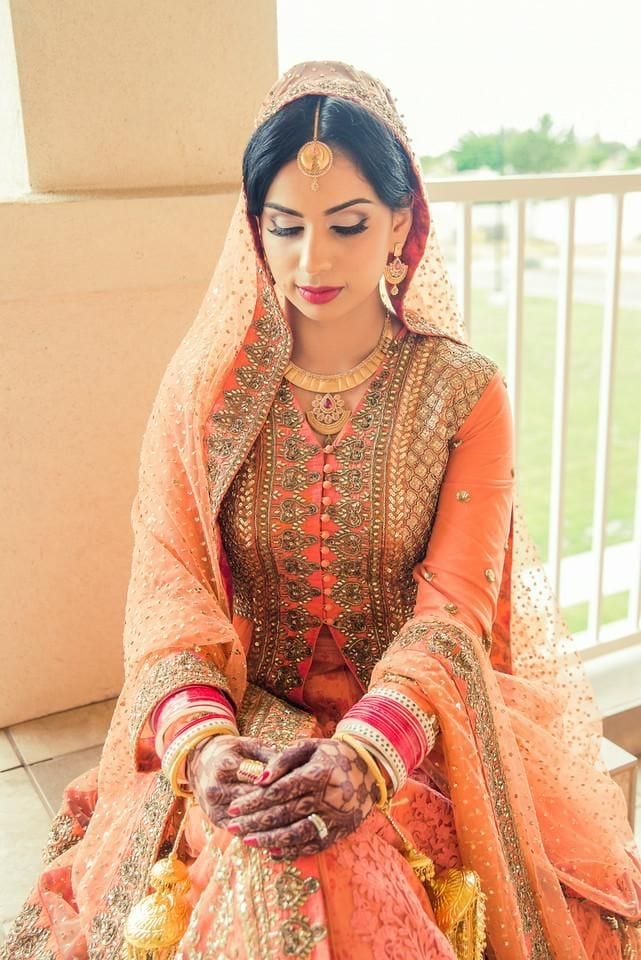 #1 – A Dynamic Tarun Orange Lehenga
This catchy bridal piece is also the nice effort of Sabyasachi's bridal work all around the year, which presents you with magic to add to your wedding.
Both of these designs feature a vibrant color and embroidery balance that proves that red does not have to be necessarily monotonous with weddings, it can be any color at all, which adds light and beauty to your day.
Check out more from Sabyasachi's designs who makes specified designs only for the brides every year.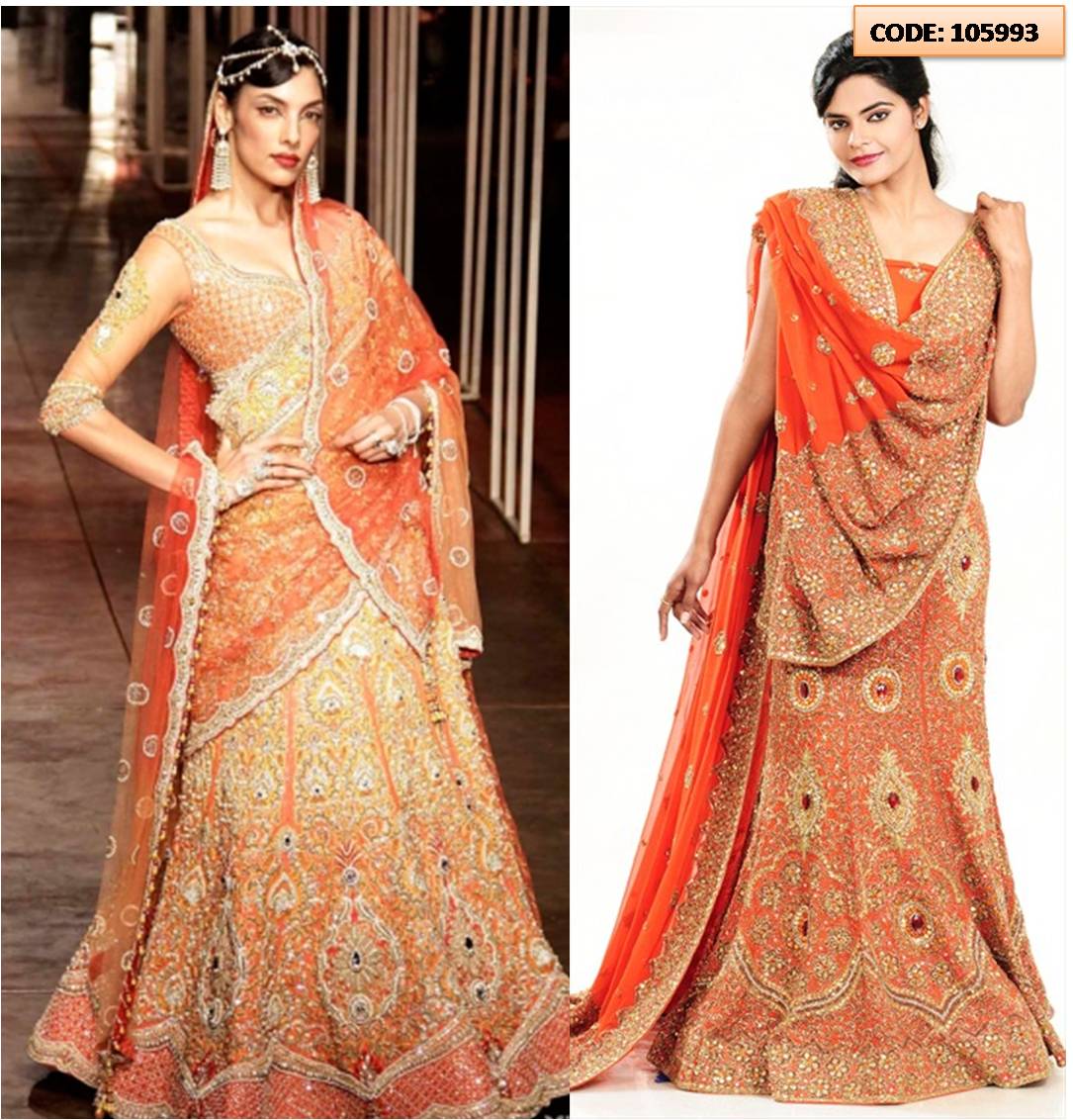 Last but not the least, we're loving this golden shimmery lehenga, which is one of the best outfits of Kareena Kapoor. The intricate work is a lovely combination of vintage and Mughal style. Kareena, of course added to the outfit's beauty since she carries herself with so much grace, despite the fact that she's expecting. Have a look.