Everything To Know About Esra Bilgiç. Esra Bilgiç is one of the most famous and loved Turkish actresses all over the world. She is beautiful and graceful, and people are crazy about not just her looks but also her personality. She is an actress who has made her place in the vast acting industry of Turkey with so much hard work and effort that she is now one of the most loved and appreciated Turkish actresses of all time.
Esra Bilgiç has garnered a fan following in Pakistan based solely on her excellent acting skills and beauty. Her supporters in Pakistan are always eager to learn more and more about her. Her past achievements and her contemporary dramas both excite and intrigue her fans. She gained popularity by her debut drama serial Diriliş: Ertuğrul. Her fans are very eager to keep up with her through her social media accounts and watch her new shows as well.
All About Halima Hatun aka Esra Bilgiç
Esra Bilgiç is a force of nature, an amazing actress, and a gorgeous young woman. Her spirit is as beautiful as her, and she is surely one you should admire. If you're also a fan of Halime Hatun and Diriliş: Ertuğrul, then you have come to the right place! We have researched and compiled this article with every piece of information about Esra Bilgiç that we could find. Read on to find out some lesser-known facts about her that you will ever be able to. From her family and personal life to her professional life, everything is listed below!
↓ 13 – Quick Facts About Esra Bilgiç
Let's have a quick rundown of some facts about Esra Bilgiç:
Date of birth: 14 October 1992
Place of birth: Ankara, Turkey
Zodiac sign: Libra
Height: 5 feet 8 inch
Weight: 68 kg
Hair color: Brown
Eye color: Dark Brown
Education: She has studied International Relations at Bilkent University and Law at İstanbul Şehir University.
Siblings: 1 Younger Brother
Net Worth:1 Million – 5 Million Dollar approximately
↓ 12 – Esra Bilgiç's Family Background
Esra Bilgic was born on 14 October 1992. She was born in Ankara, Turkey, to Turkish parents. She also currently lives in Ankara. Esra Bilgic has one brother who she loves very dearly. She has posted several pictures of him in the past, but there are a few new pictures that are gong viral recently. People are just swooning over her relationship with her brother. Her brother is a very handsome gentleman, and girls are just going crazy about what a good looking family they are.
Are you a fan of Turkish Fashion? Head over to Best and Trending Casual Styles in Turkey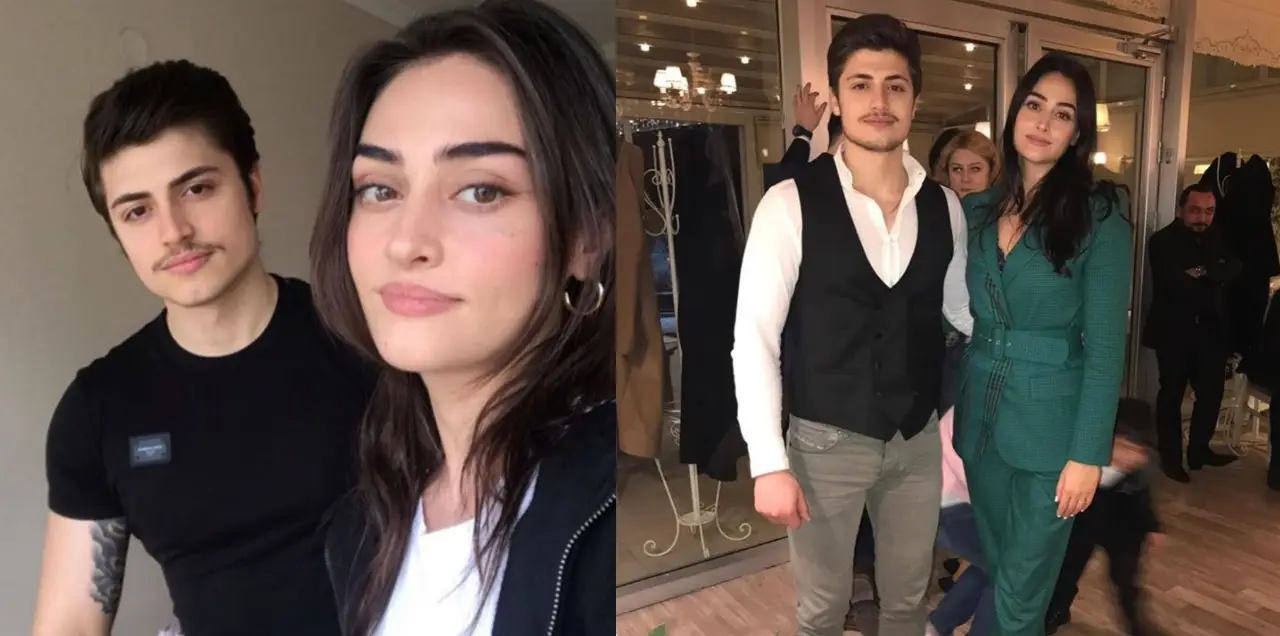 Her brother Ali Bilgic has won the heart of many Pakistani girls after they saw these pictures online. Men of the country have been swooning over Esra this whole time, but now the women also have a new crush to languish over. And we understand why. Just look at them!
Her parents have been highly supportive of her acting career and have stood by her in all her endeavors. She posted a picture from her childhood with her grandfather on twitter, which indeed shows how much love she has gotten from her family ever since she was a baby.
Esra Bilgic Childhood Pictures
Here is a picture of her first birthday. You can see that she was an adorable baby. Probably even more than she is now. But surely she has grown up into a wonderful and talented woman. She looks delighted and excited about her birthday cake and party, and we can not help but smile at her adorableness.
↓ 11 – Esra Bilgiç's Love Life
Esra's love life before her ex-husband is not known to the world. But her marriage to her ex-husband has been discussed by many for multiple reasons. Esra Bilgiç began dating Gökhan Töre in 2014. Gökhan Töre is a professional Turkish football player. He plays as a winger for Süper Lig club Yeni Malatyaspor and the Turkish national team. Töre was engaged to his long term girlfriend, Brazilian model Sofia Alexia, in April 2015 but separated shortly after announcing their engagement. Esra and Gökhan got married on 21 October 2017 and divorced on 17 June 2019.
Their divorce, however, was not messy or interminable at all. In the court meeting, Esra retired all property claims against Gökhan. The footballer did not hold any grievances against her, either. The court meeting ended in 10 minutes, and they parted their ways. This news is one of the most iconic fats about her. The reason their manage ended was infidelity. And that s probably why the divorce process was so short. Esra proved to be a powerful woman and refused to deal with a man who cheated on her, which makes this moment so iconic.
Even the President of Turkey, Tayyip Erdoğan, and his wife attended the wedding, as can be seen above.
↓ 10 – Esra Bilgiç's Education
She studied International Relations at the Bilkent University, Ankara,  and is currently studying law at İstanbul Şehir University. Bilkent University is a private university in Ankara, Turkey. It was founded by Professor İhsan Doğramacı in 1984, with the objective of creating a center of prominence in higher education and research. It was the very first non-profit private university established in the country. Istanbul Şehir University is a private university in Istanbul, Turkey. The university started its education in the academic year of 2010 at its campus in Altunizade, Üsküdar.
Drooling over Turkish outfits? Have a look at Turkish Street Style Fashion
↓ 9 – Her Achievements & Awards
She won following awards as "The Best Actress of the Series" for Ertugrul:
Antalya TV Awards (2014)
Sosyal Farkındalık Ödülleri (2015)
Sadri Alışık Theater and cinema Award (2015)
Anadolu Media Ödülleri (2015)
Türkiye Gençlik Ödülleri (2016)
Other than her project of Ertugrul, she won some more awards from the Turkish government:
Anadolu Medya Awards
Turkey Youth Awards
↓ 8 – Esra Bilgiç's Career
In 2014 Esra took up the role of Halime Hatun in the famous Turkish Drama serial Diriliş: Ertuğrul. Diriliş: Ertuğrul, is a Turkish historical fiction television series created by Mehmet Bozdağ, starring Engin Altan Düzyatan in the title role. It was filmed in Riva, a village in the Beykoz district of Istanbul, Turkey. The drama follows the life of Ertugral, father of the first Sultan of the famous Ottoman Empire. The show focuses on the heroic displays of loyalty pride that Ertugral portrayed throughout his life. And it shows how he took a small nomad group and made them powerful enough that his son was able to start an empire that ruled over much of the Muslim world for centuries.
Ertugral has received acclaim all over the world, but many countries have also criticized the drama and its plot. The show has been liked, particularly in the Muslim world. However, multiple countries in the Arab world have banned the show and fatwas have been issued against it. The show has also received criticism for lack of historical accuracy, the depiction of non-Muslims in a negative manner, and for promoting Islamic fundamentalism. Many have spoken out about how the show promotes aggression against non-Muslims and teaches young Muslim men to resort to violence.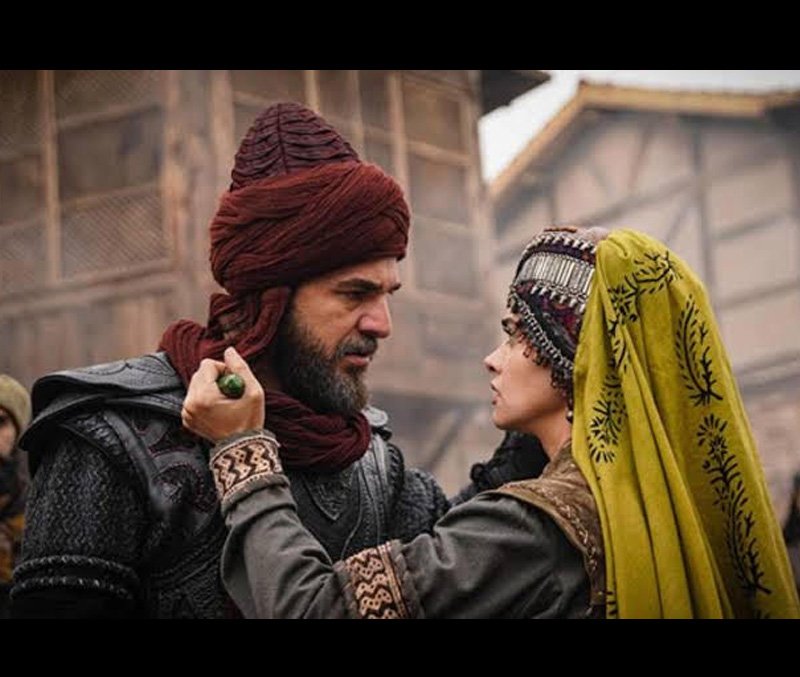 However, the show garnered immense support in Pakistan after Prime Minister Imran Khan requested that it be aired on the nationally owned broadcasting channel, Pakistan Television Corporation (PTV). He hoped to inspire the youth of the country to be more nationalist and to promote patriotism in the country. The show started airing on PTV in the holy month of Ramadan of 2020. The population of Pakistan was immediately hooked to the drama and its storyline. But more importantly, to its characters. Esra plays one such role in the show, Halime Hatun. Esra said she was "surprised and proud" to hear that the PM of Pakistan wanted to air her show in his country.
The role of Halime Hatun is of the female protagonist in the show. She is the wife of Ertugral. Some legends mentioned her as the mother of Osman I. However, historian Heath W. Lowry, among other Ottoman scholars, states that Osman I's mother is not known. The burial place of Halime Hatun is in the garden of the Ertuğrul Gazi's grave in Söğüt, present-day Turkey. In the drama, however, she is portrayed as a Seljuk princess.
She left the drama after working in it for four years, however, and then moved on to other work in 2018. She later starred in Bir Umut Yeter in 2018, but it was a short role as the drama was discontinued after only six episodes. She is now working in the drama serial Ramo. This drama is about a life long rivalry and conflict between two families. It will focus on the love between members of the two families, much like Romeo and Juliet. Esra is playing the lead role in this drama as a girl from one of the families who falls in love with a man from the enemy family. The show aired its first episode on 14 January in 2020.
She was also attended the 2nd London Turkish Film Week in April of 2019. From24th to 30 April 2019 a dozen new features, shorts, and documentaries, representing a feast of films that have found favor with audiences across Turkey, and already won many festival awards and praise from critics around the world, were unveiled here.
↓ 7 – Esra Bilgiç's Instagram Controversy in Pakistan
After the drama gained popularity in Pakistan, the fans took to social media to express just how much they enjoy it. Esra Bilgiç's social media followers skyrocketed overnight, and she gained a whole new fan following. She did face backlash in the beginning as fans discovered that she was very different in reality than her role in the serial, as most factors are. Pakistani fans of Dirilis Ertugrul started moral policing her on Instagram for following western culture in real life. Fans looked at pictures on her Instagram like the one below and completely lost it.
Fans swarmed the Instagram accounts of Esra Bilgic with rude and unpleasant comments. They blasted her for not being the same as the traditional Halime Hatun in real life. They commented that she played the role of a noble and modest woman in the serial, so she should follow that character in real life too. However, Esra Bilgic-Halime Sultan responded with love for Pakistan despite being subjected to moral policing by a cross-section of Pakistani social media users who slammed her for western dressing.
This was a small portion of the people, however, as most appreciated her work and showed support for her future endeavors. She was very happy with this turn of events and took time out to reply to every positive comment on her timeline.
↓ 6 – Esra Bilgiç's Work with Pakistani Entertainment Entities
When Esra Bilgic to Pakistan? Esra has said and shown time and time again how much she appreciates the love she's getting from Pakistan. She has said that she wants to visit Pakistan as soon as the Corona Virus pandemic is over. In June of 2020, she was on the cover of Hello! Pakistan magazine. This was her first-ever photoshoot for a Pakistani entertainment entity, and people have responded to it with enormous amounts of love. She looks like an absolute Queen in the pictures from this shoot. Her clothes, as well as her hair and makeup, all make her look ethereal.
↓ 5 – Esra Bilgiç's Work with Pakistani Brands
She has announced that she will be working with three loved Pakistani brands soon but has said it's too early to reveal their names.
↓ 4 – Esra Bilgiç's Travel Plans to Pakistan
Esra Bilgic took to Twitter to express her wish to visit Pakistan. She responded to the comments made by Pakistani fans in which they showered love on her and the endearing post with their appreciatory messages in the comments. She stated: "I'm waiting excitedly to meet you all in Pakistan after this period. Take good care of yourself. Stay in peace and health." She has also recently announced that she would be visiting Hunza Valley and Saif-ul-Muluk in the Northern Regions of Pakistan for a documentary.
↓ 3 – Esra Bilgiç's Support for UNICEF
She has also been a big supporter of UNICEF Turkiye and is always advocating for children's rights. She is working to help decrease child labor in the world and is seen posting about it on her Instagram. She has also reposted many UNICEF Turkiye posts about child labor and the rights of children.

↓ 2 – Esra Bilgiç's Stance Against Priyanka Chopra's Statement
She has also been in headlines recently for calling out Priyanka Chopra on promoting and supporting the war.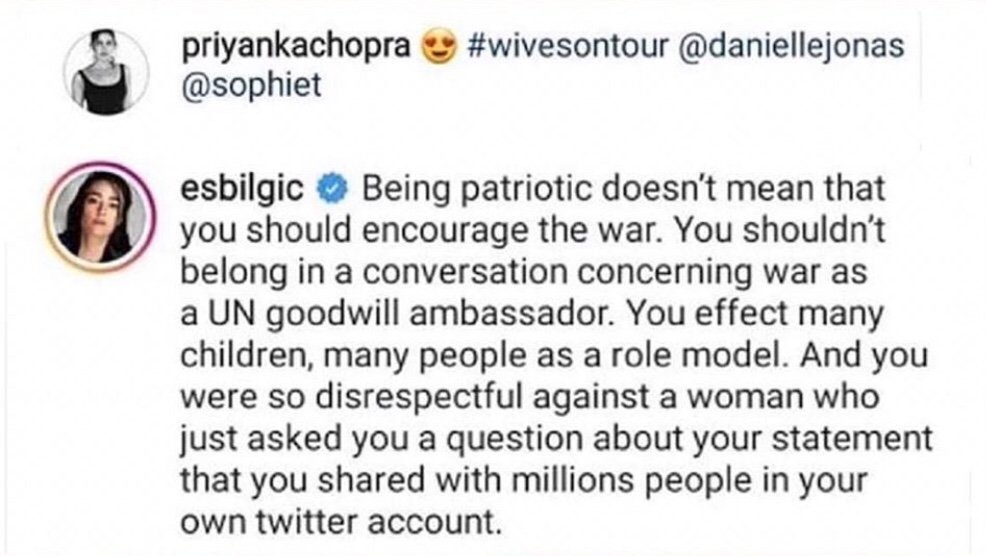 ↓ 1 – Esra Bilgiç's Social Media Platforms
Esra is very active on social media, especially ever since she got fame for her role as Halime Hatun. Fans from all over the world, and especially Pakistan, are following her online to learn more about her and to keep up with her life as it unfolds. Her social media account handles have been linked down below. You can follow her here to learn all about her and what goes on in her day to day life. These platforms are also a great way to interact with her as she takes time out to reply to her fans, so you can express your love and appreciation in the comments.
Twitter: @esbilgic
Instagram: esbilgic
Facebook: @eesbilgic
Most beautiful Pictures of Esra Bilgic aka Halima Hatun from Ertugrul
It's hard to keep your eyes from Prettiest Muslim Female Models in World
Don't miss out our earlier post about Most Beautiful Muslim Women In The World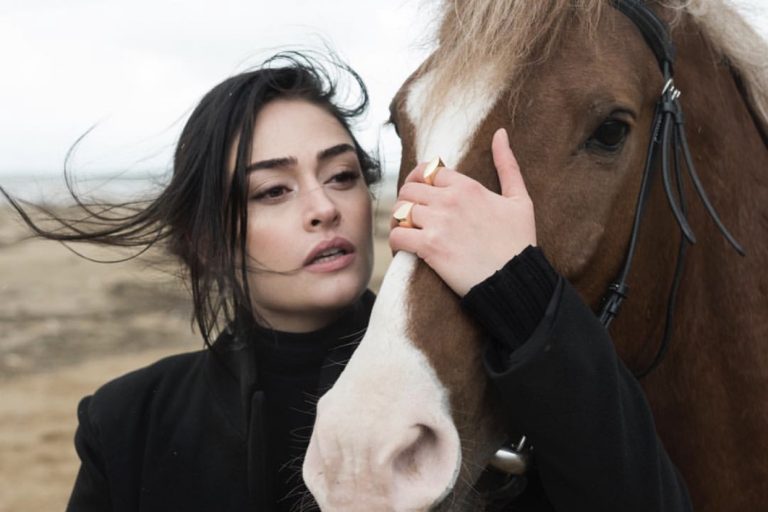 Check out our blog post about White Islamic Women with Colored Eyes