Vaani Kapoor Outfits. Vaani Kapoor is a 32-year-old Indian model and actress who recently gained popularity in the industry. She has not done many Indian films but has appeared in some commercials and TV shows before.
She is not one of the actors who had a passion for acting since their teens, but she instead realized her acting endeavors on her way to career-making. She did not even pursue a drama field in college but instead holds a bachelor's degree in tourism.
Latest Outfits of Vaani Kapoor
She is one of the celebs who know how to get their outfits noticed, and her fashion sense is the talk of B-town almost every week. So, go ahead and have a look at Vaani Kapoor's 15 best outfits up till now that you might have missed out on while keeping up with her movies!
About Vaani Kapoor
She did her schooling at Mata Jai Kaur Public School in Ashok Vihar, Delhi. Later she enrolled in Indira Gandhi National Open University, completing a bachelor's degree in tourism studies, after which she took up an internship with Oberoi Hotels & Resorts in Jaipur and later worked for ITC Hotel. She was signed by the Elite Model Management for modeling projects.
She did not make her film debut until 2013 when she appeared alongside Parineeti Chopra in the popular romantic comedy Shudhh Desi Romance. Her performance in this movie did not go unnoticed, and she received several appreciating awards and nominations, including one for the 'Best Female Debut' in the Filmfare awards.
She truly made it big after appearing in the movie, Befikre alongside star Ranvir Singh. She gained fame due to her performance in this movie as well as her outfits during the promotions. She also starred alongside Hrithik Roshan in War.
But this isn't all, and the one area that counts a lot in Bollywood is how a celebrity carries themselves, and we can, fortunately, say that Vaani Kapoor has quite a wardrobe. In love with her? Take a look at Vaani Kapoor Hairstyles.
Awards and Achievements: 
She won several awards for her performance in Shudhh Desi Romance. These include Most Entertaining Film Debut (Female) from the BIG Star Entertainment Awards in 2013; Best Female Debut from the Filmfare Awards; Star Debut of the Year (Female) from the International Indian Film Academy Awards, and Best Female Debut from the Star Guild Awards and Zee Cine Awards, all in 2014.
She was also nominated for the Best Actor in a Supporting Role – Female by the Zee Cine Awards as well as for the Best Female Debut award by the Screen Awards.
Basic Facts about Vaani Kapoor:
Age: 32 years
Date of Birth: 23 August 1988
Height: 5 feet 7 inches
Zodiac Sign: Leo
↓ 16 – Pleated Skirt Style
This look of Vaani Kapoor is super cute and very interesting as it is an amalgamation of a formal and casual look. She has combined a fancy skirt with a very casual tank top. She has styled it with a superb pair of strappy heels to make it look a little more put together.
Her makeup is light as always, and her hair is flowing naturally in waves that frame her face perfectly. As we all know, it's essential to make sure your hairdo works well with your face shape.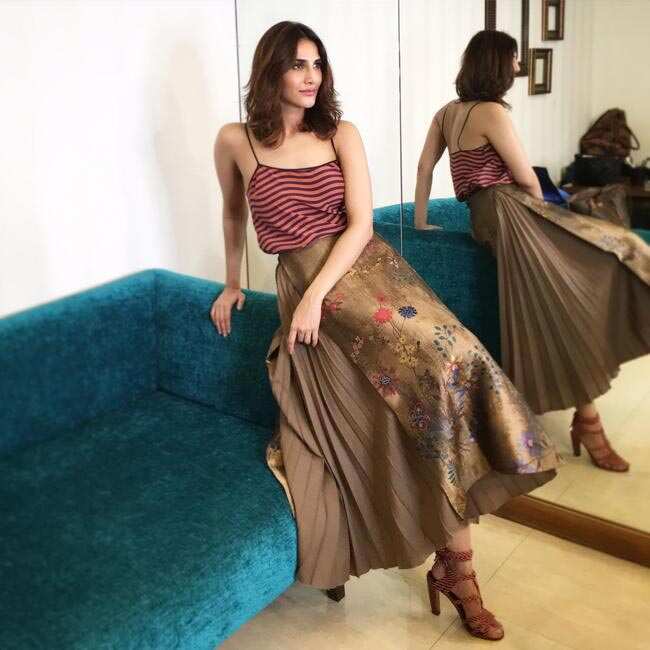 ↓ 15 – White Midi Dress
This white dress is a classic. The side slit makes it look even more classy and glamorous. We can see that Vaani has accessorized this dress very lightly, with just a simple bracelet. You will notice that this is something she often does, and we genuinely admire it. It is something you should follow in your personal life as well.
This is a unique and stylish half-cut dress that will be best suitable for an evening party where you have to show a bit more glamor side of yours. Wear it with heels to give the dress a look of superiority it needs and leave your hair open, silky, and straight for the best impact.
↓ 14 – Her Airport Look
The one thing all Indians love to wear are Kurtas. And here we see Vaani adorning a simple kurta and nailing it. She has accessorized it very casually, using a pair of simple flip flops and a pair of reflective sunglasses.
Her hair has been slightly straightened, to let them still have their natural waves but also making them look less frizzy and more put together. What we love the most is the confidence with which she's walking. And her beautiful smile is the best addition to any of her looks!
↓ 13 – Fancy Party Gown
You could probably imagine what a fancy party gown looks like, and here we have Vaani clad in a perfect gown to be worn to someone's wedding or a big fancy night. It seems like this dress was made only for her with the way it hugs her curves perfectly and makes her look like a princess out of a fairytale!
To nail this gown to the best extent, we suggest you copy her hairdo as well, of some catchy light curls or waves, and match your flawless gown with golden heels. Keep your makeup minimal to keep a match with the dress.
↓ 12 – The Red Carpet Style
Vaani truly has a grip on how to dress for promotions, award shows, or any event to make a media appearance. With a unique tea pink gown embroidered with shimmering golden patches, she walks down the ramp with loose curls and a gold purse.
Her makeup here is particularly impressive, a smokey eye paired with a nude lip. This is the ultimate clash of opposing worlds, and we have to say this combination of dark and straightforward makeup looks stunning on her.
↓ 11 – Desi Outfit with Cigarette Pants
Fashion can genuinely do unique things and bring out new trends or trends you never saw coming. And that's precisely what this is, a desi outfit with stylish cigarette pants, a look that you cannot resist. Wearing them with these slick pair of earrings/jhumkas is indeed some way to pull it off. Leave your hair in some sexy curls and wear your outfit with a catchy golden pair of heels.
The sheer skirt is something that we haven't seen on any runways, and we have to say, it is a fantastic innovation. With this one, you get a two in one deal, a skirt, and pants at the same time! And who's better to promote such a unique style than Vaani Kapoor, the fashionista, herself!
↓ 1o – Take Formal Fashion Lessons from Her
This look is classy and flashy at the same time. The khaki palazzo pants go perfectly with the tea pink silk blouse to create the ultimate evening or date night look. Her hair is in gorgeous curls, and her makeup is light yet smokey. The gold heels bring it all together and make her look oh so beautiful!
For more inspirational, everyday looks like these, check out Indian Celebrities Ripped Jeans Styles to Copy This Year.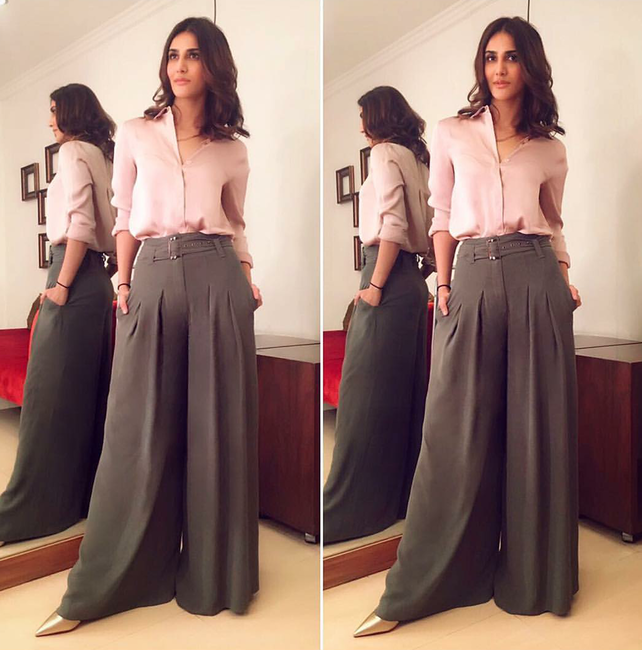 ↓ 9 – Swaggy Jeans Outfit with Leather Jacket
She surely knows how to pull off a perfect pair of jeans. She put on the right lacy tank top with these classy jeans and made it go with a phenomenal leather jacket that could not be more awesome. The makeup and low ponytail complete the look, the hairdo helping her give off biker girl vibes. While the boots make her long legs look even longer!
↓ 8 – Formal Pencil Skirt Outfit
Vaani Kapoor, in a mildly formal outfit composing of a pencil skirt with a side slit and a one-shoulder sexy top to go with. To further enhance her look, she put on the classiest nude lip color. The lace detailing on her skirt is especially appealing, so make sure you get your hands on something like this when you visit the stores next. Her hairdo and heels complete the look by bringing it all together for a glamorous finish!
↓ 7 – A Flattering Saree
The woman who nails all kinds of outfits, from short feminine dresses to casual western jeans outfits to a killer and catchy saree style, as if she already was not the best. You too can nail a saree look just as flawlessly as Vaani Kapoor is carrying it.
Dark makeup looks always go well with a saree style, especially if it's in a pale color, so go for a smoky eye look like her. Always wear heels with it, or not be able to bring out the perfection that a woman in saree still possesses, and it will also help you walk without the saree getting tangled up and causing you to trip.
For the ultimate saree inspiration, here are Top Designer Saree Brands In World 2020 With Price.

↓ 6 – Adorning Night Gown-inspired Silk Dress
Fashion never ceases to appall us in new unprecedented ways. And here comes another work of fashion that we have never laid our eyes on. This is a nightgown style of a casual evening dress, and you probably cannot differentiate if it were not for the fancy high heels and her being all dressed up.
This is a great peach velvet evening short dress, and to wear it best, we suggest you make an effort with your hair and match the dress with the fanciest pair of heels you own.
Do check out Kareena Kapoor outfits
↓ 5 – A Gorgeous Traditional Black Dress
This look is ideal for Indian weddings and parties that are traditional themed. The plain black dress looks gorgeous on her and goes perfectly with her skin tone and figure. You can never go wrong with black, and a completely black outfit is always in fashion. Style is using matching jewelry or gold accessories to get the ultimate glam.
↓ 4 – Cute Pink Dress with Sneakers
Here you can see Vaani breaking stereotypes by pairing up a dress with a pair of sneakers. It is often thought that dresses are only worn with heels or pumps, and not with sneakers. But as you can see from Vaani's look below, that is not true at all. If you have a long and tiring day ahead of you with a lot of walking involved, then this idea will be perfect for you. Just slip on your sneakers to stay comfortable all day long!
↓ 3 – A Second Simple Airport Look
Vaani even looks excellent while traveling. Her airport looks are one of her most famous fashionista moments. Where people usually just put on whatever they would feel comfortable in and don't bother about it matching, on the airport, she manages to balance comfort with style and makes it look effortlessly fabulous!
↓ 2 – A Catchy Dress with Buttons
This dress of her's is one of our favorites. She has styled it very simply using only a pair of sunglasses and light makeup. The nude lip color looks great, and it is glossy too, which is a recurring trend these days. Gone are the days of the matte look. It's all about glossy and dewy makeup now! This is a look that you can quickly adapt and look gorgeous while doing so.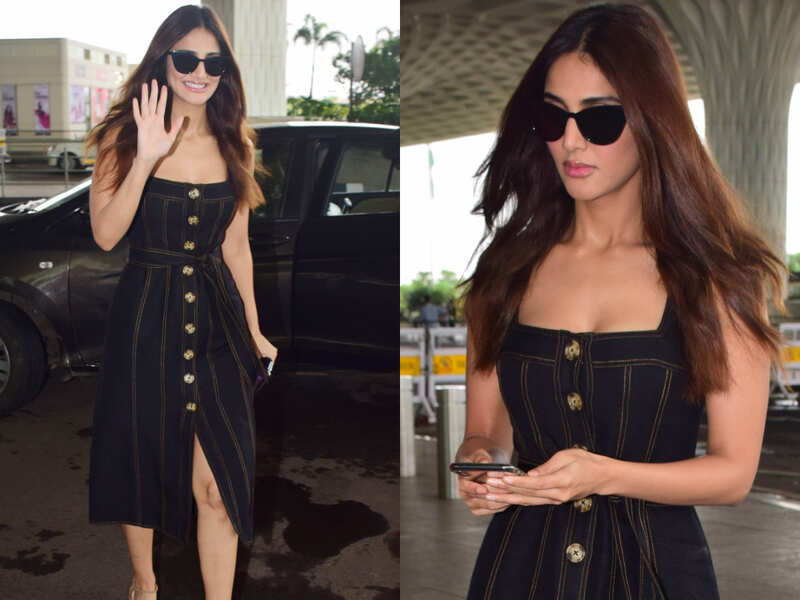 ↓ 1 – In an Off Shoulder Gown
This is the one look of her's that has our heart. The color, the embroidery, the cut of the dress, and her hair and makeup. Everything is just perfection. The way she has styled herself and how she has accessorized the dress truly makes this dress worth number one, and that's precisely why it is ranked first in our list!
Q.

Who is Vaani Kapoor's father?
A. Her Father's name is Shiv Kapoor, but he isn't famous. Kapoor's father is a furniture export entrepreneur.
Q.

 Is Vaani Kapoor a Punjabi?
A. Vaani Kapoor was born in Delhi and grew up there, attaining her bachelor's degree in the city. But she is originally a Punjab and proud of her heritage.
Q.

How did she achieve the figure she has?
A. Vaani is very particular about what she eats and does not pass her required calorie count in a day. She also drinks a ton of water. Most of all, she consistently works out. These are the basics of how she was able to achieve the figure she has. The details of this can be easily found online.