Vaani Kapoor Outfits. Vaani Kapoor is a 28-year-old Indian model and actress, who recently gained recognizance in the industry. She has not done a lot of Indian films but has appeared in some of the commercials and TV shows before.
She is not one of the actors who had a passion for acting since their teens, but she rather realized her acting endeavors on her way to career making. She did not even pursue a drama field in college but rather holds a bachelor degree in tourism. You can have a look at this amazing collection of Cutest Pictures of Vaani Kapoor
She did not make her film debut until 2013 when she appeared alongside Parineeti Chopra in the popular romantic comedy Shudhh Desi Romance, in which her performance did not go unnoticed, and she received several appreciating awards and nominations including one for the 'Best Female Debut' in the Filmfare awards. But this isn't all and the one area that counts a lot in Bollywood is how a celebrity carries themselves, and we can, fortunately, say that Vaani Kapoor has quite a wardrobe.
Complete details about Vaani Kapoor:
Age: 27 years
Date of Birth: 23 August 1988
Height: 5 feet 7 inches
Zodia Sign: Leo
Latest Outfits of Vaani Kapoor
So, go ahead and have a look at Vaani Kapoor's 15 best outfits up till now that you might have missed out on while keeping up with her movies. She is definitely one of the celebs who knows how to get their outfits noticed. So, get a look.
#15 – Vaani in A Half Cut Dress
Vaani Kapoor in a unique and stylish half cut dress that will be best suitable for an evening party where you have to show a bit more glamor side of yours. Wear it with heels to give the dress a look of superiority it needs and leave your hair open, silky and straight for the best impact. ALSO RECOMMENDED: Katrina Kaif Outfits-25 Dressing Styles of Katrina Kaif to Copy
#14 – Vaani in a Casual Gown
It could be none other than Vaani, who can nail a gown in such a casual and regular manner with nothing but a bunch of bangles, simple earrings and still managing to nail a perfect look for going to a party.
#13 – In a Fancy Party Gown
You could probably imagine what a fancy party gown looks like and here we have Vaani clad in a perfect gown to be worn to someone's wedding or a big fancy night. To nail this gown to the best extent we suggest you copy her hairdo as well, of some catchy light curls or waves and match your flawless gown with golden heels. Keep your makeup to minimal to keep a match with the dress. You should also check out Bollywood Celebrities Workout Outfits-20 Top Actresses Gym Style
#12 – In an Embroidered Long Dress
Vaani truly has a grip on how to dress for promotions or any event where she has to make a media appearance. With a unique tea pink gown embroidered with gold shimmering patches, she walks down the ramp with cool curls and a gold purse.
#11 – In a Desi Outfit with Cigarette Pants
Fashion could truly do unique things and bring out new trends or trends you never saw coming. And that's exactly what this is, a desi outfit with stylish cigarette pants look that you yourself cannot resist. Wearing them with these slick pair of earrings/jhumkas is surely some way to pull it off. Leave your hair in some sexy curls and wear your outfit with a catchy golden pair of heels. RECOMMENDED: Bollywood Celebrity Kids-15 Most Stylish Kids in India 2019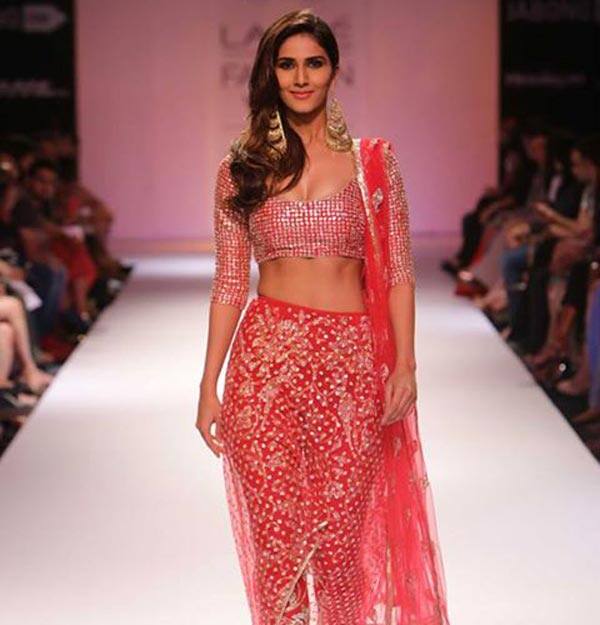 #10 – In an Off Shoulder Gown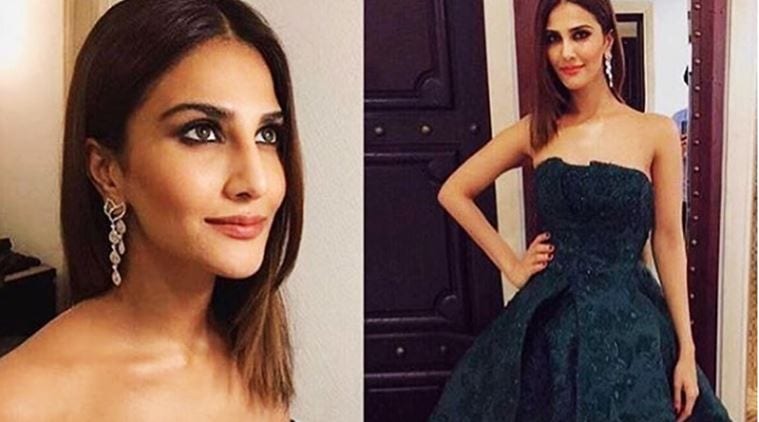 #9 – In a Jeans Outfit with Leather Jacket
She surely knows how to pull of how a perfect pair of jeans is supposed to be. She put on the right cool tank top with this catchy jeans and made it go with a phenomenal leather jacket that could not be more awesome. Plus, she also pulled it off with the right hottest hairdo, a medium haircut with short layers, and let's not begin with how the makeup go smoothly with the outfit.
#8 – In A Formal Pencil Skirt Outfit
Vaani Kapoor, in a mildly formal outfit composing of a side cut pencil skirt and a one-shoulder sexy top to go with. To further enhance her look, she put on the classiest lip color and a gorgeous hair color to go with.
#7 – In A Flattering Saree
The woman who nails all kinds of outfits, from short feminine dresses to casual western jeans outfits to a killer and catchy saree style as if she already was not the best. You too can nail a saree look just as well as the flawless carrying style of Vaani Kapoor. Also, dark makeup looks always go well with a saree style, especially if it's in a pale color. Always wear heels with it or you will not be able to bring out the superiority that a woman in saree always possesses.

#6 – A Night Gown-inspired Velvet Dress
Fashion never ceases to appall us in new unprecedented ways. And here comes, another work of fashion that we have never laid our eyes on. This is an absolute nightgown style of a casual evening dress and you probably cannot differentiate if it were not for the high fancy heels and her being all dressed up. So, this is an adoring peach velvet evening gown dress, and to wear it best, we suggest you make an effort with your hair and match the dress with the fanciest pair of heels you own. Do check out Kareena Kapoor outfits-25 Best Dressing Styles of Kareena Kapoor to Copy
#5 – A Simple Sleek Black Dress
When it comes down to the feeling of not willing to dress up a lot and just putting on something that you ∆find comforting. And for that, here's an idea. Put on a slim and simplistic sleek black dress and just work a bit on your makeup and we assure you that you will own up to your style like a boss, which proves that you do not always need to dress luxuriously.
#4 – A Cute Pink Dress with Sneakers
#3 – A Lovely Dress for Date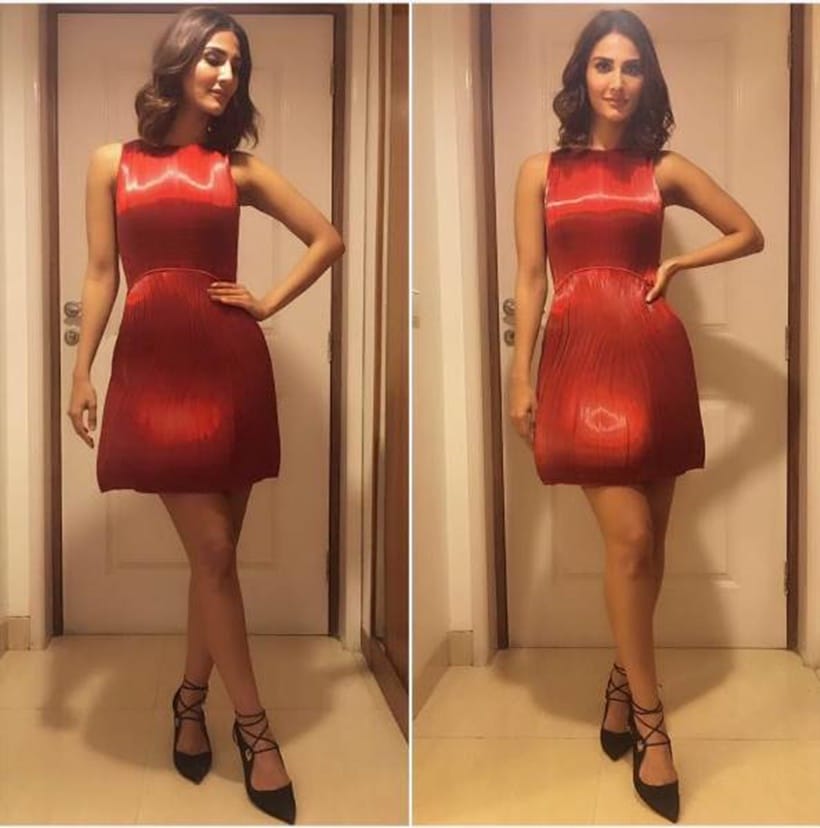 #2 – A Catchy Gown with Buttons
#1 – Vaani in Jeans and Kurti
Vaani did not fail to own the style of a regular city girl who dresses simply and hopes for the best, as she put on this simplest yellow Kurti with jeans and won hearts.