Shoes to Wear with Jeans for Women. Denim has never gone out of fashion (that's lucky for many of us!). However, wearing jeans in our routine can cause a lethal fashion monotony. What we can do to smash the boredom fashion spell is to spark up our denim look by choosing the best fit shoes to go with it. All women love wearing jeans, don't we? But we also like to have some variety in our lives and don't want to keep wearing the same old outfits with the same shoes again and again.
Today we will be sharing with you some fantastic shoe types that you can try with your jeans for a different look. The right kind of shoe will not only bring the fresh breeze to your dull denim blues but uplift your own aura as well.
Which Shoes to Wear with Jeans?
Who doesn't want to become a party slayer? Pair up the right type of shoe with your favorite jeans to become a head-turning sensation at every party you go to! On the other hand, one can become a fashion disaster just by picking the wrong shoe type with a denim outfit. Hold tight! As we are here to save you from fashion catastrophe within no time. Here is the burning question about which shoes will look good with my jeans? This is a puzzle that has been there in all of our minds, so here are a number of different types of shoes and rules on wearing shoes with different types of jeans. This article will surely be a great help to you in deciding which shoes best match your jeans the next time you feel confused.

Fashion Guide on Choosing The Right Shoes with Jeans
From a hip-hop dance party to a late-night romantic candlelight dinner, jeans can be worn anywhere. Maybe that is why we always fall for it! Many of us get puzzled while choosing the best shoe that can go well with a pair of jeans. Here we have come up with a few fashion tips and tricks that are pretty practical and easy for you to follow next time you wear jeans.
Always try to go for low-cut jeans when opting for ankle boots. Low-cut jeans are the best pairing with ankle boots as they do not bunch up at the ankles and make you look strange. If you do not want that little skin showing above the boot then you can also go for skinny jeans as they are skin tight and wnt bunch up either.
The newest jeans trending right now are mom jeans, yes the trend is back! So get your hands on these and do not pair them with shoes that go above your ankle, Opt for anything like sneakers, pumps, or platform heels.
During summertime avoid wearing closed shoes with your jeans, no matter how tempting it may be. Go for sandals so you can keep your feet fresh while also rocking jeans, which can be hard to wear in heat by themselves.
You do not have to always wear basic colored shoes such as beige, black or white. Go for funky colors and patterns! Just make sure they don't clash with your jeans if they are patterned too. We do not want too much going on below the waist.
↓ 25 – Shoes to Wear with Ripped Jeans
Be it distressed vintage jeans, Lightly distressed jeans, or shredded denim pair, the shoe type that goes well with this one can be strappy leather sandals with heels (as shown in the image below) or one can wear boots or sneakers with ripped pair of jeans. For a casual look, try wearing leather sandals with heels with your jeans. This would look great on tall girls and is perfect for summers.

↓ 24 – Street Style Fashion For Shoes with Jeans
There are specific ways to look stylish at the airport. The airport fashion is incomplete without a pair of sneakers. You can take Airport fashion inspiration from none other than Gigi Hadid. Check out how cool, casual, and yet sexy airport look of supermodel Gigi Hadid in Jeans and sneakers! She has paired skinny jeans with sneakers along with ankle-lock socks. She looks all set for the airport in style. Jeans with sneakers are a perfect pair that can be worn at professional office meetings and for a casual walk in the park too.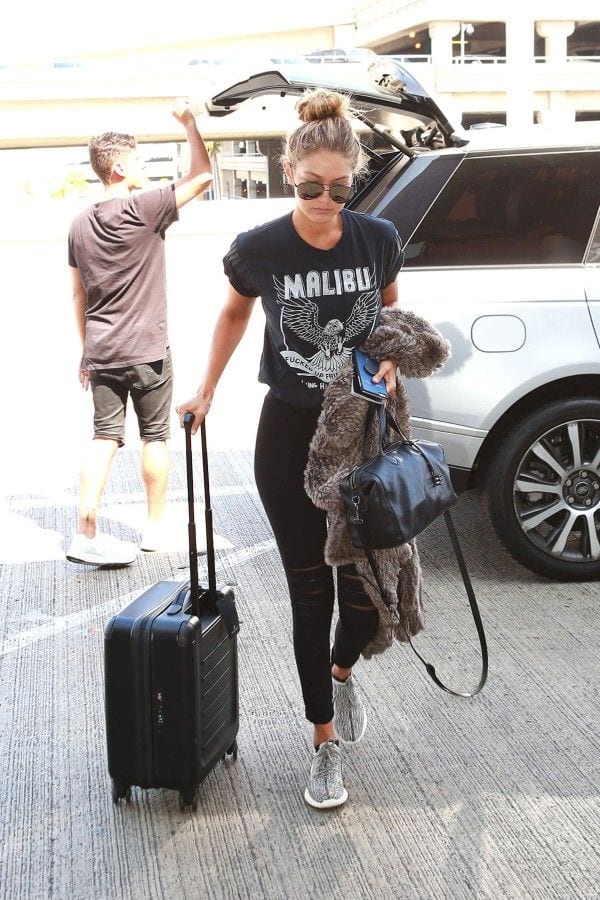 She's wearing a pair of grey Yeezys along with simple black skinny jeans.
↓ 23 – How to Wear White Converse With Jeans
Wondering which shoes you can wear with jeans when going to school or college? Do you want to steal the airport look of Gigi Hadid with jeans and sneakers? How about wearing cropped or cuffed jeans with sneakers, but leaving out the socks? This is a relatively new trend, it's comfortable and yet casual. Also, have a look at these 18 cute hairstyles for school girls.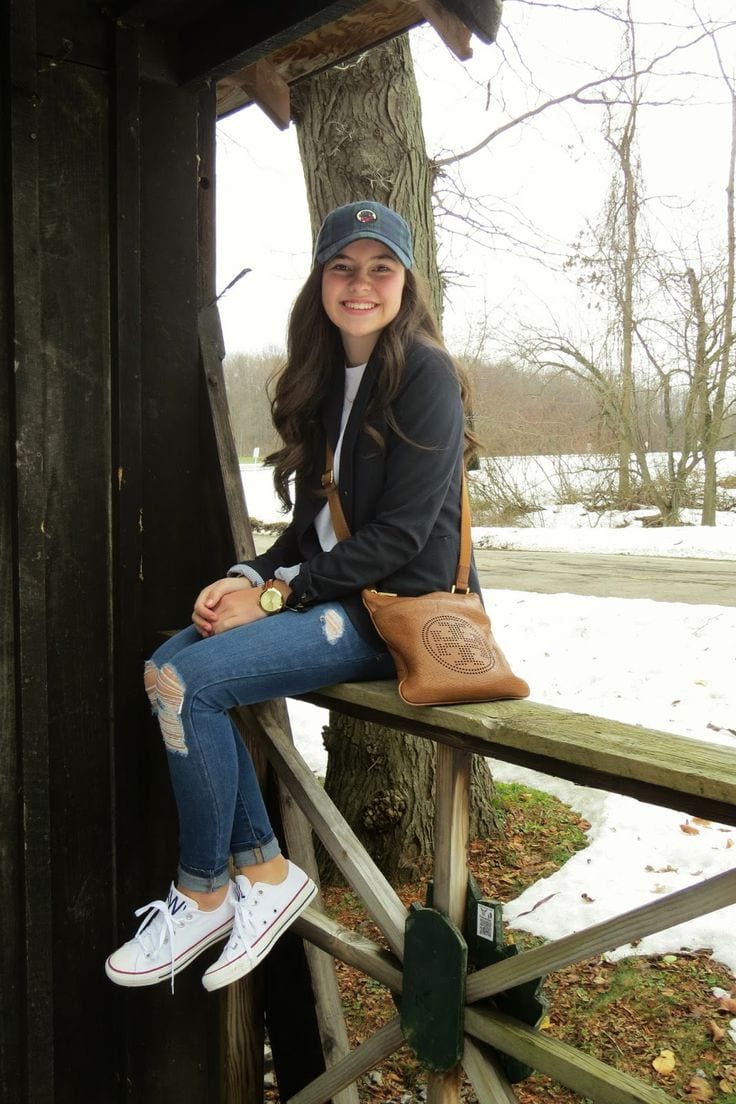 She's wearing white converse with deep blue ripped jeans.
↓ 22 – When to Wear Leather Loafers with Jeans
Jeans and leather loafers would be a great combination to wear for work as they give a sober and professional look to any outfit. A pair of Loafer shoes are fully capable of sprucing up your casual and formal outfits. Loafers are one of the budget-friendly ideas that are equally applicable for both men and women both.
For more ideas related to work outfits, have a look at these casual work outfits for women.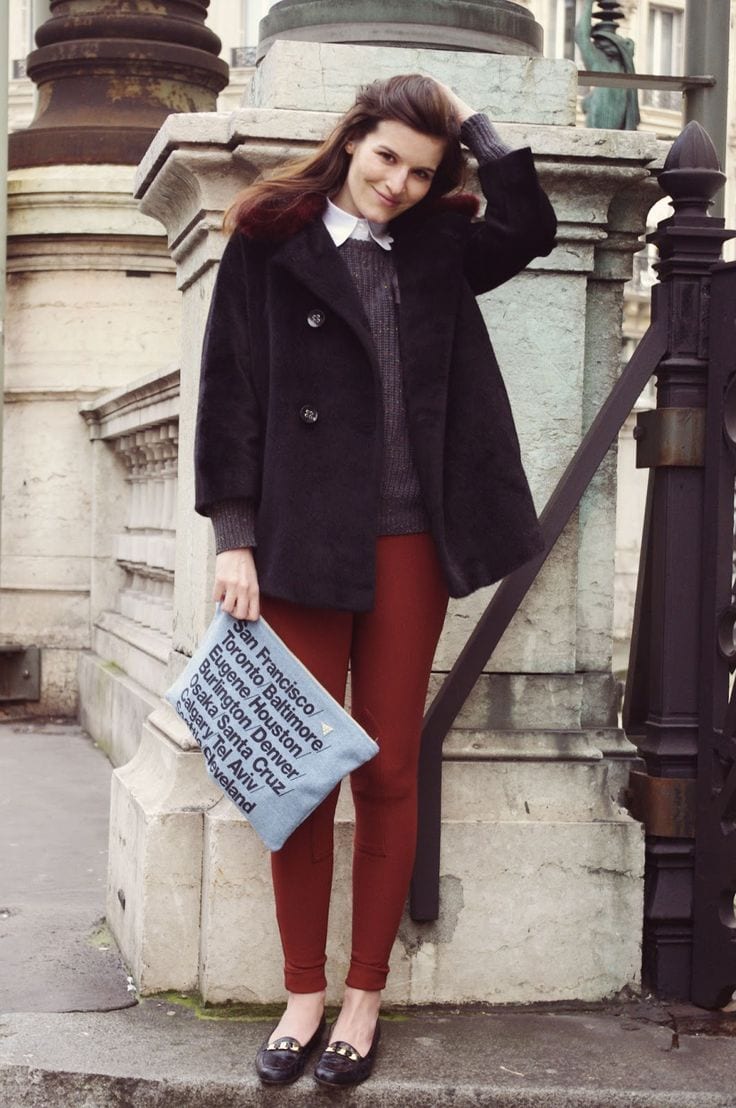 You can buy leather loafers from Clarks.
↓ 21 – The Ultimate Way to Style Cheetah Print Shoes with Denim
Cheetah Printed Canvas shoes look fantastic with any outfit when you try especially with jeans. They help bring color to the outfit, and you can always match them with accessories such as a handbag for an even better experience. Cheetah print shoes can be in the form of loafers or flats, and they go well with straight-cut or boyfriend jeans.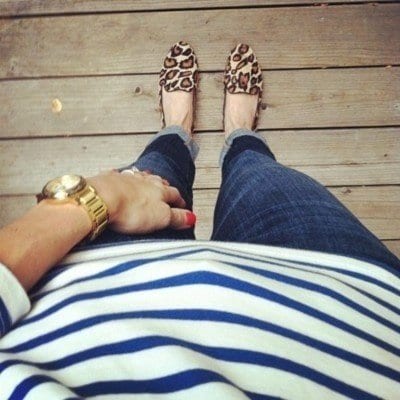 Shop Cheetah print women's shoes on Amazon.
↓ 20 – How to Wear Boat Shoes with Boyfriend Jeans
This is another casual look, wearing boat shoes with jeans. Great for a day in the outdoors. If you do not own a pair of high-end sports shoes, then you can wear boat shoes instead of wearing trainers shoes.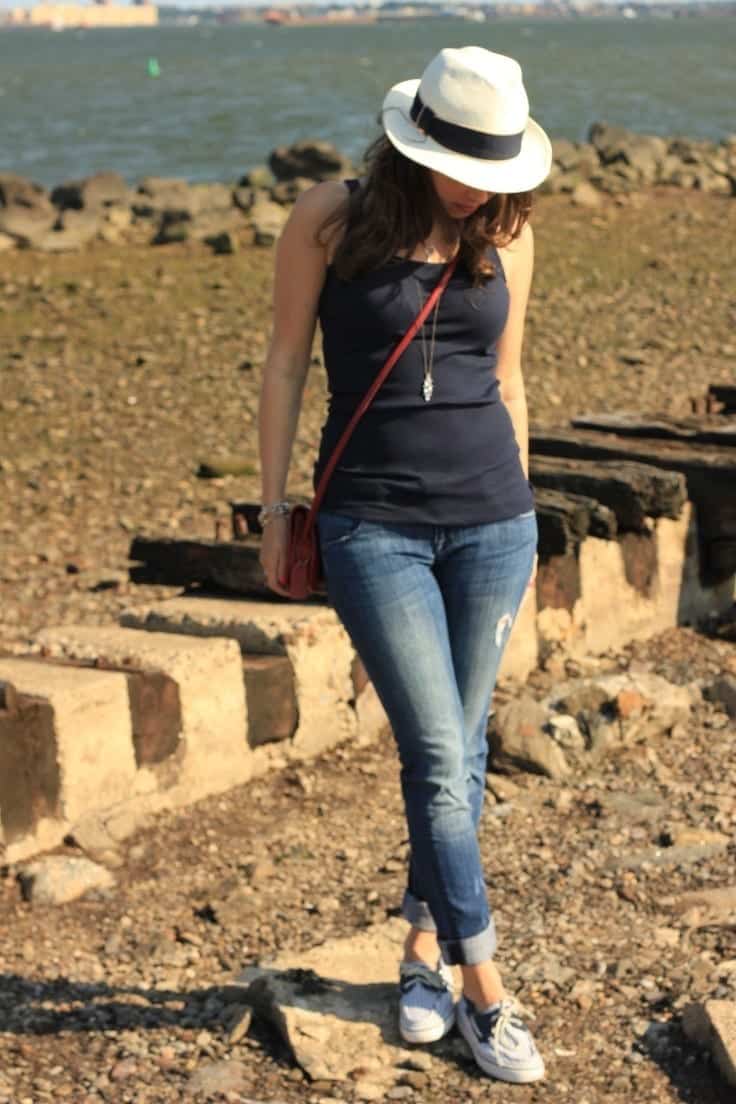 Buy Boat shoes on Amazon online.
↓ 19 – Desert Boots with Denim for our Skinny Ladies
Desert boots are also known as Chukka boots. Desert boots are the doorway to a classic fashion window. Desert boots are actually Chukka shoes that are made up of light leather and crepe rubber sole providing maximum shock absorption capability for the wearer. In the winter season, desert boots can be partnered up with a monochromatic cotton shirt and jeans with an optional sweater if it is too cold outside.

Via
Shop these desert boots at Desert Boots.com.
↓ 18 – Ankle Boots with Jeans – The Winter Look
It's hard to find boots that go with jeans and a coat. But these Chelsea Boots are great shoes that you should try with blazers in the winters.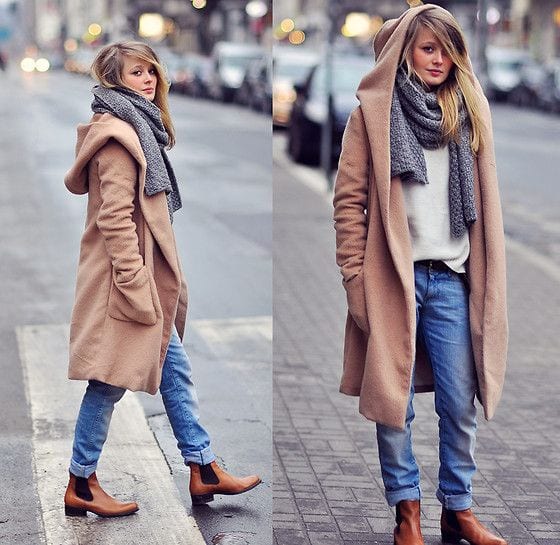 Get these boots at Farfetch for $382.
↓ 17 – The Hip Hop Monkstraps for Teenagers
Perfect shoes to wear with denim or skinny jeans are none other Monkstraps. Did we tell that they are super comfortable too?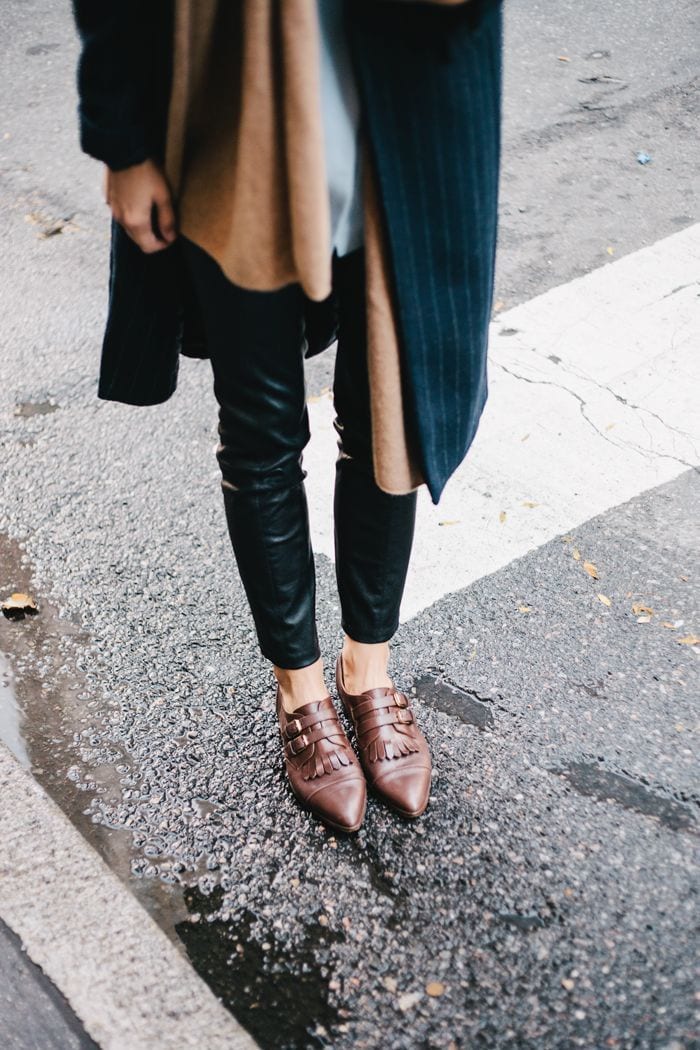 ↓ 16 – Crop Jeans with Ballerina Flats for Our College Going Girls
A 2000s inspired look for those girls who like old fashion. Pull out that leather jacket cropped jeans, and ballerina flats to bring it all together!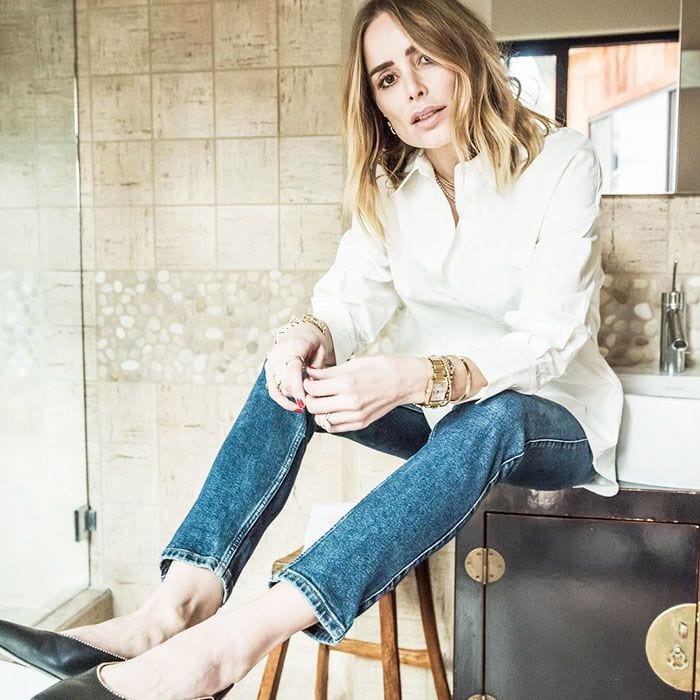 ↓ 15 – Thong Sandals with Jeans – The Summer Look
A lace crop top and thing sandals with jeans give the ultimate summer look for all the young ladies out there.
↓ 14 – When to Wear Stiletto Pumps with Your Levis
On occasions where you need to formalize your outfit but don't want to wear fancy pants pair up stilettos with your every day jeans for a quick fix.

↓ 13 – What to Wear with Ankle Boots and Jeans
For the chilly fall days pull out for scarf and vest to pair up with your ankle boots and sexy jeans that you can fold at the ankles for maximum swag.

↓ 12 – Heeled Ankle Boots with Jeans for a Unique Look
And maybe go for an added heel to your ankle boots if you want to add in a little extra layer of sexiness!

Shop these shoes at Farfetch.
↓ 11 – Patterned Shoes with Flared Jeans
Flared jeans are super hot and so are these patterned boots. The combination is absolutely flawless and we are here for it!

via
↓ 10 – What Shoes to Wear With Jeans for Plus Size Women
Plus size women can also rock jeans and here's how. This look is great for plus-size women. For more ideas on plus-size officers, have a look at these 15 cute outfits with skinny jeans for plus-size ladies.
↓ 9 – Gladiator Heels with Double Denim
Gladiator Heels or gladiator sandals look chic when worn with ripped or cropped jeans. The illusion that gladiator footwear creates is that they make your feet look a bit wider and your legs a bit shorter. The classic gladiator look comes with Black Gladiator shoes so if you have one, then do partner it up with jeans trousers. Knee-high gladiator footwear looks best for plus-size women.
Gladiator footwear can be shopped from Amazon.

↓ 8 – Floral Shoes with Jeans for Spring
Denim and Floral heels are a pair made in heaven. However, floral shoes always prefer wearing shirts with solid colors without any print so that your look does not sound overdone. Floral shoes with jeans look best when worn in the summer and spring season.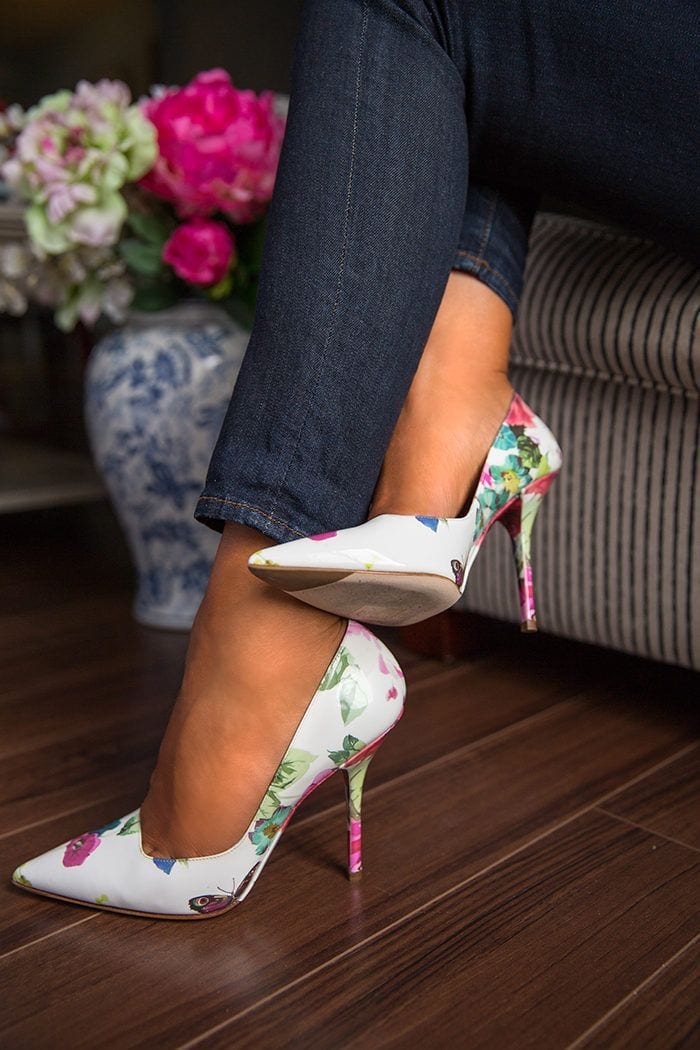 Get floral heels at Amazon.
↓ 7 – Knee Length Boots
The sexiest shoes on this planet have to be knee-high boots. They make your legs look endless and help you appear taller than you are.  You will look like a complete model while adorning these with your favorite pair of jeans. A long sweater will make it the perfect fall outfit.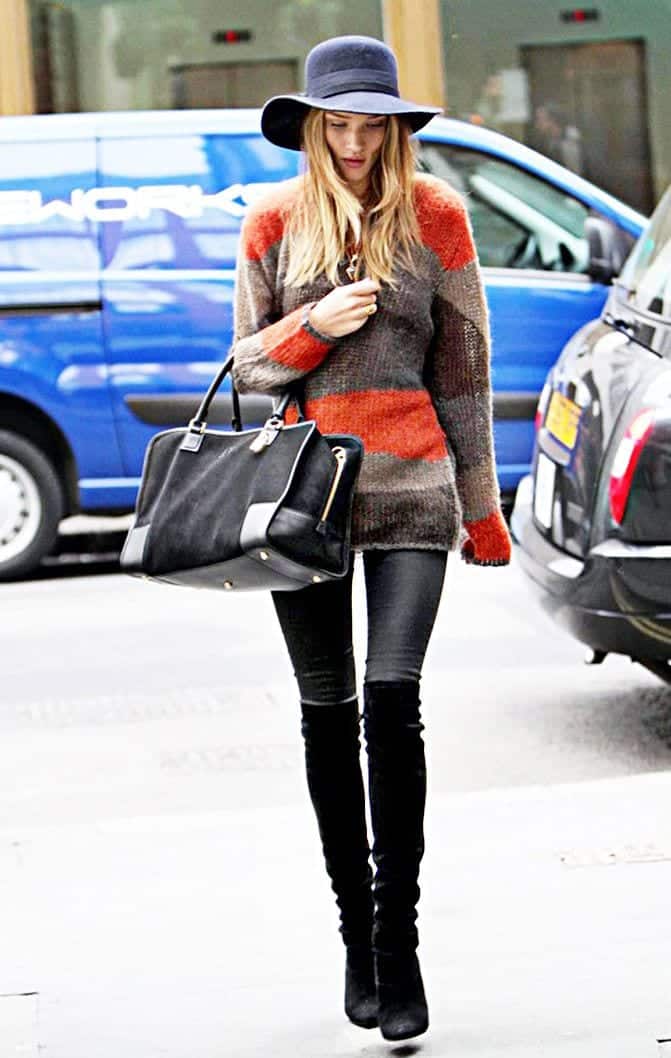 Shop these long boots at Farfetch.
↓ 6 – Jean Shorts with Wedges for Slim Ladies
Surely an unusual look but one you can pull off easily with a little bit of confidence. Wedges are a hot pair of shoes and paired with jean shorts, they just get even hotter!

↓ 5 – Accessories Add To The Ultimate Shoe and Jeans Combo
The best way to incorporate funky-colored shoes into your outfit is to add another accessory to the mix which also has the same bright color, as Reese Witherspoon has done here. This outfit should show you that you don't always have to stick to basic colored shoes with jeans!

↓ 4 – Flat Sandals for a Chic Look
Flat sandal, when paired up with jeans, is an indication of a dynamic fashion styling sense that any woman can ever possess.
Amazon offers flat sandals on their online store, which you can shop.

↓ 3 – Flip Flops with Cigarette Jeans
Tuck in any solid-colored blouse or a T-shirt with a pair of jeans along with flip-flops. Flip flops are something that you can wear while traveling up to space even! They are lightweight and super comfortable footwear that one can ever wish for. Alternative names for Cigarette pants are Slim fit pants, Pencil pants, and Stovepipe pants. Grab a pair of Flip Flops for those days which require extra comfort.
Buy yourself a pair of Flip Flops on Amazon.

↓ 2 – Pointy Lace-Up Flats with Boyfriend Jeans
Your feet will be more than thankful and happy if you wear lace-up flats to your next outdoor plan. However, the pointy look of the lace-up flat shoes will create an illusion of long legs when worn with skin-tight jeans or straight-cut jeans. The ballerina-style pointed flat shoes give vintage vibes all along. You can even wear it for a whole long day and your feet will feel light even at the day's end. Rubber sole and elastic ankle strap will provide further comfort to your feet if your outdoor routine involves prolonged walking activity or standing posture.

↓ 1 – How to Style Slip-On Sneakers with Jeans
Bell-bottom jeans can be perfectly paired up with slip-on sneakers. The print of sneakers can be of any solid color, denim fabric, or Cheetah print too. Besides the cool hip-hop look that sneakers can provide, they are super comfortable also. While buying sneakers, do check the base sole material. The base sole material should be of the best shock absorber material such as rubber. Too soft or too hard material will result in pain in your feet and legs. As far as Slip-on sneakers are concerned, they do not have laces in their design. Without laces, the consumer is free and safe from lace tangling hazards that can lead to an injury. You have to slip in your feet in the sneakers, and you are good to go anywhere you want.
Buy Slip-on sneakers on Amazon.

Get these shoes at Vans.
Celebrities inspired Jeans with the Right Shoe Type 
Having a special event coming up and wearing jeans is a question mark in your head. Hold on! As we have come with celebrities-inspired jeans look with the right type of shoe being paired up.
The Cara Delevingne's Jeans Look with Ankle Boots
Here is the secret of being sexy without showing much of your skin. Wearing black jeans with blue ankle boots looks like a pair made up in heaven. Cara deserves a tap on her back for having such an electrifying fashion sense.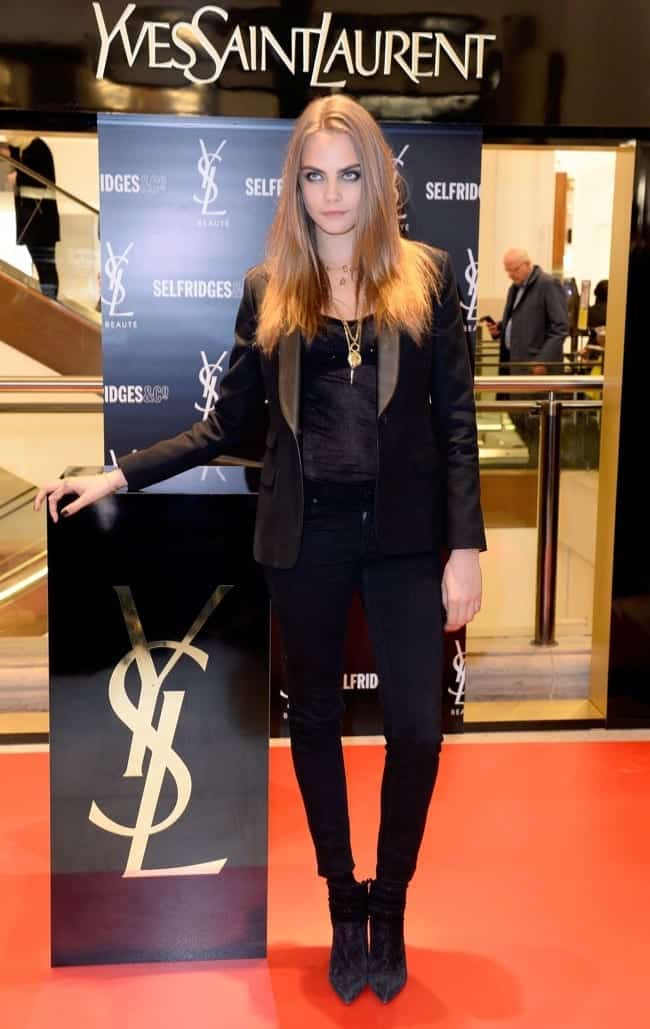 The Heidi Klum Jeans Look with Heels
Heidi Klum was spotted at the launch of "Heidi Klum Intimates Collection" in skin-tight matte black jeans paired up with evergreen high heels giving her all the power to rock the red carpet of the event.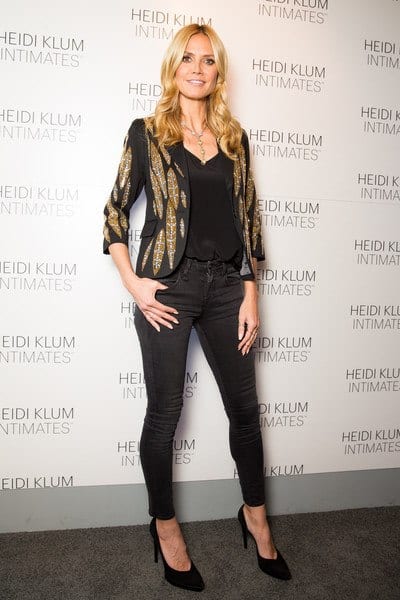 Ashley's New York Fashion Week Denim Look
High-waisted jeans with tall heels paired up with a fringe top are one of the slayer look of Ashley Tisdale at the event of Lauren Conrad Spring runway show during New York Fashion Week. The look was further accessorized with a watch, a choker, a cuff bracelet, and a clutch.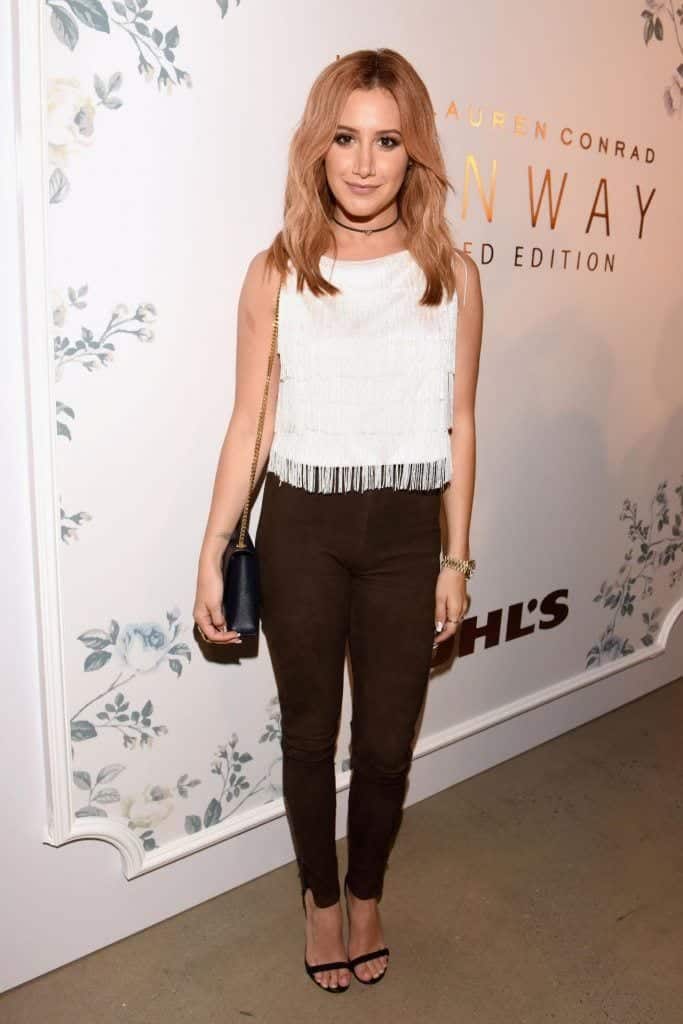 Frequently Asked Questions
Q. Is it a good idea to wear Heels with Jeans?
A. Why not! You can go for it any day. Prefer those heels that have pointed toe as it will give an illusion of long legs. Pointed-toe heels look elegant when paired up with straight-leg jeans.
Q.

Which Shoe color to wear with Blue Jeans?
A. You can pair up dark brown shoes with blue denim. Light Beige colors go well with blue jeans in sunny summer and breezy spring season. Usually, shoes having Jet black, dark brown, white, and royal blue shades go well with Blue jeans.
Q.

Which Type of Jeans goes well with Long Boots?
A. Freezing winter vibes can be conquered with the help of jeans and long boots. If you're searching for answers to the right type of jeans to go with long boots, then the answer is low-cut jeans. Many celebrities opted for this pair as their signature look in the cold winter season.
Q. Is there any Unisexual Shoe type to wear with Jeans?
A. And the answer is a big Yes! Loafers are known as unisexual shoe type, and it pairs up well with jeans. It is listed as one of the super casual looks on which probably men and women both agree upon effortlessly.
Q. Will Oxford Shoes with Jeans make me old-fashioned?
A. Not at all, girl! You can proudly pull up the classic oxford shoes with skin-tight jeans as your casual jazzed up the look of the day.