No matter what your age winter is that time of year where finding both stylish and practical outfits can be a bit of an issue. But for the teen girl style and image is everything. So this post will look at this year's winter styles for teen girls. What clothing is both fashionable and practical? What footwear will get you noticed and keep your feet warm and dry? And what accessories are acceptable this season? Here we bring you 17 cute outfits style for teen girls in winter this year.
In the last post, we covered stylish summer dressing combinations for teen girls. Now its time to bring new trends as for how to look hot in cold weather. Printed and patterned woolen knitwear is a winning choice of attire for any lady and even more so this year for teens at it sours through to the very top of stylish winter wear. I'm not talking about of course the infamous Christmas jumpers, but ones which have geometric shapes, floral patterns, stripes or even a central knitted logo or picture.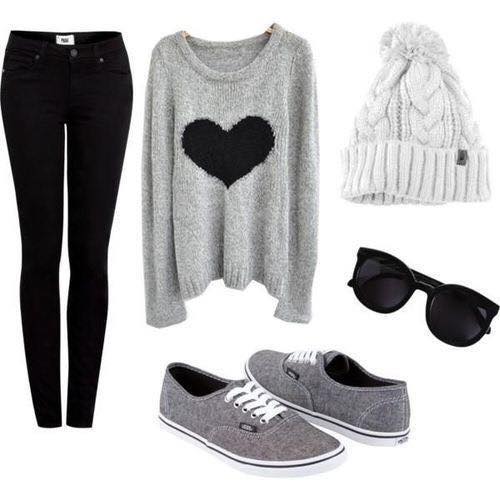 Skinny jeans are a favorite for teens all year round so why not keep them rolling on throughout winter too? Slim fit in winter allows you to show off knee high, calf high or ankle boots. Contrasting boot colors such as brown will compliment black or blue jeans beautifully.
Hoodies are also a good winter choice as they also can logos or images as well as keeping you warm. Long coats are also a great winter item for teen girls. These should ideally be fitted rather than baggy and loose however make sure you allow for your clothes underneath. When trying on a coat in a shop, do so with a jumper on underneath.Casual Style with Vans Sneakers.
Footwear for this season must be both fashionable and practical and for teen girls getting this balance can sometimes be an issue. Ugg boots, calf-highs, and knee highs are great shoes for this season. They are high enough to keep you warm and dry but are also available in such a vast range of styles and colors that discovering a pair to suit your outfit will be really easy.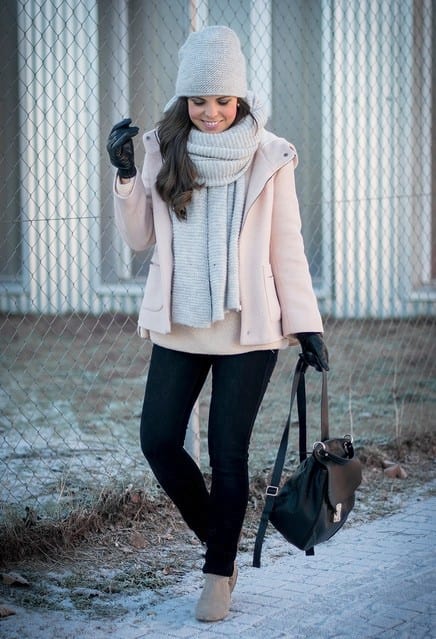 Everyone knows that hats and scarves are must-have accessories for winter but for a teen girl style why not go for large and chunky scarves? These will add more volume to your outfit as well as keeping you extra warm during this cold season. Fabric and wool gloves or mittens will be better during winter. Leather gloves will stay cold and not do you any favors so stick to fabrics. Flip mittens for teen girls are a great accessory as they're practical and come in all patterns and styles such as animals, snowflakes, stripes and floral.
 Winter Combination with Long boots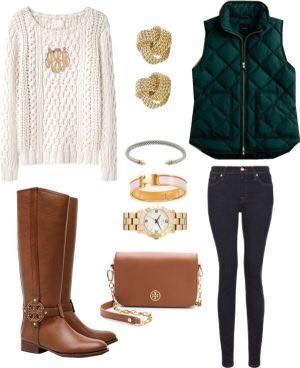 Chunky Knitwear and Ugg Boot Combination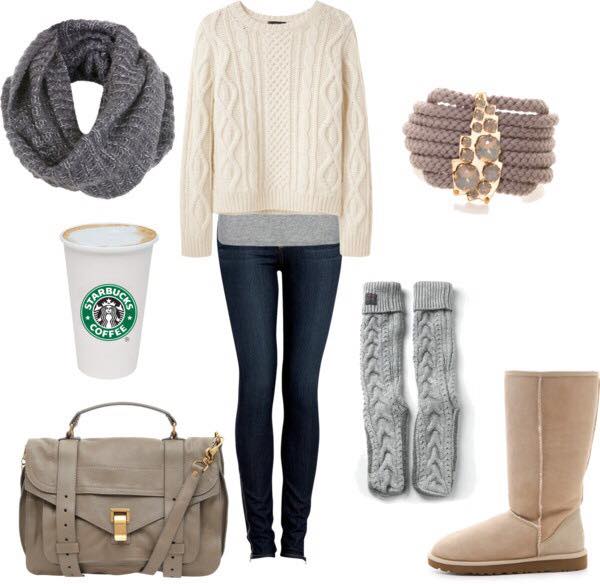 Pink and Grey Teen Winter Style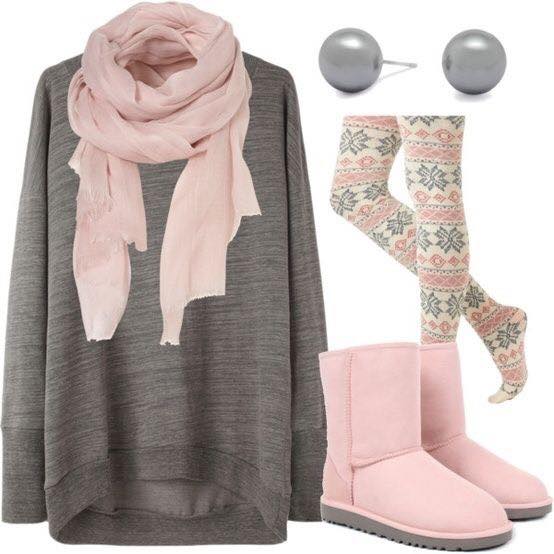 Stripe Jumper with Skinny Jeans and Scarf
Striped sweaters or jumpers are perfect for summers and they can be worn with a lot of different things. You can go for this combo when running late in the morning or when you want to dress up effortlessly. For this combo go for stripped sweater and along with it wear white or dark blue colored jeans. Don't forget to go for infinity scarf in any dark color for the perfect combo.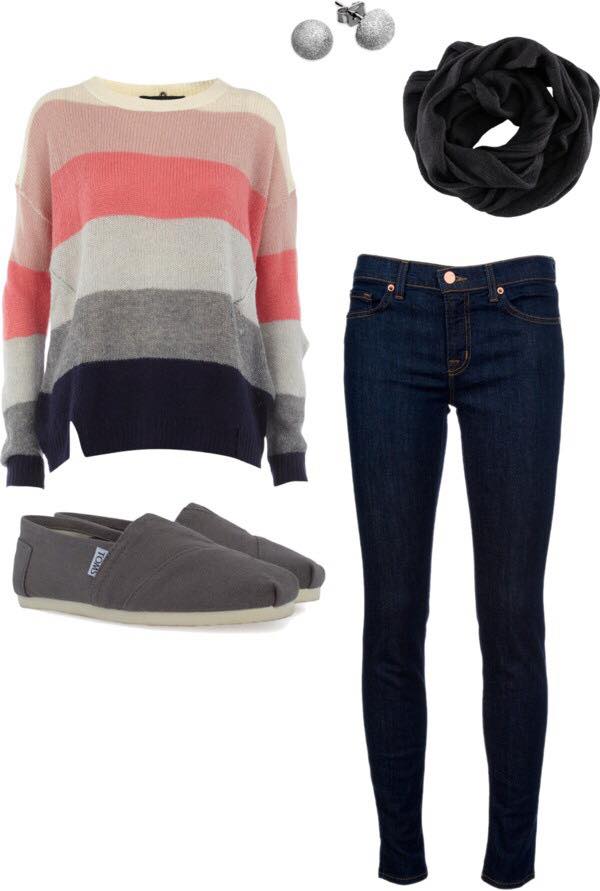 Patterned Jumper, Skinny Jeans and Ankle Boots with Matching Accessories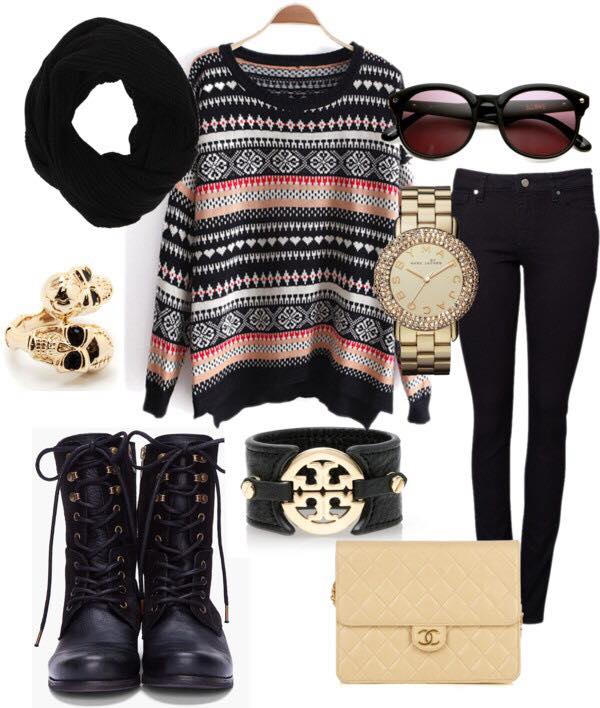 Lattice Style Jumper Over Gingham Shirt with Knee High Boots and Animal Print Clutch Bag

 Sports Winter Style Combination
You can also see different Winter sports/workout outfits combinations for girls. This outfit is perfect for working out in winter days or when going for running in winters. For this outfit go for yoga pants for comfort during the winter. Then add dark gray colored hood on top of the pants. wear white and black colored joggers or sneakers with this combo.
 Bright Coat with Fur Trim, Patterned Jumper, and Fur Trim Boots
This yellow themed outfit combo is perfect when it is snowing outside and you want to step up the clothing game. For this outfit go for white colored skin tight jeans with a sweater on top in winter color as well. For the coat go for trench coat or cape coat in yellow color to give a little pop of color. You can also add a cute beanie cap in white color and wear fur boots in brown color along with this full combo.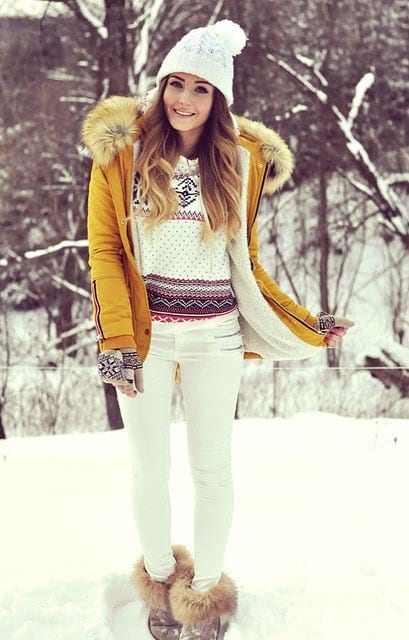 Chunky Patterned Scarf Over Plain Jumper and Skinnies
This colorful outfit is great for winters because we all know very well how boring and dull the winter clothing can get so spice things up with this brilliant winter combo. For this look, go for dark blue colored classic skin-tight jeans and then wear a loose gray colored sweater or cardigan on top. For the scarf, you can go for a colorful one in thick fabric and wrap it around your neck to give you more comfy look. Here are 17 Latest Style Winter Outfit Combinations for Teen Girls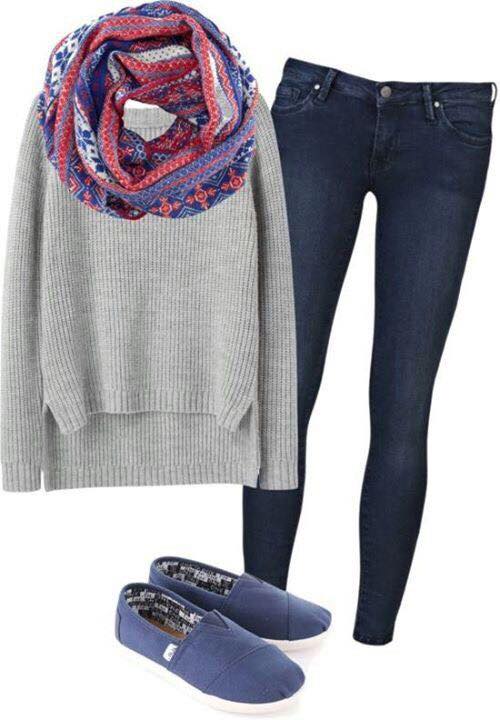 Casual Look. Logo Print Jumper and Skinny Jeans with Lace Up Boots
Dark blue jeans look perfect with white or gray colored shirts or sweaters. For the best combo in this winter, you can go for dark blue colored skin tight jeans and along with that you can wear white colored inner shirt and gray colored sweater on top. You can go for a dark gray colored scarf and gray colored boots with laces. This outfit is perfect for college or even for work.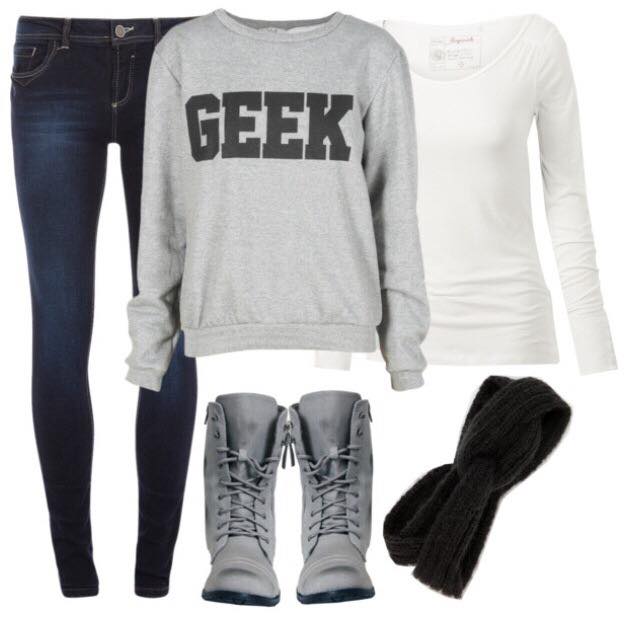 Cream and Burgandy .Perfect dressing combination for college girls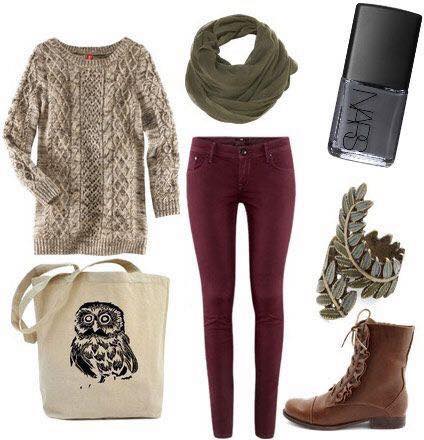 Casual style with ripped jeans.
For this casual outfit that is perfect to be worn to college or when going out to grab a cup of coffee all you need to do is to go for ripped jeans and gray colored half sleeves tank top. For the scarf, you can go for an infinity scarf. For shoes you can opt for sneakers or anything that is extremely comfy and warm to wear. You can wear a high top bun to make the infinity scarf look good and since the colors of the dress are gray you can wear a thick eyeliner with a little bit of smokey eyeshadow. These 25 Smokey Eye Makeup Tutorials Will Change Your Look Dramatically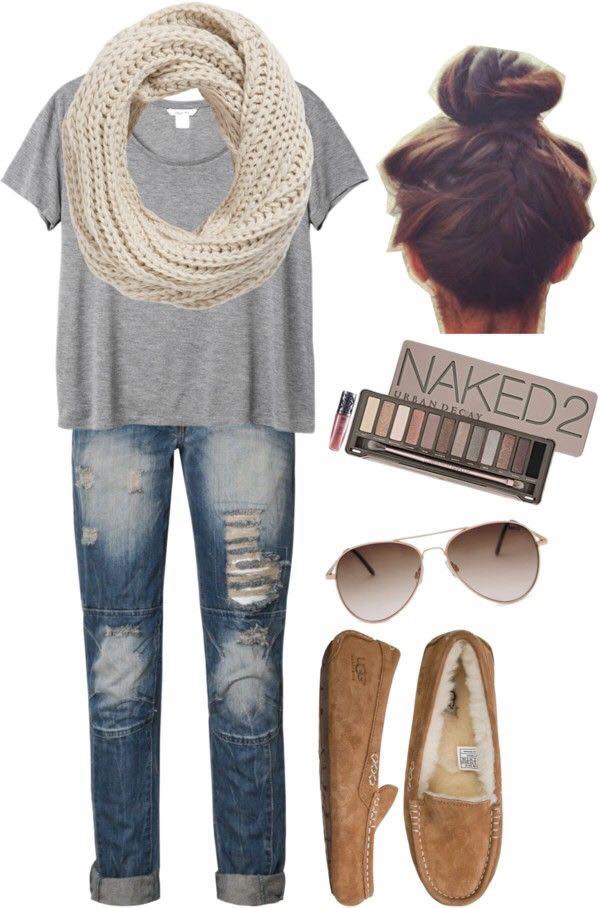 Punk Themed Style. Studded Boots and Skinny Jeans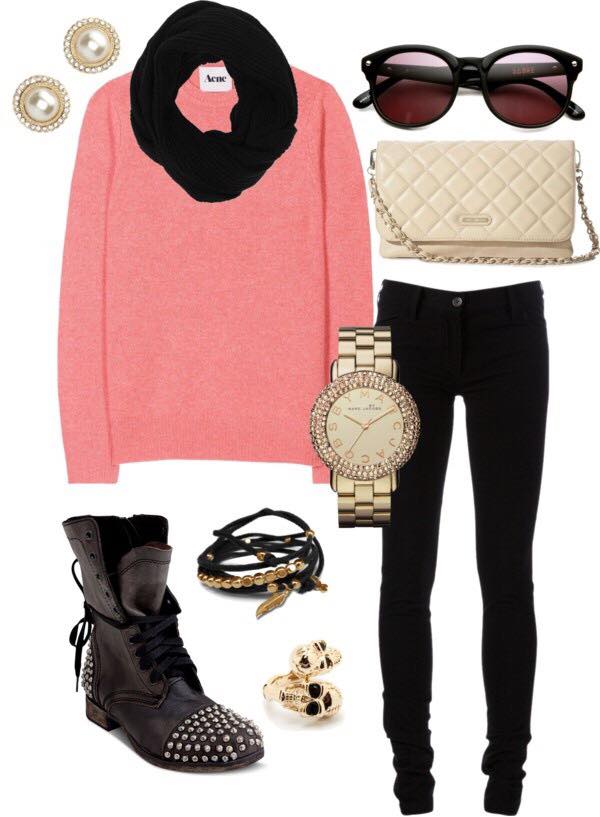 Thick Scarf, Jumper, Wool Coat and Brown ankle Boots