Most Expensive Pakistani Weddings. The trend of who gets to have the most publicly expensive wedding is becoming as overrated as it can be. Many of the fans of these bold celebrities look up to their lifestyles, their looks, and their trends, they also become overly exposed to when these celebs showcase their big days on the media.
Most of the celebrities do this firstly to increase their fan following which actually works. As so happened with Urwa and Farhan's wedding, who had their following on social media exploding once they broadcasted their none so ordinary wedding, also, by including the most popular factor of Farhan's proposal to Urwa right underneath the Eiffel tower. Even Farhan made it to one of the most followed celebs. If you're getting married soon then don't miss out this most awesome collection of Pakistani Bride and Groom Photo Shoot as it will give you some great ideas for you wedding photoshoot.
If you are wondering which weddings made it to the top of the list of the most expensive weddings then this post will brief it down for you. It includes some celeb couples, some political bodies who also happen to feel obliged to be prominent on social media and broadcasting how wealthy they can be to the world.
The Most Shockingly Expensive Pakistani Weddings
Have a look at the 5 most expensive Pakistani weddings that made a much larger ground in the media, also, for the fans and they held on to it for a bit too long, with increasing Instagram following, the timely Snapchat stories, the Youtube videos and everything else that fans could cherish from news feeds to appearances in newsgroups. So glance through which weddings made it to the top.
#5 – Urwa Hocane and Farhan Saeed
Urwa Hocane and Farhan could not help with broadcasting their each and every moment. Also, the presence of such approachable media platforms such as Instagram and Snapchat (which happens to be live) made it thoroughly easier for fans to get their hands on each single update. The expensiveness of the wedding could be seen when it all began with the prominent proposal of Farhan underneath the Eiffel tower, and Urwa clad in a fabulous red dress. Even though most of the outfits of Urwa and Farhan were borrowed, they still were by some of the best designers there are. It was an overall sponsored wedding and did well for both the celebrity couple and for designers to market as much as they could have.
#4 – Nawaz Sharif's Grand Daughter Wedding
Mehrunnisa, the granddaughter of Nawaz Sharif and daughter of Maryam Nawaz married the son of a wealthy industrialist Chaudhary Munir, Raheel Munir. The presence of overall 2,500 guests at the wedding showed just how much gigantic the festivity was. The exotic location happened to be the Ittihad Farm House. It comprises of four enormous marquees, all of which were dressed in flower decorations.
The exotic celebration was also blessed with the presence of other important guests such as the governor Rafiq Rajwana, Chief minister Shahbaz Shareef, some other ministers, both federal and provincial, and the leaders of other political parties also made their presence and added glamor to the show.
For a glowy and fresh skin on the big day, it is important to use the right makeup products and it is equally important to buy the best cosmetic products to use after your wedding too so don't miss out Top Cosmetic Brands 2019-20 Most Popular Beauty Brands List
#3 – Sharmila Farooqui's Wedding
Sharmila Farooqui's wedding practically fulfilled the vision some people have about an actual royal wedding. Even if it was not to such an extent, the media itself did a great job at exaggerating and sensationalizing the coverage. Which included the luxurious festivity and the ceremony. The excessiveness of wealth and expenses was prominent in the coverage. Since weddings are nothing but a supposed and forced celebrations for something that may not even work out or seem as fulfilling but the pretentious country was awed by the outlook of a big materialistic wedding. Here are Top 10 Most Expensive Arab Weddings of All The Time
#2 – Munib Altaf Wedding
The wedding that was probably not meant to end at any cost, unfortunately, met its end at one point. The wedding itself had not alone been a record breaker of who manages to celebrates their big day the longest possible, the social media also did the rest of the job of celebrating even longer with exploding their Instagrams with the viral hashtag of #AnushMunib and #munush. The wedding was considered the longest that Pakistan could have seen in its history. The Mehndi alone of the temporarily exotic couple proved itself a real-life fairytale for the fans and hence, the boiling culture and trend of big weddings today. Do check out 10 Most Expensive Bollywood Wedding Dresses of All The Time
The fans shared plenty of snaps of the glorious stage of the ceremony, which looked no ordinary, bombarded and surrounded everywhere with flowers over a glossy marble floor. The wedding party was basically presented with a theme of Disney Princess gone tipsy, in which not only the numerous guests but the bride and groom as well dressed in various costumes. And as you know, no royal wedding can be possibly completed without a fancy bridal shower, so apparently, this one was not either and many other countless parties took place, on the yacht and at many other places. What we know, is that this wedding was taken all the way to Turkey and lasted about 4 to 5 days.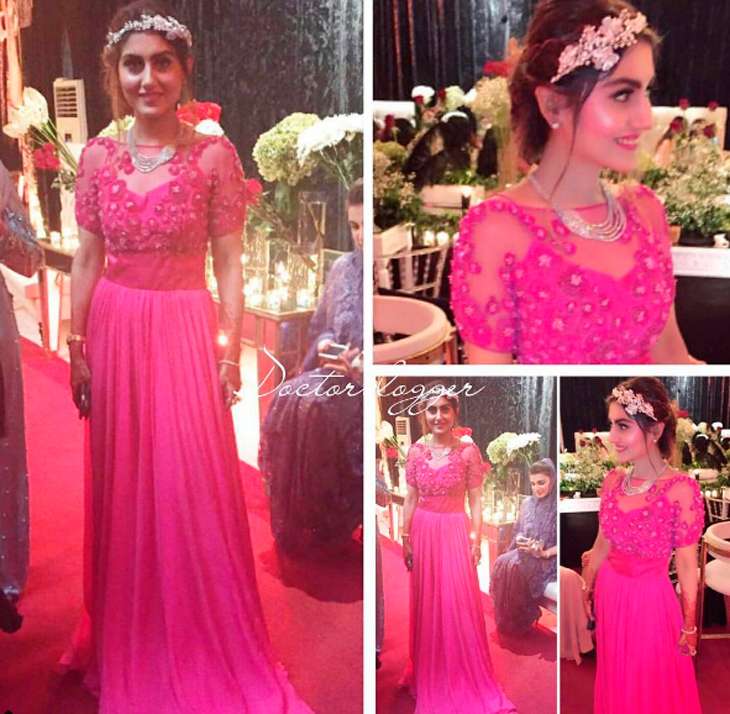 #1 – Sanam Jung Wedding
The TV host and VJ got married to a flight instructor in January 2015. Even though the couple now has a kid together, the fans still cherish and hold on to every detail of the couple's wedding as much as they can. Since Jung happened to be a popular host of her show, she gained a lot of popularity from that alone and which is probably why her wedding was such an important entertainment source for the fans and a revenue generator for the media. RECOMMENDED: Sanam Jung Wedding Pics – Dholki Mehndi Barat Walima Pictures
Even though the couple's wedding was not as extravagant as you could have expected for a celebrity couple of Pakistan, they still managed to stand out a bit in the game. With Sanam clad in a luxurious looking peach and gold wedding dress and the flight instructor's sherwani cannot be counted as ordinary in any way. People like to keep it exclusive, but the celebrity could not help sharing the exclusive bit of her celebrations with her millions of fans and hence, once again the social media exploded with resharing, hashtags, enviousness and everything else in between.
 Big Fat Pakistani Wedding of Malik Riaz's Grand-daughter
The business tycoon Malik Riaz, owner of the Bahria Town, is known for his wealth and lavish spendings so it was obvious that his grand daughter's wedding would be the fanciest one. Have a look at some pictures from the event:
Rahat Fateh Ali Khan performed at the function:

And yes, the bride and groom flew away in a helicopter!

We hope you enjoyed the post, do let us know which one of these was your favorite couple
A Chemical Engineer by profession and content designer by choice! Meet Manahil Qureshi who has an infinite love for food and cats. Be it the latest fashion ideas about women or kids outfits or trendy men fashion styles, she loves to keep her pen moving on such niches. Other than writing, she has a love for designing jewelry which is why she has also started her own designer jewelry label, called Glare jewels. Want to know what is coming up next on her publication blogs? Subscribe to the newsletter and keep yourself updated anytime. Cheers!