Top Muslim Male Models. Here's a list of some great Muslim models around the world – who have made their marks in different countries across the world with their charm and popularity. Some, got in, on the basis of their looks and a bit of hard work, and ended up making thousands of fans and achieved a strong social media presence.
Male models do not get to enjoy the same fame and power as the female models in the industry, and it can be quite hard for male models, in general, to try and make a name for themselves. Exceptions obviously exist everywhere, but it is highly unlikely for male models to get as much recognition as their female counterparts when it comes to fame.
Most Popular Male Muslim Models In The World
Some Muslim men have taken it upon themselves to dominate a field of work that has a bias against the followers of this religion. They might have started from nothing, but years of work got them where they wanted to be. Every field has its own requirements, and these fields require people to struggle accordingly. The population growth is on the constant rise, and with a growing population, industries are being saturated. Team Branded Girls have come up with the list of top male Muslim male models.
The Fashion industry & Muslim Male Models: A Beautiful Contrast
Being a male in the fashion industry alone can prove to be quite a setback for those trying to do well in the industry. Being Muslim adds a whole new dimension to this struggle. Islam is known to be a relatively conservative religion that does not allow its followers to get involved in professions that require them to give up modesty. Modeling is a diverse field of work that requires people who pursue it to sometimes push their boundaries that may not be in line with the morals of a certain group of people. The rise of social media has furthered the interests of the modeling industry in particular and has only made it harder for people wanting to enter the industry. With so many people to choose from, it is getting increasingly harder for hiring agents to choose models for their campaigns. It is commendable how a group of people who have been ignored and marginalized for centuries because of their beliefs has managed to make it regardless of the saturation of the industry. So, check out the list of these mind-blowing Muslim models from around the world that had the honor of being included in our list of best Muslim models.
How did we choose
A lot of effort and energy went into selecting the male models in the Muslim world who have made it. The selection criteria is mainly based on the number of followers these models have on social media and how often these models are seen on the runway and selected for various campaigns. Social media popularity is a major deciding factor because when it comes to an industry that profits off the likings and dislikings of people in its most pure form, social media can be a true indicator of what is popular among people. The more the number of followers a model has on their social media, the greater their popularity is. Brands are looking for popular people for their campaigns so that they can propagate their message far and wide. This leads to them walking the runway for various brands and showing up on different campaigns. The Muslim models in our list are listed from the least to the most popular models in the Muslim world based on all of these factors. The list includes:
10 – Omar Borkan Al Gala – From Dubai
9 – Kivanc Tatlitug – Turkey
8 – Abdel Abdelkader
7 – Yusuf Dwairi
6 – Tareq Naguib
5 – Shekib Samimi – Afghanistan
4 – Udi Karni – Palestine
3 – Aram Gevorgyan – Armenia
2 – Eugen Bauder – Kazakhstan
1 – Brahim Zaibat
↓ 10 – Omar Borkan Al Gala – From Dubai
Omar Borkan is a popular model, actor, and photographer. He was raised and born in Iraq but later moved to Dubai, when Saudia Arabia failed to appreciate him. Some might not quite comprehend as to how a country could just expel citizens for being too good-looking, but as it turns out, that's what happened to Omar. Omar managed to make rounds in 2013 when he was expelled from his country for being too handsome for the women in the country to handle. It happened during a cultural festival, where Omar and his friends worked as models at a booth. It might sound unbelievable to most people, but there's no telling regarding the extent a country can go to when it focuses on things that seemingly defy the odds.
Well, now it all has been locked in the past, and Omar has now moved to Dubai to begin his new adventures. His Instagram account shows some of his time of the life moments that you must check out if you are a fan. You can not miss out on these Top 10 Middle Eastern Male Models List.
↓ 9 – Kivanc Tatlitug – Turkey
We don't know where to start from because Tatlitug is full of talent. He is a 36-year-old model who has managed to accomplish far too much for his age. He is a former skilled basketball player and has accomplished himself as an actor and a model. He happens to be one of the highest-paid actors of Turkey and also has to his name the title of the best model of Turkey. His baby blue eyes and his beautiful blonde hair are enough to explain as to why he has that title of this name. He won the award of the best model in 2002 and has managed to stay relevant and flourish in the modelling field. He always has shown passion towards modelling, and acting and below are some of his best shots. He identifies as Muslim and considers himself to be a rather devout Muslim. He has a tattoo that translates to "Only God can judge me". Have a look. You can also follow him on Instagram for a better look into his life.
↓ 8 – Abdel Abdelkader
Abdel Abdelkader is a former model of Moroccan descent. He hails from Melilla, which is an exclave in Spanish located in the North of Africa that shares a border with Morocco. Abdel is known for his beautiful Arabic features with beautiful brown eyes and brown hair that perfectly compliment his lean physique. He has done runway shows for big names like Memo, SM men's wear and Bench body, showing off his perfect muscular body showcasing an eight-pack. Not only does he work hard at the gym, but this man of many talents has also managed to diversify his personality by being multilingual. He is fluent in several languages including Catalan, Portuguese, Spanish, Berber, Mandarin, and English.
Abdel now works as an entrepreneur. He is a renowned model who has made his mark among his fans as the classiest of all. Surely, his long hours of workout have paid off with him ending up with looks of utter amazement. Check out his Instagram to get insight into his life.
via
↓ 7 – Yusuf Dwairi
Yusuf Dwairi is also known as the magic Mike of Instagram, is a model who has made waves on social media. Not only is he a model, but he is also a doctor in the making. He has striking European features, and his perfectly complimenting body is not something that goes unnoticed. He originates from Jordanian-Turkish origin but currently resides in Cairo and is undertaking his studies at the Cairo University Faculty of Medicine. If you thought it couldn't get any better, he also has a twin brother who is a basketball player by profession. His Instagram account is the one that you have got to follow. Flooding with his stunning model-like looks and his many cool adventures, you will be amazed at his sensual and artistic ways. So go ahead, and follow his account and add some instant charm to your news feed.
↓ 6 – Tareq Naguib
Tariq Naguib stole the spotlight when he became Mr. Egypt and Mr. World in 2010. Naguib also made it on to a list of the Top 20 models in the world.
The 33-year-old was born in Cairo and has been in the industry for nearly a decade. He's got a smile that could light up New York City.
Tareq is a 33-year-old model and actor from Egypt. His sassy Instagram account is just as vividly fabulous as he is. He one of the top Arab models in the world and has been working in the industry for more than a decade now. He was even awarded the title of Mr World and Mr Egypt due to his tremendous work in the field. He has quite a lot of followers on social media that are bombarded with his favourite model moments and some moments of classy photography shots. His beautiful smile is to live for, which is why we recommend you to follow his Instagram to light up your feed.
So follow him up and take some tips from someone who has made his mark in the modelling world in a very short period of time. Here are 10 Most Handsome Arab Men in the World.
↓ 5 – Shekib Samimi – Afghanistan
Shakib Samimi is again one of the few models that you ought to know about as they are not as popular as others. His Instagram profile shares some good moments of his life as a celebrity, and obviously, some absolute model poses photography that you cannot miss out on.
You can also pick up some of his outfit ideas as surely most of his snaps are focused on suitable dressing styles and his seasonal outfits.
↓ 4 – Udi Karni – Palestine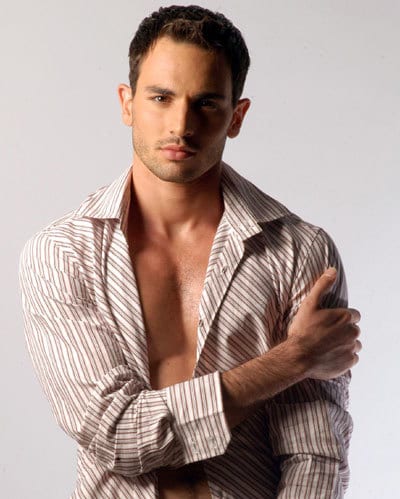 ↓ 3 – Aram Gevorgyan – Armenia
Aram Gevorgyan is not the kind of model you can just pass by and look into the details. He has a mysterious and eye-catching Instagram account and as he says it's his only presence of social media. You can follow it here. His social profile is filled with deep and fabulous posts that showcase his unique taste and also bless us with his stunning as usual looks.
He's one of the most prominent models in the Arab world and has made his mark in the world of modelling as well. Apart from that, his looks are no less either – with that dark brown hair and the mesmerizing blue-green eyes – there's no mistaking that his fans love him. When we look through this list, we know who is the best, and it's clear that it's him.
↓ 2 – Eugen Bauder – Kazakhstan
Now, here's our Eugen Bauder from Kazakhstan, who is now a German model and actor. Apart from the very apparent and breathtaking looks he has got, he's also one skilled actor. His strong presence on Instagram says the same about him.
In the Arab world – he has built his image as the actor with model-like looks which can be seen in his impressive snaps on Instagram. The usually gelled and slid back hair, the hard-shaped jawline and the most stunning pair of eyes one can hope for. If you too are awestruck by his deviously charming looks then go ahead and follow him to have a bigger sneak peek of his life. Also have a look at
The Prettiest Muslim Female Models in World.
via
↓ 1 – Brahim Zaibat
Brahim Zaibat is a French choreographer, dancer, and a model. He is an excellent dancer who has appeared in a whole lot of shows and has led him to have so many followers. His great looks also owe to his fame and success right now and the fact that he used to go out with a practical diva of the music industry – Madonna.
His social account on Instagram is swarming with hundreds of his wild and crazy moments from his dance shows, to snazzy selfies, to group photos and his many many adventures around the world that he shares with his fans. If you are too, then follow him.
This is where our list ends. We love how Muslims are dominating and taking over the world. We wish them the best of luck and hope to see this list grow.