Who is the Top Muslim Male Models 2018 ? Here's a list of some great Muslim models around the world – who have made their marks in different countries across the world with their charm and popularity. Some, got in, on the basis of their looks and a bit of hard work, and ended up making thousands of fans and achieved a strong social media presence.
They might have started from nothing, but years of work got them where they wanted to be. So, check out the list of these mind-blowing Muslim models from around the world that had the honor of being included in our list of best Muslim models. So don't miss out and follow them on social platforms to spice up your news feed and get to know more about them.
Best Male Muslim Models In The World
↓10 – Omar Borkan Al Gala – From Dubai
Omar Borkan is a popular model, actor, and photographer. He was raised and born in Iraq but later moved to Dubai, when Saudia Arabia failed to appreciate him. Some might not quite comprehend as to how a country could just expel citizens for being too good-looking, but as it turns out, that's what happened to Omar.
It happened during a cultural festival, where Omar and his friends worked as models at a booth. Well, now it all has been locked in the past and Omar has now moved to Dubai to begin his new adventures. His Instagram account shows some of his time of the life moments that you must check out if you are a fan. You can not miss out these Top 10 Middle Eastern Male Models 2018 List.
↓9 – Kivanc Tatlitug – Turkey
We don't know where to start from because Tatlitug is full of talent. He's a model, a highly accomplished actor of Turkey and a former skilled basketball player! He happens to be one of the highest paid actors of Turkey and his looks are enough to comprehend that he's one model as well. He won the best model of the world award in 2002. He always has shown passion towards modeling and acting and below are some of his best shots. Have a look. You can also follow him on Instagram for a better look into his life.
↓8 – Abdel Abdelkader
Abdel is a former model and now works as an entrepreneur. He is a renowned model who has made his mark among his fans as the classiest of all. Surely, his long hours of workout have paid off with him ending up with looks of utter amazement.
↓7 – Yusuf Dwairi
You might not have heard of him – but his Instagram account is the one that you have got to follow. Flooding with his stunning model-like looks and his many cool adventures, you will be amazed at his sensual and artistic ways. So go ahead, and follow his account and add some instant charm to your news feed.
↓6 –  Tareq Naguib
Tareq is a model and actor from Egypt. His sassy and open Instagram account is just as vividly fabulous as he is himself. He one of the top Arab models in the world and was even assigned the title of the top model in 2010 in Mr.World. He has quite a lot of followers on social media that is bombarded with his favorite model moments and some moments of classy photography shots.
So follow him up and take some tips from someone who has made his mark in the modeling world in a very short period of time. Here are 10 Most Handsome Arab Men in the World.
↓5 – Shekib Samimi – Afghanistan
Shakib Samimi is again one of the few models that you ought to know about as they are not as popular as others. His Instagram profile shares some good moments of his life as a celebrity and obviously, some absolute model poses photography that you cannot miss out on.
You can also pick up some of his outfit ideas as surely most of his snaps are focused on good dressing styles and his seasonal outfits.
via
↓4 – Udi Karni – Palestine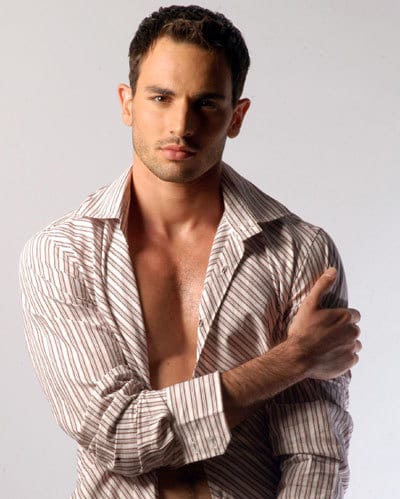 ↓3 – Aram Gevorgyan – Armenia
Aram Gevorgyan is not the kind of model you can just pass by and look into the details. He has a mysterious and eye-catching Instagram account and as he says it's his only presence of social media. You can follow it here. His social profile is filled with deep and fabulous posts that showcase his unique taste and also bless us with his stunning as usual looks.
He's one of the most prominent models in the Arab world and has made his mark in the world of modeling as well. Apart from that, his looks are no less either – with that deep brown hair and the mesmerizing blue-green eyes – there's no mistaking that he is loved by his fans. When we look through this list, we know who is the best, and it's clear that it's him. Here are the 19 Best Outfits Worn by Zayn Malik All Time.
↓2 – Eugen Bauder – Kazakhstan
Now, here's our Eugen Bauder from Kazakhstan, who is now a German model and actor. Apart from the very apparent and breathtaking looks he has got, he's also one skilled actor. His strong presence on
Instagram
 says the same about him.
In the Arab world – he has built his image as the actor with model-like looks which can be seen in his impressive snaps on Instagram. The usually gelled and slid back hair, the hard-shaped jawline and the most stunning pair of eyes one can hope for. If you too are awestruck by his deviously charming looks then go ahead and follow him to have a bigger sneak peak of his life.
↓1 – Brahim Zaibat
Brahim Zaibat is a French choreographer, dancer, and a model. He is an excellent dancer who has appeared in a whole lot of shows and has led him to have so many followers. His great looks also owe to his fame and success right now and the fact that he used to go out with a practical diva of the music industry – Madonna.
His social account on Instagram is swarming with hundreds of his wild and crazy moments from his dance shows, to snazzy selfies, to group photos and his many many adventures around the world that he shares with his fans. If you are too, then follow him.