Top Lipstick Brands 2020. So what really counts when you want to get your hands on the best lipstick out there? Well, apparently every factor that constitutes the best lipstick out there is what counts.
Let it be the seductive and sensual shade of the lip color, the essence you experience when you put it on, the plumpness and the quality, the boldness that comes when you know you look flawless. All of this, and getting this in a single lip color is quite an effort but we can tell you that it's possible.
Above all, we will begin with what makes a lip color impeccable and how you should go about picking the right product. There are so many fantastic makeup brands that deliver the best possible lip colors but not all of them match the nature of our skin. And even if the brand is reliable, does not always mean that any product will be suitable by it. With these classic choices of the nostalgic Lakme, the wondrous and miraculous L'Oreal, the glamorous Maybelline, we will take you to the color that is meant for you. Also have a look at Healthy Cosmetic Brands-Top 15 Healthy and Organic Makeup Brands
How to Choose the Right Lipstick
But first, how to choose the best lipstick for you and your skin tone?
The first step is to recognize the nature of your undertone, which would either be warmer (yellow) or cooler (blue). The one best way to figure that out is to see if the veins visible around the bottom of your wrist are blue or green. If they happen to be blue, you have got a cooler undertone. If they are green, you have warmer. If you have got both blue and green veins, then you have been gifted with a neutral undertone, which is best suitable for all kinds of shades.
Now, that you aware of your undertone, you would know which colors will suit it. For the women with warmer undertones, warmer lip colors are suggested and for cooler, cooler shades such as blue, purple, pink are recommended.
If you are still unsure with where you are going, then you should opt for colors that nicely suit olive, fair or darker skin tones. In short, you should simply go for what matches your skin tone.
What Lipstick is Right for You
Furthermore, the below sequence will give you an idea and will narrow down the right options for you:
For white or fairer skin tones: rose, pink, red, cherry red, crimson, coral, dark red, maroon, magenta, nude.
For olive or warm skin tones: red, brown.
For mildly warm skin tones: reddish brown, orange.
For cooler skin tones: pink or purple will be best.
A lipstick that has a brighter shade than your original complexion will probably end up making you skin tone look duller than normal and you don't want that. So to prevent that from happening, we suggest you go for shades that are at the same level of brightness of your skin tone. For instance, a cherry red lip color for a fairer complexion or reddish brown shade for olive skin tones are some examples to follow.
What Lipstick Brands to Buy This Year?
#10 – It Cosmetics Vitality Lip Flush
The phenomenal It Cosmetics vitality lip flush is the living dream you can have in a lip color. With elements such as the classic color of the shade, the anti-aging ingredients to make you feel confident, the gorgeous flush essence, the nourishing and hydrating experience of a balm in a lipstick and of course, the long lasting coat that never dries out the lips. All at your disposal, to make you feel alive again.
Available for $20.00, 3.4 gm. RECOMMENDED: Top 13 Best Makeup Styles From The Most Beautiful Celebrities
#9 – Lakme Absolute Lip Tint – Pink Sorbet & Candy Kiss
The classic new addition to our absolute favorites for the season is the Lakme absolute lip tint which has been ranked in one of the best lipsticks by Lakme. Great for keeping your lips moisturized and have a smooth confident coat of a nice gloss.
#8 – Loreal Color Riche Lip colors
The absolutely ravishing new collection by Loreal of the Color Riche lip colors is here to take your breath away. With the luxurious experience, you will find yourself drowning in the ultra-hydrating quality of lipstick. Omega 3 and vitamin E are added for perfect nourishment to your skin and soul. The spectrum of outstanding shades includes bold colors to absolutely nude shades. For women of all color, everywhere.
#7 – MAC Ruby Woo Lipstick
The new lipstick Ruby Woo that practically gave a new identity to the brand of MAC. A lipstick composed of hundreds of hues, unlike any produced before by MAC. The classic lip color is available for $17.00 at the current price. The lipstick has simply been reviewed as a bold color, hydrating, long-lasting coating and classily radiant. Best meant for women wanting to try something new. Do check out Top Makeup Brands – List of 15 Most Popular Cosmetics Brands 2018.
#6 – Revlon Super Lustrous Lipstick
Revlon super lustrous lipstick is yet another blow at your level of amazement. The classy collection of the new range of lustrous lipstick creates a seductive sensation of your outlook in four catchy finishes: creme, pearl, sheer and matte. The revolutionary series are available in 82 fabulous shades and will continue to impress every shred of your soul until you have tried every single one.
#5 – Maybelline Color Sensational Lip color – Red Revival
#4 – Charlotte Tilbury Matte Revolution Lipstick
#3 – Rimmel London Kate Moss Lipstick
#2 – Clinique High Impact Lipstick
The High Impact lip color by Clinique has an excellent coat that sticks around for about 8 hours which should be fine for your working hours. The essence you will experience will be more than comforting and will glide on as smoothly as you want with a nice touch and good smooth coat. It comes in a number of stunning shades which should be decisive for you to opt for the color that suits you best.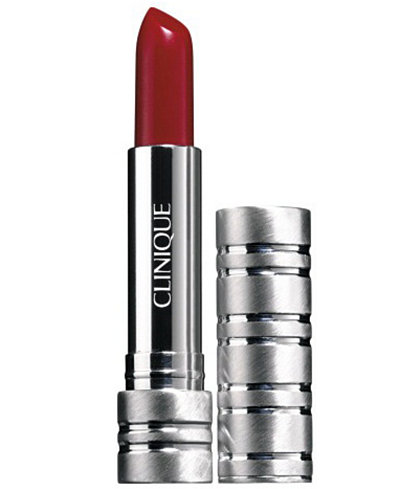 #1 – Kat Von D Everlasting Liquid Lipstick
The Kat Von D everlasting liquid lipstick is available in a mesmerizing collection of 28 complete shades. Along with the gifts of 24-hour coating power, the strong pigmentation and the presence of natural moisturizers (sunflower seed wax and vitamin E), this lipstick will take you new heights.