Top Hair Straightener Brands. People say women are always unsatisfied. Well, that's some way true. Let's say women with straight hair always adore curly hair and women with curly hair think straight hairs are no-fuss and always look pretty. Straight hair obsession has been in trend since ages. In the early days people use to straighten them with hair iron or hot comb to give them smooth, streamlined and sleek appearance.
Straighteners are a staple beauty product for anyone wishing to switch up their style quickly and easily. Change of hairstyle brings some new energy. Straight glossy hair is always in style as it looks good on any face type. And now a number of brands have introduced their amazing hair straightener models.
BEST BRANDS OF HAIR STRAIGHTENERS
Let's have a look at the top most reliable and remarkable hair straightener brands which have made the life of curly hair girl trouble-free and effortless. Now they don't have to rush salons to make their hair look flawless.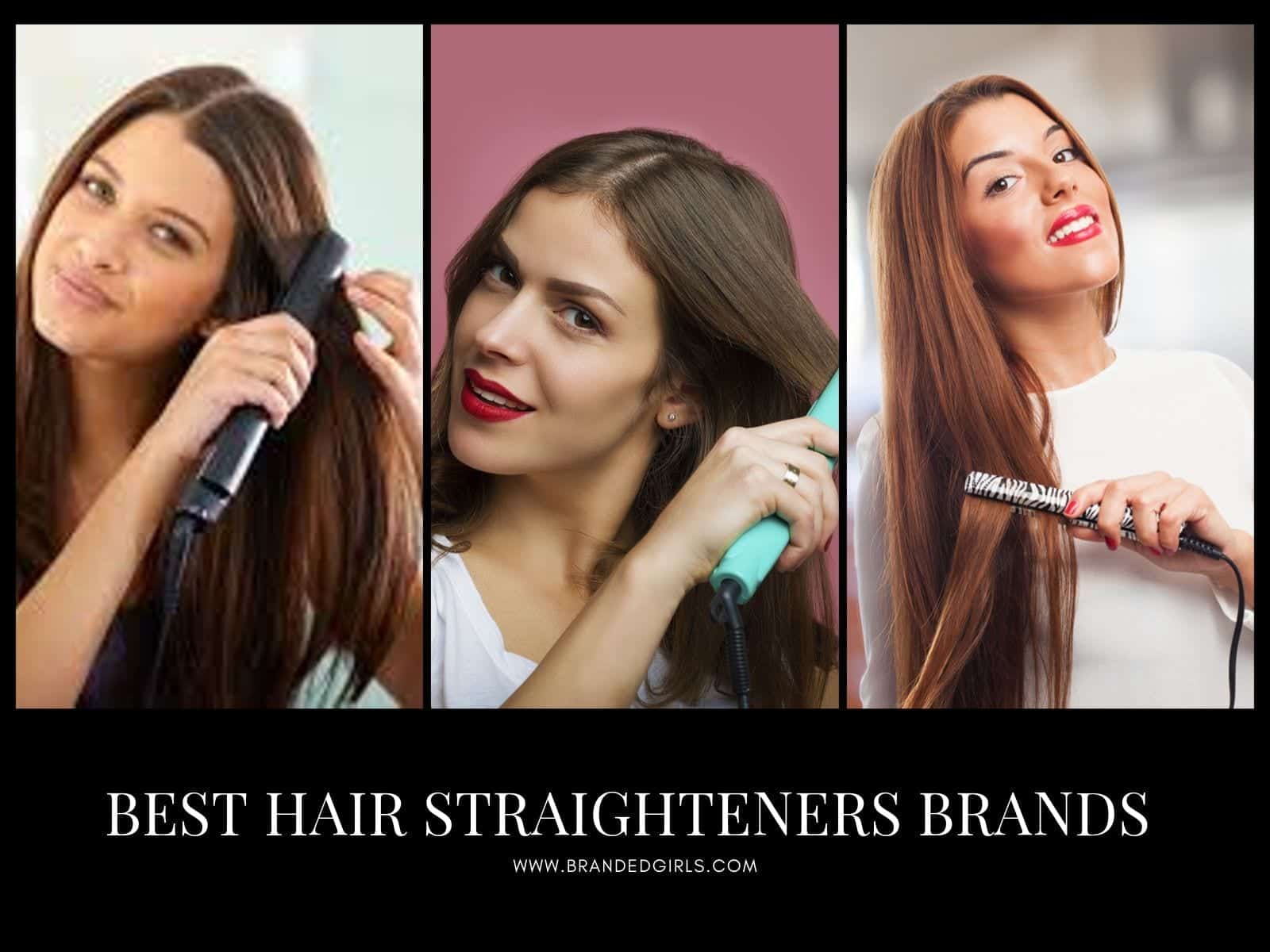 ↓ 10 – Remington 
Remington is one of the most renown brand for hair straightening. One can get sleek, glossy hair with their range of hair straighteners. Its floating plates are easy to glide and ceramic technology gives less damage and reduces frizz. Likewise, it's anti-static technology with a titanium protection that heats up fast, glides smoothly and reduces static. Now its easier to achieve that gorgeous salon swish. Enjoy hair that's soft and protected from heat and gives remarkable luminous shine. Their straightener ranges between $37.99 – $42.99$ or above. You can shop by visiting their website.
↓  9 – BELLAMI
The BELLAMI Runway Flat Styler Iron features Rose gold Titanium Rounded floating plates. If you are looking for some versatile hair looks then add BELLAMI Runway to your wish list and get some wavy-ish look. Its flat iron heats up so fast and its unique floating plates allows you to gently move through your hair as you style, making it effortlessly easy to straighten your hair.  From silky straight long hair to bouncy flowing curls BELLAMI should be your first choice. BELLAMI Runway flat Styler Iron worth $69.99. You should also check out these 15 Top Oil Brands for Hair Growth.
VIA
↓ 8 – GHD 
A bad hair day makes you feel awful and dull but GHD is promising a 'good hair day' every day. In the mid-noughties, they launched the first instrumental hair straighteners. It works on high temperatures to smooth your tresses and tame frizz. It is featuring patented 'tri-zone' technology that maintains the optimum temperature needed for speedy styling results on any hair texture and makes your hair look glossy, shiny and strong. This one works safest for the colored hair. You'll wonder how you ever lived without it. GHD hair straighteners ranges between $134-$199
↓ 7 – Babyliss
Babyliss pro nano titanium expression ultimate styler is the most efficient straightener that glides through the hair without snagging whilst smoothing out kinks even on the most unruly locks. It would heat up in just 15 seconds because of the advanced ceramic heaters and gives you perfect shiny salon look. It has an auto shut off mode and the multi-voltage design is suitable for the worldwide use with the worth of 139.99$
↓ 6 – Braun 
Ladies, are you looking for some indestructible hair straightener? Well, here you have it then – The Braun Satin Hair 5 IONTEC Multistyler immediately eliminate static, combat frizz and visibly increase shine with the least damage to your hair. Their 100% ceramic eloxal plates will let you experience an exceptionally smooth glide through your hair. Floating plates make styling faster and result more evenly. They give protection to your hair and make them look healthy always. Now you don't have to worry about using the straightener frequently. Braun offers the lowest price straightener as well as the highest price ranging from $39.99 – $199.9
↓ 5 – NuMe
Looking for style versatility, doesn't want to confine to one look then try NuMe hair straightener. Its highest quality material with 100 percent pure tourmaline ceramic, stone ceramic and titanium plates will give you ravishing look. create your own fashionable look with its beveled edges and floating plate. unlock the possibilities with your NuMe hair straighter. Available in the market within the range of $129 – $179. Check out these 2018 Best Products To Use For Healthy Hairs
View this post on Instagram

✨ Recreating Hollywood waves using our #NuMe iron #waves #Hollywood #Classy #Beautiful #Obsessed #love #style #hair #numehair #numestyle #styleyourhair #iron #curls 🙎🏼🙎🏻🙎🏽🙎🏾🙎🏿

↓- 4 – l'oreal Professionnel

The loreal professional steam pod is unique in its own way. It relies on steam technology and minimize the hair damage and burn and suitable for every hair type. This is one of the most comfortable straighteners which smoothe the fibres and reduces frizz. The steam helps to maintain the moisture found naturally in hair fibre. Unlike other traditional hair straighteners, it provides gentle heat action and proven to be faster than other straighteners with 5 temperature levels, giving you salon-perfect results each and every time. It offers continuous flow of high-pressure steam and gives mirror-like shine to your hair. The worth of this gorgeous straightener is $349.95.

Via

↓ 3 – Bio Ionic 

Short of time? Need to rush to work? Well, Bio ionic 'one pass' flat straightener is the one to give you quick straight and smooth hair in just one pass. It Instantly heats up and combats static and frizz in your hair. It claims to have all of that wrapped up in one package with the worth of USD 199. One of the coolest things about this straightener is it's compact enough to be used for straightening.

↓ 2 – CLOUD 9 

This one goes for frequent travelers who want their hair to look gorgeous and glossy all the time. Then, Cloud 9 micro iron is your travel companion which is 6 inches in length, very light in weight. It has black ceramic plates which is designed to style fringes, pin curls, and shorter styles. It features international voltage. So, time to travel the world with no worries. The price of this straightener is $250.

↓ 1 – Toni & Guy

Tony & Guy is an international icon and leader for hairdressing industry and now its hair straightener are the one which aistrustworthy. Designed to deliver precision styling with ultra smooth, high shine results. If you desire a quick fix for a polished look then go for it. Its extra wide 42 mm plate are ideal for thick hair. It has tormaline hair lock technology. Toni n guy hair straigheners ranges almost between $130-$150.