Red Orange Ombre Hair. For years, ombré hair has been one of the most popular hair color trends, and it does not appear to be slowing down anytime soon. Ombre hair is a trend where the roots are darker and the ends get lighter from one point onward.
Colorist Kris Sorbie, who got tired of highlights in the year 1995, is known to have developed the trend. Since then, stylists have been experimenting with their interpretations of this trend. One of such interpretations is the Red to Orange ombre, also known as the fire ombre hair.
Best Red Orange Ombre Hairstyles
Unlike the typical ombre technique, which involves mixing shades of orange, red, and yellow from dark to light, fire ombre requires merging orange, red, and yellow hues. As a consequence, you will have a fiery red ombre.
Fiery red ombre hair is meant to stand out and not for the faint-hearted. If you are someone who does not shy away from attention and loves to express herself through her appearance, then what are you waiting for? This is your sign to become a fire head.
Before starting, your stylist will evaluate your skin tone, eye color, and natural hair color. The shades and gradients of the fire ombre look are completely customizable since there's no such thing as a one-color-fits-all when it comes to this fiery shade. So, instead of playing around with your hair and killing them in the process, simply scroll down and discover which one of these beautiful red to orange hair color ideas is the one for you.
Do's And Don'ts of Red To Orange Ombre Hair
Blend in the transitions effortlessly by ensuring that the color fades gradually to a lighter tone rather than employing only two colors, resulting in a highly unblended and harsh look.
Do not skip hair care, both before and after getting your hair done.
Go for premium hair color brands to avoid a botched-up look. Premium colors blend better and remain shiny throughout.
15 – Go, Ruby, This Season!
Ruby red is the color of boldness and passion. This color is vibrant and perfect for someone with a strong personality. She is fearless, does not go unnoticed, and is seductive and lovely. A straight red ombre hairdo will turn heads for a sleek and sexy look.
Dark red fading into light blonde looks very dramatic in this style, but be cautious that severe contrasts might look harsh on straight hair so, make sure your transitions are gentle and blended to perfection.
This hair color is perfect for those who do not want to bleach their roots. Instead, you can easily box dye the upper portion of your head, bleach the ends while maintaining a gradient, and dye it a lighter shade of orange.
14 – Red To Orange Ombre Short Hair
The red blends in with the orange so seamlessly and then transitions into almost a platinum blonde color which adds definition. This hairstyle does not need lengthy hair. So long as your hair is at least shoulder length, you should be good to go. You can dye the tips of your hair a darker shade of the color in the center, creating a gradient effect.
13 – Beat The Summer Heat With This Flame Inspired Look!
Shiny red roots gradually transition to flaming orange before changing to a bright yellow on the ends of this sizzling, fire red to orange ombre hair.
This hairstyle is daring and stunning, like a mythical phoenix rising from the ashes. It gives the appearance of flickering flames licking your hair. The black roots go from black to dark brown and then to vivid red. The color changes from brilliant red to burned orange and finally to yellow light. 
12 – Fire Ombre Hair Don't Have To Be Dark; Choose Pastel For A Change
A fantastic color that falls in between red and orange and resembles auburn red hair is coral. It seems distinctive and gives off a "pastel" look.
A red to orange ombre hairstyle may be created with vivid tones or lighter ones but, it remains fiery nonetheless. If you are considering an orange ombre, you may choose this color; it's a terrific place to start. Or if you're more inclined towards the orange side, check out these Blorange Hair Color Ideas.
11 – Tri-Color Red To Orange Ombre Long Hair
You should give this three-color ombre a chance. Use a more wine red hair dry while keeping the roots dark then, gradually transitioning to a peachy orange shade. Choosing a toned-down hue of orange to blend both ends together is a brilliant idea as bright orange would look extremely harsh, killing the seamless finish of the look.
Blue or purple shampoos are the most effective way to remove orange brass from your hair. These shampoos will keep your hair looking blonde or pastel and highly shiny, by eliminating the brassy orange tone and depositing a light blue shade.
10 – Light Your Hair On Fire – Add Bright Yellow To the Mix!
Here is your opportunity to express your inner fire through your hair. For anyone with long hair who want to do something daring and fresh, this dramatic red to orange ombre style is PERFECT. Long hair not only draws hundreds of admirers but also provides a plethora of styling alternatives. To show off your hair, try cascading red carpet waves or open curls.
9 – Frame Your Face with Bright Orange Highlights
Many of us are aware of the app called "TikTok" because of the hype surrounding it and all the trends that it has introduced. Even, if you never installed the app, you would still see those trends going viral on various other social media platforms.
One of such trends was having the front pieces of your hair dyed a lighter shade to frame the face. This gorgeous hair dye will captivate everyone who comes your way while adding dimension to your facial frame. Shining red roots gradually change to fiery orange and then to a bright yellow at the ends of sizzling, fiery red to orange ombre hair.
8 – Pixy Cut + Bright Fire Hair = Definition of Fiesty
Bright yellow tips are not for everyone, but they are for all courageous and bold females. You get an outstanding wavy long pixy haircut when combined with an orange ombre hair color.
To achieve this look, keep the hair near your scalp a darker shade of red then gradually transition into a bright orange and as you head towards the tips make them brighter with marigold yellow. The finished result should look something as shown in the image below. Here are some Short Hairstyles inspired by our favorite celebrities.
7 – Add Texture To Fiery Hair With Some Bouncy Curls
This season, refresh your hairstyle with a red and orange ombre to unleash your inner femme fatale. This dazzling combination exudes fearlessness and bold passion. Keep the red tones on the darker side and choose a brilliant orange underneath to get the ideal balance between wild and classy.
6 – Wine Red Clip-In Bangs Are Never A Bad Idea
Light honey golden tones on your tips are a great technique to accentuate your red hair, whether dyed or natural. Your beauty will be able to shine through thanks to this color scheme while yet seeming effortless and natural. If you are not a natural redhead, you can mimic a red ombre by starting with a dark or ginger orange tone and fading into a lighter red or brown tone.
For anyone who does not want to commit to the hassle and weekly care for the bangs can always get a hold of some clip-ins. All you have to do is clip them in, brush them to blend in with your natural hair, and trim them to a length of your liking.
5 – Bright Red To Bright Orange Ombre Hair
From the sound of it, meshing bright red and bright orange together seems like a bad idea but, there is a way to go around it. Keep the roots black and color the mid-lengths of your hair a bright, striking red to lend depth to the look. Finally, for added emphasis and appeal, fade the ends into a little lighter shade of crimson and then gently blend in the orange, while adding random highlights across the hair.
4 – Only Dye The Tips Orange
Even though dark red hair will always be sensuous and stunning on its own, adding a gradual ombre of shades of orange will raise the stakes. When it comes to color, there are no rules so, add dark blonde or golden color to the blend, you may get a gorgeous ombre.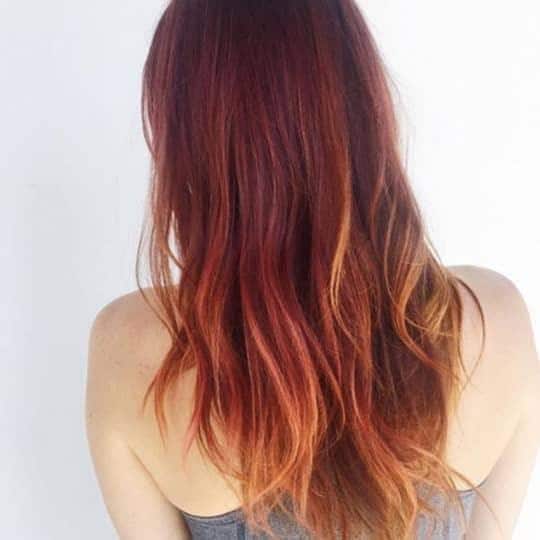 3 – Add Purple And Hot Pink To The Mix
Pink roots gently transitioning into stunning red to orange ombre hair may appear unusual but also highly fashionable. This hairstyle is also known as sunset hair and is one of those hair colors that leave others awestruck.
Moreover, you can choose to draw more attention by curling your hair. This incredibly amazing color combination exudes self-assurance and demonstrates your willingness to stand out from the rest. As a result, this contemporary, artistic appearance is a lovely method to exhibit your uniqueness.
Curls add more texture and define each color. Sure, it may sound odd, but just look at these jaw-dropping results!
Here are some Purple Hairstyle ideas.
2 – Red To Orange Ombre Hair with Dark Roots
If you are a redhead looking to tone down your appearance a bit (first of all, why?), letting your dark roots out is an excellent option, or you can have the top of your head darkened. Your hairdresser will work with your natural base color to add tones of vibrant red and orange throughout your mid-lengths and ends.
Rather than dyeing a good chunk of your hair with hues of gold and orange, concentrate on building a medium red over it. Additionally, a touch of gold on the ends would be a lovely finishing touch. Now, being the bold and fiery woman you are, you can't leave your hair just like that, could you? Add a tiny bit of a different spice to your look by curling or perming them.
1 – Orange and Burgundy- The Ultimate Fire Hair
Bright, vibrant, and fiery – orange and burgundy are two warm complementing colors. To achieve this appearance, leave your hair's ends a light shade of orange and color your roots crimson or wine red.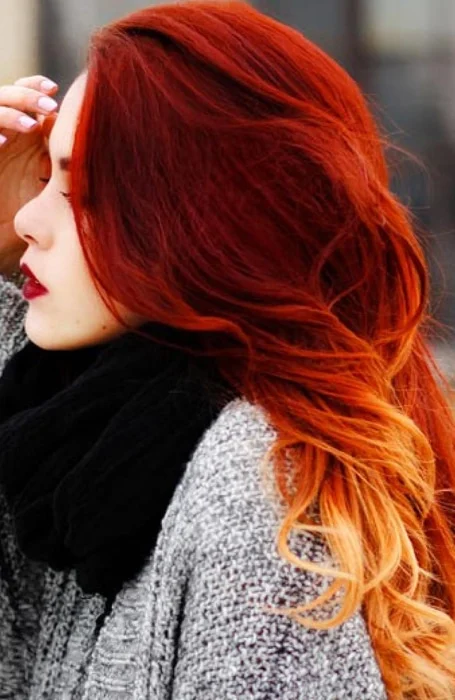 Frequently Asked Questions
Q. What color goes with red orange hair?
Blue and purple pigments go well with red and orange tones. Moreover, black also tends to blend nicely with red and orange ombre hair.
Q. How do you make orange hair dye slightly fade?
Using purple or blue shampoo will help you slightly fade your bright orange hair into a lighter shade.
Q. What is the difference between ombre and a balayage?
Ombré is a beautiful two-toned hair color effect in which the top is darker and the bottom is lighter. However, balayage is a hair coloring technique that includes sweeping or hand-painting color across the surface of the hair.
Q. What toner should I use for red and orange hair?
A blue toner will be required if your hair is red or orange. However, you can also use a blue shampoo to tone your red and orange hair.
Q. Can you do ombre without bleach?
If you are not quite ready to experiment with bleach, you can try using temporary hair color to experiment with ombré hair without making any long-term commitments.