Beauty Bloggers in Pakistan. With the profession of blogging emerging now, more than ever before, the competitiveness is demanding and the quality is fiercely competing to get more ranking. With millions of blogs on fashion that can easily make you a true fashion diva.
These blogs will help update and inform you from making up a single outfit to constituting an entire wardrobe for a season, the options and the selectiveness is expanding. With western fashion blogs ruling the game, we can tell you that while being in Pakistan you still have a lot to look up to. These fashion blogs initiated by Pakistanis themselves will surely teach you to nail your fashion instincts and style and how to shop the best while being in Pakistan. So, practically your Pakistani style is safe in their hands.
Which Pakistani Bloggers Should You Follow
To get to know more about their fabulous fashion tips and tweaks, follow their fashion blogs and get to learn more your own fashion culture that you may not have known before. Have a look and happy shopping! Also have a look at the 5 Most Affordable Pakistani Fashion Brands you Must Know About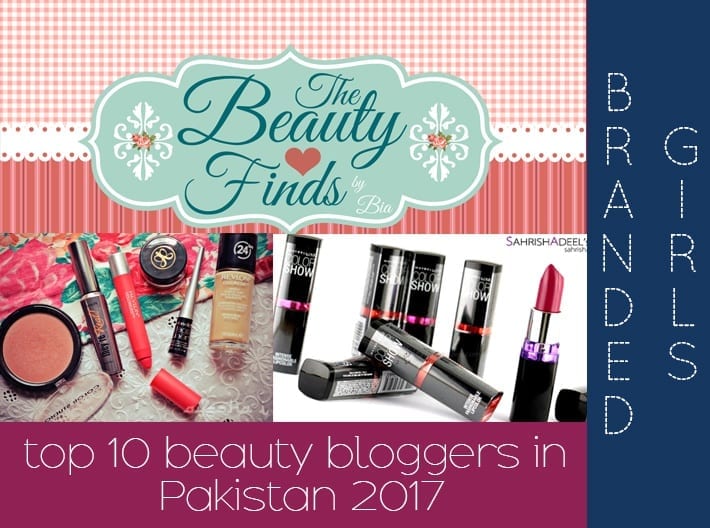 #10 – Red Alice Rao
Red Alice Rao is basically the stylish work of Maliha Rao who glamorizes her obsession with the color red and stuns her followers with the tons of top-notch fashion tips that she masters in giving. The uniqueness and the diversity with which she pulls off her blog have earned her some noteworthy recognition outside Pakistan's borders. As of some news and records, her blog is internationally known by platforms such as retail PR UK.
If you truly want utmost and fiercely honest reviews of new products in the market, then checking out this blog first is a good idea. Her blog is always charging with activity, which is why she is always the first to cover and also update about all new cool events to her readers.
The cool blogger behind Ayesha talks beauty has got a bit more expertise than just fashion and marks her awesomeness in the area of photography as well. For absolutely savage makeup looks and how to achieve them with the help of some effective tutorials, this blog is a gold mine!
Don't believe how that works? Feel free to follow her on Instagram
Her makeup looks are surely something and you should get a good look at them, because not only does she cracks excellent makeup look but the color combination tricks are pretty phenomenal too. You will find some ecstatic samples from her many portfolios on her blog. Check out now these Top 10 Pakistani Clothing Brands for Women 2019.
Nayab loves is another dainty addition to our blog list that has something that most followers can relate to easily. The blogger is an Islamabad-based beauty and lifestyle fashionista that bombards her blog with her makeup-inspired snaps and excellent swatches combination. She also has a good enough knack for giving utmost reviews on brands and products that give her followers a good look and heads up before trying anything, which is a major factor as to why she had got a good blogging platform.
Although the blogger is Malaysia-based, she still stands as a popular Pakistani blogger. Sahrish Adeel is not just any blogger but has worked her best to achieve this spot, which includes her fabulous invention of an entirely new shade of a nail polish named 'Majesty'. RECOMMENDED: Pakistani Celebrities Snapchat-25 Pakistani Snapchat Accounts to Follow
Apart from giving top-notch makeup goals to her followers, she also has got an edge over amazing styling tweaks and hair cutting looks. You can also find tutorials by catchy makeup brands, both international and local, organized under various categories, something you rarely see in Pakistani blogs, but Sahrish Adeel is always one step ahead.
To get your hands on everything trendy, this is the blog to follow. The blogger Bia has got extensive knowledge on brands and makeup looks and make sure her followers get a thorough update on every single update in the makeup market. If you are missing out on well-written blogs, then this is the blog where you will come across some extremely quality content and reviews by Bia. She has got a knack for makeup and trends but she brings out the class in her writing as well and we can't help but admire her for both!
This blogger has got a nice touch when it comes to informing the followers about which product to buy, why they should buy it and whether if it's really worth the money. Not only is her blog informative of various makeup products but also does she give authentic and helpful reviews on them. Check out these Top 5 Expensive Weddings in Pakistan; Most Lavish Pakistani Weddings
#4 – Makeupoholics
This blog is mostly oriented by the cool nail art ideas and inventions by the blogger which shows a lot of creativity put in by the artist that you can't just find anywhere.
Instagram photo by Makeupoholics:
If there's ever a viral makeup trend in the market or on the internet, chances are she is already talking about it on her own blog. She's always ahead of her game in the era of fashion blogging, especially in Pakistan, where fashion blogging has not yet gained that required stamina. She can easily update you regarding the new products along with their necessary pros and cons. With this blog, you can never be just blank as to what products are right for you and your skin and you also won't be missing out the new makeup trends because she's that big of a makeup reporter. RECOMMENDED: Top 10 Beauty Bloggers in India to follow 2019.
Her blog is mostly surrounded by dainty eye-makeup looks that shove aside all other blogs in this area. Not only is she a makeup enthusiast but also gives rather catchy tips on rocking your every eye-makeup look. Her step by step guide is a gem to be kept updated on.
She knows a thing or two about shopping in Karachi. And that's enough. Because this blogger will be your absolute travel guide while you shop in a place as diverse as Karachi. With updates on prices, venues, and quality, you can only buy the best there is.