Best Natural Shampoos from India. We've all used popular shampoo brands like L'Oréal, Garnier, Herbal Essences, and TRESemmé. Although these shampoos come in various scents and are typically very affordable, they're not always the best choice for your hair. Shampoos often contain many chemicals that are horrible to deal with.
To protect your hair and ensure it shines, try these natural shampoos from India. Not only do they not have harmful chemicals like sulfates and parabens, but they are also easy to find online or even at many salons around the world. Whether you have fine hair prone to breakage or thick, unruly hair, there's a shampoo for every type.
Best Indian Natural Shampoos
Can't find a shampoo that really nurtures your hair while giving it that strong, beautiful look? Check out some lesser-known Indian brands that could be just what you're looking for. These are brands that take the health of your hair very seriously and will care for them more than even you could. When everyone is shifting towards more organic products in today's age, why should you keep dealing with shampoos filled with chemicals that damage your hair and put your health at risk? Try out these organic hair cleansers to give your hair the care they truly deserve!
How did we decide?
We've ranked these Best Natural Shampoos from India based on their popularity, user reviews, and reviews on makeup and haircare blogs:
10 – Khadi Herbal Amla & Bhringraj Shampoo
9 – Forest Essentials Ayurvedic Hair Cleanser
8 – Soul Flower Let Your Hair Down Soap Bar
7 – Auravedic Harmonizing Hair Cleanser
6 – Himalaya Herbals Protein Shampoo
5 – Omved Purifying Shampoo
4 – Herbline Essentials Henna and Walnut Shampoo
3 – Kama Ayurveda Hair Cleanser
2 – WOW Apple Cider Vinegar Shampoo
1 – Hedonista Argan Shampoo
Take a look at Top 10 Organic Shampoo Brands and Top 10 Professional Hair Dye Brands In India.
↓ 10 – Khadi Herbal Amla & Bhringraj Shampoo
Why You Will Love It: The cleanser claims to prevent premature greying of hair as well that can occur due to coloring. This shampoo helps remove bacteria and other impurities from the scalp, leaving you with clean, gorgeous locks.
You only need a little bit to clean your hair thoroughly. The packaging is minimal, which makes it seem even more likable and easy to use. The shampoo is really mild, but some people have reported seeing increased frizz in their hair after using it, so it might not be ideal for drier hair.
Important Ingredients: Containing extracts of Amla, sesame oil, Brahmi, and Bhringraj, and active ingredients like reetha, henna, neem extracts, glycerin, and kali – this shampoo is perfect for promoting new hair growth.
Price: ₹ 300 or $14.47
↓ 9 – Forest Essentials Ayurvedic Hair Cleanser 
Why You Will Love It: Forest Essentials is a very well known ayurvedic brand. This shampoo is sulfate-free and comes in a travel-size bottle for only ₹325 that you can buy if you only want to try it out and do not want to spend a lot of money on it. This one is an ideal solution that controls hair thinning, breakage and promotes regrowth.
If you're looking for a shampoo that will make your hair thicker, shinier, and stronger, this is the perfect one for you.  That's not to mention its beautiful, relaxing fragrance that'll have people wanting to learn a little closer to you.
Important Ingredients: This natural shampoo contains reetha, soya protein, Amla juice, coconut oil, sandalwood, herbal infusions, and Vetiver Essential Oils.
Price: ₹1,225 or $16.69
↓ 8 – Soul Flower Let Your Hair Down Soap Bar
Why You Will Love It: The soap bar is perfect for cleaning your scalp and giving your locks their needed nutrition to prevent hair loss and annoying dandruff.
The bar has been reported to work for oily and dry hair and even for the hair that is a mixture of both while taking care of frizz. It works wonders in just one wash. You can lather it up using water and your hands. Then you can apply the foam to your hair as you would to your body using a bar of body soap. With this shampoo bar, less is more!
Important Ingredients: This vegan soap bar is a unique way to wash your hair that has become quite popular in India. With coconut milk, lemon oil essentials, cocoa butter, fresh ginger, and other natural ingredients, this bar can be used every day without ruining your hair.
Price: ₹200 or $3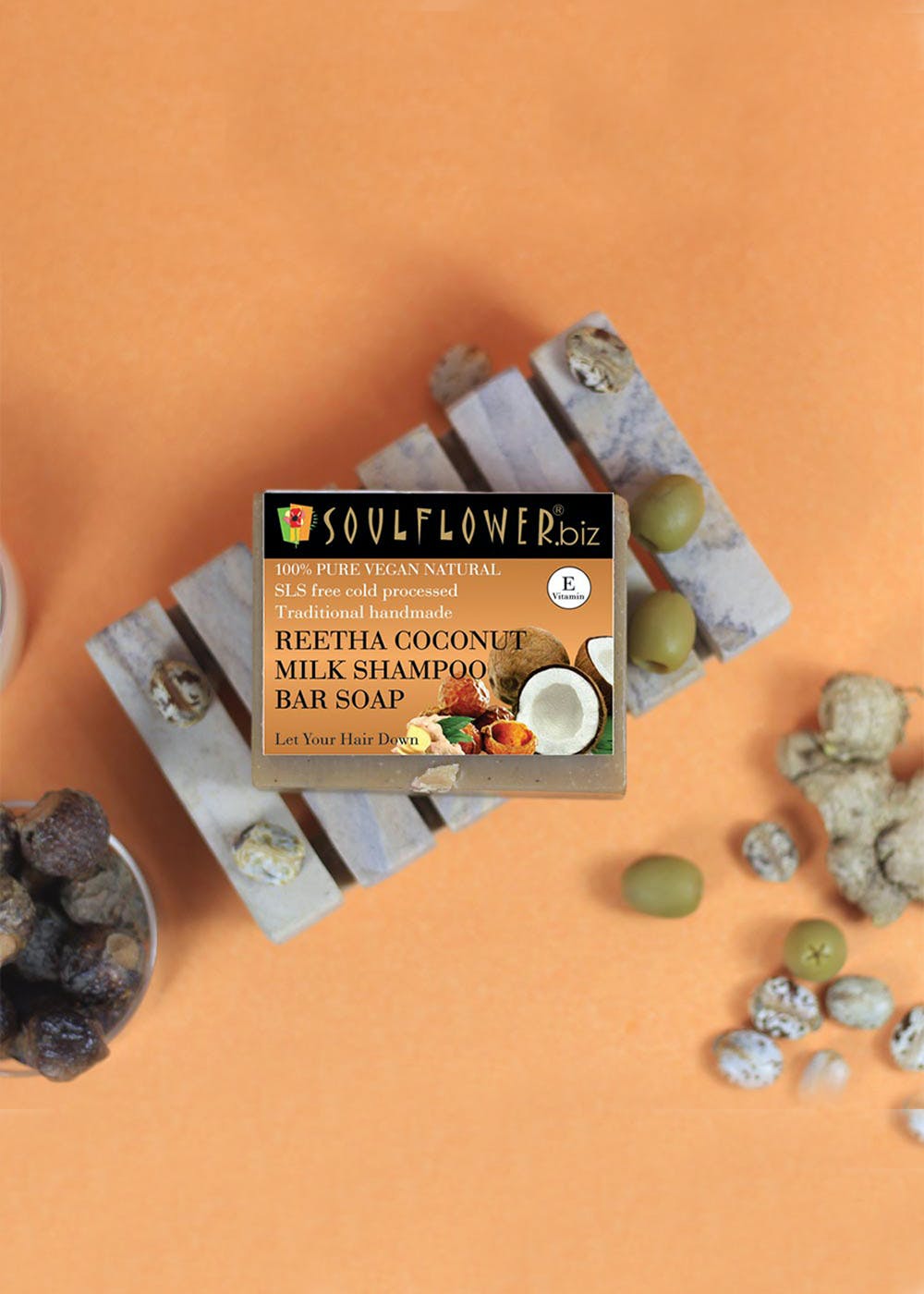 ↓ 7 – Auravedic Harmonizing Hair Cleanser
Why You Will Love It: This popular Indian shampoo is known for being free of chemicals and easy on the hair. If you are prone to oily, greasy hair or a dry scalp, then you're in for a treat. Which means it works per the needs of your hair. The cleanser lathers well and cleans the scalp, which radiates health after every wash.
Routinely using it will make your hair feel soft, and you will instantly fall in love with your smooth and silky hair. The natural extracts balance the natural content of oil in hair. It removes the dirt and cleans the scalp throughout.
Important Ingredients: The main ingredients are aloe, mint, and lime, so you can expect a fresh scent that will leave your hair feeling shiny and bouncy with every wash.
Price: ₹150 or $9.49
↓ 6 – Himalaya Herbals Protein Shampoo
Why You Will Love It: Protein is vital to hair growth. That's why this shampoo is perfect for all hair types. Whether you have dry and damaged hair or gorgeous waves, using Himalaya Herbals Protein Shampoo is the ideal way to ensure a smooth, shiny head of hair.
This formula is excellent for those who have an active life and need to wash their hair every day. Although it is highly unrecommended to shampoo your hair daily, we understand that some lifestyles require this activity. Hence this mild cleanser will be right for you as it cleans your hair without causing it to dry out and break.
Important Ingredients:
Price: ₹230 or $4.99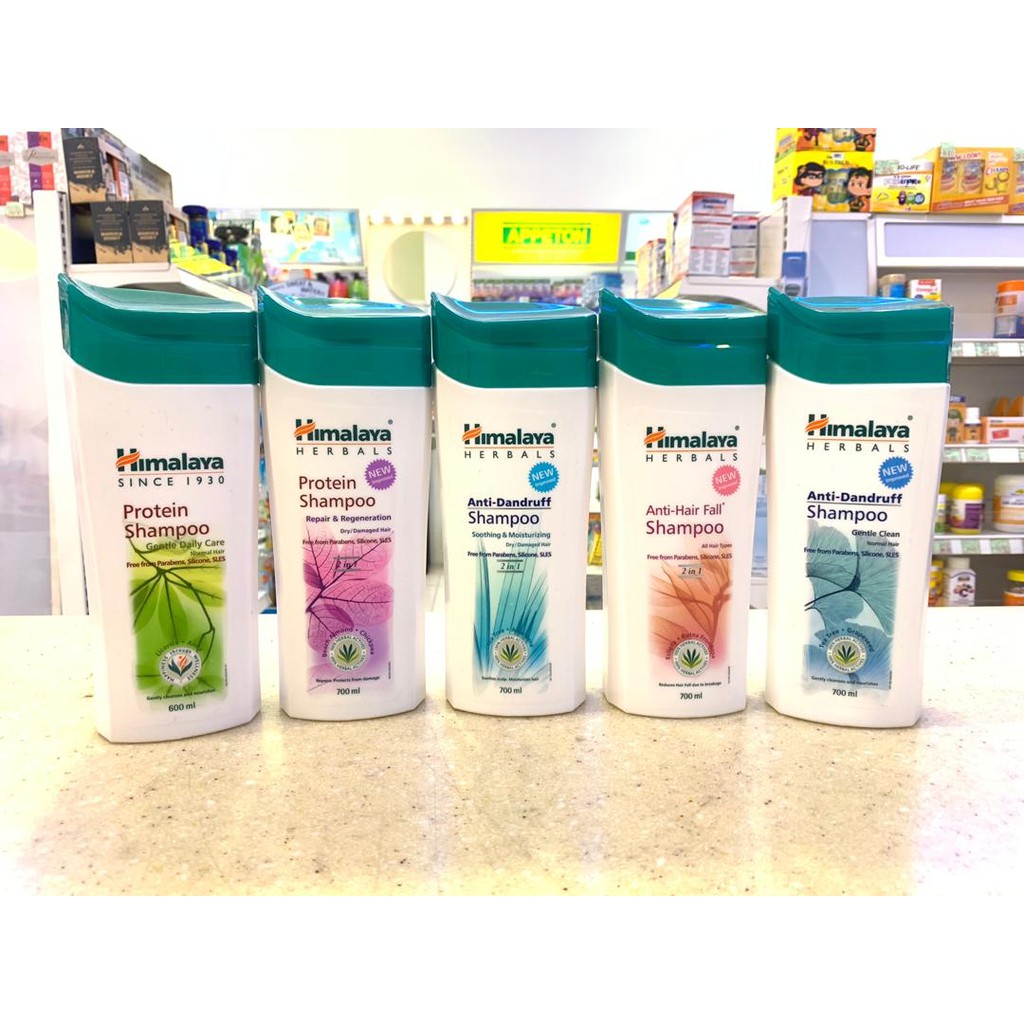 ↓ 5 – Omved Purifying Shampoo
Why You Will Love It: Omved believes in using natural ingredients, and they use those in their products that ancient people used for beauty. From purifying the scalp to refreshing and strengthening the hair, this shampoo indeed does it all.
The shampoo is colorless, which is another excellent factor as this shows you haven't put in any colors that could contain damaging chemicals. The product does not lather much, so it would take some getting used to, but it is a great mild cleanser that is best for dry hair and sensitive scalps!
Important Ingredients: Components like Brahmi, peppermint, hibiscus, and Vitamin E make Omved Purifying Shampoo one of the best shampoos India has to offer. Yashtimadhu is the ingredient that provides shine.
Price: ₹650 or $8.85
↓ 4 – Herbline Essentials Henna and Walnut Shampoo
Why You Will Love It: One benefit of this intensive shampoo is that it is completely free of oils that can add to a greasy scalp. If you suffer from hair loss, you'll want to find some of the Herbline Henna and Walnut Shampoo right away.
The henna will not color your hair as only its extract is part of it, so don't worry about that and do not freak out when you see the thick shampoo's brown hue for the first time. If you have mainly dry hair, this one might not be for you as it contains no old whatsoever and can be quite drying. For people with oily scalps, however, this product is ideal!
Important Ingredients: With natural ingredients, including henna, anantam, and walnut extract, this shampoo works fast to make your hair grow and shine in no time.
Price: ₹2000 or $26.95
↓ 3 – Kama Ayurveda Hair Cleanser
Why You Will Love It: This one is a mild hair cleanser. It is free of any parabens, sulfates, and petrochemicals. It gently cleans your hair without stripping it of your natural oils so as not to make it too dry and prone to dandruff and itchiness.
The product comes with a pump that you can attach after opening it, so you don't waste any product. This pump also comes with a lock mechanism, which makes it ideal for traveling to prevent spillage. The ideal way to use it would be to dilute it with water, as you should all shampoos, as using them directly can cause residue to build-up on your scalp.
Use this shampoo if you want to dabble into more natural products and are new to this kind of haircare!
Important Ingredients: The protein source is soy, which locks in the moisture to keep your hair hydrated and give them a soft glow. It also contains aloe vera and hibiscus extracts that reduce hair loss and promote hair growth.
Price: ₹1025 or $23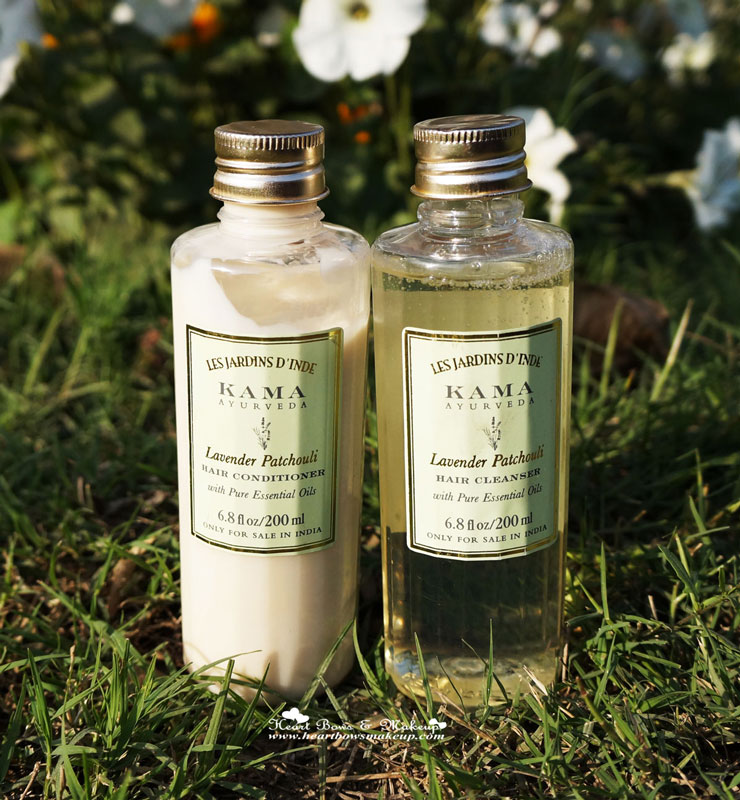 ↓ 2 – WOW Apple Cider Vinegar Shampoo
Why You Will Love It: The WOW apple cider vinegar shampoo contains two essential ingredients that will help your hair be their best self. The first is apple cider vinegar, as evident by the name. This helps strengthen hair and improve the glow of your hair by lowering hair and scalp pH. It could also potentially help in keeping scalp infections and itchiness away.
The second ingredient is almond oil. Almond hair makes hair stronger and also contains vitamin E. Hence almond oil helps prevent split ends and breakage as well.
These ingredients will surely make your hair healthier, but it is important to note that they prevent damage, not heal it. So this shampoo might not be for you if you are looking for a cleanser that will undo the damage already present.
The brand claims its products are cruelty-free and vegan. The shampoo does not contain any parabens or alcohol.
Important Ingredients: Almond oil, apple cider vinegar, and argan oil
Price: ₹500 or $6.81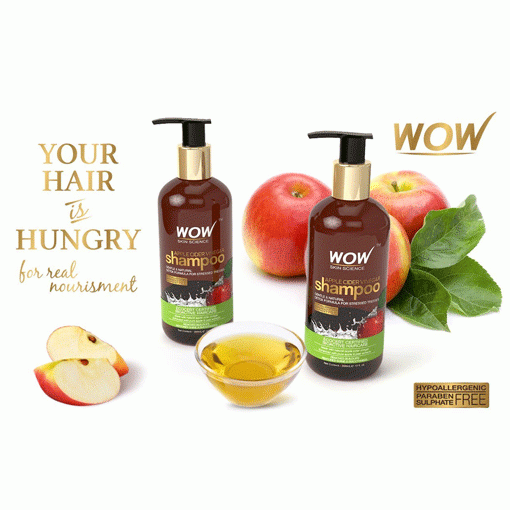 ↓ 1 – Hedonista Argan Shampoo
Why You Will Love It: Hedonista Argan Shampoo is a sulfate-free shampoo that cleans your hair like a charm while also keeping it safe from unnecessary damage. When you start using the shampoo, you might feel like your hair is drier than usual, but that is only because the shampoo is washing away all the residue from sulfates and other chemicals in your older shampoos have been building up for years. After a few showers, you will see that the shampoo will completely revolutionize your hair, and you will feel like a totally new woman!
This is slightly on the more expensive side, but it is definitely one that you have got to try if your hair is significantly damaged. The main ingredient is argan oil, which helps bring the shine back into your hair and prevent breakage by increasing its elasticity.
Important Ingredients: It is a crucial source of vitamin E, which is known to be good for hair.
Price: ₹1320 or $17.98
With these natural, chemical-free shampoos, you'll be doing your hair a much-needed favor. Having hair, you can feel confident about is essential for your daily life. Many people let things like lousy hair get in the way of their happiness, but you don't have to anymore!
Frequently Asked Questions
Q. Are natural shampoo good for hair?
A. What is there that is natural that could be wrong for your body? Lately, the truth about corporations and industries is coming out, and people realize just how harmful the chemicals in their haircare, skincare, and body care products can be. Now everyone is looking to shift to more natural ways of taking care of themselves, and natural shampoos are one of the best ways you can do so.
These products are not only environmentally friendly but will also make you feel like a princess with soft and shiny hair. They keep your natural oils intact while cleaning out any dirt and other impurities to give you a scalp that is clean but not overly dry and prone to dandruff.
So yes! Natural shampoo is excellent for your hair!
Q. How can I easily take care of my hair naturally? 
A. There are many straightforward home remedies that you can use to achieve the best hair possible. Gorgeous hair looks healthy and is strong enough to fight any battle! One of the best remedies that you can use on your hair is putting a mixture of yogurt and egg in it. Don't worry about the smell. It will easily be covered with a sweet-smelling shampoo. This will hydrate your hair and give it that bounce you crave. Although you must make sure you don't use it during the winters as the yogurt could give you an intense headache.
Another would be using onion water. Onion water helps make your hair healthier and shinier. Just use a juicer to create a thick concentrate of onion and then dilute it with water to lessen the stench. Apply this to your hair at least two times a week to get your desired look.
You can also utilize apple cider vinegar in your hair to help remove any hair products like hair spray. For this, what you need to do is mix one part apple cider vinegar with one part water rinse your hair with this mixture after shampooing your hair. Most shampoos do not eliminate all hair product residue, so this is an excellent second cleanser you can use after your shampoo. You can also use the WOW apple cider vinegar shampoo listed above for the best results!
Also, watch the following video for some tips!