What to wear with blue shoes: When you get dressed, you want everything to look flawless. Everything, from your dress to your makeup and footwear, should be perfect. Shoes have a significant role in your entire look. It doesn't seem right to focus on your outfit while forgetting your footwear.
Consider wearing a lovely dress with elegant makeup and hairdo, but simple, unattractive footwear. Does it look good? Not at all. As a result, you should remember to pay attention to your footwear. You can wear different footwear styles, such as slippers, heels, sneakers, or boots.
You may use these shoes depending on where you're going, whether to a party, university, or jogging. Matching shoes in bright hues are all the latest craze. Blue, orange, and yellow are the most popular footwear colors currently.
Blue is a hue that can go with any other color and look, whether western or eastern, fancy or simple. If you're seeking ways to dress up your funky blue shoes, you've come to the perfect site. Here you may learn how to pair your blue shoes with various outfits to create stylish and classy looks.
What Outfits Match with Blue Shoes?
You may choose many shades of blue, ranging from light to dark, such as navy blue, sky blue, royal blue, aqua, turquoise, and teal. You must know how to dress stylishly in any crazy colors of footwear, which is not a big deal and that you can learn in this article. But, before we get into blue shoes outfits, there are a few styling tips and tricks you should keep in mind while styling blue shoes outfits.
When wearing blue shoes, try to avoid wearing all blue from head to toe and instead mix and match things because you would look dull if you wear the same hue from stem to stern.
Combine different shades of blue in your attire, such as sky blue, navy blue, royal blue, and so on. If you're wearing royal blue shoes, go with a lighter-colored outfit.
You should know what shoes to go with which of your dress. Choose the proper shoe type for your dress to avoid making your attire look dull.
It's okay to go with a trend but always keep in mind to wear footwear that is comfortable for you, since if you are comfy, you will look nice.
If you're in the mood for shoe shopping, I highly recommend that you check out these Affordable Designer Shoes From Luxury Brands.
25 – Casual Outfit with Blue Sneakers
Sneakers are the most comfortable footwear type, and blue is the most popular color currently. You can wear sneakers in the winter and even in the summer.
Combine a basic blue off-shoulder shirt with black pants and sky blue shoes for a stylish look. These shoes will keep your feet safe during summers. The blue color looks great on women of all ages; therefore, all women should try on blue sneakers.
Off Shoulder Blouse (Similar) $19.88
24 – Simple Office Outfits with Blue Heels
Do you prefer wearing high heels? Then this is an excellent option for you.
The mix of blue heels and blue denim pants is perfect. Add different colored jackets with a basic inner shirt to make your appearance more attractive. You may even pair your attire with trendy handbags. These are simple yet stylish outfits with jeans for work.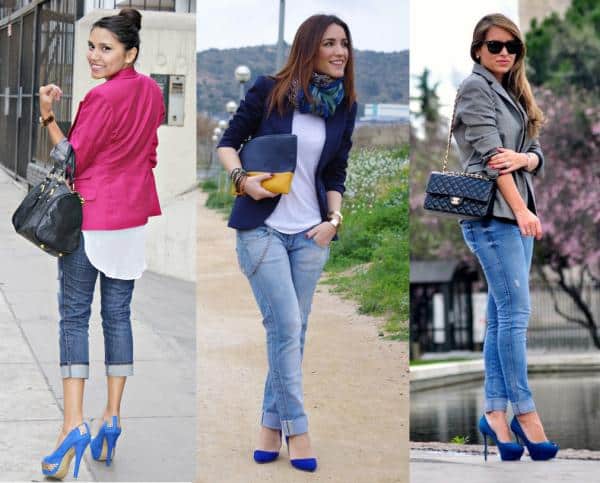 23 – With an All-White Dress
White is a decent color that is pretty on its own, but when combined with another color, it becomes even more beautiful.
Do you intend to wear white but want to add some color to it? Then, based on where you're going, wear blue shoes with or without heels. These blue shoes provide a touch of elegance and grace to any attire. It will also add some colors to your all-white look.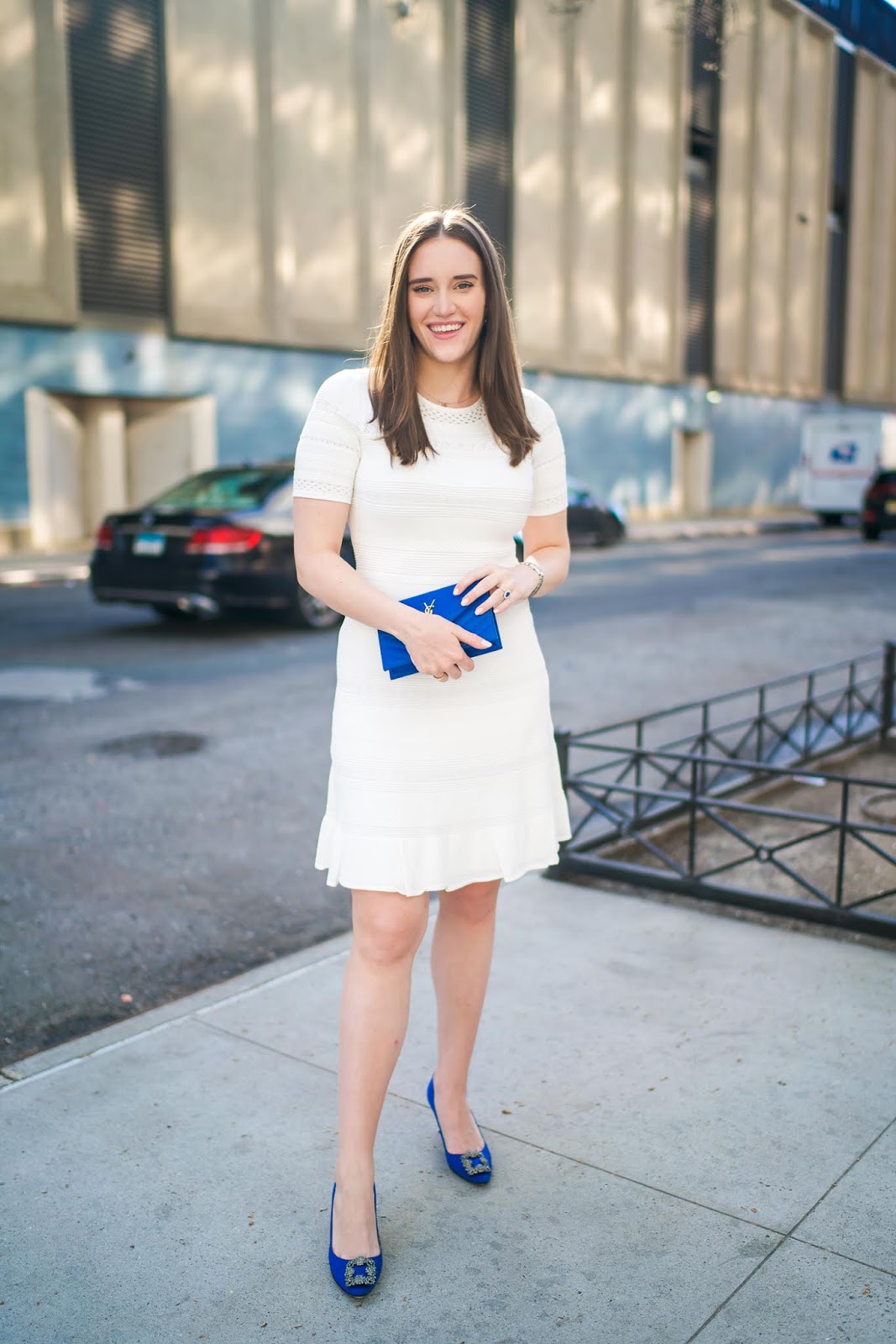 22 – Try a Red Dress with Blue Shoes
Red is a rich color, and usually, people assume that no other dark color can be combined with red, which is entirely false. You may match blue with any hue, darker or lighter, whether it's a rich red or similar color.
Wear a beautiful red long maxi dress with some classy dark blue suede heels or boots, as a suggestion. To complete your style, add a small trendy purse and some neck accessories.
As for the hair and makeup, do take some inspiration from these red dress makeup ideas.
21 – Blue And Pink Together
Pink and blue are always a good combination. And it is the most popular combo that every woman loves. These two hues are lovely when paired in an outfit and create the perfect look. Put on your gorgeous pinkish dress and blue heels.
You can pair your pretty pink dress with blue color leather pattern knee-length shoes or blue color heels if you're wearing a skirt dress. Add some elegance to your outfit with stylish sunglasses. The beautiful girlie look with pink and blue is complete.
20 – Brown Outfit With Blue Shoes
Have you ever thought about a combination of brown and blue? If not, then think about it now. You may wear blue shoes with a brown outfit to a party or a meeting. Try matching your attire with sky and royal blue shoes and beautiful purses.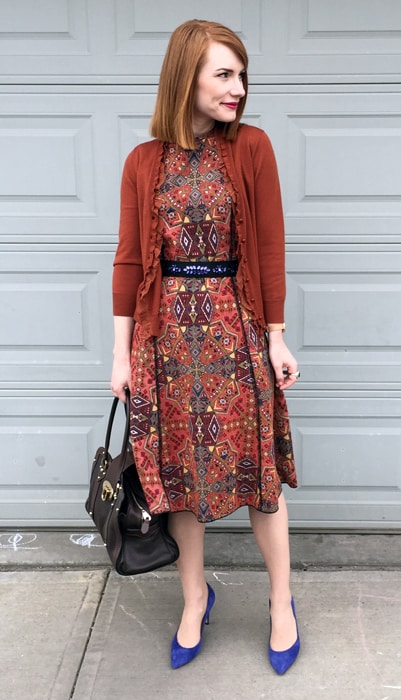 19 – Add Orange With Blue
Orange is another lovely color to go with blue so put on your blue shoes with your beautiful orange outfit. You may also include more blue into your look than just blue shoes, for example, blue jewelry and a blue coat. Remember to dress creatively; don't overdo the blues on your attire.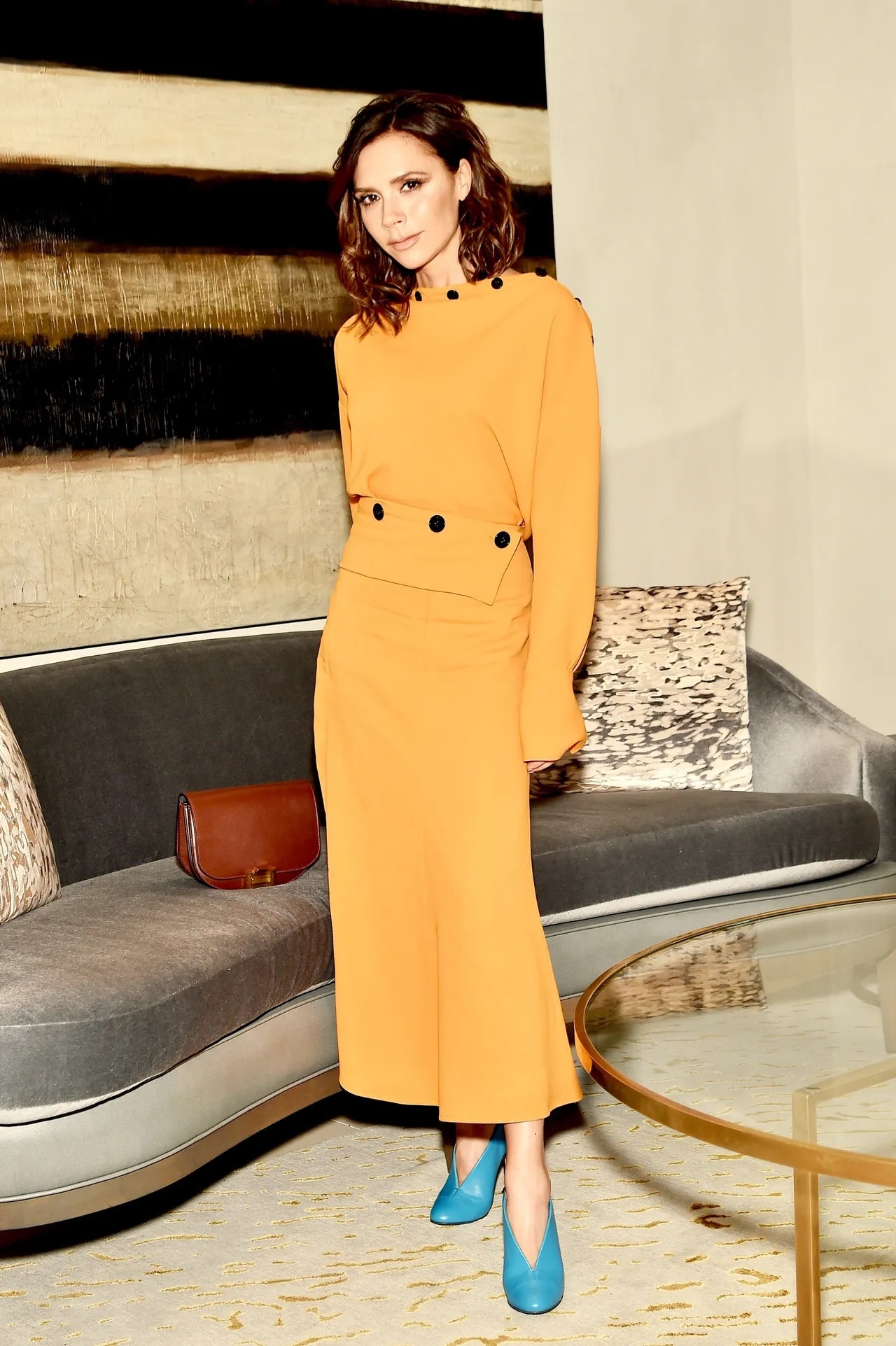 Are you tired of the same old color combinations and want to try something new? Then this can be an excellent option for you. Mix yellow and blue into your look. It will look stunning and will be the most fascinating and unique combination.
17 – Green and Blue
Green is a color that doesn't work well with every other color, but green and blue can be a great pairing. Along with the olive, mint, or another shade of green, try combining blue shoes. You may even spice things up by adding a blue bag.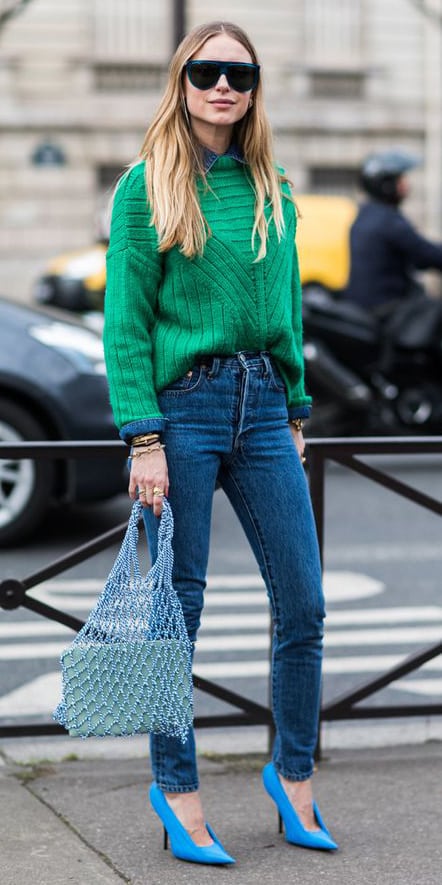 16 – Add More Blue
With blues, we've discussed a variety of color combinations. However, all blues is also a suitable option. If blue is your favorite color or you're attending an event with a blue dress code, you may go all blue yet still look classy and decent.
For example, if you're wearing a light blue dress or top, your shoes should be a darker shade of blue. You may also add blue jewelry to your outfit, but in a darker shade of blue, to bring balance to your look.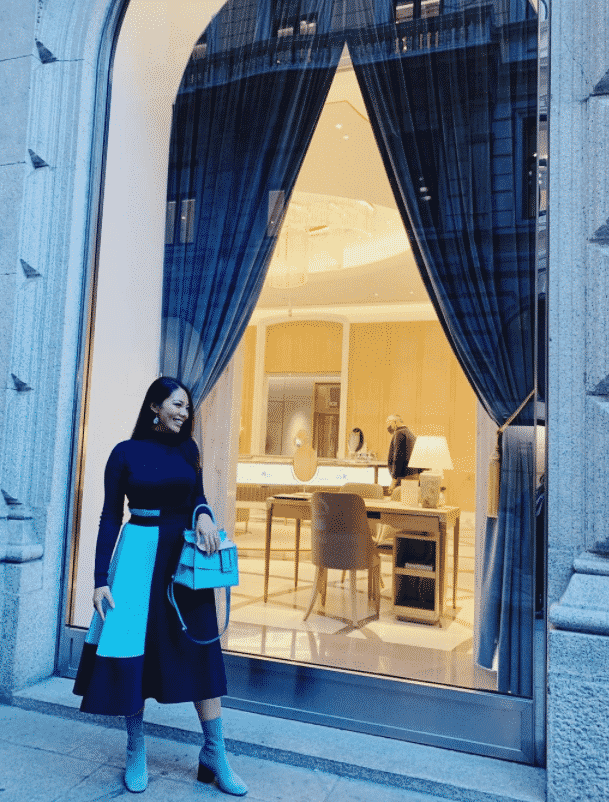 15 – Blue Shoes For Bride
Along with the lovely white gown, you can wear blue shoes to your wedding. Yes, you read it correctly. You may wear light blue or any darker shade of blue shoes with your bridal outfit. It's your big day, and you want to look unique and stunning, so make it look just as you like.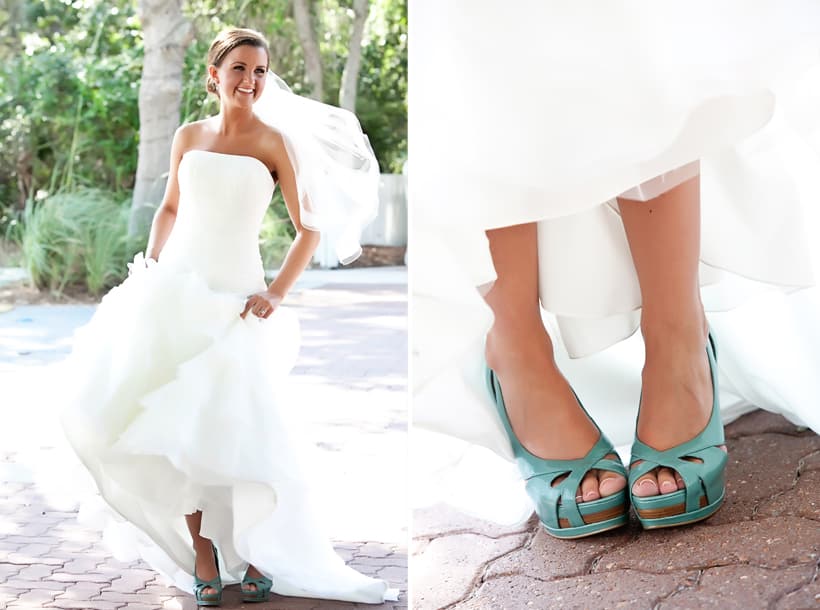 14 – Royal Blue Shoes Outfits
All blues are lovely, but royal blue is the most beautiful and it looks really good on women with blue eyes.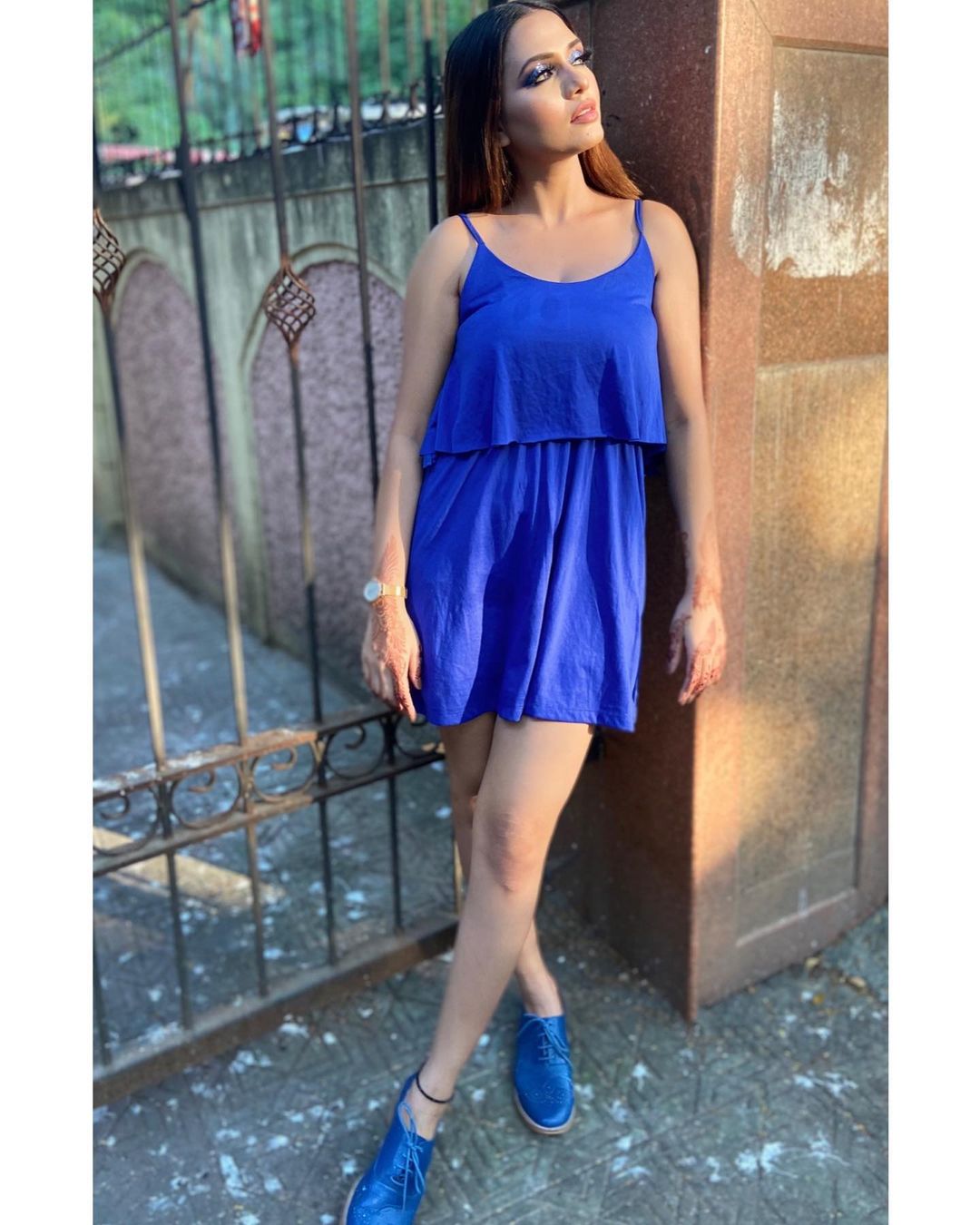 13 – Gym Outfit with Blue Shoes
If you're headed to the gym and can't decide what to wear, give this a try.
Nike Women's Running Shoe $109.98
12 – Purple And Blue
If you want to add some contrast to your purple attire, blue is a good option. Try blue shoes with your blue dress, but if you're wearing a darker purple hue, go with lighter blue footwear, and if you're wearing a bright purple outfit, go with darker blue footwear. To balance things out, try adding a pattern design to your bottom.
Shanfetl Women Sweaters (Similar) $28.99
11 – Blue Shoes With Printed Outfit
Have you ever dressed in a multicolored, printed dress with a single-color pair of shoes? It's time to attempt something new, something you've never done before. This dress is perfect for summer, and you may wear this attire to the park or the beach.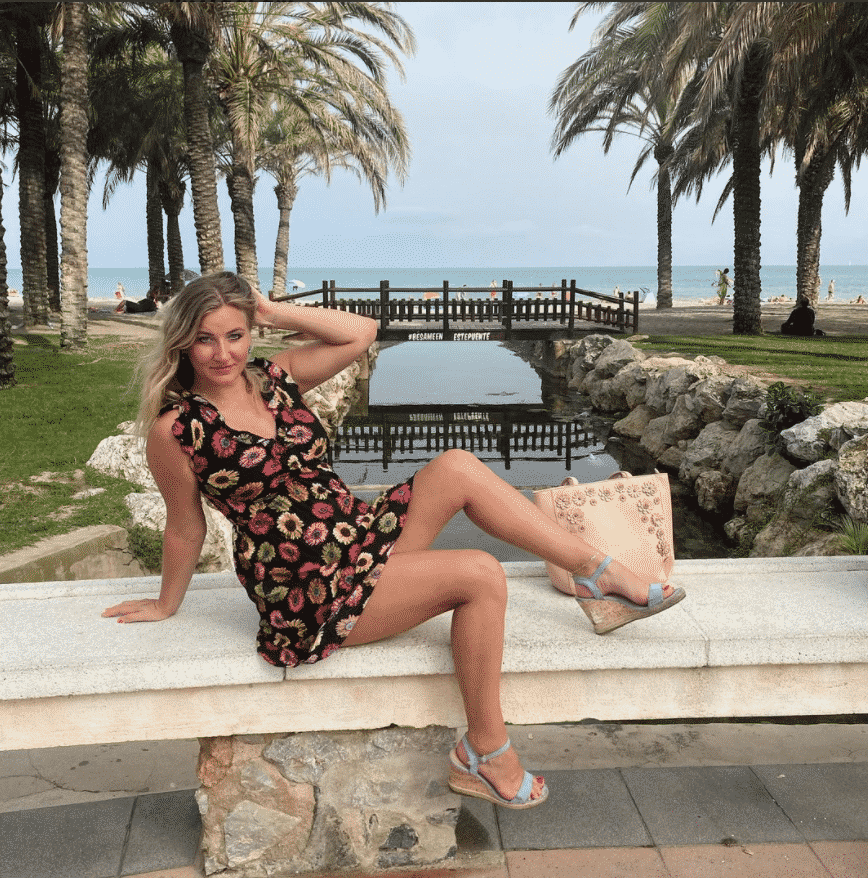 10 – Blue Shoes For A Party Look
Do something to differentiate yourself from the other guests when attending a party. Pair this party dress with blue shoes for a colorful look. With your outfit, add a black purse and some elegant silver jewelry.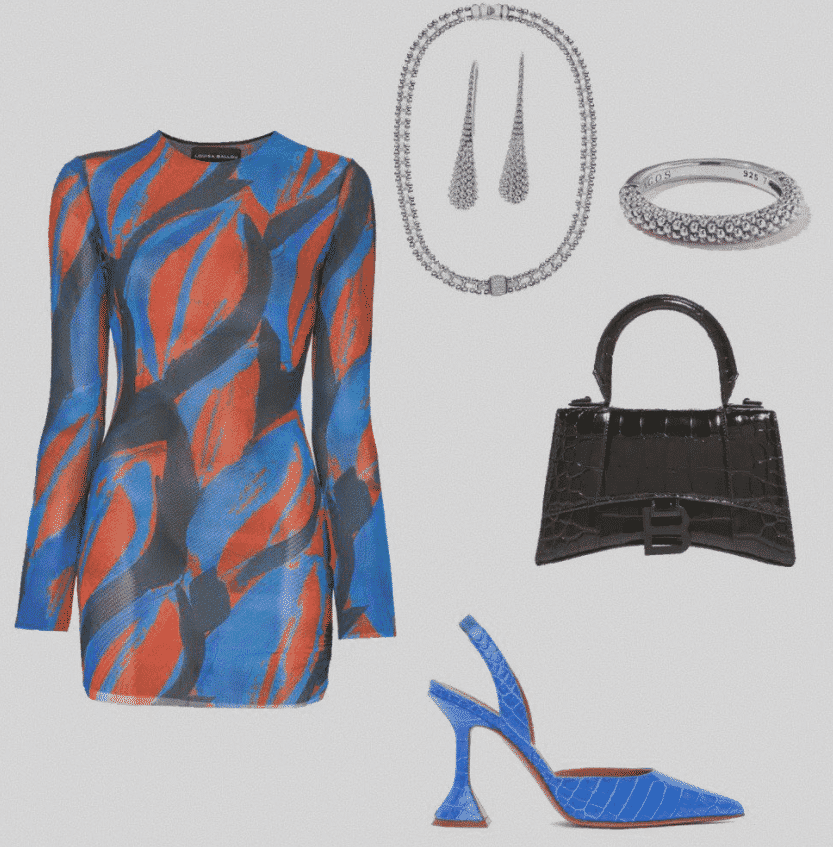 ↓ 9 – With Polka Dots
Polka dots are the most popular prints for both tops and bottoms. You may add a few more colors to your polka dot attire with these stunning blue shoes. These blue shoes with black polka dots fit well.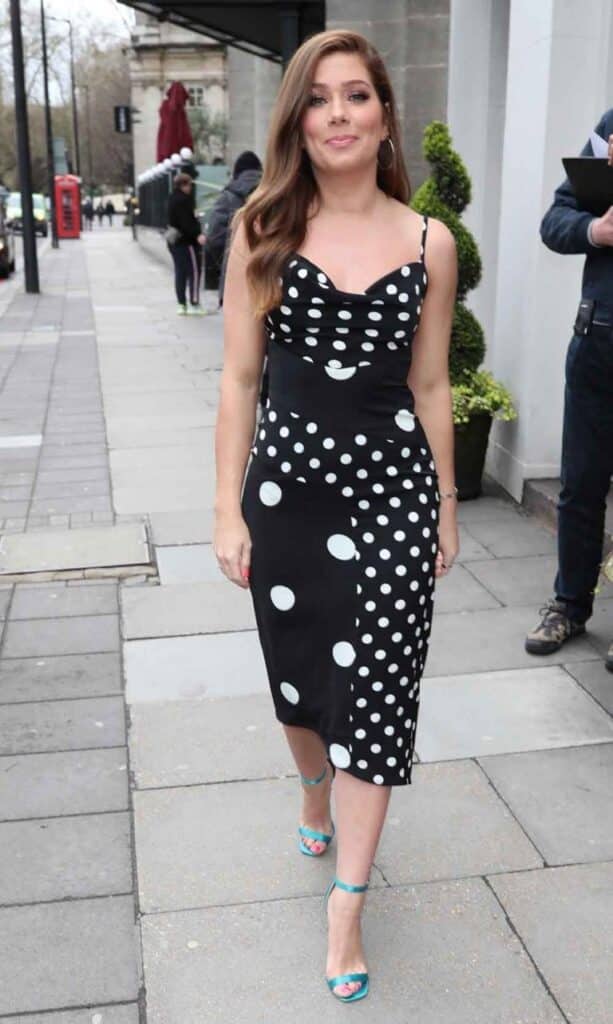 ↓ 8 – Blue Shoes Outfits For University
The most difficult decision is choosing an outfit for university or college. Try pairing this white shirt with blue pants and matching blue shoes to look good and stylish. A white purse will go well with your white shirt. Wear some good ear hoops and a blueish watch with your clothing if you wish to wear jewelry. The perfect blue shoe outfits for universities are now ready.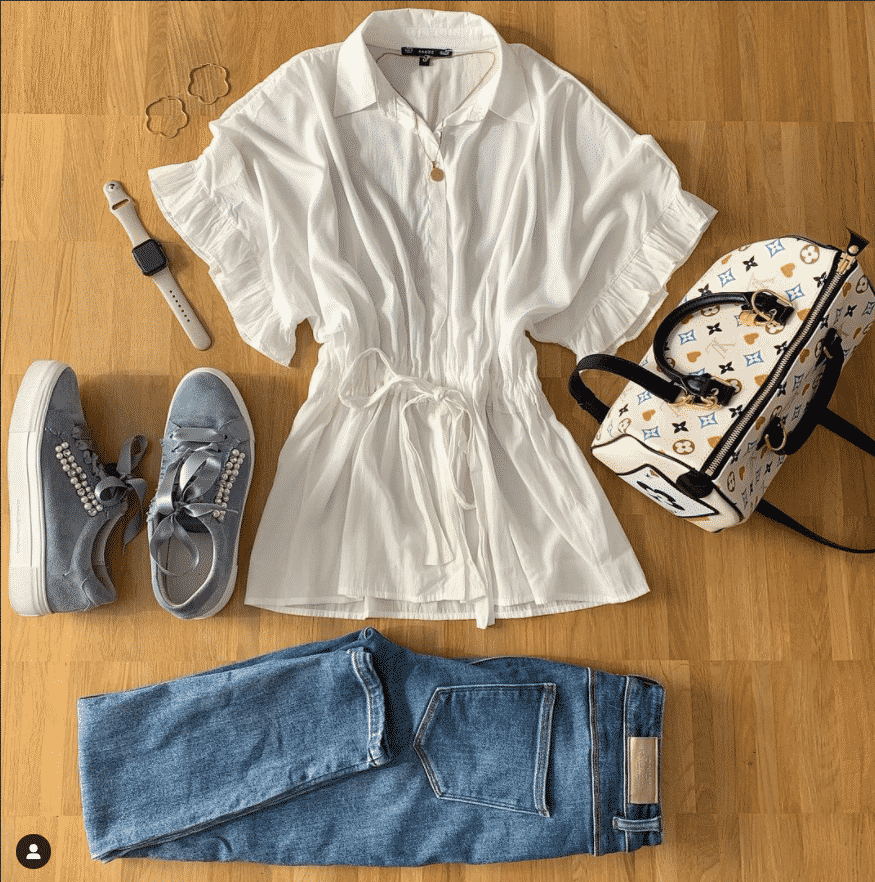 ↓ 7 – Black Dress with Blue Shoes
Black is a color that compliments all women, young and old. Some people think wearing blue shoes with black clothing is a poor choice. However, if you know how to style your look, black and blue are the perfect blends. Wear a simple black dress with darker blue heels. These dark blue heels will also bring attention to your feet.
↓ 6 – With A Denim Short
Outfits with denim shorts are the most popular and well-liked. However, plain denim shorts with a simple top have become a dull alternative. Try to make your outfit more appealing by including bright colors and eye-catching accessories.
Pair denim shorts with a basic white blouse, one side beneath the shorts and one side out. Wear royal blue shoes to complement your attire. Accessorize your look with a royal blue handbag. You may pair your outfit with white net leggings if it's cold outside.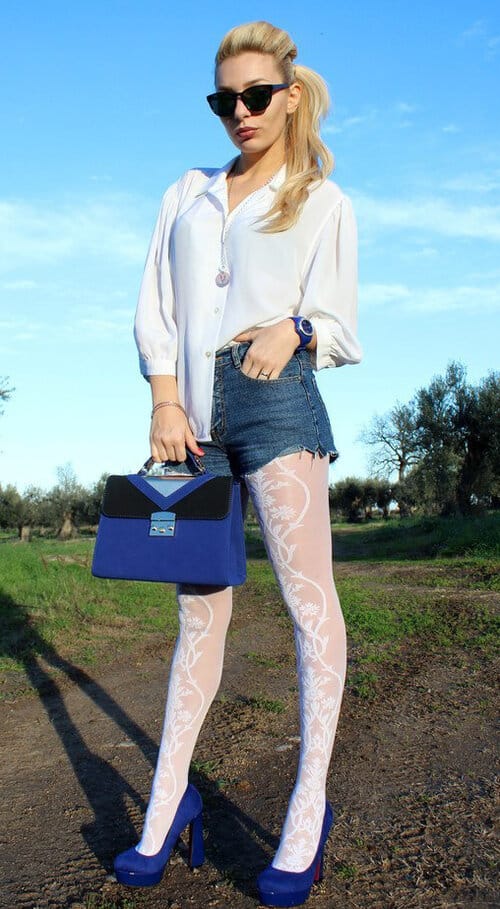 ↓ 5 – A Beautiful Combination for Mature Women
Who says you can't wear bright shoes if you're fifty or older? In your fifties and up, you can wear any color of shoes. These sky blue decent shoes are ideal for females over fifty years. Wear a simple lighter-colored dress, preferably with a coat, and combine it with blue shoes. However, remember to wear a decent pair of shoes that match your attire. If you want to add color, use a purse in a deeper shade to contrast your look.
↓ 4 – Mismatched Shoes
In this era, what you wear may become a fashion statement for others, and they will begin to follow you. If you want to grab people's attention and try something new, go for these blue and yellow mix-and-match sandals.
Blue and yellow are a great color combo for an outfit, but they're also great for footwear. You may wear one of your yellow and one of your blue shoes together. Yes, you read that correctly: wear two different pairs of shoes with your plain white outfit to look elegant and different.
↓ 3 – Blue Shoes With White Jeans
You can wear basic white jeans with almost any other hue. Combine a blue patterned top with basic white pants and blue sneakers. Add a blue purse to your look. You're all set to go to the office or even a coffee date.
↓ 2 – Blue With Eastern Wear
You may also dress up your blue shoes with eastern wear. Wear your stunning eastern wear gown with blue pumps. Add some jewelry to complete your look, and you're ready to go.
↓ 1 – Pastel Colored Outfit With Light Blue Sandals
If you love wearing various colors, in contrast, this is the outfit for you. Wear a simple white inner shirt with a bright purple coat. Wear light green pants and contrast your look with blue footwear. Add a bag that matches your inner plain top.
Frequently Asked Questions
Q. Can I wear blue shoes with blue jeans?
Yes, you can wear blue shoes with blue jeans. It is the ideal combo and a fashionable option to try on. To look elegant, add variation to your footwear by wearing sneakers, pumps, or even heels.
Q. What socks to wear with blue shoes?
Darker blue socks can be worn with light blue shoes, whereas light blue socks with darker blue shoes. You may also wear pattern socks to seem fashionable.
Q. What should I wear with blue shoes?
Blue shoes can go in a variety of color combinations. Blue is a hue that goes with everything. Avoid wearing boring outfits of the same color and instead experiment with mixing and matching items to get a beautiful look.