Are you bored with your usual hairstyle? Are you craving to unleash the inner wild child within you? Then it's about time you got a hair makeover. The best way to completely transform your look is to dye your hair! These days, the 'it' color for hair dye is PURPLE.We are going to bring 50 most popular purple hairstyles in different shades,different types,for different face types that we bet you can't resist
This color is making a splash all over Hollywood and looks good with all skin tones. So whether you are fair, dark, caucasian or South Asian; purple hair will look good on you! There is a range of options to choose from within lilac colored hair. This is why we have compiled a list of the hottest styles for you to choose from!

RECOMMENDED: 15 New Hair Color Trends for Teen Girls to Try in 2019
#1. Multi-tone style
For a more appealing style, keep your hair matte purple from the top, and glossy from the tips!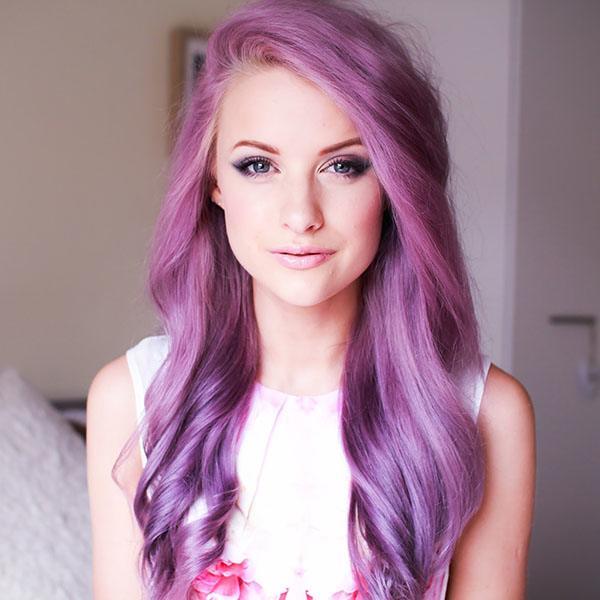 #2. Ombre Style
Ombre hair is the hottest look for 2019, and it looks spectacular with purple hair. Keep your hair natural from the top, yet dye it purple from the ends.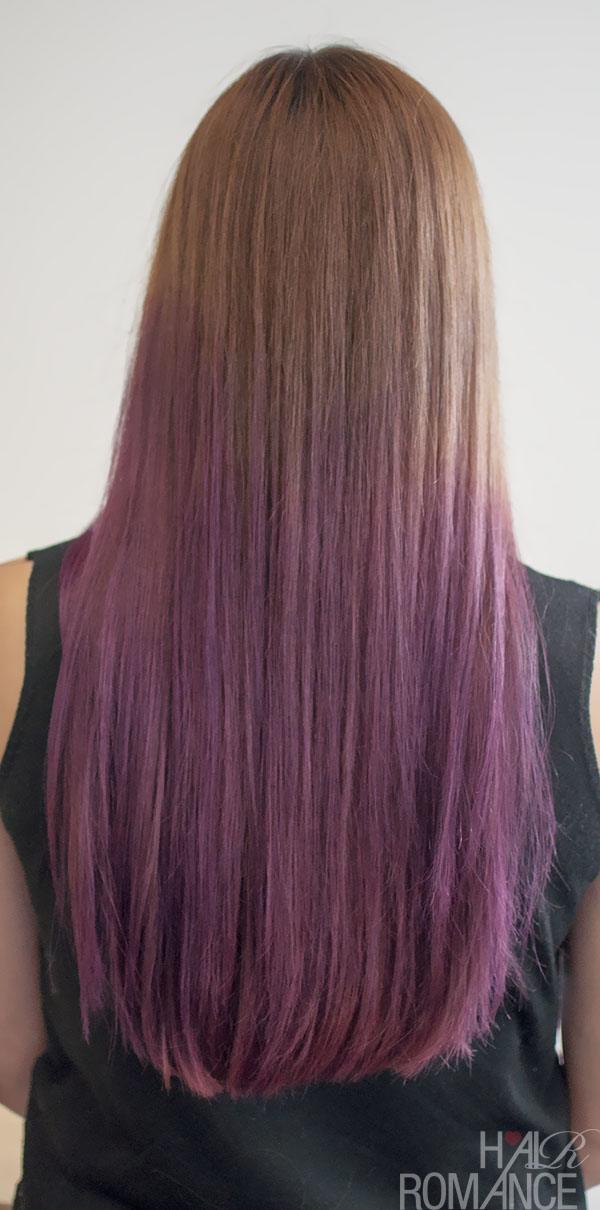 #3. Multi-Hued Style
For a style that will turn heads, go all-glossy yet dye the purple in a range of hues. This keeps things more interesting.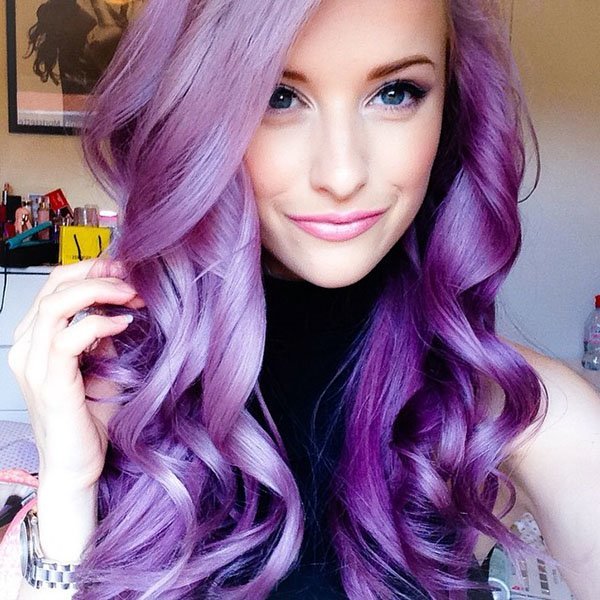 #4. Purple Hair for Blacks
Black women can dye their hair pink, magenta, and purple and mix it up with their wavy hair.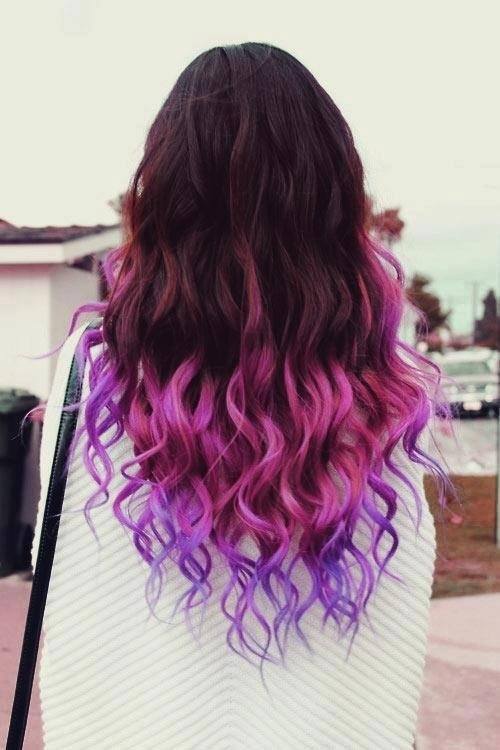 #5. Eu Naturale
Purple hair ds not have to be bold. It can be subtle and natural with lowlights mixed into your natural hair color.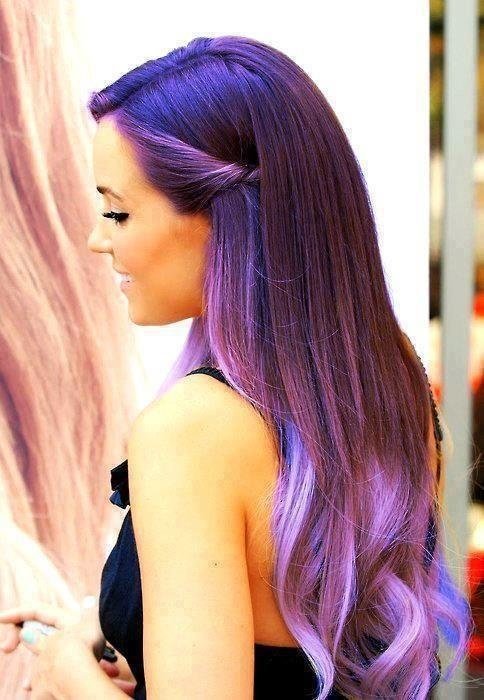 #6. Deep Shade of Purple
Choose a deep shade of purple and dye all your hair in one tone. Then curl it into tight ringlets at the bottom, and make sure to add a lot of back-combing. And you'll have the most awesome purple party girl hairstyle!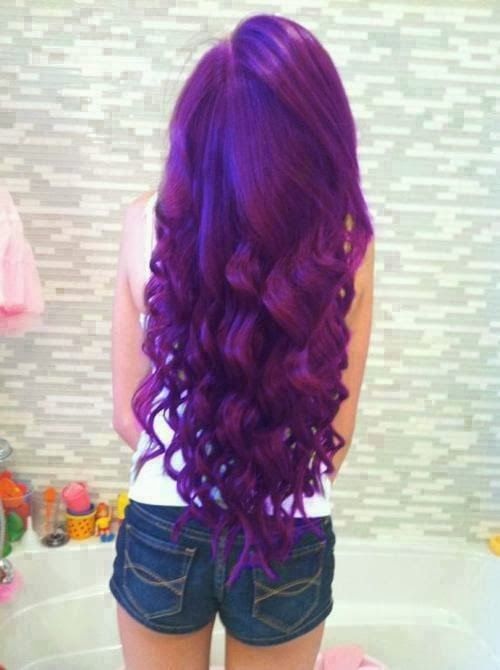 #7. Flossy Style
Many celebrities love the glossy style, which is to dye your hair a metallic, pinkish-purple shade.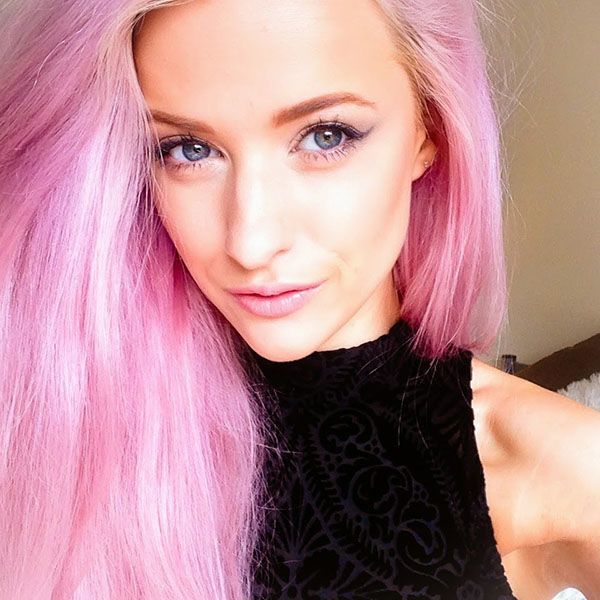 #8. Bold Streaks
Add purple streaks only to the front of the face, and straighten all your hair. This will draw attention to your face yet keep it natural.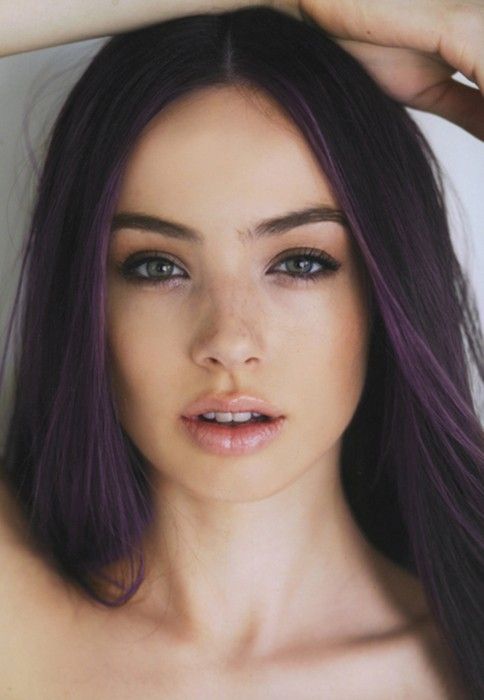 #9. Katy Perry Inspired Purple Hairstyle
Choose Katy Perry's style by mixing black and purple dye, and leaving your hair with a lot of back-combing, styling gel and volume.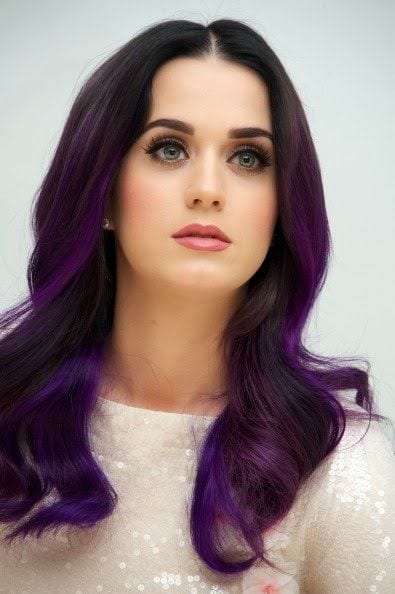 #10. Bottoms-Up Style
For those girls who wish to be more punk, dying half your hair purple is more suitable. It looks fun, edgy and sporty.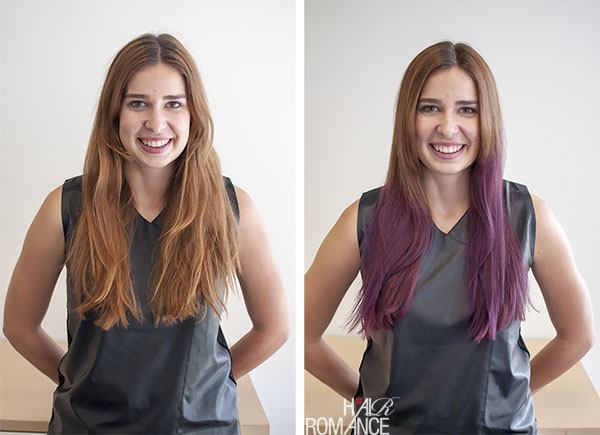 #11. Purple Low Lights
Purple lowlights can be done in a range of purple shades, with long, tousled hair that flows naturally.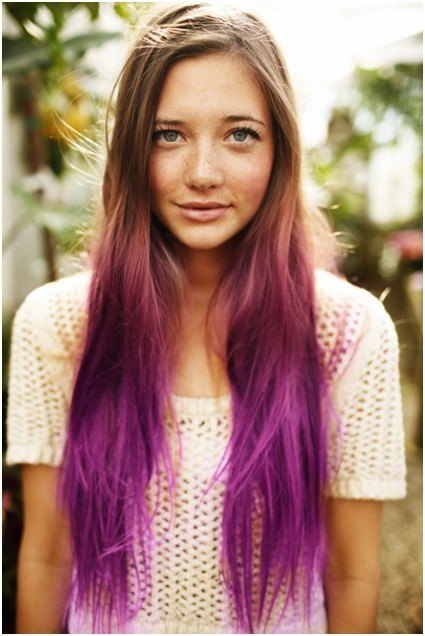 #12. Chic and Cool Purple Hair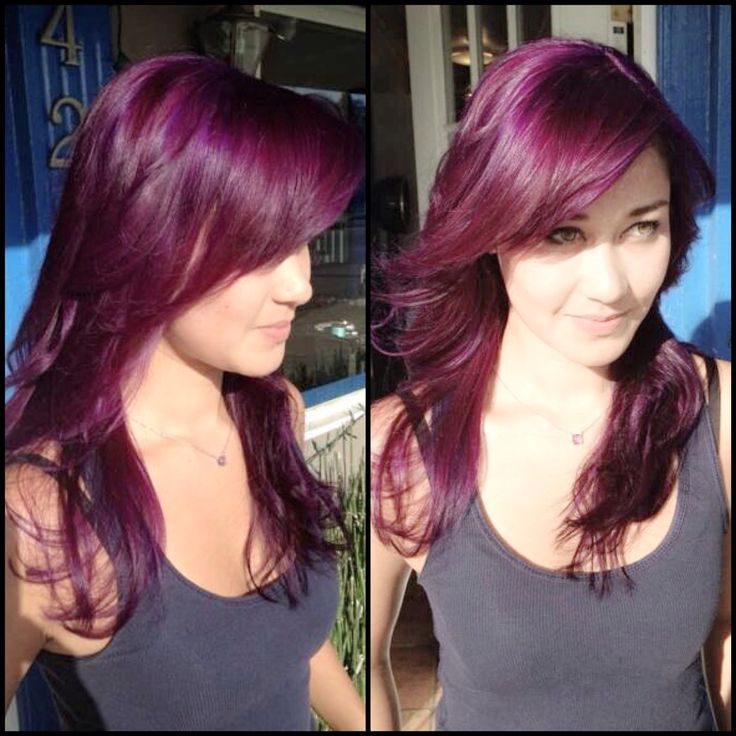 #13. Swag Purple Hair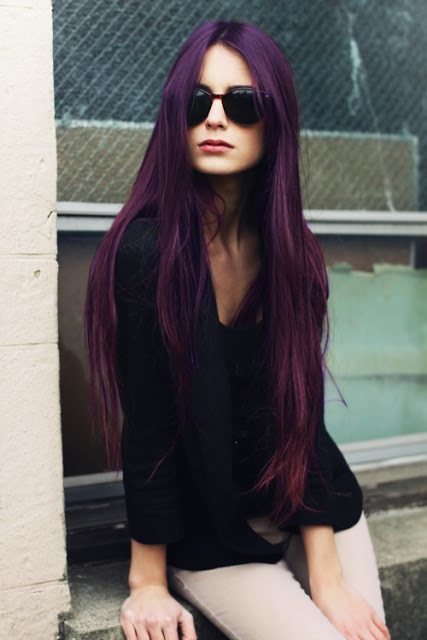 #14. Violet Hair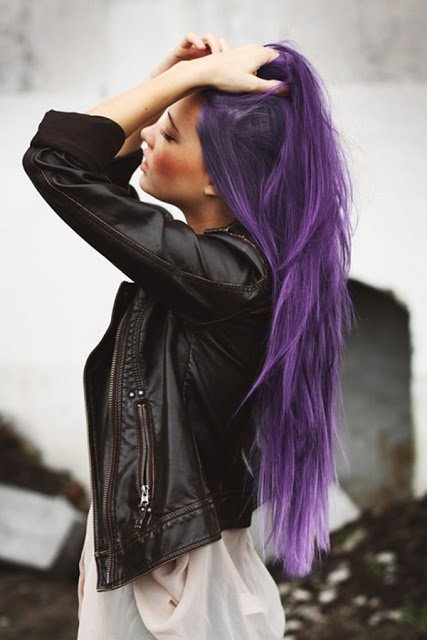 #15. Lavender Hair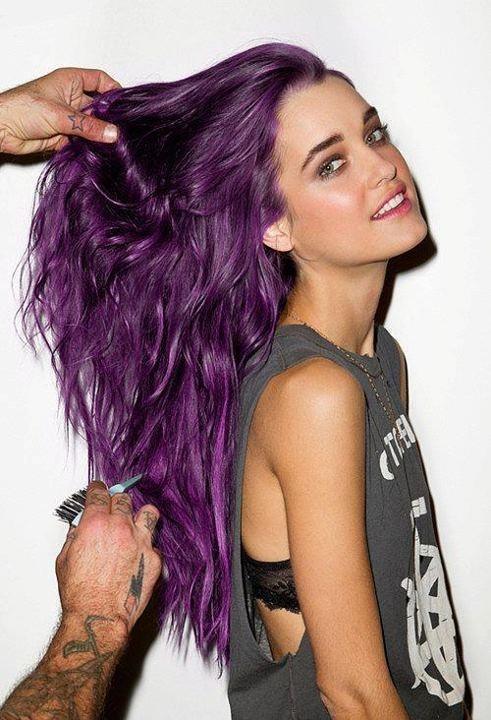 Braided Hairstyles and Bun
#16. A touch of Purple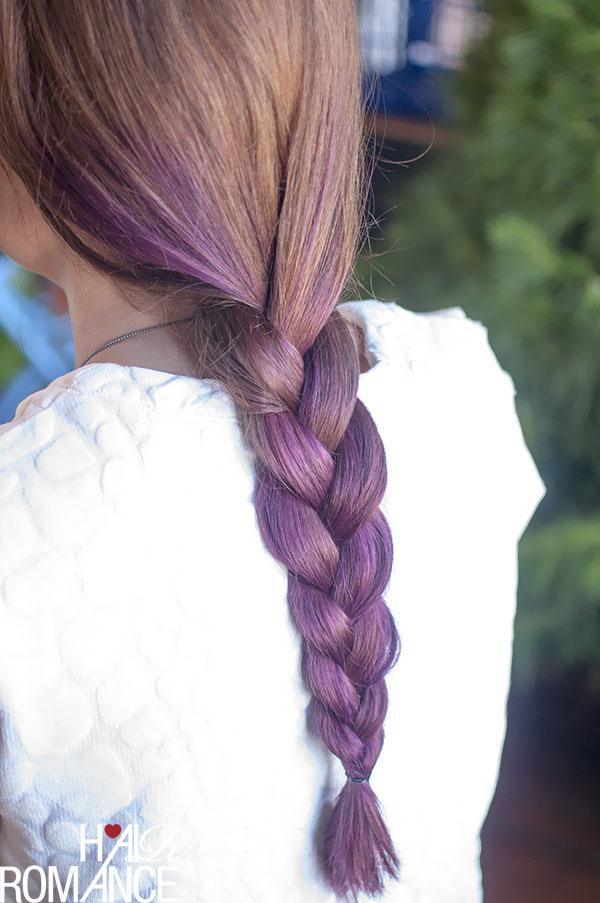 #17. Milk Maid Purple Braid Style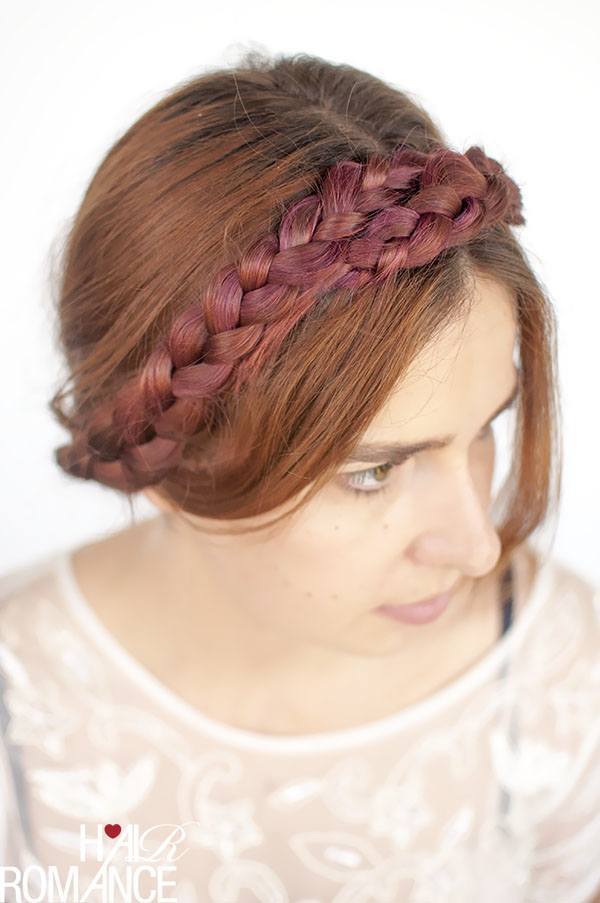 #18. Purple Hair for Brunettes
#19.Purple Fishtail Braid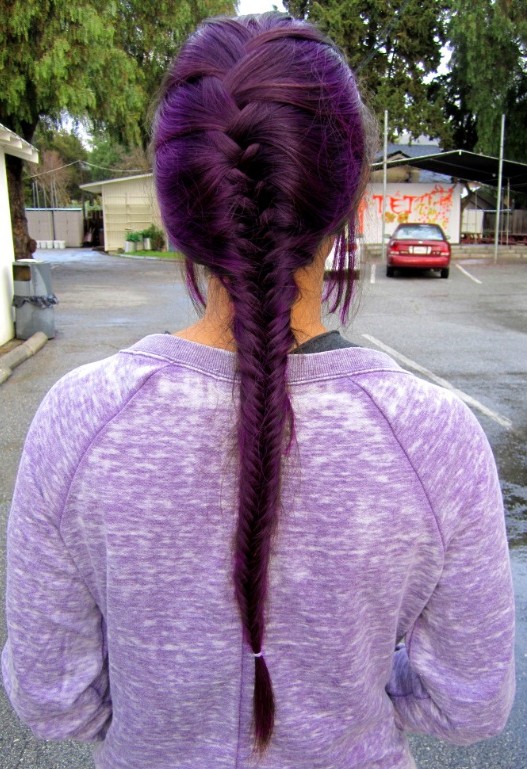 #20.Purple Shade on Blonde Hair
If the ends of your hair are dipped in purple color or are dyed in streaks, then go for this outstanding look. How sexy does the fishtail braid look with this hair color.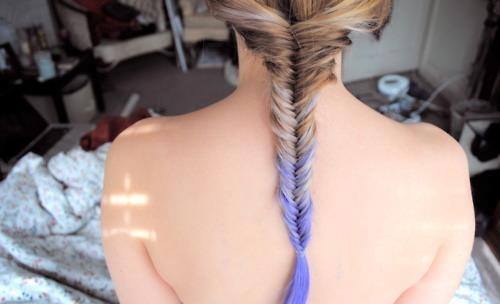 #21. Purple and Blue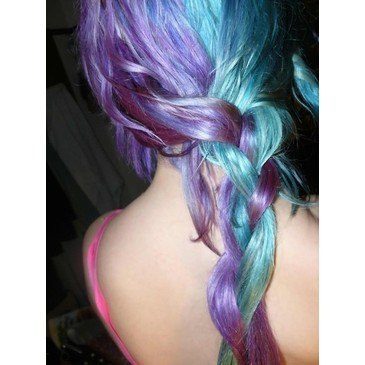 #22. Dark Purple Hair for Brunettes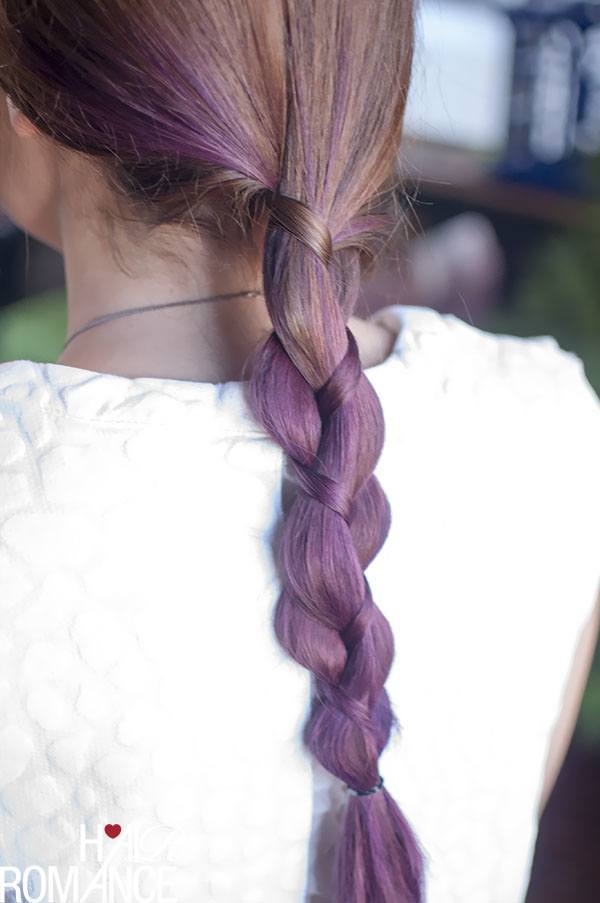 #23.Purple Braid Hairstyle
This cute braid hairstyle is perfect if you want to try something different and unique to your hair. For this hairstyle simply divide your hair in two parts and then for the top part, make a cute and neat fish braid starting from the roots of your hair and extending towards to tips of your hair. It creates such a magical look that no one can resist.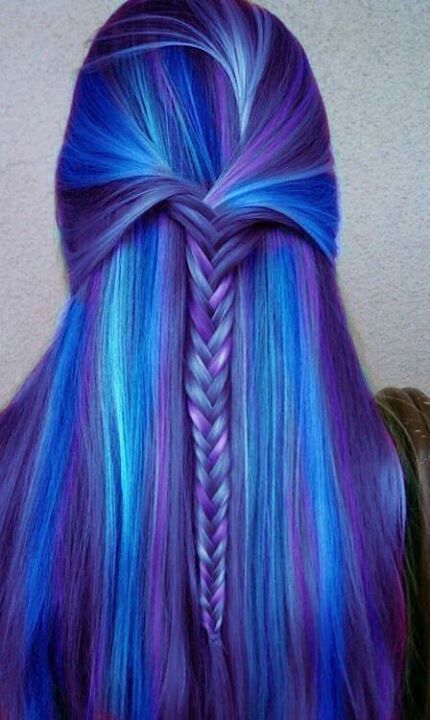 #24.Mix with Grey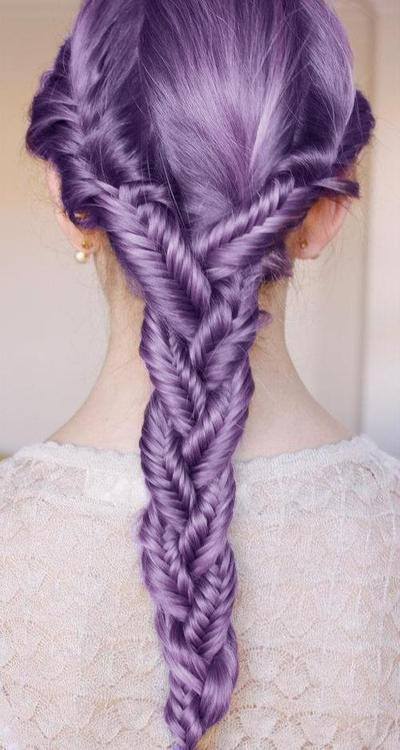 #25. Purple and Pink 
If you have hair in the mixture of purple and pink then this is the style for you. Simply go for a classic braid to make your hair color more prominent. For this hairstyle, go for a messy classic braid that starts from the center part of your head. You can pull a few strands out to make your hairstyle look messier and less made up. Don't forget to add the hairspray to fix the whole look in place.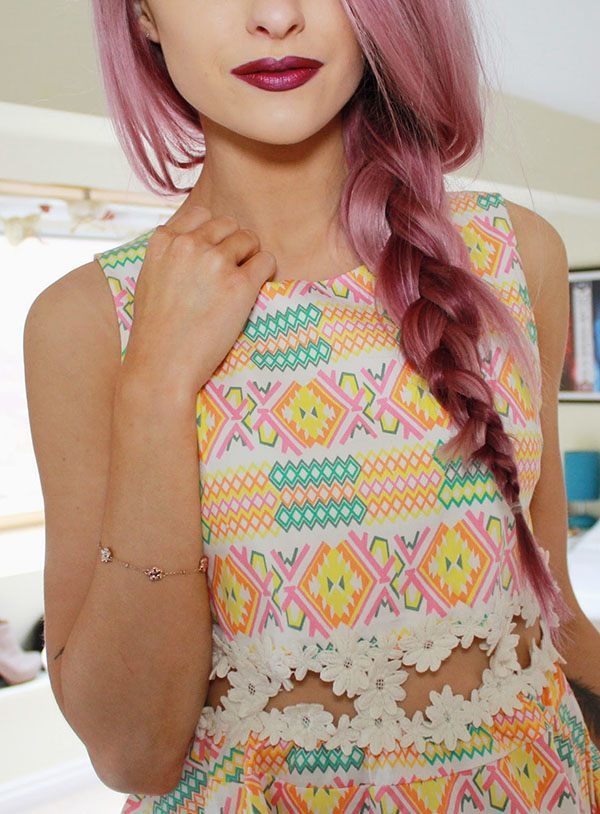 #26.Bun Style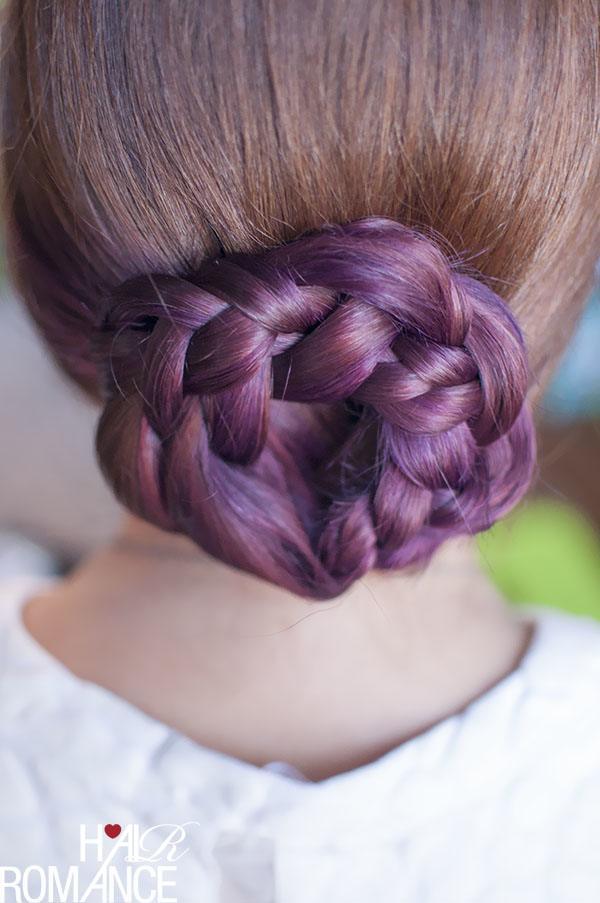 #27. Floral Bun with Purple Hair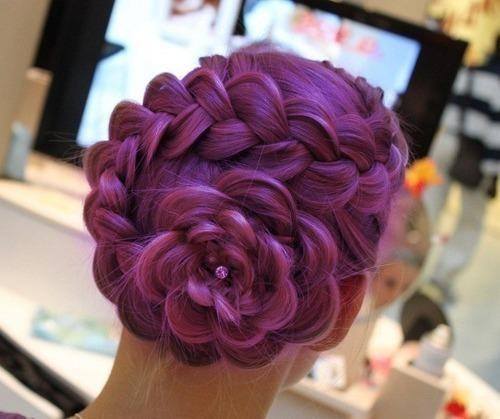 #28. Waterfall Braid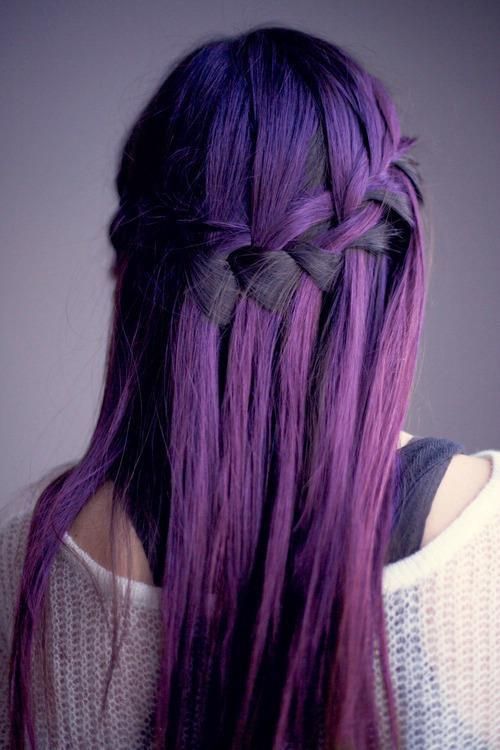 So we hope that you are will look for the best hairstyle  for yourself. Take inspiration and ideas from the pictures. Choose the bold colors that make you look like a diva in front of others. Try out all the fishtail braid ideas, curls, straight hair, lowlights, braid bun etc. We're sure that you will look absolutely gorgeous with a new change and new hair color.
#29. Loose Curls Medium Hairs
#30. Light Purple Shade
#31. Chic Style
Waves combed with side partition are the best combo if you have ombre hair dye and you want each and every color of the ombre to be shown. For the hairstyle, all you have to do is to start by making curls or beachy waves of your hair. Then part your hair in the side portion and don't forget to back comb a little to make sure that you add volume to your hair. Do add hairspray to keep everything in place all day long.
#32. Blue and Purple 
#33. Emo Style
#34. Cara delving Style
This style of hairstyle is highly popular because of the backcombing. Backcombing is the real key of the hairstyle and backcombing is what makes this hairstyle unique and stand cut. For this hairstyle, all you have to do is to back comb your hair from the front part of your head to make a nice and puffed puff catch all the attention.
#35. Straight Purple Hair
#36. For Tattoo Loving Girls
If you are the girl with a lot of tattoos and you want to show them along with the color dye that you have on your hair then this next hairstyle idea is the best for you. For the hairstyle idea you need to start by making waves or curls in your hair then backcombing them on the crown part of your head. Then put your hair in a messy high pony and make sure to keep a few strand outside of the pony to perfectly frame your face. This hairstyle is perfect and will let you flaunt your tattoos and will also make your hair color prominent at the same time.
#37.Dark Purple and Green
#38. Purple Hair Color for Young Girls
You can see that purple hair look particularly cool on girls with blue eyes. So if you have blue eyes, this is something you must try. You should also check out these 20 Amazing Pictures of Black People with Blue Eyes
#39. Mixed colors
#40. Frizzy Hair
#41. Step by Step Tutorial to Make a Cute style
#42. Purple Hair for Working Women
#43. For Black Girls
#44. Emo Style

#45. Bob Haircut
#46. With Hood
#47 . Korean Girls Style
#48. Bright Purple Tone
Daring girls can add a lot of layers and feather to their new purple hair. The blowout really brings volume to the hair and makes the face look so much more appealing, here's a complete guide on How to do Blowout-20 Ideas for Messy and Blowout Hairstyles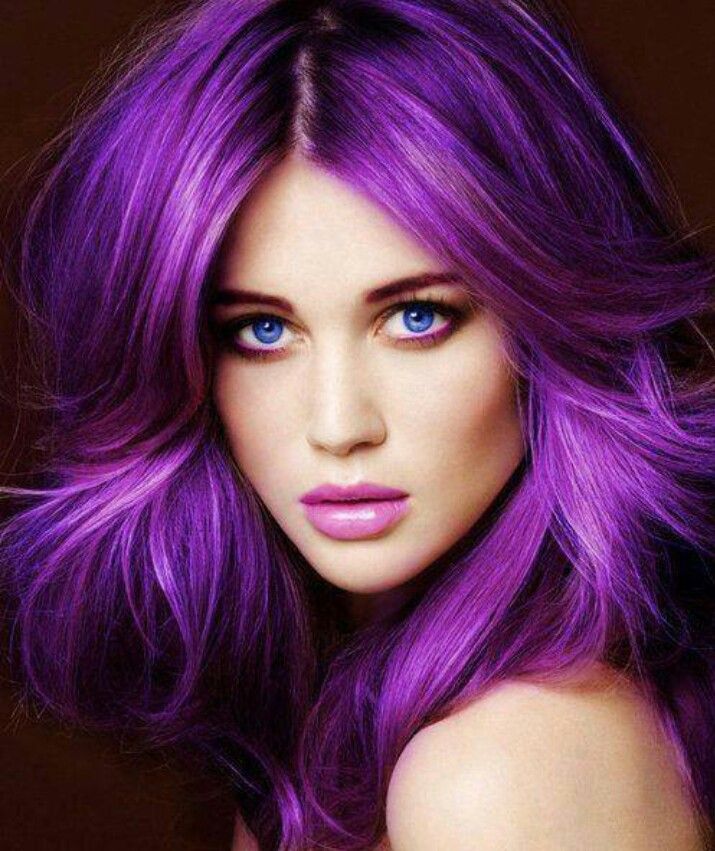 #49 – For women in 30s
#50 – For Teen Girls
These 4 are my favorites so I made a collage of it … so in love