Hair Color Trends. Life is too short to have boring hair. That's the number one rule we all need to live by. Did you know that certain hair colors have personality perceptions attached to them? Blondes are considered fun and flirts.
Brunettes are thought to be serious, and such. It's imperative to break all these dumb stereotypes. The hair dye market is rich with incredible colors and textures. You can choose whatever color you like and rock it like there's no tomorrow. Statistics have shown that about 75% of the women in the USA dye their hair today. This year, there has been a dynamic turn in the face of fashion, and we could not be more thrilled to show you what's coming with hues and shades not known or created before and techniques that are much more reliable and secure.
 Trending Hair Colors of 2021
The hair color trends are coming up big this time, with shades that brighten up your face, or add glamor to it, or even give you subtle gray tints that match your simplistic identity. Natural human hair colors are brown, black, red, white, and blond with black being the most common and red the rarest! Some new and unique samples include blorange, blond-gray, and ash brown that show just how innovative dermatologists and colorists have been lately. But you just simply cannot pick the color you like, there is some deep thinking to do before that.
How to pick the hair color that is just meant for you?
The most significant aspect that colorists keep in mind is to create colors that manage to bring out at least one particular shade of complexion. So whatever skin tone you have, there is a hair color that best matches it. All you have to do is to figure out which one is it. The good news is that it's not at all that hard at all. Just understand the warm vs. cold hair hues and colors and the nature of your skin tone (cool, warm, or neutral).
Understanding your Skin-tone and Undertone
What is an undertone? 
An undertone of your skin is the color underneath it. It's broken down into cool, warm, or neutral. You can have the same surface skin color as someone else, but rather have a different undertone.
Above all, understand the idea of cold and warm undertones. If you have a cooler tone, pink and olive coloring is your dime. If you have a warmer tone, yellow or gold is your game.

Taking ideas from celebs is an excellent try too. You can easily catch the notable example of a celebrity with similar hair color and eye color as yourself, and see how they go about coloring their hair to the most suitable option.

Another gold mine of a tip is a rule of thumb

. 

So this rule is basically about picking the hair color in strict contrast to your skin's original tone. For instance, all the warmer toned people opt for cooler hair colors and vice versa. And if luckily, you have a neutral tone, all colors are meant to be appropriate for you.
How to Choose Hair Color According to Skin Tone
For a better and clearer idea, below is a scheme of some cool new hair shades that are a perfect match for various skin tones. Have a look:
 

Ash-blonde:

 Cool skin tone with a reddish undertone. Celebs like Taylor Swift and Gwen Stefani have applied this.

Warm blonde

: Fairly cool skin tone, and the best match would be honey or butterscotch shade of the warm blonde.

Cool brown

: People with warm undertones. Cool brown includes shades of mocha, chestnut, dark chocolate, etc.

Warm brown

: Medium fair skin tone with warmer undertones.

Cool red

: Fair skin with a reddish undertone.

Warm red

: For all neutral skin-toned ladies.

Cool black

: For all gorgeous ladies with warm undertones.

Warm black

: Best for fair skin with a cool undertone.
Hair Color Apps
Let us all take a moment to thank technology for making our lives easier. These hair color apps with realistic features will tell you what your hair will look like if you apply a particular color and cut to it. Some even do complete makeovers! These can be downloaded for iOS and Android phones. You can find more information and download options in the links below.
The following are some of the best hair color apps of 2021:
Hair Color Trends That Were Hot in 2018 & 2019
To look to the future, we must understand the past. Before discussing the styles currently trending, let us take a quick look at the kind of techniques that were popular a few years ago.
2018:
Contrasting roots
Inky Black
Cold Brew hair (dark brunette with red-gold highlights)
Shades of red (flannel, auburn red)
Shades of blue (cobalt, ocean)
Ombre hair
2019:
Multicolored hair
Lilac hair
Honey Bronde
Ash Blonde
Chocolate Brown
Jet Black
Strawberry hair
What Hair Colors Are In For 2021
New hair color trends are being set every hour. As such, we cannot point and declare which is the best of them all. They never go 'out' of fashion, but some trends tend to stick more obviously than the others. Our following list of hair color trends for 2021 has something for everyone and every occasion; blonde trends, brunette trends, winter and summer hair color trends, etc.
↓ 15 – Blorange/The New Ginger
So, what is the new stigma about the Blorange revolution anyway? And why is it the new black in fashion? Here's why: Blorange new hair color trend is your ultimate attempt at nailing a combo of peach and rose that could not have created a better mix up of the two colors.
We're sure that you'll enjoy reading more about Hair Color Trends for Teen Girls
↓ 14 – Dual-toned Hair
2021 welcomed more futuristic and bold trends. Neon and bright colors, pastel, soft-cloud shades, and dual-toned hair like Ruby Rose's blue and pink hair.
↓ 13 – Twilighting
Twilighting is a mix of balayage and babylights. The colorist who invented the trend, Karissa Shaudt, describes it as a color that reflects the golden hues of twilight.
↓ 12 – The Bronde Color
Never heard of the unique Bronde hair dye before? You have now. No longer is one particular hair color supposed to go with blonde or brunette because this classic mixer shade is a tie for both. The Bronde is a fabulous distinction between blonde and brunette that all ladies will fall hopelessly for.
↓ 11 – Silver Blonde
It's a great color for women over 50. It's that time of your life when you just can't escape the silver and grey in your hair. So why not make it a trend? Moreover, young girls have also adopted this trend as of late. You'll see much silver-blonde hair pop up in your social media feeds.
Interested in hair fashion? Head over to Gorgeous Blonde Hair-color and Shades
↓ 10 – Flaming Red
Red is the rarest naturally occurring hair color, which explains why it fascinates hair color enthusiasts. This year has seen several shades of red make an appearance. Celebrities like Zendaya can be credited for starting this trend again.
↓ 9 – Caramel Highlights
Caramel highlights in chocolate brown hair are a delicious delight to behold.
↓ 8 – The Natural/Bold Roots
Roots are undoubtedly the new face of hair fashion right now. Celebrities like Dua Lipa, Margot Robbie, and Kristen Stewart are few of the many stars opting for this hair color trend. All you have to do is let your roots show.
↓ 7 – Jet Black Hair
It's been trending for the past two years and it seems it'll never go out of fashion.
↓ 6 – Creamy Blonde
Among dozens of blonde shades, this is the prettiest. It's also one of the It shades of the year.
↓ 5 – Bright/Neon Hair
Neon hair colors are getting super popular, thanks to icons like Billie Eilish and k-pop idols. Bright, stunning shades like hot pink, acid green, and electric blue are trending these days.
via
↓ 4 – The Ombre Hair
Ombre is a blending of one shade into another, usually a light color to a darker one. It's one of the most popular hair trends of the past several years.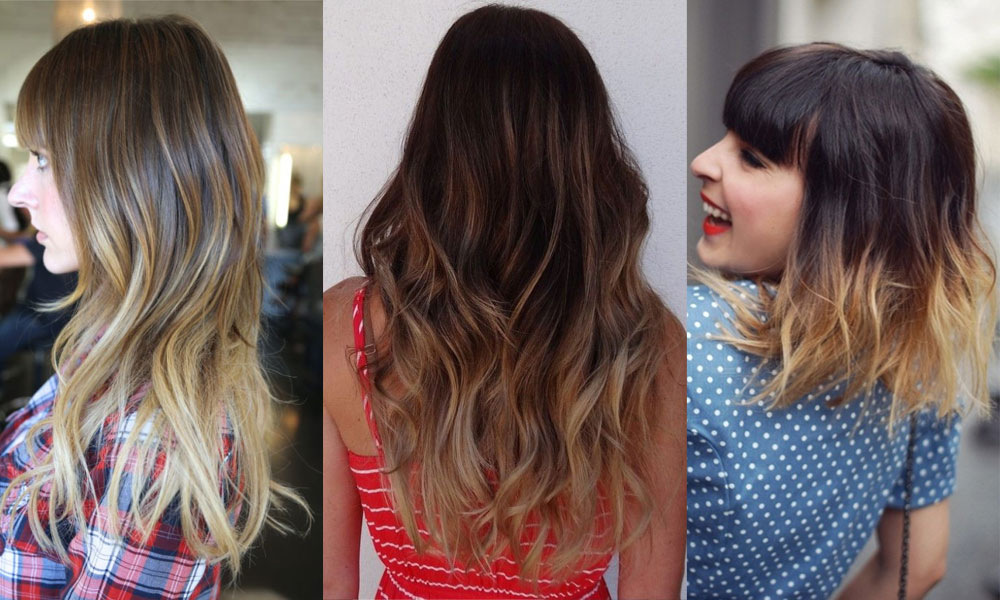 ↓ 3 – Ice Blonde
The ice-blonde is surely one absolute head-turner of the year, with a mesmerizing platinum shade that is worth spending some money on. It's the ideal shade for winters.
↓ 2 – Tiger Eye
Jessica Alba is practically the queen of the tiger eye hair look that is a gorgeous shade and a mixture of golden highlights on brown hair. Flawless for brunettes and also a suitable hair color for medium skin tones.
↓ 1 – Classic Rich Brown
Rich brown is the new favorite shade to apply for all fair-toned ladies that gives a luxurious contrast with your skin tone. It's dark, delicious, and seductive.
Some Inspiring Celebrity Hair Colors of Previous Years
↓ 5 – Ashley Tisdale's Milk Chocolate Brunette Hair
An asymmetrical lob haircut paired with brunette hair color marked the start of 2019 for Ashley Tisdale. While other stars are going for lighter and brighter hair colors, Ashley's choice of darker hues is trendsetting.
↓ 4 – Gigi Hadid Follows the Rose Gold Hair Trend
Gigi went for one of the most popular shades of last year, rose gold. Every girl loves this color, and we love the edgy look it gives Gigi. For the haircut, she went for bangs, which gave her face a soft touch.

↓ 3 – Kylie Jenner's Bright Orange Hair
Around valentine's day, Kylie surprised everyone by going for tangerine orange hair. Kylie's known for her iconic looks. For 2019's Met Gala, she matched her hair color with her purple dress.

↓ 2 – Miranda Kerr's Blonde Highlights
For winter, Miranda went from brunette hair to soft blonde highlights which gave her a fresh and beautiful look.
↓ 1 – Khloe Kardashian Goes Bright Platinum Blonde
In a selfie from her vacations in Costa Rica, Khloe looks gorgeous in a blonde hair color styled in beachy waves.
Top Hair Color Brands To Buy From in 2021
How Did We Decide?
These are the top five brands excelling in hair color technology according to Ranker. We've selected their products listed under Amazon's Choice on Amazon.
5- John Frieda
4- Revlon
3- Manic Panic
2- L'Oreal
1- Garnier
↓ 5 –  John Frieda
Brand's Portfolio: British celebrity hairstylist John Frieda started his namesake haircare brand in the 1980s. The brand manufactures various products including shampoos, conditioners, creams, salt sprays, and hair colors. Its color line is comprised of Sheer Blonde, Brilliant Brunette, and Radiant Red products.
Price Range: $4.83 – $20.99 available on Amazon.
Social Media: Instagram, Facebook
Recommended Product: John Frieda Precision Foam Colour, Light Natural Brown
Price: $11.99
↓ 4 – Revlon
Brand's Portfolio: Jewish brothers Charles Revson and Joseph Revson, and Charles Lachman, a chemist, launched the brand in 1932 in New York. Revlon manufactures personal care products, cosmetics, perfumes, and skincare products.
Price Range: $2.68 – $100.82 available on Amazon.
Social Media: Instagram, Facebook
Recommended Product: Revlon Colorsilk Beautiful Color
Price: $8.04
↓ 3 – Manic Panic
Brand's Portfolio: Manic Panic is a punk hair-color brand that is based in New York. It was launched by sisters Tish and Eileen Bellomo in 1977.
Price Range: Manic Panic's semi-permanent Classic High Voltage colors are all priced at approximately $14 on Amazon.
Social Media: Instagram, Facebook
Recommended Product: Manic Panic Hot Hot Pink Hair Dye
Price: $13.99
↓ 2 – L'Oreal
Brand's Portfolio: L'Oréal has the privilege of being the world's biggest cosmetic company. It's a French brand and offers a variety of skincare, haircare and makeup products.
Price Range: $9.93 – $800 available on Amazon.
Social Media: Instagram, Facebook
Recommended Product: L'Oreal Paris Excellence Creme Permanent Hair Color
Price: $16
↓ 1 – Garnier
Brand's Portfolio: Garnier is a French haircare and skincare brand that has become a part of L'Oreal since the 1970s. Alfred Amour Garnier launched the brand in 1904 as Laboratoires Garnier.
Price Range: $11.20 – $87.38 available on Amazon.
Social Media: Instagram, Facebook
Recommended Product: Garnier Olia Ammonia Free Permanent Hair Color
Price: $12