Most Expensive Lingerie Brands. Every girl has a desire for stunning lingerie at one point or another in her life and rightly so! No matter what size or shape you are, every girl can pull off the bra and knickers look. Also, we are living in an era where lingerie doesn't only mean a set of bikini and knickers, but it's more than that now. With such a vast variety of styles, fabrics, colors, textures, and decorations, finding your own stunning and alluring lingerie is easier than ever and usually at a reasonable price.
We'll be talking about the top brands today, that have introduced immensely beautiful and gorgeous lingeries that include chemises, bodysuits, strapless bras, Corsets, Bustiers, and the list goes on that will keep you adding more and more to your wishlist. Plus women nowadays are more concerned about choosing the right size and style of their lingerie so having a range of options is definitely on our favor.
Most Luxurious Brands of Lingerie
From the delicate embroidery, applique work, and use of vintage laces to the quality of material used, it's astonishing how designers have created extraordinary intimated apparel and blown away our minds. All in all lingerie shopping is always an exciting thing to buy for any woman.
Buying Guide of Lingerie Brand
Before choosing the perfect Lingerie, make sure to note the following points:
• Measure your exact bra size, and the wrong size can make your boobs look saggy.
• Never compromise on fabric, the cheap material may irritate.
• Comfort comes first, make sure it's comfortable with your bra.
• Choose a variety of colors, don't stick to the boring dull one.
• Always try it on before buying.
How Did We Decide?
In this article, we will be venturing more towards the top end of high flying, luxurious, and expensive lingerie. Here we bring you the world's most luxurious designer brands of lingerie this year, enlisted based on low to high prices.
↓ 5 – Agent Provocateur
↓ 4 – Guia La Bruna
↓ 3 – Carine Gilson
↓ 2 – Jean Yu
↓ 1 – Bordelle
↓ 5 – Agent Provocateur
Founded in 1994, Agent Provocateur now has over 100 stores in 13 different countries. Not dissimilar to Victoria's Secret, the brand has specialized in bedroom attire but has now branched out into evening wear and bridalwear. As with any expensive brand, you pay for quality, and that is undoubtedly what you receive with this name. With luxury garments such as bra and knickers, gowns, bespoke corsets, robes, nightwear, and bodysuits all ranging from $800 to $1200 and rising, it is not surprising that Agent Provocateur has gained a place in the top 5 expensive lingerie brand names.
Worried because of your bigger cup size?
Agent Provocateur has a solution for you as it moves with body-positivity, featuring the lingerie of larger cup sizes and larger knicker sizes, hence empowering women in their way. The campaign has uplifted significant sales on its in-store and e-commerce website. Each piece is made with full consideration and speaks about the art itself. Women seeking comfort in their underwear have always experienced the best of quality and happiness wearing Agent Provocateur.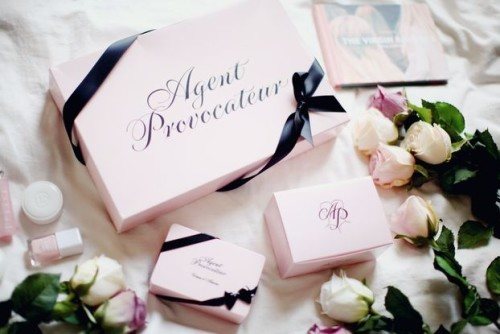 This royal blue lingerie set is made of softest silk material with a delicate lace enduring sensual effect. A combination of the most elegant fabric, captivating color, and flattering fits by Agent Provocateur is a masterpiece worth $400
The classy Black Bedroom Gown has a detachable belt to cinch the loose shape and can also be worn while lounging around the house, while the peachy inner has an applique work done on the neckline and the edges. This is an extravagant piece of nightwear made on pure silk that looks utterly sexy and sophisticated. So these 2 in 1 set is indeed a double treat!
Coming to this erotic nightwear made with pretty black net embellished with a red bow and paired with a matching thong. The lingerie set has a soft-cup style, fitted with underwire for a gentle lift, ideal for days when you want something light and super comfortable. These silhouettes have a vintage touch specially featured over the Christmas holidays.
The price range for this lingerie line costs between 800$-1200$, and you can buy many of these products online.
↓ 4 – Guia La Bruna
Although Guia La Bruna is now more involved in swimwear than lingerie, her lingerie sets have captured the attention of many. The granddaughter of a lingerie producer, she has it in her blood, and her inspiration from the 1950s shines through her work with retro styles and colors which have been modernized. She is one of the most promising designers who are producing excellent products while maintaining the standards of her quality. In short, from comfort to beauty to luxury, Guia La Bruna is always providing a timeless classic collection making their customers thoroughly satisfied by giving extensive knowledge about size, fitting, and style.
This very gorgeous Pink and Gold Bow Bra and Knicker Set by Guia La Bruna looks exceptionally fancy and opulent. The shaded bra and shimmery effect of the bow will urge you to get your hands on this sexy lingerie set. This will be an expensive one, but each penny is worth spending. And, seeing as everything is handcrafted and not a production line manufactured, you pay for the quality and quality she produces.
The swimwear by Guia La Bruna is something not to be missed. It's a floral frilly lingerie set that has underwire cups for the firm and a stable look, perfect for summers. Indeed, this is giving us some severe pool party vibes. Check our earlier post about Top 10 Bra Brands of the World in 2019 With Price
Out of many, Gia La Bruna features this another victorian style, incredible demi-cup bra with sheer lace matched with flexible Knickers with the allure of red satin material, and a sexy V at the bust center plunges out giving a sexy look. Despite being an expensive and luxurious set, they owe you the royal feel once you wear it.
To beat the heat of summers, Guia La Bruna presents this lingerie line specifically designed for hot and humid weather. She loves to work with a soft and delicate muslin cloth. This sheer and soothing polka dot Bra is made of lightweight material perfect for sunny days. The white color itself is very calming and comforting; hence, it should be must-buy lingerie on your list.
↓ 3 – Carine Gilson
Carine Gilson is a worldwide renowned Belgian lingerie designer who studied fashion from Antwerp's prestigious Royal Academy of Fine Arts. One can witness her work seeing at her iconic and ethereal collections. She is widely known for her exquisite use of delicate fabrics, including satins, lace, and chiffon. Also, she has been recognized by the Hollywood fraternity for always presenting her awe-inspiring work. Her gold silk and lace gown was worn by 'Severine' in Skyfall and is valued at $1660. Being one of the most luxurious brands and falling on the list of top 5, its always been celebrities first choice when it comes to selecting their lingerie range.
Thinking out of the box and presenting it to the real world, Carine made sure to make this happen. She is always focused on creating something extraordinary hence, her remarkable and detailed work has always been praised and loved. The typical price range for items by Carine Gilson will range from $200 for thongs to $1600 full kimonos and gowns.
These are some timeless pieces by the House of Carine Gilson, which is made with highly skilled artisans. These aqua color bikini with refined work and adjustable straps are available in many different forms. Whether you want a bikini, a camisole, or a Kamino style lingerie, Carine Gilson has everything in stock. The ribbons and Florilège laces are impeccably enhancing the silhouette. These camisoles are worth $749.
 One can never go wrong with a little black, and this sensational Sheer Black Slip Dress by Carine Gilson has all the eyes on it. Made of pure see-through chiffon with delicate lacework on the entire edges. This highlights the refined feminine body. Ranges between $380-$1800
Blue Satin Bra and Briefs Set with Black Applique work is another impressive creation by Carine Gilson. She always approaches for something classic, and this Lyon silk is the epitome of her elegant craft.
Camisole and Corset by Carine Gilson lingerie couture are the perfect honeymoon choices. Carine, being one of the most proclaimed designers, has all the experts crafting every item with passion and dedication, and the outcome has always made her buyers drool over her work. This fawn silk camisole has all the delicate lacework on and over the neckline giving a sheer effect. Buy this stunning camisole worth $450 via this website.
↓ 2 – Jean Yu
Jean Yu is an expensive designer born in South Korea and based in New York. She was one of the top 10 finalists for the vogue fashion fund in 2005 who started her career by designing high-end dresses, and after being proclaimed worldwide, she launched her luxurious lingerie collection. She presents the ultimate quality of lingerie inside and out, every line, every stitch, and every seam is thoroughly checked and made with full consideration. Hence the refined construction speaks for itself. 
Her pieces are bespoke and straightforward yet powerful in appearance. Not only has she made a name for herself with this luxury lingerie, but she also has an atelier in New York for personal, made to measure unique and handcrafted items. Bra and brief sets by Jean Yu will easily cost you $300, and full chemises and camisole sets will set you back at least $2000.
This overflow bodice suit designed by Jen yu was featured in Cooper Hewitt museum, where the entire bodice is made from a single piece of silk netting. People were obsessed with this gorgeous lingerie and loved the classic architectural lines in this sheer bodysuit. 
Furthermore, Jean Lu presented a strapless collection worth $525; it has silicon that runs across the top of the lining, staying in one place and giving it a firm look. This luxurious and classic lingerie will give you a sense of freedom. 
There is another Bra and Brief Set which is made of pure silk where the soft-cup bra gives you the feel of comfort, and the sleekness of the material makes you fall in love with her lingerie line. On the other hand, Chiffon Chemise by Jean Yu with the adjustable cross straps is another excellent nighttime choice.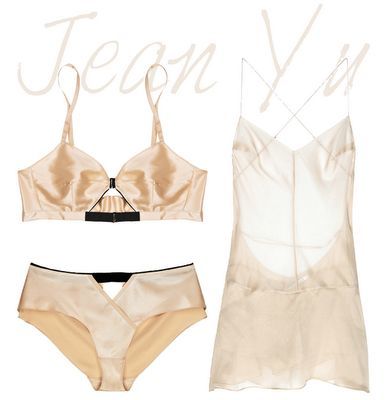 You cant get your eyes off this shocking pink intimated apparel by Jean Yu, which is again a sensational garment for the night. The bikini set is made of the softest silk material with a V neck bra, having a sheer net for revealing the bust line. Likewise, the brief looks super comfy and cozy.
↓

1 – Bordelle

Bordelle is always a pleasure house for women. Based in London, Bordelle brings beautiful lingerie roaring into the limelight with unique and somewhat kinky styles throughout. From simple bra and pant sets to full bondage-themed bodysuits, Bordelle has found a niche to suit all women's desires. Their garments will range between $500 and $2500 depending on which item you want and don't forget, quality is always the main priority. With their atelier in London, getting your own customized Bordelle set is easy, providing you are willing to pay for such craftwork.

Why should one buy Bordelle when there are many other competitors? Well, Recently Bordella has celebrated ten years of its success. Pushing all the boundaries of creativity, they came up with the most exciting and contemporary designs by introducing luxurious 24K gold plated components in their lingerie line. The picture below has these architecturally inspired lines layer to create graphic details on your skin.  You can visit their Instagram page to see the world collection by Bordelle.
They have experimented with the most playful colors and striking shapes in their lingerie line. The Moa collection by Bordelle has bespoken embroidery on it. The lingerie set consists of a bodice bra worth $135 with sheer tulle showing off the plunging neckline paired with an adjustable brief for $137.50. Keeping comfort and fitness in mind, this is something they never compromised.
Add a touch of luxury to your everyday style by choosing lingerie from Amaya collection by Bordelle. The carnation embroidered lace was designed at the West London studio, which is one of the refined pieces with the most romantic touch.  The rose pink satin elastic strapping catches the light, creating a mesmerizing shimmer while the diversity of curves and shapes can be easily witnessed looking at their chic collections. This flower bikini is something that must be added to your lingerie wardrobe.
Maintaining the seductive aesthetics, Bordella features this Sisi soft cup bra worth 275$ paired with strap thong for $115, which is a perfect combination of comfort and versatility. The lace has a very elastic satin strap which looks utterly sporty.
Nothing is hotter than a sexy woman wearing intimated apparel, and when it comes to selecting your Bedroom Attire, Bordella has always presented some tempting lingerie ensembles. This satin elastic lingerie in ravishing red is a statement piece that can be adjusted while flattering every curve, giving it a very seductive appearance. The cost price for the crop satin top is $474 while the brief is worth $105.