Best Wireless Bras. Shopping for bras is no less a hassle. You need to make sure you get just the right size; one that gives you the support you need without making you feel as if you are suffocating. The venture becomes a tad more difficult when you are looking for a wireless bra.
So, how do you find one that checks off all the requirements on your list? How do you even choose a bra? If all of these questions are revolving around your head, then you have come to the right page. In this article, I will discuss the 13 best wireless bras for guaranteed comfort. So, let's begin!
Are You Wearing the Right Sized Bra?
There are many telltale signs that indicate whether or not the measurements are right for you or not. For example; band riding up your back, slipping straps, or cup spillage are all signs that you probably need to get the measuring tape out and follow the below-stated steps to find your perfect bra size.
Measure the Band Size: Use the tape and measure your torso right below your bust. Furthermore, if the measurement is not a whole number, round it off to the nearest number. Also, if the number is odd, add five inches to it. However, if it is even, add four. For example, if the measurement is 30 inches, your band size will be 34 inches.
Measure Your Bust: Wrap the measuring tape snuggly around the fullest part of your bust. The same rule applies; if the measurement is not a whole number, round it off to one.
Estimate Your Cup Size: You need to subtract your band size from your bust size. Then, you need to refer to the following table to find your cup size.
Benefits of Wearing a Wireless Bra:
They drain toxins from your body: Since wireless bras don't have a metal lining, they have been shown to promote correct fluid drainage, better blood flow, and greater bodily detoxification.
They're so much more comfortable: You don't have to endure the pain and discomfort of a wire bra poking you or scratching on your skin because it is digging into you while you go about your daily activities.
They allow a better flow of energy: Since you're not restricted by these bras, you'll feel less stressful because of the free flow of energy.
What are the Best Wireless Bra Brands?
Go through the list below to find the best wireless bras and know where to shop for them.
13 – Maidenform One Fab Fit Decadence Bra – Best Wireless & Strapless
Strapless bras are everyone's favorites these days and if they're wireless too – that makes them a must-have! Maidenform's One Fab Fit Decadence Bra is the best wireless bra for small-chest women. For more wireless bra options, you can go through our post on Best Bandeau Bras.
Available on Amazon for $17.99 – $49.33
12 – Warners Cloud 9 Bra – Most Positive Reviews
When a bra has more than 21000 positive reviews – you have to give it a try, right?
This bra has molded cups to give it a flattering shape and is softly lined. Even while it isn't a push-up, the supportive band and adjustable straps do help lift the body. The bands on the sides are somewhat wider to create a smooth appearance, and the closure in the back is a traditional three-clasp clip. You won't see any uncomfortable lumps if you're wearing a tight top or bodycon dress with this bra on! Overall, this is the best wireless bra for life and side support.
Buy on Amazon for $14.99 to $50.40
11 – Hanes Wirefree Bra – Best Wireless Bra for Big Breasts
If you've big boobs and have trouble finding the right size bras – this is the one for you! It fits incredibly well and comes in eight different colors and they're so amazing that I've already purchased 4 of them. Hanes Wirefree Bra is definitely the best wireless bra for plus-size women.
Pros:
Incredibly comfortable for everyday use
Easy to put on and take off
Excellent stitching
Fits like a glove
Cons:
It offers great coverage but does not provide lift
Buy on Amazon for $8.89 – $27.95
10 – Warner's No Side Effects Wireless Bra
Are you tired of getting an underarm bulge no matter the kind of bra you get? If yes, then Warner's No Side Effects Wireless Bra is the best for you. I can definitely deem it the best wireless bra for large busts.
It sports extra side coverage panels so that there is no bulge. Furthermore, the sides are made from an elastic-free fabric that gives you a sleek and neat look. Best of all, it is perfect for wearing under sleeveless outfits. Lastly, the foam cups are flexible and would fit perfectly over your bust if you choose the correct size.
Pros:
Adjustable front straps
Comfortable foam cups
Cons:
Might become loose with time
Buy from Amazon ($16.00 – $53.00)
9 – Bali's Full Coverage Wireless Bra
Available in a multitude of colors, Bali's Full Coverage Wireless Bra is perfect for you whether you are petite or curvy. The cool comfort fabric wicks away any kind of moisture so that you can be cool and dry throughout the day.
The two-ply side and back support give shape to your curves and smooths them out. Moreover, straps are adjustable so you can fix them up if they seem a bit too loose or tight for your body. Overall, these are the best wireless bra for wide-set breasts.
Pros:
Made from 94% Nylon and 6% Spandex
Moisture-wicking fabric
Cons:
You can only hand-wash these
Buy from Amazon ($17.46 – $169.97)
8 – Playtex's Ultimate Wireless Bra
Made from 100% spandex, Playtex's Ultimate Wireless Bra is one of the most comfortable bras that you will find on the market. It makes most of your curves stand out without making them feel bulgy.
Additionally, the cups feature life panels that give your bust a natural shape. On the other hand, I particularly loved the TruSUPPORT bra design because it gives you 4-way support-in jacquard cloth. Lastly, the cushioned straps do not dig into your shoulders.
Pros:
TruSUPPORT design gives ultimate support
Available in different colors
Cons:
The straps might be too short for some people
Buy from Amazon ($22.66 – $131.46)
7 – Warner's Easy-Does-It Wireless Bra
Warner's Easy-Does-It Wireless Bra will undoubtedly make your life easy. It is designed to fit around your shape and give your curves the support they need. The allover stretch fabric smooths your bulges out and gives your bust an overall sleek look.
The thin adjustable straps are perfect for tank tops because the straps will remain hidden. Lastly, the side-smoothing panels were what caught my eye instantly. They keep you from 'muffin-ing' up.
Pros:
Comfortable and stretchable fabric
Machine-washable
Cons:
Finding the right size can be a bit confusing
Buy from Amazon ($24.97 – $88.98)
6 – Simiya's Wireless Bra
One of the most important aspects that I look for in bras is how lightweight, comfortable, and breathable they feel. When I came across Simiya's Wireless Bra, I noticed that it provides all three! And trust me, you will be satisfied once you try it on.
The bra is the ideal wireless bra you should do for. It gives your bust the support and lifts it needs without making you feel as if the bra is suffocating. The open neckline was personally my favorite feature. It is breathable and perfect to wear under any type of outfit. Furthermore, it is also ideal for older women. It is the best wireless bra for saggy breasts.
Pros:
Lightweight and supporting bust life
Extra side coverage to give your body shape
Cons:
Some people mistake it for a push-up bra which it is not. It only features soft padding.
5 – Radiant by Vanity's Wireless Bra
Radiant by Vanity's Wireless Bra offers you full coverage so if that is your first priority in a bra, then this one is perfect for you.
The bra is made from smooth and soft fabric that gives the perfect natural shape to your chest. Moreover, the back straps are adjustable in two different ways; traditionally as well as criss-cross. This also means that you can wear these as sports bras. Honestly, whether you wear 38B or 40DD, it has a size for everyone. Furthermore, it is the best wireless bra for breast implants as well.
Pros:
Made from nylon, spandex, and polyester.
Gives a natural shape to your bust.
Cons:
Only available in neutral colors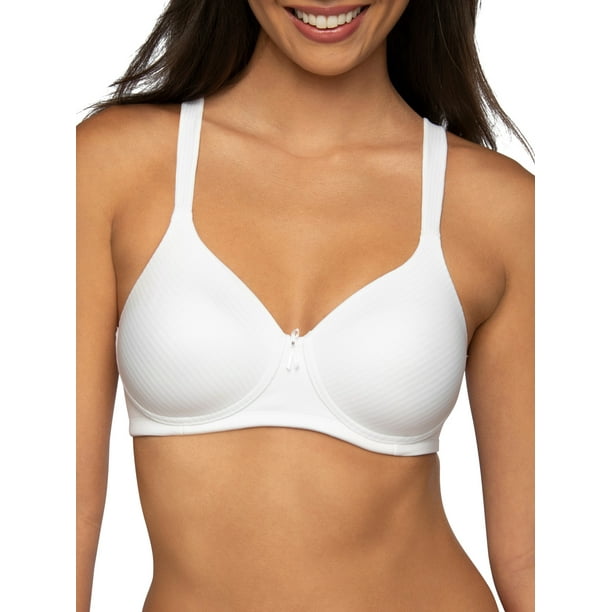 4 – Hane's Women's Wireless Bra
The Hanes Women's Wireless Bra is ideal for wearing under t-shirts. The Hanes X-Temp technology keeps you cool and dry for all-day comfort.
The Hanes X-Temp technology keeps you cool and dry for 24/7 comfort. Another essential design feature is ComfortFlex Fit, which expands smoothly to fit your shape. Additionally, the lightly lined foam cups offer natural lift and shape, no dig into the skin, and excellent support. When it comes to coverage, this wire-free, full-coverage bra certainly delivers gorgeous mesh detailing.
Pros:
Features back closure and convertible straps
Offers full-coverage
Cons:
Might not be as supportive for plus-size women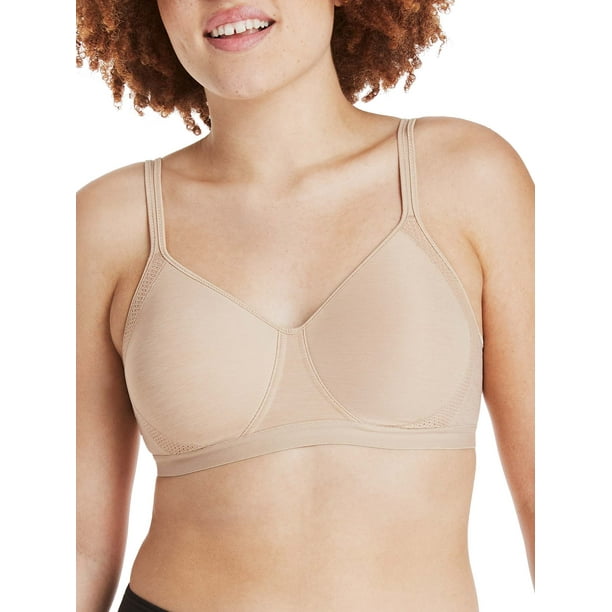 3 – Catherine's Wireless Bra
You will not miss the wire if you try on Catherine's Bra! The silky, sleek, and breathable cotton has the ideal amount of stretch for all-day comfort.
Furthermore, it gives you complete coverage. The cups are plush, unlined that conform to your body. Shoulder straps are wider and adjustable whereas the back-closure sports four hook-and-eyes. Lastly, the U-shaped back was the reason why I included this product in the review. It keeps the straps from slipping.
Pros:
Made from 90% cotton and 10% spandex
Elegant lace detailing on the cups
Cons:
Some women complained that it does not provide side support.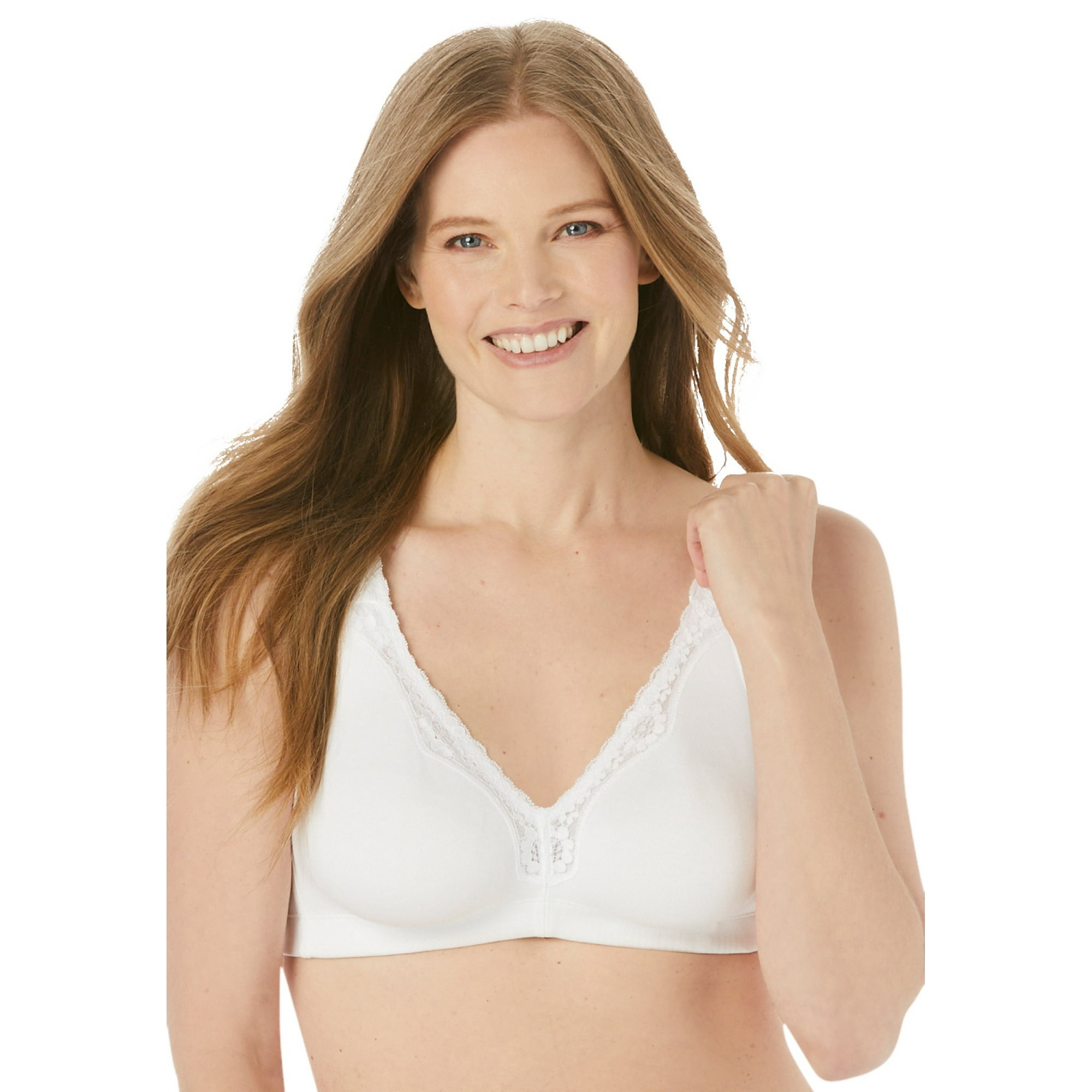 2 – Just My Size's Wireless Bra – Best Minimizing Bra
The Just My Size's Wireless Bra is meant to reduce your bustline by up to 1.5 inches so that your body looks smooth and sleek under your clothes.
The cushion straps and side seams give all-day comfort, shape, and extra support. On the other hand, the silky fabric is elegantly patterned. Overall, the bra will keep you comfy while also making you look fantastic. If you're a fan of minimizing bras, you should go through our list of the best Minimizer Bras for Large Busts.
Pros:
Minimizes bustline
Comfortable padded straps
Cons:
Might not give you any cleavage.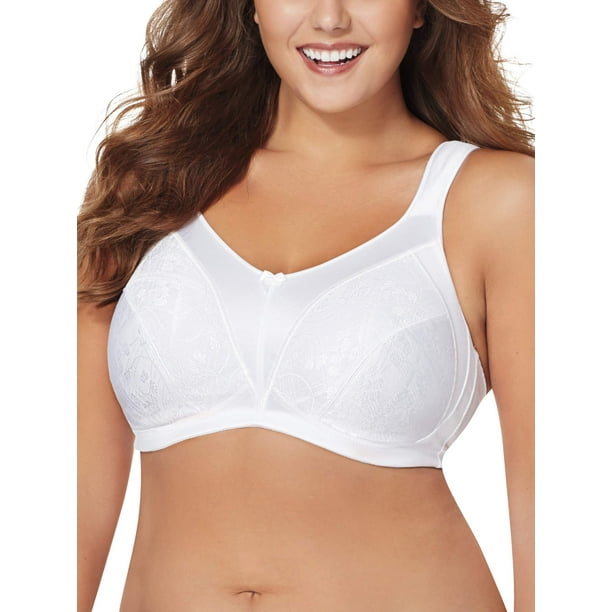 1 – Secret Treasures' Wireless Bra – Best for Plus Size Women
Made from sheen microfiber, Secret Treasures' Wireless Bra is for all those who want the comfort as well as the lift a wired bra provides. It is the best wireless bra for big busts. It's seam-less threading, foam cups, and soft straps are to die for!
The best part about the bra is that it won't pinch or dig into your skin. So, they are ideal for everyday wear. Lastly, the hook and eye are soft-touch and there is an extra row of it so that you can customize the size according to your requirements.
Pros:
Contains 74% nylon and 26% spandex
Machine washable
Cons:
None that we could identify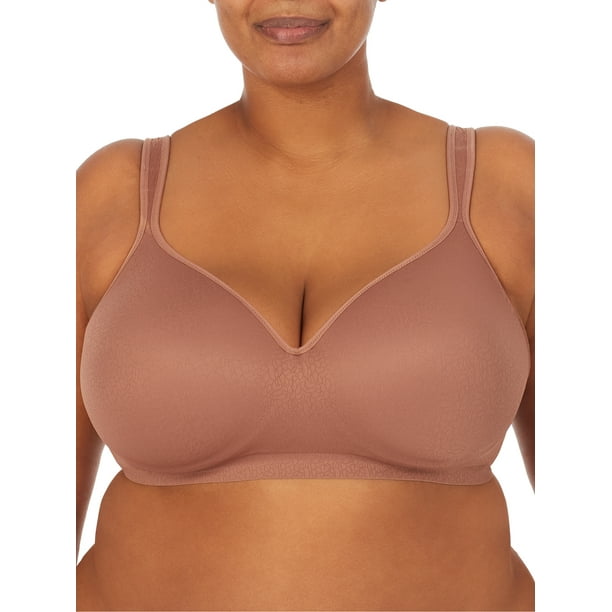 Frequently Asked Questions
Q. Are Wireless Bras Worth It?
Yes, definitely! Wireless bras can provide you with as many benefits as a wire bra can. The only difference is that the annoying underwire won't be pinching you anymore. However, to find the perfect wireless bra, it is important that you size your bust correctly and then choose a top-quality bra.
Q. What kind of bras are healthiest?
Overall, experts believe that bras made from breathable and organic fabric are the best. Nickel closures or latex straps can become irritating for people who have sensitive skin. So, if you have a similar skin type, go for one made from organic cotton or bamboo.