Pakistani Lawn Brands. With summer heat creeping in and taking away winter's harsh coldness, it is time for a wardrobe update. It would be best if you now put away all your long coats and khaddar suits to make room for the gorgeous new collections of Pakistan's best lawn brand.
The lawn has to be the single most comfortable cloth of all time. It is airy, and the best part is, it comes in breathtaking prints and embroidery. Lawn season is our favorite shopping season of the year, and we are sure most of you will agree. With the time of covering up the pretty suits with sweaters and jackets gone, and you must choose the best prints to show off this summer!
Which Pakistani Lawn Brands To Shop From
If you have been looking through the lawn collections of all the top clothing brands but seem to be overwhelmed by the array of options, then do not worry. We have taken the time out to do all the research for you. Below are given the best lawn brands that you MUST check out this summer. So dive in and take your pick out of this narrowed-down list!
How did we decide?
We've ranked these Top 20 Pakistani Lawn Brands based on their popularity, user reviews, and Instagram followers:
20 – Zaha
19 – Farah Talib Aziz
18 – Sobia Nazir
17 – Zellbury
16 – So Kamal
15 – Zeen
14 – Cross Stitch
13 – Warda
12 – Ethnic
11 – Beechtree
10 – Bonanza Satrangi
9 – Nishat Linen
8 – Ideas by Gul Ahmed
7 – Alkaram Studio
6 – Sana Safinaz
5 – Sapphire
4 – Junaid Jamshed
3 – Limelight
2 – Maria B
1 – Khaadi
About: Zaha is a brand owned by acclaimed fashion designer Khadija Shah. It specializes in luxury high-quality products, and its lawn collection is completely to die for. They let you in on very summery and fun prints, including the one shown below, which is perfect for bubbly and cheery girls.
Which color would you buy this in? Black or yellow? Let us know in the comments.
Price Range: Starting at Rs. 6,950.
Instagram: zahaonline
About: Farah Talib Aziz is one of the top designers of Pakistan, and she has always kept her customers on their toes with anticipation of her new collections. Although her brand is famous for its breathtaking formal wear, her new Luxe Lawn collection is to die for.
Her latest lawn collection has something for everyone, so you and your daughter can match and look absolutely adorable! I also recommend that you check out these Best Pakistani Celebrity Ramadan Outfits to Inspire You.
Price Range: Starting from Rs. 12,000.
Instagram: farahtalibaziz
About: Sobia Nazir is owned by a famous fashion designer of the same name. The brand came out with amazing lawn prints and embroidered pieces every year, so this is one you should definitely keep an eye out for.
Every year she launches a Vital lawn collection which is not just gorgeous but also super affordable despite being a high-end designer brand.
Price Range: Starting from Rs. 5,450
Instagram: sobianazirofficial
About: Zellbury is the cheapest option out of all the brands on this list. They do not believe in waiting for sales; hence they price their products at the sale value, to begin with. This allows their customers to avail lower prices while the season is still around, instead of waiting for the end-of-season discounts.
Zellbury offers both unstitched and pret collections for lawn starting march of every year. This allows you to go for pre-made suits and shirts if you want something immediately while opting for unstitched fabric if you want to style it differently.
Price Range: 3 Piece suits starting from Rs. 1,990.
Instagram: zellbury
About: So Kamal is a Punjab-based brand that has now expanded all over the country to provide high-quality products to the population of the whole nation. The brand is owned by Erum Ahmad and was started in 2012. It has managed to gain popularity in this concise while.
The clothes from So Kamal make use of vibrant colors and floral prints, so if you are someone who loves bright clothes, then this is the place for. It is especially ideal for younger girls like college-going girls as their pret line has designs that are much more suitable for them. Older women can make use of their unstitched line.
Price Range: Rs. 900 – Rs. 7,500
Instagram: so.kamal.official
About: Zeen is the eastern wear extension of the well-known western wear Pakistani brand Cambridge. Zeen provides a great range for its consumers with products ranging from bright colors to pastels and darker shades. Their clothes are simple yet stylish and are perfect for those who prefer staying lowkey.
The prints are minimal, with a little bit of embroidery on some of the pieces. Their luxury collection allows you to delve into an array of lightly embroidered pieces that can work great for formal wear while attending events such as parties or even engagement ceremonies.
Price Range: Rs. 1,590 – Rs. 7,500
Instagram: thezeenwoman
About: Cross stitch is a brand that is a lot more affordable than designer lawn brands but is at the same quality level as the rest of its competitors. Products of Cross Stitch tend to be designed more for a younger range of consumers as they make use of brighter colors and more fun prints than other brands. Hence it is the ideal shopping spot for university-going girls.
We're especially excited for the Lawn collection of Cross Stitch as it features Sajal as the muse.
Price Range: Rs. 2,850 – Rs. 3,950
Instagram: crossstitch_official
↓ 13 – Warda
About: Warda is one of the top brands of Pakistan when it comes to lawn. Warda was founded in 2006 and started off as one store, but soon their customers increased, and they expanded to stores all over the country. Today, Warda has stores in all the big cities of Pakistan, such as Lahore, Islamabad, and Peshawar.
Warda has a wide variety of clothing options, and something is available for everyone. From the brightest of colors to the simplest of prints, they have it all. Their pret collection is especially ideal for working women who need multiple suits and shirts for the office.
Price Range: Rs. 995 – Rs. 5,500
Instagram: wardadesignercollection
About: Ethnic is the eastern wear line of the western clothing store Outfitters. It is a fairly new brand, but it has managed to gain traction due to its gorgeous prints. The fabric colors come out really good in Ethnic clothes, whether they are bright or dull.
The quality of the lawn is top-notch. However, their lawn is a little thicker than that of other brands, so it works better in the spring season than in extreme heat. The texture of their lawn collection is a lot like the texture of their cambric collection.
Price Range: Rs. 1,500 – Rs. 7,500
Instagram: ethnic_oftr
About: Beechtree is one of the chicest and hip eastern wear brands out there. Their target consumers are young women such as school or college-going girls. This can be seen from their brightly colored clothes and fun prints.
They also have options for older women, however, especially in the unstitched range. One such example is shown in the image below. This is a duller piece but equally as gorgeous as the other ones.
Price Range: Rs. 990 – Rs. 2,150
Instagram: beechtree_pk
About: Bonanza Satrangi is a new brand started by the owners of Bonanza, a sweaters brand. They have really pretty floral prints in pastel colors. Their specialty is their vined floral prints in colors such as baby pink, sea green, aqua, etc.
Bonanza Satrangi is definitely a brand for the quiet and chill girls. Who like wearing fresh and bright colors and making them their own. Their campaigns focus on girl power and showcase super cute options of lawn suits that you can buy with your friends. Since lawn ghararas are trending this Summer, here are the best Gharara Outfits of Pakistani Celebrities.
Price Range: Starting from Rs. 2,280.
Instagram: bonanzaofficial
About: Nishat Linen is a leading brand with stores all over the country and a huge mall in Lahore dedicated to just this one brand. Nishat Linen is owned by the owners of Nishat Hotels.
Nishat Linen has the best premium quality lawn. The lawn is so light to the touch that it barely feels like you are wearing anything at all. This is why it is great for severe heat waves in cities like Karachi and Peshawar. Nishat Linen allows its customers to buy all parts of their suits separately in their stores, and this allows you to create fun fashion moments according to your liking!
Price Range: Starting from Rs. 2,990
Instagram: nishatlinen
About: Gul Ahmed is a brand that goes back decades. From our grandmother to our great aunts, all have worn this brand in their youth. This long-standing is what makes the brand so trustworthy. Their quality is top-notch as they know exactly how to create the perfect timeless pieces.
Gul Ahmed is a one-stop-shop for all women. They have something for your little nieces and also have options for your mothers and grandmothers. This versatility is what makes it such a great brand. No matter who you walk in there with, you are never going to walk out empty-handed.
Price Range: Rs. 3,590 – Rs. 4,800
Instagram: gulahmedfashion
About: Alkaram Studio comes right next to Gul Ahmed when talking about older brands. This brand has also been around for decades and seems like it is here to stay. The brand offers highly sophisticated prints and colors and is ideal for classy and elegant women.
Alkaram Studio has always been seen as a great option for working women due to its diverse range of colors and prints. We believe that is especially great for middle-aged women as it radiates classy energy that all women need once they step into the latter part of their lives.
Price Range: Rs. 1,000 – Rs. 7,000
Instagram: alkaramstudio
About: Sana Safinaz lawn is an extension from the famous designer brand Sana Safinaz. They have recently started producing products for the common consumer and stepped into the world of lawn production. As everyone knows, Sana Safinaz has great quality designer wear, which seeps into their lawn collection.
Sana Safinaz usually opts for the production of brighter clothing and their signature floral prints. They also have plain shirts and trousers that have detailing done using buttons and laces. A great way of spotting a Sana Safinaz piece is by the fine print at the hem of the shirt that spells out the brand's name. Although the products might seem expensive at first sight, the prices drop drastically during the sale period. So be on the lookout for that.
Price Range: Rs. 2,000 – Rs. 20,000
Instagram: sanasafinazofficial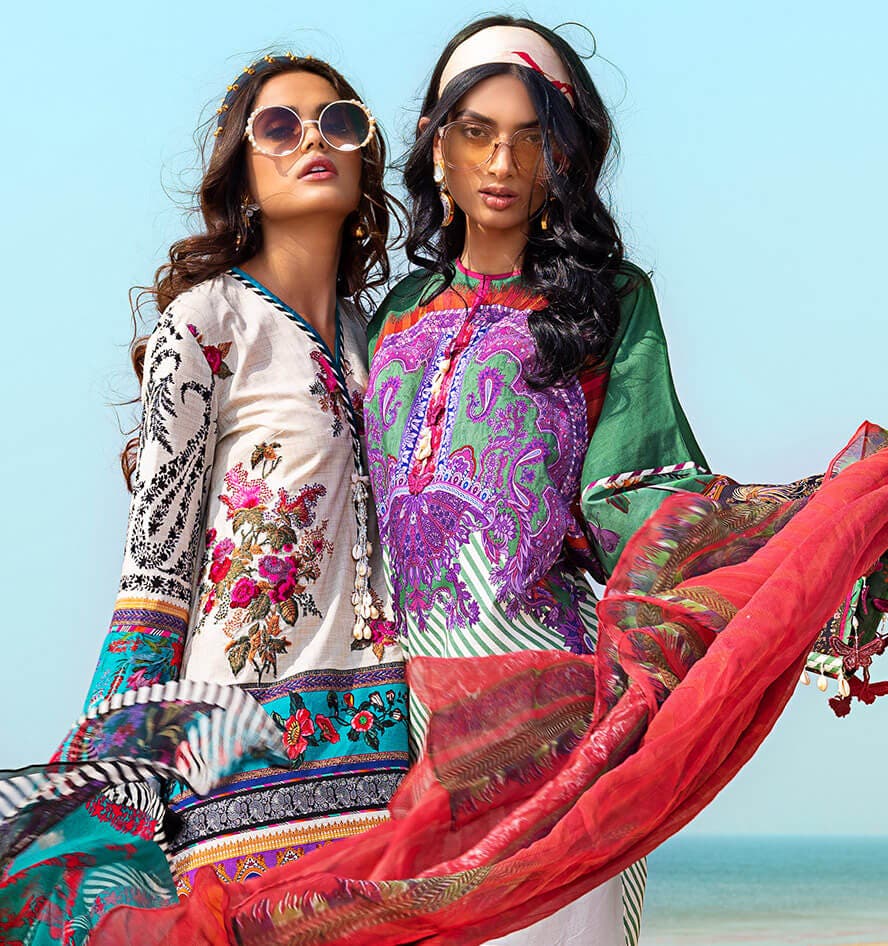 About: Sapphire is probably the most loved lawn brand in all of Pakistan. When they have their sale, their stores are a sight to see. Women come in in hoards to get their hands on whatever they can find. Their products are just that good!
They have unstitched, pret and separate trousers. This allows you to mix and match as you please and come up with fun outfits. Their lawn collection is the most awaited out of all, and their luxury lawn collection is truly a sight to behold. If you are looking for fancy clothes to wear to parties, then you should definitely check them out.
Price Range: Rs. 990 – Rs. 9,990
Instagram: sapphirepakistan
About: The brand owned by the late Muslim scholar Junaid Jamshed, J. is a one-of-a-kind brand. They do not need to use famous celebrities in their campaigns to attract customers. The quality of their products does it for them. As you can see below, they use mannequins as models, yet they compete with the country's most famous brands with ease.
J. has some great prints for younger girls while also catering to the older generation through their more mature colors and prints. Much like Gul Ahmed and Alkaram, you will find something for every member of the family in this store. So it is a great one-stop-shop, especially before festivals like Eid.
Price Range: Rs. 1,190 – Rs. 6,490
Instagram: j.junaidjamshed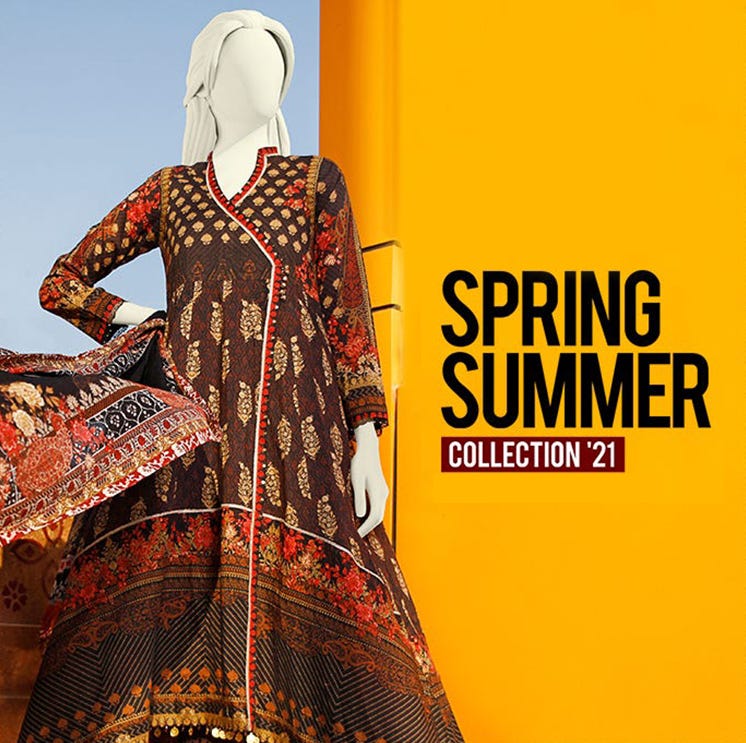 About: Limelight is the brand for youngsters. Designed specifically to cater to university gong girls, they offer great prints at fair prices, so you have something gorgeous to wear every day. Limelight is a recent brand, but it has managed to compete with the well-known older brands such as Khaadi and Gul Ahmed with ease.
Thye has brightly colored and beautifully printed lawn suits that are sure to make you look divine. They also sell individual shirt clothes in case you are looking to get several different lawn shirts and pair them up with trousers you already have. This makes shopping from here very economical.
Price Range: Rs. 999 – Rs. 3,999.
Instagram: limelight.pret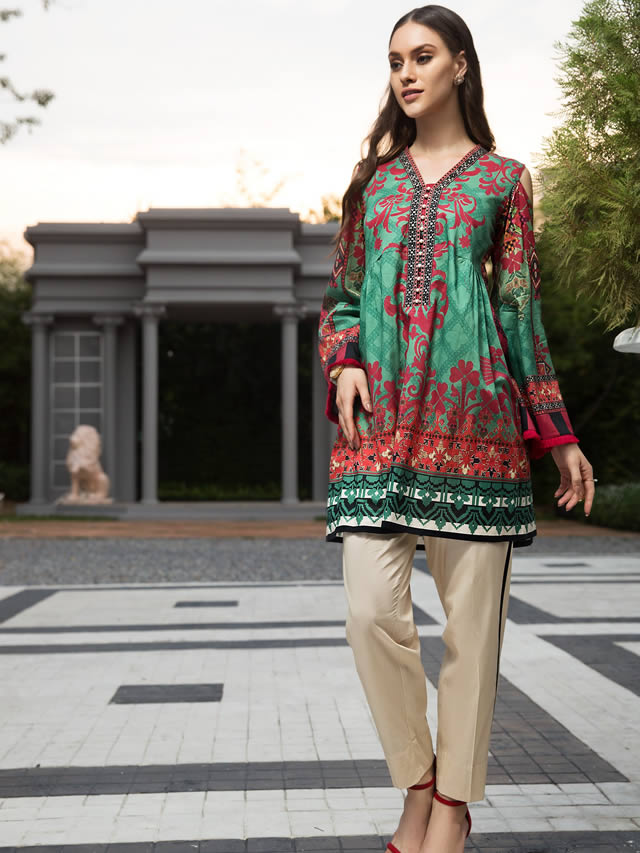 About: Maria B is a luxury lawn brand that focuses on delivering the highest quality clothing to its customers. At Maria B, you will be able to find not only simple printed pieces but also luxury lawn formals that are sure to make all the upcoming spring and summer events memorable for you.
Price Range: Rs. 7,000 – Rs.10,000
Instagram: mariabofficial
About: Khaadi is currently the number 1 lawn brand in Pakistan. The craze over Khaadi is one that refuses to go away, and you can see several people wearing the same Khaadi outfits on the street. This does make the brand a little less exclusive, but we must agree that all their prints are to die for, so it is worth it.
Khaadi recently did a campaign with the famous Turkish actress Esra Bilgic and ever since then, Pakistanis are even more in love with the brand than ever before. You can see a picture from the shoot with the famous Halime Hatun below. Khaadi also has stores in the UAE and UK, making it the only internationally known and worn Pakistani lawn brand.
Price Range: Rs. 2,190 – Rs. 9,500
Instagram: Khaadi
Frequently Asked Questions
Q. What are Pakistani lawn suits?
A. The national wear of Pakistan for women is the shalwar kameez. People often refer to this as a suit as a whole. Hence lawn suits are merely shalwar kameez made out of lawn material. They are ideal for battling the summer heat!
Q. What fabric is lawn?
A. Lawn is a very breathable fabric made out of fine high thread count yarns. This results in a very smooth and silky finish, with no roughness or bumps.
Q. Is it necessary to buy from big brands?
A. Absolutely not! Brand image is just a concept created by capitalism that forces us to consider buying things out of our budget and promotes consumerism. That does not mean that you must conform to this ideal. However, we have presented you with a multitude of options, ranging from high to low prices. Hence not all brands are overly expensive. Once you go through all the information, you will realize it is sometimes smarter to shop from brands that ensure quality than cheaper alternatives.