Annual Hum Awards – Hum Network Limited is a media company based in Karachi, Pakistan. The company was established in February 2004. The network produces TV channels, the most notable and widely recognized of which is HUM TV, magazines, award shows and now, films. The key people behind the company are Sultana Siddiqui, Mazhar-ul-Haq Siddiqui, Duraid Qureshi and Momina Duraid.
Hum TV is a 24-hour entertainment channel that was launched 13 years ago on 17th of January, 2005 by Sultana Siddiqui and Duraid Qureshi. Hum TV drama serials and soaps are primarily produced by either Momina Duraid Productions or Mooomal Entertainment. Since it's inception, the channel has produced a number of hit television shows which have garnered international recognition like Humsafar.
The Hum Award is an accolade bestowed upon excellence in television programming exclusively to shows produced by Hum Television, as well as to the film, fashion and music industry of Pakistan in general. The award is a golden statue in the form of the Urdu word for 'Hum'. The awards were announced by Sultana Siddiqui in late 2012 and were first presented in 2013 in Karachi Expo Center. The awards are an official ceremony of the Hum TV and has more than a dozen categories. RECOMMENDED: Top 10 Pakistani Female Models 2019 Updated List.
Hum statuette:
Official name: Hum Award® of Merit
Height: 11 inches
Weight: 6½ pounds
Color: Dull Golden
Design: A Urdu Alphabet "ہم", which is also a TV logo of hum channel, describe "NO ONE IS LIKE US"
Manufacturing time: 6 weeks for 65 statuettes
Voting:
The awards have two categories:
Viewer's choice awards
Jury's choice awards
So public voting is open for the viewer's choice awards and the highest number of votes determines the winners in that category.
Ceremony:
The award ceremony is recorded, aired on television about a month after it takes place. There is  a pre-show as well. One that is recorded half an hour before the ceremony on the Red Carpet and the other that documents the making and rehearsals. The earlier couple of ceremonies were held at the Expo Center in Karachi and Lahore. The ceremonies have also been held abroad, in Dubai and the most recent one in Toronto, Canada.
The 6th Annual Hum Awards Controversies
The 6th Annual Hum Awards were held on the 28th of July, 2019 at the FirstOntario Centre in Bay Street, Hamilton, Ontario, Toronto, Canada. Most of the major celebrities left Pakistan a week prior to the ceremony.
Elections Controversy:
However, since the Pakistan General Elections 2019 took place on the 25th of July, Hum Network came under heavy scrutiny for still proceeding with the ceremony to take place and thus allowing a major chunk of celebrities to leave the country without casting their votes.
The celebrities came under the cross-fire as well, from public as well as their peers who decided to stay or came back for the voting. The scandal caused a stir among the masses and Hum TV was criticized for not canceling the show at such a crucial time in Pakistan's politics. Also have a look at these Pakistani Celebrities Snapchat Accounts to Follow.
Famous actor and model Imran Abbas posted this tweet on the matter:
"I wish the awards in Toronto shouldn't have been happening now. All the celebrities left Pakistan today one day before elections. The dates could be shifted or delayed. Even our overexcited media people could have taken a stand and out their foot down. The ultimate desire of seeing Canada could have been fulfilled later. I am so sad that we still give sermons on patriotism but when it comes to us we place personal interest prior to any other object. I wish they realized the seriousness of the matter."
He also posted this a day after the elections:
Farhan Saeed, singer and actor, also spoke out and urged people to vote. He posted a tweet on the 23rd of July stating:
"All the people from my fraternity & otherwise travelling abroad at such a crucial time is so heart-breaking . Please let's not take our country's future for granted. #Elections2018 #PakistanElections"
He posted on Instagram before and after voting on the 25th of July. His post indicates that he flew from somewhere to Lahore in order to vote.
Another prominent singer Bilal Khan of "Bachana" fame posted the same message on both Twitter and Instagram stating that he flew back from Toronto in order to cast his vote.
He also had a message after having voted:
"Stood in line this morning in NA-131 polling station to cast my vote – it was extremely hot but duty fulfilled. It wouldn't be hard to guess who I voted for given "Larho Mujhey" is such a recognized anthem. Please, please, please go out VOTE. It doesn't matter if it is hot or humid or there are long lines. Take out everyone and make them vote. You only have to do this once in 5 years. Okay time for me to pack and leave for Toronto, flight is in 8 hours. "
Vasay Chaudhry, comedian and host of Mazaq Raat, took a 14 hour flight from Canada so he could cast his vote. His tweet simply stated:
"A 14 hour flight to get to THIS."
along with this picture: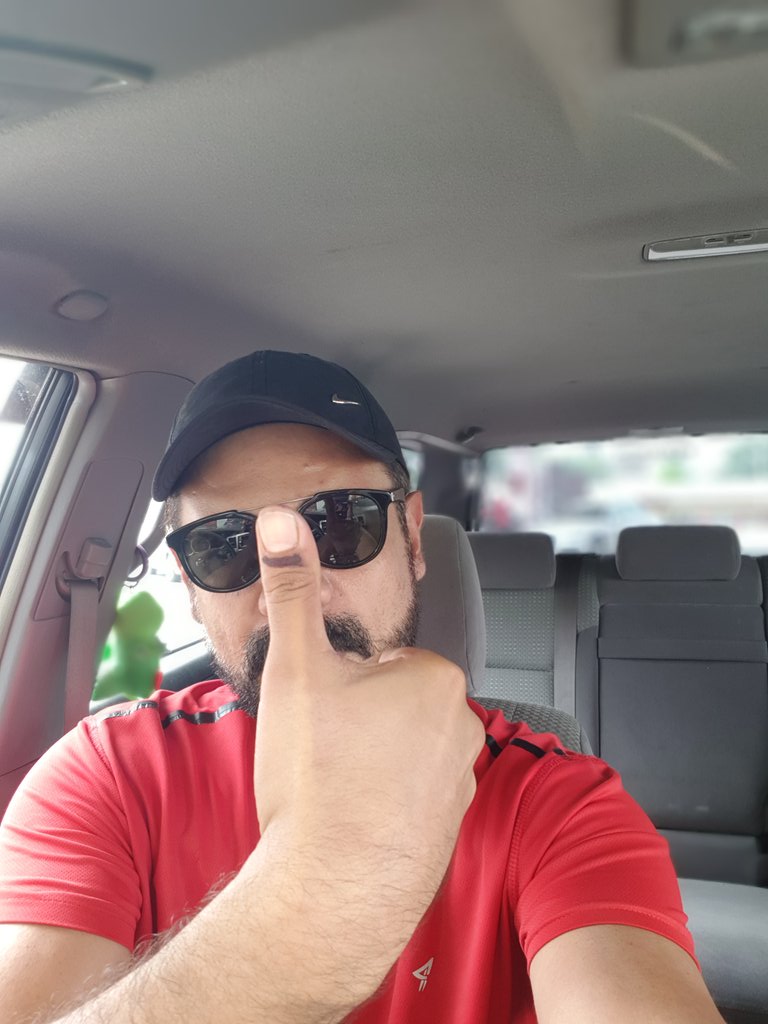 While other celebrities like Samina Peerzada and Iqra Aziz left for the show after the voting had taken place.
In response to the backlash received by the public and celebrities alike, Yasir Hussain, Saheefa Jabbar Khattak and Feeha Jamshed spoke out while the Hum Network released their official stance on the matter.
Yasir Hussain posted a long caption in Roman Urdu. He defended the stars who went ahead to Canada for rehearsals clarifying that those people were also doing their duty as they were fulfilling a contract they all had made. Do check out these Pakistani Actresses without Makeup-Shocking Photos of Actresses with No Makeup.
"We work hard to entertain you all. Why do we demean legends like Atif Aslam and Bushra Ansari within seconds? Why have we started considering pouncing upon Mahira Khan's every move our civic duty?
He chided the public for this lack of respect.
"Can't I miss one year's voting like a normal person? Can't I see my commitment through? Why do you 18-30 year olds debase celebrities older than you? Are you only taught about voting in your homes, are you not taught about respect?
His otherwise stern reply ended on a lighter and positive note:
"If this error of ours was a crime then let us be arrested upon our return and let the police file a case against us. We want nothing but law and order in this new Pakistan so let's start with that."
Model Saheefa Jabbar Khattak posted three times expressing her disappointment and coming to her colleagues' defense. He captions were posted all with blank white images.
"Fellow Colleagues & Pakistani's,
As i scrolled through my SM feeds today, i noticed people shaming my fellow colleagues (who have flown to Canada for the Awards) as they won't be casting their votes.
My response –
1. Election dates were announced in end May and our plans with respect to dates were almost confirmed in April.
2. This also means that preparations for the awards started before April.
3. Appreciate the fact that our industry is going global.
4. All the artists can afford to go to Canada on their own instead of finding an excuse for having a leisure trip.
5. Everyone has a right to choose what their priority is.
6. This does not prove that someone is less patriotic than YOU.
7. Be a PAKISTANI everyday, 365 days a year!
8. Instead of appreciating the fact that they are going international, stop degarding them infront of everyone else giving an impression that they care less about Pakistan.
9. Open your arms and your hearts to accept that people can be busy.
10. Step out and exercise your right to vote.
11. Support eachother.
12. Hope, pray and play your part for a better a tomorrow and a better PAKISTAN for everyone.
13. Don't forget the eggs in your breakfast!"
Fashion Designer Feeha Jamshed had to say this about the issue:
Hum TV released an official statement regarding the matter, justifying their stance after people were clamoring for the network's boycott.
Hum Network has always been very proud of being Pakistan's most credible entertainment broadcast network.
Ever since its launch Hum Network has been a beacon of Pakistani dramas and format shows in all parts of the world (wherever there is Pakistani diaspora).
Over the years HUM NETWORK has become a global Pakistani brand portraying a POSITIVE & SOFT image of our country.
The date for 6th HUMAWARDS was decided months in advance to the announcement of election date. An event of this magnitude requires a lot of planning and preparation. Also, since a lot of resources have to be committed for the event and contractual commitments with international sponsors are made in advance it is not possible to change the date.
It is worth mentioning here that most of the Artists participating in the Awards have cast their votes today and then left for the Awards. However, some had to leave earlier as they were required for rehearsals. It was a matter of prior commitment for them also.
As always we are confident that this event will go a long way in portraying a soft image of Pakistan globally and make all of us proud of being Pakistani.
Furthermore, Pakistan and Hum Tv are committed to this event for our global community and had contracts with various parties and people in Canada much before the election date was decided. We will not break our promise and contracts as we represent Pakistan. That can reflect bad on our country and people as we are struggling to show the world a different and positive face of Pakistan. We fulfill our contracts and promises and take our flag high across the globe
Last but not the least HUM NETWORK will proudly continue to work towards building the Pakistani brand on the global stage. #SupportHUMAwards #SupportPakistanGlobalImage #ISupportHUMAwards
Imran Abbas later took to Instagram to clarify that his comments were taken out of context. His only intention was to stress the importance of this national event and that he whole-heartedly supported Hum and it's contributions towards Pakistani media.
Hum Awards 2019 Red Carpet Outfits
This year a slew of celebrities attended the show and despite the controversies, they gave the show their full effort.
↓ – Armeena Khan
The petite actress was a sight to behold in this lovely dress.
↓ – Iqra Aziz
The Suno Chanda actress wore this lovely Sana Safinaz tea pink gown for the event.
↓ – Sanam Jung
She chose this gorgeous peacock saree for the event.
↓ – Ainy Jaffri
Ainy Jaffri's monochrome dress with gold accents was a vision.
↓ – Yumna Zaidi
Yumna Zaidi was cute as a button in this red number.
↓ – Mawra Hocane
The starlet wore this beautiful pink dress.
↓ – Hania Amir
No one can pull off a fashion forward look like this beauty.
↓ – Various Male Celebrities
Fawad Khan, Ahad Raza Mir, Adnan Siddiqui, Hamza Ali Abbassi and various others looked dapper in their western and traditional clothing.
↓ – Mahira Khan
The most favorite actress of the nation chose a traditional dress for the occasion.
↓ – Hareem Farooq
This midnight blue dress looks splendid on her.
↓ – Sajal Ali
Perhaps the loveliest of all the ensembles on the red carpet was this cute pink dress fit for a princess.
↓ – Vaneeza Ahmed
The supermodel stood tall in this white outfit.
↓ – Zahid Ahmed
The versatile actor looked amazing with his stylish wife.
↓ – Sania Saeed
The veteran actress and winner of the night wore this elegant saree.
↓ – Kubra Khan
Kubra Khan looked ethereal in this saree.
↓ – Sana Fakhar
The star wore this form fitting dress which hugged her curves.
↓ – Hira Mani
We're not sure about this maxi dress but Hira Mani sure has gotten the pose game down.
↓ – Atif Aslam and Sara Bharwana
The couple opted for all black matching outfits.
↓ – Bushra Ansari
The legend never fails to make an impact.
↓ – Samina Ahmed
The beloved actress who recently entertained audiences in Suno Chanda dazzled in a saree.
Performances
The event was well choreographed with performances by Kubra Khan, Humayun Saeed, Hareem Farooq, Meekal Zulfiqar, Mahira Khan, Ahad Raza Mir, Shaz Ali Khan, Hania Amir and Atif Aslam.
The Jawani Phir Naheen Aani 2 couple performs at Hum Awards 2018.
Atif Aslam and Hania Amir perform together.
The queen of Pakistani cinema, Mahira Khan dazzles on stage.
The cast of Parwaz Hai Junoon, Hamza Ali Abbasi, Ahad Raza Mir, Hania Amir, Kubra Khan and Shaz Ali Khan entertain the audiences.
Winners List of Hum Awards 2018:
Yaqeen Ka Safar, the hit show of past year, won big this year taking all of the awards it was nominated in.
Best Actor Female- Jury
Sajal Ali for Yakeen ka Safar
Best Actor Male- Jury
Adnan Siddiqui for Sammi
Best Drama Serial-Jury
Alif Allah Aur Insaan
Best Actor Female – Soap
Hiba Qadir for Thori Si Wafa
Best Actor Male – Soap
Arsalan Butt for Naseebon Jali
Best Soap
Naseebon Jali
Best Actor Male – Popular
Ahad Raza Mir for Yakeen Ka Safar
Best Actor Female – Popular
Sajal Ali for Yakeen Ka Safar
Best Drama Serial – Popular
Yakeen Ka Safar
Best New Sensation-Female
Hania Amir
Best New Sensation Television-Male
Ahad Raza Mir
Best Supporting Actor – Male
Imran Ashraf for Alif Allah Aur Insan
Best Supporting Actor – Female
Sana Nawaz for Alif Allah Aur Insan
Excellence in Cinema Award
Reema Khan
Best Actor In a Negative Role
Ushna Shah forAlif Allah Aur Insan
Most Impactful Character
Qavi Khan for Alif Allah Aur Insan and Sania Saeed for Sammi
Recognition Award Films
Mahira Khan and Humayun Saeed
Hum Icon of The Year
Shahid Khan Afridi
Best Director Drama Serial
Kashif Nisar for O Rangreza and Ahson Talish for Alif Allah Aur Insan
Best Original Soundtrack
O Rangreza
Excellence In Humanity 
Massrat Misbah