Korean Winter Fashion – Korean culture is fast gaining popularity and recognition all over the world. Their television, films, music and other cultural aspects are admired by millions of people from around the globe. It's no wonder that their clothing style, being dubbed as K-fashion, should become desirable as well.
Latest Korean Fashion Trends for Winters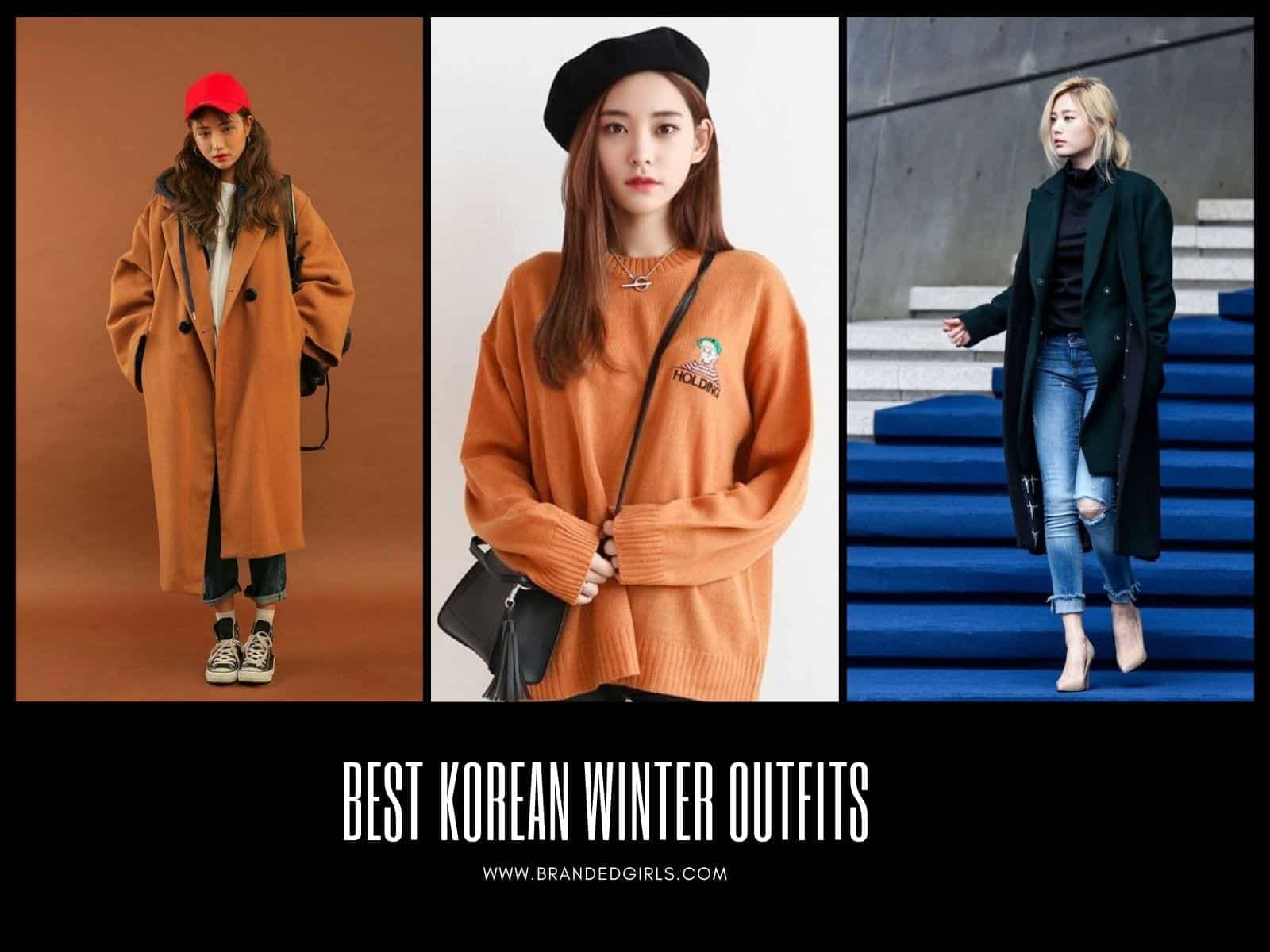 Traditional Korean Clothing
A Hanbok is a traditional Korean dress worn by both men and women, which was worn daily up until 100 years ago. Its purpose was ease of movement. However, the practice has worn out and now the attire is restricted to special occasions and festivities. Hanbok is classified according to its purposes: everyday dress, ceremonial dress, and special dress. Ceremonial dresses are worn on formal occasions, including a child's first birthday, a wedding, or a funeral. Special dresses are made for shamans and officials.
Women's hanbok consists of jeogori (blouse or jacket) and chima (full skirt). While men's hanbok consists of jeogori and baji (loose fitting trousers). The color, materials and patterns on hanboks each symbolized different things such as wealth, marital status and age.
Hanbok has been modernized in recent times and is called "Modern Hanbok" in fashion terms. The attire has seen many changes and even though it's not what it once was, the Korean people value it still as an important part of their culture. "Hanbok Day" was established in 1996 in South Korea to encourage people to wear it more often.
The Seoul Fashion Week is a global fashion event held twice a year, sponsored by the capital city Seoul. It's split into three parts:
The Seoul Collection: A high-end Korean fashion event. The collection is among the biggest in Korean fashion.
Generation Next is an upcoming fashion design program for Korean designers. It concentrates on designers with fewer than 5 years of experience. Unique appearance and creative thinking are emphasized in this section.
The Seoul Fashion Fair is an exhibition showcasing Korean fashion companies.
To summarize, when we talk about Korean fashion or culture or music, it's most likely South Korean.
Most Popular Korean Fashion Brands:
These include labels such as:
Stylenanda
KYE
Charm's
87MM
Beyond Closet
RocketxLunch
thisisneverthat
Ader Error
SJYP
Fleamadonna
Common Korean Fashion Style:
Korean clothing is known for being unisex. The shirts and trousers and vests and outfits made from a combination of all of these are worn by both men and women. Apart from that female clothing also tends to be in brighter hues. The accessories such as bags and necklaces have colorful collaborations and delightful mini objects. Crossbody bags are also popular. Almost each and every person can be seen carrying some type of bag.
Baggy trousers and over-sized shirts, cardigans, sweaters and puffed up sleeves are also favored.
Denim jackets ripped sleeves and cold shoulders are super-fashionable as well.
These were some of the most commonly favored styles trending in K-fashion these days. These are mostly Summer/Spring street styles but can be worn with little alterations in all seasons. Now, we come to the Winter fashion. Have a look at these 18 Cute Korean Girl Clothing Styles.
Best of Korean Winter Fashion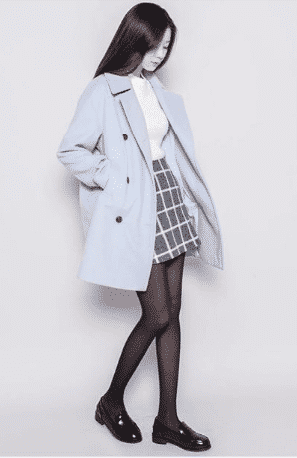 ↓ 26 – Oversized Overcoats
This type of loose fitted and baggy coats which are often too long seem to be the most popular trend that is reigning over Korean fashion. It's unisex in the way it's made and also the colors. This beige one, for example, can be easily worn by a male as well. Paired simply with black jeans and a plain shirt, this style accentuates the simplistic beauty of the coat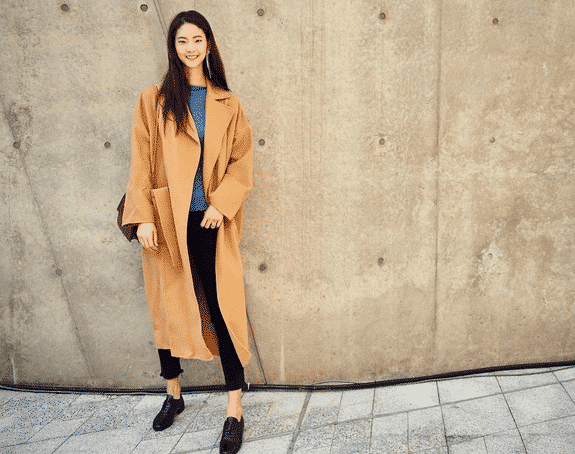 ↓ 25 – Form-fitting Ensembles
It's not always baggy. Seen here is an example of the sleek outfits K-fashion is known for. The bell shaped pants and jacket paired with flat shoes and cross body bag is both sophisticated and chic.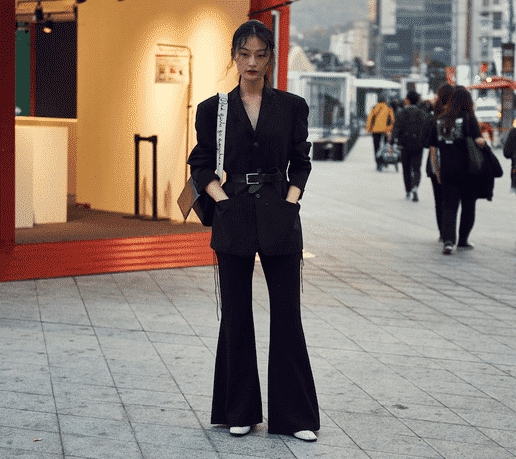 ↓ 24 – Half-Worn Jackets
This quirkiness can also be seen in another summer trend that is making the rounds, the cold shoulder where one shoulder is left bare. Similarly in Winter the jacket can only be worn in one arm or just draped rather than worn to make a statement.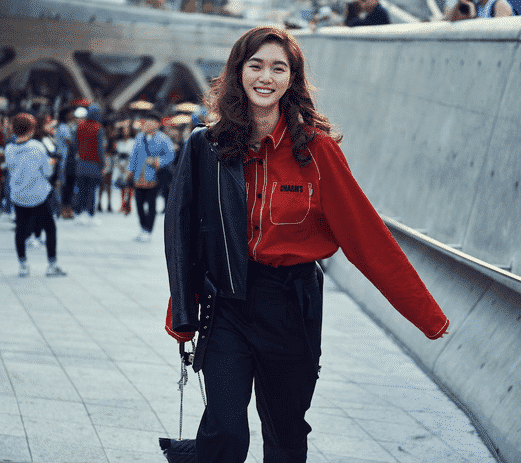 ↓ 23 – Denim Jackets/Pants
Denim is another popular fashion element. It's almost universal. Ripped denim pants are somewhat of a known thing but baggy denim jackets with one sleeve torn is something so Korean. Seen here is a simple denim jacket, a little bleached and a little loose.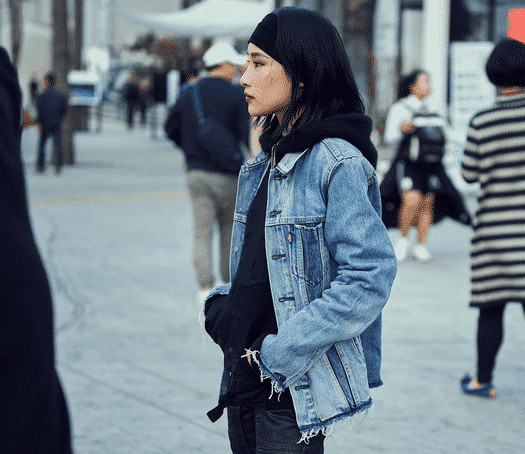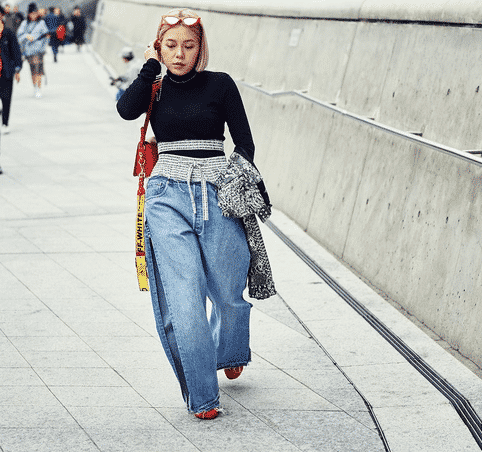 ↓ 22 – Multi-colored Jackets and Coats
It's comfy, colorful and soothing to look at. Plus it's big enough keep warm in winter. Simple pants or trousers and simple shirts underneath can accentuate the coat/jacket better and that's the common enough trend.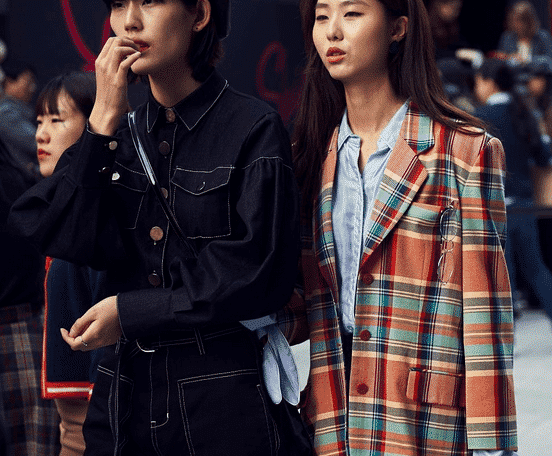 ↓ 21 – Striped Outfits
Stripes have a minimalist look to them and they always manage to look charming without being gaudy. Striped pants, jackets, dresses and skirts are all in fashion.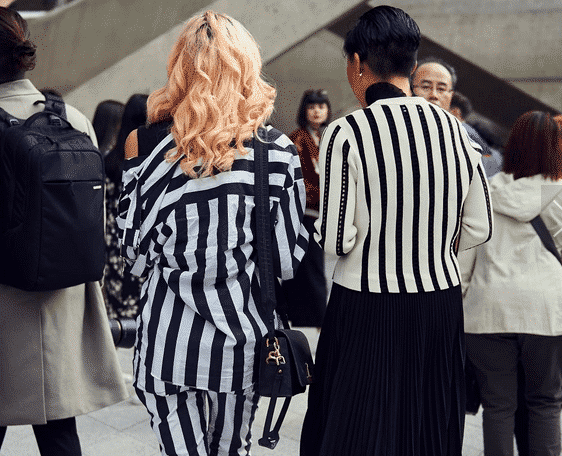 ↓ 20 – Neon Clothing
There's no reason for winter outfits to be subdued or muted in color. Colors aren't only for summer and spring. Bright, bursting neon colored clothing is something that is especially favored by Korean women. In this picture, the woman wears a dress over another dress because that's how quirky Korean clothing is. Check out these 20 Classy Spring Trends to try this year.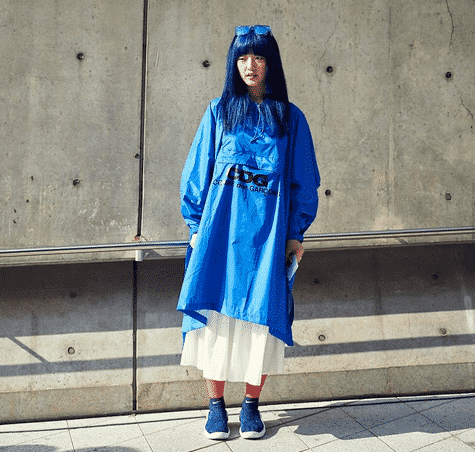 ↓ 19 – Cartoonish Scarves
As told earlier things with bright colors and delightfully odd patterns are generally favored by the masses. This knitted scarf has a nice enough width so not only will it keep warm, it'll do so fashionably.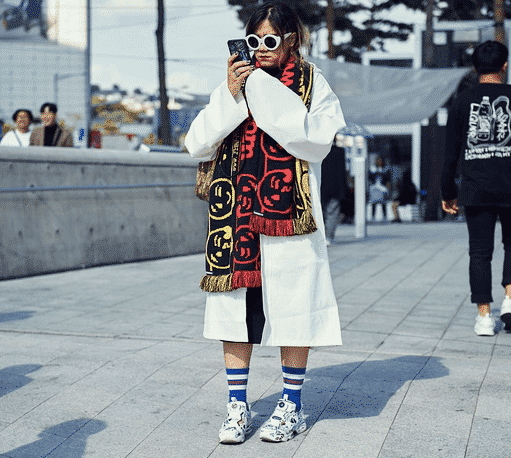 ↓ 18 – Eccentric Belts
Again, garish and bright colors with outlandish designs are seen everywhere, in the smallest of things. The belt in question is yellow-gold with the words 'off-white' written on top.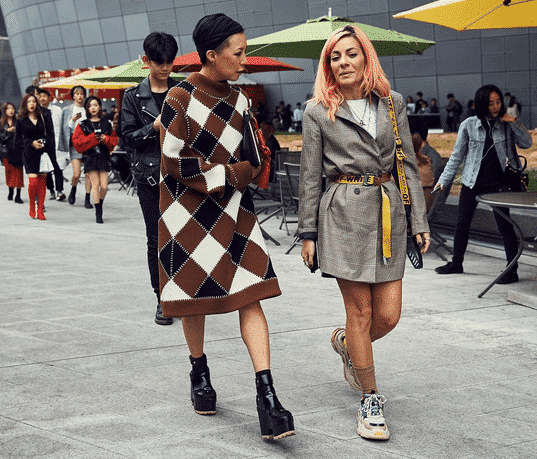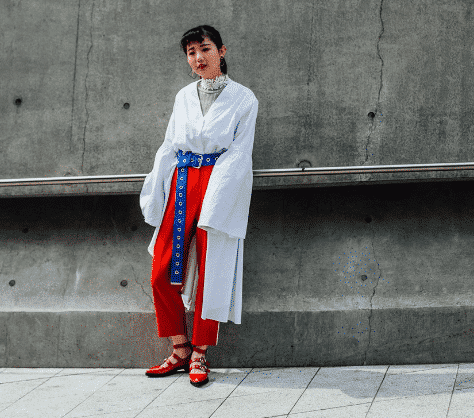 ↓ 17 – Loose/Bell Sleeves
This is essentially the same as loose fitted clothing but loose sleeves can be seen even in tight fitted outfits.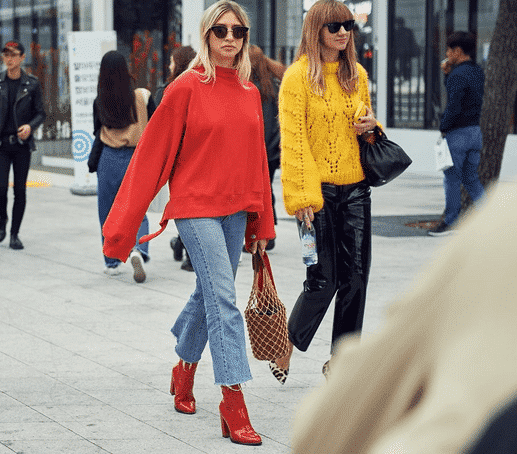 ↓ 16 – Cheetah Print
Seen in various colors and tones, the print can go with almost anything, simple black outfits or different colored ones.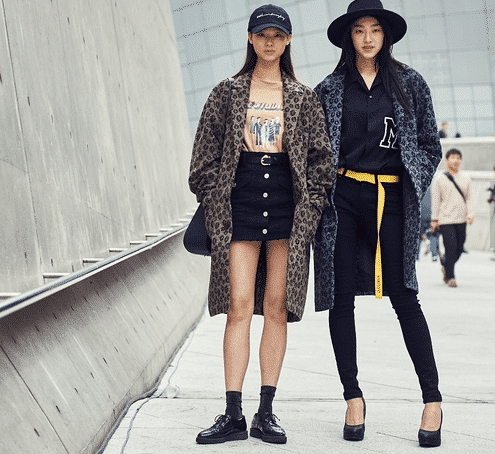 ↓ 15 – Camouflage
Camouflage jackets and cargo pants also go with the modern Korean trends.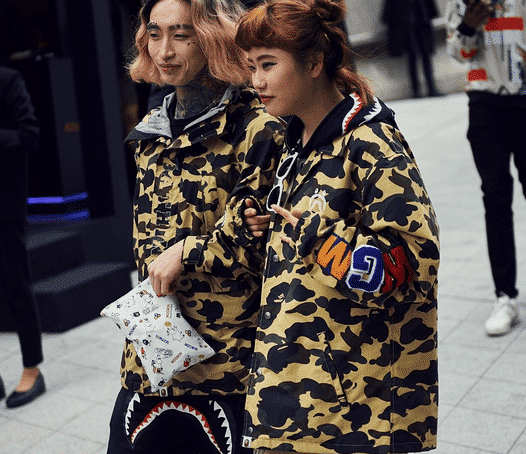 ↓ 14 – Silly Prints
The shirt, the pants, the heels! This entire outfit speaks on behalf of the entire K-fashion community. If you want to get an idea about what Korean fashion is like, just pay attention to this attire.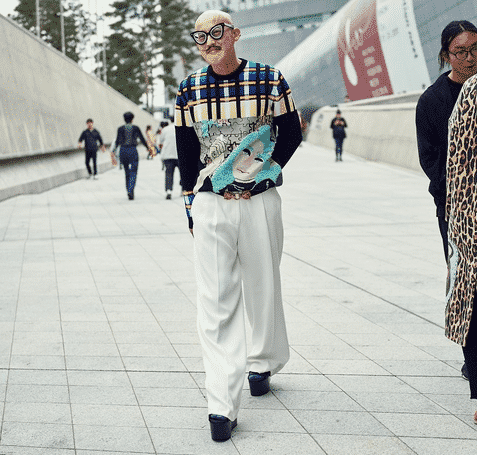 ↓ 13 – Freakishly Adorned Pants
Bright colors: check. Oversized jacket: check. Cold shoulder: check. Loose fitted pants and coat with quirky doodles and cartoons: check.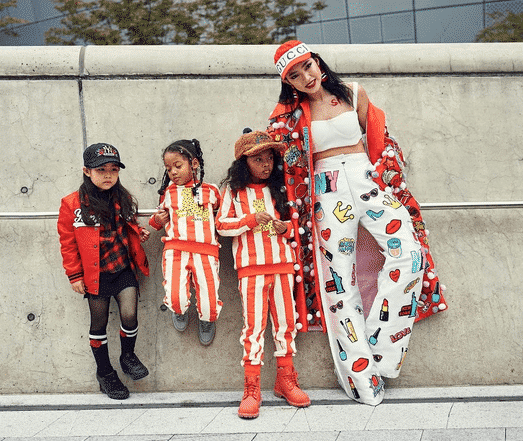 ↓ 12 – Multi-layered Clothing
A jacket over a shirt over a t-shirt. This can be done  in winter with a mix of loose fitted and snug items of clothing in both black and white and bright, happy colors. Exactly the kind of mish mash K-style is all about.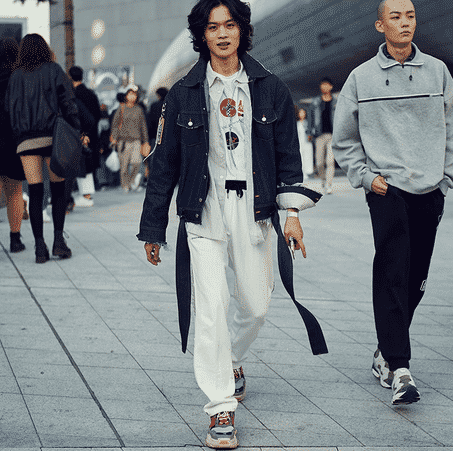 ↓ 11 – Plastic Clothing
This has been seen more and more in Korean fashion shows and ramps and is one of the up and coming trends. Plastic or vinyl clothing in the form of jackets, skirts and shirts, sometimes transparent and sometimes in color, like here, is becoming popular.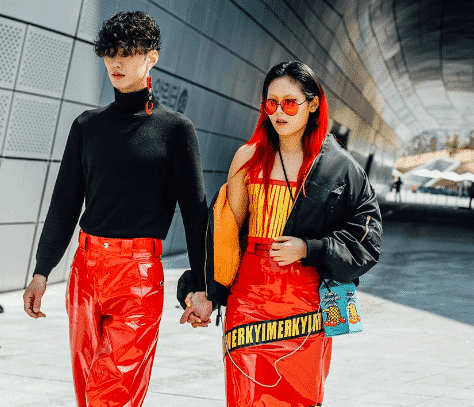 ↓ 10 – Appliques
As seen on the back of this jacket, long appliques with mismatched quotes on them look very cool indeed. Here are 25 Photos of Turkish Street Style Fashion.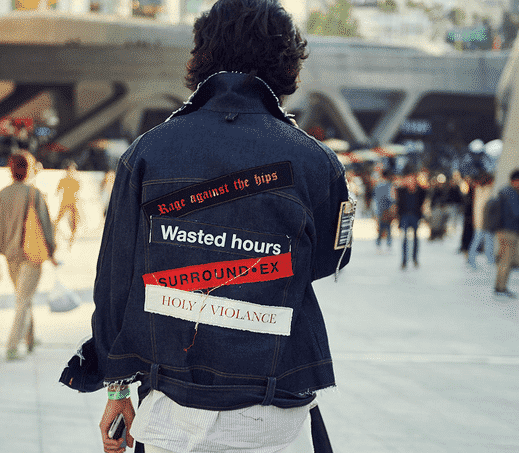 ↓ 9 – Fun Skirts
The cut slash ring style on this skirt is insane. Paired with an oversized coat or jacket and with a muted color, proving that even with subdued colors, the Koreans know how to roll.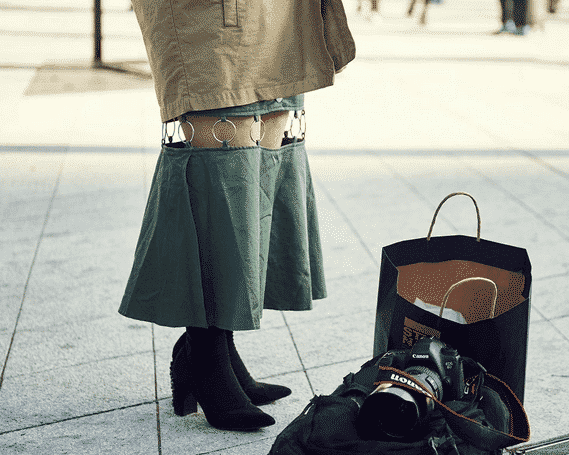 ↓ 8 – Shorts over Pants
Okay, this an unusual one, which is saying a lot since this is South Korea we're talking about. These people aren't afraid of experimentation and they are constantly pushing the boundaries of what's possible and what's not possible. The shorts (which are rolled up trousers) and pants are of the same color and it is difficult to see at first. But it's delightful all the same.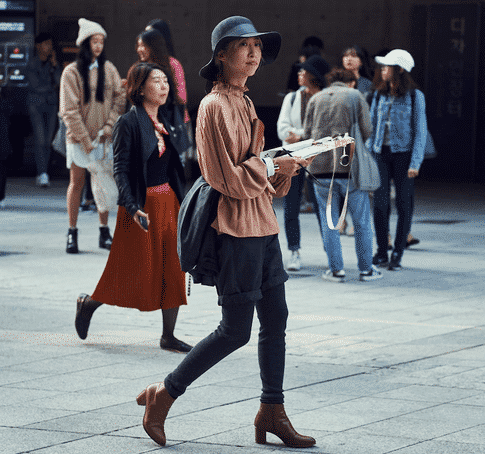 ↓ 7 – Two-piece Suits
Crisply cut suits with a lighter material or made with knitted fabric suitable for Winter have all been seen. Head-to-toe red, black and white are the popular colors.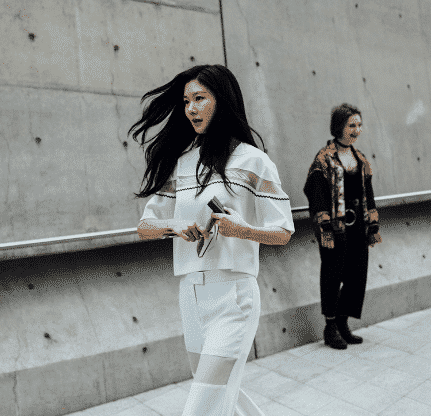 ↓ 6 – Quirky Sweaters
Knitted sweaters with colorful patterns paired with long coats, half worn in the typical Korean style. The most discernible fact about K-fashion is that not only do they experiment with cuts, patterns, colors and prints, they also passionately experiment with how these things are worn with some outrageously cool results.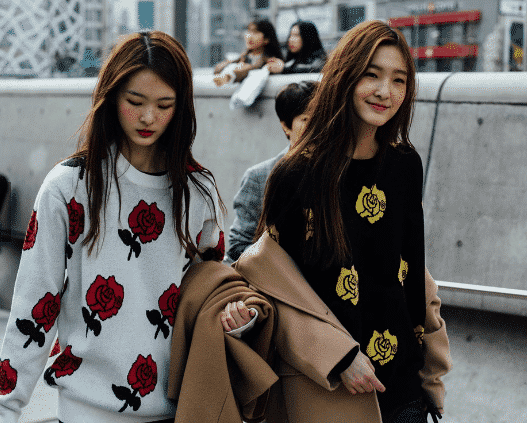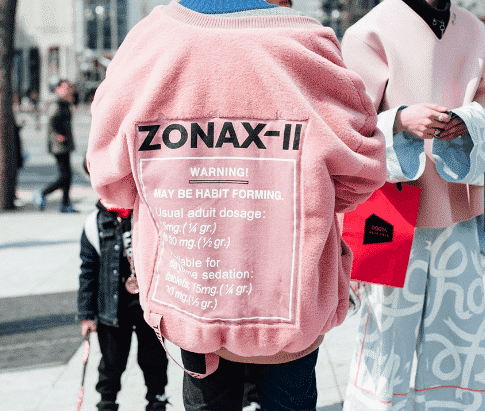 ↓ 5 – Color Blocking
Denim skirt, half worn loose denim jacket both blue paired with bright red top and bag with black net stockings and black heels. Way to make  a statement.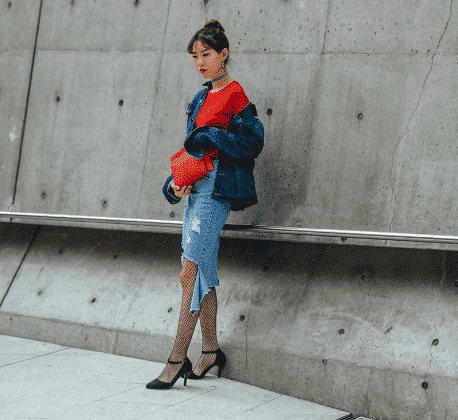 ↓ 4 – Mini Dresses
Mini dresses allow a lot of room for flexibility, they can be paired with loose or tight fitted pants in winter or with knee length stockings. Here the woman has matched her dress with a shirt.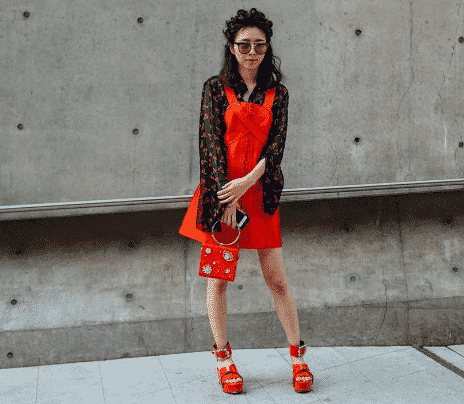 ↓ 3 – Funky Hoodies
Here is a chequered hoodie beneath a coat. Hoodies with roman numerals printed or appliqued are also popular.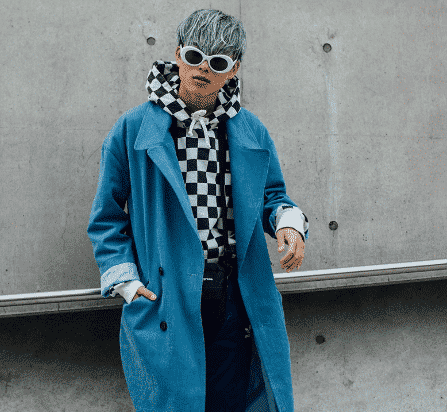 ↓ 2 – Crisp Vests
Paired with matching trousers and a silk shirt, this beige ensemble is one of the sleekest and crispiest yet. Notice the puffed up sleeves and matching hand bag, two favorites.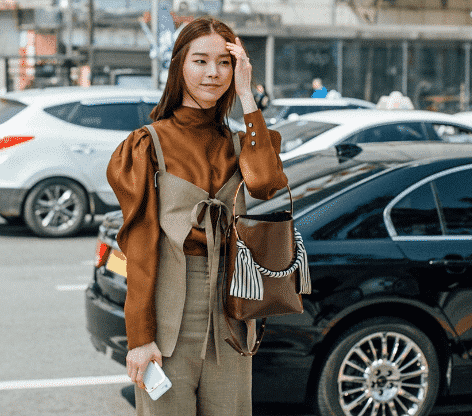 ↓ 1 – Head to Toe Black
These  make the wearers look suave and sexy, the outfit is again unisex in the way it's been made and since korean men and women both prefer baggy clothing.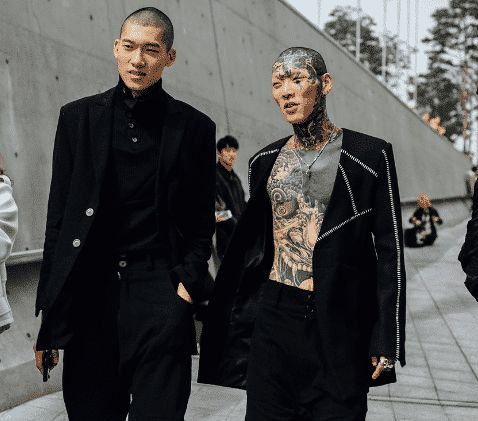 South Korean fashion has been known for readily accepting Western influences but turning those trends completely into their own unique thing. With Seoul Fashion Week commencing twice a year Korean designers are churning out even more eccentric ideas and the international audience seems to gobble it all up.