Fab graduation dresses to wear under a gown– Graduation is a concept that comes with a blend of notions; it is a day when you are wrapped up in the grief of leaving behind your friends accompanied with a heap of memories on the other hand it is a feeling of accomplishment that you finally made it! As they say, "life isn't perfect, but your outfit can be" so you are in the right place to pick the perfect option for yourself.
Picking up a graduation attire for yourself is a very crucial decision since the graduation pictures and memories are going to stay with you forever. A slight error may cause an eternal regret but since you are here, we will make sure that no sorrow shares your air.
What Outfits to Wear Under a Graduation Gown?
On this road of unbalanced feelings, we will help you accommodate with the best opinions from the experts. Since everyone has a different taste, the market tries to satisfy all its customers by giving each a perfect fit for their day. Versatile demands create versatile supply; however, clothes mean nothing until someone lives in them.
How to Wear Graduation Outfit Under a Gown?
There are certain ways of carrying your graduation dress on point:
Wear a fitted dress to avoid any unreal chubby look.
Favor minimal makeup.
Put on a light dress, which could be worn later as well.
Choose a lacy outfit to give it a formal look.
The color palette should be from the pastel family to go with the trend.
The preferred measurement should be a white knee-length dress.
Assemble your hair in an elegant yet simple way: add some floral pins in your beachy waves or, if not comfortable, straighten your hair.
Pick out a dress that has pockets. Since you will be busy in your convocation, you would need a pocket to keep your accessories, for example, a mobile phone, credit card, etc.
It is always said plump on the shoes you are most comfortable in, true! However, wearing high heels could give you a curvy, slim, and stylish look.
Never forget to carry your confidence with you! That is an essential accessory of all.
18 – Mini Dresses for Graduation
17 – Jumpsuit
↓ 16 – Short Dresses With Tights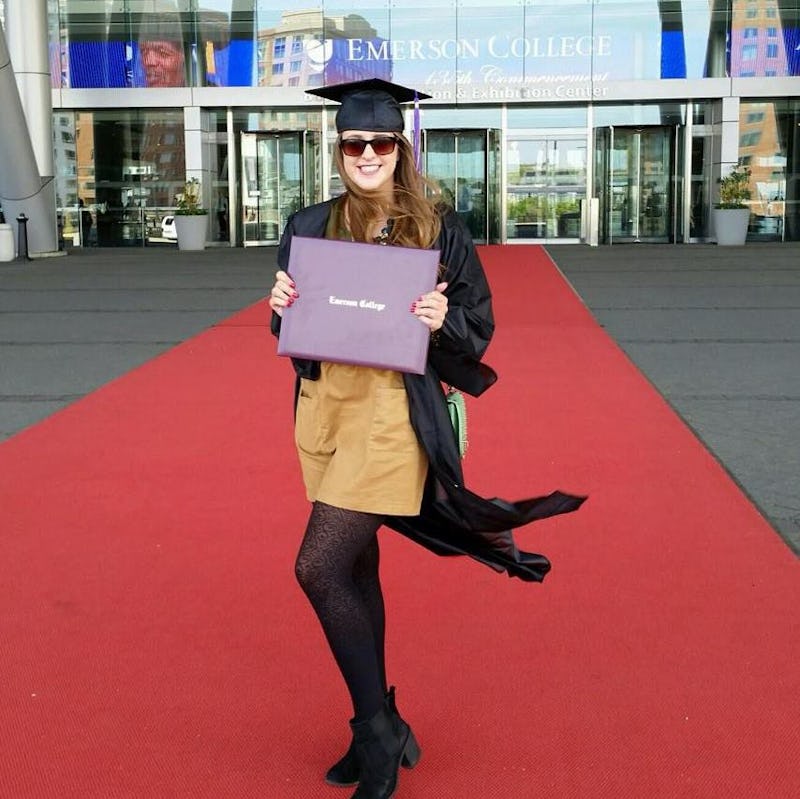 ↓ 15 – A Plain White Knee Length Dress
"White has it all; its beauty is absolute. It's perfect harmony." – Coco Chanel.
Beauty lies in all the colors, but only a few know how to carry the white color. Since most of the graduation gowns are chosen from a dark color palette, pairing it with a white inner dress makes it a perfect combination. Furthermore, as the gowns are designed to accommodate every body shape, they are usually freestyle, so it is always recommended to wear a slim-fit dress underneath instead of a fuzzy one, which might make you look unnecessarily flabby. Moreover, anything longer than the knee length is majorly out of the question because it gives an undesirable impression.
Also, look at All White Party Dress Ideas for Women- 26 Best White Outfits for more outfit ideas.
Buy a similar dress here for 66.99 $
↓ 14 – When to Wear a Lacy Dress Outfit?
Whilst the event is formal, it is also long, tiring, and demands a lot of energy. Keeping that in mind, comfortable yet ceremonial attire is what should be put on. What is better than a lacy dress if you want to keep it simple yet elegant? Simple lacy outfits exhibit ritualistic colors, which are well desired by the public. Furthermore, since it's your last day at your college/High School, you do not want to leave a messy impression rather a positive catchy, memorable one. So what are you waiting for? Go grab a perfect dazzling lacy dress for yourself before it stocks out!
Buy a similar dress here for 388$
↓ 13 – Best Color Palette
Colors are not given immense importance while deciding on a dress; however, they deserve every bit of attention. Trending pastel colors are everyone's favorite, and since the gown emits dark colors mostly, what is better than pairing it with its opposite to create a perfect contrast? Colors like mauve and mint green are trendy chic picks. Soft colors are never out of fashion and can easily be worn to other events as well. For example, such colors are acceptable in almost all types of daylight functions, whether a wedding, a birthday party, a baby shower, or a beach party.
↓ 12 – Outfits for Plus Sized Women to Wear Under the Gown
It is 2021, and every body shape is loved and admired for its exclusivity. Graduation is not only for slim fits but for all types of figures; after all, why always prefer salad over cheesy pasta? Since you only live once and graduation does not knock on your door every day, here is what you can do to make your day perfect. Select an outfit that is neither too fit nor too loose but something that slightly fits your body without making it look noticeably curvy. Dark colors can never go out of fashion, so wearing a dark, the slightly fitted knee-length dress would give you a ravishing look.
You can get a similar outfit here for Price: $148.00
↓ 11 – What Look to Wear on the Graduation?
Undoubtedly picking a good dress plays an important role in shaping up your exterior and assemble things perfectly; proper portions of makeup and accessories are essential components. Minimal light makeup should be the top priority. The more you make your hair and makeup complex, the deeper you would fall in a pitch-black tunnel. To avoid any inconvenience on the big day, wear no unnecessary highlighters but a decent peachy: lip color and blush on, paired with a natural foundation. Lip color may vary depending on your outfit color but remember to keep it all minimal.
Via
↓ 10 – Dark Knee Length Pencil Skirt
Since the gown is freestyle, the under should be fitted to avoid an unneeded extra bulky look. Pencil skirts can never go out of fashion! A slightly oversized shirt with a pencil skirt gives a jaw-dropping classy look. Moreover, when coupled with a freestyle gown, it gives a marvelous appearance. As the skirt is high-waisted, it makes your legs look longer than actual, which gives you a taller height, and that is a plus point.
You can get a similar outfit here for $9.99 – $17.99
↓ 9 – What Not to Wear on Your Graduation Day?
Never wear a freestyle dress under a freestyle gown because it will only mess up your day. Freestyle dresses under a freestyle gown are perfect supplements, which means they are never better together, but either of them should be plumped out. Moreover, an extra ceremonial dress will make you uncomfortable because, in reality, you would be carrying two dresses on yourself. If either of them makes you uncomfortable, the other one is only going to add up to your terrible situation. Furthermore, a complex hairdo is going to prevent you from wearing your graduation hat, which then again is a big issue. Adding to it, never put on makeup extravagantly, or the regret would stay with you forever.
↓ 8 – How to Carry Your Hair With a Graduation Gown?
After wearing a gown, you look less revealing; hence making a bun could give you an unstable look. Moreover, since you have to wear a hat on your graduation, a chignon would only add up to your difficulties as it would not let the hat stay but trip over again and again. It is mostly favored to open up your hair and add casual waves and give off a cute look; you may add the top trending floral pins to your hair. You may also choose to go for simple straight hair, which is never out of fashion.
Via
↓ 7 – Picturesque Outfits Under the Gown
The world is rapidly globalizing; we go out, we check-in! We take a selfie; we post! We eat, we tag, and whatnot. Events have become more about dressing up for pictures because, after all, pictures are the best kind of visual memories that stay forever. Hiring a professional photographer on this day has become the new norm, so why not dress up aptly for it? For this, pick a slightly contrasting floral dress, and gather your friends to get yourself a phenomenal candid captured!
Via
↓ 6- Wear a Dress Which Has Pockets
Keeping the wants aside and focusing on the needs here. Since the day is going to be all around the crowd and no desks for your valuables collection so keep yourself prepared for the situation and handpick a dress that has pockets. You do not want to make your happy day a gloomy one by losing your valuables, so it is better to act wisely.
Get a similar outfit for £20.25
Ivory short dress with pockets 50$
↓ 5 – Accessories
Wearing a watch only adds up to your personality and shows how much you care about your time. The accessories should be kept minimal since your neck would be covered by the gown ribbon, so wearing a necklace is of no use. Adding simple studs to your look would give you a decent appearance. Nothing more should be worn as it will be useless. Elaborating, since the gown has full sleeves, no bracelets would be evident for a smart approach.
Price: 19.08 United States Dollars
↓ 4 – Footwear for Graduation Day
Normally, people prefer to wear cozy shoes on this day, since they have to walk, run, jump, and dance, and why not? After all, it is a fun day! However, as far as appearance is considered, high heels are a perfect choice, and if you are not sure that you could carry one, you can always go for wedges as they are less dramatic. High heels give you an advantage if you have a short height, and since shoes are visible from under your gown, they should be wisely picked and not kept on the side. Your choice of shoes speaks a lot about your personality.
Via
↓ 3 – A-Line Skirt
A trendy A-line skirt is a savior! It should be paired with a contrasting colored top to give a cool impression. Since it gets your waist prominent, it prevents a person from extra fluff and gives a skinny appearance no matter what your size is. A-line skirts do not come with extra tough texture, so your external aesthetics would not be compromised. So pick your favorite A-line skirt right away! Also, look at Skater Skirts Outfits- 20 Ways to Wear Skater Skirts In 2021 for a different look.

↓ 2 – What to Wear on a High School Graduation?
Graduation is not a one-timer in your life, but it comes after your high school, bachelor's degree, master's degree, Ph.D., etc. All the graduations demand different attires so let us highlight high school graduation first. This is a time when most of the individuals are yet in their teens, and dressing up appropriately is a road down extravagant bubbling emotions. You want to dress up like a queen, but your age says otherwise. Hence to fit in your age span, wear something that is short and cool; a stylish baby frock would work in this case. It would give your outstanding dreams a vision of reality.
Via
↓ 1 – What to Wear on a College Graduation?
As already mentioned, graduation is not a one-timer in your life, but it comes after your high school, bachelor's degree, master's degree, Ph.D., etc. So here we will talk about a university or post-graduate graduation. At this time, you are a whole grown-up, mature adult, and your choices should reflect your experience. Favor a dress wisely so no one can babble over your choices. Pick a dark knee-length slim fit dress and couple it with high heels to pop some maturity. Carry your confidence and attitude, and you are done!
Via
FAQs
Q. Where can I find such dresses for my graduation?
A. Here are a few places to shop from:
Q. Where can I buy such accessories?
A. You can get the best accessories for your graduation."
Q. Is wearing white mandatory at graduation?
A. No, it is not. However, wearing a contrasting color would give off a mesmerizing look.
Q. Will wearing a gown make me look oversized?
A. No, not if you pair it with a slim-fit outfit.
Q. Can I wear a long-length gown dress under my graduation gown?
A. No, it is not recommended to wear a long-length gown dress underneath a gown. However, a slim-fit dress still is a good choice if you think you can carry it well.