Pakistani celebrity Ramadan outfits. Ramadan is a time to be closer to your friends and family and spend more time with them. It is a time that the whole family comes together and bonds. People also use this time of the year as a way to get closer to God and find themselves.
In the midst of all this lie many iftar parties and milads as well as Quran khatam. To find oneself spiritually, people get together and read the Quran and take classes from learned scholars. And to attend all these events and places, you often need new outfit ideas.
Ramadan Outfits of Pakistani Actresses & Influencers
If you are looking for Ramadan outfit inspiration for all your busy evenings and afternoons, then you have come to the right place as our celebrities can help you in this regard. They show off their fashion sense even during Ramadan and make it easy for all of us. Read on to find out the top 15 Ramadan looks by Pakistani celebrities!
↓ 14 – Hemayal Attique's Pastel Ensemble
Hemyala Attique is an inspiration for young girls. Hemayal and her sister Hira are working as independent bloggers and making a name for themselves. She is a smart woman who has an amazing fashion sense and has managed to get a major fan following her fun and quirky personality.
Below she is seen wearing a very simple pastel frock and shalwar sitting in front of Darbar Hazrat Shah Abdul Latif Bhittai. This place is considered a very spiritual place. Alot of people come to this place during Ramadan, and at other times of the year too, to ask for things they truly desire. This simple dress with a chiffon dupatta is perfect for such visits.
↓ 13 – Maya Ali's Classy All White Suit
Maya Ali is the Queen of the hearts of the masses of Pakistan. Her dramas and serials are quite famous, and everyone applauds her for her great acting skills as well as her bubbly personality. Her style is also unmatched, as we discussed in our earlier post on Best Dresses Ever of Maya Ali.
Here she is seen wearing an all-white shalwar kameez at an iftar party. White clothes with white embroidery are one of the classics of Pakistani fashion, and we must say Maya Ali has done a great job with this one. The best part is the lace on the edges of the dupattas that is matching with the embroidery. This gives the whole outfit a more put-together look. So keep this in mind when designing your next clothes!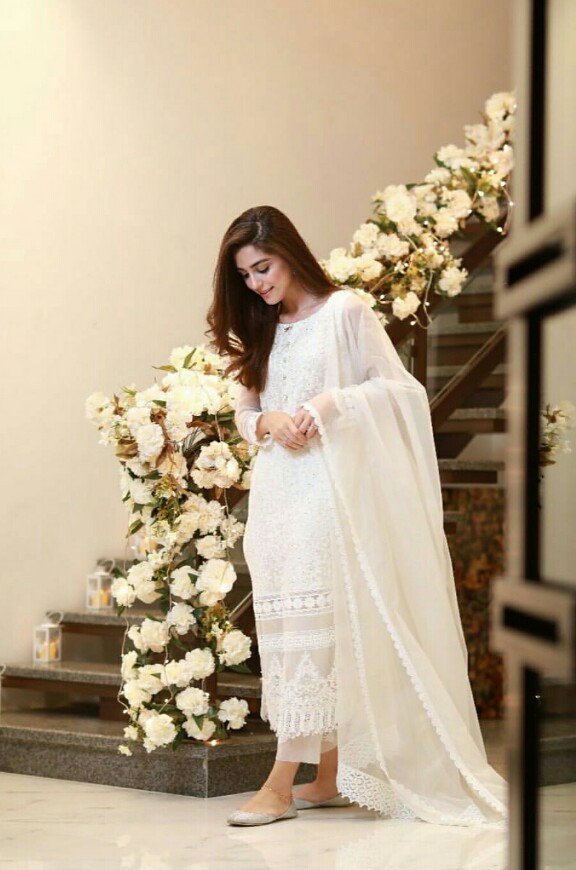 ↓ 12 – Sana Javed Looking Ethereal in Gorgeous Brown
Sana Javed has won the hearts of the masses due to her beauty and talent as an actor. She is a phenomenal performer, which can be seen by her dramas like Dunk and Ruswai. She has also appeared in Fahad Mustafa's show Jeeto Pakistan which is from where she gained most of her fame, as people loved her personality.
Here she is shown in a still from the same show during Ramadan. She is wearing a simple brown anarkali dress. The color is a gorgeous pick for any event as it will really bring out your complexion. This is a color that suits all skin tones and does so effortlessly. If you are tired of the traditional shalwar kameez, then go for this option to mix things up!
↓ 11 – Humna Raza's Simple Look
Humna Raza is a dentist from Pakistan who has made a huge name for herself as a blogger and influencer. People initially started following her because of her dentistry journey but now that her content has shifted to domestic content, such as marriage and motherhood.
This is another all-white ensemble. You must be seeing a trend of white during this holy month. Humna Raza shows you how even the simplest of shalwar kameez can look amazing if you just put on a little red lipstick and straighten your hair. Khussas are also a great choice of shoes, especially in the middle of the summer heat when wearing any shoes can become bothersome.
↓ 10 – Zara Noor Abbas's Fancy Outfit
Zara Noor Abbas is the daughter of actress Asma Abbas and niece of veteran actress Bushra Ansari. She is a phenomenal actress who started her career with the serial Khamoshi and has now managed to bag several hit roles in films and tv shows.
Her outfit is definitely a fancy one, making it a great pick for a big iftar party or a fancy Milad that you might have to attend this Ramadan. The color is absolutely breathtaking, and if you don't follow the style of her clothes, you should at least go for the color.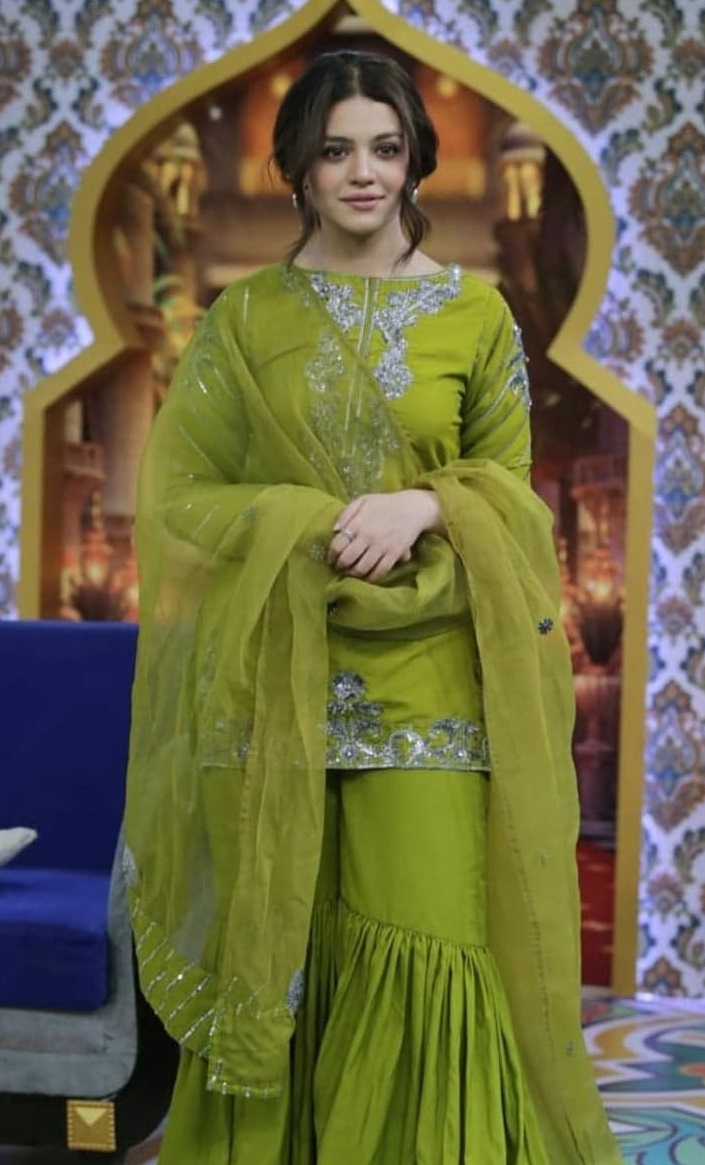 ↓ 9 – Hira Attique is a Sight to Behold
Hira Attique is Hemayal Attique's older sister, and she is just as popular and successful as her younger sister. People like Hemayal for her quirky personality; Hira is loved by her more sophisticated and decent personality. She is someone that our young generation should follow to learn about how they can look good while also being successful, by working hard!
Here she is seen wearing a simple bright pink kameez with a shawl. This is a look that is easily re-creatable for a lot of our audience as everyone has a shawl like this in their closet that they can pair up with a simple kameez to create this effortless look. It will be ideal for going to shrines or attending a milad.
↓ 8 – Ayesha Omar's Traditional Outfit
Ayesha Omar is one of the biggest actresses of Pakistan, and she has proven her worth with her countless dramas, and her great performance in all of these dramas shows just how great she is at what she does. She is one of the few last actresses of her time that is still as big as she first started, which is truly admirable.
Here she is seen wearing a traditional chiffon black and white piece during a Ramadan show. You can find such clothes easily from a local market in your city. Many people think such clothes are outdated and old-fashioned, but we must tell you that they are making a comeback with fierce force. So get your hands on one now!
↓ 7 – Mawra Hocane Looking Breathtaking in White
Mawra Hocane has truly proven over the years what a great actress she is. Some people doubted her abilities as an actress after transitioning to the industry from being a VJ. But after her last few projects, such as Aangan, Daasi, and Sabaat. Now she is one of the top actresses in the industry!
She is wearing a very simple shalwar kameez in white that is making her look really radiant. She has opted for a tulip shalwar instead of the traditional heavy one. It is a great choice as it is the perfect amalgamation between cigarette pants and a basic shalwar. So go for this if you are tired of wearing the same straight pants but do not want to go for a full normal shalwar. Do check out these best ever Mawra Hocane Outfits.
↓  6 – Kubra Khan's Easy to Copy Pick
Kubra Khan made her way into the industry with the drama serial Sang e Marmar and immediately won Pakistan's public hearts. All appreciated her work, and she gained success after her very first project. Now she has been seen working in different shows, and films and each one has been better than the last.
Here you can see Kubra Khan entering the stage of the game show Jeeto Pakistan wearing an effortless look. She has opted for a basic plain shalwar kameez with a chiffon dupatta, and we must say what a great choice it is. The earrings are the cherry on top!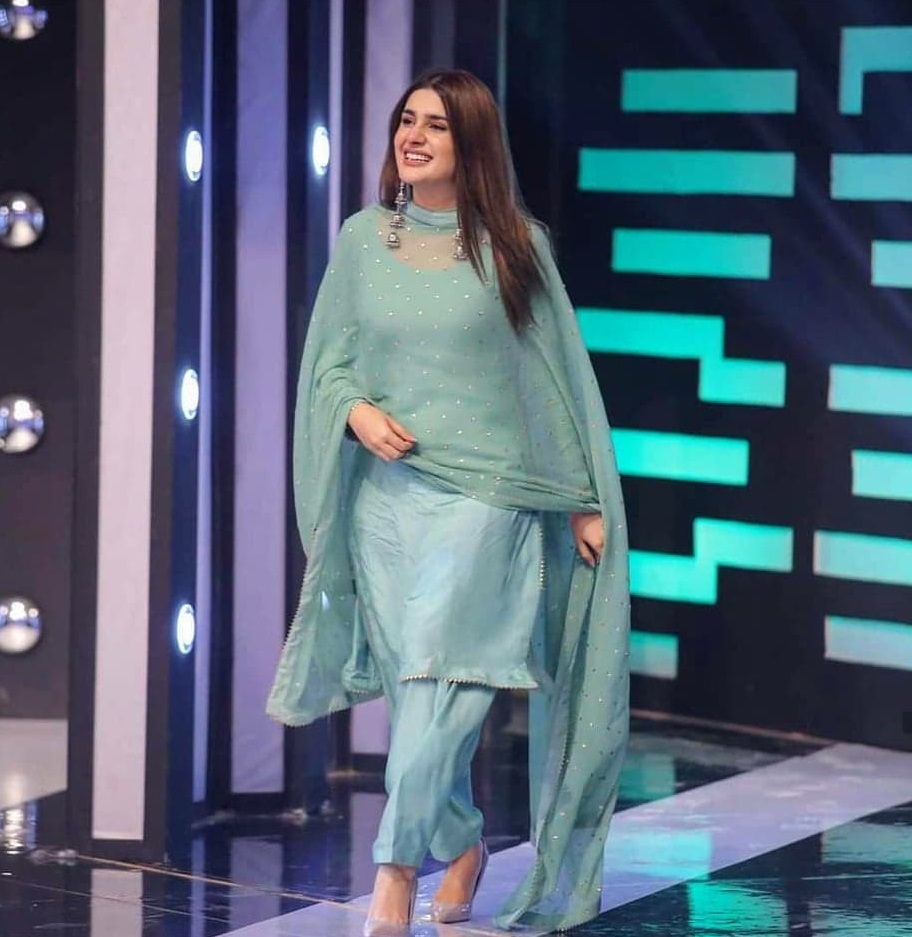 ↓ 5 – Waliya Najib Embodying the True Spirit of Ramadan
Waliya Najib is the sweetest and most gorgeous influencer out there. She is not only beautiful but also a renowned photographer. She is someone who shows that you can be both successful and an influencer at the same time. Alot of people assume that influencers choose this profession because they can't manage to do anything else in life, but her achievement debunk this stereotype.
Below she is photographed wearing a simple sleeveless shalwar kameez and diving into some homemade paratha rolls like most of us at iftar time. The hardest part of Ramadan may be having to refrain from eating, but the best part has to be iftar time. When you finally get the chance to break your fast and taste the amazing food you spent all day making. And that is why here Waliya is embodying the true spirit of Ramadan!
↓ 4 – Reema Khan's Graceful Look
Reema Khan might be a veteran actress, but, indeed, she is still just as beautiful as she once was. She could easily compete with the actresses of today if she wanted to, not just in the looks department but also in acting.
She is also a true fashion icon. Here she can be seen in a lime green floor-length gown and a gorgeous frilly chiffon dupatta that is to die for. This look is quite fancy and will hence only work for iftar parties, or perhaps even Eid!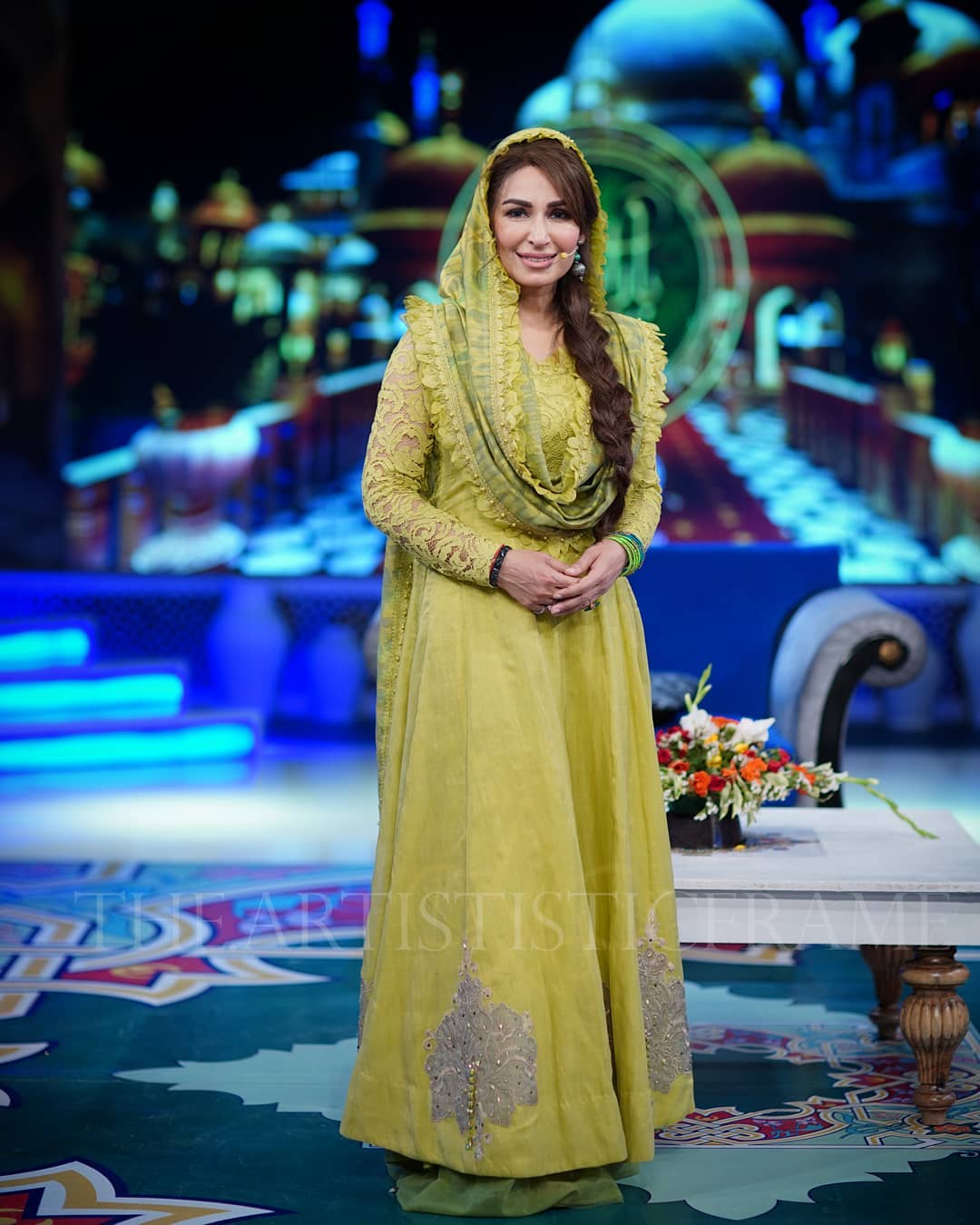 ↓ 3 – Ayeza Khan's Elegant Look
Ayeza Khan is the most followed Pakistani celebrity on social media. From the smallest villages to the biggest cities, everyone knows who she is due to the success of her drama serial Meray Pass Tum Ho. Her acting in the show was phenomenal, and it earned her all the success and love she has today.
Here she is seen wearing a light pink chiffon piece that is truly stealing our hearts. The simple detailing with the buttons is especially dainty, and we think it is a great way to style your ordinary-looking clothes. All the fun doesn't lie in embroidery or prints. Sometimes it is better to go for plain pieces of clothes and style them using buttons and laces to get an out-of-this-world outfit.
↓ 2 – Aiman Khan Looking Out of This World in Moss Green
Aiman Khan is the most loved young actress of our time. This is due to her great down-to-earth personality, her good looks, and her amazing acting skills. People of Pakistan love to follow her and her life with her husband and their adorable daughter Amal. Aiman has proven over the years how possible it is to manage an acting career, a family, and stay humble through it all.
Below she is photographed with her husband Muneeb Khan while the two attended a Ramadan show last year. Her moss green floor-length gown is absolutely gorgeous, and the way she and her hubby are matching also looks adorable. Hence, this is a couples outfit idea when you and your husband have to attend Ramadan events together. You can both go for something like this!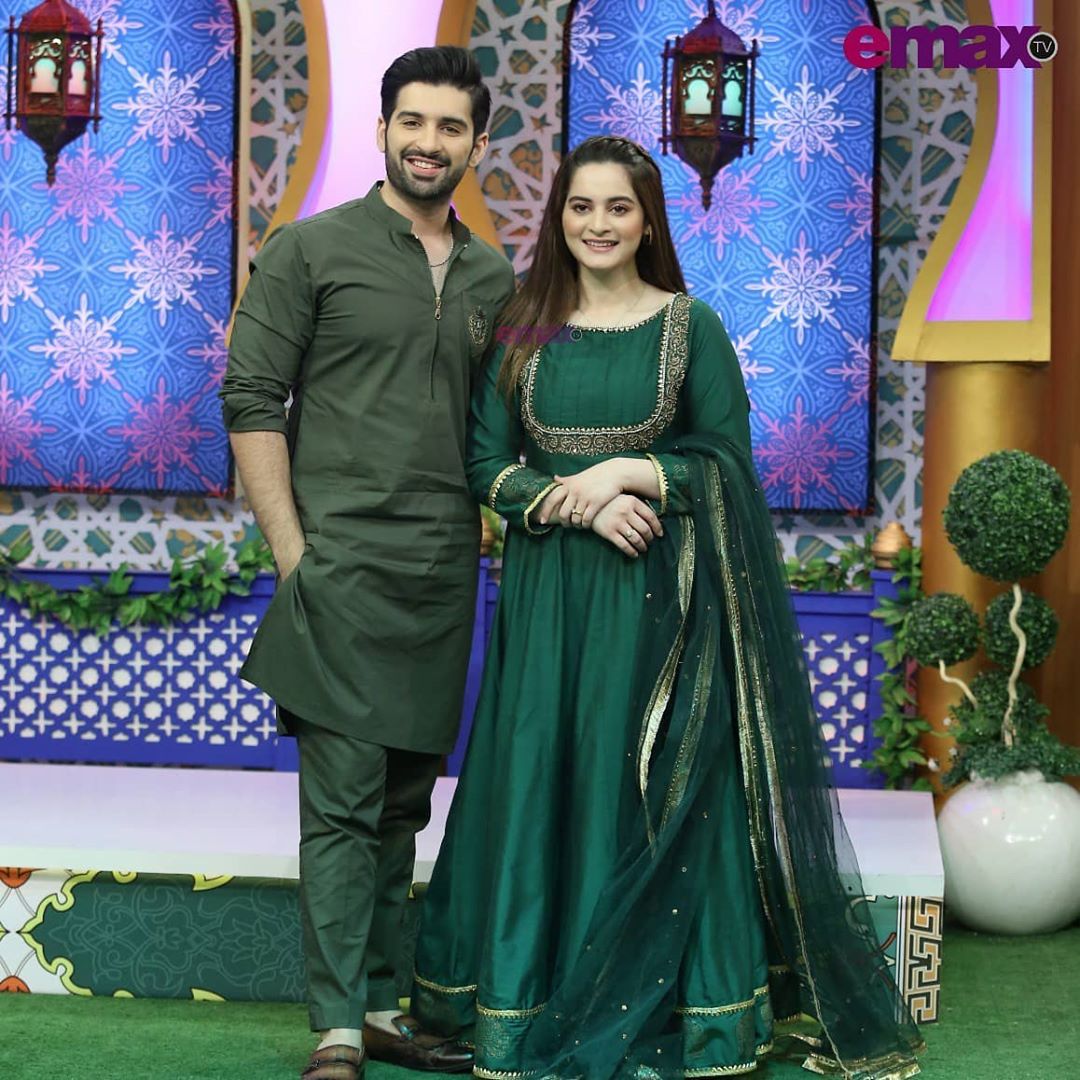 ↓ 1 – Urwa Hocane Giving us Heavenly Vibes
Urwa Hocane, sister of Marwa Hocane, is just as gorgeous and even more talented than her younger sister. She is a beauty with talent with projects such as Udaari under her sleeve. Her work over the years has helped her prove her worth, and today she is indeed counted in the list of the top actresses of our nation.
She is wearing an all-white shalwar kameez on a Friday in Ramadan, hence giving you a look inspiration for Fridays. Friday is considered a holy day in Islam, and the Fridays in Ramadan are considered even more blessed than the rest of the holy month. Especially the last Friday of Ramadan is considered a very joyful day, and it is recommended that you wear your new and beautiful clothes on this day. Hence you can go for something like this! If you like to stay updated about the latest celebrity style trends, don't forget to check out these Best Pakistani Celebrity Snapchat Accounts To Follow.
Frequently Asked Questions
Q. What do you wear for Ramadan?
A. One thing you must remember while dressing during Ramadan is modesty. Although modesty is necessary and preferred all over the year, you must take care of what you are wearing and don't go for anything too bold during the month of Ramadan. Hence sticking to eastern clothing is integral, and usually, a good option is simple such as shalwar kameez.
Q. Is fashion allowed in Islam?
A. Islam only asks women to dress modestly and cover up themselves. If you are fashionable while conforming to this rule, there is absolutely no issue in being stylish and keeping up with trends.