Ranveer Singh Dressing Style. Ranveer Singh, born in 1985, is a 35-year old Indian actor who has gained a high reputation and fame not only due to his acting but also his unique and quirky dressing style and fashion outfits which don't seem to blend in with the ordinary anyway.
When it comes to fashion, looks and dressing styles of Ranveer Singh can never go wrong! Ranveer Singh is best known for his unusual taste in fashion outfits. I must say that he has an uncanny ability to pull off his unique fashion outfits with ease. Moreover, he is the only actor who never feels shy when speaking his mind and heart on topics like love and related matters. This naughty Bollywood actor never falters to share his fashion outfits on social media and always amaze his fans with his stunning looks.
Latest Ranveer Singh's Outfits
His acting too cannot escape without impressing his fans, and that happened when he gave his nailing performance in his first debut of 'Band Baaja Baarat' and gained an everlasting fan following. His first debut did not go unnoticed as he received an award for the 'Best Male Debut'. So this is how he started his acting career in Bollywood.
Scroll down through our gallery to see some of the latest outfits of Ranveer Singh and enjoy looking at his quirky outfit styles!
Facts About Ranveer Singh
This heartthrob Bollywood actor 'Ranveer Singh' is everyone's favorite for his acting and fashion outfits. He is the only one who can wear ghagra with a palazzo. Ranveer always keeps on experimenting with his outfits and he always rocks and blows his fans away with his fashion outfits.
He has also won the award for Best Actor for his unforgettable performance in 'Bajirao Mastani'. To remind you of other reasons that why Ranveer Singh is totally a draper, we suggest you take a look at the top best dressing styles of Ranveer Singh that are eccentric and catchy. It's fantastic how he owns up to his dressing and fashion looks without any slightest hint of being judged.
Below are some interesting facts that you should know about:
Date of Birth: 6th July 1985
Zodiac sign: Cancer
Height: 5 feet 10 inches
↓ 24 – Highlighter-yellow Dior Suit
Ranveer looks oh! So stylish in this yellow Dior suit. He wore this highlighter yellow outfit in India's Most Stylish Awards that took place in 2019. He was also honored with the 'Most Stylish Man' award for his uncommon and out of the ordinary fashion choices. Well, this event was no exception as he slayed in a neon yellow Dior suit from men's collection. Ranveer accessorized his looks white-rimmed sunglasses and a black man's clutch. Previously, Bella Hadid was found wearing the same outfit which she totally rocked.
Is Deepika dressing styles in your next search? Take a look here Best Looks of Deepika Padukone this Season.
↓ 23 – Strong-Shouldered Julien McDonald Suit
Ranveer Singh looks stunning in this strong-shouldered suit which he wore for the 'GQ India' style awards. Ranveer set the red carpet on fire with his charm.
↓ 22 – A Floral Printed Bandhgala Suit
Only he can pull off a floral printed outfit and make it excellently go with his masculine posture. We still have not settled on how he manages to nail the outfits that very few people can. With a flower printed coat and pants, those catchy spectacles, the magician hat and those once again floral shoes have got so many of his fans to reconsider their fashion choices.
↓ 21 – A Printed Shirt with Palazzo Pants
A printed shirt with something as unusual as you can expect; palazzo pants and Ranveer Singh the fashion enthusiast cannot be more comfortable and proud of wearing it. The swaggy mustache also gets the job done of the right look with his outfits.
↓ 20 – Ranveer Singh in Batik Prints
As eccentric and as unusual as we think it may be, there is absolutely no outfit that will not be nailed by Ranveer, especially when he puts it on with the sassiest batik prints.
↓ 19 – Jeans Outfit with Floral Coat
Another out of the blue outfit by Ranveer Singh where he manages to bring out his youthful look that rarely ever comes up. With a floral printed catchy coat and the monotonous pantsuit has brought out a look that we don't often see on the screens while he's playing tough roles. So the peaceful blue pantsuit with a coat, the grey masculine cap, and the shades are one of his best inventions.
↓ 18 – Ranveer Singh in a Fur Coat and Striped Suit
At the promotions of his movie 'Gully Boy' that went super-duper hit, Ranveer Singh wore this striped suit with a fur long coat.
↓ 17 – Outfit with Adidas Superstar Shoes
The jacket which can instantly bring up your spirits before you even wear it is what Ranveer has got his hands on. And not just that, but he suited his outfit with the best sportive gift we can imagine of this age, and that could be none other than the flawless Adidas superstar shoes that make all fall for it in the first glance. Do have a look at Shahrukh Khan Pictures–30 Most Stylish Pictures Of Shahrukh Khan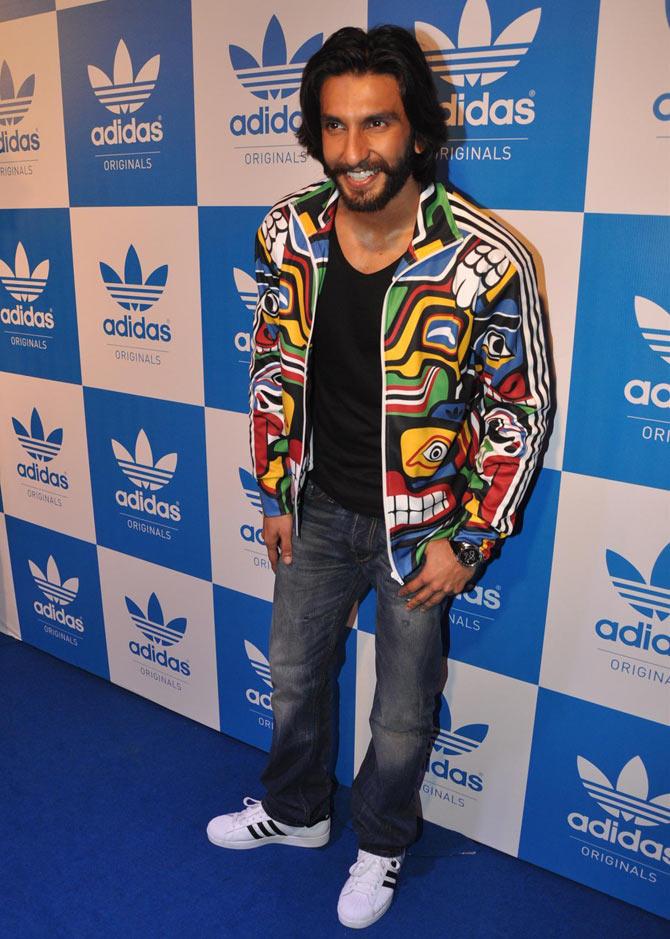 ↓ 16 – Kurta with Skirt Style
One of the fashion's rarest creations; the Kurta outfit with skirt style and guess what? Ranveer nailed it too. He wore it with his matchless gladiator sandals that took the swag of his Kurta in a skirt style to better heights. He always manages to retain his film characters in real life too. That is one special thing about his magnet persona.
↓ 15 – His Unique Mario Outfit
When he is out of options and no eccentric outfit grabs his attention, then it is always a great idea to dress as your favorite fictional character even if you do not get to meet it in reality. Also, it's always a great idea to feel like a kid and free of worries by dressing coolly as your favorite super character that always inspired in childhood. So Ranveer puts on a cute and cheery Mario outfit, an outfit inspired by Mario in a super popular video game series and we are now envious.
↓ 14 – Silk Night Gown with Muppet Pajamas
Probably the most comfortable outfit that one can wear while going out, especially when you are an actor on promotions where hundreds of cameras are already on you and your outfit. So the big Bollywood star went to the GQ best-dressed men with the comfiest outfit one can wear on media coverage, and that includes a classy silk nightgown, a careless T-shirt, a crazily printed PJ's and the incomparable fluffy Sylvester slippers which probably fulfills the fantasy of every kid.
↓ 13 –Blue Parka Yellow Tee, with Printed Pants
Ranveer Singh never fails to amaze us whenever he is out in public.  Whether it is his antics, interesting statements, sense of humor, or his quirky fashion sense; Ranveer Kapoor always manages to grab our attention. He loves playing with vibrant colors. Look at this fashion outfit in which he wore a bright yellow tee with printed pants and blue parka. In this outfit, you are not going to lose this actor even in a crowd!
↓ 12 – Outfit with Mickey Mouse Shirt
Who else can rock this funky Mickey Mouse shirt by H&M with a bow tie better than Ranveer Singh? His 'don't-give-a-damn' attitude is what sets him apart from the rest. This cute looking actor said he is just "Mickey Mousing at the #HnMStoreLaunch in Delhi 😉
↓ 11 – Shimmery Fish Scales Jacket
Ranveer Singh is highly confident about whatever he wears. This iconic Bollywood star stole the limelight when he wore this shimmery jacket that nearly resembled the fish scales. He rocked the evening with this sparkling jacket.
↓ 10 – 'Gully Boy' Look of Ranveer Singh
Every time you think his outfits cannot get any quirkier, well,  he will prove you wrong! Ranveer Singh owns his unique dressing style. Have a look at this quirky look of Ranveer Singh at the launch of Gully Boy's trailer where he wore this bright yellow puffer with a purple hoodie inside.
↓ 9 – Wedding Look of Ranveer
No one who adores Ranveer Singh can ever forget the stunning look that he created on his wedding. He wore an ivory white silk kurta with a dhoti for the ceremony. And everybody just loved the simplicity and subtlety of his wedding outfit.
↓ 8 – Reception Look
On his reception in Mumbai, Ranveer Singh wore a heavily and intricately embroidered gold and cream sherwani designed by Rohit Bal. He also carried a similar dupatta with it embroidered in golden thread work, which added a majestic touch to his reception outfit.
↓ 7 – Ranveer Singh Traveling Style
Give Ranveer anything and he will carry it all with style. He is looking utterly dapper in this grey suit that he paired with white sneakers to create a cool and unique look.
↓ 6 – Ranveer Singh Rajasthani Outfit
One must acknowledge the fact that what Ranveer Singh wears is his confidence. On the promotion of his famous movie 'Bajirao Mastani', Ranveer channeled his inner royal charm by wearing this tailored sherwani paired with a Ghaghara skirt. He accessorized this fashion outfit with tan strappy sandals to complete his experiment and he looked great in this Rajasthani outfit.
↓ 5 – Oh so Decent Look of Ranveer Singh
When it comes to decent attire and creating gentlemen looks, Bandhgala suit can be your best pick. Ranveer Singh looks so royal and decent in this Navy Bandhgala suit. He also wore a beautiful wristwatch and black leather shoes to enhance his elegance.
↓ 4 – Ranveer Singh in Striped Suit
Stripes can never go out of fashion and Ranveer Singh is the proof.  Also, when it comes to suits, strips always work best in giving outfits a stylish and sophisticated look. Ranveer looked so gracious in this navy blue striped suit that he paired with a white shirt, white sneakers and yellow-tinted sunglasses.
↓ 3 – Subtle Look of Ranveer Singh
Have you ever thought how Ranveer will look in a 3-piece suit? Well, just as his quirky fashion outfits, he cannot fail in making heads turn. He carries subtle looks too well. Ranveer looks so well-groomed in this black 3-piece suit paired with a white shirt, contrasting orange and black tie.  Well, this look is perfect to woe your fans. Now, this is an absolute gentleman look of Ranveer Singh.
↓ 2 – Ranveer Singh in Leopard Suit
Ranveer Singh always leaves us speechless with his jaw-dropping fashion statements. He is pretty good at catching anyone's attention even in a crowd.  Umang Police Show was no exception. He made a roaring entry in the head to toe leopard outfit. Designed by Varoin Marwah, Ranveer Singh wore this leopard outfit to create a stunning look. He accessorized this unique look with a pair of golden frames, which raised his quirk quotient.
↓ 1 – Ranveer Singh in Black Tux
Well, we all know how many receptions were arranged after the marriage of Ranveer Singh and Deepika Padukone. They arranged a third lavish reception in Mumbai to celebrate their wedding with their friends in the industry. On this occasion, Ranveer Singh looked ultra-classic in a Black Tux suit. He created this sophisticated groom look by wearing a black brocade jacket with a pressed white shirt and black bow-tie. Nobody couldn't take their eyes off this elegant couple throughout the reception.
Closing Thoughts
Ranveer Singh is not only known for iconic performances and energy but also for his unique and quirky sense of dressing sense. He never ever feels shy to experiment with his clothing and his appearances in public, events and social media pictures are the proof. Ranveer Singh has a never-ending quirky outfit which has made him a strong case who doesn't believe in gender norms when it comes to styling and outfits. Rather, he sets his own rules!
Now we have seen that when it comes to fashion looks, Ranveer Singh makes and breaks his own rules whenever he wishes. So, which one is your favorite look of Ranveer Singh? Do let us know in the comments section below!