Matching Outfits For Black Couples. If couples wearing matching outfits out in public is not love, we don't know what love is anymore. Looking at these couples holding hands and walking around wearing similar outfits is just too cute to handle. It really shows their commitment to each other and their relationship.
As a trend, wearing matching or complementary outfits has gained popularity in the last couple of years. You will find thousands upon thousands of images with couples twinning in cute clothes on social media platforms under the hashtag of 'couple goals.'
How To Twin In Matching dresses With Your Significant Other?
Moving on, if you and your significant other are people of color and, more importantly, belong to the black community, you're in for a treat. We've gathered up the cutest and most swag-inducing matching outfits for black couples. Our list includes casual outfits, formal outfits, full family outfits, vacation outfits, and many more. Couples who slay together, stay together, so get inspired and hop on to the bandwagon!
Dos and Don'ts of coordinating outfits:
Before deciding on twining you might want to make sure your partner is comfortable wearing
what you want them to wear. You don't want the coordination to come at the cost of your
partner's discomfort.
Try exploring more and more to find the latest trends as you might not want to waste your
resources on old trends. However, a small revival of past trends is something everyone loves!
Do crosscheck colors before purchasing because at times both the colors turn out different.
Do try out basic white and black outfits with your significant other but don't forget to try other
unique colors too. You never know what clicks!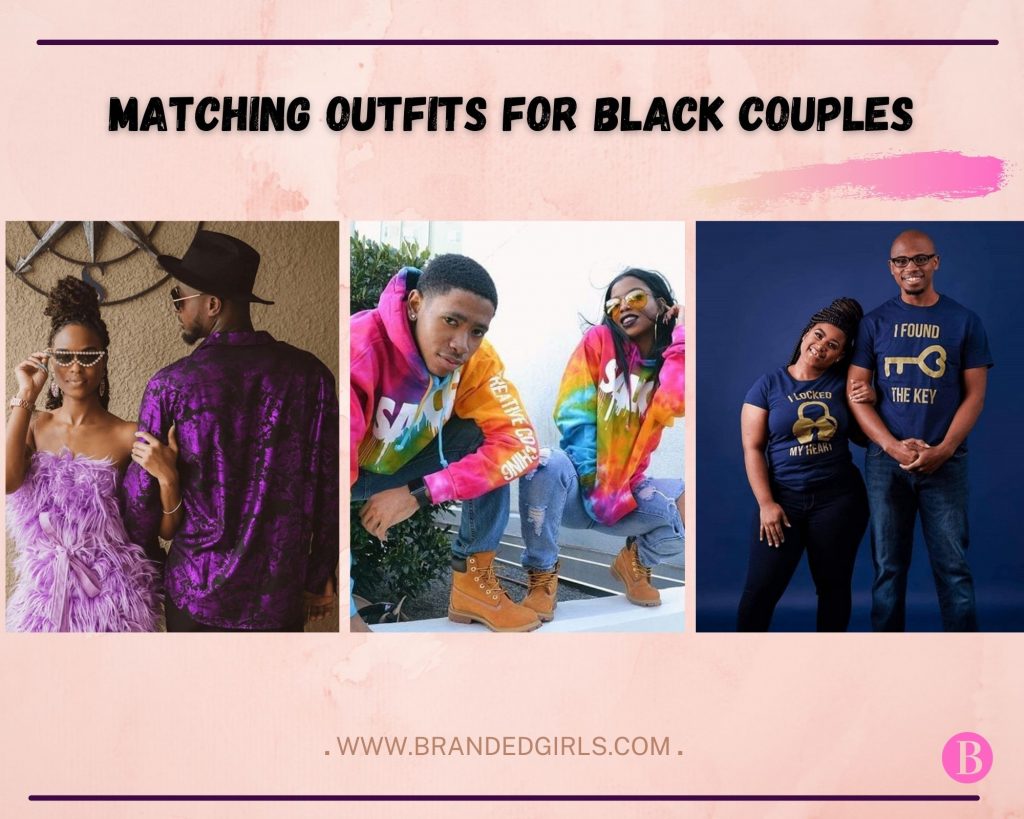 Okay, let's tackle some basic questions first!
Why Do Couples Coordinate Their Outfits?
There can be several reasons, but all of them stem from one big thing: your willingness to display your affection for one another and to prove that you can be flexible and considerate with each other. Happy couples dress alike!
Furthermore, there can be specific causes for the couple to wear similar outfits:
To announce their relationship if they've just entered into one.

To announce something major, for example, if the couple is expecting a child, they might wear 'First Time Mom' and 'First Time Dad' t-shirts.

To show appreciation for your partner's hobby or profession. Example: T-shirts that say 'One Lucky Fisherman' and 'Best Catch of His Life.'

To celebrate holidays together, like Valentine's Day.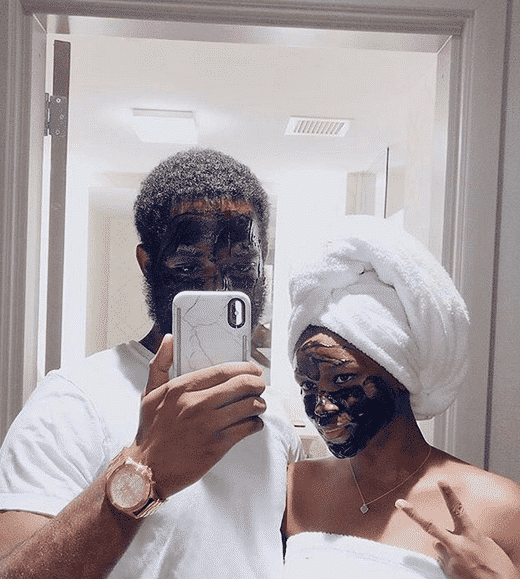 How Should Couples Match Their Outfits?
There are a few tips and tricks that should be minded in this respect:
Learn to work together. Respect each other's personal style and preferences and try to bend to the other's choices.

Don't compromise your individuality, but don't be stubborn, or coordinating outfits won't work for you.

Go shopping with your partner. It'll be an excellent opportunity to swap ideas. You might find something amazing together that works for both of you.

Be subtle about it. Don't overdo it.

Overmatching can sometimes be creepy, so go for 'coordinating' instead. This means wearing hints of a particular color in your outfit while that color dominates your partner's outfit, etc.
Head over to our earlier post about Best Mother-Daughter Ankara Outfits.
Where to Find Couple Outfits Online?
You can find some great pieces from the following online stores:
Finally, let us look at some fresh outfit ideas for black couples!
↓ 25 – Gymwear
Couples who work out together stay fit together, right? If you and your significant other are into exercising and living a healthy lifestyle, why not match your outfits while you're at it? Couple tracksuits are popular, and if you search on the internet, you can find numerous options on various websites. We think it's an excellent way to stay inspired and motivated to engage in physical activities. If one of you wants to perfect your body, the other can help out by working out with you in a matching gym outfit!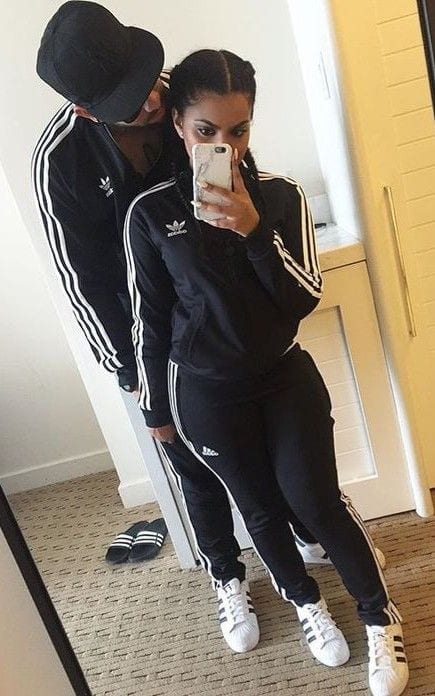 ↓ 24 – Rocking Rainbow Hoodies for African Couple
Rainbows are like an Instagram or Snapchat filter; they brighten and enhance and beautify anything they come into contact with. I don't think we need further proof that no other couple can pull off wearing rainbow neon colors as matching outfits and look utterly amazing than this dope pair here. So much swag in the picture, we love it!
↓ 23 – Matching in Maroon
The color maroon can be tricky to look good in, but looking at this couple wearing matching outfits in maroon gets rid of all the doubts we had with the color. The way they're doing it is precisely how it should be done. The couple is wearing maroon t-shirts and maroon shoes, paired with white pants. It's a subtle look, and despite the outfits being precisely alike, it doesn't give the impression of over-matching, which is essential.
↓ 22 – Twinning in Statement T-shirts
When you're a power couple, some people might get jealous, but some might look at you for inspiration. So the best way to kill it is to let your shirt do the talking. That way, you'll also give a clear message to the haters that the bond between you two is strong. Statement t-shirts kill two birds with one stone: you get to look stylish and get your message across. The couple in the picture has matched their 'talk less, do more' grey shirts with khaki pants, and two-toned funky shoes. We whole-heartedly approve!
You'll fall in love with Cutest Pictures of African Girls of All Ages.
↓ 21 – Casual Swag
We did not believe that this color could look so great on two people. You can tell at a single glance that the outfits are comfortable to wear. They are casual, yes, but the style factor is undeniable. The touch of red sets everything perfectly for the beautiful couple, don't you think? This bit of color blocking tells us that the couple knows how to set the style bar high. You can go strolling down the street or grocery shopping and set new couple goals.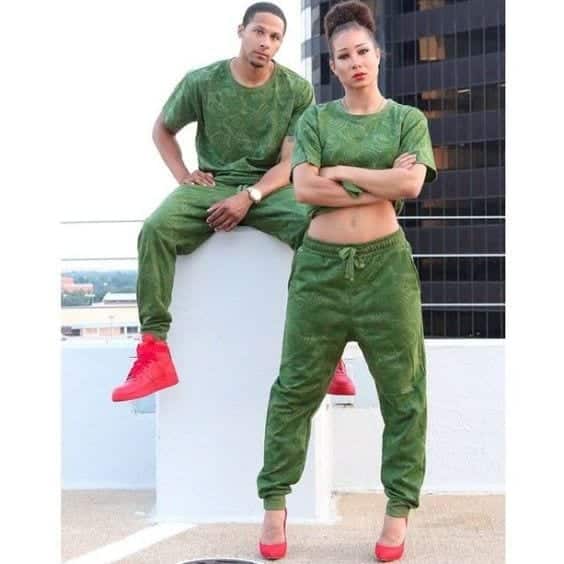 ↓ 20 – Boyfriend/Girlfriend Coordinating Ensembles
The combination of black and white is magnificent. The bold black color, in contrast with pure white color, literally takes your outfit to another level. And if your boo happens to match your outfit as well, nothing can possibly go wrong! This is an instance of coordinating and matching your outfits in equal measure. While on the one hand, the two shirts say the same thing, and the color theme matches, you can see how the girlfriend's ensemble is a feminine version of the boyfriend's. Her shirt is cropped, has baggier sleeves, she is wearing a skirt and white heels. The guy is in a typical shirt and pants attire.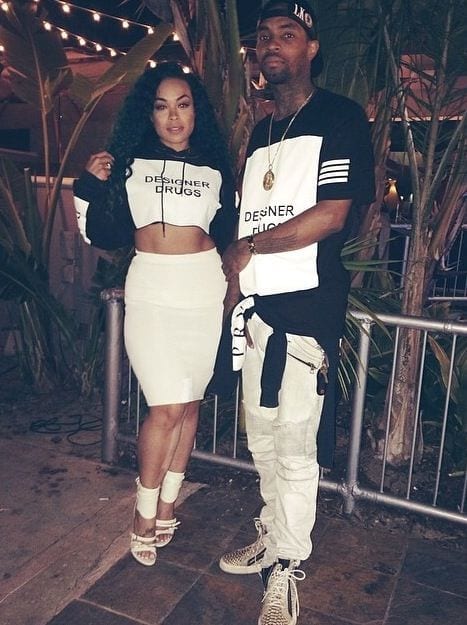 ↓ 19 – Matching Street Style
You don't have to match every single piece of your clothing with your significant other. You can keep it simple by wearing matching jackets that will look cool on either one of you and grab your favorite ripped skinny jeans and pose! Dark colors look especially becoming on dark people, and this shade of green is complementing both their skin tones. As street styles go, this couple's offering hits all the style marks.
↓ 18 – Teenage Couple Prom Outfits
Nothing tops a teenage couple wearing matching outfits to the prom. Who knows, you might be crowned king and queen! When you and your date to the prom decide to wear the same color-coded outfits, it is the most adorable thing ever. And the best part are the pictures you take while everyone is gushing over you guys and how you're winning the game. Here, the couple has decided to coordinate via color alone. Their outfits are entirely different, but because they both have coral red and nude shades, they match!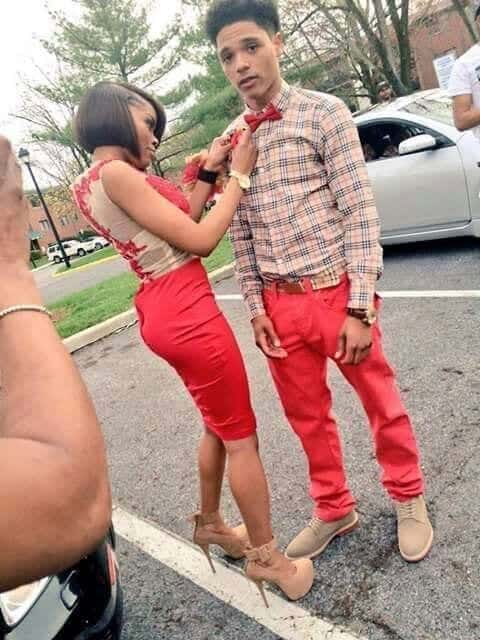 ↓ 17 – Matching Footwear
Oh, to be young and twine with bae! This is what older couples must think while heaving sighs of regret and longing, seeing their youngsters dress to impress. Like these teens below decided to wear all plain black outfits but matched each other with neon green sneakers. The color pops and attracts the eye, and we're all heart eyes and swoons over here. Thank you, lovebirds, for giving us some fantastic footwear inspiration.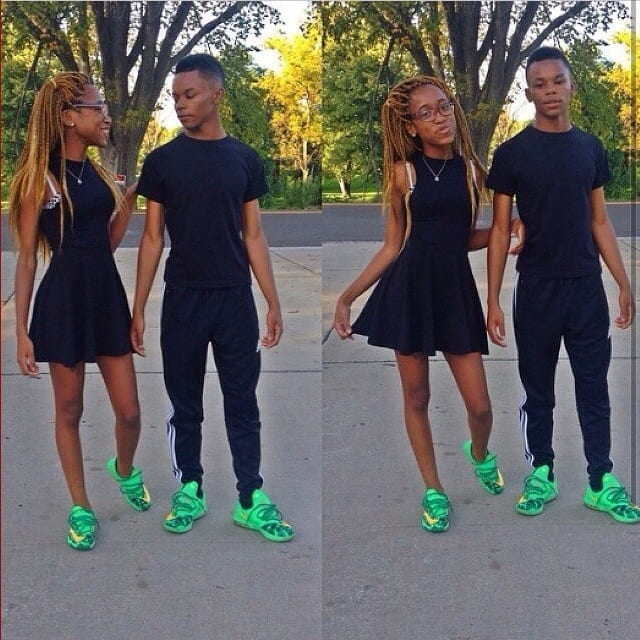 ↓ 16 – Harmonious White Wedding Ensembles
What better way to say 'in sickness and in health, till death do us part' than doing it in identical white wedding outfits? White is such a pure color that you can end up looking beautiful without a lot of effort. You will look angelic and ethereal, the white contrasting magnificently with your darker skin tones, and you will be turning heads wherever you go. Adding a pop of color here and there will liven your clothes up a bit.
↓ 15 – Be Patriotic Together! 4th July Matching Outfits For Black Couples
You and your partner can flaunt your patriotism proudly and with style. Just remember to avoid overdoing and add touches that cement your individuality. Wearing head-to-toe identical outfits is a fun practice, but it's not something that we recommend doing all the time.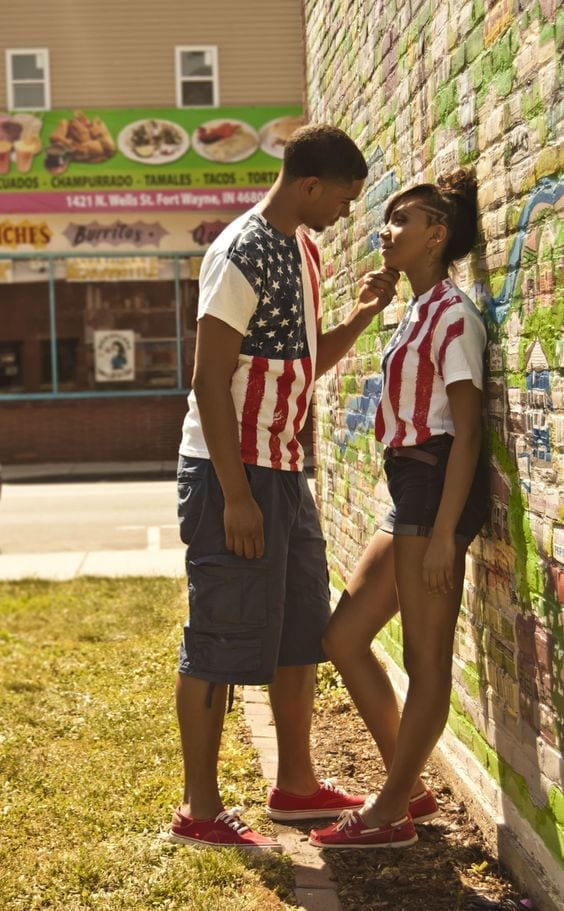 ↓ 14 – Funky and In Love Matching Outfits For Black Couples
It's always a good idea to pack in matching tees for you and your bae when you're out on a romantic holiday. Tees are not only comfortable but if you get a good pair, you can end up looking very cute together. The tees this couple is wearing is vibrant and funky. It also has an undiscernible message scribbled on top, but that is not the point of focus, the colorful pattern is. Guys usually balk at wearing something with a lot of color, but as you can probably tell, all the colors look stunning on both the boy and the girl.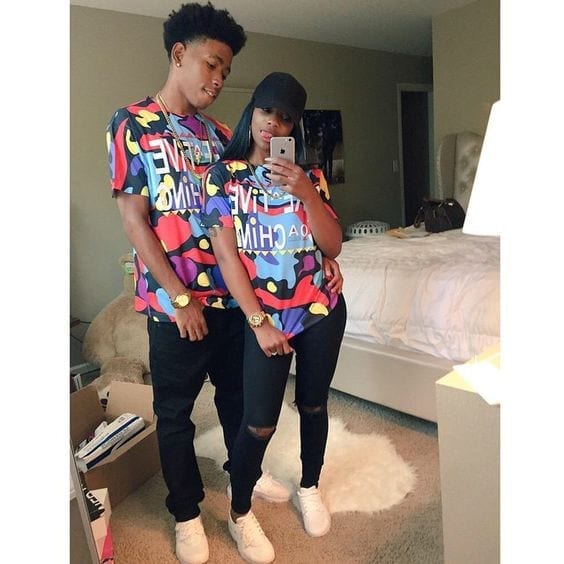 ↓ 13 – Dressy Couple
We haven't seen many couples slaying this color so marvelously. The lady right here looks jaw-dropping in that sexy olive green mermaid gown, but let's give some credit to the guy. He has coordinated with her by wearing a suit, which harmonizes with the color of her dress. It's some dark shade of green as well. His leopard print shoes also have identical color tone. We tip out hats to you both!
↓ 12 – Identical Kitenge Outfits
Traditional African clothing has gained popularity in the past decade as the world has realized the full potential of colorful fabrics and vibrant prints native to the African people. Among those, Ankara and Kitenge are the two most favored. Men and women use these prints to make dresses and suits and wear them with pride. You can check out these following websites for traditional African prints and clothing: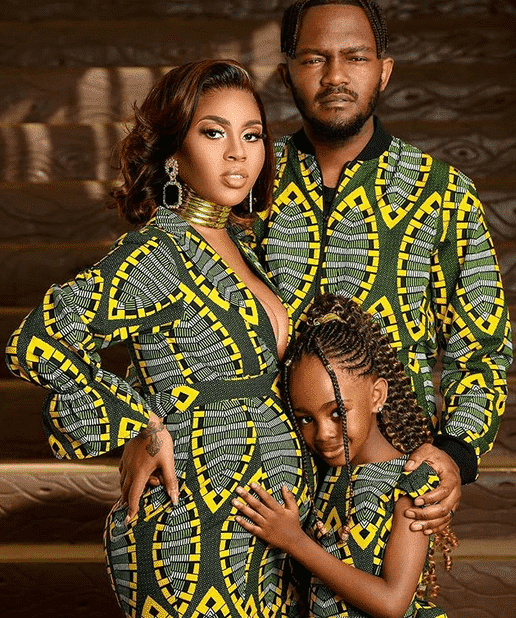 ↓ 11 – BAEcation Bathrobes
Now you can twine while on vacation too! All you need are bathrobes. They're all similar anyway, so there's no need to fret about the details. These two couples on a double date while on vacation wearing matching bathrobes is making us question why we're single.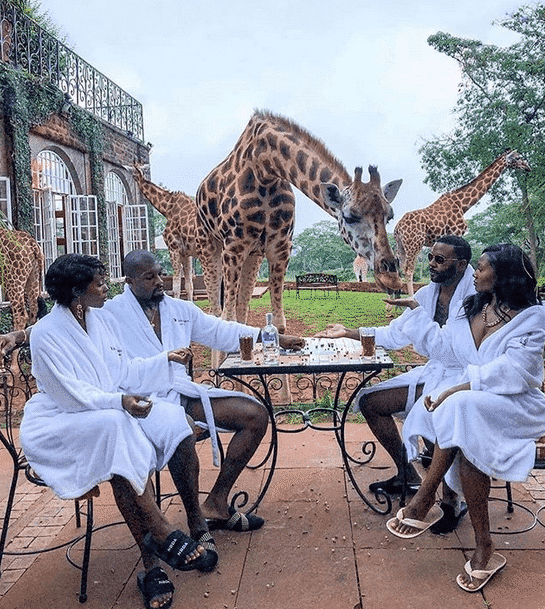 ↓ 10 – Couple Photoshoot in Matching Sleepwear
This couple decided to pose with their parents while each pair is sporting a silky set of identical sleepwear! That's two generations of people! We love the colors, stripes, and polka dots. We've already seen couples in streetwear, vacation, formal and casual garb, but twinning in pajamas is something utterly refreshing! The best part is that it's not terribly difficult to find such sets. They're readily available in online stores in men and women sections alike. Even if you don't find sets that match precisely, you can always coordinate by finding similar colors.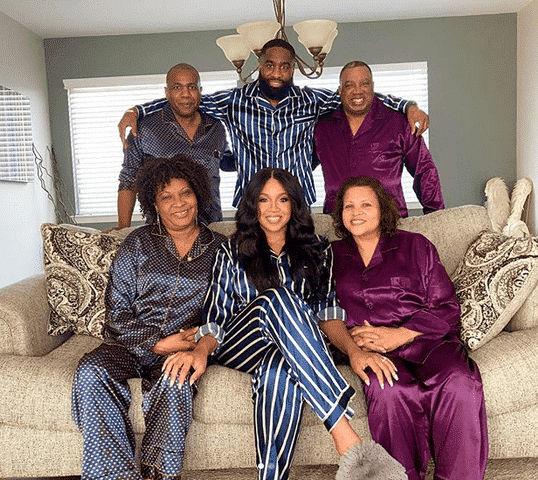 ↓ 9 – Duplicate Outfits for the Whole Family!
This is quite possibly the number one style you can easily outfit your entire family in, grown-ups, toddlers, and teenagers alike. All it takes is a couple of white t-shirts, distressed denim jeans, and sandals! This type of family twinning can never go wrong. You can match like this while out on vacation or enjoying on a beach. Let the world know that you're stronger together and that you'll be together forever!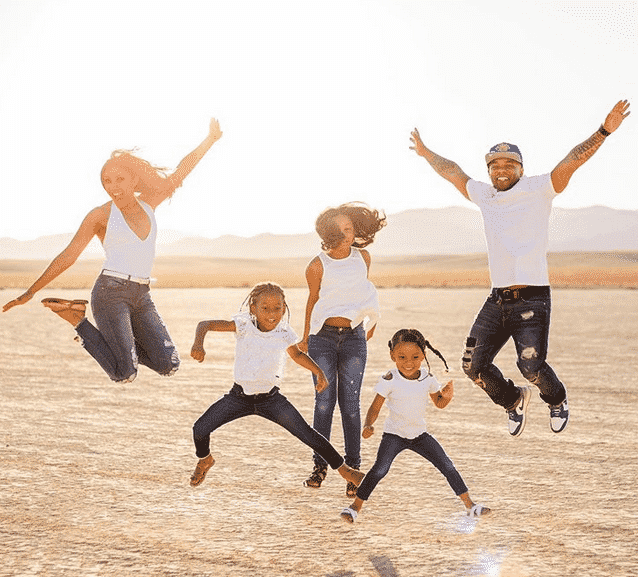 ↓ 8 – Purple Party Couple Outfits
In some countries, the color purple is used to signify status and position. It's a luxurious color that pops out and makes one look good. This couple looks dressed, ready to go to a party. Their coordinating purple ensembles are majestic and spectacular. The young couples can surely take in some inspiration from this couple for their prom nights! The type of outfits and the materials used are entirely different, but the similar color both are wearing binds them together and tells the world that these two are made for each other.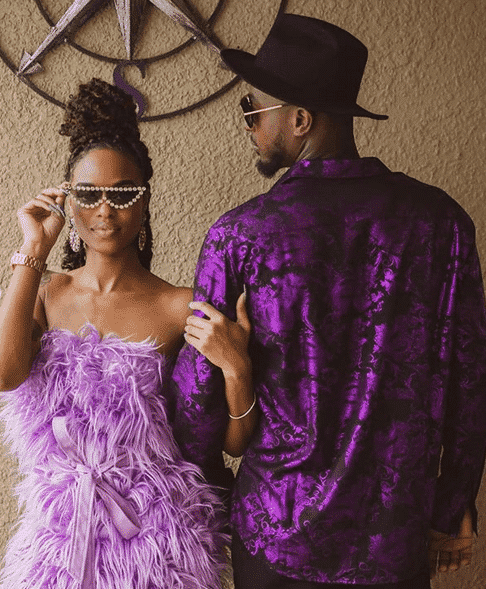 ↓ 7 – Relationship Announcement Shirts
A unique way for you and your partner to dress alike is to wear t-shirts like these. Each person wears a t-shirt whose message relates to the other in a fun and poignant way. These are pretty easy to find in online stores. With the increasing trend in announcing things online these outfits make one great post for announcing your relationship status. You can check out the links we mentioned above to find t-shirts such as these.
↓ 6 – Gangster Couple in Black Leather
We know we said head-to-toe identical ensembles result in over-matching, but we can't help but drool at how dope this couple looks in their leather jackets and shades.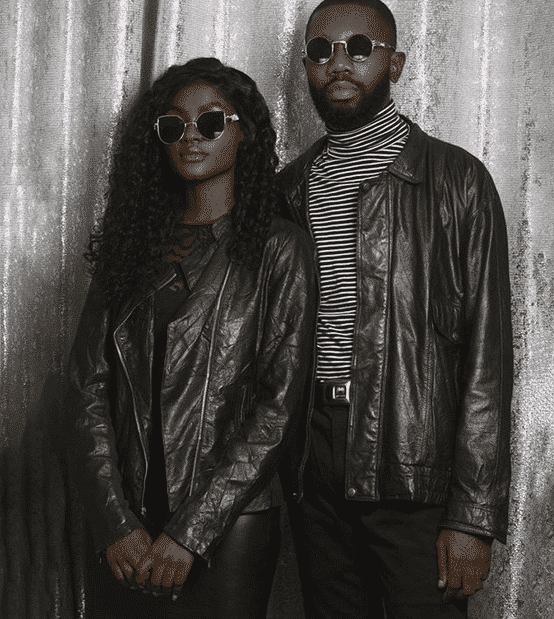 ↓ 5 – Coordinating Outfits for Older Couples
Obviously, elderly couples would look unseemly in loud colors and bright prints. Let's not forget, our elderly couples deserve some recognition and must come out of their dull color zone and try out some lush colors too. This lovely duo decided to coordinate subtly on Independence Day. You can see their country's flag colors in the man's uniform, while the same colors dominate the woman's dress.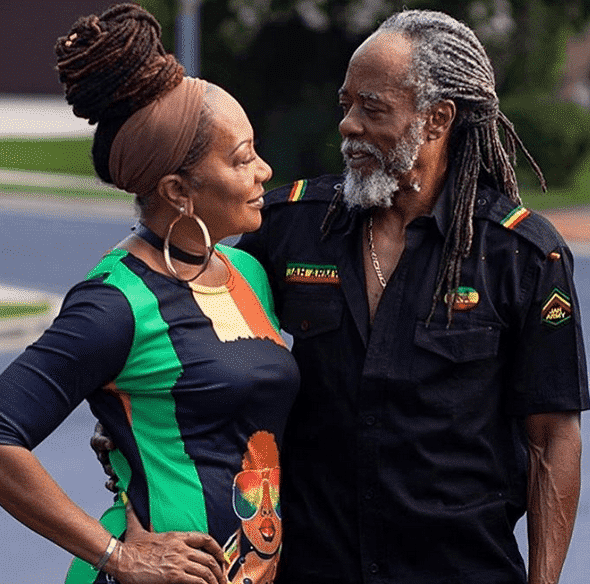 ↓ 4 – Engagement Outfits
This young Muslim couple decided to complement each other on their engagement day.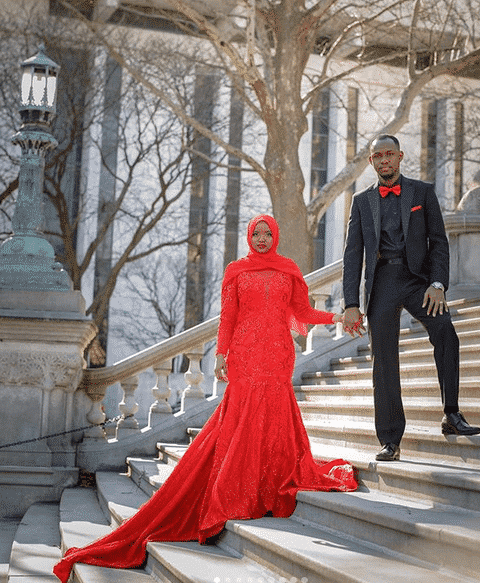 ↓ 3 – Chic Hipster Duo
The parents-to-be look serene in their matching nude-colored outfits.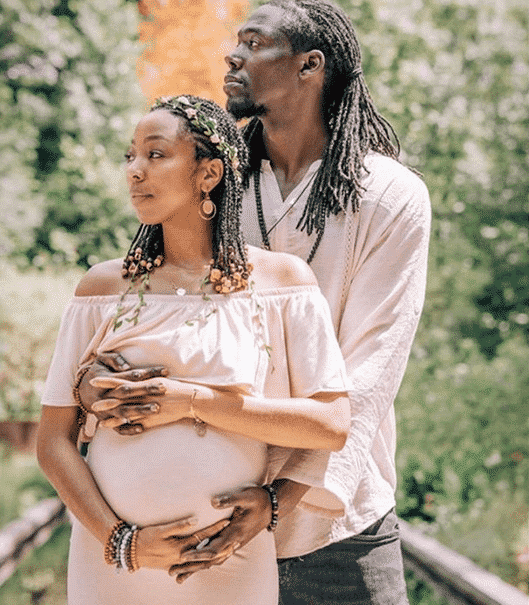 ↓ 2 – Playful Couple T-shirts
Who doesn't love Cheetos, right? Show the world how playful you two are in fun shirts like these.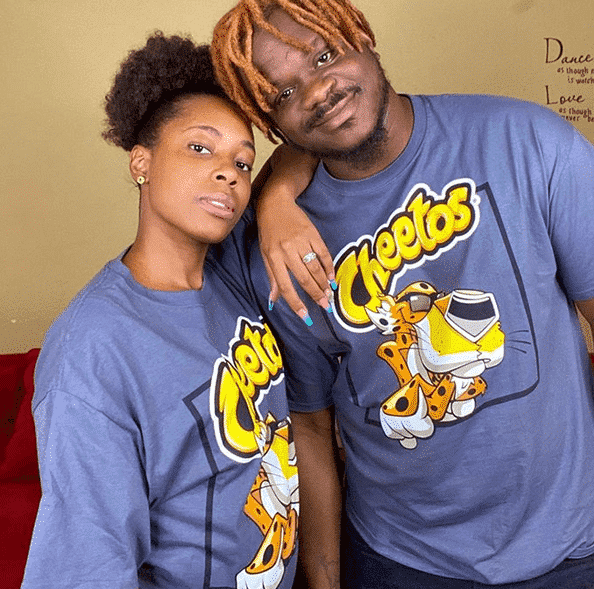 ↓ 1 – Quarantine Twinning
Black couple setting new goals for all of us out there looking to bring some cheerfulness and color in these trying times.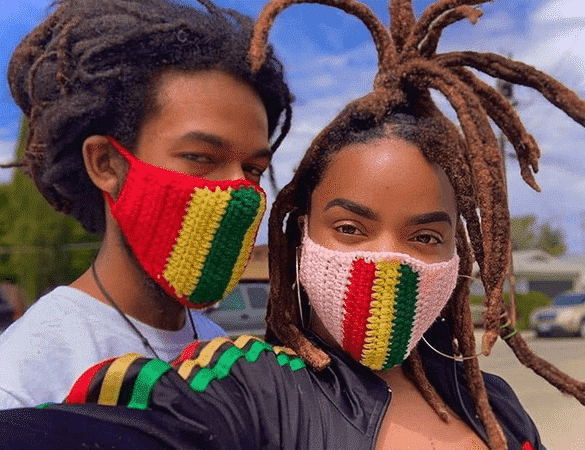 FAQs
Q.1 People say coloured people should avoid white at all costs. Is it true?

Definitely not! The so-called conception that if you got colored skin you should avoid white is wrong at
so many levels! In fact, black people look more attractive when they wear white just as shared in the
article.
Q.2 Where do we get these from?

You can follow up various Instagram pages and you will definitely find the right one for you and for your
mate! Otherwise, various Facebook pages do deliver some quality stuff. However, going out and
shopping together would be the best option and will surely give you an option to bond!
Q.3 For couples that don't work out and are socially outgoing what should be the best twinning outfit?

We would suggest getting some good quality twinning PJs and have a home photoshoot will surely reflect
the vibe! However, it is not important that you work out so that you get to wear the gym wear. You can
make your own vibe!