International Brands in India. With more and more fashion brands introducing as we are moving more into the technology, consumers, in general, are becoming more brand conscious. The brand name sells more than anything else in today's highly controlled marketing world.
The brand label satisfies an individual and consumers simply want to stay on top of every trend. Which is why brands are becoming competitive. People don't mind spending a few extra dollars on a product if it belongs to a brand that dominates other brands. Here are a few foreign brands that take the lead in India and Indians are quite addicted to the materialistic bliss they offer with their products. Don't miss out, try them now. You should also check out these 10 Most Affordable Indian Fashion Brands You Did Not Know About.
Most Famous International Brands Operating in India
Some of these brands include the leading American fashion retails such as Armani, Versace, Levi's and many other leading brands in the world that changed how we looked at fashion with their years of evolution and progress and the impact they had in consumers' lives.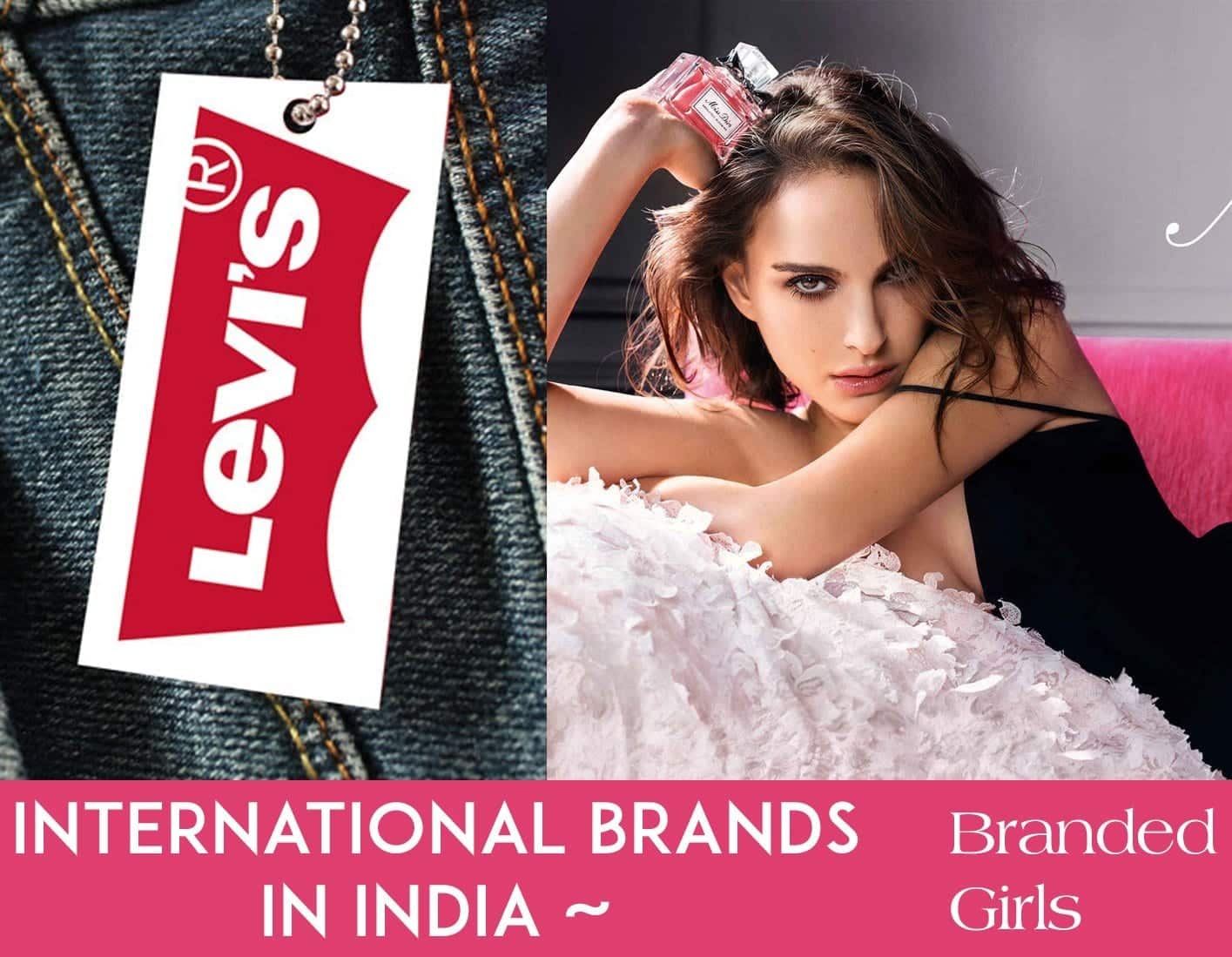 #10 – Levi's
The phenomenon of how a brand is known for a particular product it sells and that makes the brand stand out, such as Necos is known for its mesmerizing breakfast menu, or how the best place for burgers is Burger King, and that is exactly how a pair of jeans from Levi's is what you need in your wardrobe right now, or you will miss the utter experience of what a perfect pair of jeans is supposed to be like. Levi's sell for all men, women, and children, and sells all kinds of casual wear, party wear, formal wear. It has a number of stores in India and as you already know how strong the trend of jeans and casual wear in India is, which automatically take Levi's to the top. RECOMMENDED: Indian Celebrity Snapchats-25 Indian Celebrity Snapchat Accounts to follow
#9 – Park Avenue
For as classic and prestigious is its brand name sounds, its service is even more fulfilling and consumers seek nowhere else when it comes to formal wear choices. When it comes to wanting that impressive outfit for a presentation, when it comes to semi-formal wear for an office party, men, women think of Park Avenue as their guardian angel. Park Avenue also tops the rest in its perfume collection which includes some exotic and exhilarating fragrances for teens, while mildly subtle scents for adults. Other than that, you can't miss out on its catchy accessories such as sunglasses, shoes, socks, and more.
#8 – Lee
Lee currently caters clothing for only men and women and is on quite a peak with its business in India where it has high popularity among Indian youth, because of its dainty collection in jeanswear. It's a foreign American brand that originated in 1889 in Kansas. Its clothing retail mainly focuses on casual and work wear for men and women, and it originated with an aim to go international. The reason it's quite preferred is because of the durability it offers in its clothing that consumers may not find everywhere. Here are 23 Latest Indian Wedding Saree Styles to Try this Year
#7 – Pepe Jeans
Pepe Jeans is an American clothing retails that caters for only men and women. But the brand is currently working on introducing a series for kidswear very soon. It's practically the best place for jeanswear because it masters in not only producing the most authentic material but also have expertise in producing many kinds of style that take consumer's breath away. It has a flawless collection in party wear and also has good enough collection of formal wear and casual wear. If you are not already blown away, then you must know about its wide range of accessories such as sunglasses, handbags, footwear, wallets, etc.
#6 – Versace
Versace is known as the brand of uniquely flashy prints and bright colors that bring up good spirits. It is an Italian fashion retail that produces world class leather products which include the mesmerizing collection of shoes, handbags and more, at your disposal. Versace is the brand where consumers look up to when getting their hands on the best possible leather textile and products. Versace, in about 2011, collaborated with H&M to introduce a new clothing line that would be selling in the H&M stores. The store sold many consumer goods which included clothing, pillows, blankets, etc.
#5 – Dior
Dior is a French fashion retail by Christian Dior which is now owned by the Group Arnault. This fashion group is considered the world's largest ever luxury group that caters to the most fantasy-inspired fashion needs of consumers. It is currently headquartered in France and has about 210 stores throughout the world. It is considered the most luxurious brand of fashion for a reason and generated a current revenue of about $41.6 billion. It produces ready to wear garments, leather good, footwear, jewelry, perfumes, makeup and other beauty products. It is quite a beloved brand in India as well, as makeup trends are considered quite valuable there. RECOMMENDED: Indian Fashion Brands – Top 20 Indian Clothing Brands 2017
#4 – Wrangler
Wrangler takes the lead when it comes to best denim clothing. As it is particularly known for its classic denim that gives the consumers the most stylish and comfortable experience with it, in the form of classy denim jackets and authentic jeanswear. The one aspect where is has not started in yet is introducing formal wear. It only caters the party and casual wear and has significantly high consumer growth in youth.
#3 – Coach
#2 – Michael Kors
#1 – Emporio Armani
So Emporio Armani is everything you could expect from a foreign fashion brand that happens to be international, that happens to be a luxury brand, and that fulfills everything you want from clothing, makeup, and accessories. Yes, Emporio Armani is technically everyone's ideal brand that caters to clothing, makeup, jewelry, watches, shoes, ready-to-wear garments and haute couture. It's also one of those brands that Indians hold close to their hearts and has considerably more growth among celebrities who find no other place for shedding some swag other than Armani and they have a good enough reason for that.