Fawad Khan Pictures. Fawad Khan is surely known for his remarkable acting skills as well as his newly emerged recognition and popularity in Bollywood – but what really sets him apart, is what we all know, are his undeniably good looks, which seems to be getting better and better the further he ages as happens with a whole lot of celebrities.
Fawad Khan is the true definition of good looks with brains. He has shown his talent in the multiple serials and movies that he has worked on while showcasing his delightful personality during promotions and interviews. He has also recently started his own talk show on 23 News, where he interviews his fellow celebrities. He is a one-person show, having many skills and qualities.
Latest & Hot Images of Fawad Khan
He is one hot and talented man! That is exactly why we have compiled this list to showcase his amazing good looks while also promoting his talent and all the amazing work he's done. Here are the top 30 most stylish and catchiest pictures of Fawad Khan ever to exist, the snaps which have captured his most angelically glamorous expressions. So, have a look and escalate your love for the 38-year old heartthrob!
About Fawad Khan
Basic Facts about Fawad Khan:
Age: 38 years
Date of Birth: 29 November 1981
Height: 5 feet 10 inches
Zodiac Sign: Sagittarius
He came into the industry by starting his acting career with the series Jutt and Bond. After the show ended, he formed a band with his co-stars called Entity Paradigm. He was the lead singer in this band, and his band made it to the finale on Pepsi Battle of the Bands in 2002. He made his film debut in 2007 with Khuda Kay Liye. 
He got his big break in 2011 after he appeared in Humsafar in 2011. He and his co-star Mahira Khan became a hit overnight, and their couple is still the hottest one in the Pakistani acting industry. In 2012 he appeared in the TV show Zindagi Gulzar Hai alongside Sanam Saeed. He gained even more popularity from this show and is now one of the most well known Pakistani actors.
Awards and Achievements: 
He has won multiple awards for his talented work. These include Lux Style Awards, Hum Awards, Masala Awards, Star Guild Awards, Filmfare Awards, and ARY Film Awards. He has also been nominated for multiple other awards.
Are you a Fawad Khan's fan? Have a look at the Best Dressing Styles of Fawad Khan.
Married Life of Fawad Khan:
He married his wife Sadaf Khan in 2005, with whom he has three cute kids. Fawad Khan is not less than a family man. So far Fawad and Sadaf make the most adorable couple in the town, have a look at their picture below.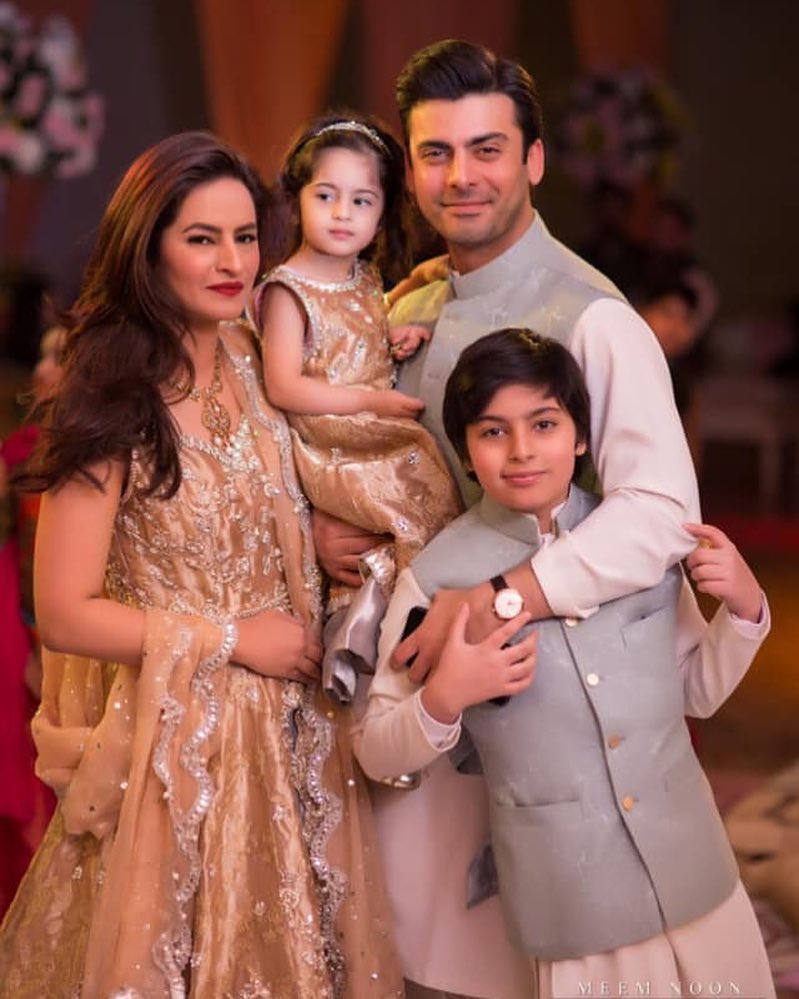 ↓ 30 – The Look from Humsafar that Stole Everyone's Heart
The dreamy hair, the smile, and the deep look in his eyes are what attracts the audience so much to most of his new shows and films. Fawad Khan is one of the most handsome men on this planet, and it is evident by these pictures and his fan following.
↓ 29 – Fawad Khan Stern Look
The stern look that he is adapted to take on in many instances of his TV performance to depict his seriousness about an issue is such a natural element of acting. Here he is seen wearing it during a photoshoot, and we love it!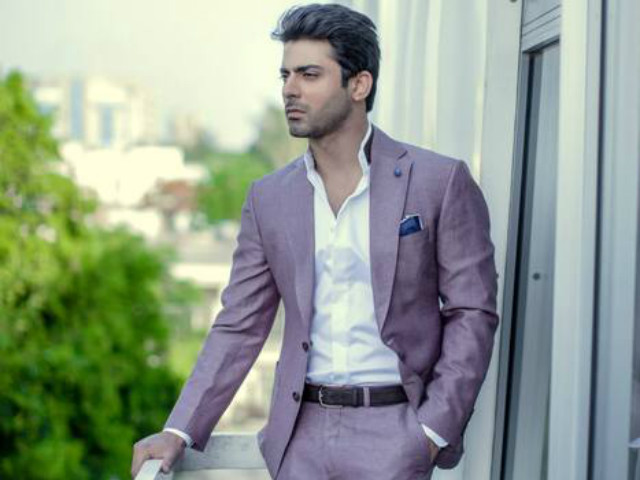 ↓ 28 – Princely Style from Khoobsurat
The look that makes him appear like possibly the most sophisticated and calculated person there is, in every possible situation! He was playing a prince in the movie, and he had been dressed according to that. We must say he looks amazing. How awesome are that beard and that hair!
Have a look at our earlier post about Fawad Khan's Hairstyles.
↓ 27 – Latest Picture During Maula Jatt's Shoot
He was asked to gain some weight for his role in Maula Jatt. You can see that he still looks as amazing as ever with his perfectly messy hairdo. He is dressed casually and still looking amazing.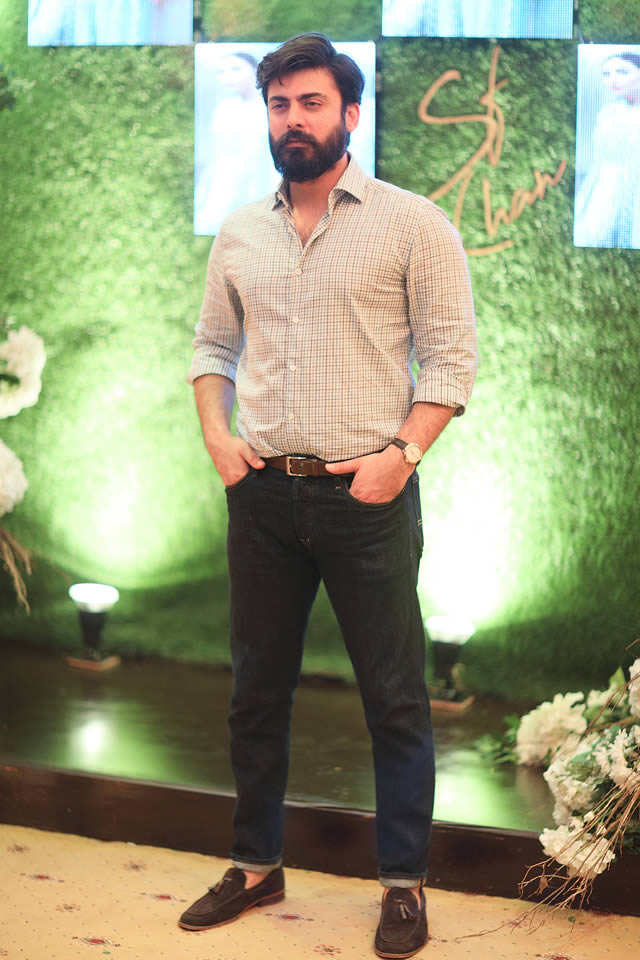 ↓ 26 – Fawad Khan and Alia Bhatt on the Cover of Filmfare
On the cover of Filmfare with his costar Alia Bhatt, both look extensively cute and appealing. His movie Kapoor and Sons was a huge success. He starred alongside Alia Bhatt and Siddhart Malhotra in the film and was praised for his portrayal of a closeted gay man.
Also, have a look at Alia Bhatt Outfits-32 Best Dressing Styles of Alia Bhatt
↓ 25 – Click from a Dapper Photoshoot
The model's style has got to showcase his most stunner swag and ends up looking absolutely stylish and gobsmacking human to roam on earth. And as we know, Fawad is just impeccable at that.
↓ 24 – Fawad Khan's Smile
All the times when the unbelievably younger-looking 34-year old flashes his millionaire smile in front of his fans, and everyone absolutely falls for his every single look and everything he's done in his career on TV. This look of his is ideal for winters, and we can see he looks amazing all year round!
↓ 23 – A Perfect Side Profile
Like his every other look, Fawad Khan happens to be a nailer at his side looks and impressions and manages to look his best no matter what the pose he is putting on. This close up picture really shows his good looks and precise hairdo. His beard and hair are always cut and styled perfectly, and we think that is very admirable.
↓ 22 – Fawad Khan During the Kapoor and Sons Promotions
This picture effortlessly gives him the impression of all the strong entrance scenes in movies that take a moment to the climax, and surely he did one great of a job in proving that he could too. His outfit is simple yet so amazing. His look and efforts during the Kapoor and Sons were just as perfect as his film's performance.
↓ 21 – Admirable Look from Maula Jatt 
The look of expressionism takes its different forms when it comes to the multi-talented Fawad Khan. And it is surely his efforts in this area that are increasing his net worth at such a high pace because of his ability to adapt to nearly everything. His role in the movie Maula Jatt is just proving that he can do all kinds of roles and is not the owner of shallow talent.
↓ 20 – Who Said Pink is Only for Girls?
He is seen here defying all societal and fashion norms by putting together an outfit that isn't traditional yet looks really dapper. The combination of the pink pants with the blue oxford style sweater is looking handsome. At the same time, the addition of the blue tie with pink polka dots brings the outfit together by merging the two contrasting colors.
↓ 19 – Disheveled Look in Classic Photoshoot
This photoshoot of his is our ultimate favorite just because he looks messy yet hot. It is the effortless perfection that really blows our minds.
↓ 18 – The Zindagi Gulzar Hai Duo Looking Fab
Fawad Khan and Sanam Saeed look ethereal in this photoshoot that they did to promote their TV show. The show was loved by people of all ages in the subcontinent and is still watched to this day. It really has a remarkable story!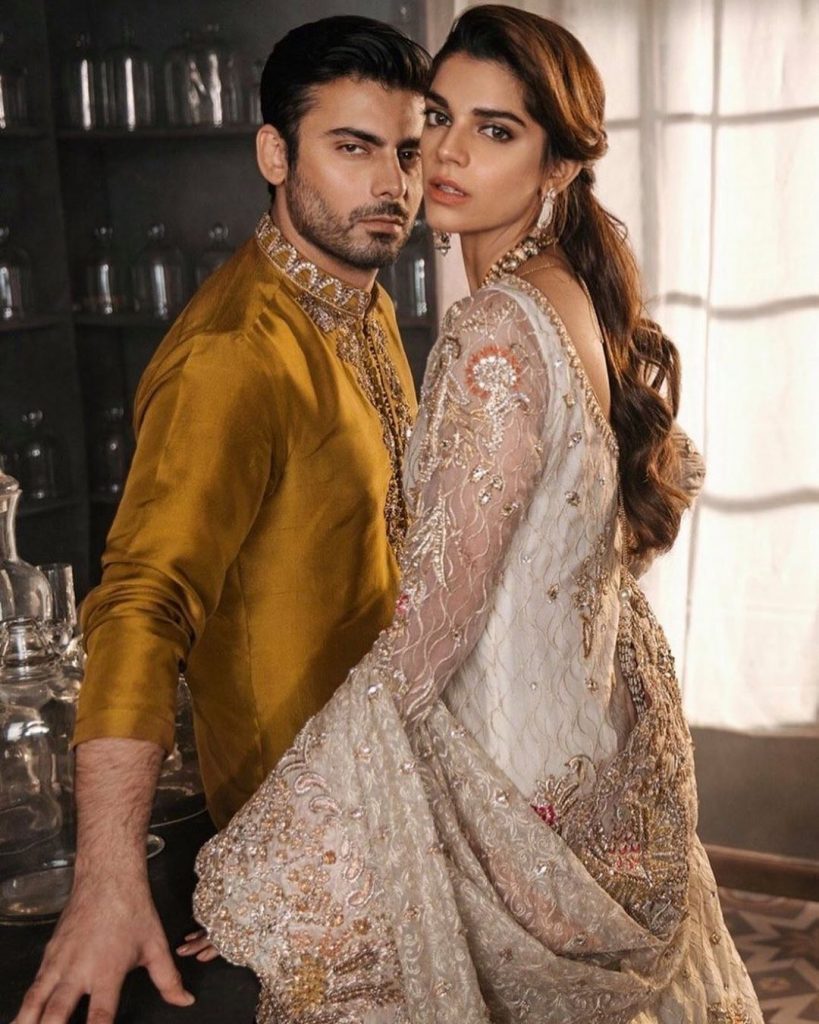 ↓ 17 – Adorning a Mischievous Smile
The one where he flashes his most mischievous and genuine smile, the one which results in high ratings of his TV shows, although it isn't the only reason. His talent and expertise at what he does are why he has achieved all the highs in his career.
↓ 16 – Fawad Khan's Swagger Style
This simple blue suit is one that many men wear, but no one can pull it off like Fawad Khan. His aura is made for television and modeling, and we think it is apparent from his pictures in this article.
↓ 15 – The Smile That Melts Our Heart
His smile is sure to win your hearts just as it has ours!
↓ 14 – Fawad Khan and Deepika Padukone
Deepika Padukone is the queen of Bollywood, and Fawad Khan is the king of Lollywood, so it is obvious that they should both be seen together at some point. And that happened during a fashion show, as can be observed below!
↓ 13 – Nighttime Casual Shoot
This shoot of his is a little older, but he looks just as dashing here as he does today!
↓ 12 – A Hot Nerdy Look
Who said nerds couldn't be hot? Here we have evidence that nerds can be just as good looking and appealing as bad boys!
↓ 11 – Sophisticated Smile Making Us Swoon
Fawad Khan is truly aging like fine wine. Getting even better, looking like the time is going on.
↓ 10 – Piercing Eyes are Making Us Feel Some Kind of Way
It is not rather a new one, but nevertheless, an equally chic one with a rather distinct hairdo that he's never been seen with before. This photoshoot portrays him as a prisoner, and we think his expressions bring that vibe into the picture.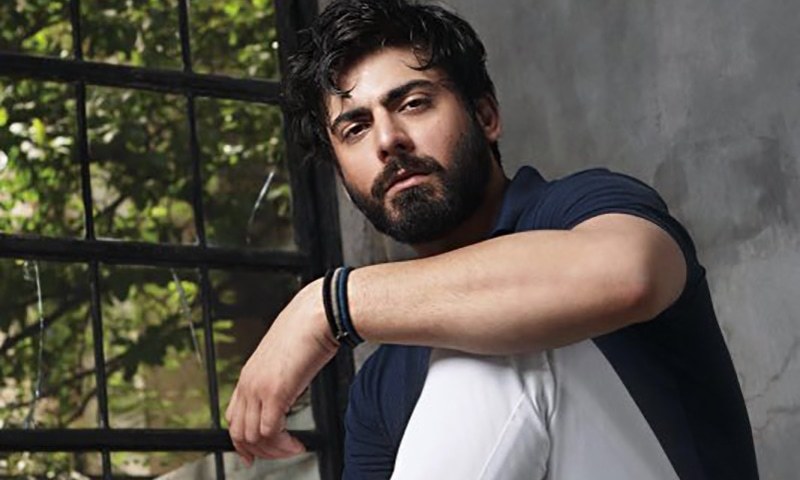 ↓ 9 – Couple of the Century
Mahira Khan and Fawad Khan are the best couples in Lollywood, and there is no denying it. Here is a snapshot of them from an ad campaign that drove people crazy!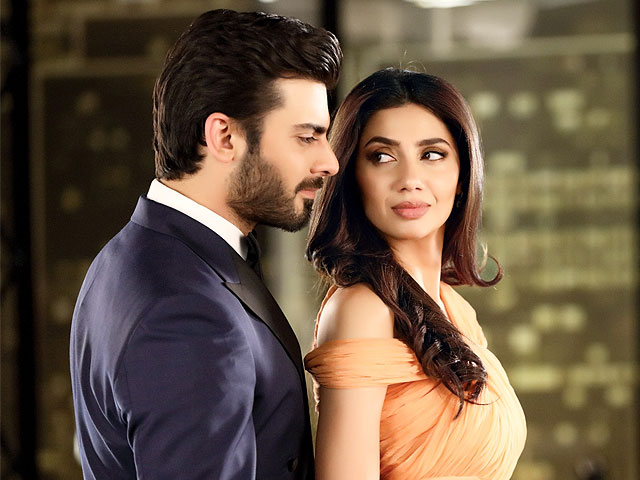 ↓ 8 – Casual Street Style
This casual street look of Fawad Khan is great for outfit inspo if you are looking for any!
↓ 7 – Fawad Khan's Nicest Hairdo
Here he looks highly sophisticated and dazzling, portraying his true personality. No wonder he has got the talent to take over any look that he finds interesting, from professional, sophisticated, stylish to artistic and what not.
↓ 6 – Old School Photoshoot
This photoshoot is giving us major Peaky Blinder vibes. He is really resembling Thomas Shelby, but we think he's done it way better!
↓ 5 – Fawad Khan and Kareena Kapoor
As you might already have noticed, that the 38-year old perfectionist looks stunner no matter who he is working with and blends in like a boss. The same can be seen here in this image with Kareena Kapoor.
↓ 4 – Fawad Khan Black and White Photography
This black and white picture is from the sets of Zindagi Gulzar Hai. He looked especially handsome in this serial where he played a playboy, and we can see why women would love him!
↓ 3 – An Old Click
This is an old click of Fawad Khan that clearly shows his natural good looks. People are obsessed with younger versions of famous hot celebrities like Brad Pitt and Johnny Depp, and we think soon they will also be smitten by a young Fawad Khan!
↓ 2 – Eastern Vibes
His style that he only adopted for a shoot shows that he can look good no matter what!
↓ 1 – Airport Look
His airport look is something to die for! His picture was clicked pre covid times during which celebrities couldn't hide their faces behind monochromatic masks and fans could take a peek of them. This simple airport look of his will give you an insight into his life and how he dresses when traveling!
Frequently Asked Questions About Fawad Khan
Q. What is Fawad Khan doing now?
A. Fawad Khan is currently hosting his own talk show on 23 News. This is a virtual talk show for now due to the Coronavirus Pandemic (COVID-19). The talk show features him interviewing his fellow celebrities and friends. Since his guests and he are familiar with each other, the flow of the conversation is very smooth, and it feels like you are watching a few old friends just hanging out. It's definitely worth the watch!
Q. Is Fawad Khan diabetic?
A. Fawad Khan was diagnosed with Type 1 Diabetes when he was only 17 years old. He has said this was due to an autoimmune disorder that he has.
Q. Who launched Fawad Khan in Bollywood?
A. Fawad Khan debuted in Bollywood in the 2014 film Khoobsurat along with co-star Sonam Kapoor. The film was produced under none other than Disney by  Shashanka Ghosh. This is what launched his career in Bollywood, and he went on to appear in Karan Johar's Ae Dil Hai Mushkil. However, since then, he hasn't worked in any Bollywood films due to Pakistan and India's not-so-sweet political relations.