In Ukraine, fashion reigns supreme, and brands aplenty, a stylish dream. This country is a melting pot of different cultural influences.
Ukrainian designers are making waves globally with their creative approach and unique style. From stunning embroidery patterns to the use of natural materials, their fashion is an authentic reflection of the country's diverse heritage.
It's fresh air in a cookie-cutter fashion world, celebrating individuality, diversity, and cultural identity. So if you're as inspired by Ukrainian fashion as us, we have some famous brands in our list that are worth checking.
How We Decided?
Creating a list of the best Ukrainian fashion brands was a challenging yet exciting task that required us to have a keen eye for fashion and a genuine appreciation for fashion. We spent considerable time exploring the country's fashion to identify the top brands pushing the boundaries of fashion design and elevating the industry through different practices such as high-quality collection, ethics, and sustainability.
Our fashion experts carefully analyzed numerous collections, examining different brands and their quality, aesthetic appeal, and cultural significance. We searched for brands that not only showcased innovative fashion design but also demonstrated a commitment to making a positive impact on the fashion industry as a whole.
I would also recommend that you check out our previous post on Most Successful Celebrity-Owned Clothing Brands.
We selected a range of brands, from those with minimalist-chic styles to avant-garde designers. Each chosen for their unique contributions to Ukraine's iconic fashion industry and their potential to impact the global fashion scene. We are proud to present this list as a celebration of the beauty and creativity of Ukrainian fashion.
What are the Top Clothing Brands in Ukraine?
You may not think of Ukraine as a prime fashion market when thinking of world-famous designers. However, the country has grown to make a significant mark in the international fashion scene. The country's streetwear brands have brought forward a fresh and unique perspective on contemporary styles and trends.
With these designer brands, you can experiment with an exotic mix of Eastern European heritage and modern design sensibilities.
1. Ksenia Schnaider
This trendy fashion label was founded by designer Ksenia Schnaider and her hubby Anton Schnaider. What makes Ksenia Schnaider stand out is their unconventional designs that break the mold of traditional fashion. They're all about taking risks and creating unique pieces that challenge the norm.
Their clothing combines old and new, featuring traditional craftsmanship with modern materials and techniques. From denim to luxurious silk dresses, they've got a little something for everyone.
The brand gained international recognition for their "demi-denims," which are denim jeans that are half-jacket, half-pants, and their "denim fur" collection, made by upcycling old denim and giving it a fluffy, faux fur-like texture.
Signature pieces:
The brand offers a range of contemporary designs for women that include dresses, skirts, pants, and blouses
Wide selection of trendy denim pieces, oversized jackets, and trench coats that are perfect for layering
The KS brand is particularly known for its sustainable practices, using upcycled denim and environmentally friendly production methods
If you value sustainability, you must check out these Eco-Friendly Clothing Brands.
Best for: denim clothes for women
Price range: $250-$800
2. Foberini
Explore Ukraine's beauty and cultural richness with Foberini, a renowned fashion brand that blends traditional embroidery and motifs with modern designs. Established in 2014 by visionary designer Oksana Zmorovych, Foberini aims to preserve and promote Ukraine's heritage through comfortable and fashionable clothing and accessories.
Crafted from premium, natural materials like linen, cotton, and silk, Foberini's collections showcase exceptional embroidery and other decorative elements from skilled artisans. Drawing inspiration from traditional costumes and folklore, Foberini's collections are a stunning fusion of classic and contemporary styles, catering to both men and women.
With an uncompromising dedication to quality craftsmanship and an eye for detail, Foberini has earned global recognition, showcasing its collections at fashion events in Paris, Milan, and New York and being featured in top fashion publications.
Signature Pieces:
Among their many creations, Foberini's signature pieces are their midi dresses with balloon sleeves.
What makes these dresses even more special is the intricate embroidery with beautiful flower patterns that adorn them. The embroidery is a nod to the traditional Ukrainian style but with a modern twist.
Best for: Midi Dress, floral maxis
Price Range: $340-$1840
3. Litkovskaya
Litkovska is a high-end brand selling everything from basic t-shirts to statement coats. It is one of the best brands if you prefer bold colors and defined silhouettes. The brand's designs are both daring and wearable, making them ideal for fashion-forward individuals who are looking for something different.
Litkovskaya is recognized internationally for its unique and edgy designs. Established by designer Lilia Litkovskaya in 2009, the brand has become synonymous with avant-garde, contemporary fashion pushing traditional design's boundaries.
The brand offers a wide range of women's clothing, including dresses, skirts, pants, jackets, and coats. The designs are characterized by bold shapes, unconventional cuts, and unexpected combinations of textures and fabrics. The brand also utilizes high-quality materials such as silk, wool, and leather, ensuring that each piece is visually stunning and comfortable.
One of the advantages of Litkovskaya is its commitment to sustainability. The brand uses eco-friendly materials and production methods, making it an ethical choice for fashion-conscious consumers. The brand also sources its materials locally, supporting Ukrainian artisans and businesses.
Signature pieces:
The brand's signature pieces include oversized coats, draped dresses, and deconstructed suits.
Its hottest-selling piece is the "Plissé Skirt," which features a unique pleating technique that creates a beautiful texture and movement.
Every piece from this brand features intricate embroidery and interesting fabric combinations.
Best for: bold coats and suits with adventurous silhouettes
Price range: $300 to $2000
4. BEVZA
BEVZA is a brand that exudes elegance and sophistication. The brand was founded by Svitlana Bevza in 2006 and has become known for its timeless designs, high-quality materials, and traditional craftsmanship. The minimalist aesthetic and focus on quality and sustainability make BEVZA a favorite among fashion insiders and celebrities.
If you are looking for clothing brands that specialize in minimalistic designs made from high-quality materials, Bevza is the answer for you. You can shop for a range of clothes here, including dresses, blouses, pants, and skirts, all of which feature clean lines and understated details. A monochromatic palette is the standout feature of this brand. From evening wear to everyday dresses, there is something for everyone.
BEVZA's collections are characterized by clean lines and understated elegance, focusing on pieces that can be worn for years. The brand's devotion to sustainability is apparent in its use of locally-sourced materials and the support of local artisans and small businesses.
BEVZA has earned international recognition and featured in top fashion publications such as Vogue, Harper's Bazaar, and Elle. Its designs have been worn by celebrities such as Gigi Hadid, Bella Hadid, and Emily Ratajkowski, solidifying its place as a high-end fashion brand with a global reach.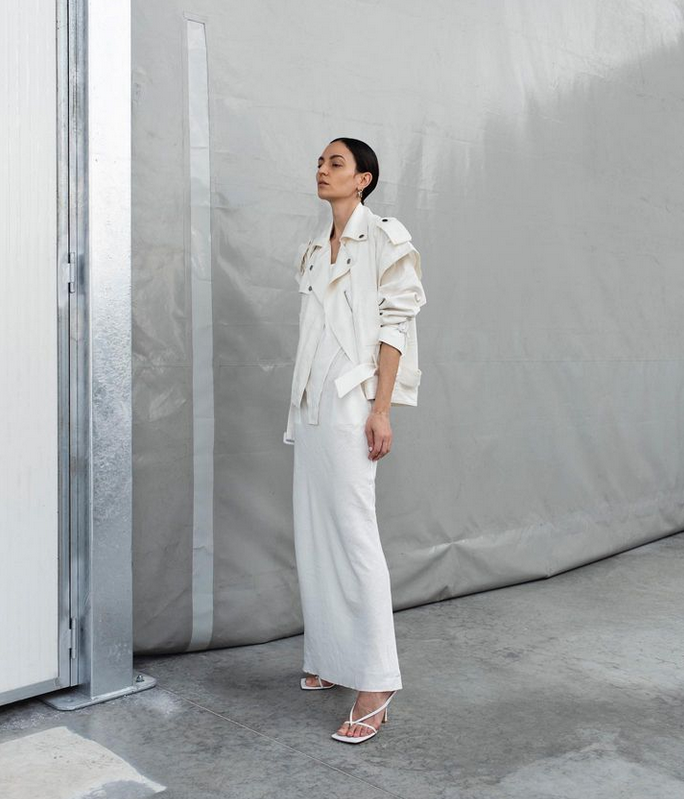 Signature pieces:
The choice of material ranges from simple, organic cotton to luxurious cashmere, silk, and leather
Bevza pieces are classic and timeless and will adorn your wardrobe for a long time.
Best for: classic dresses in monochromatic palettes
Price range: $150 to $1000
5. Vita Kin
Are you ready to be taken to a world of vibrant colors, intricate embroidery, and artisanal craftsmanship? Look no further than Vita Kin, the brand taking the fashion world by storm!
Founded by designer Vita Kin, this brand draws inspiration from centuries-old artisan traditions, incorporating them into modern, eye-catching designs that turn heads. Every piece is imbued with authenticity and attention to detail, from oversized blouses with large collars to midi-length linen dresses.
What sets Vita Kin apart is its commitment to small-batch production at the brand's workshop in Kyiv. This ensures that every piece is created with the utmost care and craftsmanship, resulting in high-quality garments that are both unique and timeless.
Signature Pieces:
Their signature pieces include 100% linen dresses that are both stylish and comfortable.
Their best-selling items are their midi dresses, perfect for any occasion.
The brand also features beautiful kimonos with Ukrainian touch.
These dresses are adorned with decorative stitching, adding a unique and intricate touch to the overall design.
Best for: Embroided midi and pleated dresses
Price Ranges: $330-$2,250
6. Sleeper
Sleeper, a fashion brand established in 2014 by Kate Zubarieva and Asya Varetsa, has gained recognition for its sophisticated and versatile clothing for women. Infused with a modern edge, Sleeper's designs are inspired by classic silhouettes and vintage styles, offering a unique and effortless elegance that stands out from the crowd.
Using only the finest natural fabrics such as linen, silk, and cotton, Sleeper's collections embody a harmonious balance of comfort and style. Their iconic loungewear sets, dresses, jumpsuits, and separates are perfect for casual outings or dressed up for more formal occasions. The brand's playful accessories, such as feather-trimmed slippers and charming headbands, add a delightful touch to any ensemble.
Sleeper's unwavering commitment to sustainable and ethical production practices makes it exceptional. The brand prides itself on using biodegradable materials and has an open and transparent production process, resonating with conscious consumers.
This brand took pajamas from a nightwear to a casual clothing style that could also be worn outside the house. It features soft, silky, and delicate pajama sets adorned with feathers to give it an extra touch of luxury. 
Signature pieces:
The hottest-selling piece for Sleeper has been its puff-sleeved set
Its linen designs are also very popular
Besides this, the brand also sells cardigans, jumpsuits, and shoes such as satin-ballet flats.
Best for: luxurious and comfortable sleepwear
Price range: $200 to $600
7. Poustovit
Poustovit is a brand specializing in elegant and feminine designs featuring traditional embroidery and folk elements. The brand is known for its high-quality materials, craftsmanship, and modern, minimalist aesthetic with a muted color palette and simple silhouettes.
Poustovit is committed to ethical and sustainable production practices and works with local artisans and craftspeople to create its collections. The brand has gained recognition from leading fashion publications and has a loyal following among fashion-forward consumers.
To shop for feminine and chic dresses, look no further than Poustovit. You can buy evening wear and everyday ready-to-wear, comfortable and stylish clothes. The brand's signature style includes feminine and romantic designs, often featuring delicate fabrics, intricate details, and soft colors. 
Signature pieces:
Materials for clothing include luxurious and timeless choices like silk, satin, and velvet
Poustovit also offers a variety of accessories to complement its clothing, such as scarves and hats.
Best for: feminine designs with delicate fabrics and soft colors
Price range: $200 to $800
Paskal, the minimalist fashion brand founded by designer Julie Paskal in 2010, has been making waves in the fashion industry ever since. The brand's contemporary style keeps things simple, drawing inspiration from nature and everything around.
Their collections are defined by clean lines, geometric shapes, and a monochromatic color palette, creating timeless and sophisticated pieces. But what really sets Paskal apart is their use of innovative materials like laser-cut fabrics, neoprene, and metallics, giving their designs a futuristic twist.
Paskal doesn't just offer fashion; they also have accessories and home decor items that are just as impressive. And the best part? They are committed to sustainability and ethical practices, ensuring all their products are eco-friendly and responsibly made.
It's no wonder Paskal has been featured in top-tier publications like Vogue, Harper's Bazaar, and Elle and has been a regular fixture at primary fashion weeks across the globe. With its eye-catching designs and ethical philosophy, Paskal is definitely a brand worth its salt.
Ruslan Baginskiy is a fashion brand creating unique and stylish headwear pieces. The brand was established in 2015 by Ruslan, who began his career as a stylist before designing his first couture headwear pieces for fashion photoshoots. Ruslan draws inspiration from national costumes, vintage fashion shoots, and archival family photos to create innovative hat designs that are both bold and experimental.
The brand has gained popularity among high-profile celebrities, including Madonna, Gigi and Bella Hadid, Taylor Swift, and Alicia Keys. It has been featured in major fashion publications such as Vogue, Harper's Bazaar, and W Magazine.
Ruslan Baginskiy takes pride in its heritage and strongly supports local production. The brand's hats are handcrafted in Ukraine using unique production technologies preserved through local artisan workshops.
Vyshyvanka Shop is a brand specializing in traditional clothing, particularly the iconic Vyshyvanka shirt. The brand is deeply rooted in culture, and its clothing designs celebrate Ukraine's rich history and heritage.
One of the standout qualities of Vyshyvanka Shop is that it is an affordable brand, making traditional clothing accessible to a broader range of customers. Despite the affordability, the brand is committed to using only high-quality natural materials and promoting ethical and sustainable fashion practices.
Customers can invest in beautiful, traditional clothing while supporting a socially responsible business by supporting Vyshyvanka Shop. In addition, customers can support the country's economy and cultural heritage by buying from Vyshyvanka Shop.
The brand works closely with local artisans, providing them with fair wages and promoting the continuation of traditional embroidery techniques. Supporting affordable brands like Vyshyvanka Shop helps preserve cultural traditions, strengthens local economies, and promotes sustainable fashion practices.
11. Frolov
Frolov is another one of the fashion clothing manufacturers in Ukraine. The fashion brand stands out for its unique and experimental approach to design, offering a range of women's clothing, including dresses, blouses, skirts, and pants. The brand is known for its use of luxurious fabrics such as silk, satin, and velvet, as well as its unique and feminine designs with intricate details such as ruffles, lace, and delicate embroidery.
Signature pieces:
The brand is known for its use of unusual materials and textures, such as metallic fabrics and plastic.
Its bold color combinations are very attractive and popular
Frolov's "Ruffle Dress" has become their signature piece, which features layers of ruffles in a flowy, ethereal silhouette
Another popular piece you can shop for is the "Bridgette Dress", which features a fitted bodice and a full skirt with a delicate floral print
The "Tulip Dress", which has a unique cut-out detail and a flattering A-line silhouette, is a standout piece too
Best for: flowy, feminine dresses
Price range: $200 to $1000
12. Lalo Cardigans
Lalo Cardigans is one of the more affordable clothing brands, best known for knitwear. Lalo is most famous for its oversized cardigans, which come in a variety of colors and materials. You can buy a range of cardigans with different styles, lengths, and colors, all made from high-quality materials like wool and mohair.
Signature pieces:
The brand offers oversized, cropped, and fitted cardigans with standout details like pockets, buttons, and patterns
The "Nadiya" cardigan is a signature piece for the brand made from a soft wool blend and featuring a relaxed fit, dropped shoulders, and chunky ribbed detailing.
Known for its minimalist and timeless aesthetic, you can also buy sweaters, tops, hats, and other accessories at Lalo Cardigans
Best for: knitwear, particularly cardigans
Price range: $100 to $500
13. Anton Belinskiy
The fashion pieces from Anton Belinskiy represent street fashion. Anton Belinskiy's brand offers a wide range of clothing items, including jackets, blouses, skirts, dresses, pants, and accessories like bags and hats. You can shop for both dressy and casual items with bold as well as understated designs.
Signature pieces:
The brand's signature pieces include oversized silhouettes, bold prints, and unexpected color combinations
It is known for its innovative use of materials, such as leather, denim, and wool, to create unique and eye-catching pieces
A signature piece that Anton Belinskiy is known for is the "Logo" sweatshirt featuring the brand's logo in bold, colorful letters across the front
Another signature style for Anton Belinskiy outfits is their take on the country's traditional embroidery, resulting in some very unique pieces
Best for: sweatshirts and casual street wear
Price range: $100 to $800
14. Aatsu
Aatsu is a relatively new brand for dresses made in Ukraine that has already made its mark in the international fashion scene. It is known for mixing traditional embroidery with contemporary street style featuring lots of bold colors, oversized silhouettes, and unique details. The brand's aesthetic includes asymmetrical shapes, unexpected cutouts, and intricate draping techniques that create dynamic and playful silhouettes.
Signature pieces:
AATSU is known for its fresh and contemporary take on traditional fashion
The brand has a range of options for both men and women including tops, pants, jackets, and dresses
Their pieces are durable and comfortable and you can also buy accessories such as bags and shoes
Best for: modern streetwear and innovative designs
Price range: $150 to $500
15. Anna October
Anna October is best known for producing feminine and delicate designs with playful silhouettes. The brand is particularly famous for its dresses, which range from floaty, ethereal pieces to structured, architectural designs. Their collection includes dresses, skirts, blouses, pants, jackets, and coats in various styles and designs. Along with bags, belts, and jewelry that complement their clothing line.
Signature pieces:
A great signature piece is the "Eco-leather jumpsuit" made from eco-friendly leather and featuring a tailored fit, a cinched waist, and wide legs
Their eco-leather is low maintenance as it can be cleaned by wiping it with a damp cloth
Best for: dresses and feminine designs
Price range: $300 to $1000
FAQs
What fashion brands support Ukraine?
Several fashion brands are dedicated to supporting Ukraine by embracing its cultural heritage and crafts, utilizing locally sourced materials, and investing in its fashion industry. These brands, including Lake Studio, Poustovit, Ksenia Schnaider, and Foberini, among others, play a crucial role in promoting the country's fashion industry and showcasing its design talent while creating ethical, sustainable, and socially responsible fashion.
What brands are made in Ukraine?
Several fashion brands are made in Ukraine, including Ksenia Schnaider, Foberini, Litkovskaya, and Bevza. These brands showcase the country's rich cultural heritage and design talent while also prioritizing ethical and sustainable practices.
What type of clothes do they wear in Ukraine?
Traditional Ukrainian clothing is characterized by embroidery, vivid colors, and intricate patterns. Women often wear long skirts or dresses, while men wear embroidered shirts and trousers. In modern times, Western-style clothing is also popular, with casual and formal wear common in cities and towns across Ukraine.
Q. What clothes are famous in Ukraine?
There are several traditional clothes that are commonly worn in Ukraine such as vyshyvanka (embroidered shirt), sorochka (tunic shirt), kosovorotka (men's shirt), and hutsulka (women's dress). These traditional garments are often embroidered with colorful patterns and are made from natural fabrics such as linen, wool, or cotton.
Besides this, contemporary street fashion and formal wear have also taken root in Ukraine. Ksenia Schnaider is one of the modern brands that primarily sells denim clothing.
Q. How can one access and purchase items from Ukrainian fashion brands?
Many fashion brands have online stores or are available on e-commerce websites like Farfetch, Net-a-Porter, and Revolve. You can browse their collections and purchase items directly from the website, with international shipping options available. Attending fashion events where such brands are presenting is another way to buy from them.
Q. How do Ukraine's fashion brands compare to other international brands?
Ukraine's fashion brands have gained a lot of attention in recent years due to their unique styles, innovative designs, and quality materials. In terms of craftsmanship and attention to detail, they are often on par with renowned international brands. This is helped by their use of high-quality materials such as silk, linen, and organic cotton.
Another point that stands out in the country's clothing is their focus on preserving traditional patterns of embroidery and designs, even in contemporary fashion.