Best Indian Perfume Brands – Looking to spice up your fragrance game with the best Indian perfume brands around?
In our last post, we talked about some amazing perfume brands owned by celebrities, and today, get ready to dive nose-first into a world of exotic and alluring scents that will make you feel like a Bollywood superstar.
These famous Indian perfume brands will have you smelling like a million bucks with a wide range of all-good scents.
Whether you're into floral, fruity, musky, and mysterious, or somewhere in between, these Indian perfume brands have covered you.
So, grab your chai and get ready to discover the must-have perfume brands that will make you feel like a true Indian divine figure.
Here's everything that we'll cover today:
What to Consider when Picking a Perfume?
When selecting a perfume brand, there are several important factors to consider.
Reputation: First and foremost, look at the brand's reputation. You'll want to choose a brand with a strong reputation for producing high-quality fragrances and providing top-notch customer service.
Variety: Choosing a brand that offers a wide variety of fragrances is important so you can find the perfect scent that matches your personal style and preferences.
Price: Of course, price is also a consideration. Look for a brand that offers quality perfumes at a reasonable price and fits your budget.
Ingredients: When examining the ingredients used in the perfumes, opt for a brand that uses only natural, high-quality ingredients. Avoid brands that use synthetic fragrances or harmful chemicals.
Packaging: Additionally, packaging is another important factor to keep in mind. Look for a brand that offers attractive, stylish packaging that reflects the quality of the perfume inside. This is specially important if you are buying a gift for someone.
Sustainability (Optional): Those prioritizing sustainability choose a brand committed to minimizing its environmental impact. Seek out brands that use eco-friendly packaging and ingredients.
How Did We Choose the Best Perfume Brands?
Selecting the best perfume brands was a captivating and immersive journey that took us deep into the world of scents and sensations. Our team of experts took a comprehensive approach to evaluation, delving into every aspect of each brand's identity and offerings.
We explored each brand's history, values, and reputation, immersing ourselves in their unique stories and legacies. We then dove into the fragrances, exploring their diversity and quality to ensure they offered an exceptional olfactory experience.
Of course, we couldn't forget about packaging, ingredients, and price, all of which were carefully considered to ensure we were recommending only the best perfume brands.
Moreover, as not every brand was exclusively for only a gender, so while separating them into males and females category, we checked the best-selling and most loved perfumes of each brand. This is how we decided to give them a category.
Finally, we listened to customers' experiences who have tried these brands to understand the overall experience better. With this holistic approach, we identified the most captivating and exceptional perfume brands offering an unforgettable sensory journey.
Best Men's Fragrance Brands in India
Following are some local Indian perfume brands that have particularly best-selling male fragrances:
A Fragrance Story is an Indian fragrance brand that is synonymous with luxury and sophistication. While it caters to both men and women, its fragrances for men are a true standout. Each scent is a masterpiece that captures the essence of masculinity, strength, and power.
The brand's expert perfumers meticulously craft each fragrance using only the finest ingredients to deliver a unique and unforgettable olfactory experience. From the fiery and bold to the earthy and sensual, A Fragrance Story offers a diverse collection of fragrances to suit any occasion and personality.
Whether you want to exude confidence and daring or exude understated elegance, A Fragrance Story has a scent that will captivate your senses and leave a lasting impression.
Perfume Price Range: ₹699 to ₹899
Price: ₹699
Hey there, fragrance lovers! It's time to get your beach vibes on with "Goa" – our top-pick fragrance from "A Fragrance Story" – that knows how to make scents that are a story in themselves! With top notes of Ozonic, marine, and mandarin-orange, you'll feel like you're taking a dip in the ocean on a hot summer day.
The heart notes of Water lily, Champaka, and Tropical fruits, are like a tropical cocktail served with a side of flowers! The base notes give the fragrance a cozy and warm finish that will make you want to cuddle up on the beach with a loved one! Get ready to soak up the sun and the scent of Goa!
Notes:
Top Notes: Ozonic, marine, mandarin – Orange
Heart Notes: Water lily, Champaka, Tropical fruits
Base Notes: White musk, Amber, Sandalwood
Longevity: 8 to 10 hours
Ajmal Perfumes is a UAE-based brand that originated in India, catering to ladies and gents, but the dudes can't get enough of it! Their male fragrances are just too irresistible to resist, giving off power, sophistication, and self-assurance vibes.
Every perfume is carefully concocted using only the best ingredients from all around the globe, ensuring a sweet-smelling, long-lasting scent that will make you stand out from the crowd.
Whether you're going for a bold and daring fragrance or a more laid-back and relaxed scent, Ajmal Perfumes has something for everyone. With over six decades of experience in the biz, Ajmal Perfumes is the go-to name for the fragrance world's style, luxury, and all-around good vibes.
Perfume Price Range: ₹300 to ₹12,250
Our top-pick: Inspire Eau De Parfum
Price: ₹999
Get inspired with Ajmal Fragrances' "Inspire" Eau De Parfum – our top-pick fragrance. The perfect balance of zest and serenity with citrus and spicy top notes, spicy heart notes, and woody, ambery base notes. Feel invigorated and ready to take on the day!
Notes:
Top Note: Citrus & Spicy
Heart Note: Spicy
Base Note: Woody & Ambery
Longevity: 8 to 10 hours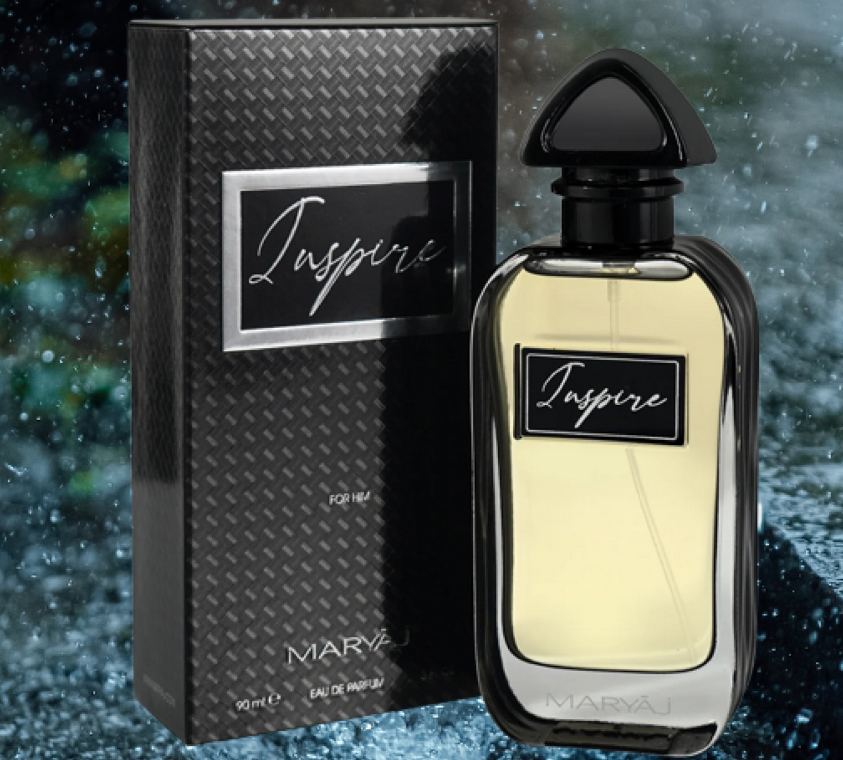 Embark is a well-known Indian fragrance brand that has made a name for itself with its exceptional range of fragrances designed specifically for men.
The brand's line of male perfumes is highly sought after and has garnered much attention for its unique scents designed to embody masculinity and exude confidence. Embark's best-selling fragrances are made with top-quality ingredients carefully sourced and blended to create a long-lasting and luxurious scent.
With their sleek and stylish packaging, Embark perfumes are a must-have for any man who wants to make a lasting impression.
Perfume Price Range: ₹290 to ₹3,600
Our top-pick: My Dream For Him Eau De Parfum
Price: ₹1,445
Bienvenue, scent-lovers! My Dream for Him is like a burst of citrusy goodness with its grapefruit and mandarin top notes, giving you an instant mood boost. And the heart notes of fresh florals will make you feel fancy, while the mossy and amber base notes are like a warm hug from your man.
Whether planning a big night out or just wanting to smell amazing every day, My Dream For Him is the fragrance that will take your scent game to the next level!
Notes:
Top Notes: Grapefruit, Mandarin
Heart Notes: Fresh
Bottom Notes: Mossy, Amber
Longevity: 8 to 10 hours
Top Indian Perfume Brands for Women
If you're looking for perfume brands in India for women, then the following are the brands that have best-selling perfumes for females:
Skinn by Titan is the fragrance brand that's got everyone talking for a good reason! Their wide range of scents for both men and women is totally on point, with something for every mood and personality. And let's not forget their fabulous female fragrances flying off the shelves faster than you can say, "smell ya later"!
Each fragrance is created with care and precision, using only the most exquisite ingredients to give you a scent that'll last all day long. With its stylish, chic packaging, Skinn by Titan is the perfect choice for anyone looking to stand out in a crowd. So go ahead, spritz a little Skinn, and be unforgettable!
Perfume Price Range: ₹645 to ₹3995
Price: ₹2,595
Ready to smell amazing? Skinn by Titan Celeste has got you covered! With zesty grapefruit, juicy pear, spicy ginger, sweet blood orange, floral jasmine, orange flower, waterlily, and a touch of apricot nectar, amber, sandalwood, patchouli, and white musk – you'll be irresistible!
Notes:
Top Notes: Grapefruit, Green Pear, Ginger, and Blood Orange
Middle Notes: Jasmine Sambac, Floral Nectar, Orange Flower, and Waterlily
Base Notes: Apricot Nectar, Amber, Sandalwood, White Must and Patchouli
Sughand Co Fragrances is the new kid on the perfume block, but they're already making their presence felt!
Their range of scents for both men and women is amazing, with something to suit every taste and mood. And ladies, you're in luck because their best-selling female fragrances are seriously out of this world!
Each scent is crafted with the utmost care and attention, using only the finest ingredients to give you a scent that'll keep heads turning all day long. And let's not forget the packaging – it's so chic you'll want to display it on your dresser for all to see!
Perfume Price Range: ₹250 to ₹700
Price: ₹400
As Sophia Grojsman says, "A perfume should be like a whisper, not a shout." This perfume is a perfect depiction of what Sophia implied.
This fragrance is like a magical mystery tour for your senses! With top notes of Orchid, Mandarin, Hyacinth, and Neroli, it's like a fruity-floral explosion in your nose! The middle notes of Rose, Oceanic, Petrichor, and Lilac are like a surprise party for your senses!
The base notes of Vanilla, Musk, and Sandalwood give the fragrance a warm and fuzzy finish that will make you want to cozy up and stay a while! Get ready to get lost in Sahar!
Notes:
Top Notes: Orchid, Mandarin, Hyacinth, Neroli
Middle Notes: Rose, Oceanic, Petrichor, Lilac
Base Notes: Vanilla, Musk, Sandalwood
Have you heard of All Good Scents? It's an awesome perfume brand from India that offers a range of fragrances for both guys and gals. However, their fragrances for females have made everyone fall in love with them.
They have everything from floral and fruity scents to spicy and woody aromas. Their perfumes are made using natural and synthetic ingredients to create a unique and long-lasting scent that'll leave you smelling sweet.
But wait, there's more! All Good Scents also cares about the environment. They use eco-friendly practices like recyclable packaging and sustainable sourcing to reduce their environmental impact.
So, if you want to smell amazing without spending a fortune, give All Good Scents a sniff. They'll have you saying "ooh la la" in no time!
Perfume Price Range: ₹225 to ₹1,500
Price: ₹1,500 (75 ml)
Hey, all you joy seekers out there! Get ready to fall head over heels in love with Love and Joy, our top-pick fragrance from All Good Scents – the sassiest fragrance Indian brand around!
This fragrance is all about bringing spice to your life! With top notes of Freesia, Peony, and Litchi, this scent is like a tropical vacation in a bottle! Rose, Lily of the Valley, and Magnolia's heart notes are like a bouquet of spicy and sweet flowers! The base notes of White Musk, Amber, and Powdery Notes give the fragrance a smooth and sultry finish.
Notes:
Top Notes: Freesia, Peony, Litchi
Heart Notes: Rose, Lily Of The Valley, Magnolia
Base Notes: White Musk, Amber, Powdery Notes
Longevity: 6 to 8 hours
Top Unisex Perfume Brands
If you want to gift someone a beautiful fragrance, you can gift them any fragrance from the following brands of perfume, which have the best unisex perfumes:
If you're ready to smell fabulous, you must try Bombay Perfumery! Their range of scents for both men and women is amazing and will make you feel like a million bucks in no time. Whether you're into fresh and fruity or warm and spicy, they've got a scent that's perfect for you!
And don't even get me started on the packaging – it's so chic and stylish you'll want to display it on your dresser for all to see. So what are you waiting for? Get your hands on some Bombay Perfumery and make your presence charming!
Perfume Price Range: Approx. $50 USD to $160 USD
Price: $50.07
Are you ready to take a sip of the most delicious fragrance around? Introducing Chai Musk – our top-pick fragrance from the legendary Bombay Perfumery!
The ultimate Indian drink – chai- inspires this scent, a blend you won't forget. Chai Musk is a scent perfect for chai lovers and anyone who loves to smell amazing!
Notes:
Top Notes: Lemongrass, Ginger root, Green tea
Heart Notes: Osmanthus flower, Mate, Roasted nut accord
Base Notes: Cade oil, Sandalwood, Hot milk accord
Longevity: 8 to 12 hours
LilaNur is an Indian fragrance brand about natural and organic goodness! The founders, Alka and Shikha, grew up in India and knew how to use flowers, herbs, and spices to create amazing scents. And the best part? No yucky chemicals or synthetic fragrances, so your skin can stay happy and healthy.
Their fragrances are like a mood ring for your nose, with scents like Moksha (lime and basil) and Umeed (saffron, cinnamon, and vanilla) to make you feel refreshed or cozy. Plus, they've got incense sticks, essential oils, and diffusers to make any room smell like heaven. LilaNur is the real deal, my scent-national friends!
Perfume Price Range: $36 to $435
Price: $285
Are you ready to enter a world of pure bliss? Let MALLI INSOLITE from LilaNur, the coolest Indian perfume brand, take you on a fragrant journey!
According to Soki, this lovely scent is sublime in every way and smells like the Gardens of India.
This scent has the power of two mesmerizing Jasmines – Sambac and Grandiflorum- that will enchant you. With supporting notes of Pink Pepper, Tuberose, and Mineral Notes, this fragrance is mysterious and fun all at once! Wear MALLI INSOLITE, and be prepared to turn heads and be the talk of the town!
Notes:
Main Notes: Jasmine Sambac, Jasmine Grandiflorum
Supporting Notes: Pink Pepper, Tuberose, Mineral Notes
Longevity: 5 to 7 hours
Let yourself be whisked away on a magical fragrance journey with Gobind Ram Kahan Chand! With a history steeped in the Mughal empire, this luxurious fragrance line captures Nur Jahan's secrets, curated by esteemed perfumer Gobind Ram Kahan Chand.
Perfected over decades by Dr. KL Bhatia and brought to life by his granddaughter, Pallavi Bhatia, each scent is a masterpiece of opulence and elegance, transporting you to a time of royal splendor.
Perfume Price Range: ₹499 to ₹6,800
Price: ₹6,800
Ready to conquer chaos and feel fabulous? Let the Calming Chaos fragrance from Olfa Originals take you on a scent-sational journey! With invigorating top notes of grapefruit, sage, rosemary, and camphor, and a heart of elixir fusion, gardenia, muguet, thyme, and eucalyptus, this scent will lift your spirits and soothe your soul. The grounding base notes of healing wood, cedarwood moss, labdanum, and amber give you a warm and cozy embrace.
Say goodbye to stress and hello to calm with Calming Chaos – the ultimate fragrance for peace and tranquility!
Notes:
Head Notes: Grapefruit, Sage, Rosemary, Camphor
Heart Notes: Elixir Fusion, Gardenia, Muguet, Thyme, Eucalyptus
Base Notes: Healing Wood, Cedar Wood Moss, Labdanum, Amber
Longevity: 14+ Hours
FAQs
Q. Which is the most popular perfume in India?
It isn't easy to pinpoint the single most popular perfume in India, as fragrance preferences can vary greatly from person to person. However, some of the popular perfumes in India include J'adore by Dior, Chanel No. 5, and Gucci Bloom.
Q. What are top perfume brands in India for female?
There are many top perfume brands in India for women, including Forest Essentials, All Good Scents, and Titan Skinn. Bvlgari, Chanel, and Dior are also popular options. However, since personal fragrance preferences vary, it's recommended to experiment with different brands and scents to find the one that suits you best.
Q. Which perfume brand is best for men in India?
When it comes to perfume brands for men in India, there are many options to choose from. Popular choices include Fogg, Axe, Wild Stone, and Park Avenue. However, the best brand ultimately depends on personal preferences and tastes. However, if you're looking for exclusively Indian brands, then Embark, A Fragrance Story, and Ajmal Fragrance are a few on our list.