Styling Saree during Wintertime. Sarees are one of the beautiful and traditional pieces of clothing in the fashion world. Whenever you see someone wearing a saree, it is not hard to identify them from within a crowd. Sarees make whoever wears them look classy and beautiful, and they are our pick for weddings and similar events.
But wearing a saree during the winters can cause some issues. Sarees, although lovely, are difficult to wear during winters. But that doesn't mean you should refrain from wearing it. With just a little modification, you can make your saree ideal to wear in winter. And we are here to tell you exactly how you can do so!
How to Wear Sarees in Winters
Looking beautiful and stylish while also staying warm in the harsh winters is an easy job that you can achieve with just a few adjustments to your clothes and rock your way through all events and daily outings. Read on to find out ten different ways you can make your saree work during wintertime!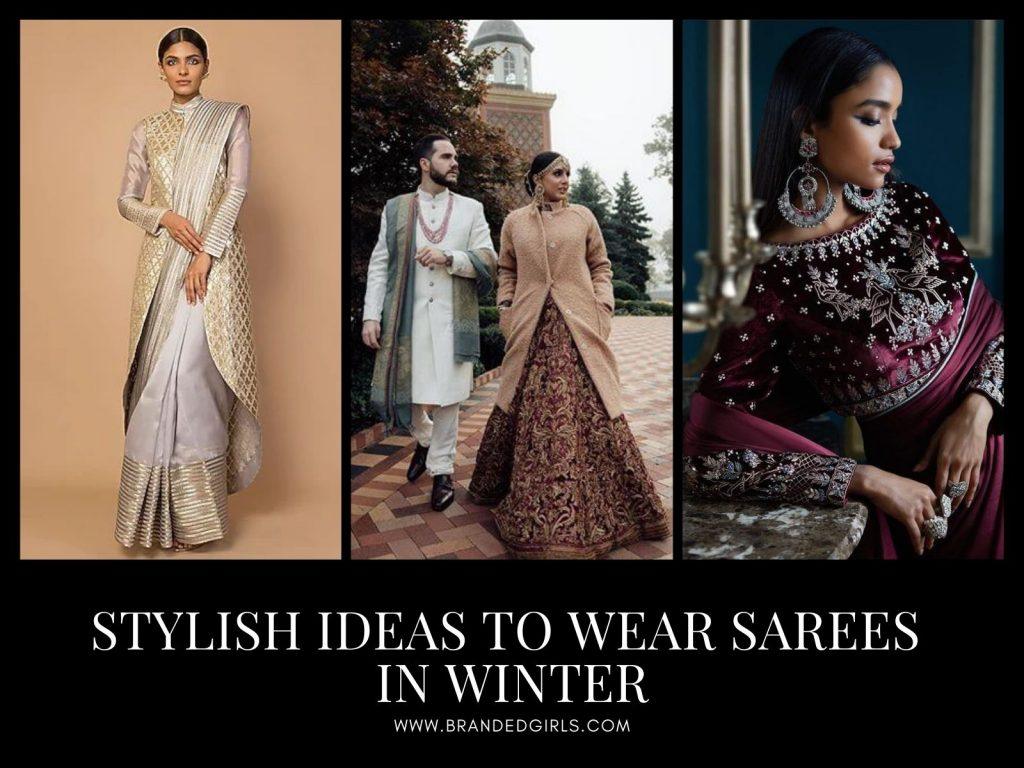 ↓ 10 – Sheer Elegance Wrapped in Six Yards
Wearing a turtle neck blouse might sound weird to you. Scroll down and look at how effortlessly gorgeous it comes out! When it's cold out, wearing a sheer blouse or a blouse made out of fancy material like jamawar could make you feel not only chilly but also highly uncomfortable.
The color you choose for your turtleneck also matters. As you can see, wearing a black turtleneck with a yellow and orange traditional saree worked out for the model, but something so bizarre might not work out for everyone. So go for colors that match your saree to not stand out like a sore thumb.
Choosing a turtleneck with a soft and warm material will keep you comfortable and happy while you are out and about. And as long as you are happy, you will look radiant and stunning!
You'll love reading more about Latest Saree Designs For Muslim Women.
↓ 9 – Long Coats can be Worn in Many Ways!
If you have a long coat that is cozy and matches your saree, what are you waiting for?! Just put that coat on over your saree to stay warm while also looking flawless. This is also a good idea if you will be attending an indoor event. You can wear the coat while you are on your way to the party or gathering, and take it off when you get there.
The color does not have to match completely, like in the picture below, but it should not be too out of place. Keep the colors congruent, and you won't need to invest in a new coat for every saree you buy. Accessorize your outfit similar to how you would generally, even if you plan on keeping the jacket on the entire time. Your coat might cover up your necklace partially, but it will still shine through, so do not worry!
Just put your gorgeous jewels on and get ready to look the best in the crowd!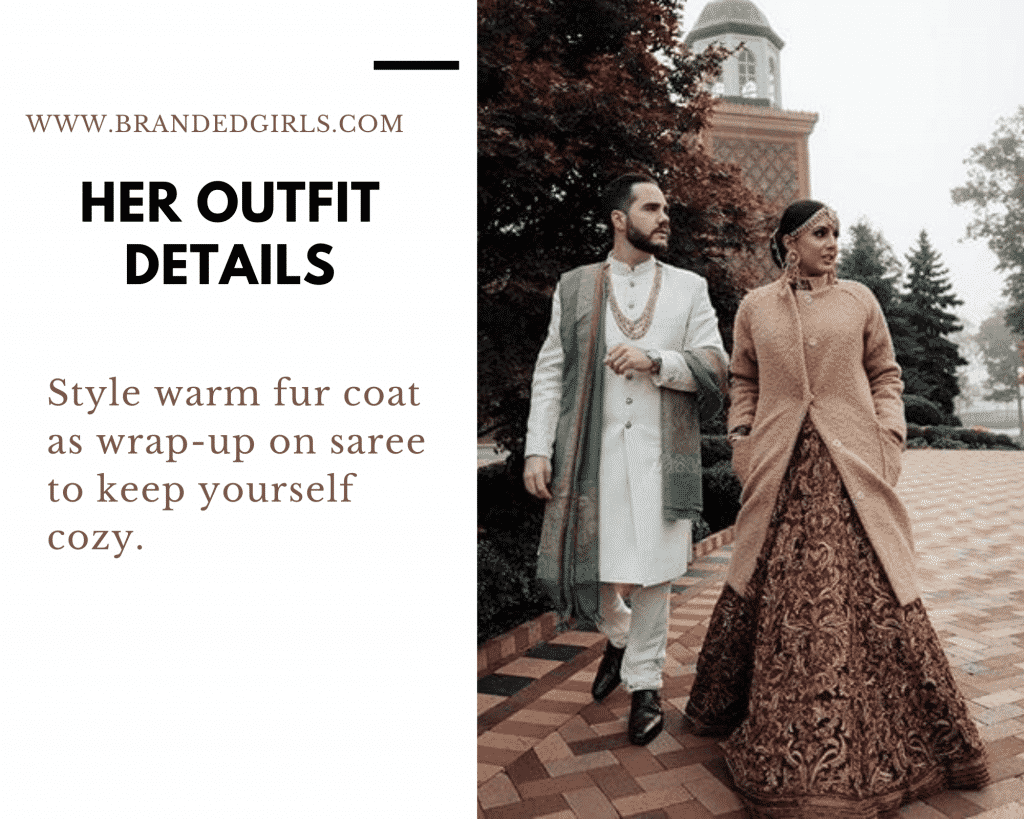 ↓ 8 – Embellished Blouse with Plain Saree
You can replicate this look of Deepika Padukone to achieve not only glamour and class but also comfort. This one is ideal for the wedding season that starts in October and goes on throughout the winter. You can choose any material that you like, such as raw silk or velvet.
This one is particularly perfect for when the weather is just changing, and it is not unbearably cold outside. Just a long-sleeved blouse will suffice during these times, instead of the second layer of clothing to provide extra warmth.
If you notice her neckline in this particular look, it is also very close to her neck, and that is a different way you can fight the chill in the air. So, keep this look in kind when you are buying or making your next saree to achieve the maximum amount of comfort along with style!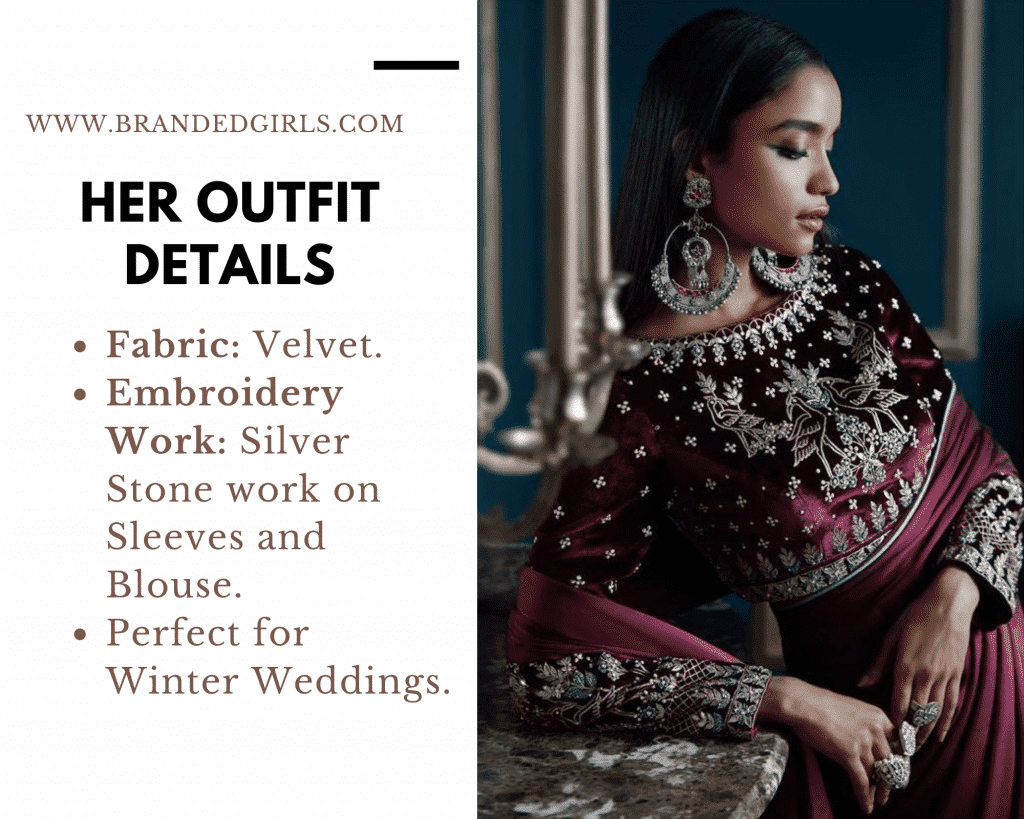 ↓ 7 – Velvet Makes Everything Classy
A material that is ideal for winters is velvet. This will be excellent for any fancy events like dinner parties at your friends' houses. Instead of just having your blouse made out of velvet, as we discussed before, here you can see that Sridevi's whole saree is made out of velvet.
This is a better idea for colder days as it will feel like you are wrapped in a cozy blanket while you adorn this look. It also looks exceptionally stunning, and we can't think of why you should not get this saree right now.
The ombre coloring of the saree is something that caught our eye as well. Even though it has nothing to do with staying warm, it is still an attractive detail to note and adopt as it looks gorgeous. If you want to duplicate this look, you can easily purchase it here, and look just as superb as Sridevi.
↓ 6 – Saree is the New Cool
This is one that is hard to digest at first but grows on you over time. It might seem a little crazy at first to imagine adopting this look, but when you come to think of it, it would work wonderfully!
The jeans will keep your legs warm and keep you safe from harsh winds that may come your way. The long-sleeved shirt will be a comfortable replacement for a traditional blouse while also leaving your neck empty for a necklace, unlike the turtleneck.
Bring it all together with a pair of heeled leather boots to add that extra layer of swag, and you are good to go. Opt for a smokey eye look to look even more fierce, and place a dark-colored bindi on your forehead, in the middle of your brows, to achieve this cool and fervent look!
Have a look at our earlier post about the Latest Indian Wedding Saree Styles To Try This Year.
↓ 5 – Leather Jacket for the Girls with Swag
Leather jackets might be the single coolest article of clothing ever to exist. And if you are in your 20s, it might also be a staple in your closet. During university days, leather jackets are the most worn outerwear by kids of both genders. They are modish, comfortable, and easy to get. And they look oh so wonderful.
But pairing your everyday leather jacket with your new cotton saree might be the next big trend you need to get accustomed to. This look is not only straightforward to put together but will also help you stand out from the crowd and make your mark.
If you want to go traditional for an event at your university while also keeping your swag intact, then this is the pick for you. Just pair up your favorite leather jacket with your prettiest saree and get your winged eyeliner right to put together this dazzling look. Make sure to put on a statement necklace to bring your fiercest side out for all to see!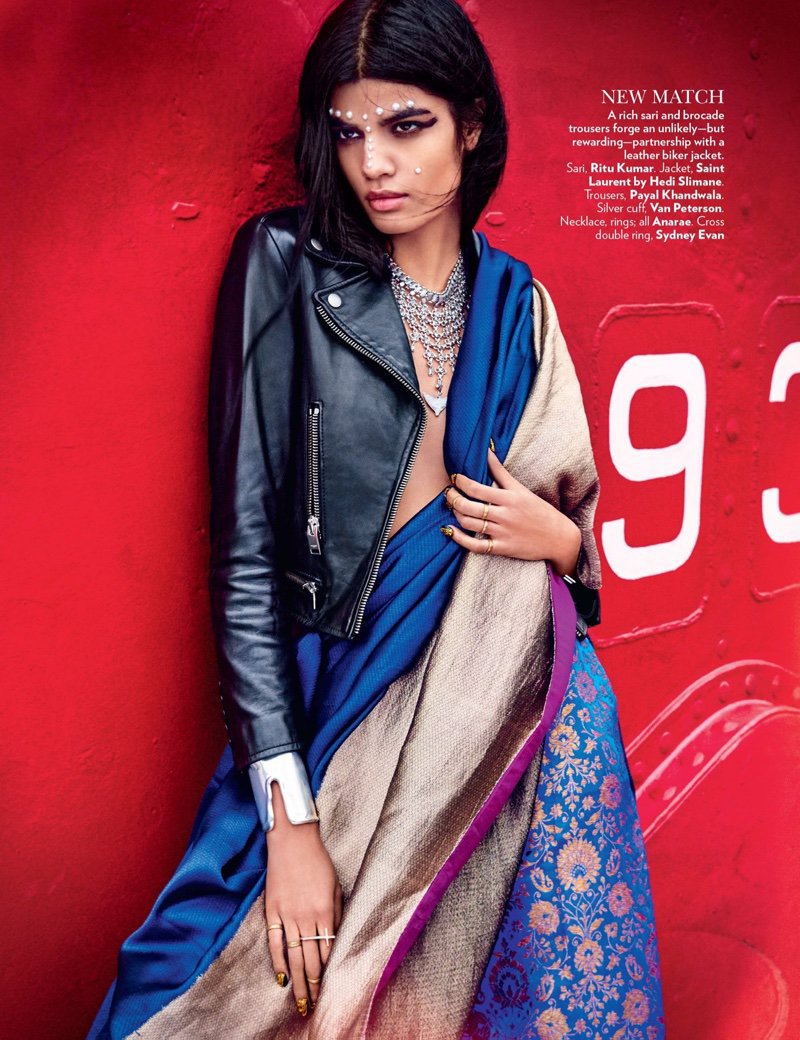 ↓ 4 – Extra Shawl to Make your Look Extra Special
The easiest and most straightforward way of styling your saree during the winters is to get an extra piece of clothing made with the saree, like a shawl. Make sure the shawl matches with your saree by using the same lace at the borders of the shawl that you have used on the rest of your saree. This will prevent ut from looking out of place and mismatched.
This idea is straightforward to execute and looks ravishing when put together. If you have been keeping up to date with recent trends in bridal looks, you must have noticed that brides have started adding a velvet shawl of colors like red or green to their outfits to make them look extravagant and sophisticated. This idea stems from there.
If you are going to a formal event like a wedding or a charity dinner, then you can use a velvet shawl, but if you are attending a gathering with just friends and family, then you can opt for a regular pashmina shawl. For the pashmina shawl option, you won't even have to spend any extra money, and you can use shawls that are already present in your wardrobe!
↓ 3 – Graceful Greys in Saree Outfit
This look is a casual one and can be adopted for regular use if you wear a saree every day. For this look, all you need is a simple warm long-sleeved sweater, a beanie, and some boots. If you live in a country like Canada, where winters get harsh, you will thank us for this idea.
Just put on your cozy sweater and some leggings to keep your legs warm, then wrap up your saree like you usually do and top it all off with a matching beanie. This may not be the most sophisticated look, but it sure is a practical one. Plus, when it is freezing outside, who has the time to think of and manage to look put together and camera ready. We would be happy to be warm and comfortable!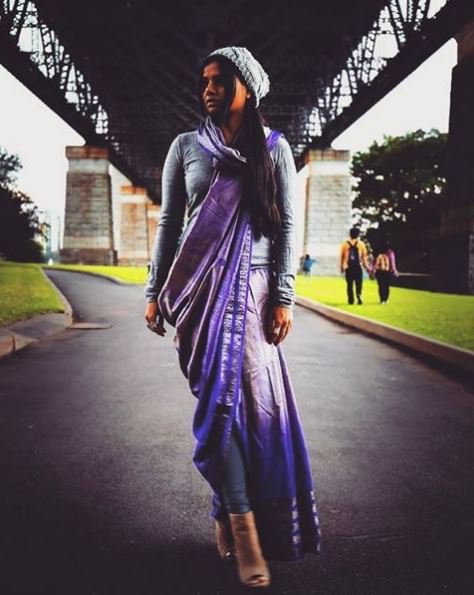 ↓ 2 – Fancy Blazer Will Add Extra Glamour
We discussed how you could use long coats and jackets to make yourself feel snug, but those were the options that you would already have in your closet. However, if you are willing to go the extra mile, then you can get a custom made blazer that will compliment your saree perfectly.
For this one, you must think ahead and get it made when you are getting your saree. This way, you can make sure that it matches the colors and patterns of your saree and goes with it flawlessly. You can also use a belt to tie the front flaps of the blazer together, as Kajol has done in the picture below.
This look is great as it looks put together and gives the vibe that a lot of work went into it, that it wasn't just thought of on the spot!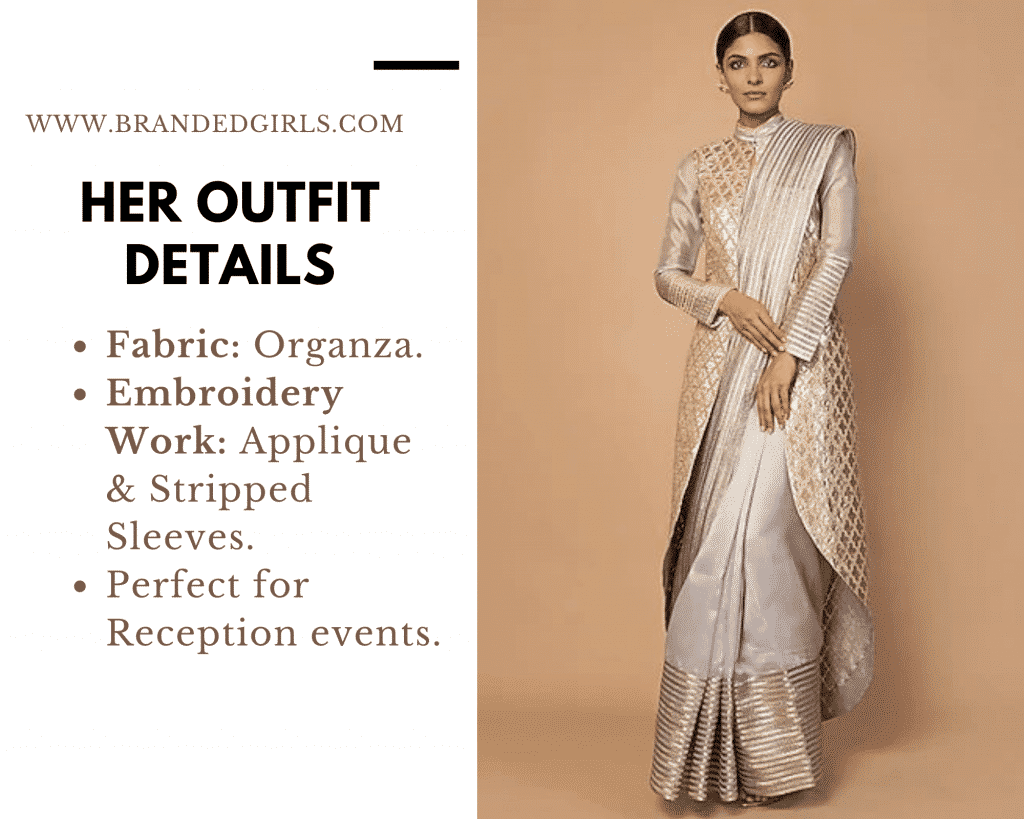 via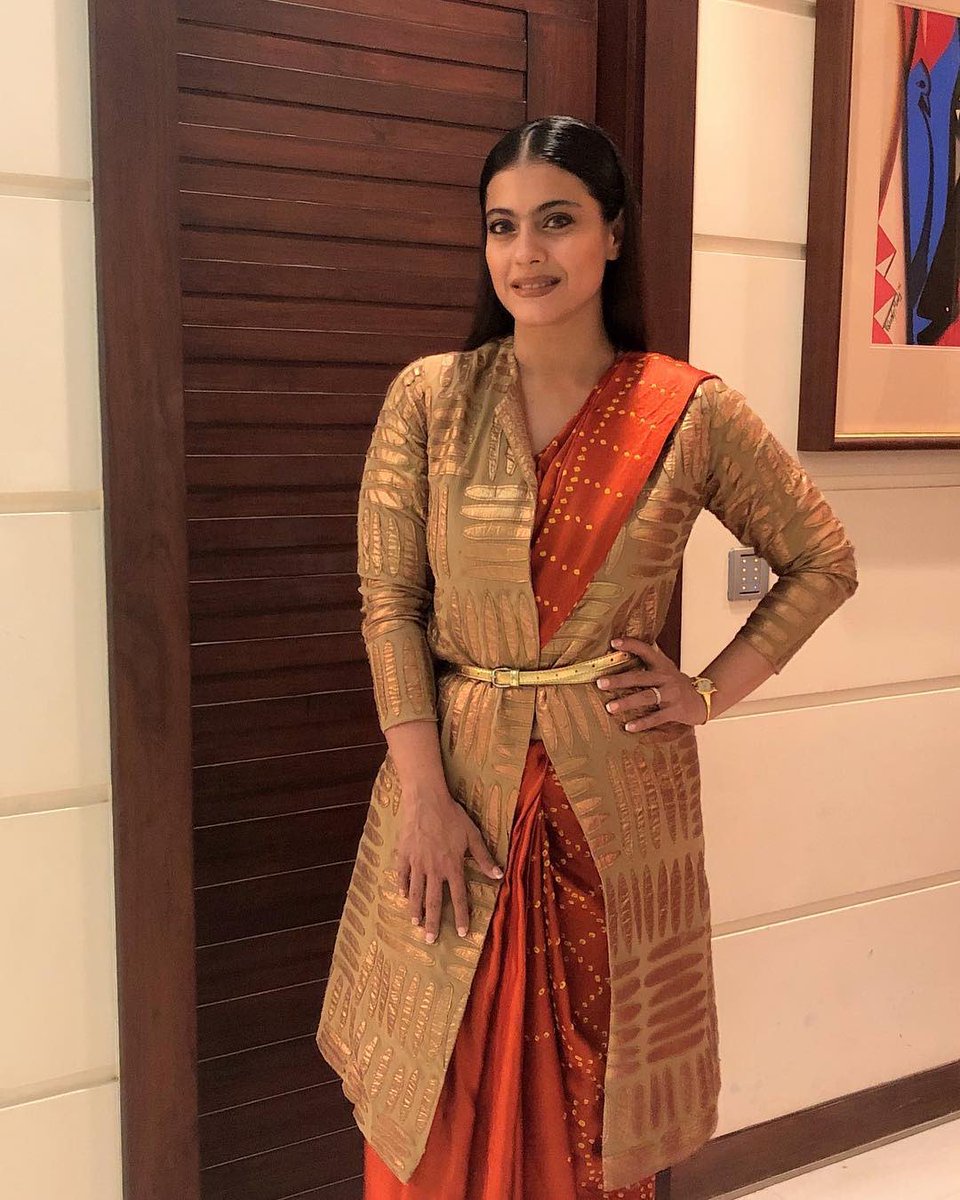 ↓ 1 – Denim Works With Everything!
This is for our young female readers who don't follow the rules and do what feels right. Pull that denim jacket that you adore out of your closet and put it on over your saree. To create a look that is not only comfortable but also incredibly innovative.
This will also be ideal as an outfit for an event at your university, or maybe a family dinner that you are being forced to attend. Just like the leather jacket look, this option will help you make your mark and let everyone know that you have swag and class at the same time!
Frequently Asked Questions
Q. Which saree material is easy to carry for beginners?
A. The best materials or saree when you are just starting are cotton sarees. They are not effortless, easy to wear but also a light on your pocket. For daily use, this will be your best option. If you are looking for a saree for a fancy event like a wedding, we would suggest going for a raw silk saree. No other material will capture the traditional saree look better than a simple raw silk saree. You will look gorgeous and formal at the same time!
Q. Which color saree is best for formal events?
A. Darker colors look better when you're attending a formal event like a wedding or a farewell party at school. And the same goes for sarees as well. Go for colors like black, dark green, royal blue, or deep purple to look your best. Try to avoid red if you are attending a wedding, so it does not seem like you are trying to outshine the bride, and you are good to go!
Q. Is it okay to wear a saree during winters?
A. Some pieces of clothing are only wearable during certain seasons, like coats during winters and skirts during the summer, but other attires like sarees are evergreen. It is entirely okay to wear a saree during winters if you do it right, and we have shown you how to do that in this article. So do not fret, and rock your saree during the winters like a pro fashionista!