Skinny Jeans for Plus Size Ladies – Sometimes curvy women can be put off by wearing skinny jeans or any other figure hugging clothing for fear off not looking good. However, if done properly this is definitely not the case and plus size women can look absolutely amazing especially in skinny jeans. This article covers 15 Chic ways to wear plus size skinny jeans and ideas what outfits should you wear skinny jeans? What footwear is ideal to wear with plus size skinny denims? Don't Forget to also check out our article on Stunning Spring Outfits for Plus Size Ladies.
 Plus Size Ladies outfits with Tight Jeans
It is very important to get the fit right with skinny jeans. You don't want ones which will focus attention on areas you want them avoid and you certainly don't want ones that will hang off your hips. Make sure they are comfortable and fit nicely. Cropped jeans are brilliant for plus size ladies as they focus attention on your ankles and matching them with a pair of T-bar heels and a loose fitting blouse will look stunning. Use contrasting colours for a full effect, blue jeans can be matched with any bright colours. Remember that darker colours will create a broader silhouette so shy away from navy, charcoal and black. Instead go for bright summery colours such as yellow, orange pink and green. If you decide to choose full length skinnies then why not choose a distressed or ripped pair? These will take unwanted attention away from your body shape and focus on the distressed patches instead. Contrast in colours and contrast in shapes, skinny fit jeans will benefit you and your figure if paired with an oversized or baggy top or jacket. Even long, flowing cardigans are great with skinny jeans especially on those breezy days.
Also see What if Top Female Celebrities Were Plus size ? How would they look like ?
Footwear to Go with Skinny Jeans
As mentioned before, T-bars are great shoes to match with cropped skinnies. They can be beaded, brightly coloured, have gemstones or patterns and so are ideal for stealing the limelight on any outfit. If you are a bit more reserved and like to have fully covered feet then why not go for a pair of sleek and sexy knee or thigh high boots? These are great for plus size ladies who are a little on the short side, they will elongate your figure making you appear taller and slimmer. Suede or brown leather is perfect for this type of shoe.
Belts with Skinny Denims Pants
For plus size women belts can either create a stunning effect or go the complete opposite way. Wear belts around your waist instead of hips. This will create a flowing hourglass shape and will look beautiful. Skinny jeans, if fitted properly should not need a belt so use them as an accessory instead of a practicality.
Why not check out the following images and use them to create your own stunning outfit with skinny fit jeans.
Skinny Jeans Outfits for Curvy Women
Work Wear Idea – Fit and Flare Top with Skinny Jeans. Brown Belt and Handbag Accessories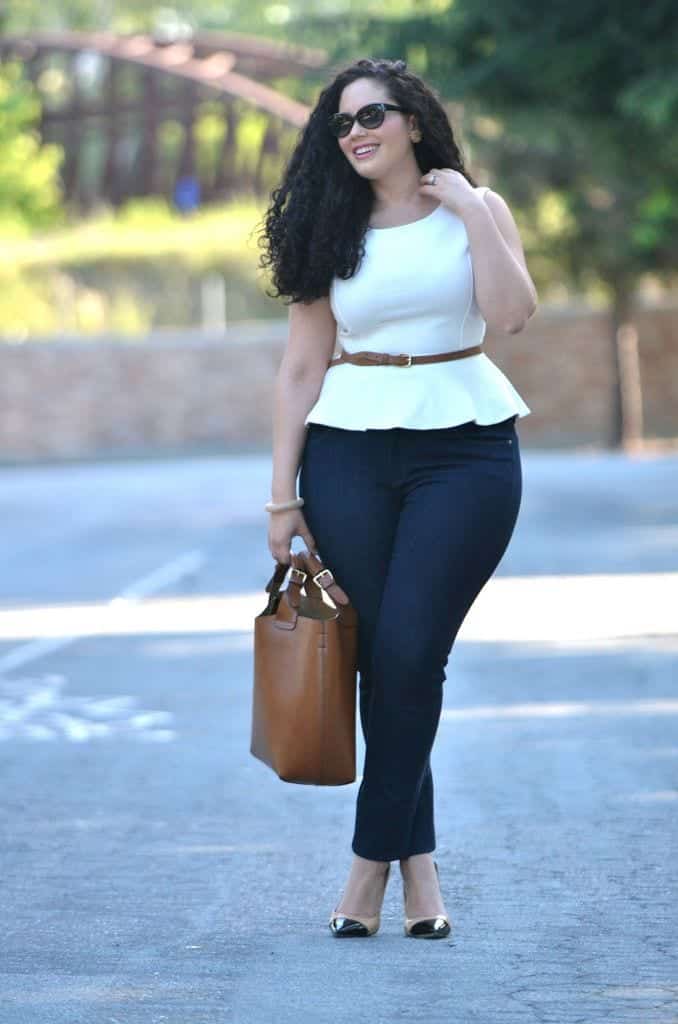 via
Casual outfit –  Skinny Jeans with White Vest Top and White Jacket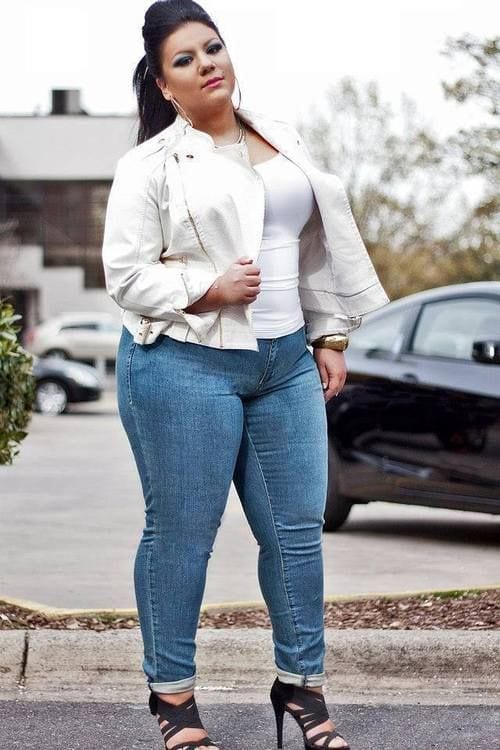 via
Summer Outfit – Skinny Jeans with Fitted Printed Red Top and Platform Pumps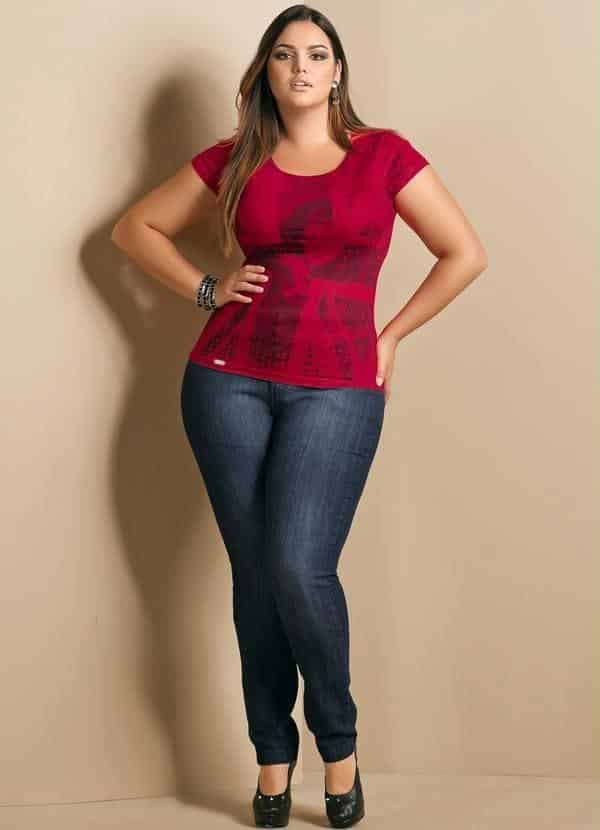 via
Winter Wear – Skinny Jeans with Contrasting orange Top and Body Warmer. Knee High Brown Leather Boots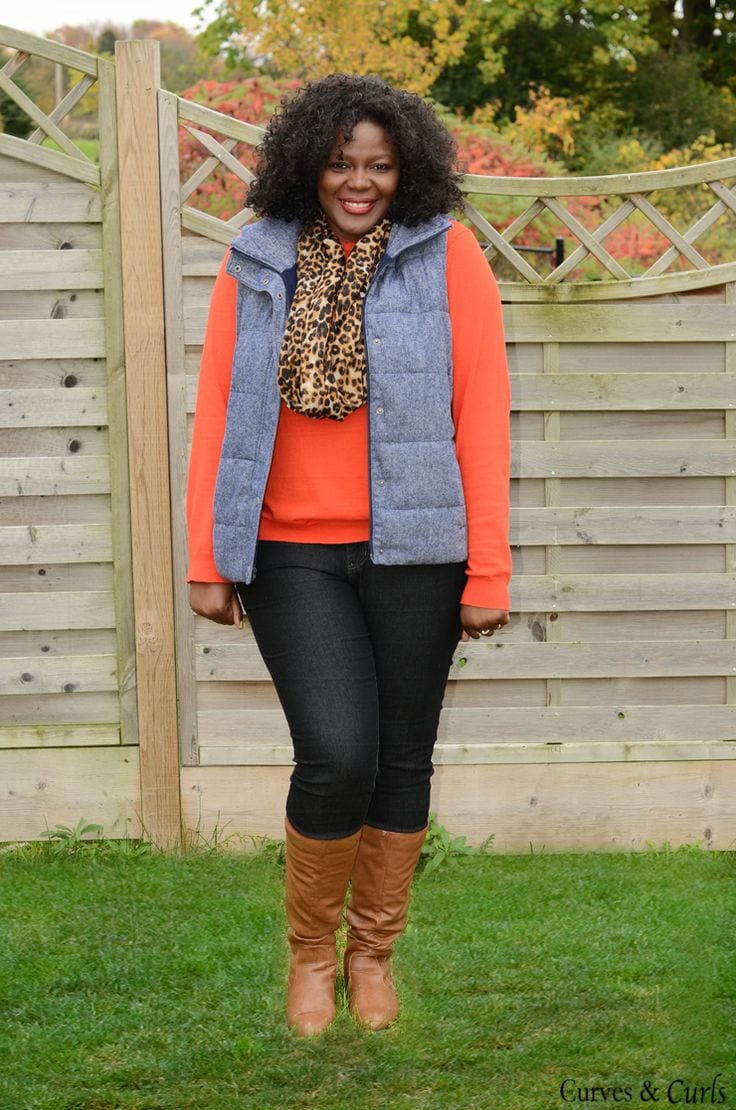 via
Spring Wear – Skinny Jeans with Cardigan and Stripe Top, Yellow Scarf and Flat Shoes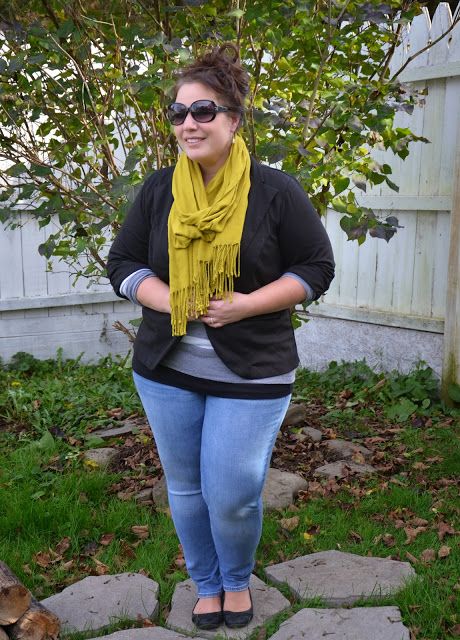 via
For women Over 40 –  Dark Skinny Jeans with Printed Frill Top and White Cardigan. Matching White Belt and Contrasting Peep Toes
via
Spring Outfits – Bold Floral Print Tabard Top with Skinny Jeans and Brown Heels
via
 Desingers Wear: White Knitted Wide Collar Jumper, Skinny Jeans, Black Points and Handbag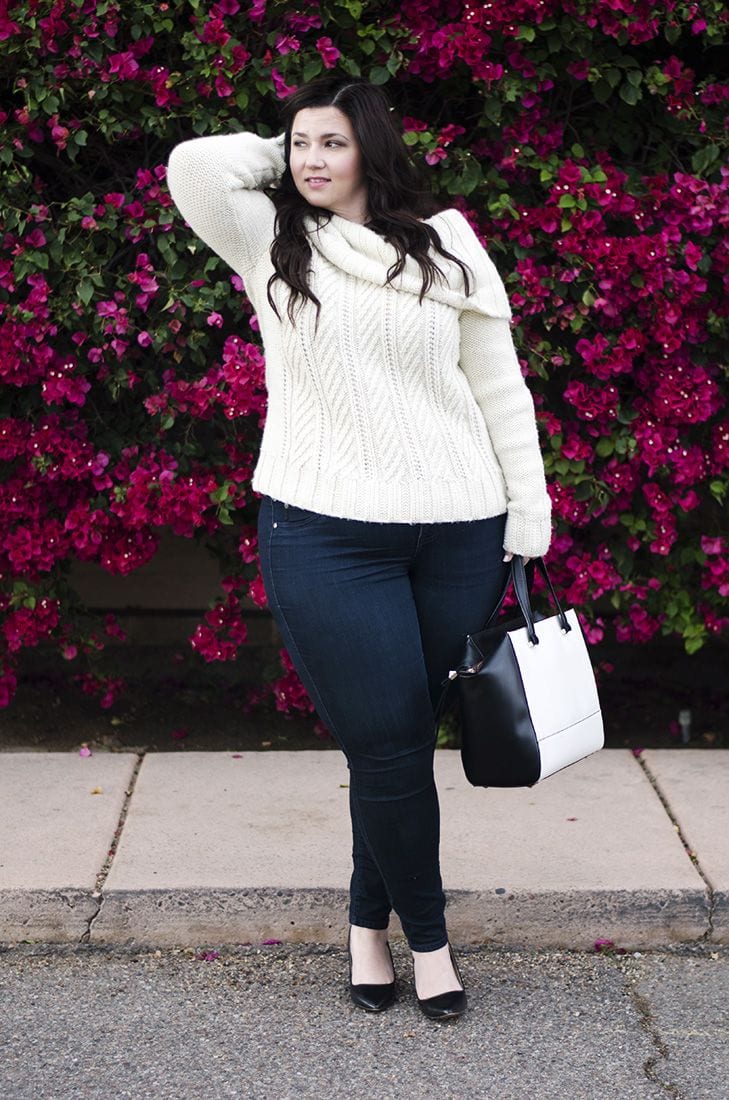 via
Street Style – Lace Layered Top with Printed Jacket, Skinny Jeans and Suede Ankle Boots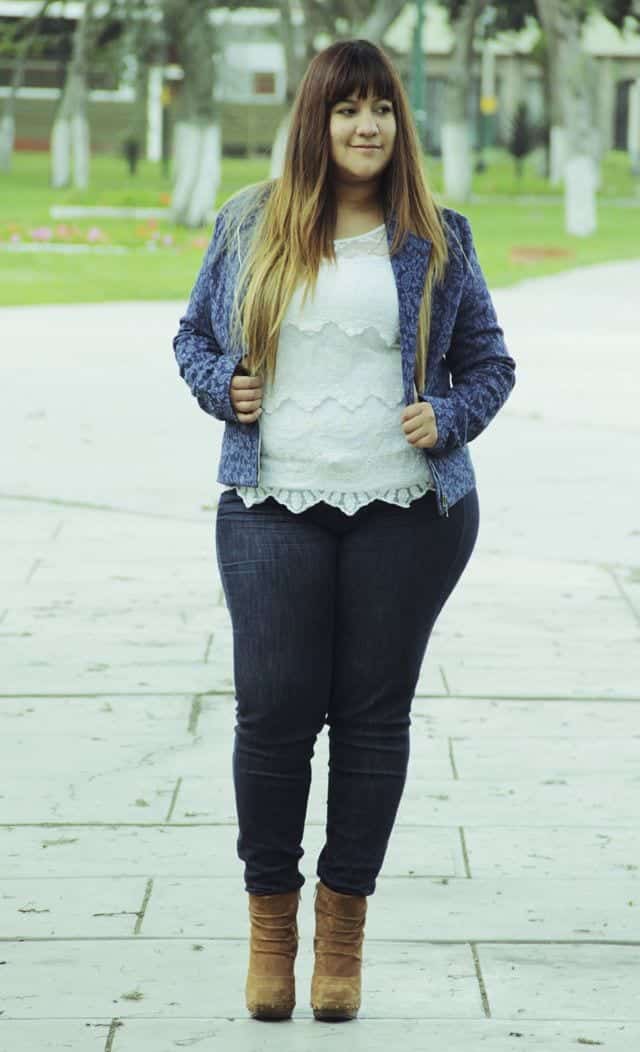 via
 For Fat Teachers – Cropped Skinny Jeans, White Top, Printed Blazer, Pointed Pumps and Clutch Bag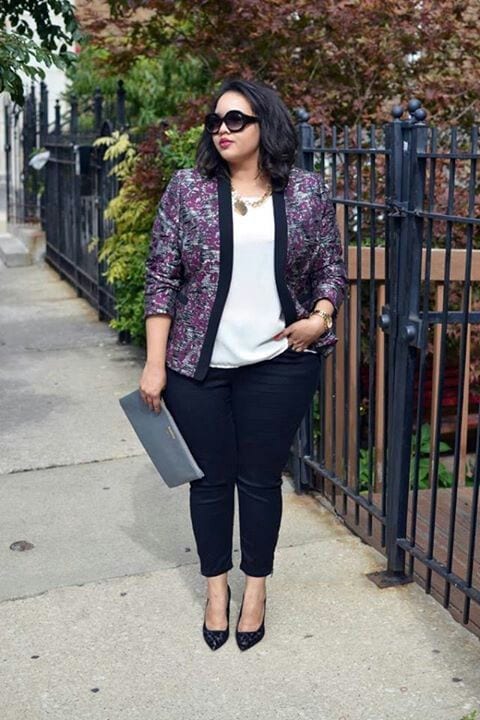 via
Dark Complexion Curvy Style -High Waist White Skinny Jeans with Matching Top and Sheer Overtop, Clutch Bag and Strap Sandals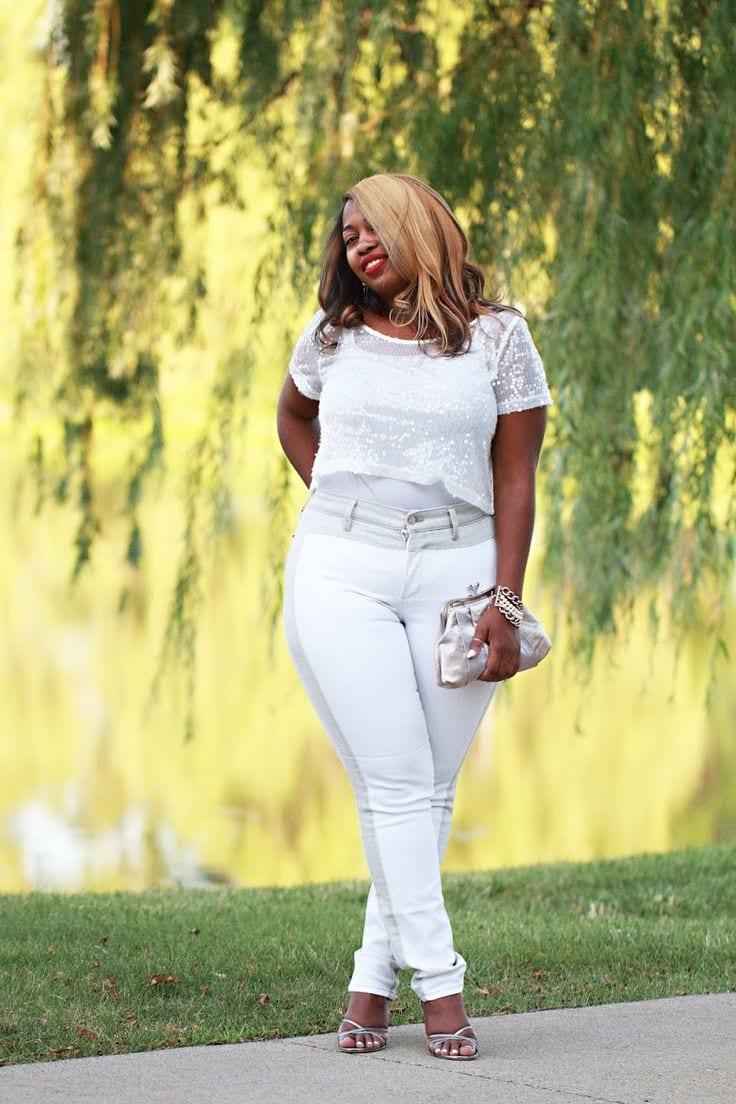 via
For Sexy Curvy Moms – Fit and Flare Floral Top with Dark Skinny Jeans and nude Studded Pumps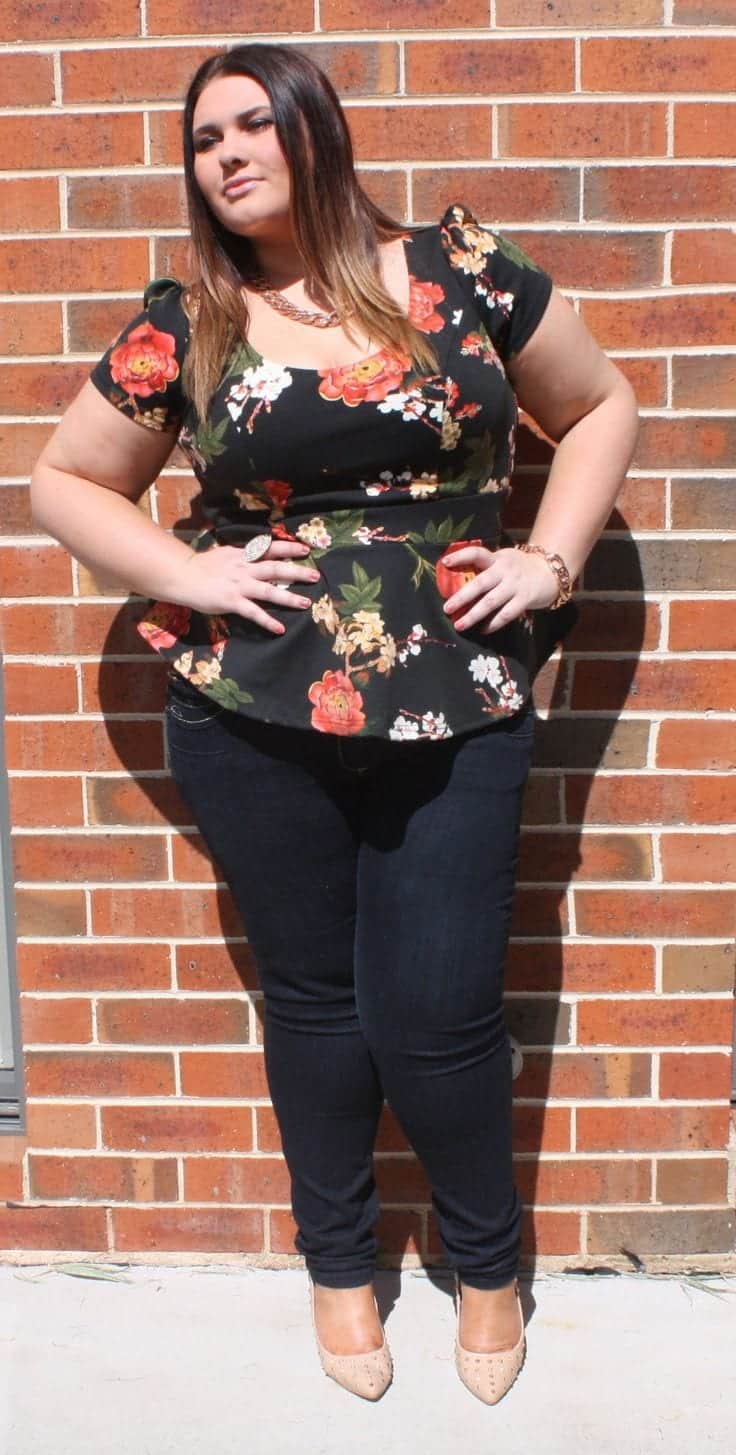 via
 Simple street Style: Stripey T-Shirt with Boy Friend Skinny Jeans and Leopard Print Flats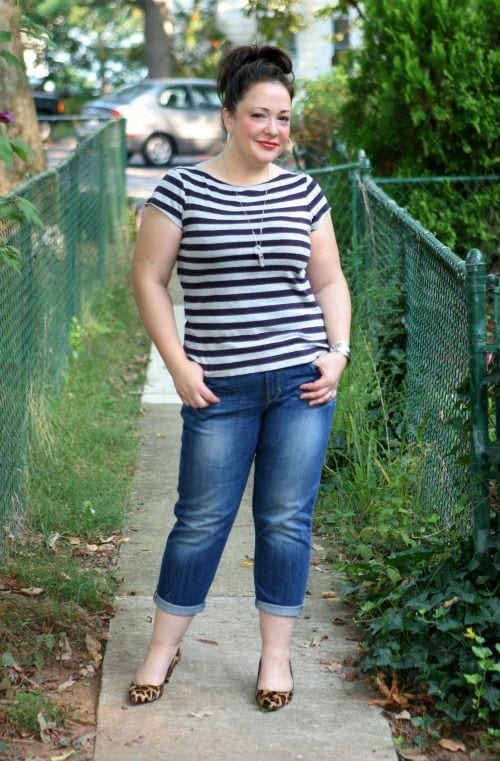 via
For Big Busted Women – Slit Shoulder 3/4 Sleeve Top with Cropped, Distressed Skinny Jeans and Contrasting Pink Peep Toe Heels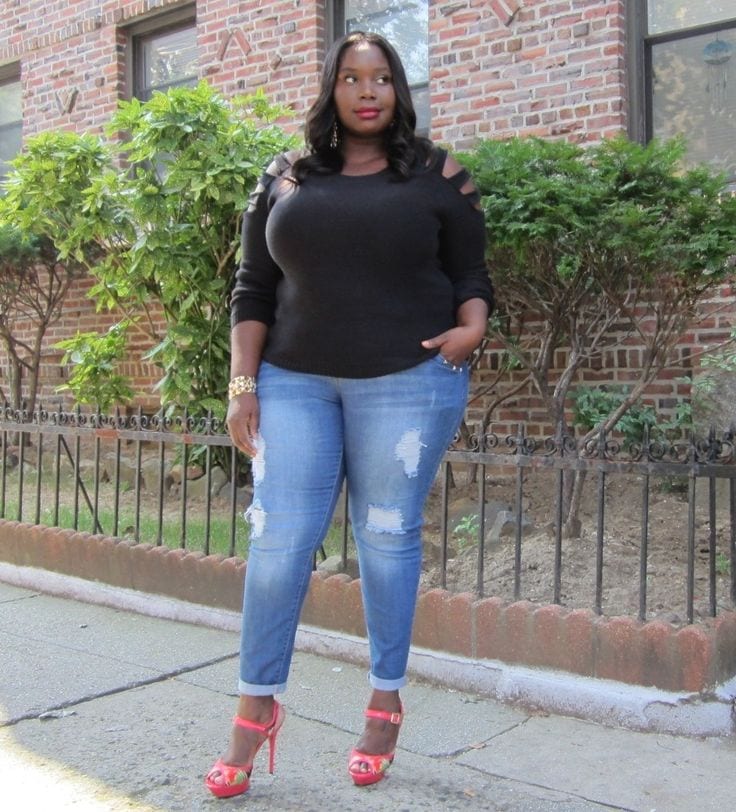 via
 City Style: Stripe, Casual Shirt with Black Blazer, Skinny Jeans and Knee High Suede Boots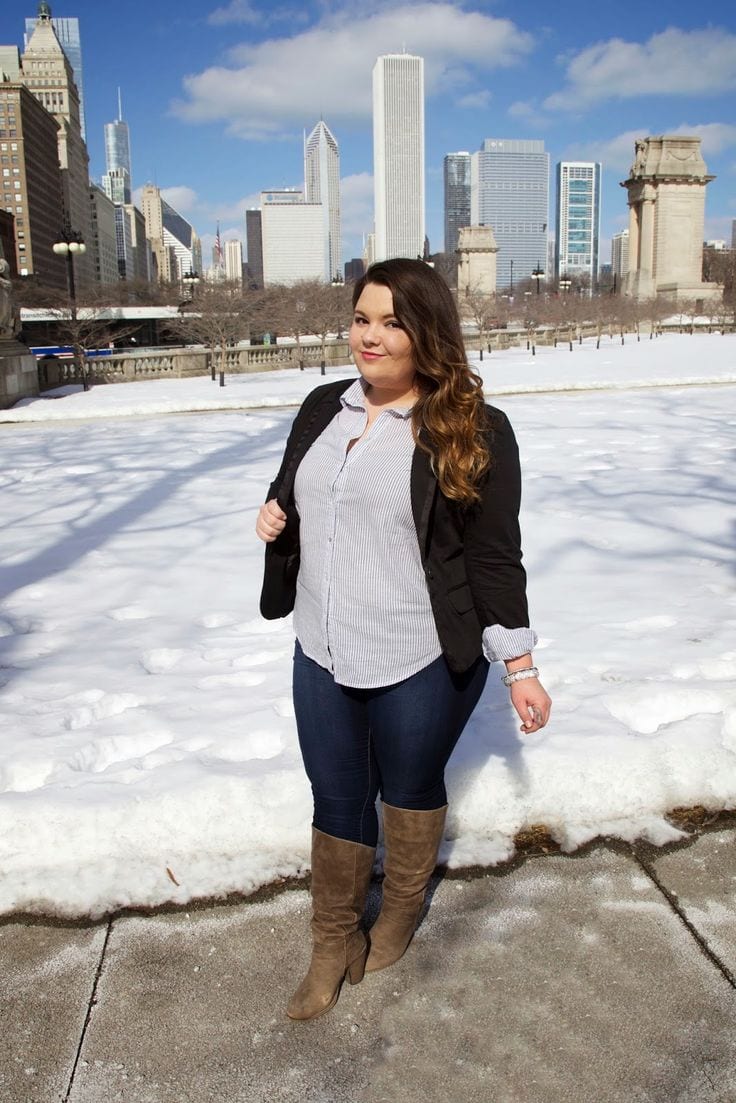 via