Halal Nail Polish – Modest Fashion and Islamic traditions have been steadily spreading through social media. People from the world over have become increasingly aware of the fashion needs of Muslim women as we see more and more brands and labels catering specifically to their needs in the past few years.
For instance, a number of Muslim designers have gained popularity in the world of fashion as their Modest collections garnered praise and recognition at high-profile fashion events like the New York Fashion Week. Similarly, while there weren't any proper hijab stores a few years ago, now we see quite a few of them in the market. We see this inclusion yet again when it comes to nail polish. Muslim women generally tend to avoid nail art because it causes nail beds to become impermeable. The wudu or ablution is a purification ritual that requires every inch of your arms to be wet among other things. And in order to be able to pray five times a day, it is crucial. Since nail paint hinders that, praying women choose not to apply it. It should be mentioned here that women are not allowed to pray during menstruation and during that time most women choose to apply nail polish. So thinking that Muslim women can never use nail polish would be wrong. It seems that they no longer have to worry about that as some brands have come up with what they call 'halal' or 'breathable' nail polish.
↓ What is Halal Nail Polish?
There can be two kinds of Halal Nail Polish depending on the fact that they both let you do wudu properly.
First, and this is the more popular one, is the water-permeable nail polish which is also called breathable nail polish. The brands that supply this kind of nail polish claim that water and oxygen permeate through the layers of paint and so you will have absolutely no trouble doing ablution.
The second kind is the one you can peel off whenever you wish. All you have to do is let it dry and then you can simply scratch some of it off and peel the rest.
↓ How Halal Nail Polish is Tested?
A nail polish film sample is placed inside a diffusion chamber which separates the top half of the chamber from the bottom. Oxygen then flows into the top half of the chamber and an oxygen-free carrier gas (i.e. nitrogen) flows into the bottom on the other side of the film. Once the oxygen permeates the nail polish film, we know the polish is breathable. The experiment is carried out according to ASTM D 3985 and ISO 15105-2 standards. These exacting standards have far greater technical relevance than the coffee filter paper test, which is a highly inaccurate representation of the chemical reaction.
In the coffee filter paper test, two filter papers are placed on top of one another while the top is bearing a smudge of the dried nail polish being tested. A droplet of water is rubbed on that smudge. If it penetrates the filter paper beneath, the nail polish is considered permeable.
↓ Is Halal Nail Polish really 'Halal'?
This question is for the first kind only as the water-permeability of the nail polish comes into question. The beauty and cosmetic brands that provide it have shown all different kinds of videos and scientific theories 'proving' that it does actually permeate.
However, for people, this is not as easily believable as one might want it to be. Official fatwas regarding the matter state that if the nail polish doesn't create a separate layer on the nail bed, is simply a dye or a color, then it's okay to use it. However, if it creates a separate layer then it is covering the surface of the nail even if it is 'breathable' because breathable nail polishes claim that they let water and oxygen 'pass'. If it is only moisture, that is not sufficient for wudu to be valid, because one of the conditions of the validity of washing any part of the body in wudu is that water should be able to flow over it, and it cannot be merely wiped with something damp. It is not permissible to deliberately omit even the smallest part of the limb and not let water reach it.
Suffice it to say, while calling it 'Halal' or 'Islamic' might sell it more, it's Halal in name only. Moreover, beauty bloggers on Youtube have tested and researched this phenomenon and they agree with the fact that while the nail polishes may be created with 'halal ingredients' they're not wudu permissible nail polishes.
↓ Health and Environmental Benefits of 'Breathable' Nail Polish
These are the benefits of breathable nail polish according to Kester Black:
Nails are kept healthy due to the natural oils that keep them hydrated. Normal nail polish blocks these oils and thus weakens the nails. With breathable nail polish, the oils can move freely to the nail bed. This means your nails stay hydrated but don't become overly soft or weak.
It ensures durable manicure.
It's applied much more easily and quickly, there is no need for base coats.
It dries faster.
Breathable nail polishes are less toxic. While no nail polish can ever be fully free of chemicals, these are 10-Free™. This means they don't have the toxic chemicals formaldehyde, toluene, DBP, camphor, formaldehyde resin, xylene, parabens, fragrances, phthalates or animal derived or tested ingredients.
Top 'Halal' Nail Polish Brands
Bearing in mind the nature of these polishes, here are the names of brands currently selling them.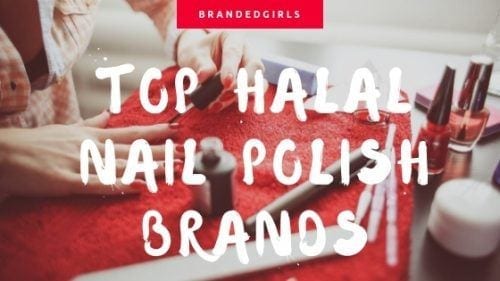 ↓ 11 – Kester Black
Kester Black is an Australian beauty brand. It was founded in 2014 by Anna Ross. Their products are vegan, oil-free and cruelty-free. The brand is runs on ethical standards and is environmentally conscious. Their packaging and recycling methods aim to reduce their environmental footprint. Their nail polishes are all Australian-made and Carbon-free. Kester Black was one of the first nail polish companies in the world to create a water-based nail polish remover. They've also switched their entire range of polishes over to a new water permeable, breathable 10-Free™ formula.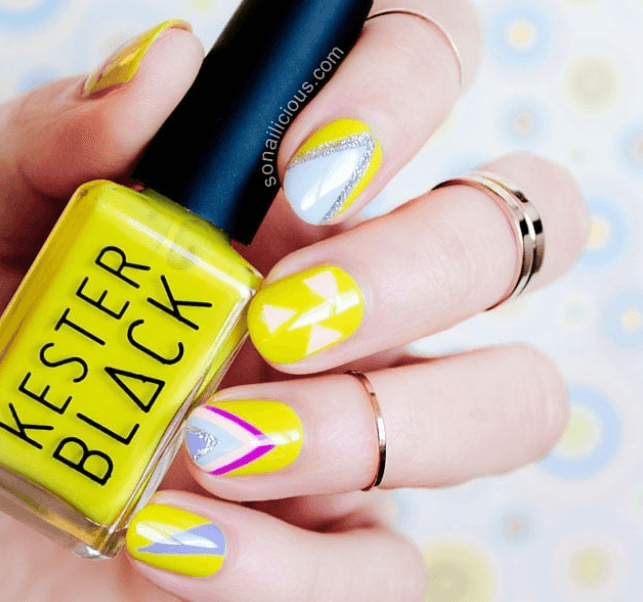 ↓ 10 – LACC
La Couleur Couture or LACC is a luxury, eco-Friendly and affordable brand founded by Farima Hakkak in 2009. LACC nail lacquers are 12 toxin-free, breathable & halal, gluten-free, paraben-free, cruelty-free and vegan, which means LACC products are formulated without formaldehyde, toluene, dibutyl phthalate, camphor, formaldehyde resin, xylene, phthalates, MeHQ /HQ , MIT, parabens, fragrances and animal ingredients. The brand is headquartered in Vancouver and manufactured in New York. Their collections are fashion-forward, classy and edgy,  provide a magnificent range of highly pigmented, high-shine hues that are fast drying and have couture quality long lasting power.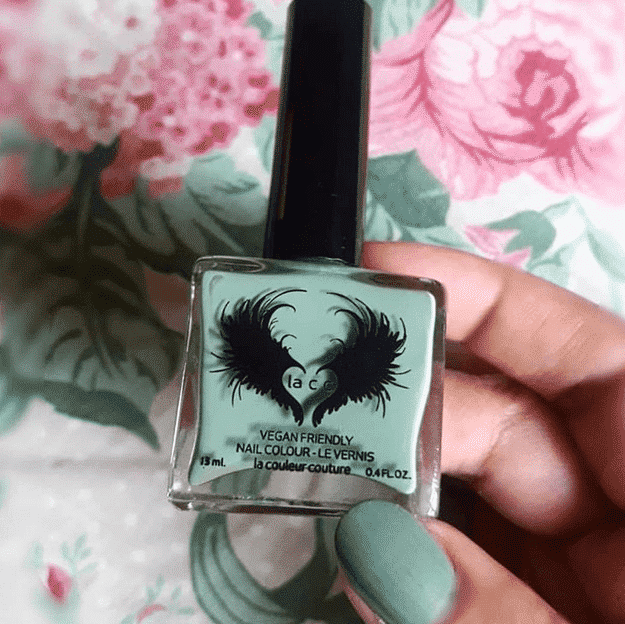 ↓ 9 – Nailberry
Nailberry was founded in 2012 by Sonia Hully. The brand started life as a luxury Nail Bar based in Chelsea London and swiftly transitioned into a range of multi-award winning premium polishes. The brand's award-winning L'Oxygene range has been developed to deliver a healthier manicure with no compromise. Every color rich shade is formulated to be 12 free, vegan and gluten free, cruelty free, breathable/oxygenated, 'moisture' permeable, certified Halal, award-winning, with no compromise on color, has long wear and high shine, has high impact color and is designed to evoke a feeling of inner peace and calm the spirit.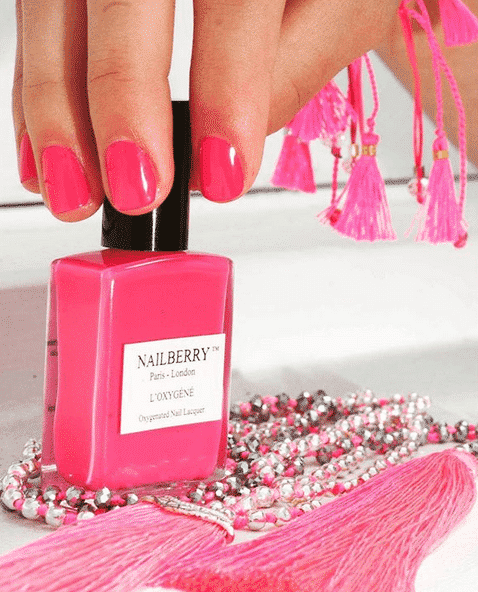 ↓ 8 – Vivre Cosmetics
VIVRE Cosmetics is an up and coming luxury makeup brand. Made in the US, the brand's cosmetics are 10-free (Formaldehyde, Formaldehyde Resin, Dibutyl Phthalate, Toluene, Camphor, TPHP, Paraben, Xylene, Ethyl Tosylamide, and Lead), cruelty-free, paraben free, halal and mineral based. Most of their products are also vegan, organic and non-GMO (genetically modified organisms).
The brand has top notch packaging and the collection names are quirky like 'Nudes? I Sent Him My Nails', 'My Love And Her Laugh', 'Macaron Mania', 'Fetch My Bentley'.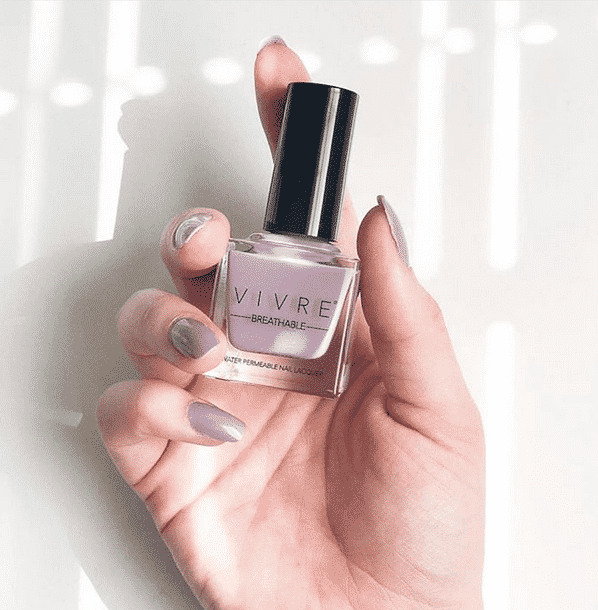 ↓ 7 – LYN
Live Your Now or LYN has been in the professional nail industry for the past 13 years. The Live Your Now team has worked closely with an expert formulator based in France to create a revolutionary high definition nail lacquer that promises to give you nothing less than pure color perfection. These lacquers have been formulated with pigments that reveal their true brightness and vividness for ultimate wear. They offer a dizzying array of shades and collections, including one for parties and another for vegans. The brand has also recently expanded into Halal friendly options with their Love Your Nails Ch2olor Complex line.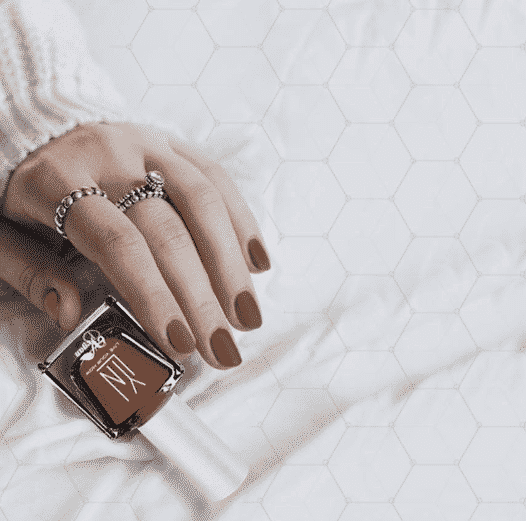 ↓ 6 – ORLY
In 1975 Jeff Pink created a nail style that could be worn by actresses from scene to scene with low maintenance: it was the original French manicure, and the popular style grew into a nail polish company, which continues to be owned by Pink's family today. All polish options boast breathable color that prevents chipping and peeling. What's more: their formulas are infused with argan oil, pro-vitamin B5, and vitamin C, whilst also being 13-free. Family owned since 1975, ORLY products are made at their HQ in Los Angeles, CA.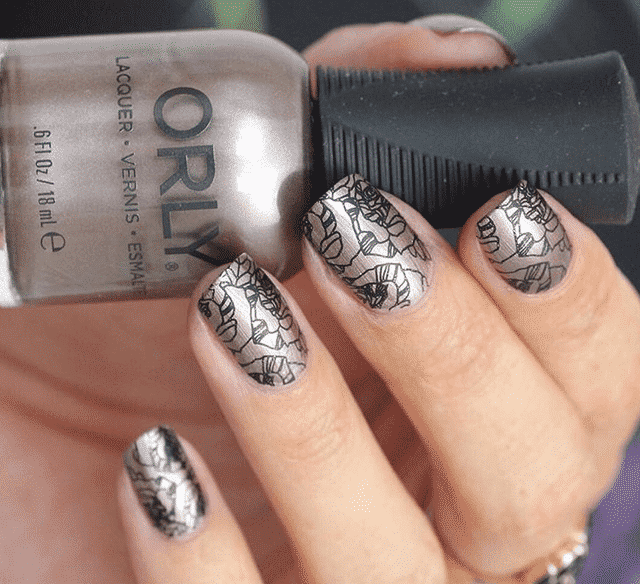 ↓ 5 – Amara
Amara is a female name in Arabic meaning "Eternal beauty, lasting forever, always existing, unfading". Amara Cosmetics Inc. is a North-American company that markets a complete line of halal cosmetics targeted at Muslim women, or anyone who desires to use products that are all natural. No Animal or Alcohol substances are used — Amara's cosmetics are made of natural ingredients that are extracted from plants, not animals. Amara Cosmetics is committed to providing the finest quality cosmetics, and each of its products is certified by the Islamic Food And Nutrition Council of America (IFANCA). All of their products are manufactured and packaged in California according to the Islamic Codes of Law.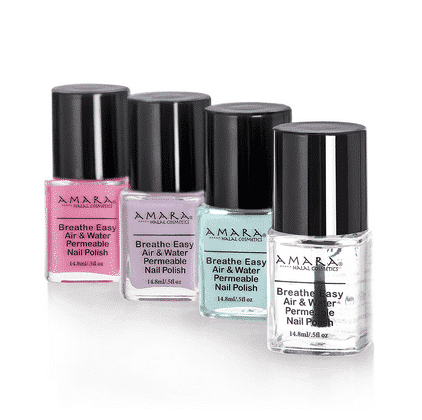 ↓ 4 – 786 Cosmetics
786 nail polish is manufactured & produced in the United States. 786 has also been tested & verified as 100% Halal & Wudu Friendly by Kalamazoo Islamic Center (KIC). Their nail polishes are vegan and 9-free. The limited edition colors and names for the line are inspired by and pay tribute to, Muslim cities around the world.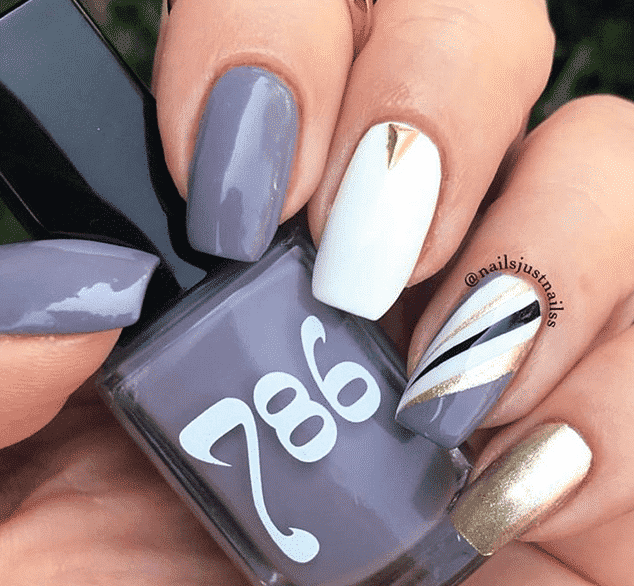 ↓ 3 – Inglot
Inglot was one of the first cosmetic companies to create a porous polish with their line of O2M Breathable Nail Enamel back in 2013. Company transparency is at the forefront of their business model, with over 95% of their products made in-house in their own facilities to ensure quality ingredients and fair prices. Inglot has become a favorite of industry professionals, and with good reason: their product lasts for ages, comes in a multitude of shades and textures, and dries quickly. The brand is spread out across 6 continents in over 800 locations from London's Oxford Street, Piazza del Duomo in Milan, Times Square in New York to Grand Canal Shoppes in Las Vegas.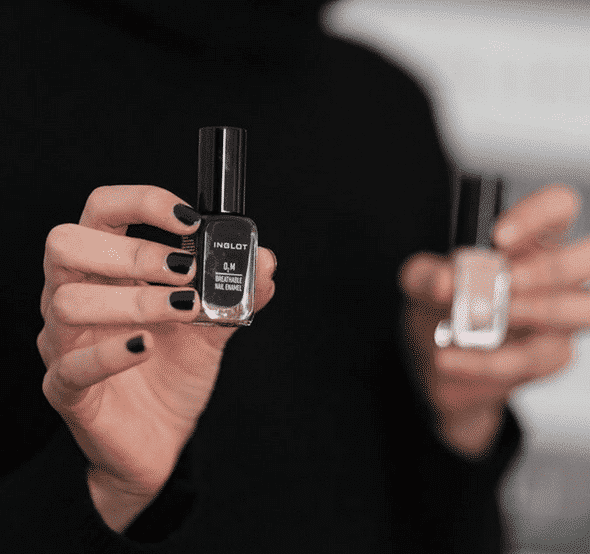 ↓ 2 – MAYA
All of MAYA products are animal-free and vegan, physician-approved, breathable, and 100% Halal & Wudu (Ablution) Friendly. Their site has a special 'Wudu/Ablution Directions' section which states:
Apply one layer of MAYATM nail polish and/or a layer of MAYATM top coat, as you would with any other nail polish.
Let dry.
Each time you perform wudu, run nails under water and then rub gently for ten seconds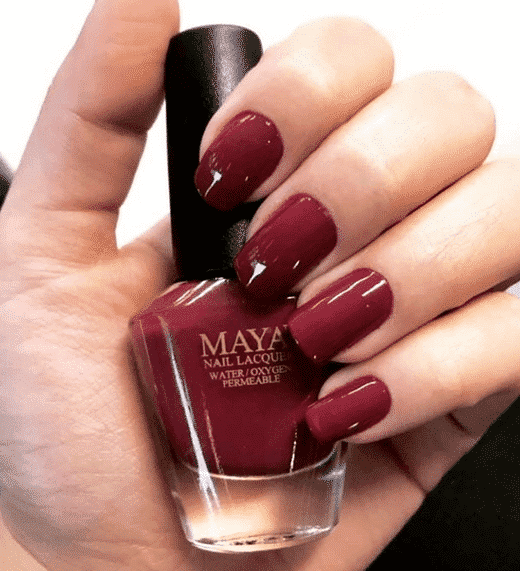 ↓ 1 – Tuesday In Love
The story behind the brand's name is a sweet and inspiring one: the owner of the company was jobless and while working on this resume one night he remembered how once he and his wife had walked past a shop and she had loved some nail polishes but they couldn't afford them so she let it go. He started researching Halal nail polish then and turned his kitchen into a lab for the next couple of days. When finally he succeeded with his formula he presented it to his wife, it was Tuesday and that's how the brand got its name.
Tuesday in Love is Halal Certified Water Permeable, Cruelty Free & Child labour free.